Most Supportive Shoes Reviewed & Rated
In a Hurry? Editors choice: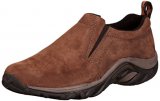 Test Winner: Merrell Jungle Moc

Have you ever been walking barefoot and realized your posture isn't as it should be? Do you also suffer from back pain, hip pain, and knee pain? If your answer is yes to any of these questions… you may have problems with your feet. Yes, these problems can affect how the whole body operates if everything is out of alignment. I have another question for you. Do you have a high arch in your foot? If the answer is yes then I am here to tell you that because of these issues you are experiencing,
you need to be wearing supportive shoes
or orthotic inserts to improve your posture
. These types of shoes will also help align your feet, ankles, knees, hips, and back, which will reduce any pain you may have; the right shoe can correct many issues.
Standout Picks
Criteria Used for Evaluation
Use
When selecting a pair of supportive shoes it is important they are properly constructed to meet your needs and provide the most effective form of support. The sole of a support shoe should be stiff in the middle and flexible where your toes sit, essentially bending where your foot bends.
There are several other areas of a shoes' construction which should be carefully examined when selecting a pair of shoes for the purpose of offering additional support.
Footbed/Insole
The footbed, or insole, of a supportive shoe, should be comprised of a harder material which offers superior structural support and stability, as comfort levels improve with increased stability more so than from direct cushioning.
Midsole
The midsole is the layer of material which sits between the outsole and footbed of a shoe and its purpose is to absorb shock. There are certain materials used in the construction of the midsole that should be weighed when selecting a support shoe.
EVA: EVA (ethyl vinyl acetate) is a man-made foam material that's soft and offers good flexibility. EVA boasts strong waterproofing properties, resistance to UV-radiation, and low-temperature toughness. EVA also offers the wearer a lightweight and low-density feel that's ideal for many types of foot related conditions.
Compression Molded EVA: This is an even more effective midsole material than standard EVA because the compression provides maximum support and protection, along with being extremely shock-absorbent.
Outsole
The outsole is the part of the shoe made to protect your feet from injury and weather conditions. An outsole should be constructed of a firm material that offers good waterproofing. Rubber is the most widely used material for outsoles and it is a top choice for supportive footwear. Rubber is breathable and lightweight while allowing for flexibility and a good range of motion.
Cushion/Padding
While it is important that a supportive shoe has a harder footbed to provide better stability, it is also advisable to have a certain level of cushion or padding. Having too little cushion can cause your feet to feel fatigued and sore, this is especially true if you are going to be standing or walking for any prolonged amount of time. Cushioning is often placed strategically for optimum shock-absorption at the heel and forefoot. This methodical placement will help to reduce and more evenly distribute the pressure and impact of every step.
In shoes designed for support, there are typically three conditions which are targeted by different styles of the footbed.
Plantar Fasciitis: This is a painful condition caused by tears in the plantar fascia, a connective tissue that serves as the connection from the forefoot to heel.
Supination or Overpronation: A footbed designed for support will help correct the foot's natural tendencies to either overpronate (roll outwards) or supinate (roll inwards excessively) while walking or running.
Structural Misalignment: Structural misalignment can cause pain and discomfort in all sorts of different areas of the body, including, the knees, hips, back, neck, and head.
Insoles are available in varied volumes, depending on how much space they occupy inside of the shoe. The volume of an insole is usually related to the arch shape that it's designed for.
For example, low-volume is often preferred by wearers who have a low-arch, whereas high-volume insoles are best suited to individuals with a higher arch and can most commonly be found in walking, running or hiking shoes. Medium-volume insoles can usually be found in casual shoes and occasionally in some athletic shoes because they tend to be worn comfortably by all arch types.
Materials
The material that a shoe is made of is an influential element in its overall performance; this is especially true of supportive shoes. Below is an outline of the most commonly used materials along with the benefits to each.
Leather
Leather is the most widely used material for making shoes, partly due to its flexible, long-lasting, and flexible properties. It is an aesthetically pleasing material that also provides a breathable and lightweight wear, however, it is not particularly water-resistant and would require water-proof treatments in order to hold up against wetter weather.
Textiles
Textiles are available in numerous types of fibers including cotton, nylon, wool, lycra, polyester, and rayon. Textiles come in a large number of colors and are commonly used in the construction of footwear. Textiles are an excellent material for shoes, offering a lightweight, durable, and versatile wear.
Foam
There is a slew of different types of foams that are used in the construction of a shoe. There is generally foam in the upper of a shoe that can be one of two types, 'closed-cell', or 'open-cell'.
Open-cell foam is made of an open plastic compound that allows air and water to freely enter and exit its foam cells. This type of foam is usually softer and is made of polyurethane plastic, it can be used in the tongue or collar of a shoe.
Closed-cell foam is denser and is used for midsole material. The most widely used forms of closed-cell foam used in shoes are, SBR (Styrene butadiene rubber) EVA, PE (Polyethylene), PU (Polyurethane), Latex, and Neoprene.
Rubber
Rubber is an excellent material, particularly for the outsole of shoes. Rubber offers superior weather-protection and waterproofing, which are two important elements to examine.
Comfort
Imagine walking all day without pain and fatigue. Just think of how great that would be. Your body will feel energized when you are fitted with proper support shoes.
Cushioning in shoes is one of the most important features. Cushioning helps with shock absorption and will distribute your weight evenly in the shoe. This will reduce stress on your knees and ankles. So choose the best shoes for knees with extra cushioning. It will also help to reduce fatigue.
The more cushioning the shoe has, the better you feel, and the more comfortable the shoe is. We've rated our list to give you the most comfortable and supportive shoes.
Support
Of course we had to rate these shoes for support. One type of support we looked at was arch support. The arches are where your foot needs the most support. Because of this, it's important to take care of your high arches and provide them with proper support to prevent pain and discomfort. It will also help to reduce your risk for lower back, hip, knee, and even shoulder pain.
Another important factor is heel support. When you walk, you land on your heel first. That means your bone will take a lot of shock with every step. Unless you have perfect positioning while you walk (many people don't), you will end up having pain shoot up to your knees, hips, and back. Having shoes that support your heel will help to avoid these issues and keep your feet in proper alignment while walking.
Value
The last criteria we looked at is value. No one wants to spend a fortune on a pair of supportive shoes. When evaluating, we took into consideration a few different things. mostly, we wanted to focus on sharing brands and products that offer a blend of a good price with great value.
We looked at:
How the price compared to the estimated market price.
If the product value was equal to or greater than the price tag.
If the product compared to other products on our list.
If the consumer recieved more or less value from another brand.
Find Shoes with Good Support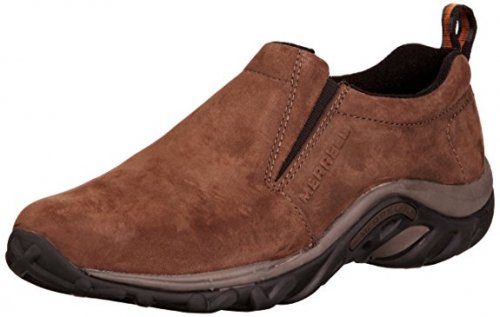 This design not only proves it can take care of all your alignment issues but these are the ultimate tough and most supportive shoes. The full-grain leather, super comfortable slip-on technology is one of a kind, combined with a pigskin lining infused with a nylon 6.6 injection molded arch shank. By far the best construction we've seen from a supportive design, and it is all placed brilliantly on Sole/Sticky Rubber outsoles.
With the brilliance of comfort technology, the custom tough exterior of the design is created perfectly with a compression molded EVA foot frame that sits on a comfortable, firm but soft Air Cushion Midsole and the Merrell Jungle Moc is placed on Sole/Sticky rubber. A nylon 6.6 injection molded arch shank creates firm support that won't bend under pressure.

When your whole body suffers from pain due to improper alignment in your back, hips, and neck, there is no amount of money that is worth the cost of your health. The good news is that this design is affordable and we can assure you it will be cheaper than the bills you will have to pay to see a podiatrist or an orthopedist.

2

. Easy Spirit Traveltime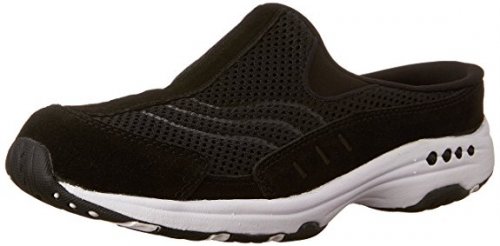 A comfortable slip-on design with a huge selection of fun styles to choose from, this is easily everyone's favorite mule. You can't go wrong with the Easy Spirit Traveltime. This stylish mule will make you feel like you are walking on top of a cloud! Available in multiple colors, styles - and you can even set them with sparkles! - this mule will definitely become your go-to option for any occasion.
The Traveltime is a great, breathable mule that gives your foot the extra comfort it needs. The upper part of is made from an attractive, sleek looking fabric, while the bottom features a durable rubber sole that helps to absorb any shock while you walk. It also supports the arch to the fullest with a flexible outside sole. Available in multiple color variations and styles, these mules will have you looking on trend no matter the occasion.

With everything that's been said, this mule provides for someone who needs a design for proper alignment. There is a Traveltime Mule that fits everyone's budget, so your body and your budget can both stay aligned.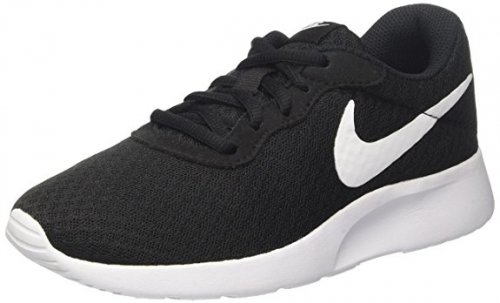 This design is inspired by Nike's most favorite shoe model. Sneaker fans that need support this is your solution, and it is a great addition to any outfit. For those who don't want their foot problems to interfere with their activity levels, you have come to the right place. Providing the needed support for your tired arches with comfort and style, The Nike Tanjun is a winner.
This sneaker is constructed with breathable mesh so your feet can breathe, with a round toe silhouette and a lightly padded tongue for comfort. It has a lace-up closure for a secure fit. The Nike Tanjun can be comparable to walking on a cloud. With its foam midsole/outsole, it offers a lightweight feel and durable cushioning. Its unique flex grooves along the sole let your foot flex naturally. For people who suffer from pain in the feet, this sneaker is a must-have.

The color selection on the Tanjun is huge and can even be custom made so it can be as affordable or as expensive as you want. The most basic choice is very reasonably priced.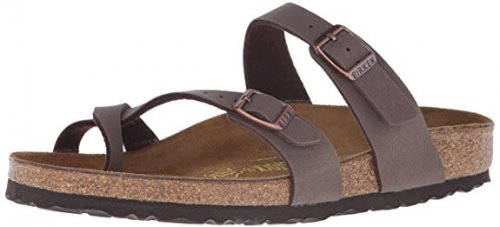 The ever so widespread Birkenstock Mayari would win a popularity contest if that is what this was. lt meets all the criteria for 100% arch and foot support combined with the comfort of one of the most long-lasting footwear brands in the world. And they simply are really good support shoes. Let's see exactly why this in particular sandal is so popular amongst people of all ages and genders.
This sandal is constructed from synthetic leather for the upper. Birkenstock prides themselves that they only use sturdy materials with a thickness of 2.8 to 3.2 mm for the upper material. Cushion and comfort are 100% guaranteed with this sandal. You just can't go wrong with its breathable microfiber lining. This inner lining and footbed liner are made of real lambskin making them very soft and warm despite the fact they are sandals.

Birkenstock is one of the more expensive items on this list. However, the value of this product is top notch. The old saying is you get what you pay for and this seems to be the case with this popular sandal.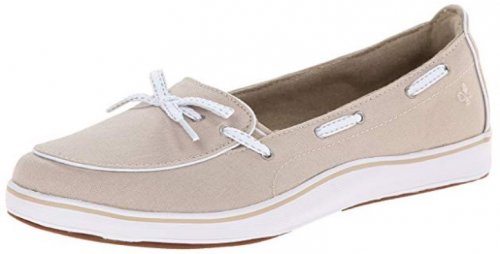 Supportive footwear doesn't have to be old-fashioned and clunky-looking. An example of this is the Grasshoppers Windham, a cute, dainty boat design that you can wear during the warm summer months and match up with all of your favorite outfits, be they jeans, skirts or dresses. The comfort features of this option haven't been diminished by its style, and if you're looking for something easy and sweet, you've come to the right place!
The Windham has a canvas upper that is lightweight and breathable, and it comes with an abundance of comfort systems. The first is the Ortholite sockliner, which provides moisture wicking and has antimicrobial properties, keeping your feet odor-free. That means you can easily wear the Windham without any socks on! The footbed on this option is removable, and there is a slow recovery memory foam insole, as well as a Purefit cushioned arch. They've really thought of everything!

In terms of pampering your feet as you go about your day, there is no better option than the Grasshopper Windham. You can still look stylish and be light on your feet, and you don't have to wear confining footwear when temperatures get too high - the Windham is a perfect solution to all of your summer needs.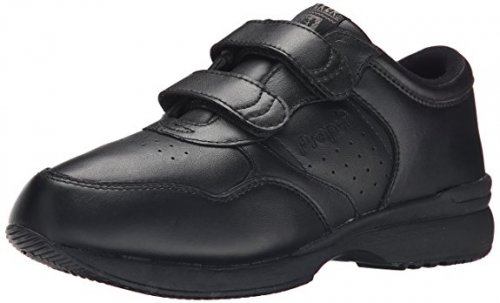 This design comes highly recommended for people with severe foot ailments and is Medicare approved and a perfect shoe for patients afflicted with diabetes. This carefully constructed sneaker is ideal for wide foot patients as well.
The construction of the Propet Life Walker is high-tech and for good reason. It is composed of a supple leather upper with adjustable straps for convenience in conjunction with a padded collar and tongue for extra comfort. Let us not forget the most important part: the impeccable arch support and removable cushion which provide excellent support to the ankles for special orthopedic needs. Furthermore, this state of the art design has a rocker profile to ensure a smoother walking stride.

The Propet Life Walker is a well-made shoe that is approved by Medicaid and is not only good for sore feet, arch
deformities, but also a great choice for diabetics. The cost of this option with the value it offers is unbeatable!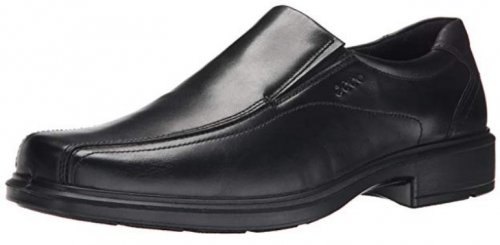 Ecco is a Danish brand that has been handcrafting footwear and combining innovative technologies with inspirations from nature for over 50 years. At the foundation of their label are superior comfort, fit and extraordinary stability, and all of that is true in the Helsinki slip-on. This simple, smooth design is timeless, always on trend, and its comfort features have to be experienced to be believed.
The Helsinki has a sleek upper, with gore panels that allow for a stretchy, accommodating fit. There is a textile lining inside which wicks away moisture and helps the feet breathe by promoting proper airflow in and out of the design. There is a removable insole with the Ecco Comfort Fibre System for comfort and even more ventilation, and the entire sole of this design is shock absorbent for lasting support.

Who says that supportive footwear can't be elegant? In the Ecco Helsinki, you can go from the office to a lunch meeting, even to a date with your significant other, all the while feeling comfortable and pain-free, and looking as elegant as ever. What a great deal!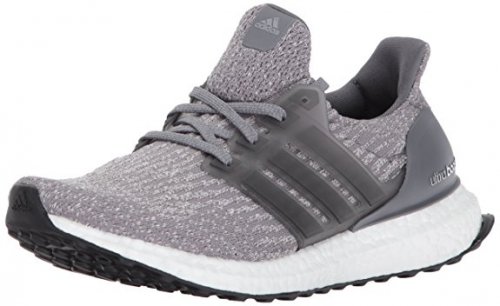 Adidas has done it again. Introducing a running design type that offers flexibility and versatility, with premium responsive cushioning, the Ultraboost is the most supportive sneaker Adidas has made yet.
Introducing a running design that is very flexible and offers cushioning that responds to you as you move, this is one of the best designs Adidas has made yet. The Ultraboost is crafted in a way that makes it extra breathable, so your most sweaty areas stay cool and dry. The upper of this design wraps the foot in adaptive and ultralight comfort. A carefully constructed heel counter has been added so that the sneaker fits more naturally and takes care of your Achilles, and this is a great solution for people who need that extra back support. Lastly, a gripping outsole grabs the road and other surfaces with superior traction for a smooth and comfortable ride no matter what athletic activity you are engaged in.

We would have to say this is one of the more costly items on this list, but if you are a runner or an athlete with special needs, then this is your sneaker. It is everything an active, athletic person needs.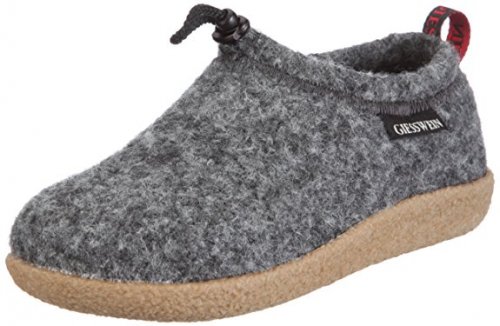 The Giesswein design is a brilliantly created slipper providing impeccable arch support with a comfortable fit that is made of all natural materials and non-slip soles. Giesswein has been constantly improving and perfecting their products for over 60 years, guaranteeing the highest quality by processing purely natural materials, therefore offering your feet the most pleasant comfort in addition to providing incredible support.
The Giesswein Vent offers firm and strong arch support, making it possible for you to keep up with your busy life and stay completely comfortable the entire day. This design has a removable cork-latex footbed that provides support to soothe achy feet and legs. It is also easily adjustable for a comfortable fit and the slipper sits on a rubber sole so it can be worn outside as well. While tending to your tired feet and legs your arches will be fully supported and your feet will be warm and cozy in this brilliantly created slip-on design.

Full support with the comfort of a house slipper makes this one a winner in our book. We are obsessed with the brilliance of creating a comfortable design made of all natural materials.

10

. Rockport M7100 Prowalker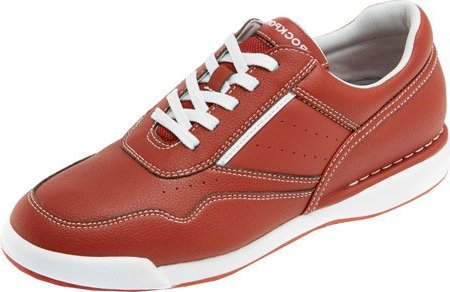 Regardless of what you get up to in your day to day business, this sneaker is sure to give you great comfort and superior arch support. Enhanced with Rockport's signature platform, the Prowalker is constructed in a way that delivers flexible and supportive results along the entire foot.
The walking platform of the Prowalker is constructed to provide a wide base of support for the heel and forefoot flexibility. The tongue and collar are padded to protect from excessive rubbing and to prevent those painful blisters for busy globetrotters. The leather is not only easy to clean but also conforms to the foot over time for a custom fit. The Prowalker has a state of the art form-fitting EVA midsole for top-notch cushioning as well as built-in Strobel technology for extra comfort. It is made of the softest leather and extremely flexible.

Considering everything this design has to offer, it can be one of the more expensive ones on this list. However, it is possible to find some more affordable options.

Subscribe to our Newsletter