Best Nike Running Sneakers Reviewed & Rated for Performance
In a Hurry? Editors choice: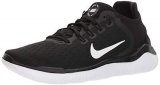 Test Winner: Free RN 2018

Founded in 1964, Nike has been designing top-of-the-line activewear and sports shoes for over 50 years. Sported by professional athletes from every discipline, Nike and its iconic checkmark has become one of the best-recognized brands of today. With so many styles and technologies from which to choose, we have carefully researched and cultivated a list of the top Nike sports shoes, weighing everything from style, flexibility, airflow, comfort, and how supportive they are. With that, you are being able to express your personal style and maximize the comfort and flexibility by choosing shoes from the wide palette of Nike running shoes full with different colors and designs, made in varieties of different shapes and sizes that will suit each individual's preferences, with a stellar focus over the style.
Standout Picks
Criteria Used for Evaluation
Support
Nike is a world-class footwear manufacturer that prides itself on its specialty customizations for high-performance athletes. If you are going to make superstar athletes and other high performers at the forefront of your business, you need to live up to the implied claim of excellence.
Here's the rub: performance means something different in every sport and it can mean something different to every individual. If a runner requires more support, a supportive runner will be considered a performance. But what exactly is meant by a "supportive runner"?
Depending on your natural gait, you will fall under a certain pronation type which helps describe the way your foot rolls upon landing. Individuals who are underpronators are going to require a higher level of support than individuals who are neutral pronators; just as overpronators will require support as well to avoid injury.
Every Nike sports shoe that we evaluated took into consideration how much support the shoe is able to offer you, helping you to make better decisions for your pronation type. If you underpronate, overpronate, have high arches, or simply like more support, then you want to select a shoe that ranks highly in this area.
Having the correct amount of support is a vital way you can ensure that you don't end up causing a sporting-related injury during activity. The proper amount of cushioning, arch support, and heel support will go a long way to keeping you performing at your best.
Flexibility
Your pronation type doesn't simply dictate what type of support you need in a sporting shoe, it also plays a big role when it comes to flexibility as well. The flexibility of a shoe refers to how much it allows your foot to follow its natural movement without hindering how you roll and splay. Some runners prefer highly flexible models, while others tend to opt for motion control shoes that help align the foot with each step.
Flexibility can be felt in both the rearfoot as well as the forefoot, and some Nike models feature certain technologies to help enhance overall flexibility. One of the most prominent technologies you will see is Nike's flex grooves, which not only enhance flexibility but increase support at the same time.
Increased flexibility will certainly give you a much more natural foot splay, and this can help you balance better during your runs. So whether you are an underpronator, or have a neutral gait, a flexible sports shoe can be extremely comfortable and beneficial.
Breathability
No one wants to engage in any activity with sweaty, over-heating feet. Not only is it uncomfortable, but it can be extremely distracting and even dangerous. The more your foot sweats, the more likely it is to slip around inside your shoe, and this can ultimately lead to a sporting related injury.
Nike excels at creating uppers that enhance breathability, which is why we considered it as one of our top criteria features. From mesh to flyknit, Nike utilizes a variety of different materials that help bring in cool air and release the build-up of heat.
Nike's Flyknit technology is used in virtually all of its sporting shoes. It is a knit design, their own innovation, that allows for heat to escape the shoe while allowing cooler air in. This keeps feet dry and cool, which is an essential comfort feature in any athletic shoe.
While not all models are available in a Flyknit option, most of their shoes do utilize an open-air mesh. With strategically placed ventilation holes, the mesh does a wonderful job of ensuring you are less sweaty by the end of your run.
Comfort
Comfort is a pretty self-explanatory criterion, given that one of the top things people look for when buying footwear is a comfortable experience. Shoes that rub against your ankles, bite into the top of your foot, or simply don't fit as needed are not going to be pulled from your closet very often.
Although we made sure not to include shoes that were uncomfortable, we did rate each pair in relation to each other so that you could get a good idea of which ones really came out on top. Not only did we look at general comfort though, but we also took a keen interest in some of the technologies Nike uses in order to enhance comfort to a higher degree.
One thing that Nike has become the master of is incorporating air into their designs. As far back is 1979, Nike has been developing the technology to lighten their athletic shoes and still provide cushioning with air which weighs absolutely nothing. Air is incorporated in a number of ways in the midsole to lighten the shoe, provide cushion and improve shock absorption. This all results in a "lighter than its size would suggest" shoe that feels extremely comfortable on foot.
Style
The main focus when it comes to sporting shoes is always going to be on their performance, but that doesn't mean you can't look great while doing it. Though the style is extremely subjective, we wanted to ensure that we selected shoes that had a bit more versatility in terms of their appearance.
Many of the shoes on our list can be taken from exercising on streets to walking them. Casual outings, low-key dates, and trips to the grocery store can all be accomplished in the same pair of shoes. We know that serious runners keep their shoes dedicated to only that, but for those of you who are more casual or don't feel like owning a lot of pairs, style can be a significant factor.
Multiple colorways are always a bonus when it comes to shoes, as it allows you to have some say in how they look. For those who prefer to keep it simple, you can opt for black or white which ensures a more muted appearance. If you like to really stand out, there are neon options and multi-colored pairs that will certainly add a significant pop to your outfit. Night runners can also benefit from colorways as well since some models are available in an option that glows in the dark which can enhance visibility.
Whatever it is you like, the style of the shoe can be that final factor to consider when you're stuck between a couple of pairs and aren't sure what to opt for.
10 Best Nike Running Shoes for Women & Men in 2020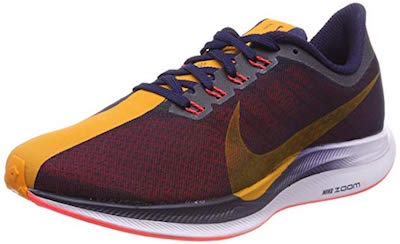 These Nike running shoes are the continuation of the Pegasus 35 but specifically developed for runners who want something that'll help them focus on speed, and which they can wear on competition days. A fast looking shoe with a unique heel, it's sure to catch everyone's eye, and it uses some of the latest technology in order to provide you with all the benefits you need for your best results yet.
The greatest thing about the Turbo is the new type of cushioning: ZoomX foam, which comprises the midsole for one of Nike's most responsive rides yet, with great amounts of energy return. It's a bouncy midsole unit that won't flatten with wear, making this shoe a good investment for anyone serious about their training. Another great thing about it is that it'll customize the amount of bounceback to the runner's weight and stride, making it one of the most advanced midsoles in the industry.
The translucent mesh upper provides one of the most breathable, seamless fits you'll find, with plenty of design features aimed at comfort, including the rounded collar and Flywire cables that wrap around the arch and midfoot. In the outsole portion, you get a tapered design that aims to make runners move in a biomechanically correct way. The front and back feature carbon rubber for durability, while the middle section React foam for a bit more stabilization. With all of these features, this is one of Nike's most expensive pairs of running gear, which may deter some users from investing. Nonetheless, if you want the best, it's highly recommended.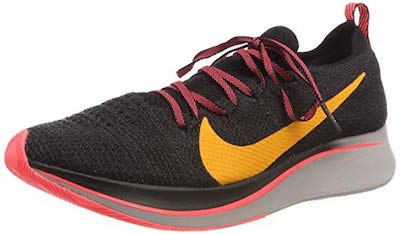 The latest version of one of the most successful Nike running shoes, the Zoom Vaporfly 4% Flyknit, this shoe makes use of great tech to give you competition-ready performance. Made for road conditions and neutral pronators, the model comes in numerous color options, allowing everyone to choose the style that'll set them apart from the crowd.
The upper is constructed like a bootie, using the brand's Flyknit material to ensure breathability, support, and a custom fit, while the lacing system allows tightening without having to worry about the material bunching as a result. The midsole uses React foam which is bouncy and energy-returning, while a removable insole allows you to use custom orthotics with the shoe.
This model features a carbon plate inside the midsole that propels the foot forward, giving you a more powerful toe-off, while the outsole features flex grooves and cushioned rubber for the best possible wearing experience. You'll find that the price of the Zoom Fly Flyknit is above average compared to the rest of the models on this list, and it will most likely be used by those who are serious about their training, or who are looking for best Nike running shoes for men that'll put them before the rest.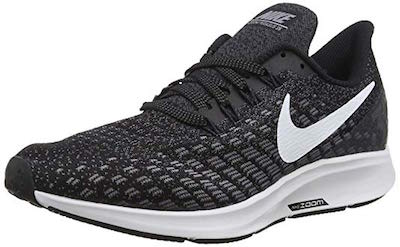 The brand's latest flagship shoe, the Air Zoom Pegasus 35 features some of Nike's best tech when it comes to shock absorption, as well as fit. This daily running shoe was made for road conditions and is a neutral model that can be improved with the addition of custom orthotics. It comes in over 12 color options, with Nike's option of customization, so you can even choose to wear these Nike running shoes as your casual shoes on those occasions you want to be comfortable.
The upper is made with engineered mesh that's been updated in terms of durability with the use of a zig-zag weave, as well as Flywire cables that allow you to get the best possible fit through tightening the laces. It's designed with a partial bootie construction with a mesh inner sleeve, and it even comes in three width options, which is not something that you often see from this brand.
In terms of cushioning, you get a full-length Zoom Air unit that's caged by a Cushlon cage for a supportive, but shock-absorbing ride. It's a durable midsole that provides plenty of energy return but still remains lightweight (despite its slightly bulky look). The outsole portion combines two rubber compounds for maximum abrasion resistance and added cushioning, and is made with flex grooves that allow you to naturally move, without having to sacrifice flexibility. In terms of price, these Nike running sneakers rank average and are a stellar choice for those looking for a daily running model.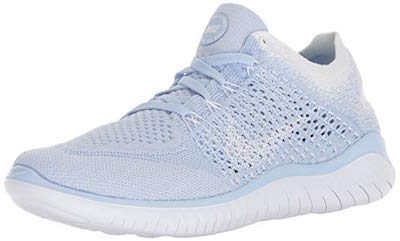 One of the best minimalist shoes in the market, the Flyknit version of the Free RN 2018 is a packable, comfortable pair of sneakers made for short runs, everyday wear, and travel. The biggest updates from the previous version include an improved upper that provides a lightweight, snug fit, as well as a new traction pattern on the outsole for a more effective grip on the pavement. It's a neutral, road running pair of sneakers, perfect for speed training, but can also be a good choice for those looking for packable athletic shoes.
The Flyknit upper now includes stretch yarns that allow you to get a customized fit throughout the entire foot, without sacrificing stability in the midfoot or the heel. As you can expect from Flyknit, you'll have plenty of breathability with this pair of Nike running shoes, while the Flywire cables allow you to tie the laces snugly, ensuring a supportive ride.
The models is made with a Phylon foam midsole that will cushion your landings, without creating too much bulk or weight underneath your foot. The tri-star traction pattern on the outsole works well on pavement and is one of Nike's most flexible soles that allow the foot to flex and expand naturally throughout the gait cycle. This is an averagely priced pair of Nike running shoes for women, but if you wish to save even more money, you could opt for the non-Flyknit version which is, even more, budget-friendly.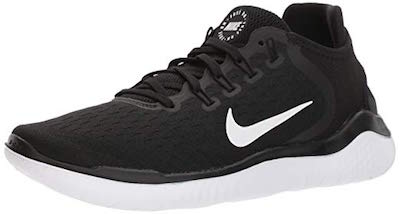 The cheaper option in the Free RN 2018 series, this is a great option for those who want a minimalist shoe that won't break the bank, but still ensures a highly customized wearing experience. It's a bestseller due to its comfort features, lightweight design, and simple looks. You can go with any of the numerous color options, or design your own using the Nike By You option.
The upper utilizes mesh for breathability, spandex for stretch and a wraparound strap that hugs your heel and ensures a locked-in fit. Light padding is found in the tongue and collar, and the interior sleeve ensures a great feeling in contact with your feet, whether you prefer to run with socks or barefoot.
The midsole uses Phylon for its lightweight and responsive cushioning, and its integrity is kept by the injected EVA carrier unit. On the outsole, you'll find a Tri-Star pattern that allows a flexible but strong grip of multiple surfaces, all without increasing the weight of the entire shoe. With a price that's considerably below average, this is another great option for those looking for something affordable, but that still performs at a high level.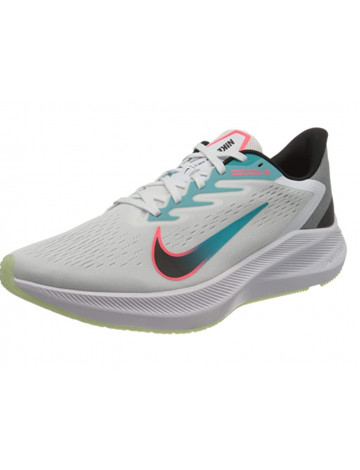 Great Nike running sneakers that are made for people who are moderate overpronators! Overpronation is when your foot rolls inward and downward a little toward the arches and is sometimes known as flat feet. This shoe is designed to help correct pronation to a moderate degree, helping your feet feel much more comfortable while correcting your gait. You'll be comfortable all day whether you're at the gym, running errands or at work. This is also a great shoe for the beginning or just-returned-to runner.
Flatter feet need a bit more rigidity for support than people with high arches. This shoe is lightly cushioned and uses a Fitsole footbed for additional comfort. Great for those with low to no arch. This runner is very light and well ventilated. Your feet will not be exhausted by this runner and they will stay nice, cool and dry. You will be able to slip a custom insole into the sole if you choose to.
These Nike running shoes are on the low end of the price range for our list. For the value, you are getting a very comfortable, airy sneaker that will help to correct and support mild to moderate overpronation. It's got a great look for a runner too!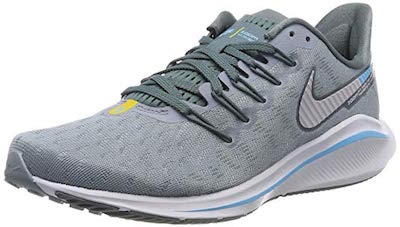 A road running shoe made for neutral pronators, the Zoom Vomero 14 makes use of a futuristic design and combines two types of cushioning for a smooth buth reactive ride. Another pair that's available in regular, wide and extra wide widths, it's a versatile model a lot of runners will choose as their daily running shoe, and can even be used on light trails.
The upper is made with engineered mesh that's lightweight and breathable and eliminates seams which may create uncomfortable running for more sensitive users. Support is ensured through an internal heel counter and Dynamic Flywire cables that allow you to tighten the laces without becoming restrictive. The collar is padded with foam for extra protection, and the tongue is made with mesh for a higher level of breathability.
The midsole of the Vomero 14 combines a full-length Zoom Air cushion while using Nike React foam to provide energy return and response. On the inside, you'll find a removable insole that can be replaced with custom orthotics. The outsole is made with a combination of hard-wearing and cushioning rubber for the ultimate ride on varied surfaces, and gives plenty of grip on asphalt as well. The price of the model is slightly above average, so it may not be everyone's first choice, but it's definitely a shoe worth checking out.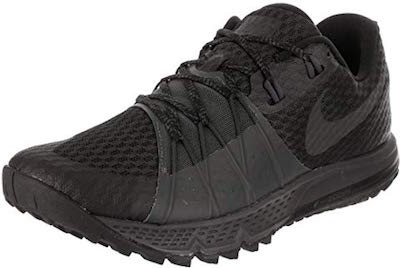 A trail runner for those who prefer to train in nature, the Air Zoom Wildhorse 4 has been updated to give you the best possible protection on technical terrain, along with some comfort updates aimed to make your runs more enjoyable. The upper layers textile and mesh for a rough exterior you can count on to keep you stable (even on uneven surfaces). In terms of fit, the forefoot now features a wider design, making these Nike running shoes a good choice even for those with wide feet.
Arch support and stability are provided by Flywire cables that wrap around the midfoot and are connected to the lacing system, and the ankle is padded with plush foam, preventing rubbing and blistering in this sensitive region. The shoe features a Phylon midsole that's lightweight and cushioned, as well as a Zoom Air heel unit that uses air to protect you with each landing.
In the outsole, you'll find carbon rubber inserts for durability, and an aggressive traction pattern for all types of terrain. You'll also benefit from the rock plate in the forefoot area that'll protect you from pebbles and rocks you might encounter on your run. The price of this model is slightly lower than average, compared to the other items on the list, and it's a cost that's definitely justified by all the benefits the Wildhorse 4 offers.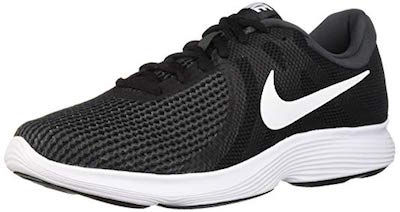 Affordable yet functional, the 4th iteration of the Nike Revolution line is definitely one of the best choices for beginners, children, as well as those who only run occasionally. A neutral daily runner for road conditions, it makes use of tested tech, combining it with a comfortable design and a couple of down-to-earth colorways for a model you'll be happy to wear for a variety of uses - from athletic to everyday.
The upper in these Nike running sneakers is made with a combination of textile and synthetic, making this a lightweight, breathable option with plenty of stability, and a padded tongue and collar to maximize comfortability while wearing. The lacing system allows plenty of customization, so you can easily get the best possible fit.
The midsole uses EVA foam for shock absorption and support, while the design uses curves under the arch to take the strain off of your tendons. The rubber outsole features flex grooves that allow you to run more easily, without constraint, while still allowing for good grip over asphalt. The best part about this shoe is that it's one of Nike's cheapest models so that everyone can afford it and wear it on their daily runs.

10

. Air Zoom Structure 21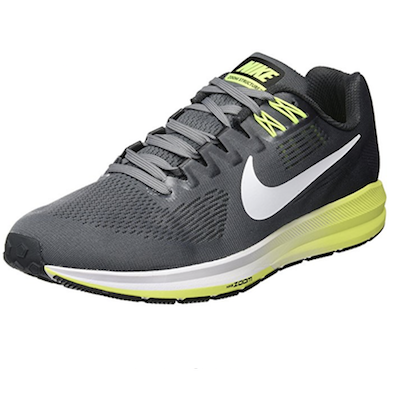 The newest version of the Air Zoom Structure is a very flexible, comfortable and supportive shoe with Dynamic Fit technology. This is a great running shoe no matter what level you're at. Jogging through the park on a Saturday morning or training for your next marathon, these Nike running shoes will provide your performance and support in a very lightweight runner.
The tri-star pattern on the sole of this runner expands and contracts with your motion, allowing your foot to move the way it was designed to, from the moment your heel touches down until your toes lift off again. This runner features Nike's Flywire technology which consists of light, strong cables that provide your foot with a secure fit across your midfoot for maximum support.
These shoes are in the mid-range prices. They are a moderate investment but they are also among the best running shoes on the market - designed to perform no matter what level you're at. Ultra-flexible but still supportive, with an adaptive fit and soft cushioning and great shock absorption.

Subscribe to our Newsletter