Best Road Running Shoes Reviewed & Rated
In a Hurry? Editors choice: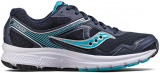 Test Winner: Saucony Cohesion 10

Shopping for the best road running shoes is not as easy as it sounds. People often underestimate the need for proper gear by assuming that runners can wear casual sneakers or trainers. If you have been having trouble finding the right pair to meet your needs, this guide will help you narrow down your options.

Good road running shoes must have a good balance of support and cushioning, be light in weight and fit comfortably. You get all of that and much more insight into what each pair has to offer. The products featured in this review are shoe lines with both male and female versions.
Standout Picks
Criteria Used for Evaluation
Comfort
You are at your best when you are comfortable.
Running can be challenging, so there's no reason to make things harder on yourself by wearing uncomfortable shoes. People's feet are different. Even the right and left foot sometimes vary in some individuals. Nevertheless, there are a couple of things you can look at to determine if the pair you want is right for you.
First, you need to look at the features and design. Do they conform to your interests? Second, is the lining quality up to par? These are questions that we consider from thousands of reviews to get a view of how people felt in the road running shoes we listed.
What this means is that we considered the majority of the buyers rather than looking at the opinion of a few people. When you do extensive research, you will also make better purchasing decisions, since you will have more information regarding things like comfort.
For the road, you want well-cushioned insoles in your shoes. Some even have removable insoles, so that you can add inserts that you prefer. Some people like to have padded collars on their shoes, while others feel as if they cause some unwarranted friction. Features like these are preferential, so you wouldn't want to rely heavily on someone else's opinion.
By testing out your shoes, you can get a feel of how they are; if there is any need to adjust them or discard them altogether. Doing so will also help you determine if the shoes are compatible with your feet. Sneakers vary, with some being neutral and others designed for overpronation and underpronation.
In this review, we also looked at brands with not only different sizes but also whether they offer shoes that run narrow and wide. When it comes to comfort, there's nothing like one size fits all. It's crucial to find the right fit for the sake of your performance.
If you are a long-distance runner, you need a shoe that's lightweight, breathable and provides the cushioning and necessary support. Midsoles should be firm, yet flexible enough, not to restrict your foot movement. Good midsoles usually have a bouncy effect, to add a spring in your step. The shoes in this review offer all these features and more.
When purchasing road running shoes, you don't have to worry much about off-road terrain. Therefore, by design, the shoes on this list focus more on comfort and a decent amount of stability. The cushioning in these comfortable running shoes will reduce fatigue while maximizing flexibility. You won't feel restricted, and your range of motion will increase.
Breathability
Ventilation varies according to your needs.
You are, without a doubt, going to feel hot in your shoes, more so over long distances. People sweat even more when the temperature is hot. To a runner, sweat can be catastrophic and can lead to chafing, blisters, and hot spots that can stop you in your tracks. Because of this, this list highly considers the breathability of your shoes.
Moisture-wicking is another factor that goes hand in hand with breathability. The design and materials try to mitigate sweat. Most manufacturers use mesh, which allows moisture to dissipate outward and evaporate.
Because of the mesh design, you will find that the shoes on this list are lightweight. Other types often have many support features built into them. Such shoes need overlays or strips of materials sewn to the upper to create additional support. However, they tend to get in the way of the mesh, which in turn traps moisture inside the shoe.
On-road options don't need a lot of stability. You should focus more on features like breathability instead. Ventilation is a must because you want your feet to stay dry on your runs. Off-road shoes are also heavier because they need both breathability and protection from the elements. The additional protection adds up more weight and often takes up material on the upper that would have otherwise been mesh.
Durability
Good shoes need to hold up to the stress.
There are many low-quality manufacturers in the market. While running, you clock in many miles, and your shoes will be subject to wear and tear. In this review, we looked at brands with features that will improve their product's durability.
To get a long-lasting pair, you need to look for a durable outsole, proper construction, and use of quality materials. We focused on what user experiences, and how long the pairs lasted, without the eventual defects getting in the way.
It goes without saying that cheap shoes will often yield first. The lower the quality, the less durable they will be. However, that does not mean that all shoes with low prices are always of poor quality. The shoes on this list are not overly expensive, and you can find a good quality pair that's in line with your budget.
Most good running shoes must clock 500 miles or more, like the ones in this review. They may last longer since they won't experience abrasion because they aren't for use in rough terrain. You also should take proper care of your shoes, to ensure that they serve you for a longer duration.
Support
Runners have different needs.
It is essential to know your foot type. Even though it's bordering on personal comfort, the arch of your foot and running gait influence the level of support you require. Some people's feet have unique issues; hence, they might need a specific type of shoe.
In this list, we considered the cushioning provided by the midsole. Cushioning goes hand in hand with support and comfort. Too much or too little shock reduction will make your feet sore. You want to avoid discomfort; otherwise, you won't be able to perform your best.
The inserts should be simple enough to provide flexibility without adding unwarranted weight. Worthy cushioning should protect your feet, to help you avoid minor injuries and bruises. Some shoes in this list of the best road running shoes also have specialized features to deal with issues like plantar fasciitis. Such shoes are great for numerous foot conditions because your muscles won't feel exhausted or overworked.
The best arch support should be firm, and not yield to the pressure as you sprint. The midsole should be able to absorb shock, support, and add comfort to your foot, without feeling bulky. Whereas the outsole should have lugs that are deep enough to add adequate grip and traction on the track.
The thing is, you can only realize the level of support provided after putting in some mileage. Luckily, our selection was based on shoes that have good feedback from athletes. We considered the insight they provided when making this guide. However, the fact remains that low-quality padding loses its stability in a short time. Therefore, it's not something that you can always judge from face value.
When it comes to supporting, you should also look at the flexibility and stability provided. Too much flexibility without stability will give you less control, thus increasing the risk of injury. On the other hand, a shoe that lacks flexibility won't allow you to move freely. Make sure that the shoes you select strike the right balance between the two factors.
You will run with ease if you move naturally. Besides, your joints and muscles won't hurt as much, after a long run.
Style
Look good, feel good, and run better.
Studies show that people who like how they look on the track, usually feel better, and perform exceptionally. Some people don't think much about that: but, consider the compliments you receive by having a stylish pair of shoes. A kind gesture will increase your feel-good factor, and you will be pumped for the race.
The road running shoes in this list come in plenty of stylish choices to showcase your personality and preferences. There are many attractive colors and patterns that you can choose from. The brands are well known, and you can step out on the track, matched from head to toe.
With the available variety, you can even ask your running mates to get similar styles, just to foster team spirit. They will also get to experience and enjoy wearing quality from a brand that can also meet their needs.
Another added benefit of selecting a well-known brand is that they offer more options in terms of sizing. Lesser-known brands often have less variety, meaning that there's a high chance that you're likely going to deal with inaccurate sizing. Ill-fitting shoes will not only cause you discomfort but also cause you harm. You might even end up with blisters or worse. That will most definitely affect your performance.
10 Best Road Running Shoes in 2020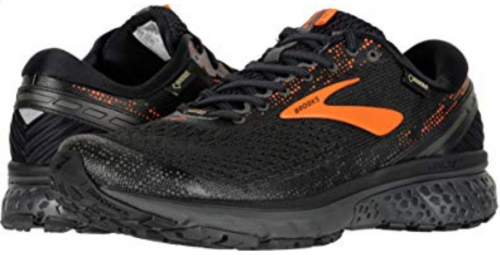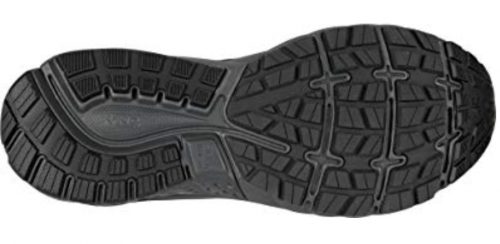 It's quite fascinating how Brooks keeps raising the bar. Their 11th version of the Ghost model has received many accolades, just like its predecessor. They still have the DNA Loft and BioMoGo DNA, for cushioning and support. Part of what makes them stand out is that the mesh upper is engineered to stretch according to your foot. That's what makes them better than other options.
The DNA loft provides all-day softness to the heel, making these road running shoe ideal for long runs. BioMoGo is localized on the toe area to give you a spring in your step. These features make them suitable for new runners because of the high energy return. You can push yourself further whenever you wear this pair.
The outsole is made from a soft and flexible carbon rubber material, that gives you an optimum grip to the ground. The BioMoGo DNA adapts to your foot, giving you a truly unique running experience. The midsole, which is made of a gel base, adjusts to the pressure you put it through. Fast runners get a great bounce back, while slow runners get firmer cushioning. Even though the midsole is light, it's surprisingly and delightfully resilient to the forces you'll put it through.
The material used is denser than that of previous versions, giving more support and doing a great job of keeping out dirt. This is not to say that the earlier version didn't do the job well, it just shows that Brooks can still upgrade features that work so well. The only downside to the double-layered mesh is that it offers less breathability than previous versions.
The midsole is segmented into matrixes of shock absorbers, which effectively disperse shock as you land. As a result, you'll get a faster and smoother transition onto your next stride. Both the male and female versions are lighter compared to other running shoes, and you can get them in so many different sizes. These best men's road running shoes are available in wide, narrow, and standard sizes and come in many color combinations to suit your style.
The Brooks Ghost 11 also has great performance on varied terrain and weather conditions. Even though they're a little bit pricy, the quality makes you overlook that fact because they are durable.

2

. Nike Air Zoom Pegasus 35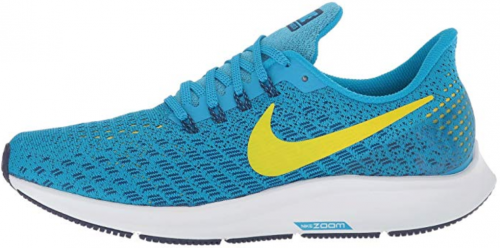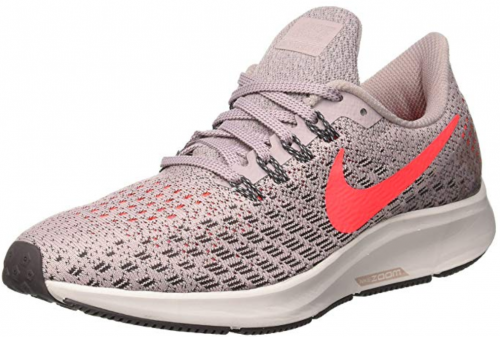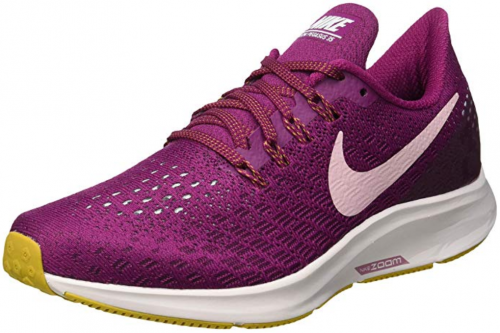 Being that the Nike Air Pegasus 35 running shoes are from the most prominent sporting apparel brand in the world, you probably have a clue that these pair won't disappoint. The Pegasus line has gone through so many variations. However, the principle remains that these road running shoes are ever responsive, comfortable, high quality, and affordable.
The Pegasus initially launched in 1983, are aptly named after the winged horse in Greek mythology. They are well appreciated by the established athlete and novice runner thanks to the perfect combination of responsiveness and cushioning.
In this version, the outsole has undergone a bit of a facelift. The rubber outsole provides aggressive traction even on wet surfaces. The heel is tapered in a way that ensures smooth and quick heel to toe transition. Nike produces quality shoes since they always take advice from elite athletes. It's still fascinating how they can bridge the gap between what mass consumers buy and elite athlete shoes.
These road running shoes are available in over 40 color combinations, to suit your style. They also run true to size and have so many size options to suit everyone's feet.

3

. HOKA ONE ONE Clifton 5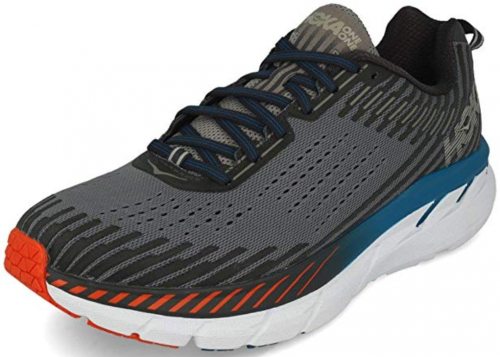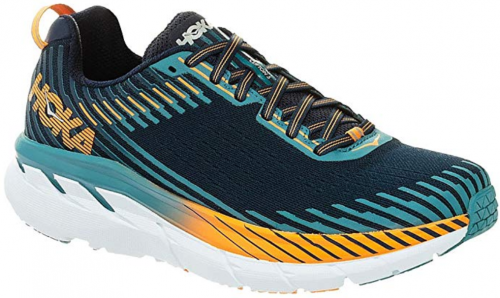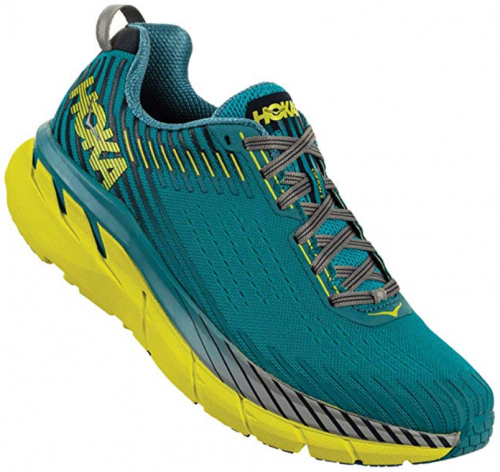 These are the latest addition to the award-winning Clifton running shoes. They are an upgrade to the first-rate fourth version because they are sleeker and more breathable. Hoka One One has stayed true to their cause of making shoes that are light and speedy. However, the shoes' cushioning, midsole and sole are still of the highest quality.
Just like in previous models, the Clifton 5 has a single thick EVA foam midsole. From the outside, the foam might look thick but it actually sits lower beneath your foot. The manufacturer somewhat tries to mask this by painting over the top edges, with a color similar to what's on the upper. Overlooking the aesthetics, the protruding top edges wrap around your foot and center it, giving you optimum stability.
Even though the heel is much firmer compared to those of other road running shoes in this review, it's curved to give you an easy time to roll through a stride. The underfoot has an identical configuration to the fourth version. There are rubber patches on the back and more on the forefoot. This patch design on high abrasion zones makes the Cliftons much more durable, lightweight, and provides a stable grip on the track. The foam could hardly withstand wear and tear, were it not for the rubber patches.
The most significant difference is in the upper having fewer overlays, compared to the Clifton 4. This difference means that with a tighter lacing system, you can dial in the shoe more for support. The padding has less material as well, allowing for more breathability for summer running. Additionally, this reduces the overall weight of the footwear.

4

. Salomon Sonic RA Max 2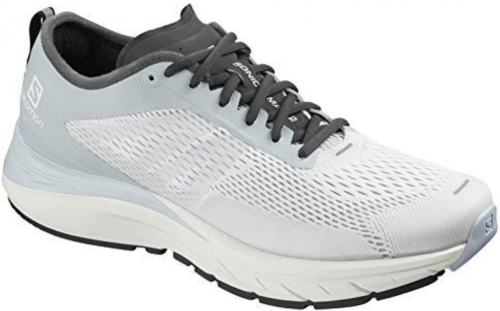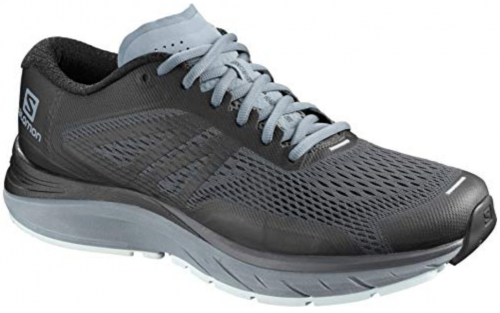 All-day, everyday comfort is what you will get with the Salomon Sonic RA Max 2. This brand has received a lot of recognition with their trail shoes. Even though the RA (Running Avenue) line does not have much to show in terms of options, the first version basically sold itself due to Salomon's good reputation.
Just like its predecessors, RA 2 offers excellent stability and cushioning. These characteristics are attributed to the high heel cushioning and wide toe box. Even though it might look bulky at first glance, you'll be surprised at how light they are once you pick them up.
For example, the men's size 10 weighs less than 10 ounces. Even though there are no size options for wide feet, the minimal overlays, special toe box, and pliable upper more than make up for that concern.
While running in them, you will feel less pain, particularly on your shin, thanks to the vibe technology. This tech on the midsole attenuates the vibration of potentially harmful impact loads while delivering a responsive ride.
The RA has ample padding, and the heel is tapered off to reduce the chances of chaffing on the Achilles tendon. There's a shift in the RA's design from the previous model. Either way, both versions are sturdy enough, even when you go off-road.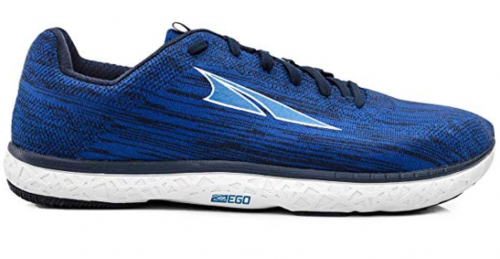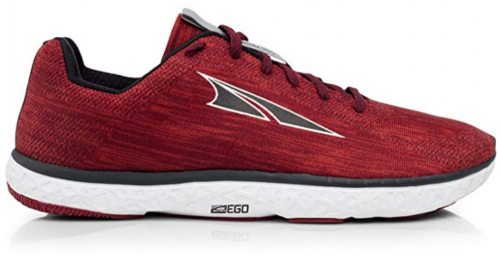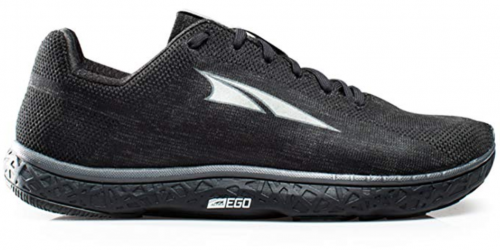 The new version of the Altra Escalante 1 has a more secure heel cup and reflective details on the upper to increase your visibility during late runs. Additionally, the responsiveness has improved as the cushioning is slightly less in this version. The sole thus bends, turns, and twists easily.
The outsole is made of rubber, just like in the original version. The rubber is wide on high impact areas, dispersing impact forces evenly. The rubber sole is long-lasting and provides excellent traction on the road too. The sole also has FootPod technology. The tech maps out your foot's tendons and bones to promote a smooth gait through the structured flexibility.
The midsole is largely unchanged and has Altra's InnerFlex design. It consists of grid-like groves inside the midsole, designed to provide superb flexibility and a smooth heel to toe transition. On top of that, the design also increases comfort and enhances underfoot protection.
The toe box has ample room. So you can spread out your toes naturally, increasing your stability with each stride. The traditional lacing system combines well with the stretch mesh upper for a close fit. The laces even have lace loops to tuck them in securely.
When you tie the laces, you open pores to allow for ventilation. That how this road running shoe is designed to create breathability. What makes the Escalante's so worthwhile is that they are lighter than most options. Your legs will feel less burdened whenever you wear them, more so when you're covering long distances.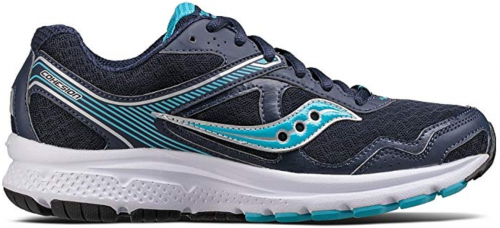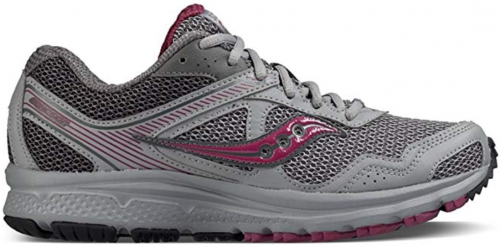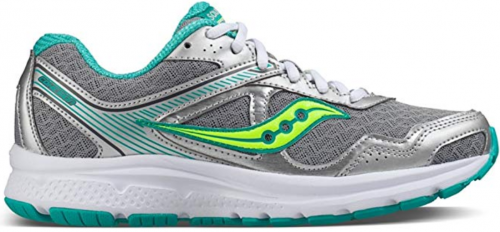 This model is suitable for those looking for versatile shoes. They are ideal for recreational runners, entry-level runners, and gym usage. Besides, they have a low price tag in comparison to others, so they are worth the risk because they are quite durable.
The outsole has the Tri-Flex design, offering adequate traction on the surface. The injection-molded EVA midsole provides moderate but comfortable cushioning. With the little amount of overlay material, the upper provides a good amount of breathability. The design minimalizes on fabrics making them light as well.
The Cohesion line features a heel grid focusing on support and stability. The outsole has soft rubber on the midfoot and forefront for traction and carbon rubber for durability on high wear areas. It holds up well to the elements.
You can also get these shoes in several color variations. They are light, durable, and worth purchasing. You can use them comfortably even in casual settings and fit right in. Saucony also provides wide feet of size options because of its all-inclusive market.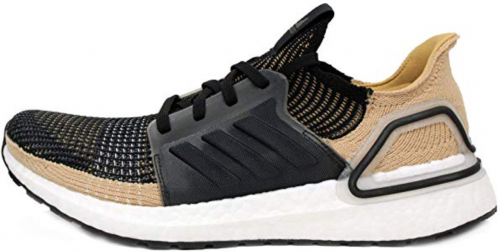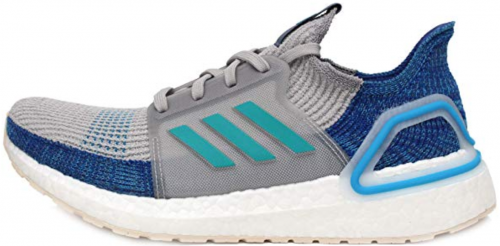 These are the latest pair in the Ultraboost line. When Adidas launched this version late last year, they quickly sold out, and there was a time you couldn't find them anywhere for a couple of months up to February this year. Adidas came back even stronger with more color combinations.
As is with many Adidas running shoes, they can be used as both sporting apparel and casual wear. The Ultraboost are fashionable, modern-looking shoes that you can comfortably wear all day long. They are also excellent options for sprints and marathons.
Adidas started making them from the ground up. The Ultraboost 19 have 17 individual parts that give them all the excellent capabilities. One part is the torsion spring between the forefoot and heel to make for easier turnovers. This feature also prevents you from losing your balance as you will be propelled forward by the spring, encouraging a fast toe-off.
The upper consistently stretches throughout your foot. The Primeknit 360 fabric on the top mesh offers excellent breathability while reducing the chances of hotspots or blisters. This fabric also fits like a sock, distributing the pressure throughout your foot.
The outsole has continental rubber just like the one found in car tires. Having this material means that they will offer excellent traction on wet and scorched surfaces. Don't be skeptical of their flexibility because the multiple grooves are adequately spaced for that.
A unique feature of the Ultraboost line is the absence of a tongue. The upper encompasses that so you won't slip or feel much of a deviation. The overlays connect to the lacing system from the midfoot area for enhanced support and stability to your foot.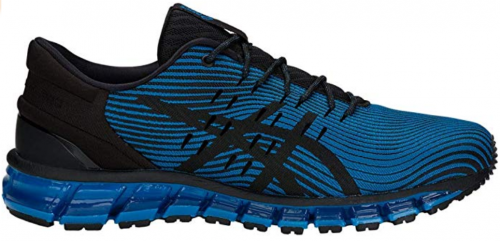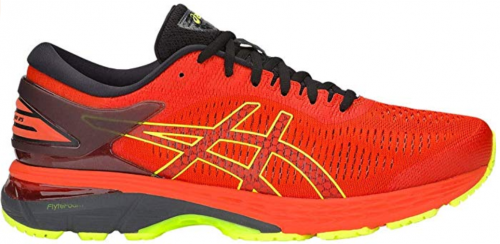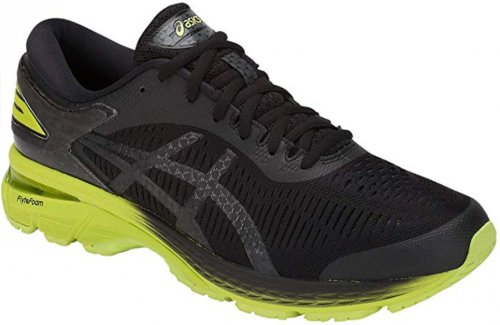 Asics were celebrating their 25th anniversary when creating the Gel Kayano 25. Getting to the 25th version of any product shows that the brand is doing something right. These running shoes for the road are part of their stability lineup and gravitate towards contrasting color options.
As seen in the Kayano line, this version also features two types of foams in the midsole. The two compartments combine to give the runner a responsive and fluid ride. The foam in the heel is lighter than in previous models but offers more absorption and bounce back as well.
The upper comprises of a stretchy mesh that adjusts to your foot as you flex it, preventing any irritation. The break-in period is virtually nonexistent because of the jacquard fabric mesh. Additionally, this material is sturdy and dries quickly.
The outsole has deep treads that can handle wet slippery surfaces quite well. These shoes are ideal for long runs. The foam cushions your stride and there's ample room for your toes, thereby improving your stability on the track.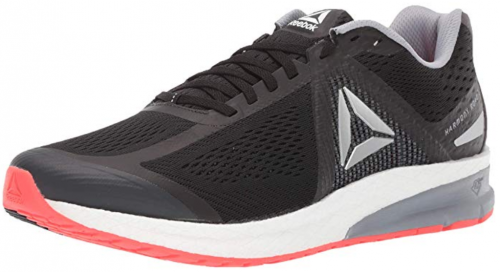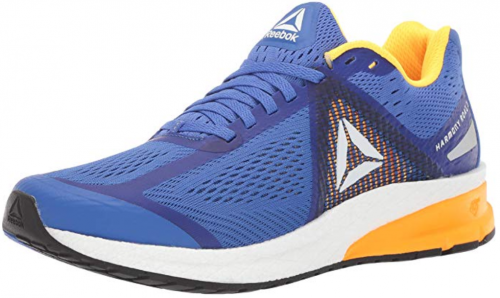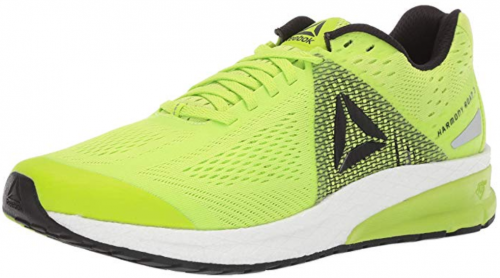 Reebok is another big player in the sports apparel world and a sister company to Adidas. Regardless of their association, both brand's designs are quite distinct from each other, more so when it comes to their athletic shoes. They also manage to offer high quality at a lower price.
The Harmony road 3 is now more comfortable, lighter, and faster than its predecessors. And just like the previous versions, the shoes are durable, moderately cushioned, and offer a good fit.
A lot of people like the high heel design in all versions of the Harmony Road line. The design gives users a sensation that they're falling forward. In effect, you get a heel to toe transition that's smoother. The mesh upper is durable and resists stretching thanks to the Kevlar-like strands running through it. It is also highly breathable.
The midsole is made using a new compound in the market called FloatRide. This compound is softer and lighter than traditional EVA and makes an outstandingly bouncy underfoot. Nonetheless, there's also some EVA used on the heel cup to protect your foot when landing heel first. The EVA then tapers in thickness towards your arch, leaving an underfoot wholly made of the new foam.
The underfoot has an exceptionally high amount of durable carbon rubber, which can withstand some respectable mileage. The extra weight this material creates is a compromise you can take for the added durability. A slew of grooves on the rubber outsole, edging toward the midsole, makes the shoe flexible in the forefoot.

10

. New Balance Fuelcore Nergize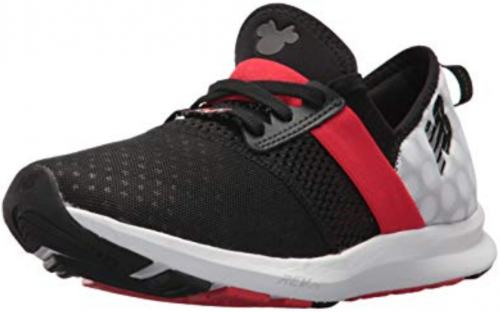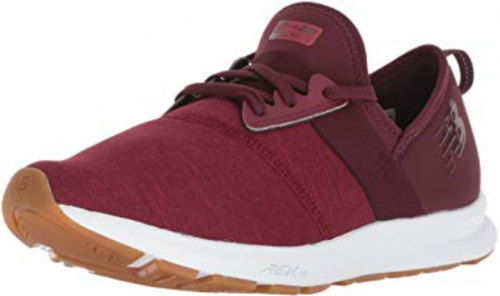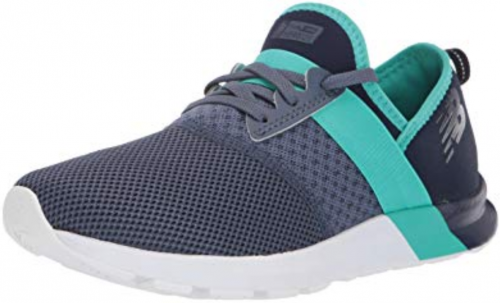 New Balance offers a pair of versatile, high-performance shoes. You can wear them to the gym, as athleisure options or use them on vacation. It's hard to resist the Fuelcore Nergize line's aesthetics. The cushioning is also responsive, but the support they offer might not be up to par.
The white sole creates a nice contrast to the different color options on the upper. The laces also come in the same colors as the uppers for a uniform design. Because you can use the Nergize casually, you get value for money if you are also looking for shoes that you can use for other occasions.
They are also light, yet they can still reduce the impact on your feet significantly. The adjustable strap in the midfoot area will help keep you balanced, and the multidirectional flex grooves on the outsole provide excellent traction.

Subscribe to our Newsletter