Best Lifestyle Shoes Reviewed & Rated for Quality
In a Hurry? Editors choice: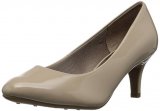 Test Winner: LifeStride Parigi

Are you in the market for a pair of shoes that comfortable, durable, and can provide the support needed for every day walking? Better yet, do you need these shoes to be stylish to
match your outfits
? Well, if so, it sounds like what you are in the need of is a pair of quality lifestyle shoes. This market is one of the most popular in the shoe industry, which can make it both challenging and exciting. Reason being, there can be so many options to pick from, making it slightly overwhelming; however, this is where we come into the picture.
Standout Picks
Criteria Used for Evaluation
Style
After spending the amount of time that we have studying the market for lifestyle shoes, we can say that consumers are inundated with options, which can make it challenging to purchase a high-quality shoe unless you spent quality time researching and investigating.
Now, we don't want all consumers to think having options is a bad thing, because it's not. It's nice to have choices and the ability to really measure the market before making a purchase. In this, it allows for us, the consumer, to really ensure we are getting our money's worth for a purchase. With this in mind, this was our precise and ultimate goal with our buying guide today: to present to our readers a list of only the best shoes that are really designed for one's everyday lifestyle. Whether you are looking for a pair of shoes to walk around the mall or simply walk down the street – there is a pair of shoes for you today on our list.
Another critical part of lifestyle shoe is the way that they were designed and their visual appeal. Let's be honest with ourselves, if you are going to wear a shoe all day, the last thing you want is an ugly shoe. We understand that! So, as we were picking out shoes for your consideration, we carefully evaluated each shoe based on its design, appeal, and whether or not it offered consumers different options as far as design and colors.
Materials
One of the most important aspects for us when evaluating products for this buying guide was the quality of the design. The thing is, lifestyle shoes are meant to resist everyday wear and tear. Consumers should be able to tie a pair of these on, without worry, and navigate their life without fear of discomfort or their shoes breaking down. With that being said, as we assessed each shoe, we carefully notated the types of materials the brand made the shoe from. During our process, we noticed that shoes were typically made from:
Leather
Suede
Textile
Mesh/Perforated
Polyester
Now, our research did not stop at just looking at the materials. We took it a step further by looking at what previous consumers have said in their reviews. Since these individuals have the first-hand experience with the shoe, we truly valued their opinion and experience. If we noticed that there was a lot of negative reviews regarding the quality of the design, we no longer continued evaluating that shoe.
Outsole
When it comes to any shoe, it's critical that consumers pay very close attention to the way that the soles are made. Reason being, this is essentially the heart of the entire shoe. Now, there are a few different aspects to look-out for, and we are going to break this down for you, precisely how we assessed each shoe on this list today.
The first part of the shoe that we looked at today was the upper – which is typically the top part of the shoe. Reason being, this is the part that is going to provide the individual with the stability and control to move their feet, while at the same time, providing the breathability and ventilation for the interior part of the shoe to breathe. This was our primary concerned while evaluating this footwear. I mean, the last thing you want when walking around all-day is sweaty feet in a nice pair of shoes, right?
The bottom part of a shoe is often called the outsole by shoe experts. This is the part of the shoe that really holds everything together. If it is designed from anything else than a high-quality rubber material, typically, the shoe is likely to show signs of wear and tear in the future. With this, we carefully noted what shoes had the best outsole technology – and those were featured here today.
Midsole
If you are wondering where true comfort comes from, it's the midsole. This is the special part of the shoe that really provides a comfortable environment for the foot. Typically, manufacturers spend the most amount of time developing this area – as it's the one area we are all pickiest about. With that being said, as we assessed each shoe, we carefully studied the midsole and what type of padding and cushioning the brand put into it.
Podiatrists tend to prefer firmer midsoles for those suffering with orthopedic conditions, such as plantar fasciitis. A higher score on the "midsole" criteria means that the midsole is of a firmer nature. Whether or not this is beneficial for you depends on your foot type and orthopedic issues!
Value
The last piece of criterion that we want to share with our readers is probably our favorite: the cost and the value. Now, you might be wondering, why is this aspect our favorite? Honestly, this is the easiest way for any consumer to really assess the validity of the product. In other words, this simple can answer the question as to whether or not a product is worth purchasing. Now, for this buying guide's sake, we are going to show you how we used the cost and value for lifestyle shoes. However, we highly encourage adapting this formula into purchasing any product, if you are wanting to get your money's worth. So, here's how it works!
We started off by measuring lifestyle shoes and all of their price tags. We carefully took note of products that were cheap, more expensive, and those in-between. Based on the prices, we took an average of the highest-cost products and the lowest-cost products, which will be used later on.
With a better idea of what the average costs are – we started to look at each product and really assess based on what value the shoe offered. We wanted to know how valuable the durability, comfortability, and usability was.
After coming to the conclusion regarding the value of the shoe, we looked at the shoe's price tag in comparison to step one. If we noticed that the shoe was priced above the average, and offered low-quality or value, we realized that the product was over-priced and not worth your consideration.
Should the product's value and costs match – the product was placed in contention for today's buying guide.
Top 10 Picks
1

. Adidas NEO SE Daily Vulc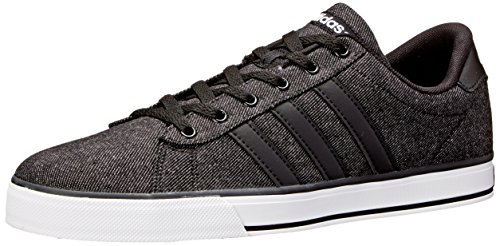 When it comes to lifestyle brands, there is one particular brand that comes to mind: Adidas. This company has built a reputation as the true, lifestyle brand, offering some of the best walking and running shoes for everyday wear. The NEO SE Daily Vulc footwear is the pinnacle of this lifestyle brand, and our buying guide today.
CloudFoam Technology
Let's take a minute and talk about what really sells this shoe: the CloudFoam technology. For those of you who are new to the Adidas brand, CloudFoam is a pivotal midsole innovation that provides consumers with some of the best comfort through cushioning and lightweight materials.
7 Different Designs
In the shoe industry, we can say that the lifestyle market is one of the largest. With this, it's important for companies to design their shoes in a way that blend both style, flair, and fashion. There is no better shoe to capture an individual's attention than this one. Featured in 7 different unique yet subtle colors and design, this product is the stylish choice that consumers are looking for.
Cost and Value
When it comes to looking at costs, it's important to note that the price tag will really depend on the maker and the innovations infused in the shoe. This specific product is considered a pretty fairly priced product, considering the amount of value that it offers. This footwear is great for individuals that are looking for an inexpensive shoe for casual everyday wear.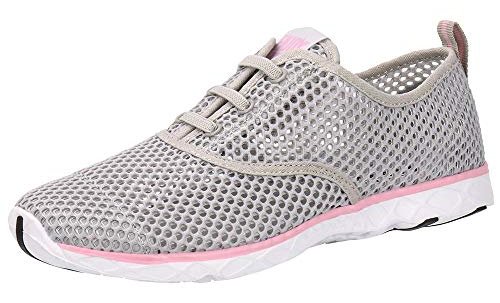 If there is one brand or shoe that can really challenge the first spot, it's the ALEADER Quick Drying shoe. This item, while the brand may be unknown to many consumers, is easily one of the most popular and widely preferred shoes by consumers. This is simply because of its numerous features, making it a great every day, lifestyle shoe.
Water Draining
On the bottom of this footwear, consumers will notice that the outsole is most certainly different than other lifestyle shoes. Here, there are numerous holes that are intently included for water draining. At the same time, these are carefully designed to boost traction and stability for those rainy days.
Breathable and Ventilated
One of the biggest letdowns in a shoe is when it lacks in ventilation. This often happens when the company utilizes less-perforated materials. This shoe most certainly surpasses all expectations in this department. Consumers will be surprised by how breathable this shoe really is, thanks to the design of the upper.
Cost and Value
As far as cost is concerned, this specific item is one of the cheapest items on our list today. Typically, consumers do not like hearing that a product is "cheap". However, we want to assure that this product was not made cheaply – it's made of quality materials and a great deal worth anyone's consideration. If you are looking for new, colorful footwear, this is a great every day shoe.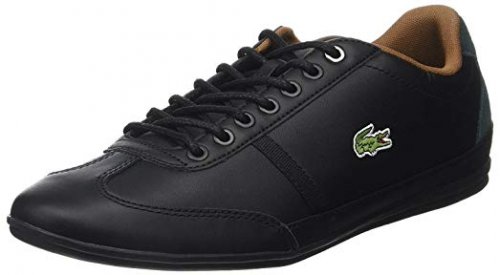 Out of all the lifestyle shoes that we are going to share with you, the Lacoste Misano Sport is the one that we are most excited to share with you. This product not only is made from one of the best brands in the industry today – it's classic, stylish, and comfortable. If you are looking to add some flavor to your everyday outfits, this is the piece for you.
Stylish and Fashionable
Out of all the different products, this one might just take the medal for the nicest and classiest looking footwear. Its minimal appeal is perfect for all lifestyle wear, and their logo is the cherry on top. Featured in 8 different colors and unique designs, consumers can really choose how they wish to style their outfit with this brand.
Mesh Lining
To stand out and make this shoe and even better product, this brand made the upper with mesh lining. Now, you might be wondering how come. Reason being, even when an individual is not running or working out, they may sweat from their feet. In order to counterbalance this and provide an even flow of air, the mesh liner will help to release any moisture and keep the interior part of the shoe dry and cool.
Cost and Value
Evidently, this is a name brand so, consumers should have it in their mind that they may need to pay a bit more than other shoes on today's list. While it's not the most expensive, it's still costly. With that, as far as lifestyle goes, this shoe packs a deal that is worth any individual's consideration. If you are looking for comfort, this shoe has it! If you are looking for a classy design, here you go! If you want to stand out, what are you waiting for?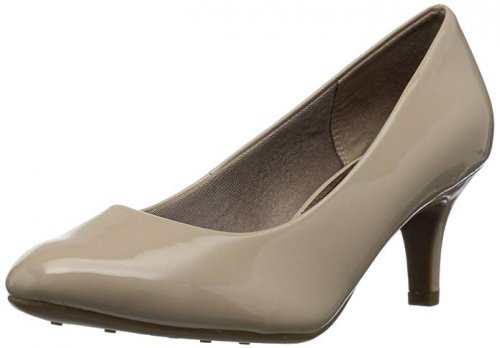 Sometimes, there is no better lifestyle footwear than a classy and timeless pump. The LifeStride Parigi Pumps are a blend of beautiful and elegant designs alongside comfort and durability. Unlike other shoes on today's list, these are manmade and offer consumers some unique benefits. Let's take a look at what these might be.
Soft Insole
Wearing heels can be uncomfortable – and that's an understatement. In efforts to make wearing heels a comforting experience, this brand included a soft insole innovation, which has been said to make every day walking easier. In fact, for those of you who have never ordered from this brand before, they are actually known for their comfortable insoles.
26 Options
Who doesn't love the idea of options? This brand makes the decision process slightly challenging by featuring their product in over 26 different colors and designs. Are you looking for white pumps? How about red or black? Whatever color is your favorite, don't worry! This brand has you covered.
Cost and Value
When looking at this product as far as cost is concerned, we can say this is considered cost-friendly. Most consumers will not object the price tag, especially after considering the value and comfort that this offers. If you are looking for a pair of shoes for work or every day walking, this is a great pair to consider.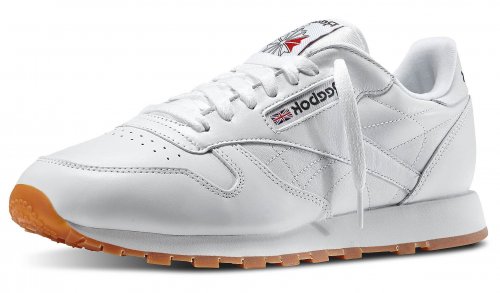 In the middle of the competition, we have the ever-so-popular, Reebok Classics. These are, as the name implies, a classic lifestyle shoe. Users will appreciate the retro-design, comfortability infused features, and the highly-durable outsole. With over 11 different unique colors, you can't go wrong with a shoe from this brand!
Padded and EVA
Let's explore what makes this shoe so comfortable. For one, the sock liner is infused with an extra padded material, which is intently included to provide comfort to the sides of the foot. Additionally, the midsole is packed with EVA foam, which is typically used in most elite shoes for comfort.
Durable
The outsole, or the bottom of the shoe, is what really captured our attention. Unlike many other brands, this company took the time to carefully include high-quality abrasion-resistant rubber. In other words, this product naturally resists wear and tear, boosting its life expectancy.
Cost and Value
So, you might be wondering, how much does a shoe like this cost? Well, in truth, it's not too costly! In fact, it's quite relative to many of the other brand shoes on today's list. What really makes this shoe worth consideration is the pure value in the midsole and the outsole. Should you be looking for something that's catered with more durability and comfort – this is the product for you.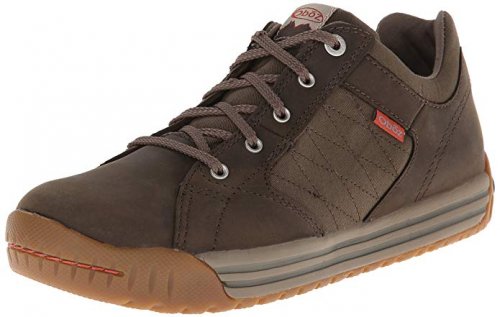 There is something so special about a traditional lifestyle shoe; they are classic, timeless and comfortable. The Oboz Mendenhall Low Lifestyle show encompasses this and offers consumers so much more. Known as one of the absolute best shoes in its market, this piece of footwear can easily challenge just about any product on today's list. Let's take a deeper look at this shoe
Perfect for Arches
When you are walking around or wearing lifestyle shoes, it's important to be comfortable, right? Well, this brand carefully crafted this product so that all consumers will be happy and in comfort. Thanks to the Bfit engineering, users will appreciate the arch support of these shoes.
Quality Soles
If there is one part of this shoe that is worthy of mentioning, it's the sole technology. To start, the upper and outer are made from a blender of rubber and higher quality thermoplastic materials. The midsole is made from dual density materials that have also been carefully analyzed during the molding process in efforts to provide the most comfort.
Cost and Value
When it comes to the lifestyle shoe industry, this specific brand takes the gold medal for the most expensive shoe, with ease. Now, it's important to remember that this product is also made from a highly reputable brand and a wealth of features and benefits that other products on today's list do not have. If you are looking for a high-quality, comfortable, and durable lifestyle footwear, that's also visually appealing, here you go!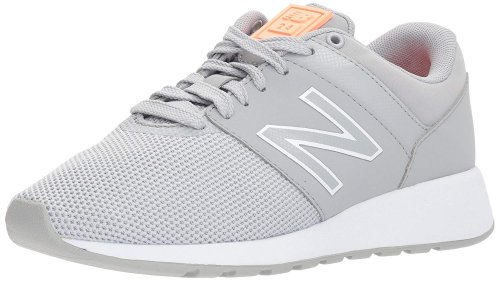 What do you get when you mix together a widely popular shoe brand with comfort, colors, and a good price tag? You get the New Balance 24v1 sneaker, the one piece of footwear that thousands of consumers around the world desire. This product offers everything that an individual seeking a lifestyle shoe could need, and more.
RevLite Midsole
The first aspect that we want to share with you has to do with the quality of the midsole. This brand carefully included something known as RevLite. This is a specialized midsole technology that helps to boost comfortability and stability – which is partially what makes this such a great lifestyle choice.
8 Different Colors
In efforts to stay competitive in this market, the brand features this shoe in eight different stylish designs, all of which are equal in quality and great for every day walking. Whether you are going to the store, heading to the mall, or even just to work, this is a great pair of shoes.
Cost and Value
So, you might think that, just because this is a widely known brand, the price would be expensive right? Actually, this product is one of the most affordable products, making it such a valuable deal and opportunity.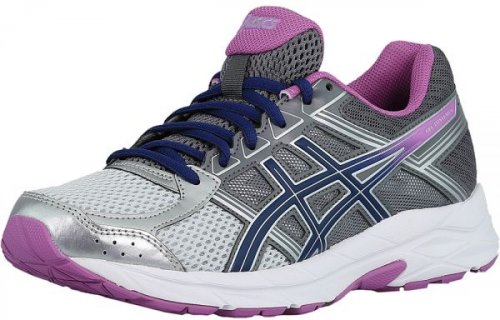 We cannot talk about lifestyle shoes and not mention one of the biggest and most important brands in this market, ASICS. The Gel-Contend 4 is one of the greatest shoes for consumers that are looking for a comfortable, everyday shoe to handle whatever daily tasks they need to get done. Let's take a look at some product highlights.
GEL Cushioning
So, what makes these shoes such a viable contender for the best shoe in this market is because of the GEL cushioning. Simply stated, this is an innovation that allows an individual to walk and perform daily tasks without ever experiencing any discomforts. The walking experience is seamless, comfortable, and minimal shocks.
Moisture-Wicking
This shoe is also popular because of the lengths that the brand took to infuse moisture-wicking properties into the shoe. Through using ComforDry technology, the manufacturer created a breathable sock liner where moisture can be released, creating a dry and cool interior during the day.
Cost and Value
As far as cost is concerned, consumers can expect to may a relative amount in order to own a pair. In other words, in comparison to others on this list, it's quite the same. What really sells these shoes is the technology and quality of the innovations that the brand uses. In truth, you might not be able to find a shoe that comes with better cushioning or moisture-wicking properties than this one!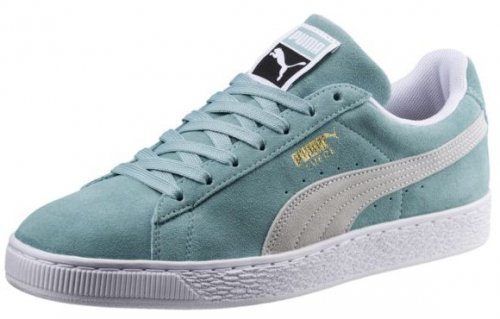 As we near the bottom of our list today, there was one brand that we did not want to forget to include: PUMA. We have all heard of PUMA and seen their logo – almost in any sports store. They are iconic and known for their stylish and fashionable shoes. The Suede Classic is no exception to this rule and worthy of your attention. Let's begin!
16 Color Choices
So, when it comes to the competition, there are not many brands that can compete with this manufacturer as far as quality of colors. Throughout this buying guide, we have found companies that do off quantity of colors – but none that are this vibrant or stunning to look at. Most consumers will appreciate the subtle yet vibrant nature of these shoes. Oh, there are 16 different colors to pick from!
Suede
What we really enjoyed about with these shoes is the way that they are made. Typically, brands made their shoes out of leather, rubber, or even textile materials. This shoe is made of suede and a rubber outsole. This gives the individual that is wearing them a classier look and feel. You should note though, suede does not perform well in the rain!
Cost and Value
When it comes to the price tag, consumers should expect a competitive price. This brand is known not to offer their shoes at a cheap price tag, for good reasons. These are high-quality lifestyle shoes that are a great compliment to any outfit on any day.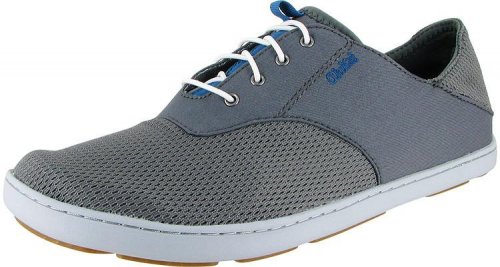 As the last product on our list today, we are very excited to share with you the OLUKAI Nohea Moku shoe. For those of you who are looking for a classy lifestyle shoe that almost resembles a relaxed, beach-like vibe, these are the footwear for you. Featured in over 11 different colors and designs, consumers can really choose a design that matches their personality. Let's explore some of this product's highlights.
Anatomical Footbed
The biggest selling feature to this footwear is the way that the footbed was designed. For one, it's made from a high-quality PU material. In addition to this, the anatomical footbed includes a comfortable, and removable, gel-insert. Now, if the interior part of the shoe gets dirty, the company made the footbed to be easily removable so that it can be washed and cleaned with minimal complications.
Good for Water
Have you ever been out and about and, all of the sudden, it starts to rain? Now, certain shoes are designed to handle this type of weather; however, most lifestyle shoes are not. This particular shoe was uniquely created to handle whatever Mother Nature had in store. With a lightweight, ventilated, and breathable materials, these are waterproof in-and-out.
Cost and Value
When to the price tag for this shoe, consumers can anticipate paying a much higher price than they might anticipate. While this brand may not be as well-known as other, more-expensive products on today's list, this product is packed with valuable comparable to the number 1 product on today's list. With a great outsole, immensely comfortable footbed, and waterproof properties, you really can't beat this!

Subscribe to our Newsletter