Best Lacoste Shoes Reviewed in 2022
In a Hurry? Editors choice: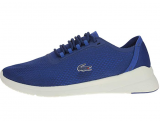 Test Winner: LT Fit

The beginnings of Lacoste date back to 1933 when the clothing company was founded by René Lacoste, a famous French tennis player. Starting out with a signature tennis shirt, the brand has retained its popularity ever since.

In the past decades, Lacoste has become a huge international presence, including a variety of products in their lines, including eyewear, accessories, footwear, perfumes, and watches.

These shoes, however, hold a special place among all of these, seeing that they're often the first choice of those looking for a simple, sporty style that is comfortable and comes at a great price.

Below you can check out the best Lacoste shoes, as picked by our editors!
Standout Picks
Criteria Used for Evaluation
Style
Lacoste is known for being influenced by classic sports looks, making stylish footwear that is appropriate for a variety of occasions, including casual, professional as well as semi-formal ones.
While their footwear doesn't come in a countless number of variations, seeing that their focus is mainly steered towards sneakers, slip-on flats, and some sandals, they do these well, giving users simple designs crafted with both looks and comfort in mind. There are a few Lacoste shoe types that are easiest to find:
Sneakers
Considering the fact that Lacoste is a brand that first started making equipment for tennis players, it comes as no surprise that the majority of their footwear is made with athletic use in mind. Their tennis shoe-inspired sneakers all make use of classic, timeless silhouettes that are easily paired both with completely casual outfits, as well as more formal ensembles.
Loafers
The Lacoste brand can easily be defined as sporty with a high-end twist, which is why loafers are some of their most popular products. These moccasin-shaped slip-on shoes go great with a variety of outfits, both formal and casual, and are a type of resort-ready footwear that brings comfort, practicality, and style together.
Slides
As a brand that invests a lot in developing high-quality resort wear, it is only understandable that some of their most loved products include slide slippers made for water-friendly use at the beach, pool, or even your own boat. Using synthetic materials that work well in these types of environments, Lacoste creates looks that are not just functional, but also very simple to pair with any piece of clothing.
Materials
Materials are a big factor when considering the overall build and look of a particular shoe.
High-quality materials in combination with high-quality stitching can make a huge difference in how the shoe itself looks as a whole. Even more, the materials used in the construction of a pair of footwear can determine whether it's a piece that'll last for a few times of wear, or if it will become a signature item worn for a number of years.
Overall, they're made with premium materials to ensure that the wearer is provided with comfort and style and that their investment is well worth it. Whether you're looking for sneakers, slip-on's, flats or just a pair of sandals, here's what you can expect to find in products by this brand:
Canvas
Canvas is perhaps one of the more popular choices in terms of materials used in casual type shoes as it looks quite nice, is lightweight, and is fairly cheap to produce. The material itself is created from a mixture of materials which is where it gets its lightweight build and subtle look.
One of the reasons canvas is a good option is that it's not too hot, and it allows for great breathability, both of which are crucial during summer use.
Leather
Leather is known to be the more expensive and elegant option in terms of shoe materials as it looks great and has some natural properties that make it one of the best materials for footwear on the whole.
One of the most important features of leather is that it is a flexible material that can be perfectly broken in – you will find that leather shoes will mold to your feet after a few times of wear, giving you the perfect custom fit that won't cause any pain or discomfort.
Rubber
Almost all shoes from Lacoste will use rubber to some extent. Most models on this list use rubber in the outsole portion of the shoe, which is understandable as this is a material that is both durable and flexible, allowing for good protection and ease of movement.
Features
Recently, Ortholite and Lacoste have announced their collaboration, stating that all Lacoste sports footwear will now feature the famous Ortholite insole in order to provide users with an even higher level of comfort and cushioning.
That's something completely new for the French brand, so you're in luck, especially if you want your favorite shoes to be comfortable and stylish. Whether you've decided to get some tennis sneakers, loafers or athletic footwear, you're bound to benefit from having a better insole.
Ortholite insoles are made with foam components that serve two purposes. One is to keep your feet supported, especially in the arch area where they hug your foot, preventing it from overpronating. The second is to cushion each of your steps or landings, absorbing the shock that naturally generated on impact. This helps protect your heel, the entirety of your foot, as well as your ankles, knees, hips, and back.
The insoles are made so that their quality and performance do not decrease over time. Most other brands will see reduced flexibility in their products (often referred to as packing) however, Ortholite's products will retain more than 95 percent of their original thickness, thanks to being able to spring back to their original form after every wear.
Fit
Finding a perfectly-fitting pair of shoes can be like finding the holy grail; there are so many brands, styles, models and makes of shoes that it seems like it's next to impossible, especially when you are shopping online!
Fear not, as we've ranked each product on our list for their fit and trueness-to-size to help guide you in finding the perfect match for you.
To come up with a score for the fit of a shoe, we considered several factors, like the ones mentioned above, in addition to real customer reviews, to help boil down everything into one simple score.
You must also consider the purpose and type of shoe it is. Knowing what kind of shoe you are buying, and for what purpose, will help you make a better decision.
A running shoe might run smaller than a flat because it has thicker materials, so read customer reviews as well to arrive at the best decision for fit, in addition to just our overall score.
Comfort
Outsole
The outsole, or more simply, the sole of the shoe, makes direct contact with the ground and therefore supports the entire foot and body when in motion. Needless to say, a poorly-constructed outsole will lead to discomfort, slipping and foot or other bodily injuries. For this reason, many manufacturers use materials that are water-, weather-, heat-, and impact-resistant.
Depending on the type of footwear, one will often see outsoles made from natural or synthetic materials, such as PVC, EVA, rubber, and leather. Each of these has its advantages, depending on the shoe's purpose; however, as a general rule, they each are resistant to the aforementioned factors. They are also flexible enough to support a proper foot cycle when in motion, but they are not so flexible that they feel like a pair of socks.
A sole made of the materials above tends to score higher on our product evaluations, as they are not only comfortable but also support other criteria, such as "support" and "durability".
Midsole
The midsole is designed to provide cushioning and shock absorption to the shoe, nestling the foot in comfort. Whereas running shoes tend to have thick midsoles, flats and thinner shoes not designed for high-impact activities often have thinner midsoles.
The reason for this is simple: you need more shock absorption and vibration dampening during high-intensity movements or activities to maintain comfort and prevent foot injury than you otherwise would with a regular shoe, flat or sandal.
Midsoles are often made from EVA (ethyl vinyl acetate), a synthetic plastic also used to make insertable orthotics. A firmer type of EVA for the midsole will make the shoe heavier, but more durable; whereas a softer type of EVA, like those found in running shoes, improves shock absorption, but wear much quickly.
Insole
The insole is the proverbial foundation of the entire shoe. The sock liner lays on top of the insole, which is then fused to the midsole, and finally the outsole. A firm insole will give good structure to a shoe and increase its stability and durability, but it will also increase the weight of the overall product and be less comfortable.
A softer insole might be more comfortable, but that comes at the expense of stability and durability. We tried to balance these weights when evaluating our products, but each reader and wearer are different, so be aware of this trade-off.
Top 10 Lacoste Shoes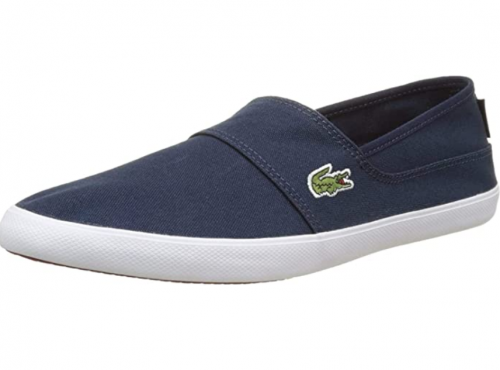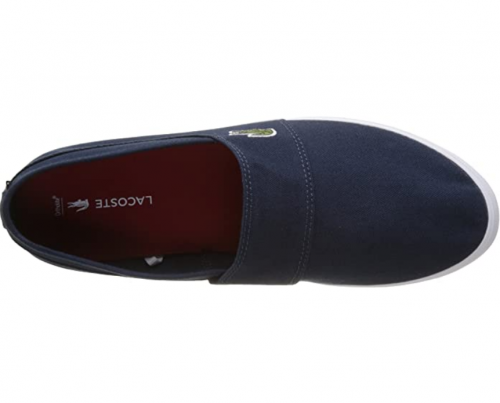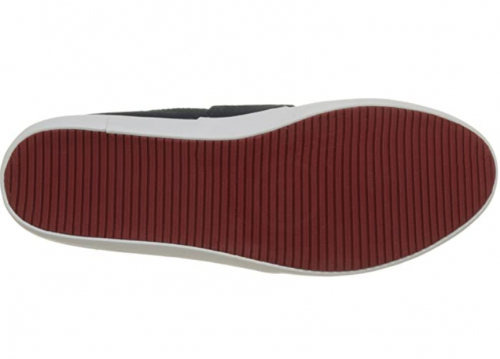 These canvas loafers are a classic style that looks gorgeous and is simple to wear, take care of and pair with any of your favorite clothes.
Available in 12 solid color options, you can get the ones that will fit your style the most, and thanks to their simple design they will work just as well for outings with friends, running errands, office-wear, as well as on formal occasions paired with a dressed-up ensemble. Although envisioned as a resort-ready style, you're sure to find yourself reaching for these in spring and fall as well.
At just 10 ounces, the Marice is a great option that will allow you to go longer and further as it won't weigh you down. The canvas upper is both flexible and breathable, and won't constrict your feet when the heat is high and you've still got tons of things to get done. You'll definitely love the collapsible heel which will allow you to wear these as a pair of slippers, just in case you want to be out the door extra quick.
These Lacoste shoes are a good choice for anyone looking for a stylish but versatile pair of slip-on's that'll work with all types of outfits. They're particularly good for summer use, and will even be great for travel, seeing that they easily go from loafers to slippers thanks to the collapsible heel.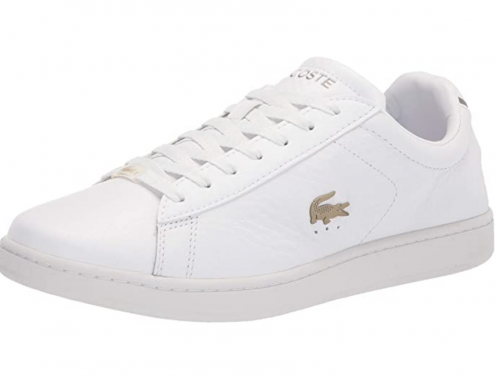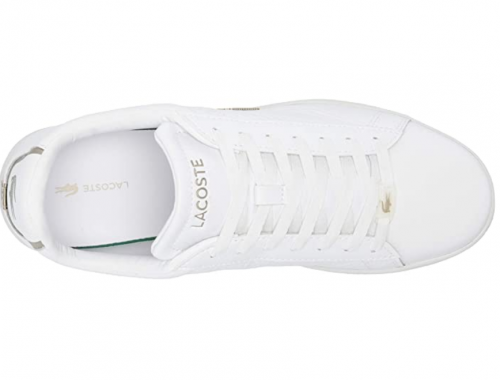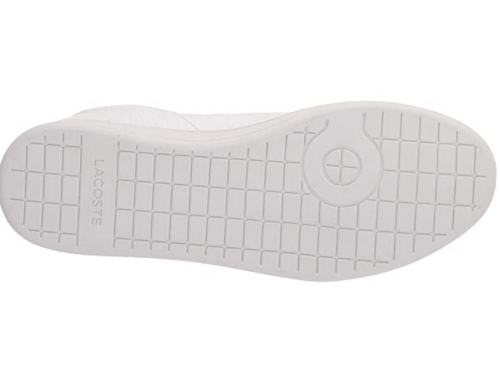 The Carnaby EVO is a classic tennis shoe that is available in a variety of uppers, colors, and prints, making it the perfect option for anyone looking for a great design that will fit their own personal style. You can get them in a perforated upper version, pearlized, or even textured leather, depending on what you need.
There are several options when it comes to the Carnaby EVO, and all look amazing. Whether you go with a simple, single-color upper or get a pair that features embellishments and decorative stitches, you're getting that classic style that's timeless and goes with everything.
Originally intended as a tennis shoe, the Carnaby EVO retains the outsole that made it work on the court - it offers great traction that doesn't easily go away, while the pivot point allows for easier movement.
The Carnaby EVO is a great alternative to other options you might be considering, seeing that it gives the advantages of both functionality and style, utilizing premium materials, all without going overboard with the price.

This sleek, stylish pair of Lacoste brand footwear keeps a casual sneaker style but boosts the design elements for something a bit more luxurious. Full-grain leather and synthetic elements comprise the uppers, perforated for better ventilation and breathability, but still quite sturdy and durable.
The Storda is one pair of Lacoste brand footwear that will grab attention in a subtle way. Monochrome coloring allows you to pair them easily with many kinds of attire and patterns, but their simple, clean lines provide a little more sophistication and less bulk than regular sneakers. Contrasting logo stripes run along the instep and outstep for a bit of color pop. These are versatile enough for more casual work settings as well as evenings out with friends!
The base of the Storda sports a rubber sole with waffle pattern tread for incredible stability and traction. Inside is a padded footbed for extra cushion, while a padded collar and tongue give more comfort to the shoe by helping to prevent blisters or irritation.
Lace-up vamp provides optimal fit, while perforated uppers help with keeping airflow throughout the shoe during wear. Overall the Storda is a great option to consider!
A bit of a different option from the brand, the Croco Slide is made for casual, easy-going days or lounging around the house in the evenings. With uppers that are a man-made synthetic material, they're also resistant to water while keeping a durable aspect too. Texture slide strap creates a pleasing look that mimics the brand's famous crocodile logo, while texture treat is found on the footbed for a massaging aspect, and on the soles for better grip and traction.
The Croco Slide Lacoste shoes bring to the brand a relaxed sandal that will have you kicking up your feet in comfort. Easy to slip on and go should the need arise, they have a great on-foot feel with a textured footbed which creates a bit of massaging against the foot during wear.
The upper strap is textured to reflect almost a crocodile skin pattern, which plays well with the brand's signature logo. Slide strap is also lined for a bit of softer touch on the skin, making them quite comfortable to wear!
Crafted from fully man-made materials, the Croco Slide is synthetic and water-resistant, making for a great poolside pair of Lacoste shoes. Soles are textured for better grip and traction, especially around pool decks, showers, or wet weather. If you're in search of a different style of footwear from Lacoste, this pair could well be your next new selection!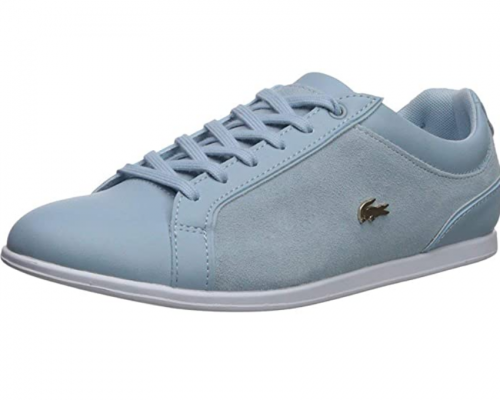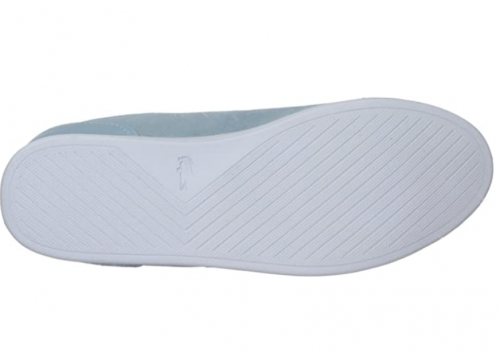 The Ray is another tennis sneaker, but this time without the heavy, chunky rubber outsole. These are flexible and lightweight, making them the perfect summer footwear option, great for long walks and even travel. It's available in a lace-up version, as well as one with a hook and loop closure, which means that you can adjust the fit to suit you just perfectly.
The Rey features a padded footbed that does two things: one, it is soft to the touch and comforts your foot throughout the day. Two, it has a role in the absorption of shock, lessening the impact of each of your steps and preventing too much joint or muscle pain.
The Reys are designed to be spacious as the rounded toe provides plenty of room for your toes to spread out. Additionally, rounded toes are great for protecting the wearer, as they're usually padded with extra layers of rubber.
This is a great option for those who need a good pair of summer footwear, and are a fan of leather for its breathability and comfort properties. Furthermore, it's available in two types of closures, making it a good choice for those who prefer to forego laces.

Inspired by a design that has made a comeback in recent years, the L.12.12 is crafted from premium materials for a luxurious sneaker that will work great for all types of use. Available in a number of looks - from classic white leather to colored canvas to perforated and even to monochrome - it's a fashion statement that feels amazing on your feet at the same time. It's even available in children's sizes, making it a great option for the whole family.
The lining on the L.12.12 Lacoste shoes is made from a warm canvas material that will allow you to wear these court sneakers even when the temperature drops. Paired with the 100% leather upper, you get a pair of that will keep you warm without overheating.
While all the colorways of the L.12.12 look great, the monochrome options do stand out, bringing something completely unique to the classic tennis style. Pair these with some jeans or a suit and you're guaranteed to look amazing.
The L.12.12 is one of the brand's newest releases, which means that the price of this sneaker is higher than some other styles featured on our top ten list. Nonetheless, considering the fact that they make for the perfect cold-weather option, this is a sneaker that you can easily invest in, knowing that you'll get good use out of it.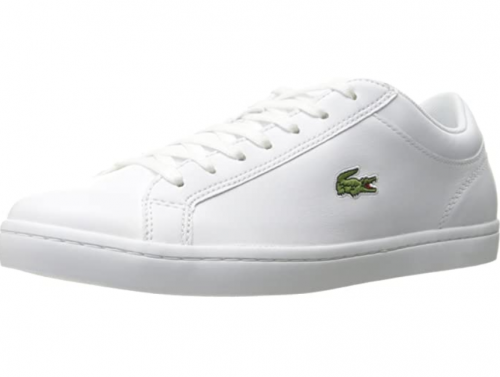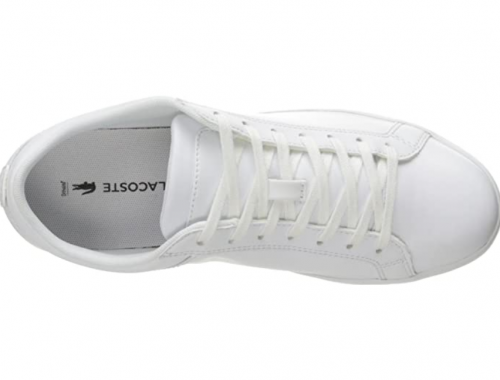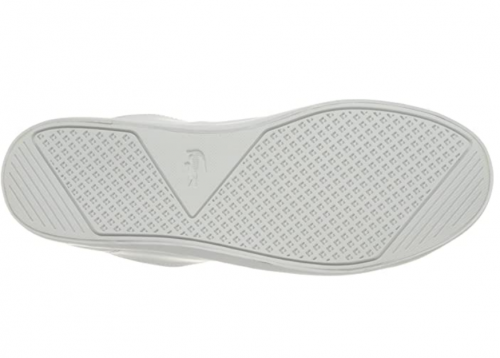 Inspired by the classic tennis style with its simple white leather upper, the Straightset is the best choice if you're looking for something classic that looks just as good with a pair of jeans as it does with dress pants or even a suit. Made with a premium leather upper, it'll hold up well against time, and will offer plenty of protection no matter the season.
Using high-quality rubber in the outsole and the cup sole of these sneakers, the Straightset is a great choice for use on all types of terrains. It won't wear down as easily, while the heel cup will cradle the foot, preventing any slippage that might cause injury or discomfort.
A touch of leather in any design can go quite a long way in affecting the look as a whole. This brand composes the uppers of the Straightset from high-quality leather in order to contrast with the piqué engineered collar to create a beautiful look.
Considering that this is a classic, premium leather tennis sneaker, the fact that it comes with a higher cost is no surprise. Nonetheless, you'll find that the Straightset is less expensive than similar styles by competing brands, making it a great choice if you're looking for a pair of stylish casual footwear.

While most footwear made by Lacoste is more focused on style than function, the LT Fit is a great option for those looking for a pair of sports sneakers they can use for more demanding activities such as walking, training or even running. Made with a canvas upper, these sneakers feature a modern silhouette that is minimalistic both in appearance and weight - making these a good choice for travel as well as for everyday use.
Making use of EVA foam in the soles, the LT Fit allows you to train, walk or even run without having to worry about any pain in the knees, hips or back. The EVA foam will absorb the shock from all of your impacts, giving you a soft, cushioned experience you will fall in love with.
Considering that the rubber outsole of the LT Fit is non-slip, these are a great choice for professional use in environments where you have to walk on slick surfaces such as tile or hardwood floors.
The LT Fit is a truly great investment, as it offers both style and functionality in a package that is affordable for most people. It's a particularly good choice for those who lead an active lifestyle and spend a lot of time standing or walking.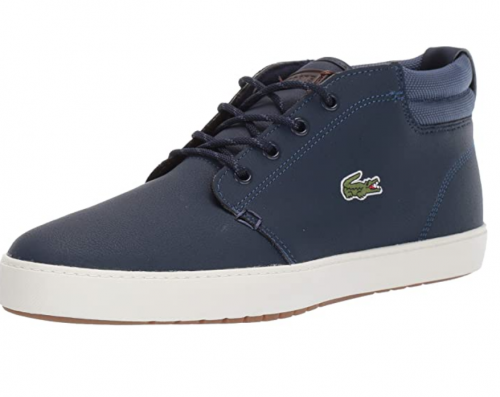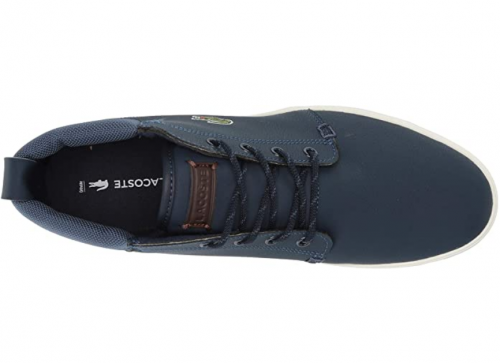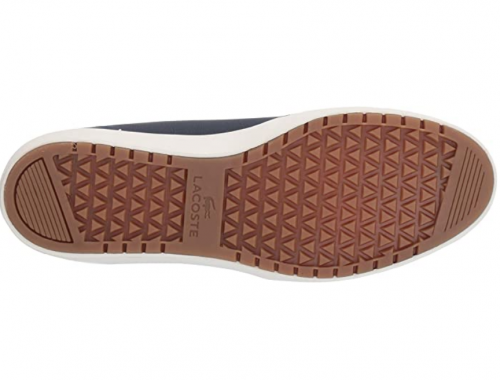 The Ampthill was inspired by the classic chukka boot, giving it a dressy-casual look that works so well with a wide variety of outfits. Made with a leather upper that is soft to the touch, offers excellent protection during the colder months, and contributes to the durability of this design, the Ampthill is definitely a solid choice of everyday sneakers that look and feel great.
The lining in the Ampthill Lacoste shoe is composed of "twill", which is essentially a mix of fabrics resulting in a very soft material that feels good in contact with the foot. Making this mid sneaker even more wearable is the Ortholite insole which cushions and comforts the foot, all the while wicking away moisture and preventing bad odors.
The collar of the Ampthill is generously padded, making for a more enjoyable wearing experience that will prevent any rubbing or blisters. Even more, the tongue features plush padding as well, which means that no matter how tight you tie the laces, they won't cut into the tops of your feet.
The Ampthill mid sneaker is a great choice if you're looking for something that'll work in spring and fall, or even during mild winters. Its cost is average when compared to other footwear in this guide, and the materials used are all of premium quality, so you can be sure that you get a dependable product that is one of the most comfortable options on this list.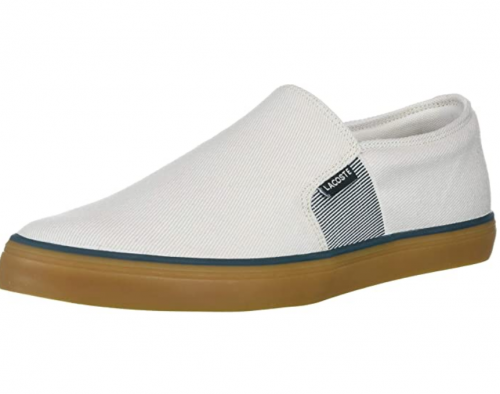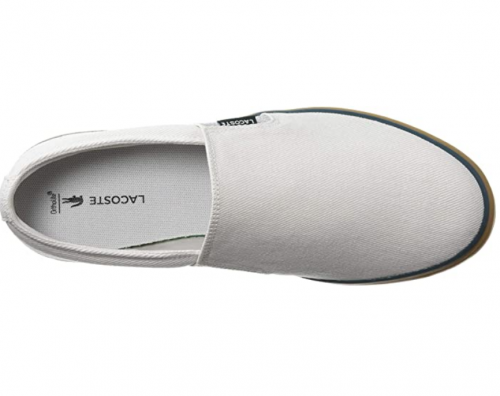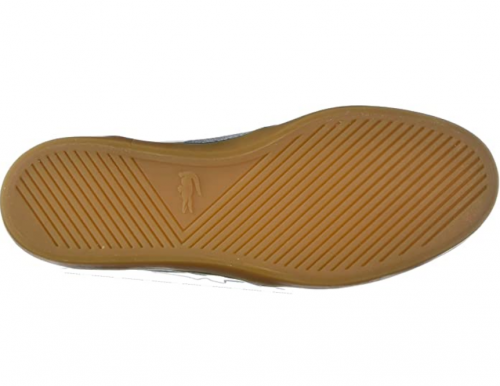 These leather slip-on loafers are an amazing choice seeing that they're easy to wear and provide great comfort levels for long periods of wear. Available in white, navy and black, they're a classic choice with a twist, that'll work great for spring and fall thanks to the materials used.
Like most slip-on styles, the Gazon features two elastic gussets that have the function of providing you with a higher level of comfort while walking. Additionally, this will make it easier to put these loafers on and off, eliminating the need to waste time on laces or straps.
While the upper is made with soft Nappa leather that molds to the feet and feels great, the inside of the Gazon is lined with cotton canvas, ensuring that the material in contact with your foot is soft and cool, allowing for plenty of airflows.
Considering that it's made with a premium leather upper, the Gazon is a pair of loafers that can be bought for quite a low price. You'll find that they rank low on this list when it comes to cost, which is great for anyone looking for an affordable pair of Lacoste footwear.

Subscribe to our Newsletter