Most Comfortable Slip on Shoes Reviewed & Rated
In a Hurry? Editors choice: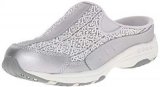 Test Winner: Easy Spirit Traveltime Mule

Have you ever been stuck at the
airport
security because you were trying to take off your shoes and struggling to get them back on afterward? Or maybe caught between tough choices like picking just an extra pair of shoe to fit into your already
bulging travel suitcase
for summer? It is a known fact that comfort and style are two major factors that come in to play whenever you discuss slip-on shoes; it is also true that their style is nothing too formal like the
Oxford, brogues or derby
. Hence, comfortable slip-on shoes are typically classified as casual footwear, but when properly styled, they can be worn with numerous outfits ranging from casual to formal.
Standout Picks
Criteria Used for Evaluation
Style
There are many styles of slip-on shoes available today and while each variant is unique in its own right, they all share one thing in common, the ease of slipping into, or out of. The following are examples of the different styles of slip-on shoes that have dominated the market over the past few years:
Loafers: Loafers are one of the original styles of slip-on shoe and are made for men, women, and children. Loafers can be worn casually or as business attire and offer the wearer the versatility of transitioning from the office to beach without having to swap footwear.
Ballet Flat: Ballet Flats are modeled after a soft ballet shoe and consist of an extremely thin sole, often giving the illusion of having no heel whatsoever.
Moccasins: Moccasin style slip-ons originated among the North American Indians and continue to be a popular style of shoe today. They are a soft leather shoe that does not have a separate heel and the sole turns upwards at all sides where it is sewn to the upper.
Boat Shoe: Boat shoes, sometimes referred to as deck shoes, are a light canvas or leather shoe that has a non-marking rubber sole and is made for use on a boat.
Athletic: Athletic slip-ons can be found in the catalogs of some of the most well-known brands of athletic wear. They are designed to keep you comfortable while participating in sporting events or other outdoor activities.
Crocs: Crocs are a type of clog-style slip-on shoe made of a foam material that offers the wearer an added level of comfort and cushion.
Espadrilles: Espadrilles are a lightweight shoe usually made from canvas and can be either flat or high-heeled and have a sole made from esparto rope.
Comfort
Footbed/Insole
The footbed, or insole, is the part of the shoe that your foot rests on and is responsible for keeping your feet cool and dry, while also providing cushion and comfort. There are many variations of insoles available that are designed to bump up the level of enjoyment one gets from wearing a pair of shoes. A few important insole styles and features to contemplate when choosing a pair of slip-on shoes are:
Ortholite: Ortholite offers a high-performance comfort insole and is trusted by leading manufacturers to better the performance of their footwear, as well as to improve the satisfaction of their customers. Ortholite insoles create a moisture managing procedure that moves moisture away from the foot, providing a cool and dry wear.
Removable: Removable insoles are desirable because they offer the wearer the chance to use different insoles with one pair of shoes. For example, a person may want a more cushioned insole for a certain activity, but prefer a firmer insole that aids in moisture control for another occasion. Removable insoles allow for versatility and customization of any slip on shoe and are highly recommended for those whose needs vary with the activity they're engaging in.
Leather Lined: Leather is ultra smooth and provides a natural feeling when it comes in contact with our skin. It also boasts excellent moisture wicking properties so your feet will feel dry and won't slip or slide around in your shoe.
Outsole
The outsole of a shoe is the part which connects with the ground, it is also the barrier between your foot and hazards such as sticks, rocks, and other sharp objects. The outsole is also responsible for preventing slips and keeping you firmly gripped in slippery conditions. This is why it's so important to choose a shoe with an outsole made from specific materials that will provide protection, comfort, and traction. One of the best materials for any outsole is rubber. Rubber offers unparalleled grip, waterproofing properties, and flexibility, while also being lightweight and breathable.
Breathability
Airflow
As the temperatures begin to rise we suddenly find our feet start to feel sweaty and uncomfortable. That's when we reach for our trusted slip on shoes to help keep our feet cool and comfortable. But not all slip-on shoes are made equal when it comes to allowing adequate airflow, a key element in staying cool and preventing sweat.
Certain materials are down-right terrible at providing proper airflow and restrict the foot causing heat and odors. Whereas other materials are excellent at letting the cool breeze hit your toes and circulate around your foot, materials like:
Mesh: Mesh is a lightweight and extremely breathable material often used in the upper construction of footwear. It is composed of a series of wires or thread and allows air to freely flow in and out keeping your feet cool and preventing uncomfortable sweating.
Canvas: Canvas is another lightweight and breathable material that won't trap heat inside of the shoe, therefore your feet can feel cool and comfortable no matter how warm the weather is.
Leather: Leather makes for an excellent footbed or lining materials due to its ability to wick moisture away from the foot, preventing sweat and allowing for ventilation.
Lace: Like mesh in its open-weave composition, lace is a breathable and airy material that won't weigh down your feet while also preventing sweat and odors from occurring.
Drainage
Controlling moisture around your foot is an important aspect to consider in terms of comfort and odor control. Moisture causes the feet to slide around in your shoe which creates friction and rubbing, often leading to painful blisters. Odors occur when a build-up of sweat allows for bacteria to multiply, ultimately creating an unpleasant smell, but luckily there are ways to keep your feet cool and moisture-free. The following features should be considered to keep moisture under control:
Moisture Wicking: Moisture wicking, also referred to simply as 'wicking', is a process in which the lining or footbed of a shoe is made from a material that pulls moisture away from the skin and pushes it towards the outer layer where it can evaporate more easily. Wicking also pulls the salt out of our sweat, thus, removing the abrasive substance leftover when we perspire.
Odor Control: Controlling odors is an important aspect when it comes to slip-on shoes. It's easy to find yourself wearing a pair of smelly shoes if you don't properly care for your favorite slip on's. Investing in a pair of shoes manufactured with odor-controlling technologies built right into the shoe is something to seriously consider if you would like to keep your feet smelling fresh without having to invest in any secondary products to neutralize odors.
Features
Slip-on shoes come equipped with some of the latest technologies, providing you with a comfortable, dry and healthy wearing experience. From moisture-wicking to bacteria prevention, manufacturers of slip-on shoes have developed nifty technologies to keep you feeling good. For example:
Cleansport NXT™ – Cleansport NXT™ is a natural method of odor control that utilizes probiotic technologies. The process involves using beneficial microbes that are bonded to the surface of the shoe fabric that provide the wearer with a natural and non-toxic form of odor control.
Microban® – Purchasing a pair of shoes treated with Microban technologies offers the wearer many benefits, including; sweat, odor, and mildew prevention, along with keeping your shoes fresh while you wear them and in between washings. Microban effectively prevents odors using antimicrobials that harness odor controlling technology to capture and prevent bacteria from multiplying and creating odors. Materials treated with Microban are subjected to customized experiments to simulate the actual intended use, including; wearability tests, repeated laundering tests, and shower simulators, to ensure totally product efficiency.
10 Best Slip-On Shoes
1

. Easy Spirit Traveltime Mule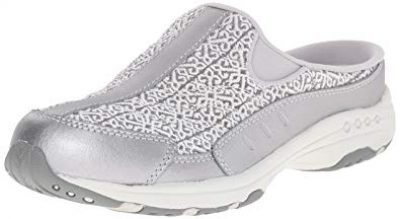 It's no surprise that Easy Spirit's Traveltime Mule hits our list near the top rated. With its easy mule slip on construction, thick padded sole, and breathable uppers, it's great for traveling, vacations, lounging around, or running errands about town. Ample cushioning make these pillow-like in comfort, and a heel cup helps keep you firmly in place when walking. With plenty of color options to choose from, and even some with sparkly glitter, they make a great addition to your collection.
Soft suede combined with breathable mesh make these no only lightweight, but quite cool for wearing. And with it's easy slip-on design, they can easily come on and off without much notice should you need a little foot rest from wearing. Great for summer or winter time wear, they provide enough warmth without being overly hot.
A thick padded rubber sole helps cushion each step you take in the Traveltime Mule, and allows for great traction, even when it's wet outside. A soft footbed gives a plush feel, and heel cup helps to support and stabilize your movements when walking. Great for those who may find themselves on their feet all day!

2

. Skechers Superior Milford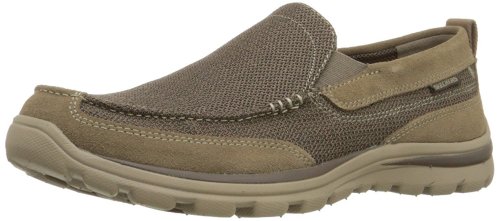 For an everyday choice of footwear, the Skechers Superior Milford is perfect for the commuter or for those on vacation. With a handful of color choices made available by this brand, there is almost no limit to how much versatile a trendy and savvy person can get while rocking this foot apparel.
They are made from 100% suede and soft mesh materials, and despite being furnished with a rubber sole, it remains super lightweight, flexible and able to stretch.
The soft fabric shoe lining surrounds your feet comfortably and gives you lasting cushioning. Additionally, the dual-goring insert and rear heel-pull tab makes them easy to slip on and off and can be adjusted to fit your foot to perfection.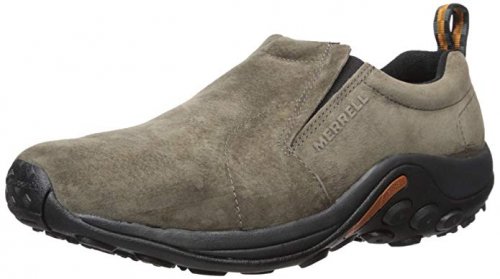 The Jungle Moc slip-on from Merrell is your ultimate low maintenance shoe. Featuring a water-resistant upper suede material, and air cushion underfoot for some extra support and shock absorption, it is almost like there is no limit to how long you can stand on your feet with this pair.
Whether you spend most of your time on dry, hard, or wet surfaces, the highly slip-resistance rubber outsole of the Merrell Jungle Moc ensures you get an unquestionable level of stability every time you have this footwear on.
The long-lasting M Select Fresh acts as a source of antimicrobial agents to disrupt and inhibit the production of odor-causing microbes, while in turn ensuring your shoes are kept dry from sweat and moisture; two agents known to shorten the durability and lifespan of any shoe.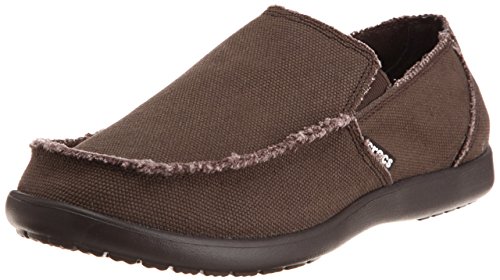 The Santa Cruz from Crocs is very refined and a perfect fit to pair with almost any kind of outfit. With a variety of colors to spare, this is the kind of footwear to pick up in different colors and comfortably rock with any outfit throughout the week.
Besides the lovely colors this foot apparel come in, they also come with an exciting and highly desirable feature; tiny nubs that massage your feet while wearing them, how comforting!
Thanks to its Croslite material, sweat is prevented and consequently, foot odor can also be dispelled. Much more is the option of being able to replace the insole with you preferable or custom made ones.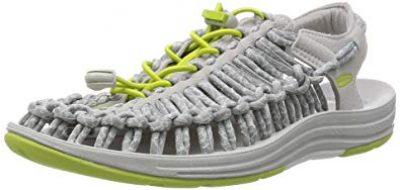 KEEN's Uneek is a uniquely created pair of slip-on footwear which utilizes elastics to create a snug yet adjustable fit for your feet. It's an open-air style of footwear, that maximizes adjustability, and adaptability to your unique foot shape over time. A quick pull closure makes them a cinch to adjust, and padded microfiber heel gives cushion from rubbing or heel irritation. Definitely worth a look for something a little different for your feet!
In typical KEEN fashion, the Uneek is made for outdoor adventures, with its lightweight PU midsole for stability and support, and rubber outsole with siped base. The siped base helps keep traction in slippery conditions. And with its unique upper design, it allows for a flexible range of motion for those who love the feeling of freedom when out on the trail.
A dual cord system creates the base for either side of the uppers and is pulled together with a speed pull closure in the center. Need to wear these in the water? No problem! Quick drying and washable, the KEEN Uneek will have you exploring creeks, beaches, or getting caught in the occasional rainstorm without fear of damaging your footwear. A microfiber lined heel helps pad against any irritations when walking, and its easy slip in style makes them a breeze to pop on or off.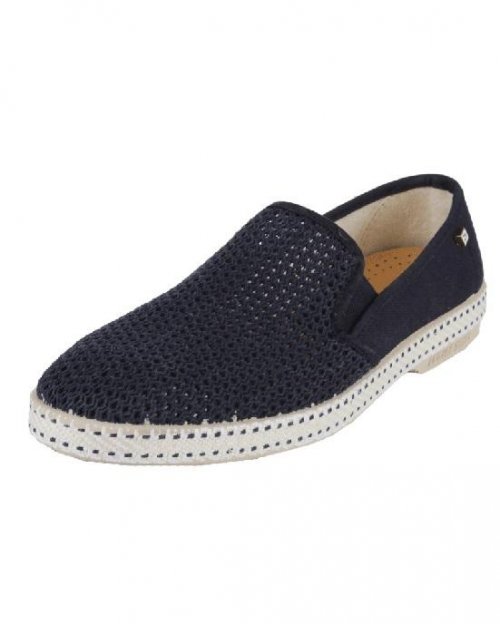 Rivieras might not be the most well-known brand, but they do bring us one solid slip-on shoe. The Classic 20 comes in such an assortment of different styles and texture options on their canvas slip-ons. With some variety of colors to play with, you have yourself a good reason to slip on these shoes every day of the week.
The upper canvas material of the Classic 20 makes it a perfect choice for summer, as they do an excellent job of keeping your feet cozy and well ventilated. The canvas uppers make this a washable shoe, so simply toss into the gentle cycle of your washer, or hand wash with soap and water. Ideal for wearing indoor lounging around, or outside
If the only excuse for not wanting to wear a pair of Rivieras for so long is its insufficient insole cushion, this pair has got you covered by providing you with the option of being able to replace the insole and fit it with custom made ones. You'll be able to wear these for an extended timeframe without fear of foot fatigue.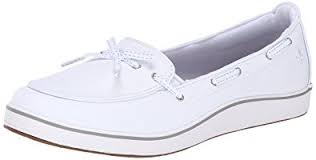 This boat shoe inspired slip-on from Grasshopper introduces an air of confidence to any foot. Its ortholite insole includes features that keep odor control in check, preventing sweat and moisture. Its slow recovery memory foam insole provides long-lasting cushioning support and overall, keeps its wearer stylish and comfortable.
The Grasshopper made this slip-on with an enhanced ortholite insole feature which comes with a dual layer memory foam to help improve the comfort experienced by users. Insoles can also be replaced at will with any other preferable choice.
For footwear lovers, there is always that pair we love to have in different colors. These slip-on shoes here are one of those foot apparel to have in different colors and this model has been made available by the shades of colors from the Grasshopper Windham.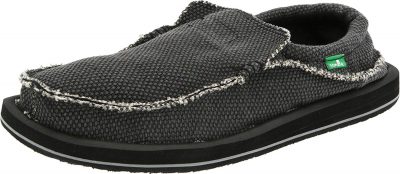 Sanuk is no stranger to slip on foot apparel, and comfortable ones at that! The Chiba is one of their more classic styled models, flexible and lightweight. Many Sanuk enthusiasts will have a single pair for years to come, as they are durable, and also mold to your foot over time in terms of cushioning. Great for casual outings or walking about, they're a solid go-to option for a slip on styled pair.
The Chiba is constructed from canvas uppers, easily washable, breathable, and cooling on the foot when wearing. With a padded collar, it helps cut down on any rubbing or irritation that can cause blisters, so you'll be able to walk for quite some time in these. For a bit of laid back styling, Sanuk included a frayed edging on the uppers for kicking back with friends over a beer or two.
As with every pair of Sanuks, the Chiba has the Happy U outsole, allowing for a plush feel to each step, and surrounds the entirety of the shoe. A molded EVA footbed made from foam adds to your comfort, and gives a bit of support. The Chiba combines casual comfort in a laid back design that embodies the surfer and skater mentality from which they were born.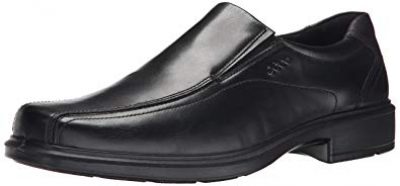 In search of a slip on which can be worn to the office? The ECCO Helsinki combines casual business styled footwear with the ease of slip-on design. With a sharp, clean look, padded collar, and twin gored tongue for comfort, they make the workday fly by. ECCO is known for creating supportive and comfortable footwear for all day wear, so you're sure to find ample technology for helping you throughout the day.
ECCO made the Helsinki to be supportive, comfortable, and functional, without lacking in its more formal design elements. The ECCO Comfort Fiber System is AGION treated to help prevent bacterial growth, but functions to push air through little holes within the lining, creating a circulation to help feet cool down. ECCO Freedom Fit allows for ample toe splay when walking, helping your feet feel more natural and roomy rather than constricted.
Rich leather uppers help give the Helsinki a rich classic look, great for business or formal wear. Polyurethane soles make it durable, and contribute to shock absorption, and flexibility, so you won't need to break them in for an extended period of time. TPU shank helps support the foot, and the midsole is designed with an anatomically correct shape, helping to promote natural gait.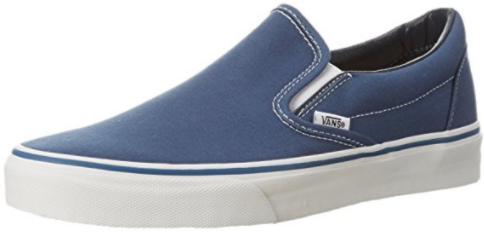 Vans Classic slip-on has a printed canvas upper that is breathable and lightweight, along with a synthetic sole. Complete with a padded collar and cushioned footbed, this is one of the most comfortable footwear out there. The Classic offers noteworthy shock absorption and its signature waffle outsole provides an enhanced board feel. Manufactured with vulcanized construction for added comfort and long-wearing durability, these slip-ons will last and last.
Vulcanization is the process of strengthening rubber by heating it with sulfur or other curatives. Vulcanized rubber is resilient, water-resistant, and more resistant to tears or abrasions.
Complete with a padded collar, cushioned footbed, and signature waffle outsole, the Vans Classic is as enjoyable as it gets. A breathable and lightweight canvas upper allows for adequate airflow around the foot, while its slip-on style makes for easy on and off wearability.

Subscribe to our Newsletter