Best Travel Shoes Reviewed & Rated
In a Hurry? Editors choice: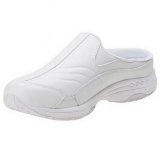 Test Winner: Easy Spirit Traveltime

Your trip is planned and you have your itinerary, now it's time to pack. Whether you are traveling by plane, train, or
automobile
you need to be comfortable. Since you will be on your feet from start to finish and you will want something to match your destination. You will not want to be limping along while trying to take in all the sights on your vacation. Not only can inadequate footwear be difficult, but the pain and discomfort they can cause may also prevent you from focusing on your trip.
Therefore, check out the
best travel shoes
below to be properly prepared.
Standout Picks
Criteria Used for Evaluation
Comfort
Foot health is important to your whole body. Your shoes are essential tools for your feet. If they do not fit properly or do not have the correct support, it can affect the rest of your body. Not only can you possibly develop blisters and bunions, but you can also develop leg and back pain. When it comes to comfort and support, you need to spend some time thinking about your feet.
Cushioning and shock absorption help to keep you comfortable while liners help to keep your feet cool. There are many things to consider to ensure great fitting footwear that is versatile and look great. These questions can help lead you to the correct pair. Supporting high arches and weak ankles is exceptionally important, but as we have noted, knowing your feet is the most important thing you can do when making a decision.
Extra support and cushioning do tend to make them heavier. If you will be doing a lot of walking it is something to keep in mind. Something overly heavy can lead to leg fatigue and drain your energy overall. Lightweight options will help you go the extra mile, but they may not keep your feet protected from the elements. This all leads back to knowing what surrounding you will be in and what types of activities you plan on participating in.
Traction
Grip and traction are similar, and in general help, you stay surefooted on less than stable terrains. It involves the pressure between your foot and the surfaces as well as the way the material of the outsole. Rubber provides excellent grip, and tread patterns also play their part. If you plan on traveling to a colder climate, into the woods, or up the side of a mountain grip will be very important.
Finding a pair that will allow you to breathe easy knowing your feet are firmly planted under you will not only set your mind at ease but also help you avoid sustaining serious injuries. You will want to take into account what you will be doing and what will be the best grip for that situation. Trail models will work great for muddy or slick surfaces, whereas, specialty boots made for snow and ice may be needed for your blustery treks. When you plan on attending the beach or a city for your vacation or traveling requirements, grip and traction may not be as important. This is mainly due to the terrain.
It is important to note, slippery sidewalks or ice covered ones may require added grip and bite-in ability to ensure you are safe while walking. Checking the weather ahead of time can save you some trouble and ensure you avoid possible injuries that can occur if you slip and fall.
Weight
When thinking about the weight of your shoe, you should know that the impact it is going to have can be minimal for some and great for others. If you are planning on going for long runs or walks the weight of your shoes can impact leg fatigue and overall comfort. So when going long distances, you may want to consider a lighter weight travel shoe option.
Choosing to do a lot of sightseeing may require a lot of walking and should be considered when thinking about weight. Also, lightweight products tend to be more flexible, which means they will move more easily with your feet and give you better comfort on long days. Flexibility allows it to bend naturally with your feet.
A stiff fit will restrict your movement and can lead to increased back, hip, leg, ankle, and foot pain. More flexibility does mean less stability, and those combating injuries or weakness may need to sacrifice some flexibility for stability.
Durability
Durability is important regardless of buying specific footwear or just a pair of slippers for around the house. No one wants to spend money just to find that the product they purchased is falling apart more quickly than they expected. Deciding to buy a five dollar pair of flip-flops for the beach may be completely acceptable, knowing you will probably only get one trip out of them, however, if that same pair of flip-flops costs you thirty-five dollars you may not be so happy about such short wear time.
Also, when taking a more extreme adventure, you want to make sure you are dealing with something strong that can keep your feet and toes protected. Durable Cowhide Leather would be smart in a situation where you may come in contact with stray branches or rocks.
A great way to gain insight into overall durability is to read some of the customer reviews so you can get an idea of people's actual experiences with them. You can get very honest information that will aid in your search.
Fit
Finding a perfectly-fitting pair of shoes can be like finding the holy grail; there are so many brands, styles, models and makes of shoes that it seems like it's next to impossible, especially when you are shopping online! Fear not, as we've ranked each product on our list for their fit and trueness-to-size to help guide you in finding the perfect match for you.
To come up with a score for the fit of a shoe, we considered several factors, like the ones mentioned above, in addition to real customer reviews, to help boil down everything into one simple score. For example, Nike tends to make shoes that are true-to-size, meaning that you can buy a pair of 11s one year, and another pair of 11s next year in a different model and they will usually still fit (unless your feet have grown or shrunk). A brand like Nike will most likely have a high score when it comes to fit, but the other variables in play, such as make, model, and purpose, will also affect the overall score.
Consider that running shoes, with their thicker midsole and a synthetic sole, might fit differently than a flat shoe, with their thinner midsole and hypothetical leather sole. Each of these shoes, even if they are both from Nike, may have similar scores for trueness-to-size, but a size 11 in one might not be the same as an 11 in the other. What's a reader to do in this case? You must also consider the purpose and type of shoe it is. Knowing what kind of shoe you are buying, and for what purpose, will help you make a better decision. A running shoe might run smaller than a flat because it has thicker materials, so read customer reviews as well to arrive at the best decision for fit, in addition to just our overall score.
10 Best Travel Shoes
1

. Easy Spirit Traveltime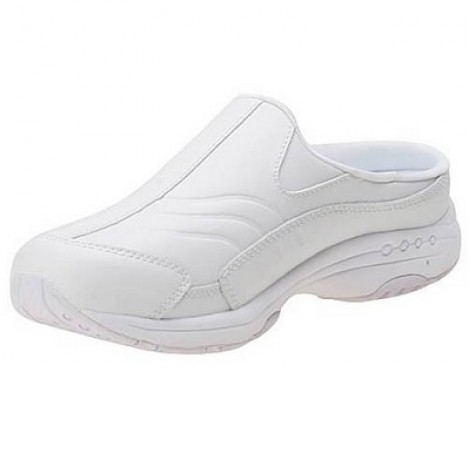 The Easy Spirit Traveltime Mule is a slip-on that is made for convenience. They are a clog type design with a traditional sporty look without the hassle of laces. They are available in perforated and regular tops with several color choices. They have proven to be a durable and long-lasting shoe providing hours of comfort and support.
Unlike other designs that can force your feet to fit the shape of the shoe, the Traveltime Mule has a cushioned insole that will conform to your feet to provide you with all-day comfort. The insole is removable so that you can replace it with your favorite brand. Its EVA footbed is an eco-friendly dense foam shock absorber that provides stability, balance, and comfort. This is what makes the clog comfortable even if you are on your feet all day.
The cost is slightly high for a clog style. However, customer reviews show that these are a great choice for traveling, walking, and jobs that have you on your feet all day. Reviewers all agree that they are a durable, long lasting shoe that provides superior comfort and support.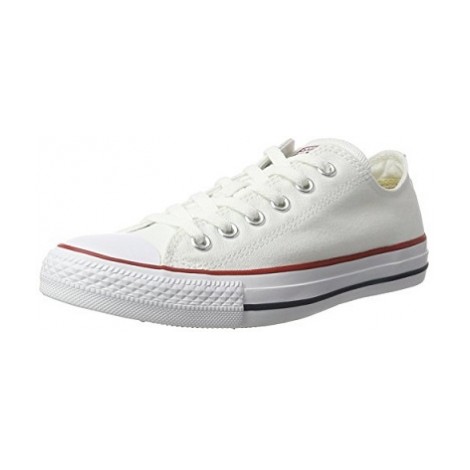 Chuck Taylor All Star - a Converse shoe that has a classic design is perfect for traveling. They are lightweight and made of breathable canvas with large eyelets and renowned white laces. They have a comfortable fit featuring an ortholite insole and a non-slip sole. The All-Star has continually evolved to keep up with comfort and fashion since 1917.
The comfortability can be attributed to the Ortholite insole. The long-lasting cushioning is made to outlast any other. The high level of breathability wicks away moisture to keep your feet dry and odor free.
Having a vulcanized outsole makes the rubber of the Converse stronger than their rubber counterparts. While the bottom of the Chuck Taylor All Star is flat, it has a non-slip sole to keep you from slipping and falling in all weather conditions. This traction pattern is unique to Converse. The cost of these is within the medium to high range depending on color and size. Consumer reviews place these at the top of the list for comfort, style, and dependability. Reviewers consistently state how happy they are with the Converse Chuck.

3

. Sanuk Chiba Sidewalk Surfer


The Chiba Sidewalk Surfer by Sanuk is a hybrid scandal that has a shoe upper with a sandal bottom. It has unique features such as the frayed seams on the handmade canvas upper and a soft synthetic inner liner. The EVA footbed molds to your foot as you walk. The upper fits loose enough to allow your foot to naturally spread as you walk while the lower absorb shock naturally.
Chiba Sidewalk Surfer's footbed contains a microbe shield that stops bacterial growth and controls foot odor. This keeps them fresh, odor free, and clean on the inside during everyday wear.
The Happy U Outsole of the Sidewalk Surfer slider leaves a unique pattern behind as you walk. The bottom of the outsole contains a happy face within a rectangle design. These are priced around average for their brand. Reviews show that customers love these shoes. They state these sliders have a comfy foam insole and a rubber outsole that has an average wear time of 3 years.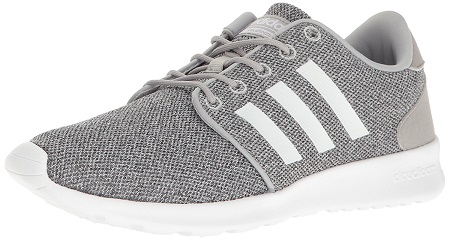 Comfort is the name of the game for the Adidas Cloudform QT. With a specially designed memory sockliner, midsole, and outsole, these runners are made to cushion your feet with every step. The textile lining further adds to this comfort and works to prevent irritation and blistering. While color selection is somewhat limited, they are offered in a wide range of sizes, making it easy to find your ideal fit.
These perfect walking shoes for travel are made with comfort and long-distance walking in mind, featuring their Cloudform technology in three key places: the sockliner, midsole, and the outsole. The sockliner feels like walking on a cloud, making the name quite apt for the design. The midsole and outsole work together to provide additional instep support and shock absorption for all-day wear and all-day comfort. While textile lining may seem insignificant on the surface, it's there for a reason. It works well to wick moisture away from your skin, keeping your feet dry even with all-day use. It also prevents excessive rubbing, which can lead to uncomfortable irritation and painful blistering.
Adidas products typically fetch a premium, though we would consider these runners to be mid-range in price. The features that are present provide a level of comfort that makes it well worth the investment, and when your feet are happy, you're happy.

5

. Adidas Originals Stan Smith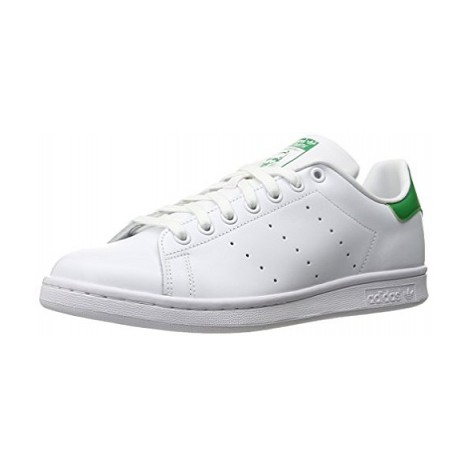 These Adidas shoes are a reintroduction of the classic 70's sneaker. Originals Stan Smith maintains its traditional tennis style. This sneaker has a clean, simple look with a low profile. Three perforated stripes line the sides for ventilation. They are made with rich, full grain leather. This retro throwback sneaker is comfortable and great for trekking whether you plan to do a lot of walking or sitting for long periods.
These sneakers feature the Stan Smith logo on the tongue and heel. Stan Smith is a famous tennis player that become the world champion in 1972. Adidas then partnered with Stan to be the face of this iconic sneaker.
The rubber pimple grip sole of the Stan Smith sneaker provides supreme grip. So even if your plans include wet weather you can ensure good footing on any surface. Adidas Originals price is higher than your typical sneaker. Consumer reviews show proof that these sneakers have a comfortable fit. Its simple look and clean design will go with any outfit you choose to travel in.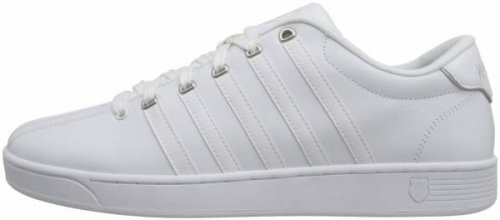 Having been making quality products for over fifty years, K-Swiss knows a thing or two about what makes a great shoe. Their Court Pro II is a perfect example of this in action, with an iconic tennis-style design and their signature embroidered logo. Looks aren't everything though; their cushioned insole and herringbone tread outsole are perfect for travel, as is the durable leather lining.
"Leather" and "breathable" typically are not words that go together, but K-Swiss has made it work. Using a thinner cut of leather for the lining, it's both durable and offers decent breathability in the context of leather, which normally lacks a bit in breathability. This allows for a comfortable fit that will keep your feet from feeling too hot.
The man-made outsole is outfitted with a herringbone tread pattern, allowing for the traction you need without being excessive. This allows a solid grip even on wet ground, so poor weather doesn't have to get in the way of your activities. We would consider these to be mid-range in terms of price; not too expensive, but not by no means cheap either. The features these sneakers are outfitted with make them perfect for traveling, and a solid investment for years to come.

7

. Danner Mountain Light Cascade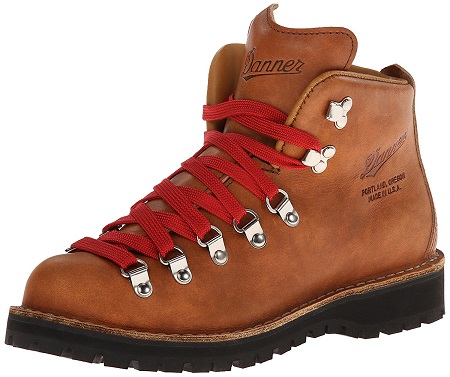 Sometimes when you're traveling, sneakers won't cut it. Whether you're out hiking or on a camping excursion, having the right kind of footwear is important. Enter the Danner Mountain Light Cascade boots. With a design inspired by iconic hiking styles first introduced in the 1970s, and having an appearance in the 2014 film Wild, these boots are made for anything.
Made of a beautiful Sienna Cache leather, these boots both work well and look good. The leather allows for natural variations, and over time will show a beautiful patina effect for that vintage well-loved look. The leather is also made to be durable and water-resistant, so they will go as hard as you do.
The Danner Mountain Light Cascade Boots are specifically designed with the physiology of a woman's foot in mind. The wide toe section allows for a comfortable fit without being constricting. While these boots do not come with insoles, the wide platform allows them to work with your insole of choice for the right amount of comfort and support you need for your adventures.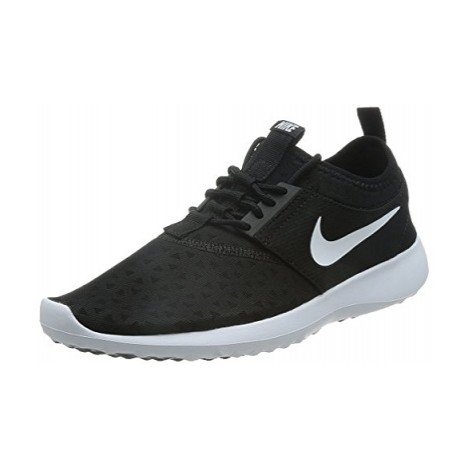 The Nike Juvenate is a nice lightweight sneaker that is easy to travel in. You can easily slip them on and off with the pull tabs. The no tongue design provides additional comfort for sockless wear. It features a foam cushion insole adding comfort to every step. The upper is collapsible and made of breathable mesh making them best for warmer weather travel.
Nike's Juvenate is designed to wear with or without socks. Unlike other sneakers, the tongue of this one is fully attached to the upper. This allows for a secure fit with or without socks and minimizes uncomfortable rubbing.
Nike's waffle pattern is similar to that of a waffle iron. It was designed to reduce the weight of the shoe and provide better traction. The pattern is large and deep providing superior traction on all surfaces. The price of the Nike Juvenate is in the medium priced range. There are numerous colors and sizes to choose from that will affect the end price. Customers have been overall thrilled with their purchase. Many of them repeat buyers in different colors. The Nike Juvenate is a great option if you're going to primarily be walking around.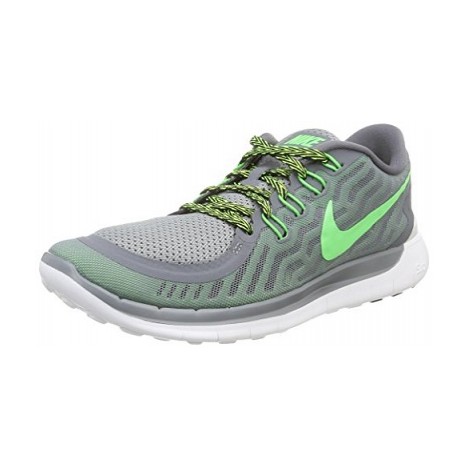 The Nike Free 5.0 was designed for performance and durability. The lightweight mesh design, along with deep flex grooves make you feel like you are going barefoot. It naturally flexes with your normal stride. The Phylite midsole combines with the outsole to provide a lightweight cushion. To keep the shoe feeling barefoot-like, it contains no-sew overlays throughout the design.
Nike's Flywire technology contains filaments that are placed throughout, like cables. These filaments work similarly to a suspension bridge providing support exactly where it is needed. This is what provides the support you need precisely where you need it for outstanding comfort. The Phylite midsole is what keeps the Nike Free so light you feel as if you are barefoot. It is a combination of rubber and Phylon that is used to combine the midsole and outsole into one unit.
The price is mid-range to high for Nike. Customers rave about how it almost feels like you are not wearing anything on your feet; they are so lightweight. Consumers also like the Flywire technology stating that it provides superior support. The Nike Free is great for traveling, whether you are relaxing or going hiking.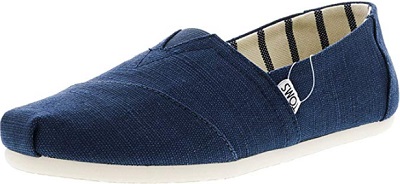 A staple of college campuses during the warmer months, TOMS Classic slip-ons have an iconic design that pairs well with anything in your wardrobe, from jeans to leggings to that cute sundress you're looking for an excuse to wear. The lightweight design along with the molded insole make these slip-ons ideal for all-day walking. For each pair sold, TOMS will donate a pair of shoes to a child in need, making these a purchase you can feel good about.
The TOMS Classic is outfitted with antimicrobial sock liners that are designed to both wick moisture away from your skin and work to mitigate odor-causing bacteria and other unpleasantries. This is extra important in a style of shoe that is designed to be worn without socks and makes them a great choice for warmer weather and lots of walking.
When traveling, comfort is important. If you aren't comfortable, you won't get the most out of your trip, since you'll be distracted by your discomfort. This is where the molded insole comes in. It conforms to the shape of your foot to offer the right amount of support in the right places, so your feet will be comfortable even with lots of walking. If you find that you don't like the included insoles, don't fret; they are removable, so you can replace them with your insole of choice if necessary.

Subscribe to our Newsletter