Best Converse Shoes Reviewed & Rated
In a
Hurry? Editors choice: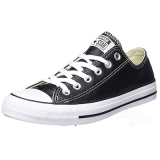 Test Winner: All Star Low Top Leather

The Converse All Star democratized the use of basketball footwear by the masses. With more than a century of experience crafting footwear, the Converse shoes have become one of the most well-known footwear labels in the world. When you buy Converse designs, you know you are buying quality with comfort and style! The company gives you good soles, great foot support, and breathable fabric construction. Gone are the days when the All Star existed as a single model (or two) in a reduced number of colors. Today, the brand has a wide range of footwear and even has models for the winter, so we've compiled a list of the ten best options to help you find a style and design as cool as you.
Standout Picks
Criteria Used for Evaluation
Style
Converse has been a leading trendsetter for sneakers and basketball footwear since 1908. Starting from their All Star originals, the brand has kept the same value of quality and style in all of their models leading to this current day.
It has kept the all-time favorite Chuck Taylor style and recreated it into similar styles, updating smaller features like colors and fabrics. If you love the originals, you'll be happy to know that the brand is keeping them up to date in fashion.
If you're looking for something new, however, the company is always working on that too. They continue to offer their high-top, low-top designs in a variety of new modern styles. They've even created a new mid-top style that is the perfect in-between size. They love to stay classic, but you'll constantly see them upgrading original styles to make them better over the years.
One example of this is the reinforced toe area. Converse shoes, unlike other footwear companies, creates a fashionable rubber barrier around the toes in the shape of a half circle. This is a design they have been using for decades in a variety of models; however, with some recent styles, they've upgraded the area and made it stronger and more durable. Now if you're walking outside on rocky gravel, you won't have to worry about smashing your toes.
The brand has also followed other trends on the market, like slip on and laceless shoes. Again, Converse has taken similar classic styles and upgraded them to fit the certain trends and styles we all love. We've provided a few examples in the list above.
You should know the brand also lets you customize their original styles to add your own embellishments, graphics, and colors. What's more trendy then choosing a decoration based on your current fashion sense? Converse may be an American classic, but it will never be out of date.
Versatility
Having versatile footwear is a feature that can bring so much happiness, all because you can wear it for so many occasions. It's always nice when your favorite pair works with all your styles in clothing as well as the places you decide to go.
This brand is known for creating footwear with a unisex design so the same styles can be enjoyed by everyone. This is the most basic versatile feature you can have and is truly loved by all. It's pretty hard to make a style that men and women can agree upon liking, but the brand definitely earned applause for that.
All models from this company embrace a casual, comfortable, everyday style that can be worn in so many places. If you're a child or a teen, they make great everyday school shoes. If your an adult, they're great for casual attire, going for a walk and fun weekend events. Man or woman, these are also great for indoor and outdoor sports, like basketball, tennis, and racketball. And don't forget weightlifting!
The durable rubber soles on Converse shoes are also another function provided in every option. The bottom soles are engraved with small patterns to help add traction and grip during movement. This feature is one of the most versatile as it allows the user to wear them in a variety of settings, from grass and dirt to rocks and pavement. They're even great for indoors too, if you're someone who works a casual job.
Lastly, if you're someone who likes to spice up their style and make it more original to you, you can completely remove the laces and tie them in different patterns. People have gotten pretty original with this feature, and we like to think of it as versatile because changing one small detail allows the shoes to work for different settings. or just simply more to your sense of style.
Overall. these sneakers are great because you really can take them almost anywhere. Casual apparel has become very popular in today's world, and these are always fitting the trends.
Materials
Footwear that isn't made with quality materials is always such a disappointment because no matter how much you like the style, the design just isn't strong or reliable enough. Even when you have footwear with quality materials, the stitching may fall apart first, and no one wants to wear sneakers that are breaking.
The quality materials and stitching from this brand create footwear that is made to last for multiple years of wear. Converse selectively chooses their canvas materials for each collection, making sure to only use materials that are durable enough for long-term use. It is features like these that have made the brand into a leading sneaker designer.
The stitching, in all of our experiences with the brand, has never come apart or frayed, even after everyday use for multiple years. The consistent quality is always the same with every pair you purchase. The stitching is never loose or sticks out, it is always very clean and simple. This is very important because the stitching is what holds the construction together.
Not only does this brand use their classic canvas fabrics, but they also have created footwear with other materials too, like suede or leather. You can always be assured that the material won't wear down and look faded or tear apart.
Quality materials are also important for people who are active or plan to move around often. No matter where you're going, having strong footwear is important for protecting your feet. This is why the brand uses other materials, like their strong rubber to create soles that can take some rough edges and tough terrain.
Comfort
Having comfortable footwear is more than just a preference, it is a necessary priority. Wearing good shoes can help to prevent a whole list of injuries and foot concerns that nobody really wants. Not only that, but your feet will really appreciate your thoughtful care.
Converse footwear is designed for comfort in a variety of ways. From classic styles to fresh designs, all their models come with strong rubber soles that ease the pressure on your feet during movement.
Each style is cut and designed to form around the curves of your feet. This is a great feature for comfort as it helps to prevent irritation and also adds the lightweight feeling that makes movement flow much easier.
Some of their options come with extra padding around the ankles and the tongue. This helps to prevent your skin from rubbing against the edges of the design but is also great for those who just like a little extra cushion.
The tongues are never bulky and fit right into the form of the design. The seams and edges are also very minimal, which feels very natural and comfortable during use.
Finally, if you're really looking for comfort, you'll want footwear with some padding on the inside. Another great thing about these COnverse shoes is the cushioned insoles they come with. The padding is soft and forms to your foot while also providing enough support to help ease the pressure.
Durability
When buying any footwear, it's important to make sure that it's are going to last a long time and that you're getting your money's worth. Reliable designs aren't just about being your favorite, they're designed to be comfortable, strong, durable and long-lasting.
Especially with canvas shoes, holes and tears can start to appear after minimal wear if the fabric isn't strong enough. This is why our brand here only creates their footwear with high-quality fabrics. Their materials are thick enough to prevent damage but also lightweight enough to create proper airflow and flexibility.
The company figured out how versatile rubber was back in the 1900s when they primarily made basketball footwear. Today all of their designs are created with rubber soles. These soles can take some really rough terrain and will never tear or damage. Durable soles are important to have so that your feet aren't taking all the pressure from heavy steps on hard surfaces. The rubber material is also non-slip, so not only is their footwear durable, but it also provides traction and keeps you safe.
The same material used to make their soles is also used to create their front toe barrier. The Chuck Taylor style perfectly displays this feature, as do many other models do. The rubber barrier is good for protecting your toes and also for preventing the friction caused by your toes rubbing against the canvas fabrics that over time create holes.
These are designs that you can wear every day, and if you take care of them, they'll (in a sense) take care of you. All around, they are made of high-quality materials that are extremely durable and can keep your feet secure for long periods of time without showing much damage. Oh, and for the price, you're totally going to get every penny's worth and then some.
Top 10 Converse Shoes and Sneakers
1

. All Star Low Top Leather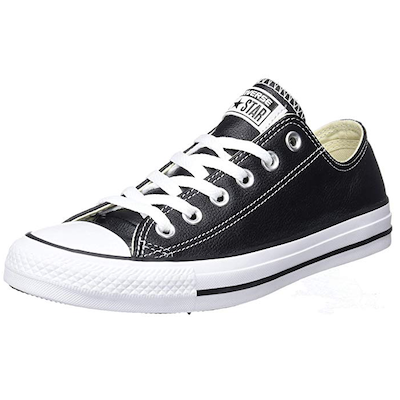 Some of the lovers of Converse shoes used to report a little problem: they wanted to wear their cool Chuck Taylors on those cold winter days but got their feet frozen to the bone. Has this happened to you? Well, now there is a solution! The Chuck Taylor All Star Leather will keep your feet warm, but they will let those little piggies breathe!
The great feature of these sneakers is their leather composition. This will provide warmth yet breathability. The leather upper provides great durability, especially when compared to the canvas Chuck Taylor. You do, however, have to break in the leather, and this might take a while. The Leather Low Tops come with a unique sole that will accompany every step you take. As if this wasn't enough, you also get a cushioned footbed. This is one of the key pillars of the design's high comfort.

Leather footwear tends to be pricier. It's the case of these sneakers when compared with the canvas Chuck Taylors. But we feel it is worth the price. You get extra comfort and overall better quality thanks to the leather upper.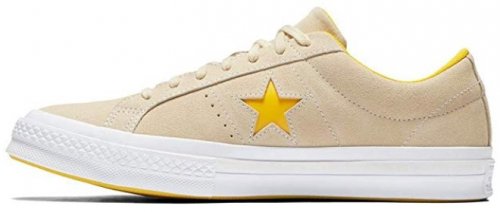 While the classic Chuck Taylor was first conceived as a basketball design, the One Star is actually meant to be a skate shoe. However, as with other skate brands (hi, Vans!), this versatile, laid-back sneaker found its way to the fashion world as well. The One Star Suede is made from premium leather materials, and it has that signature star cut-out for some good old brand recognition.
The One Star Suede has a suede upper which adds richness, as well as an outdoor type of vibe to it. The collar of the sneaker is padded for extra comfort, and the outsole is created to ensure maximum traction and board feel. Of course, it goes without saying that you don't have to be a skateboarder to enjoy these urban sneakers. It is simply enough to appreciate the aesthetic, as the One Star Suede is built for absolutely everyone!

If you ever get tired of the standard Chuck silhouette, you can turn to another classic from the brand, the One Star. In suede, it is definitely a classier design than your standard canvas sneaker, and it will add a suave, yet cool vibe to all of your outfits.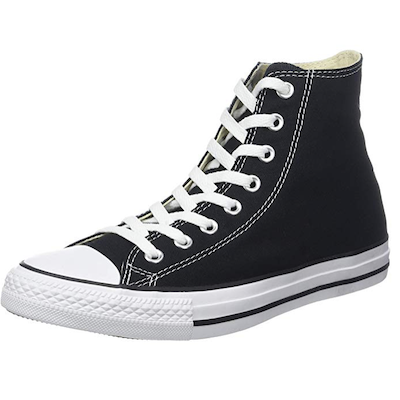 Chuck Taylors are true classic Converse shoes that we can never stop using! If you are in the mood for a genuine grunge look, you simply cannot pass these sneakers. Best of all, you have an awesome color variety to choose from. Just keep in mind that when in doubt always order the smallest number, since these high-tops tend to run a little bigger.
Everyone knows the Chuck Taylor All Star look - simple yet stylish. It literally goes with any kind of dress code making the step of choosing the right footwear much easier. Made of canvas and vulcanized rubber sole, these will last you almost a lifetime surviving, even the craziest activities and terrains. What is even better is that they never go out of style!

Quality comes at a price, but fortunately, it is an affordable one. Considering that when you buy these Chuck Taylors you are getting a pair that will accompany your walks for years and years, we'd say this is a pretty good deal.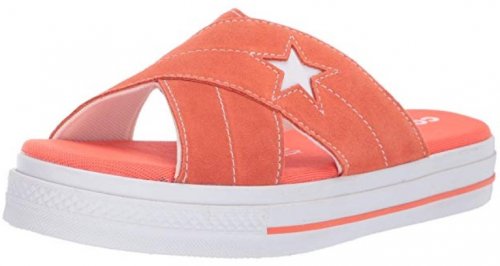 To break away from the classic sneaker design for a second, we're diving into the world of summer footwear, of exposed toes and cool, comfy sandals that you can wear in the most sweltering of days! The One Star Sandalism is a '90s inspired slide sandal, with a high-quality suede upper and cushioning to keep you comfy on your feet all day long!
The Sandalism has cross-straps made from suede, which is a soft, malleable material. It will mold to the shape of your foot over time, and provide you with plush comfort. The footbed of the design is lined with cloth for a soft touch, and there is a memory foam insole for shock-absorption and support where you need it. Additionally, there are also soft and hard EVA layers that provide a smooth, easy ride. Like all other options from this brand, the Sandalism also has a non-slip rubber sole.

While this sandal may not be the best in wet conditions - as suede is not very water-resistant - it is still cute to wear for an everyday stroll around town. Embrace the retro vibes and rock your new platform slides with a dress, a skirt, or even denim shorts for a full-on '90s look!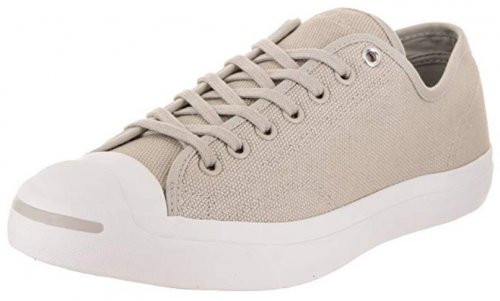 Now here is something a little different. Back in 1935, the first Jack Purcell model was created in partnership with Jack Purcell, a badminton champion who design these sneakers with a signature 'smile' across the toe bumper. Today, this court-inspired sneaker is easy to wear during warm weather, as it is lightweight, cushioned, and overall quite a versatile option.
The Jack Purcell Low has a twill upper, no less breathable than classic canvas, as well as a rubber toe bumper with a traditional 'smile' line across the toe cap. What provides comfort in this option is the multilayered cushioning all along the interior. The rubber sole has a herringbone pattern on the bottom, meaning that it provides balance and slip-resistance in multiple directions, just as though you were on a badminton court!

The Jack Purcell Low may no longer be an athletic design, one that you can wear to a serious badminton game, but it definitely has its place in the fashion world. It is a reinvented Chuck Taylor silhouette, with the same elements, but with a touch of a completely new designer. It will freshen up your wardrobe and make you one cool, fashionable cat!

6

. All Star High Top Leather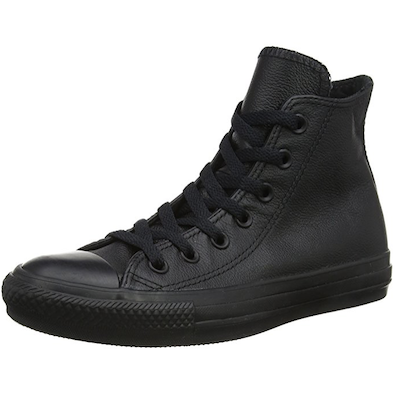 The All Star Leather High Top entices us because of its two awesome features: the classic look and the textured 100% leather upper. This will make your feet feel warm while giving you a rather rocker look. You also get the timeless brand features: the vulcanized rubber sole, the metal eyelets and, of course, the star logo at the ankle.
The upper of this sneaker is made of 100% leather, which provides warmth. Another great plus about having a leather upper is that is quite weather-proof and very easy to clean. We can all agree this is the perfect footwear for winter use. Comfort, comfort, comfort. We can't stress this enough. If you want to walk all day long feeling like you are walking on clouds, then this is the sneaker for you.

Surprisingly enough these High Tops are not that expensive! One would expect these sneakers to be at least a little bit pricier, considering their 100% leather upper, but that is not the case. We feel they have an almost unbeatable cost-benefit ratio.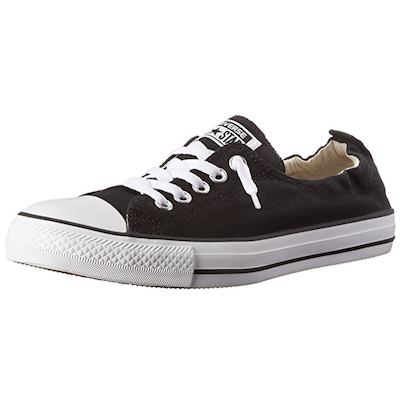 These sneakers fit like a slip but look like an actual tennis shoe. Therefore, you will get that much-desired comfort throughout the day. They are also perfect for those who are in a rush to head out - no need to tie these sneakers! Just slip them on and head out. This slip/sneaker hybrid only has 4 eyelets, which can make your feet look smaller and overall cuter.
The elasticated collar on the back fits tight enough to not let these sneakers slip off your feet while walking. It is a new approach to the concept of slips, making it easier to wear them. They do have shoelaces but they are not functional, which in our opinion is quite an advantage. No need to waste time tying your footwear in the morning. Slip them on and start the day!

The Chuck Taylor All Star Shoreline is in the same price range as the classic Chuck Taylors. If you think about it, this actually makes them seem cheaper since you are getting a 2-in-1 product: a slip and a sneaker.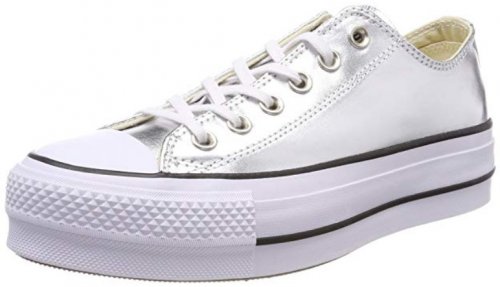 If you're a fan of platform designs, but still don't want to part from your favorite Chuck Taylor style - you're in luck! The brand also has a platform version of their iconic design, for all of those who like a little unconventionality, a little elevation in their looks. It comes in a variety of colors, as all Chucks do, but we have selected this gleaming silver one as a stand-out in our list.
The All Star Platform Low has that tried and true canvas upper. It is lightweight and durable, and it's a timeless silhouette that we all know and love. Medially placed eyelets are there to add even more ventilation to the design, and the double stacked rubber sole is what boosts your height and your confidence at the same time.

As the brand itself would say, stand tall with the All Star Platform! This option is a perfect reimagining of the classic look, and everyone is definitely going to envy you on your original, not often seen, platform Chucks.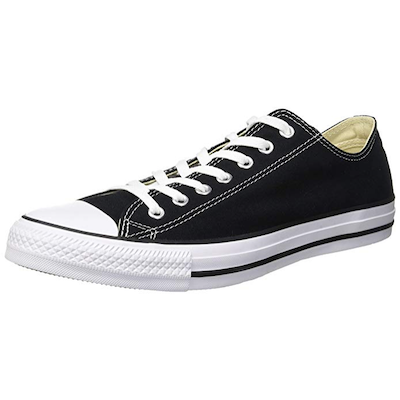 So you are looking for style and comfort? You have come to the right place. The Chuck Taylor All Star Low Top is designed for comfort, there are no doubts about that. With an incredible fit and feel, they remain true to the classic Chuck Taylor look. This is the low top version, perfect to wear through all the seasons, even the warmest. You'll feel more athletic and bolder than ever!
We can argue that this is the version of the Chuck Taylor made for keeping your feet looking fabulous throughout the hottest seasons. Made of breathable and durable canvas, you will feel fresh while wearing these sneakers. These sneakers are also recommended to all of you weight lifters guys and gals because of its flat soles, which will reduce damage to your spine.

Once again, we can't complain about the point price of these sneakers. At a reasonable price, you will get stylish, comfortable and durable footwear. What more could you ask for?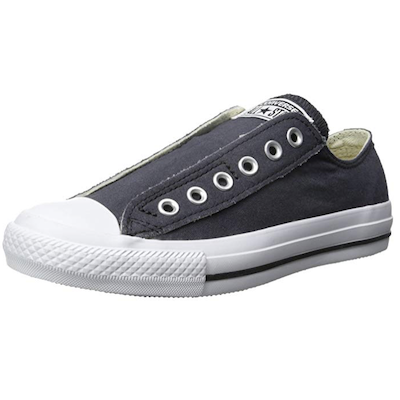 Are you one of those people who is always in a rush in the morning and can't really bear to spend too much time getting dressed? The All Star Slip On might help you out. Just slip your feet right in and you are set to go. No need for shoelaces. You get the modern look, minus the trouble of tying your laces every time you put these bad boys on.
That's right, you've read it right. You get the look of sneakers with the comfort of a slip-on. Perfect for traveling - you can easily put them on and off fast without any hassle. The elasticized sides of this sneaker are just another great thing that will help you to slip it on and off in a blink of an eye. This also allows your feet to get snuggly without being too tight. Will look great with or without socks.

Great cost-benefit ratio, especially if you take into consideration the fact that you are really buying a 2 in 1 product: a slip and a sneaker.

Subscribe to our Newsletter