Best Skateboard Shoes Reviewed and Rated
In a Hurry? Editors choice: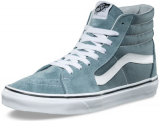 Test Winner: Vans Sk8-Hi

If you're a regular skater you know performance relies on key factors such as grip, durability, and protection. Provided by your footwear, all of these can contribute to your development as a skater, or they can take away from it. That's why having quality shoes is key in doing the best you can. Whether your footwear is stitched or glued, canvas or suede, padded or light can make a huge difference, so shopping for the best skate shoes is an important task you need to take seriously.

If you're struggling to find the best skateboard shoes for you, this article is sure to help. We've done all the research, rounding up the ten best skate shoes you can purchase. From minimalistic styles to those that are well-padded and ultra-protective, you're sure to find a winner among our top choices below.
Standout Picks
Criteria Used for Evaluation
Durability
One might think skateboarding shoe builds are just like any other casual shoe. However, this type of footwear should be made of specific materials to stand up to the rough sport. Each part of the sneaker should work towards giving you a durable product that's provided by all three elements working together: outsole, midsole, and upper.
If you've worn this type of footwear before, you probably know that these three elements simply won't wear at the same rate, which comes from the fact that they're all made from different materials. Each of the parts serves a different purpose, which requires different production methods. Nonetheless, due to the nature of skateboarding, the part in which you will want the most durability is the sole (midsole + outsole).
If you've found a pair that provides the required ruggedness in the sole – meaning that it's made with a good quality rubber, preferably vulcanized, and has a traction pattern made specifically for skateboarding – you can move on to look at the rest of the shoe. Because the tricks you'll be performing will require contact between the upper of the sneaker and the rough surface of the board, you'll want this part of your shoe to be made well too.
Your best bet would be to look for materials that are as abrasion resistant as possible, but that still provide a good amount of flexibility, and aren't too heavy. Tough canvas is an excellent choice, while suede is even better. Made out of leather, suede has many benefits for skaters – it's flexible and comfortable, but protective and tough, so you're less likely to develop any tears from regular use.
Still, with many technological advancements that have been made in recent years, you might find that a synthetic, leather or even reinforced canvas style will work better for you. Or, you may even go with several pairs that you'll alternate between depending on weather conditions and the type of skating you're planning on doing.
Traction
A skating shoe that can't grip to the board is as good as going barefoot. The outsole is the ultimate element that determines the quality of the contact between the shoe and the board. The greater the traction, the better control the footwear has over the board. This enhances your ability to twist the board and cross while going fast.
The traction also plays a role when impulsing yourself from the pavement. A decent skating shoe delivers a lot of traction, which results in a firm and vigorous impulse. Cheap skating models, on the other hand, offer reduced contact with the surfaces. As friction increases, you're able to get a better grasp of the surface you're taking impulse from. Traction is an important part of tricks as well. As you enhance contact with the board, you're able to gain better handles on it. This makes lifting the board and controlling it in the air significantly easier.
The traction influences other aspects of a skating shoe. For instance, the stability of the board while in motion is decreased or increased according to the grip. Maintaining yourself the board stable while moving is much harder if your kicks don't grip to it firmly. On the opposite case, lacking traction leads to a loose control of the board.
The grip works in combination with the shoe stability to deliver an improved landing after a jump. This is the most important moment for these two elements to be present. It's significantly harder to control the board right after a high drop; the higher you fall, the harder it is. If your sneaker fails to grip properly to the board, the chances of the board slipping away from your feet are greater.
Stability
Unlike some other features, stability is something shoes can't provide you 100% of. This is because, in skateboarding, stability is more related to technique than any other factor. Regardless, there are ways in which your footwear can improve (or obstruct) stability while performing.
One of the contributing factors to the stability is ankle support. The amount of ankle support can increase or decrease according to the shoe build. Parts such as the heel notch, top line, stitch seam, collar, and collar lining work in combination for this. This combination determines the amount of support the ankle has to move and twist freely while skating. However, if the collar is too tight and these elements obstruct the ankles, the performance is affected.
Like we previously mentioned, the most important moment for the stability is landing. After jumping, especially from high distances, the impact is expected to affect the stability of the board. This same impact can also influence the stability of the shoes if there's not enough cushioning. If the midsole fails to deliver enough shock absorption, your ankles will pay the price. In a similar case, if your outsole fails to provide enough grip, you'll also lose stability and probably the control of the board too.
The stability also depends on the grip of the shoe. Thus the outsole plays a significant role too. When leaning forward or backward, your posture is ultimately responsible for the stability. However, the grip is also a determining component when it comes to maintaining stability while crossing. The sandpaper texture of the board makes it hard for any rubber in general to miss the grip. But, after some degrading on both the board and the outsole, things won't be that smooth.
Upper
The upper build may not seem like a functional part of the shoe. Most skaters just think of the upper build as the part responsible for making the sneaker look good. In reality, there's much more behind the upper build than just style and design. The superior part has a role in functions such as durability, flexibility, and stability. It also spans secondary feats, including comfortability and breathability, which may not seem critical until you've got them against you.
The excellent build of skating shoes is made of suede or composition leathers. These are the most optimal materials for skateboarding footwear regarding durability and resistance. Suede and composition leathers are also flexible enough to allow smooth motion and performance. To have an upper even more durable, we recommend looking for double or triple stitched builds.
Comfortability is often underrated in all types of footwear. Customers rather look good than feel good. It's understandable to look after style; at the end of the day, no one wants ugly shoes. Instead of sacrificing comfort for style, look for a pair that incorporates both. There's nothing more annoying than a tight shoe, or a compressed toe box, or materials that provoke irritation. Even walking becomes difficult when wearing uncomfortable pieces, let alone performing sports.
There shouldn't be any uncomfortable areas in a good skating sneaker. Cheap models are made of materials that cause irritation when they rub against the skin. We don't recommend forcing yourself into any uncomfortable sneakers, let alone performance ones. There's no better feeling than smooth shoes that fit comfortably.
An ideal upper build should be made of the materials we mentioned above, insole and tongue padding, and internal cushioning.
Comfort
These two elements are unquestionably amongst the most important in any skate shoe build. You want to make sure they're not missing in your footwear, as without them, you'll be dealing with some bad heel bruises after a skating session. Even those who don't plan on performing high jumps must have adequately cushioned model that can deal with the impact. Like we previously said, most skating sneakers look casual, but they still have functional features present.
The midsole is the part of the shoe responsible for impact absorption. Any technology to reduce shock, either internal or external, is usually placed there. The heel is the part of the foot that undoubtedly deals with the most pressure in all sports. As you can probably guess, skating is no exception. Most brands include unique features around the heel area, which considerably reduces any shock or pain. For instance, heel air pockets have become a favorite feature.
Some big brands, such as Nike, know cushioning is not to be taken lightly. This is why their Nike SB's count with insole cushioning. We'll provide you with some basic information about insoles:
The softer the insole, the less torsional stability the shoe has. Stiffer ones, on the other hand, provide more structure and stability. When striking the floor, the impact ascends in a vertical direction. At the moment of the impact, the midsole is the closest element to the ground. At this point, the only thing standing between your foot and the shock in the midsole is the insole. Having a quality-cushioned insole makes a huge difference in maintaining you comfortable during impact absorption.
As for the midsole, EVA (ethyl vinyl acetate) structures are king. The more firm it is, the stiffer and bulkier the shoe will be. Steady ones are recommended for cases of excessive pronation. Soft midsoles, on the other hand, deal better with shock absorption. However, due to their exposure to shock, they tend to last shorter. The latter type of midsole is better for shin splints.
Top 10 Skateboarding Shoes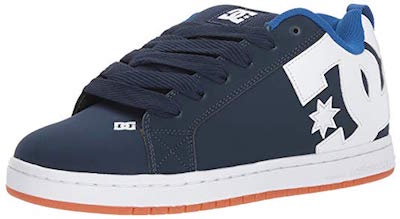 If you think about footwear made for skateboarding, these are probably the first skateboard shoes that will come to mind. Chunky, padded and protective, the DC Graffik has become a legendary sneaker for anyone who's looking for a stellar pair of footwear to wear while practicing, or while out and about. The upper comes in several versions, including a suede, leather and canvas one, which means you can choose whatever suits your needs and style best.
DC's pill patterned tread is a trademark of the brand and provides just enough grip on the board to accomplish your best tricks, without tying your foot down or creating too much weight. That 720 kickflip is nothing to you.
The DC Graffik features a padded tongue and collar for comfort and good support. The leather upper is made even more breathable with a couple of vent holes above the sole, as well as the mesh tongue that allows moisture to escape the shoe. With the added cushion and ventilation, your foot will be cool, dry and comfortable. These shoes are priced at the mid-range price-wise. They are worth the money for their style, comfort, and performance. These are skater shoes that suit the skateboard park as well as school or any other location a young person may want to be.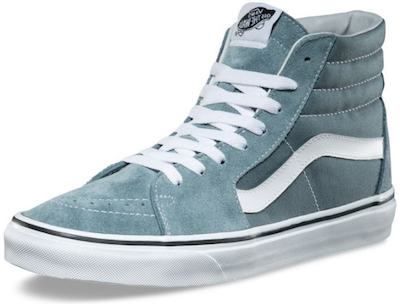 Should you ask anyone what pair of skateboarding shoes to look into if you're thinking about purchasing a stellar pair of skateboarding sneakers, you are very likely to hear about the Vans Sk8-Hi. Made with a high top to provide you with the best possible ankle stability and protection, these are sure to keep you comfy, even after hours of practicing at the park.
Strong stitching, cool designs, lace holes with reinforced metal, what more do you need? How about one of the most known logos there is? Or the unique stitch patterns with a hidden quality. Did you know that the stitching isn't just for looks, but also durability? This model shows a lot just by looking at it but has hidden aspects behind this special design for topmost style and toughness.
These skateboard shoes feature a supportive and padded ankle, laced up for a perfect fit and a comfortable sole. The sk8-Hi was made for durable construction and to last a very long time with keeping its comfort aspects. The ankle support in this pair is fully-focussed to be worn without limitations. This sneaker is reasonable in price. Most budgets will be able to afford it. It's definitely worth the cash when buying a durable shoe like the Vans Sk8-Hi. It's an excellent style both for skateboarding, but you may also be tempted to wear it for everyday use as well.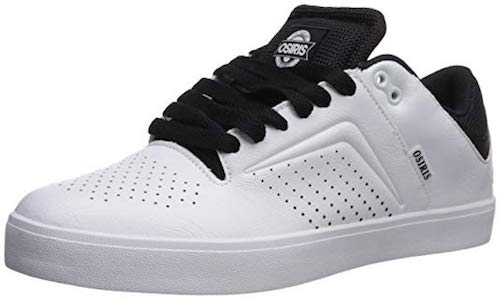 Skateboarding shoes developed for the highest possible level of performance, the Osiris Techniq VLC is a professional skateboarding sneaker that includes a number of technological features you'll value if you want to focus on your skill. It's available in several color options and is a great pair of footwear to have if you're after something that will do well for casual wear as well.
The upper of the Techniq VLC is made with a combination of synthetic leather and mesh. This provides breathability and moisture management, but also protects your foot from the impact skateboarding tends to have. The materials are durable and abrasion resistant, and should last you through some heavy use. The tongue and collar both feature lightweight padding that keeps the total weight down, and the combination lacing system allows you to get the perfect look and fit.
As for the outsole, these skateboard shoes use vulcanized rubber which is ideal for this type of activity. Not only is it abrasion resistant, but it also utilizes a herringbone traction pattern that works well on any surface, and that doesn't lose grip when used in dirty environments. The drop-in EVA insole is cushioning and supportive, which means that you won't suffer from the pain that comes with repetitive hard landings. As for price point, this model ranks average compared to the other skater shoes on the list, making it an excellent buy for most skaters.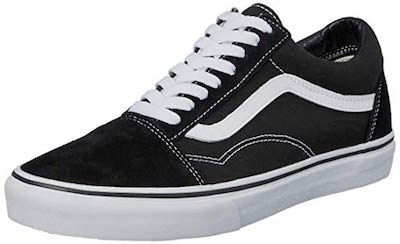 This pair of skate sneakers has gained legendary amounts of popularity among anyone who values a rough, durable, and comfortable pair of footwear. With numerous versions and copies, the Vans Old Skool is one of those styles anyone can pull off, whether for skateboarding or casual use. It comes in a number of colorways that are regularly updated, and is an affordable purchase, making it a suitable choice for anyone's budget.
Made with vulcanized rubber, the outsole on these Vans is perfect for skateboarding which can be so hard on regular shoes. The waffle pattern gives an exceptional combination of grip and flexibility, and it's just the right thickness to allow a good feel of the board, making those kickflips so much easier to master.
If you've ever owned a pair of Vans, you know that their canvas uppers are made to last. Not only are these skateboard shoes durable and resistant to scruffs, they also hold on to their color for a good amount of time, and even feature some much-needed padding in the collar area. Another advantage this type of canvas has that it allows for a good amount of air flow, preventing overheating and excessive sweat from clinging to your feet. The Vans Old Skool is one of the cheapest skateboarding models you are likely to find, that will still give you the required traction and protection. It's an excellent investment, especially for those looking for something to wear on a daily basis, to school or casual outings in addition to kitting up the skate park.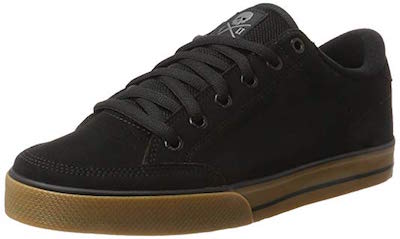 If you've been skating for a while, you know that a well-rounded pair of footwear made for the board is hard to find. The C1rca AL50 incorporates a multitude of details that have all been developed with skaters in mind. Allowing you to choose a gum rubber or synthetic outsole is one of them, giving you the chance to get the type of grip you need to do your best.
The sandpaper surface of your skateboard will be hard on any type of footwear, which is why, if you want to allow yourself the best possible traction, you need something that's going to last. The outsole on the AL50 is abrasion resistant, giving you a fair amount of durability that'll allow you to wear these skater shoes for months or even years.
These skateboarding shoes are superior in padding from the tongue to the collar, which is important not just in terms of fit, but also in terms of protection for when the board hits your feet. It features a little extra toe room for those wide-footed skaters, which surprisingly isn't uncommon. Another part to this classic shoe is it's vulcanized construction to maximize flexibility. With a price that's one of the lowest on this list, the C1rca AL50 is the best choice of footwear for those who prefer a bulkier style and need something budget-friendly. Made specifically with skaters in mind, it has all the necessary features to protect your feet from taking too much of a beating, all while offering a classic, easy to wear style.

6

. Nike Zoom Stefan Janoski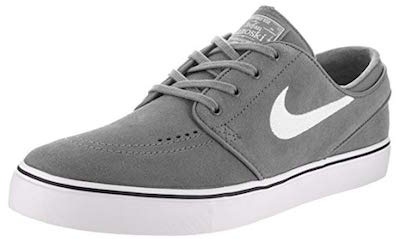 This pair of sneakers was developed in collaboration with Stefan Janoski himself, giving you skate shoes you can easily wear on a daily basis, and that'll perform great on the board. The upper is made with high quality suede that's more durable than canvas, while the upper features perforations that'll keep your feet at a comfortable temperature, and well-vented. It's an overall lightweight model that won't have you exhausted at the end of the day, but that'll still do an excellent job at helping you become a better skater.
This is a sneaker with a low profile vulcanized rubber outsole, which means that although you get excellent board feel, you will need a bit of added protection. The sockliner does this with an added Nike Zoom Air heel cushion, which will not only make walking a more pleasant activity, but will also absorb the shock from hard landings, saving your joints and muscles from fatigue and injury.
First released in 2009, this shoe changed the game with its low collar that required a heel band just to keep it in place. But one of the reasons for this drastic design innovation was mobility - with less material around your ankles, you have more freedom to perfect those tricks without feeling any constraints. In terms of cost, the Nike Zoom Stefan Janoski comes at a price that's slightly above average, but overall acceptable in terms of affordability. You can choose between a suede and canvas upper, or can even go with one of the limited editions that are more colorful and stylish than your regular pair of skateboarding shoes.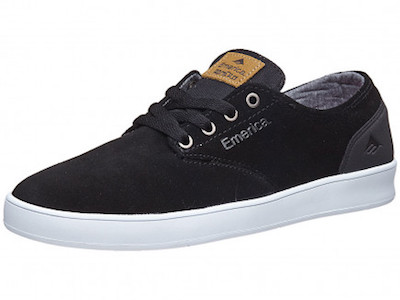 Low-profile skate shoes with a cupsole construction, the Emerica Romero ensures excellent board feel while still giving you the protection you need to keep going for as long as you want. It features a specifically designed thread that gives great grip, as well as gum rubber construction for added durability. It looks sleek and simple, which makes it the perfect choice both for skateboarding and casual wear.
Your feet move a lot while you're on the board, flexing side to side and front to back, which can cause the tongue on many sneakers to twist and become uncomfortable. The wings on the tongue of the Romero feature stabilizing wings which ensure the tongue is always held in place.
The sole in this pair is low and cupped for a secure, stable fit. Your foot will not slide back and forth or from side to side within the shoe while you're skateboarding, leaving you with less irritation and far more control and comfort. This model is priced in the mid-range which is a good value given the performance of these skateboard shoes on the board. It is also a versatile model which can be worn to school or other occasions. It is a breathable, stable style that will give you a lot of life for the money.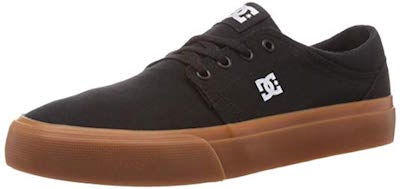 The DC Trase TX is a very considerable shoe with its sleek style, carefully thought out design, comfort and mobility. This model can easily be overlooked but it has some really special aspects that need to be listened to. The Trase TX has made some bold statements in regards to durable construction, and is an excellent choice for those who are looking for a reliable pair of skateboarding shoes.
The Trase TX can look like an ordinary sneaker but really it has some specific qualities that may not meet the eye. One of these fantastic characteristics is that DC has branded their star logo on the heel. Another is, it has a higher foxing tape for a distinct look and feel. The higher foxing tape also helps with the overall life of the skater shoes because many tricks will have you dragging your foot at some point and this will help protect the material underneath.
This model was made with extra padding for the utmost comfort and the low-rise style may not fully support the ankle but it gives it more flexibility when it needs to and the collar also has extra padding. Overall this pair was built to be strong and meet the needs of long periods of movement. With the very unique aspect of having a higher foxing tape, and carrying an exceptionally reasonable price tag. They are versatile and comfortable. Choosing this option gives you a new solid option in your skate shoe collection.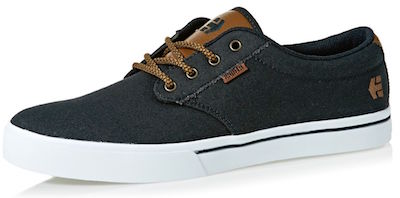 If you're someone who cares about the environment, you may be looking for a pair of skateboarding footwear that'll allow you both to perform at your best, as well as to be gentle to your surroundings. The Etnies Jameson 2 Eco skateboard shoes made with recycled plastic and rubber materials, and still features a sleek look that'll not only be functional but will also look stylish for casual outings and more relaxed school or work environments.
Classic, profound and simple. This pair is perfectly in place in our modern environment. Knowing that it's partly recycled makes them feel that much better. Be proud of wearing these eco-friendly kicks. It has a low top style and can be worn and look fantastic doing pretty much anything.
The Jameson 2 Eco features faux-vulc cup sole construction with an STI foam lite 1 insole for total comfort. The flexibility features include thin padding in the tongue and collar. These are the skater shoes to get if you're looking for a simple modern look but a comfortable feel. This pair falls into the affordable category. You definitely would not want to lose the deal you get when deciding to purchase these.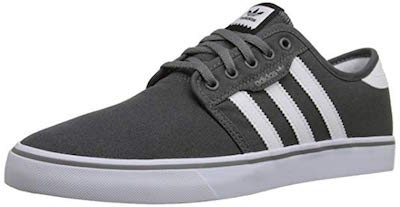 Those who want a stellar brand will love this pair of skateboarding sneakers from Adidas, one of the leading brands when it comes to sports footwear for all types of activities. This is a shoe that's simple in style, but features all the necessary aspects that make a good skate style. It was developed using the brand's successful Gazelle soccer sneakers, improving it with an abrasion-resistant upper and sticky outsole.
This model features an abrasion-resistant sole and a smooth, abrasion-resistant upper. Both of these features will stand up to the abuse that you hand them and come back for more. These skateboarding shoes, barring outgrowing them, will last for several summers for fun.
The Seeley features a comfortable insole and a lightly padded collar, which helps to avoid blistering and sores around the ankle. It also provides a comfortable, supportive fit. It is priced in the higher end of the range but given that it will last for years of abuse, it still represents a very good value. Built specifically for skateboarding by Adidas, the Seeley skate shoes comes with all of Adidas' century of athletic shoe building experience.

Subscribe to our Newsletter