Best Fashion Sneakers Reviewed & Rated
In a Hurry? Editors choice:
Test Winner: Nike Air Force 1

Customers, in general, have become more focused on the fashionability of their shoes, especially when you consider that sneakers have become appropriate footwear even in more formal settings. Thus the demand for fashion-oriented footwear has grown incredibly high, to the point where some special edition sneakers will not only fetch a high price but may even sell out in a matter of hours or days.

Although sneakerheads already have lists of fashion sneakers they want in their collection, it is likely that you are looking for a pair of kicks that'll look awesome, be comfy, and not become sold out before you get your hands on them. This list includes the ten best fashion sneakers available for purchase in 2019, and opting for one of these pairs is going to be an investment you'll be happy with for years to come.
Standout Picks
Criteria Used for Evaluation
Style
It should go without saying that when it comes to fashionable footwear, the pair you choose has to look great. Certain factors such as color scheme and the overall profile come into play here, though these are wholly personal and subjective. While some people will prefer bright colors and wild patterns, others may prefer muted tones and more minimalist looks. With style being a large factor here, we aimed to curate a list that showed a wide variety of designs that would appeal to an array of different tastes.
What's fashionable and "in" is a constantly changing concept, and pinning down what's currently en vogue can be tricky and elusive, but there are classic designs that are timeless and in style regardless of current trends. As such, we have included fashionable sneakers such as the Converse Chuck Taylor All Stars that will be fashionable for years to come. We've also included other world-renowned brands such as Nike, who have a lot of iconic models that have become widely popular hits.
Whether you like minimal, outlandish, classic, or something in between, we've made sure to create a comprehensive list of fashionable sneakers that covers all of these qualities, in order to truly showcase the most fashionable shoes on the market.
Overall Fit
Sneakers will typically come in three styles, or cuts: low-cut, mid-cut, and high-cut. While the difference it makes can seem minimal on the surface, the cut of the shoe is very important to each person in terms of appearance, fit, and overall comfort. Mid-cut and high-cut fashionable sneakers tend to offer more robust ankle support, while low-cut designs are more flexible and not as stiff.
Low-cut sneakers, also know as low-tops are made to sit below the ankle comfortably. If you're looking for some for summertime, or prefer a more lightweight design that feels free on your foot, low-tops are the way to go. While not all low-tops are the same, you'll find that they're typically lighter in weight and more flexible, allowing you to be quicker on your feet. They may not offer the same level of ankle support as a mid-cut or high-tops, but offer support in other ways, such as arch support, as well as midsole and insole designs. The downside that they are generally less supportive overall and there is less shoe to protect the foot, so if you're going to be playing sports you may want to consider a mid-cut or high-top fashion sneaker instead.
Mid-cut sneakers tend to be the most popular choice as they sit in the middle of the ankle. They offer more protection and support than a low-top while being less bulky than a high-top, making them a perfect middle-of-the-road option for just about anyone. While the difference in the cut is small, this can be important for those who are prone to ankle issues that could use the extra support they provide. While they don't offer as much coverage as a high-top, the difference in the cut between a mid-cut and a low-top can make all the difference when it comes to proper support. The downside is that they are heavier than low-tops, though the significance of this is subjective and depends on the person.
High-tops, as their name suggests, cut high, sometimes even above the ankle. While they are markedly heavier than lower cuts, they also offer maximum ankle support and protection. For those that need this extra support, high-tops will be your best bet at protecting your ankles and helping to prevent injuries. For those who don't necessarily need this, high-tops still provide benefits. When paired with jeans they are quite fashionable, and the extra real estate allows designers more space to play around with embellishments and features. Some of the most sought-after sneakers are high-tops for this reason. They are, however, heavier than lower cuts, and as such may not be the best for summertime or warmer weather. Also, those with sensory issues may have some difficulty with the high cut. But again, this is subjective.
Comfort
When it comes to any kind of footwear, comfort is one of the most important things to consider. Your feet are the foundation of your whole body, and poor-fitting and uncomfortable footwear can ruin your day. Even if you're purchasing fashion sneakers just for appearance, if they're painful or uncomfortable they may never see the outside of your house. When we created this list of sneakers, comfort was at the forefront of our mind, as we feel it's important to be able to enjoy your shoes wherever you go. Fashion footwear can be expensive, so having to limit how much you wear them due to discomfort can feel like a waste of money. As fun as quirky designs can be, footwear needs to be realistic and fit your comfort needs.
We've made sure to avoid designs that can cause blistering or chafing, as they ended up being more decorative than they are functional. As stated above your feet are the foundation for the rest of your body, and ill-fitting or uncomfortable shoes can even cause injury. As we saw with the cut of the shoe, the design and style are very important in regards to comfort. Make sure you are looking at functional aspects of the fashion sneaker such as the midsole and insole before making a purchase. You want to make sure it has the proper cushioning to properly support your feet and absorb shock. If you need extra arch support or a custom orthotic, you also want to make sure the insole is removable.
Durability
To assess each of the products on our list of fashionable sneakers for durability, we not only read through thousands of customer reviews on our recommended products, but we also looked for some of the hallmarks of quality construction. From brand name reputation to their initial smell out of the box, there are a few ways of identifying a well-built, made-to-last product.
The Details
A zipper that doesn't zip? Poor threading technique? A smelly, chemical residue on the shoe when you open the box? All these details were looked for and evaluated when assigning a score for durability.

Materials
Certain materials last longer than others, even if that comes at the expense of a higher score in the "comfort" criterion. Materials that are synthetic, thicker and firmer tend to score higher on durability.
Product Purpose
A shoe made for running and high-impact sports will not likely last as long as a good pair of general activity shoes, and that's okay. Being aware of the shoe's purpose is critical for you as a reader and for us as a reviewer. Although fashion sneakers that will last longer score higher on this criterion, you might also see high scores to shoes with more limited durability, if that product was specifically designed for certain purposes that involve high-impact and high-stress motions. We take into account the type of shoes you are trying to purchase when assigning scores to shoes in this criterion.
Brand Name
A product is a promise made, but a brand is a promise kept. A brand name is often a signal of quality and consistency in construction and durability from product to product. Although there are always exceptions to this rule, quite often brands that perform continue to perform. Brand names on our list of sneakers tend to score higher in the durability score.
Value
There are many things to consider when discussing the value of a particular shoe, especially fashion sneakers. You want to primarily consider comfort, durability, personal appeal, and of course, price. It's important to find the ideal balance between these aspects. For example, an expensive pair of shoes will not have much value if they are uncomfortable enough not to be willing to wear them. The issue with buying shoes online is that you can't try them on before ordering, so it's important to look at user reviews to determine how other people feel about the actual fit of the shoe. Also note that computer monitors and phone/tablet displays handle color differently, so the color in the picture may end up being slightly different than when they show up at your door. Be sure to look over user reviews before making your purchase, and don't be afraid to return or exchange them if you find they don't live up to your expectations. When it comes to shoes, you shouldn't have to make compromises on anything.
Top 10 Fashion Sneakers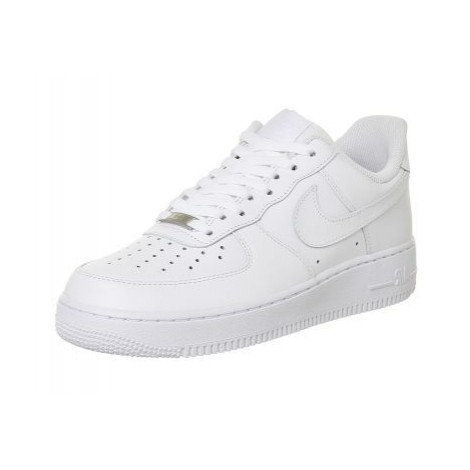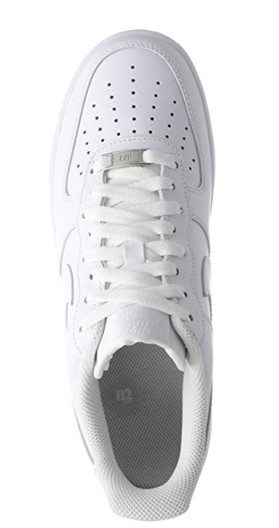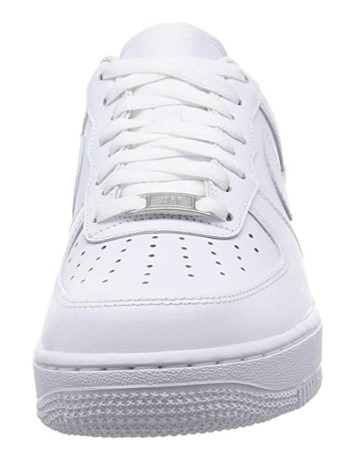 Designed in 1982, these basketball sneakers have become a staple in street and hip-hop fashion, being one of the most versatile pairs of fashionable sneakers you can get. They'll look fantastic in any color or height (they're available in a low, mid, and high version), but you will probably fall utterly in love with the white-on-white and black-on-black versions which you'll want to wear everywhere. And the best thing is, you can, as these sneakers will even look good with a suit and tie.
These fashion sneakers were intended to be worn on the basketball court, and feature excellent cushioning that will keep you comfortable no matter how long you wear them. They will give you a soft, springy feeling, while you'll love the padded collar that ensures your ankles are just as well taken care of as your soles are.
The upper of these Nikes are made out of leather, but is also available in synthetic and textile, depending on your preferences. You can get them in monochrome, or even opt for a pop of color, seeing that they come in a vast variety of colors. Whichever option you choose, you definitely won't go wrong with these sneakers.
While they will set you back a three-figure sum, these shoes still rank low on this list when it comes to price. If you're just getting into sneakers, or are looking for a style that is versatile and fashionable, these are the perfect option for you.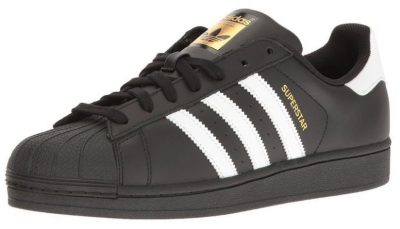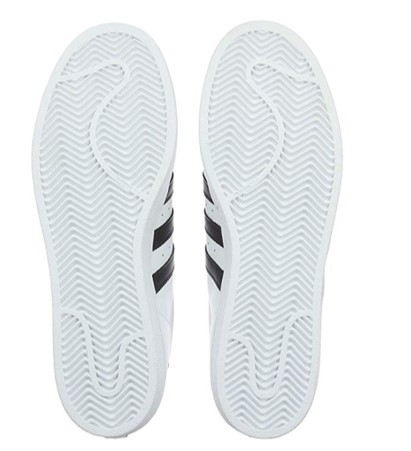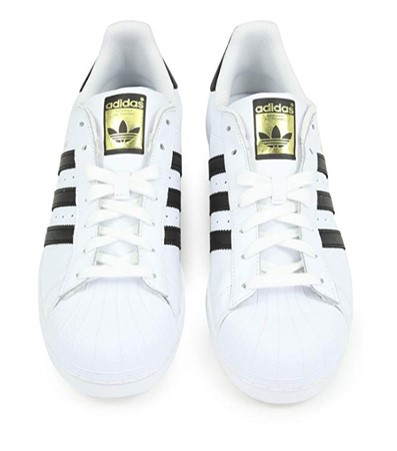 Originally designed as a pair of tennis shoes that would allow players to perform to their highest potential on the court, the Adidas Superstar has since become a fashion sneaker staple. You can opt for the classic white leather upper with the recognizable three stripes on the side, or go with something a bit bolder and get a pair of millennial pink, mint or even iridescent white, black, gold or silver.
These sneakers offer excellent quality and durability you can count on, thanks to the use of full-grain leather in the making of the upper. This ensures that you get a pair of sneakers that will allow the right combination of protection and flexibility, will breathe well and is very easy to clean with just a damp cloth.
Having been made for the court, these fashionable sneakers feature a herringbone pattern on the rubber outsole, as well as a rubber toe cap that protects from damage in this area of the shoe. Thanks to this type of design, these shoes are an excellent pair of fashion sneakers that can also be used for long walks or even for travel.
These sneakers rank quite low on this list when it comes to price, making them an excellent, affordable option if you're looking for a classic looking leather sneakers. Even more, you'll find that they offer excellent durability, and can also be worn for more strenuous activities such as skateboarding.

3

. Golden Goose Superstar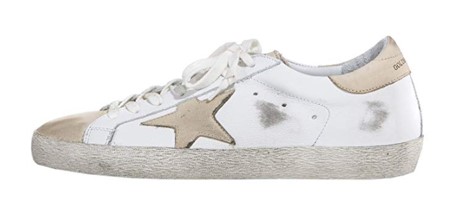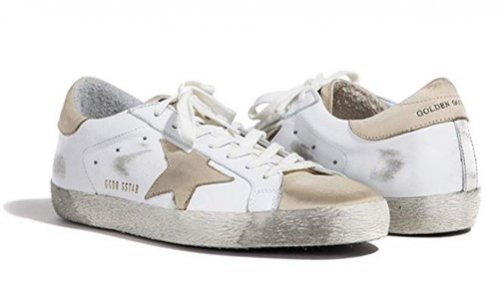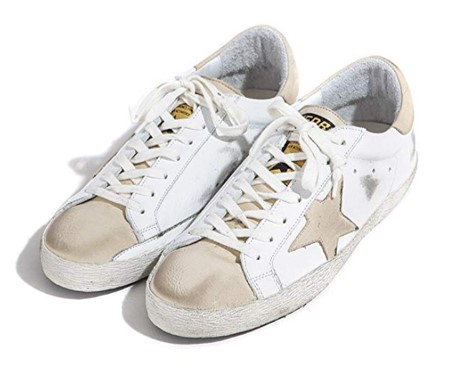 This brand was born in 2000, nearly 200 years ago, and has a history behind it that can't help but be appreciated. Crafted with care and individuality, this fashion sneaker has superstar written all over it. Star emblem denotes the Golden Goose brand, along with GGDB logo which sits across the tongue. We can say this pair may be the most comfortable sneaker you'll ever wear, and while it may seem an investment to purchase a pair, it's well worth it for the amazing materials, craftsmanship, and iconic style.
Golden Goose was named after the famous tale "The Goose That Laid The Golden Egg" by Aesop, and luck has followed the brand in it's growth to popularity and celebrity status. Worn by many celebrities, models, and actors across the world, their style embodies what our favorite clothes reflect; that worn loved look and feel. Scuff marks along the Superstar's upper reflect that same feeling, giving us a sense of our favorite pair of sneakers that have been with us through good times and bad.
Uppers on the Superstar are calfskin, pulled together through the finest Venetian craftsmanship to last a lifetime. Inside this fashion sneaker is a soft lining to cushion your foot for the best wearing experience possible. Lace-up vamp and low top style give it that skater feel and look, making them both comfortable and instantly iconic. If you're in search of something different, the Golden Goose Superstar is a worthy investment for a new pair of sneakers bound to turn heads.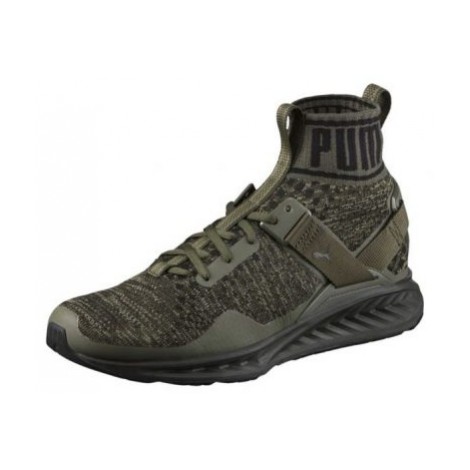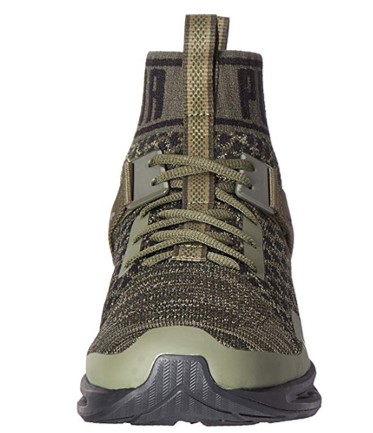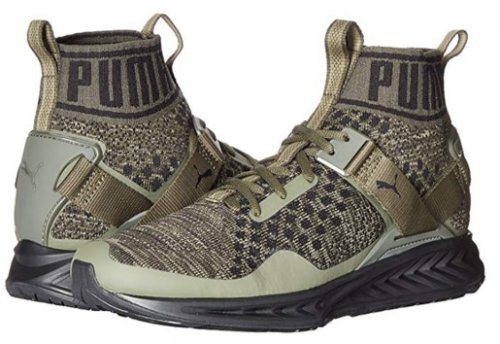 At less than a tenth of the cost of the most expensive item on this list of best fashion sneakers comes a pair from Puma that looks great and offers a wide variety of technological advancements to make your wearing experience amazing. With a knit upper that feels like wearing a pair of socks, these sneakers will perfectly follow the contours of your feet and will feel amazing to wear while still looking awesome.
These fashionable sneakers offer plenty of comfort through the various foam components, including the molded EVA sockliner that supports the arch, the midsole which offers energy return, as well as a ForEverFoam heel component that increases durability.
Although you may expect a knit upper to offer flexibility, the surprising element with these shoes is the outsole that is made to allow natural foot movement with the help of the flex grooves located in the forefoot. This means that this pair of sneakers will follow your natural gait pattern and will give you a better experience during the push-off phase of your walking.
These sneakers are the most affordable pair of footwear on this list but offer excellent value. Thanks to their performance-oriented design that looks amazing, they deserve a place on a list of the best sneakers available for purchase.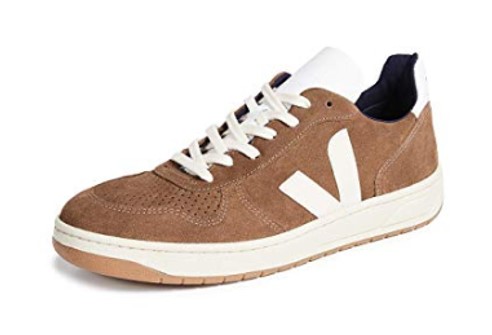 Veja brand footwear was established in 2005 with production sites across Brazil. The brand's manifesto supports sustainable, fair trade conditions, and they partner with smaller cooperatives in order to source their materials for constructing quality footwear for the masses. In fact, the brand is so transparent with how their footwear is made, they list on their website the costs of making a pair to support fair trade versus mass manufacturing! If you're someone who can appreciate supporting brands responsible for their craftsmanship, have a look at the Veja V-10 for your next pair of fashion sneakers.
Uppers on this particular pair of V-10s are made from quality nubuck leather and suede. You'll find this particular model in other color options and styles, but we love the retro look and feel of brown suede on this version. Lace-up vamp allows you to wrap up the perfect fit, and a soft leather tongue gives a comfortable fit, along with a lightly padded heel tab and collar. The low cut design allows for ankle mobility for walking and other activity.
Organic cotton lines the inside of the V-10, making it plush and soft to the touch. The brand's 'V' logo is displayed along the outside of the uppers, stylish and simple in design. Wild rubber that was responsibly sourced and made created the insole, and the sole of the shoe, helping give it sticky yet comfortable traction. And while this pair may run you a little more than others, it's one statement fashion sneaker that will embody supporting fair trade and responsible sourcing.

6

. Cole Haan Grand Motion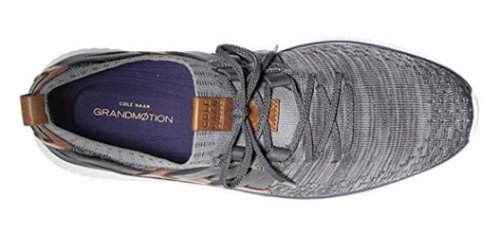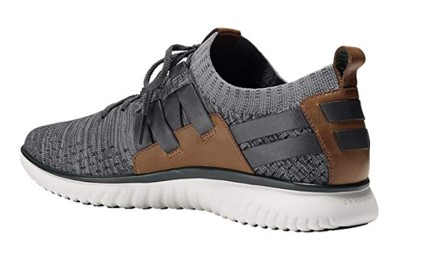 You may already be familiar with Cole Haan's Stitchlite technology and line of footwear, and this pair of fashions sneakers are no exception to the quality that line brings to the market. Stitchlite technology utilizes two different types of stitching that comprise the upper knits. One kind helps give flexibility, while the other provides some structure, both contributing though to the lightweight, breathable feel that this fashion shoe has. Get ready to wear this pair to work, formal, or casual occasions, as its look is versatile enough for all occasions!
The uppers of this fashion sneaker are a knit base, allowing maximal breathability and moisture control for when temperatures heat up. Leather overlays on the Cole Haan Grand Motion provide not just a boost in aesthetic to this fashion sneaker, but also lateral and medial support to the sneaker. It also has a sock-like liner that hugs the foot, making it flexible and comfortable for an amazing on-foot feel.
Inside Cole Haan's fashion sneaker lies an EVA midsole that helps provide support and cushion to the shoe. A rubber outsole provides supreme traction, with flex grooves to help keep you upright, even on wet or slippery floors and surfaces. All and all, this pair of fashion sneakers keeps an amazing appeal suitable for business, formal, or casual occasions, making it a versatile option for your next new pair!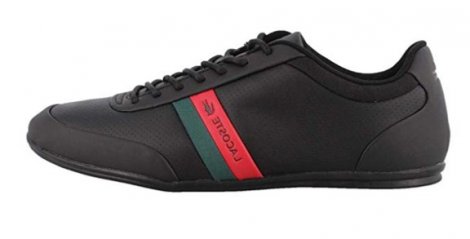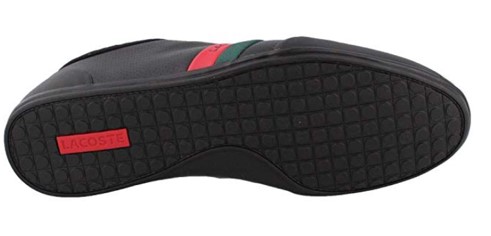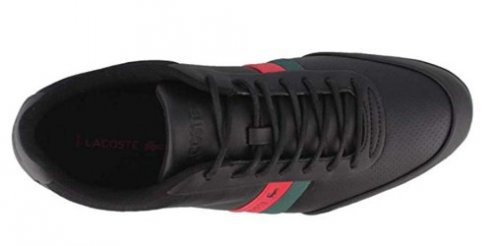 This sleek aggressively styled fashion sneaker from Lacoste is one that could just be the pride and joy of your footwear collection. With simplistic lines and color motifs, it's perfect for work when you want some comfort during the day, or for a stylish casual look when paired with jeans. Premium leather uppers give it a luxe feel and appeal, along with the Lacoste iconic logo. This fashion sneaker is sure to add some confidence to your ensemble and a high-end feel to your fashion sense.
Premium leather uppers in the Storda 318 are available in a couple of different color options, from basic black to a neutral or blue tone. Lacoste included their striped accent and crocodile logo along the sides of this fashion sneaker, making it well known for its designer style and history. While leather uppers help make it more durable than other materials, it's perforated to help maximize breathability as well, keeping you cool under testing circumstances.
A textile lining lies inside the Storda 318, helping for a softer on-foot feel, and the textile insole provides extra support when walking or standing. Padded tongue and collar provide cushion and protection against irritations when walking that could cause blisters, while the lace-up vamp allows for the best fit possible for your unique foot shape. And, taking into account this fashion sneaker has only a weight of 10 ounces per shoe, you'll have less foot fatigue at the end of the day!

8

. Kenneth Cole Initial Point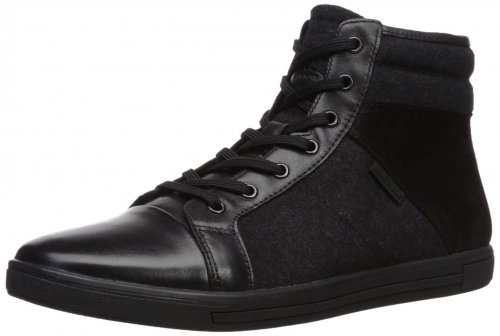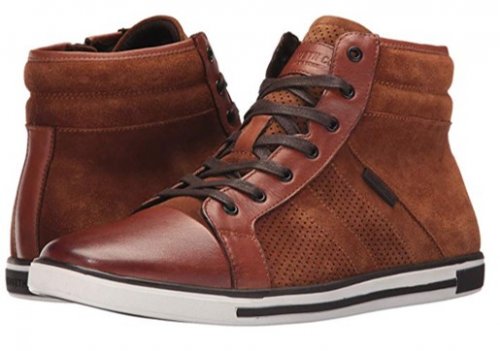 These high top fashion sneakers from Kenneth Cole are part of the Unlisted line, which features a variety of different shoe styles all created with the intent to be both fashionable and well-rounded. The Initial Point sneaker certainly lives up to its name, as its synthetic upper is enhanced with quarter paneling to give this shoe a more unique and appealing look. With a stiff upper, you have additional ankle support, making these shoes more than just fashionable - they can be comfortable and supportive as well. The full lace-up front features well-woven laces, which are slightly off-color in order to make them stand out from the shoe itself.
Many shoes on the market today feature thick soles that stand out and pull the eye down towards the shoe. While this may be nice in some circumstances, the point of shoes is to enhance an outfit, not distract from it. With the Kenneth Cole Initial Point sneakers, the sole is slim and attractive, not overpowering the shoe or your outfit in general. This slim sole is still made of durable rubber and is comfortable, while not being excessive. Depending on which color option you go for, the sole may be contrast-colored, or the same color as the shoe, in which case you can barely notice it at all.
Being limited in choices isn't usually great, so it's fantastic that this fashion sneaker comes in a variety of color options; making it easy to pair with whatever outfit you have in mind. From all-white to all black, grey, brown and cognac, this shoe has an option for almost any occasion and will leave you looking sharp and attractive. Every color choice still features the same design staples, like the quarter paneling, so it just comes down to what color you wear the most and how you want your shoes to fit in with your scheme.
Any fashion sneaker can be expensive, but when you add in fashion and designer names, those prices can skyrocket. With such a low cost to these shoes, it's worth checking them out and maybe even picking up a pair in one or two color options. These are versatile and attractive, making them a cost-effective shoe to have on hand in your closet.

9

. Converse Chuck Taylor All Star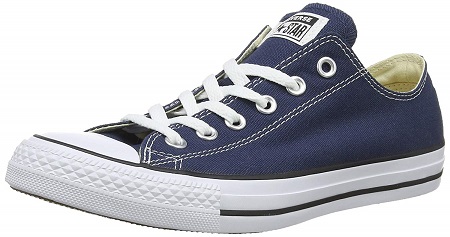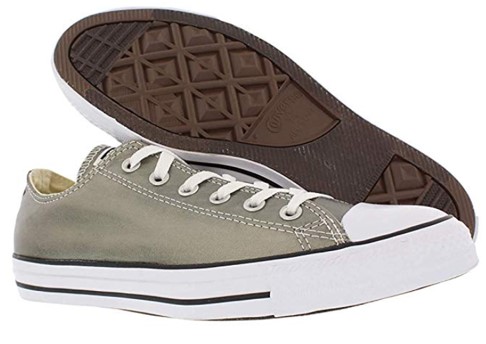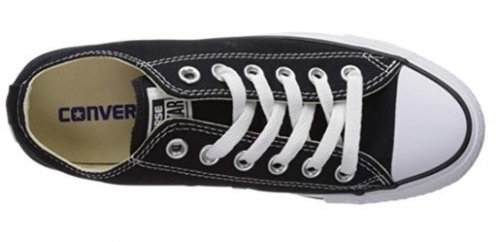 The iconic design of the Converse Chuck Taylor All Stars is well-loved around the world. The simple style and wide range of color and size options make these canvas fashion sneakers incredibly versatile and will go with anything in your wardrobe. The ortholite insole is designed for maximum comfort, while the vulcanized rubber outsole is built for superior traction and durability. You can't go wrong with a good pair of Converse.
Ortholite is a very popular choice for insoles and good reason. They're designed to have a compression rate of about 5%, which allows them to keep their ideal shape longer, and as a result, you'll need to buy new insoles less often. The open-cell foam design allows for exceptional breathability and moisture-wicking for temperature control and sweat/odor mitigation. These lightweight insoles are built for comfort and longevity.
The original method of vulcanizing rubber- as well as the most common- is by mixing sulfur with natural rubber and applying heat. Sulfur is often a byproduct of volcanic activity; hence the term "vulcanization." This makes vulcanized rubber a popular choice for outsoles because the process of adding sulfur changes the chemical composition of the rubber to make it more durable and provide improved traction. This is especially important in the case of the Chuck Taylor All Stars since they have a flat-bottomed outsole.
With most size and color options in a fashion sneaker, the Chuck Taylor All Stars are a surprisingly affordable fashion sneaker. That being said, the lightweight canvas design and vulcanized outsole make them durable so they will last you a long time, and the ortholite insole is specially designed to last longer than traditional insoles.

10

. Adidas Tubular Invader Strap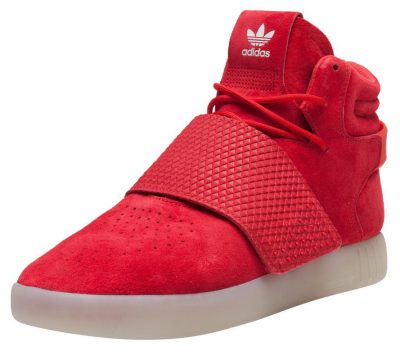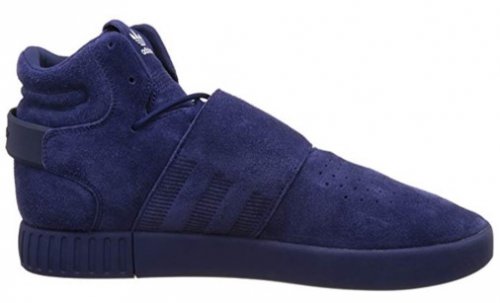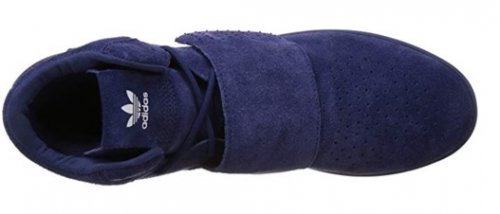 If you want all eyes on you, then the Adidas Tubular Invader Strap sneakers are a great place to start. With an out of this world, futuristic design, these fashionable sneakers are unique and eye-catching regardless of what you pair them with. In a variety of different colors, the brightness of the red is certainly one of the favorites as it showcases what Adidas has to offer. In a nice mid-cut design, you should find that you have good ankle support, as well as a comfortable sole and plushy, thick midsole. Not only do these shoes look great, but they do feel great on as well.
The majority of the colors feature a suede upper, which is nice and soft to feel. Suede is pretty durable but does have a downside if it becomes wet as it won't do well with water. To ensure these sneakers stand up well over time, make sure you put on a suede protector as this will remove one of the only downsides to this pair of shoes. When you don't have to worry about water, the suede look is one of a kind, and it does make a shoe look more expensive, attractive, and well made.
The most obvious feature of these sneakers is the thick upper strap which is referenced in its model name. The Adidas Tubular Invader Strap shoes take straps to a whole new level, and the ribbed band covers the laces and majority of the top completely. While the ankle support still shows above the strap, the most dominant feature is the wrap and it's what makes the shoe look futuristic. Edgy and unique, it's not a feature that you are going to find on many other shoes, making these stand out nicely.
For a mid-cut Adidas sneaker, this pair of fashion sneakers is very reasonably priced, and realistically shouldn't be too far outside of anyone's budget. For the price you are getting a well known and reputable brand, a solid build, and a unique design; all coming together to make for a very fashionable sneaker. Depending on the color option you go for, prices can vary, so if you want to save some money, you can always opt for a lower-priced color. With that said, price variation isn't too big, so the few extra dollars may be worth it if you want to get your hands on a more one of a kind color.

Subscribe to our Newsletter