Best High Tops Reviewed & Rated
In a Hurry? Editors choice: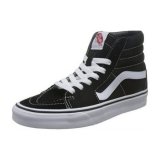 Test Winner: Vans Sk8-Hi

Are you looking for ankle support or flashy velcro straps? Are color, material, and style crucial to your shopping decisions or are you more interested in support, comfort, and durability? While everyone wants their shoes to be attractive in style, protecting your ankles is a must. With this top 10 best high top sneakers list, you will find a mix of surprises in what is popular in style and comfort. All you have to do is decide which shoes work best for you!
Standout Picks
Criteria Used for Evaluation
Comfort
If you're looking to purchase high top shoes you'll also need to look for comfort as well. High tops are great for securing your ankles but as we've mentioned before, if the materials or the shoe design don't provide enough cushion, your feet and ankles are at risk for blisters and irritation.
The good news is that there are many ways to include comfort in this style of shoe. The first and most obvious feature we've already mentioned would be cushioned ankle collars. If you read the above section on 'Ankle Support' you'll understand this is the best way to protect your skin.
If you're not looking for a super lightweight feel, all-around cushioning is another great option for providing complete comfort. Skate shoes especially use this kind of feature to provide secure, comfortable support and protection around the entire foot. The thick padding also makes your feet feel like they're walking on clouds, which is a bonus towards comfort.
Comfort is also found in the length and cut of the top materials. Some high tops can be too high and may make some people's feet feel claustrophobic. Other shoes that offer a 'mid' design is still classified as a high top but with added flexibility and fewer feelings of your feet being enclosed. The cut and seams of the material are also important because if they're too sleek and flat, they can rub against the back of your ankles. Rounded, soft curves in the back are necessary for creating comfortable movements.
Along with the cut and length also comes the type of materials used on the inside and outside of the shoe. Contrary to most beliefs, synthetic materials are more durable and aid to the health of the foot more than natural materials like leather and suede. While those two materials are extremely attractive in appearance if the material rubs against the skin often it is going to create irritation. It's important to seek out materials that are soft yet durable and provide a comfortable feel.
Overall, we recommend taking your time when looking through each shoe's features as they are all truly important to creating a complete, comfortable feel.
Durability
Durability is an important aspect of any shoe but is especially important for those who are planning on continuously being active. The more you move in your shoes, the more your shoes are going to take on the pressure and impact of your movements. Durability is key for extending the lifespan of your shoes, as well as protecting the health of your feet.
Durability can be found in many areas of the shoes but is most commonly found first in the outsole. The outsole is key for providing a stable barrier between you and the surface or terrain you're on. Weak soles can cause stress and damage to the feet if they don't absorb the proper amount of pressure and impact.
When looking for high top shoes, you'll want to make sure that they come equipped with some form of rubber soles. Abrasion-resistant or impact-absorbing soles are even better and will help you to stay comfortable in your shoes while protecting your feet from any outside damage.
Another area that should be durable in your high tops is the materials used in the creation of the upper. The upper protects your toes and the tops of your feet, so it's important that material is strong enough to resist holes and tears. Reinforced uppers or durable materials that can withstand long-term use are a great choice for high top shoes.
It may never naturally come to mind, but the seams of your shoe are also very important for durability. The seams are what hold all the materials of the shoe together, so it's important that yours are made of high-quality material. This is where brand reputation comes into play, but aside from that, you'll want to take a careful look at the details of the shoe.
Overall, finding durable features in your shoes isn't too difficult, but it is a step that is highly important if you're looking for a comfortable, secure pair of high top shoes. Take your time and look for quality features; your feet will thank you every step of the way if you do.
Style
The great thing about high top shoes is that even though the lengths are similar, the styles are all completely different from one another. Shoe design goes hand in hand with your intended use, but it's also something that is a personal aesthetic choice and helps to show your unique sense of style.
Lightweight or thick in cushioning? Tie up laces or no laces at all? These are all good questions, and all these features in design are what helps to create the ultimate feel of the shoe, so it's important to take a look at them all.
If you're looking for everyday shoes, your choices are going to be based more on appearance and comfort. You'll, of course, want some padding in your shoes but as far as the outside goes, you want a shoe style that represents your looks and matches the setting of where you're going. Maybe you want something that stands out or something more minimal, either way; you'll be able to find these styles in a high top length.
While there are classic, all-time favorite designs to choose from, there are also some new modern styles and features that create a trendy, street style. The ability to fold parts of the shoe material down like the tongue of the shoe and even the back ankle is a style that allows for versatility and the ability to customize the appearance. Along with that style comes the ability to only lace your shoes part way to the bottom of the ankle or up, securing your high tops in place.
A few other popular styles include side zippers, detailed stitching and the types of material used. While canvas is more for everyday use materials like leather, suede or glossy textiles add a more fashionable appeal to the style of your sneaker. Sometimes it's what gets noticed the most out of every other aspect in the shoe.
The design is still always important though. If your intended use for your high top shoes is to be frequently moving, you'll probably want to find a shoe design that is lightweight in appearance. Otherwise, thick cushioning is always a great option in adding comfort to the feel of your shoe. Shoe companies truly understand the need for different styles for function and aesthetic purposes. No matter what your style is, you'll be able to find a high top design that suits all your needs.
Support
High top shoes are not only great because of their modern street style, but they're also good for protecting your ankles. The fabric that forms around the ankle helps to better secure the shoe into the foot. Although this all sounds great, high tops that aren't made with comfortable, padded materials can be irritating and damaging to your feet and ankles.
When choosing any high top shoe, you want to make sure the length of the fabric around your ankles isn't too tight. High tops that are too tight-fitting can cut off your circulation, cause friction, irritation and even blisters. It's important that your shoes aren't constantly rubbing against the back of your ankle and heel.
To provide your ankles with the proper amount of support, you'll want to look for a few key features in the shoe. The first, most important factor is padded ankle collars. The top part of the shoe's material often comes in contact with the skin and can create an irritation spot. The padded ankle collars provide comfortable cushioning that replicates a light barrier against the skin. This feature eliminates the potential for blisters and a secure, plush fit to the shoe.
Another important feature is some form of adjustment to the closure, like shoelaces and Velcro ankle straps. These features are good for adjusting the shoe to properly form to the shape of your foot. While laceless shoes are attractive and sleek in appearance, they may be too tight for some and unfortunately cannot be adjusted in size. Shoelaces are a given for a form fit, but Velcro ankle straps are an extra plus because they can secure the shoes around your ankles and act as an extra protective layer of material.
Overall, as long as you can adjust the fit of the shoes to the shape of your foot and your high tops provide some form of cushion or padding around your ankles, your shoes will provide you with complete comfort and protection. Ankle support goes hand in hand with a secure, form fit and comfortable cushioning, so this feature is critical to have in any high top shoe.
Use
High top shoes may have been initially designed for basketball players, but nowadays their wide variety of styles are intended for all different types of use. High top shoes make great everyday sneakers, skate shoes and cross-training shoes. Not all high tops are created equal though, some are created for specific activities, so it's important to know what your intended use when looking to purchase a pair.
If you're looking for an everyday fashionable pair of sneakers, you'll have a pretty easy time finding a selection. With everyday sneakers, your main goal is to find a shoe that fits the shape of your feet and provides comfort throughout the day. Padding and cushion is a great feature to have in your shoes as they will keep your feet comfortable and avoid irritation or blisters.
If you're sticking to the original intended use of high tops, basketball, then you'll also have a very easy time finding shoes that fit this need. Nike is a top brand in creating best basketball shoes, and they also carry a very wide variety of styles. They even created a line of shoes after the famous basketball player, Michael Jordan, so you can guarantee they'll bring you the best shoe money can buy.
Cross-training or skating? High tops are created for these activities too. Skate shoes are pretty common in this length and are usually equipped with thick padding around the entire shoe. Brands like DC, Osiris and Vans are good choices for this type of activity because they specialize almost all of their creations for skating. Cross-training shoes may be a little less common. However, there are still quite a few out there to choose from. An example of a high top cross-training shoe can be found at #5 on our best list. For this type of activity, you want versatility and a lightweight design in your shoes.
No matter what your intended use is for your high top shoes, you should always be able to find a style that fits your needs. Just remember again, when you think about your intended use, think about what kinds of features you'll need to keep your feet secure, comfortable and at ease with your movements.
10 Best High Top Sneakers in 2020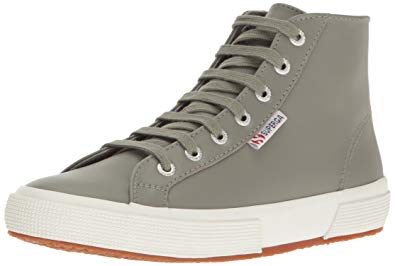 Tuck your feet into a fashionable Superga high top! These fashionable, everyday shoes have a sleek style and a padded support system, making this eligible for a most popular high top pick. These most comfortable high top sneakers are made with classic cotton uppers and a ventilation system that will ensure your feet remain sweat-free.
Unlike most shoes, this shoe features a cotton upper. The look and feel of these shoes are slightly different than others you've bought before, making them a unique experience both to wear and as a fashion statement.
The Superga 2795 Cotu Fashion Sneaker has been designed with a thick outsole to help solid performance and durability of this classic shoe. Each shoe is designed with the durable outsole, which is thicker than most shoe outsoles to hold up during running. This outsole also features a firm grip.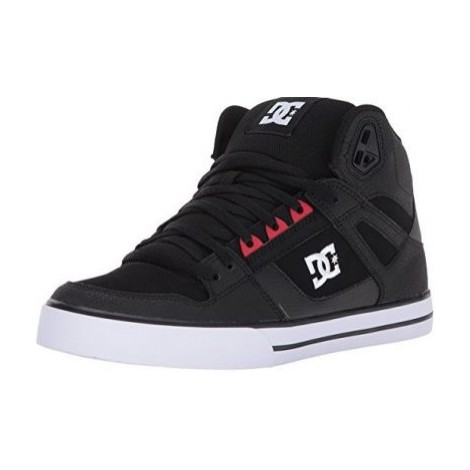 This beautiful, classy, skate shoe is a luxurious high top. Well known for its excellent comfort and padding around the ankle, for great support, makes this affordable style well worth the buy. Topped with leather uppers, this shoe also features excellent tread for that extra grip you need on the board. Not a skater? That's ok! You can pair this shoe with almost any outfit.
Have you ever had a pair of shoes that drove you crazy because of the stiff shoe tongue? Every time you would walk it would rub on top of your shin. With the DC Spartan High Wc, you do not have to worry about that as the tongue of this shoe is padded for extra protection and comfort.
The grip is one of the most important features of a shoe to some people. The Spartan High Wc offers a sticky, pill patterned grip, on the outsole. The grip is likely to stick to anything, preventing sliding, slipping, etc.

3

. Skechers Burst Divergent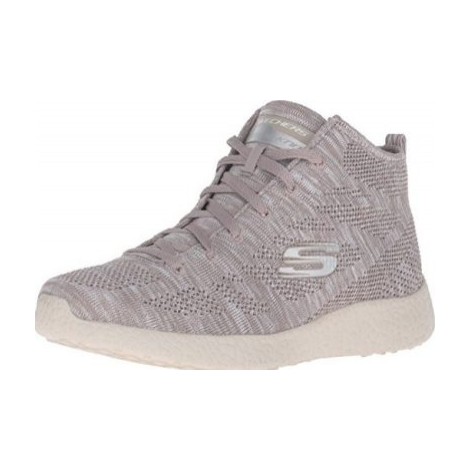 Uncover your style in this Skechers Sport Burst Divergent Demi Boot Sneaker! Designed with great durability and style, this boot is guaranteed to hold you up throughout any activity during your day. Look no further for comfort because this shoe has a great support system too! If you are looking for a comfortable, multi-purpose shoe, this is the right shoe for you.
This shoe features an air-cooled memory foam insole to allow a cooling feel in anything that you are doing. Not only is it cooling, but it also will support any pressure in your foot, collecting all the shock in each step you take.
Included in this fabulous choice is a flexible outsole with Burst Grip traction. Having the Burst Grip in this shoe will allow for excellent traction during games or everyday use. You will love the non-slip grip that this shoe has to offer.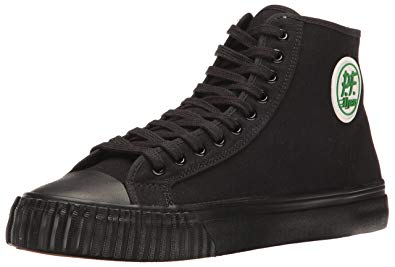 This shoe embodies the classic skater style with the added benefits of complete cushioning and durability. The canvas upper combined with a padded ankle collar and tongue create a strong barrier of padding and protection against you and the hard surfaces you move on.
These shoes come equipped with durable rubber outsoles, a wraparound midsole, and a textured toe bumper. These features are protective and abrasion-resistant. This means that over time as you wear the shoes, the original quality materials won't wear down or become damaged by hard surfaces. A truly great feature for any high top shoe.
Not only do these shoes feature a padded ankle collar and tongue, but they also come with all-around padding on the inside and outside of the shoe. This protective padding creates a firm yet plush barrier between you and any damage that may occur while adding to the shoe's lifespan and durability.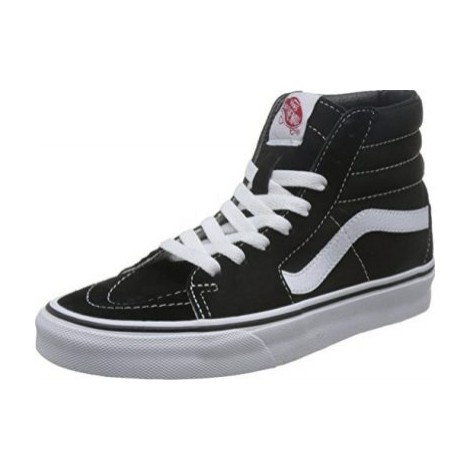 Get in gear with these stylish kicks! Sporting a classic stripe, these shoes were made to match the old school skate shoe, that we all know and love. As a well-loved shoe, this shoe offers style and support for your everyday needs and hobbies. With the high top design and this shoe's sole, your feet will move naturally with every step you take.
This Van shoe offers you a vulcanized outsole and also features a signature tread that is similar to a waffle, delivering maximum traction. Along with the maximum traction, this shoe also offers a flexible grip, for every skateboarding trip.
Running in sync with the outsole, the Vans Sk8-Hi provides a padded insole to help absorb the most ultimate shocks in everyday wear. The padded insole also provides excellent cushion and comfort, leaving this shoe a top pick in comfort!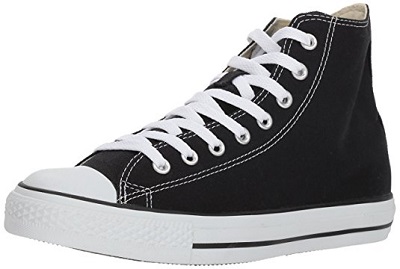 Chuck Taylor is the most well known and purchased high top sneaker on the market. With its name comes quality, comfort, and durability. This sneaker started as a basketball-only shoe but is now used for every style of dress, occasion, sport, and everyday wear. Built for you, this shoe comes with a variety of color and sizes making it the most popular sneaker owned, by adults and children.
The Chuck Taylor is made with a canvas upper, which is a stylish material that is fit for any outfit. With that being said, the canvas is well known for its excellent ventilation, allowing constant airflow. Even on the hottest days, your feet will remain sweat-free. Canvas is also known to be the easiest material to clean.
Rubber traction outsoles are the best option on any shoe. Converse Chuck Taylors provide an extra grip with their outsole, allowing a perfect, slip-free game of basketball. Whether you're going for a walk, playing sports, or spending the day with friends, your shoe will be guaranteed to get a grip.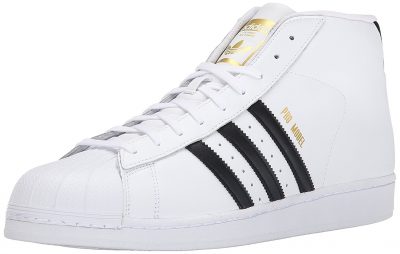 Replicating the original low top version, these Adidas shoes are a modern twist to an all-time favorite design. The minimal appearance combined with their signature stripes creates a shoe style that can be worn with just about anything. The padded collar and tongue provide firm yet plush support while the bottom rubber sole creates a protective barrier between you and the surfaces you move on.
Comfortable high top shoes require protective padding around the ankle which is why Adidas Pro Model added cushioning to the collars of the ankle as well as the tongue of the shoe. The padding helps to help your ankles secure in the shoes without causing friction or potential blisters.
The simplicity of this shoe design is also what allows the shoe to shine. Using neutral colors and the signature logo stripes, the shoe's attractive appearance is one that can be worn anywhere and matches with a large variety of clothing styles.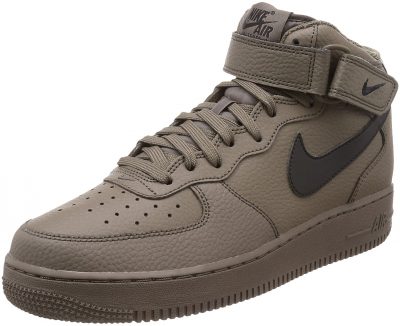 A classic shoe and an all-time favorite, this high top shoe combines street style, a protective, minimal design, and a form-fitting, comfortable feel. Featuring small perforated air holes in the toe area and a Velcro strap around the ankle, this design works well with a variety of other styles. Equipped with padding on the tongue, ankle collar and all around the inside of the shoe, your feet will stay comfortable and protected with these shoes.
This feature is great for creating a more customized fit that forms firmly around the ankle and aids in the protection of your feet. The Velcro strap is easy to use and allows the user to tighten the shoe to his/her liking. You can also use the straps to tuck in your shoelaces and prevent them from coming loose.
These cool high top shoes are created with pressurized air soles located in the midsole and outsole of the shoe. The soles compress during every movement to help reduce the impact and create resilience. This Air technology is lightweight, comfortable and keeps its sturdy shape even after long periods.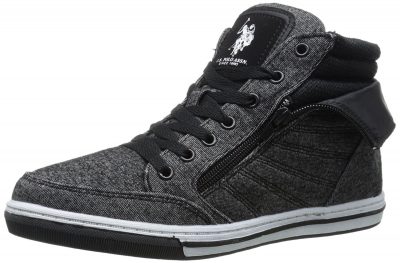 More of high fashion shoes, these high top Polo sneakers are versatile in design and allow the user to wear the material up for a canvas style or down for a street approach to the ribbed padded ankle collars. Also equipped with a padded tongue, these shoes are comfortable fitting, and the seams add a delicate touch to the overall design. The side zipper and front logo add a more casual appeal to this trendy style as well.
The side zipper isn't just for style on these shoes; they also provide a versatile feature! Worn up, the shoes are matching in color and canvas materials, worn down and the shoes expose the ribbed padded ankle collar which can be found in a more glossy material. This feature allows the user to change the style of the shoe to at h the style of their clothing.
As always, this is a highly important feature for all high top shoes. The padding provides a snug, comfortable fit while avoiding any friction, irritation or potential for blisters. The padded tongue sits lightly on the foot, creating a plush sense of security. Overall the padding is what completes to comfort of the shoe.

10

. Adidas Cloudfoam Ilation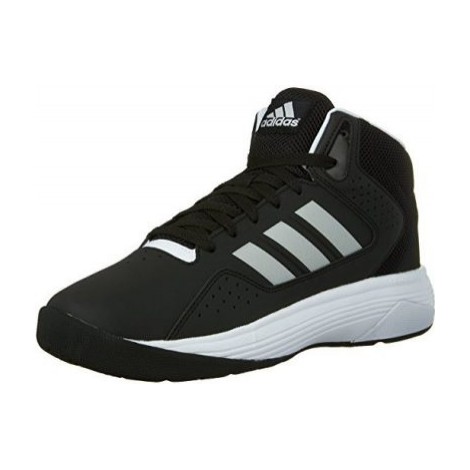 The Cloudfoam Ilation is a win for every shoe lover. The bulky high top style is an existing basketball trend that allows consistent support and gives you a sense of appeal. The shoe offers a high leather upper to keep your ankles tight all day.
The upper portion of this shoe is a combination of synthetic material and leather which is the constant support of your ankle and foot. This upper also offers a perforated material that allows airflow throughout the shoe.
The technology in the footbed is something to dream of. The Performance Ilation shoe offers an enhanced level of comfort with the Cloud Foam Foot Bed. This technology is specific to this particular shoe and has made this shoe a number one seller.

Subscribe to our Newsletter