Best Cross Training Shoes Reviewed & Rated
In a Hurry? Editors choice: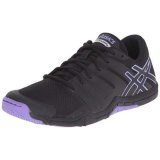 Test Winner: Asics Met-Conviction

Whereas many exercise regimes are designed for cardio or weight training, CrossFit is a bit of a unique routine. What it has to offer goes far beyond a normal gym routine, since it's designed to improve and encourage overall health rather than just targeting one particular area. Crossfit is a great choice for those who want to be healthier without necessarily committing to hours of cardio a week, as well as those who want to be stronger without a strict weight-lifting regimen.

What do you need in order to be fully prepared for a dynamic CrossFit journey? It all starts with the right gear, and the right gear begins with the proper footwear. These cross-training shoes are designed for an array of exercises. You wouldn't walk into a formal meeting wearing slippers, so why would you walk into the gym wearing a subpar pair of sneakers?
Standout Picks
Criteria Used for Evaluation
Effectiveness
Spending a significant amount of money on a pair of footwear just to have them be ineffective is not on anyone's workout "to-do" list. Starting up a CrossFit routine can be overwhelming in the first place, so the last thing anyone wants is to have a pair of sneakers that can't stand up to the challenge. Since CrossFit does involve a lot of movement as well as various techniques, it's important to have a shoe that can provide a combination of things in all areas: Support, durability, traction, control, and a lightweight feel for easier movement. Some of these we'll get into later on but for now, let's talk about why these ten shoes are so effective in what they've been designed to do.
For starters, the materials used should always be high quality regardless of which type of footwear you're seeking. Whether it's for running, jogging, weight-lifting, or even normal gym use, they should be made to last. Obviously, this is criteria that we expect the most from high-end brands, but every sneaker on our list should share the same promise to reward the wearer with the benefits they're paying for. That includes the breathable mesh, rubber or synthetic sole, proper heel and arch support, and ample space in the toe box. The result of these things can always be directly related back to the types of material used — if they're high-quality, to begin with, the sneaker will fit properly and do its job.
Second, CrossFit involves many different workout techniques which can really be a challenge when creating footwear to equally match those movements. On any given day, someone in CrossFit could be doing resistance training, jump rope, and a stair climber. Obviously, the first exercise targets core muscle groups, the second targets cardio, and the third combine both… So, how do we find a sneaker to alternate between weight training and cardio? With proper traction, solid arch and heel support, as well as lightweight design and ergonomic cushioning, it is possible. All of these things individually make a great pair of gym sneakers but combined, they make the perfect cross-training shoes.
And finally, what do you gain from choosing one specific pair of sneakers over the other? This is much more of a personal question, depending on whether you're looking for added support, increased traction, arch balance, and the list goes on and on. While we can't answer that question for you, what we can do is provide a generous amount of options, each with their own pros and cons, so that you don't feel as overwhelmed when it comes to making a solid choice.
Overall Fit
Obviously, the right fit is everything. We've all thrown on a pair of shoes and felt the discomfort of a fit that's too tight or one that has terrible padding. What's the cure for this? Finding the best training shoes that fits snugly without being too tight or lacking proper support. While that's easier said than done, we've tested many sneakers and come to the conclusion that trending footwear is popular for a reason, and we're proud to stand behind the products we've chosen here.
From the way the tongue sits on your ankle to the contour of the midsole, we examine it all and determine whether it suits our intended purpose or whether to pass it up. Every little detail is important, including those we didn't even ask for — we even pay attention to a sneaker's advanced features when it comes to scoring.
Durability
The point of CrossFit is to have access to a wide variety of training methods which are usually scattered across the board as far as exercise goes. Its intended purpose is to target overall health rather than sticking to a target area, so you might notice that you're losing weight, gaining muscle, and feeling more endurance overall as a result of several months of CrossFit training. On any given day, you could be doing yoga, swimming laps, or lifting weights, all in the same week. Activities vary depending on what you've targeted, what you intend to target, and which muscle groups might need a break.
In order to keep up with the demand of such high-intensity activities — yoga aside — you need a pair of best cross-training shoes that won't show its age quickly. By this, we mean footwear that will last the duration of the training, at least for one year, before it's time to replace or upgrade. New sneaker models usually come out within a year or two, so once you've found one that works, it's easy enough to keep up with the line. However, the problem there within lies in whether or not the cross-trainers will last until that point, to begin with.
As we mentioned earlier, the material used is always a common point of interest for us. Just as with anything else, high-quality material marks the beginning of a decent pair of footwear. When it comes to high impacts, foam and rubber can make all the difference, as can plush versus synthetic material. Different materials are designed for different levels of support and for the most flexible support, you'd want rubber. Meanwhile, for a more padded, firm support, foam is often the way to go, as it's likely to provide stability but also a firm foundation. Each of these things makes a difference based on both the level of activity, the intensity of activity, and the impact of the sports you're doing.
Support
Speaking of support, this applies to a whole new range of issues, including ankle, leg, and back support. You might not realize it, but the type of cross trainers you choose to wear can indirectly affect posture, leg position, and foot stability. Many of us think that just because we wear shoes on our feet, that means we only need to worry about how they feel on our feet. In reality, this is not the case. A properly-fitting pair of best cross-training shoes can vastly improve your natural posture, while also improving balance and stability. If your feet are happy, then your legs are happy, which means your back, in turn, will be happy!
This is also an important thing to note for people who suffer from back pain associated with issues such as sciatica or joint problems from arthritis because one pair of footwear could change your pain level. We can't promise miracles with the footwear we rank, but we can promise a chance at better support and more stability in the long run. Many cross trainers are also orthopedic-approved, meaning they're designed to do more than just hold up to a gym routine.
Traction
Traction might not be the biggest thing to consider when it comes to footwear, but it should certainly be something on your list if you're planning a full CrossFit routine. Cross-training shoes with good traction can come in clutch when it comes to weight lifting, running, walking, and, of course, any outdoor activities — which are commonly part of CrossFit training. Whether it comes down to rainy weather, slippery road conditions, or even just extra grip in the weight room, your cross-trainers should be dependable in all areas. Having a proper grip in the tread on your cross-training shoes can help improve performance, which will substantiate your workout in nearly every area. From speed to agility and balance, it all begins with a solid footing, which isn't often possible without a floor-gripping foundation.
10 Top Rated Cross Training Shoes for Women & Men
1

. Reebok Crossfit Nano 8.0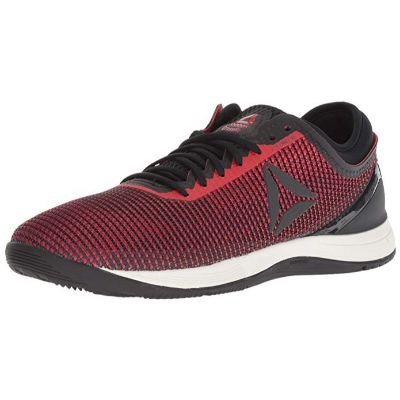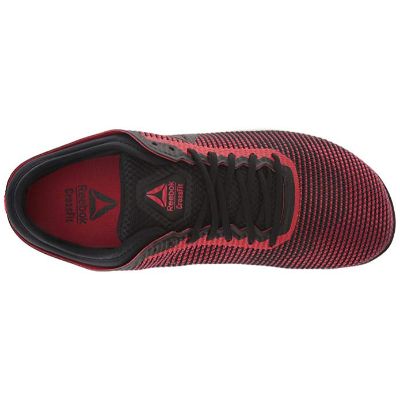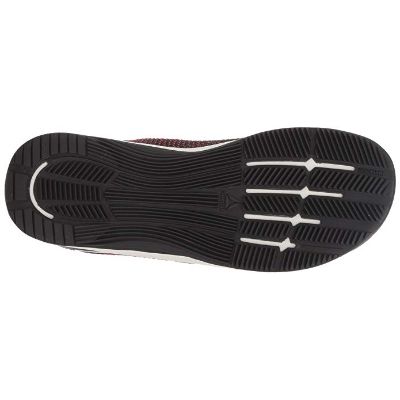 The Crossfit Nano is a unique sneaker in itself, featuring several things that we didn't even ask for in a CrossFit trainer. That also happens to be what makes it such a great number one in our top ten. With a NanoWeave upper exterior, this sneaker allows plenty of breathing room without feeling like you're catching a cross breeze between your toes. Additionally, its low-cut design makes it easy to move around in and provides plenty of lightweight control for those more agile sports and gym activities, combining balance with flexibility.
A CMEVA midsole and rubber outsole keeps the integrity of the sneaker at top-quality, lending both exterior and interior support where needed. The rubber sole also provides traction which, as any cross trainer knows, it highly important. This heel-hugging design also helps to give extra support in the back of the sneaker, something many don't consider when choosing a proper pair of footwear for the work they're doing.
The Crossfit Nano 8.0 comes in a variety of colors, making it appealing to most anyone who is in need of an excellent, yet very affordable pair of sneakers. Reebok is a well-known brand that has gone above and beyond the call for a prestigious, but not pretentious, cross-training shoes.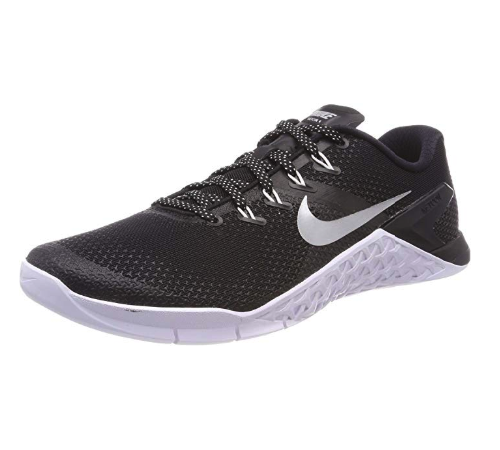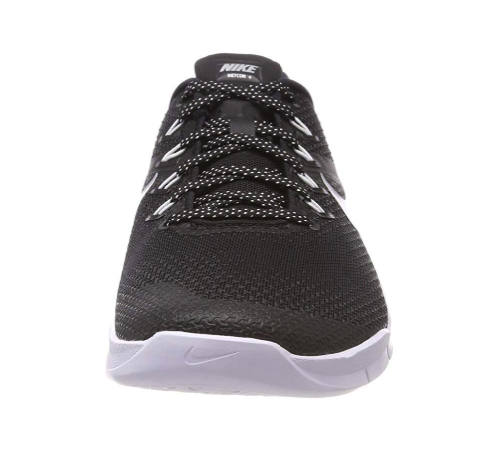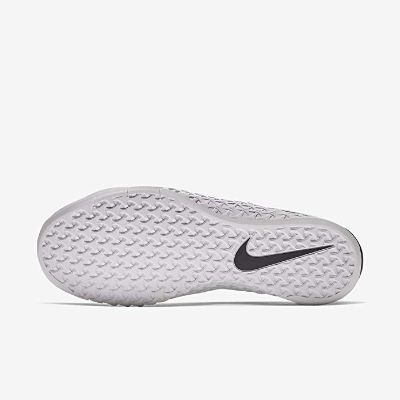 The Nike Metcon is one that we've seen time and time again appear on these lists, and it has continuously held one of the top spots for some time now. Nike is well-known for its athletic gear, possibly the most well-known brand, in fact. Therefore, it comes as no surprise that Metcon 4 has made it to our top ten cross-training shoes.
The Metcon 4 is the model that came prior to the newest Metcon 5, but it sports all the same attributes and great benefits the new one does. This model has been specially designed to suit the needs of cross-trainers, from its design to its purpose. A few features to note are its unique diamond-cross pattern on the exterior of the sneaker, which allows plenty of flex while ensuring plenty of airflows. This isn't a design we've seen on too many others (if any), so not only will you have the added benefit of breathability, but the appearance of the sneaker is quite interesting, too.
This haptic print isn't the only thing catching our attention, though; Nike has used Flywire tech in order to bring you a fit that's snug yet roomy. This great hugging feature ensures the sneaker provides support without being too tight or irritating.
Now, for the bottom of this sneaker. You'll notice that the sole goes quite high up on the sides and there's a reason for that, and it happens to be added stability. With side support, this sneaker does what many do not when it comes to providing a bit of extra comfort. The TPU heel of the sneaker is designed specifically for side-to-side movements as well, and the entire sneaker has been outfitted with a tri-star pattern which allows for nearly 360-degree movement.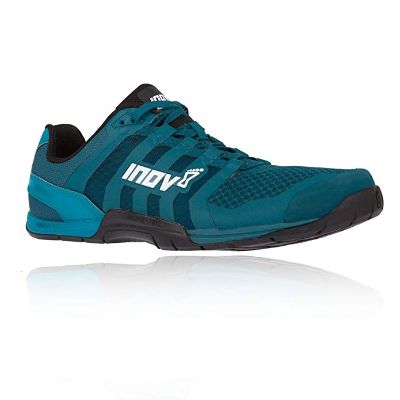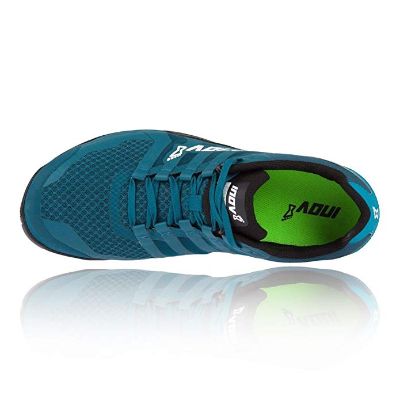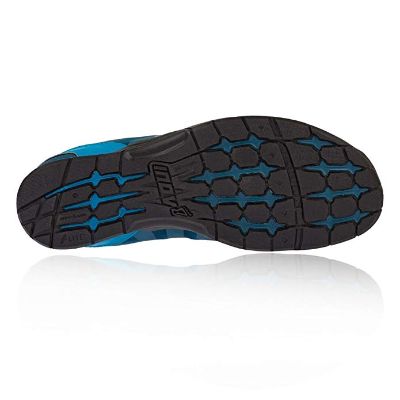 While the Inov-8 has quite a unique appearance, it's what's inside this pair of footwear that we really care about. Eight different colors and designs make the Inov-8 F-Lite attractive, but the low design is what really sets it apart from the others. These cross-training shoes are a great choice for those who don't like too much padding or support, and just want a pair of cross-trainers that are going to get the job done.
The footwear itself is quite lightweight, allowing you to move rather quickly which can be appealing to those who enjoy high-intensity CrossFit. The snug fit also adds to this, boosting support and control with its lightweight design. The combination of these two makes a good all-around option for a variety of CrossFit activities which was the reason for such a design. From burpees to weightlifting, this sneaker covers most of it, adding control where some other sneakers only feel heavy and weighed down.
This sneaker is so lightweight that it can even be used for gymnastics, a surprising addition to CrossFit activities. It's most productive to movements that require the wearer to be nimble, quick, and agile, fitting into the category of a truly lightweight workout sneaker.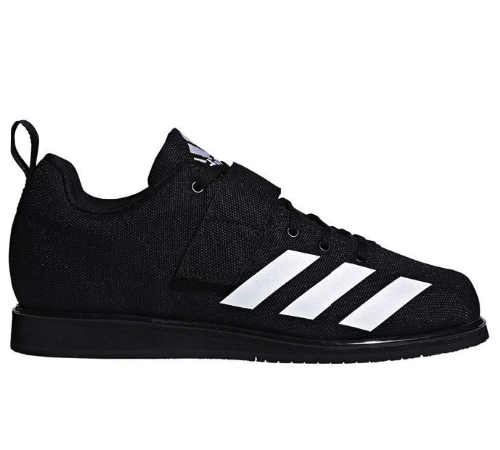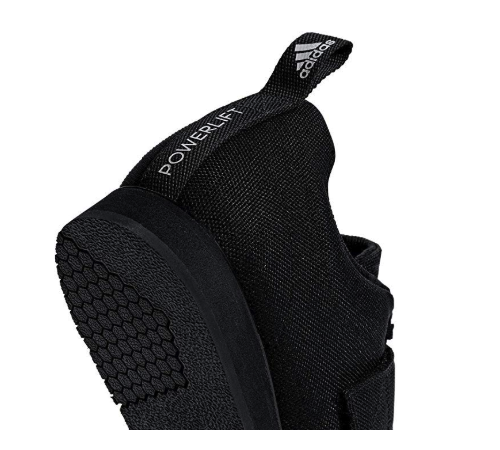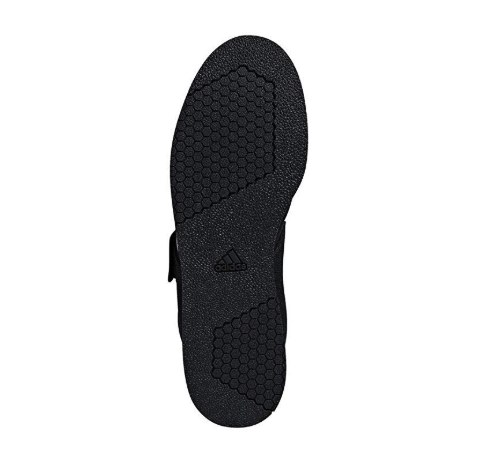 The Adidas Powerlift 4, as you could probably tell from the picture, is a very heavy-hitting sneaker. In stark contrast to the previous Inov-8, the Powerlift 4 adds support where you didn't even know you needed it. The most obvious feature about this sneaker is the addition of a cross strap, which adds a bit more security and full control when it comes to wearing the footwear for intense workouts.
This cross-strap, combined with the lace-up closure, adds a feeling of containment to the sneaker overall. This control is only enhanced by a snug fit with the canvas exterior. While not as breathable as some, this is the perfect sneaker for those who like to feel as though their footwear is moving with them. Despite the material used, the Powerlift 4 is still surprisingly lightweight. This is likely due to a close fit, as there's not much extra room left to weigh the sneaker down. Adidas can run a bit small, to begin with, so this is obviously something to consider when choosing this sneaker -- you may need to size up.
Durability is the true name of the game with the Powerlift 4, though. Between its canvas exterior and rubber sole, there's not much this sneaker can't handle if you can get used to its unique design. That also makes it a great day-to-day sneaker, not just one that can be used for CrossFit. It's exactly what you need to be able to walk in off the street and go straight to the gym, as it doesn't have the traditional appearance of a cross-training shoe.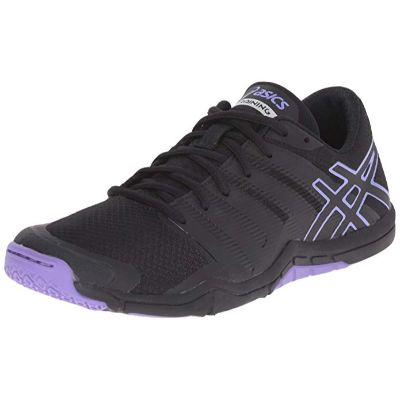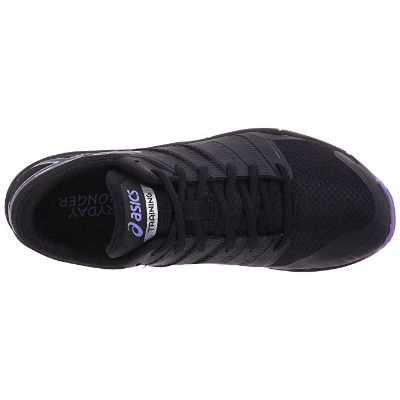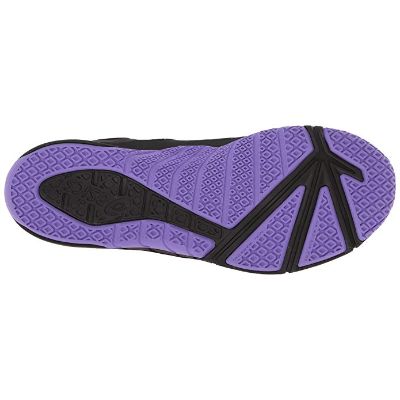 The Met-Conviction Cross-Trainer by Asics sits right in the median range as far as pricing goes, which means it could go either way when it comes to efficiency and usage. Luckily for us, this sneaker gets the job done and does so with a few extra added bonuses to note.
It does have the appearance of a traditional cross-trainer which some people like, but it also functions like a traditional, yet completely upgraded cross-trainer. Providing support in all the right places with a rubber sole, SPEVA midsole, and AHAR which has been placed in the highest impact areas of the sneaker, it's a tough one to beat. The technology that went into this cross-trainer makes it one of the best for support and control.
Its durability is nothing to shake a stick at either, though, and we can thank the inclusion of SPEVA for that. This not only adds valuable support but helps to decrease the rate at which a typical sneaker midsole would break down. That makes it just ever so slightly more durable than some of the other sneakers on this list and while it doesn't have all the bells and whistles, it's a great purchase for the money spent. The sole of this cross trainer is also able to take a hit or two, high-abrasion rubber keeps it from wearing out quickly, something that's important in cross-training as good traction is required with almost every activity.
The last feature to note about this cross trainer is the lack of seams around the exterior. That's due to a reinforced vamp mesh that creates the illusion of proper seams while keeping them safely tucked on the inside. This is an added bonus for comfort but also adds to the overall modern look of the sneaker.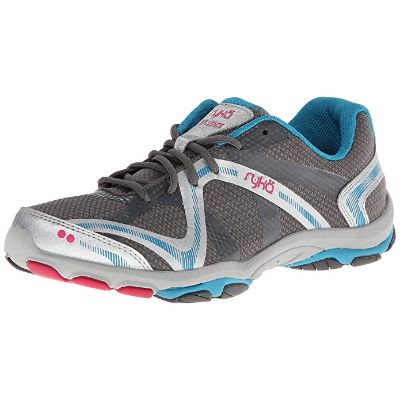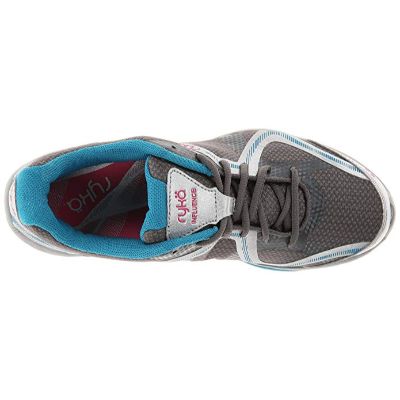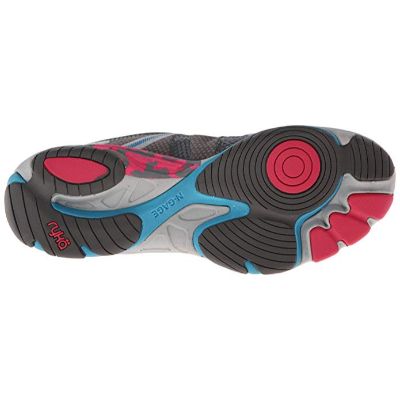 We admit it, The RYKA Influence Cross Trainer is a bit of a "dad shoe" when it comes to style. While a modern look isn't something this sneaker fully lives up to, it's definitely not a bad place to start when it comes to Crossfit beginners. It's very traditional, with a rubber sole and extra padded rear collar and tongue, which some either love or hate. However, this extra padding is also why it's so great for those just starting Crossfit, as it will likely decrease any potential blisters or irritation.
Additionally, the rubber sole offers dual-impact support, meaning it is a great choice for high-impact sports, which are often the case in Crossfit. Its dual-density midsole has been made with foam and combined with a high-impact N-Gage EVA material, to uphold the integrity and overall shape of the sneaker. This helps to boost durability and ensure that even after months of use, the sneaker itself maintains support and shock absorption. RYKA refers to this process as "energy return", and it's a great feature of this footwear.
Despite its rather traditional exterior, the sneaker does come in several different color combinations to help offset that. Even more so, you can count on this sneaker to check off all the basics of traditional cross-training shoes: Arch support, overall support, durability, and traction. When it comes down to Crossfit, as long as you have those four things, sneaker appearance is secondary.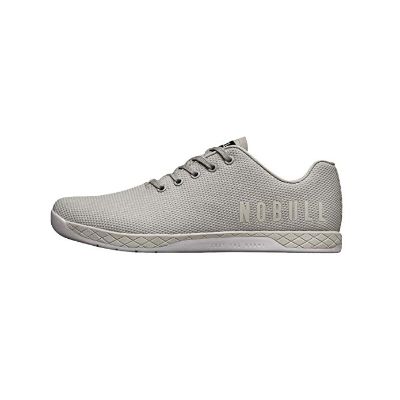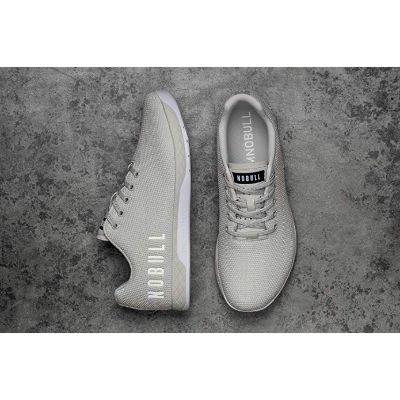 The NOBULL Trainers are an attractive pair of sneakers and likely the most eye-appealing ones on our list. When it comes to cross trainers specifically, it can be a challenge to find sneakers that look as good as they function. These aren't traditional in any sense of the word, yet still, manage to pack plenty of features into such a simplistic design. NOBULL claims their footwear will allow you to "move like a ninja" which is great when it comes to martial arts, but how does it hold up to Crossfit training?
The answer to that is this: Pretty darn well. The lightweight design does exactly what NOBULL claims it does, allowing you to move with speed and accuracy without weighing your feet down in the process. The extra durable exterior has been made with SuperFabric and is actually one cohesive piece of material, leaving no room for excess seams. This is what makes the overall look of the sneakers so modern and chic, something many cross trainers can't achieve in their design.
Aside from their appearance, this SuperFabric is durable enough to stand up to the Crossfit test, preventing abrasions and damage due to its super tough weave tech. NOBULL has a decent sense of humor, claiming their SuperFabric shield guard protects against any high gym impacts, but also from "zombies" and "excuses". So if you want a sneaker that will get you up and out of the house, in addition to being prepared for the apocalypse, this is likely the one you've been looking for.
All jokes aside, the exterior sole of this cross-training shoe features a lug pattern that makes it great for both interior and exterior training. Having the ability to go from an indoor gym to an outdoor track while it's raining is something that's highly regarded in our ranking system. Not all Crossfit allows for controlled environments, and this sneaker's ability to transition from one to the other boosts its value greatly.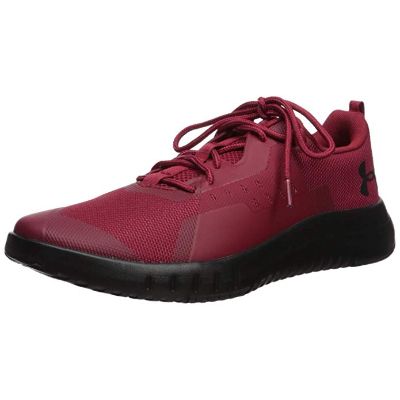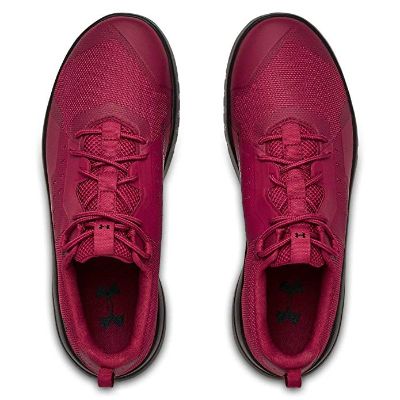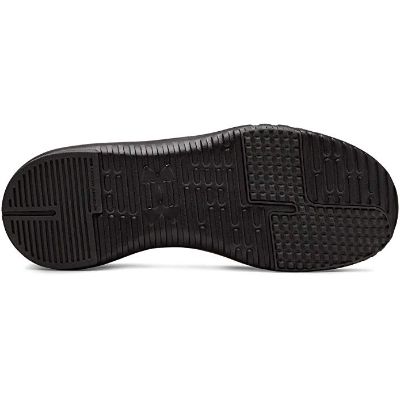 Under Armour is another brand that, similar to Nike, is known for all of its athletic gear options. Many might not know that they also carry footwear and not surprisingly, they've created one of the top cross-training shoes. The Tr96 is pretty unique in style, but its features are what have earned it the right to be on our top ten list.
This sneaker is built for whatever you're about to throw at it, and based on first looks, it just looks like a solid pair of sneakers. We were happy to see that with a rubber sole and synthetic mesh overlays, it really is as durable as it appears. This makes it great for most activities, but especially those that can get messy, including outdoor fitness sessions. Although this mesh layer is thick and durable, it's also breathable, which does add some flexibility and lightweight attributes to the overall design.
Furthermore, the sole of this sneaker is rather interesting. It has been designed with EVA which stretches the full length of the sneaker. This sock liner is designed to mold to the wearer's foot, providing support exactly where it's needed and preventing potential slips. The high-traction rubber underneath adds grip for slippery conditions as well as a great base for things such as lifting and cardio. This is also bolstered by rubber pads that are strategically placed to add even more traction which equals more protection against less than ideal weather conditions.

9

. Nike Tr 8 Running Trainers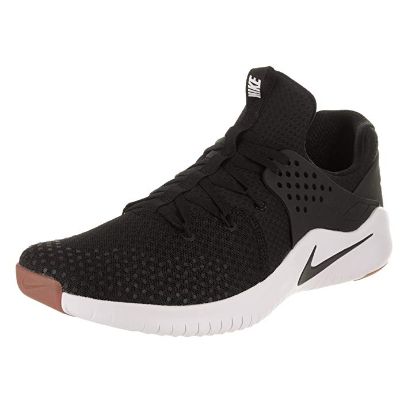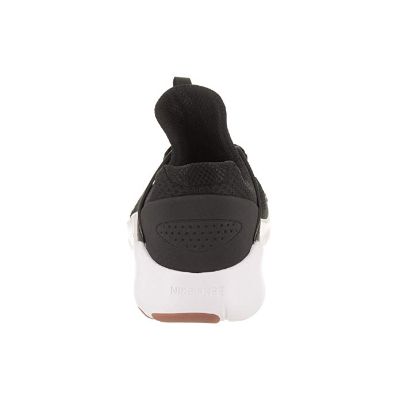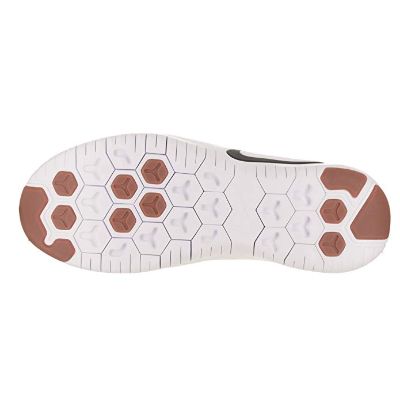 If we're adding a pair of runners to a list for Crossfit trainers, then it'd better be a pretty solid all-around sneaker, right? Well, rest assured that the Nike Tr 8 Running Trainers are exactly that and just a bit more. We'd recommend these sneakers, again, those who are new to CrossFit but also to those who like a bit more support in their footwear than what traditional cross trainers offer.
Nike's reputation precedes itself when it comes to athletic footwear, but these sneakers, in particular, are unique in the sense that they offer the same haptic print as the previous Nike cross trainers, while also lending lightweight support due to their first use for running. While their lightweight design does allow for a bit more control than sneakers that are heavier, it's their flex grooves that have us truly interested in these trainers.
The grooves we're talking about have been specially hot-knifed into the sneaker, meaning they enhance natural motion without adding anything, such as unnecessary padding or stiff sneaker walls. The exterior of these sneakers also features a "wing" which wraps around the heel of the trainer in order to provide heel support where other sneakers may lack it. Lastly, this design features "comfort heel" booties, providing a little extra something in the cushioning of these trainers that add support and a nice fit during most activities, not just running.

10

. Reebok YourFlex Train 8.0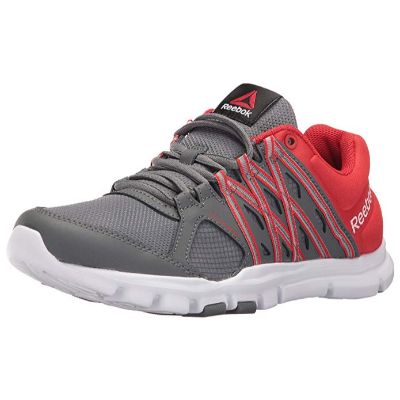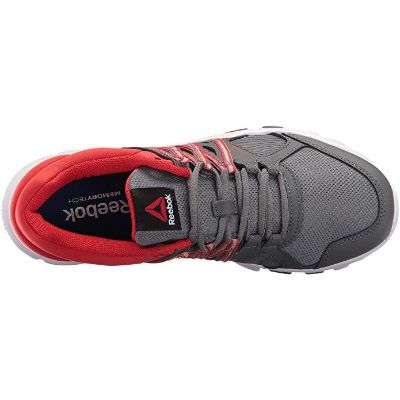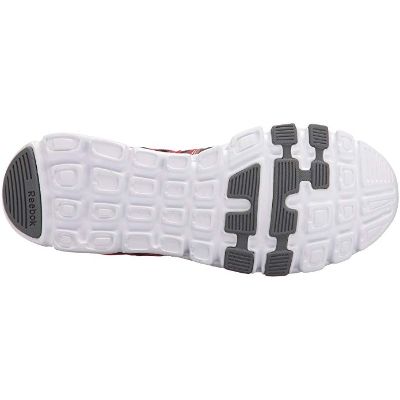 Last but not least is another winner from Reebok, which has a long-standing tradition when it comes to athletic wear, but have really been upping their game lately. Don't worry Reebok -- We see you! When it comes to the YourFlex Train 8.0, it has been designed, first and foremost, to be a running sneaker. However, just like the previous Nikes, it holds more features than just those applicable to running.
The YourFlex Train 8.0 is another lightweight sneaker that allows for plenty of control while also providing all the support you would expect out of a running sneaker with EVA insoles. This support is exactly what makes it great for Crossfit. They also have a slightly different exterior material than most running sneakers and while it is still breathable mesh, it's been designed with elastic-molded jersey fabric. This allows for an incredible stretch and flex that many sneakers don't necessarily allow for with a traditional mesh design.
The overall low-cut design helps to minimize the weight of the sneaker, adding its lightweight feel when worn. The rubber sole of the sneaker has also been designed to absorb high impacts, which is something running sees plenty of. However, this also pulls double duty for high-impact Crossfit sports.

Subscribe to our Newsletter