Best Shoes for Working Out at a Gym Reviewed
In a Hurry? Editors choice: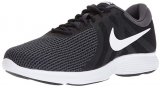 Test Winner: Nike Revolution 4

So you're motivated to go to the gym! That's great! Whether you work out 5 times a week or you're just getting back in shape, gym workouts are a great way to get exercise and keep you at your healthiest, happiest self. Whether you're new to the weights or a workout beast, you want to have a good pair of gym shoes. Two pairs, if your workouts are regular so that you can air them out in between exercise time. A good pair of workout shoes doesn't have to be expensive but should be able to handle the type of workout you're into.

We've collected 10 of the best designs for a great all-around workout. They'll handle some weights, some cardio, some high-intensity (or low, it's all up to you) classes, some high-impact (or modified) work. Get ready to meet your new favorite pair of exercise shoes!
Standout Picks
Criteria Used for Evaluation
Support
The gym is one of those places where stability makes the difference between optimal performance and a sloppy, hazardous one. No matter the type of training you've undertaken, you can't afford exercise shoes that fail to hold a stable position under tension.

A design's stability depends on several factors. For example, adequate support is critical to executing the proper form of an exercise while remaining steady. A stable midsole is also important for this purpose.

A supportive option prevents your feet from assuming unnatural positions or overpronating. Of course, it goes without saying that you should definitely be familiar with the exercises you're performing and watch your form at all times, but sometimes we all need a little extra help in the form of supportive footwear.

Different disciplines call for different levels of support. Weight training may require more support and stability than CrossFit, which requires more than light training on weight machines or a stationary bike.
When choosing a pair of gym shoes, consider their purpose and what you plan to focus on during your workouts. If you're only interested in weight training, for example, check out our list of the best options for weight training. If you're interested in a general workout, each of the items we've talked about here will provide just the right amount of support that you want or need.

When looking for stability and support, it is also important to consider whether or not you suffer from any foot-related ailments. For example, people with flat feet need stiffer gym workout shoes which provide great stability through the sole, while those with high arches need a more cushioned option that is flexible and will not rub against the tops of the feet.

It would be wise to answer all of these questions - about the exercise type and the condition of your feet - before you commit to a type of support that will suit you.
Weight
Generally, footwear manufacturers opt for a lighter design even for casual options. There's a pretty simple reason behind this: the lighter the shoe, the less effort is required to move it. The exercise involves much more movement than casual wear, so it's expected that footwear meant for aerobic purposes is lighter.

Now, not all of the gym shoes we've talked about are designed for aerobics.
Powerlifting footwear, for example, doesn't need to be as light as CrossFit options. They're engineered for very specific movements and may not require as much minimalism.
Gym workout shoes meant for aerobic movements must have a design optimized to offer the best performance at the lowest weight. However, you should never give up weight if it also means giving up other important performance factors, like safety, protection, stability, or cushioning.

Too much minimalism can affect the ability of a design to deal with the tension of heavyweight training, for example, which will result in much quicker deterioration (or even failure during training).

Look for midsoles that are made of lightweight material but can still stand up to the work you intend to use it for. Look for uppers that are also lightweight but have features that improve fit and stability without the bulk. And remember, the more weight and impact you intend the gym sneakers to withstand, the heavier they may need to be.
Midsole
Midsoles often define the kind of activity gym shoes are suitable for. In running or CrossFit options, for example, the main function of a midsole is to absorb shock and reduce the oscillation of both muscles and bones.

When looking for gym sneakers for indoor workouts, you must look for a midsole that is suitable for the exercises you'll perform. You may get away with hitting the gym in running shoes, but this may be a terrible idea both for your performance and the sneakers if your focus is weight training.
Your gym workout shoes must have a midsole that can endure the kind of training you're enduring. Not only for the sake of performance quality but also the durability of your footwear and the health of your feet.

Weightlifting with footwear that lacks a strong midsole is possibly the worst thing you can do when it comes to indoor workouts. An option that is not designed to deal with weight training will fail to control all the force generated by the weight you're training with.
This comes with several consequences. If your training involves working with significant weight, consider purchasing a pair of weight training exercise shoes for that aspect of your workout.
Shock Absorption
If you're planning to do any training at all, whether it's aerobic or anaerobic, you want gym shoes that can deal with the shock. However, aerobic exercises and anaerobic exercises generate different types of shock, and it's important to know what kind of absorption you need. For the purposes of our list, we're dealing with both impact shock and lower end compression shock from weight training.

High-impact exercises are those in which your feet consistently strike the surface, applying force against the ground rather than just standing on it. Exercises like jumping jacks, rope jumps, sprints, and box jumps produce a lot of impact energy. There are two key things to consider in these types of exercise: the force of each impact and the continuity or persistence of it.

Jumping from an elevated surface and landing on your feet will generate a larger amount of force than running. However, running is more consistent; the impact is not as strong, but it happens more frequently. Before buying the best workout shoes, you should consider both the impact force and impact intensity of the exercise you're planning on performing.

Exercises with weight rarely involve high-impact motions, as motions like jumping, running, or even walking are not normally performed with additional weight. However, this doesn't mean the midsole is not taking any shock during weightlifting – in fact, weight training demands a midsole that is compressible and can withstand compression types of shock.

For a good general workout, look for a midsole that is both impact shock absorbing and is not so soft and spongy that it cannot withstand moderate amounts of compression shock.
Comfort
This is possibly the most underestimated feature of all footwear in general, including gym workout shoes. When it comes to performance designs, the golden rule is pretty basic: you can't perform properly when using uncomfortable shoes. It's as simple as that.

The problem with comfort is that it depends on several features. However, the absence of one of these features is more than enough to make a design uncomfortable not to be suitable for performance.

In some cases, casual footwear with poor comfort can still be wearable, although we don't recommend wearing uncomfortable designs at all. Aside from simply being annoying, these discomforts often represent a defect of the shoe that may be harming your feet, which is why you should never ignore the comfort of the footwear.

You should always keep in mind that gym exercise shoes (and any performance sneaker for that matter) are very different from casual footwear in basically all aspects.
Unlike casual footwear, you most likely won't be able to force yourself into uncomfortable gym shoes. While you may physically be able to slip into the sneakers, you probably won't be able to complete your workout routine in them, and you may injure yourself trying. Discomfort is a clear sign that something is wrong with the design.

The best options are those that provide you with adequate features for the exercise you practice while still being comfortable. Regardless of your personal preferences, design should come with the following comfort features: breathability, cushioning, comfortable materials, and flexibility.
When we were assessing different gym sneakers, we carefully looked at an assortment of comfort features, including EVA foam midsoles, padded heel support, foam-infused uppers, and even wider-toe boxes. There are so many different ways that a manufacturer can achieve comfort – it's just important to make sure you purchase a product with one of these features that suits your needs.
Best Gym Shoes & Sneakers in 2020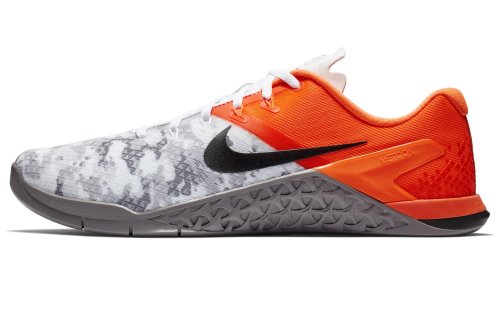 The Nike Metcon 4 XD is a great option for gym shoes and "is ready for whatever the gym has planned for you today." The lining of this cross trainer shapes to your foot and ankle for superior comfort and support. The design is so comfortable and efficient that it soon moved from the roads to basketball courts and finally back to the streets as a fashion icon.
All Nike Air designs have air cushioning and air sole technology that keeps the shoes lightweight and provides for high levels of cushioning and comfort. This sneaker can take a lot of high-impact activity while keeping your feet safe from fatigue, aches, and pains.

The outer cage and elastic heel strap of the Metcon 4 XD give it its unique look but also provide support and stability. While the inner lining is meant to mold to the foot for comfort and a fit, the outer cage ensures lateral stability to keep your foot in a place where and when it needs to be.

The Nike Metcon 4 XD has been around for a while in its various iterations. Its staying power comes from its comfort and performance, which will serve you well come workout time. You won't regret investing in this iconic best shoes for working out at a gym!

2

. Adidas Alphabounce Instinct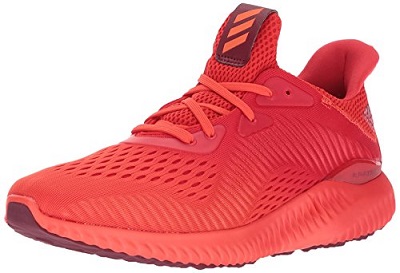 With a name like Alphabounce, you should expect a design with exceptional shock absorption and feedback, and this is exactly what this pair of Adidas gym sneakers deliver. Made for road running, it is also an excellent design for indoor exercising. It has a lightweight upper, a second-skin-like feel, excellent grip, and comfort for any activity.
The midsole on Adidas Bounce gym shoes provides you with energized feedback no matter what sport you are involved in, all day long. The midsole pushes back with each impact, giving you a response that is exceptional. Whether you're running on the treadmill, on the weight machines or in an aerobics class, your feet will not feel any fatigue.

The mesh upper on the Alphabounce Instinct is engineered to be lightweight and breathable and to fit your foot like a sock, providing both comfort and support. A textile lining on the inside ensures that the snug fit isn't irritating and you also have a molded EVA heel clip for extra support where your foot takes the most impact.

The Adidas Alphabounce is an excellent gripper, fits like a sock, supports your feet and provides you with comfort for long hours of working out, or all day if you wear it as an everyday sneaker. That is why these are one of the best gym sneakers you will find on the market.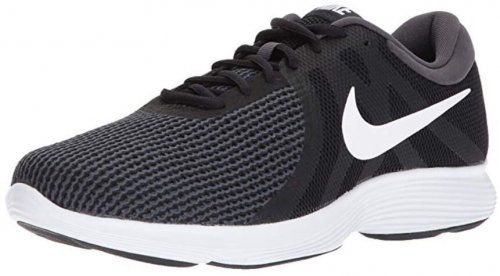 If you are a minimalist, a lightweight option like the Nike Revolution 4 is the way to go. This pair of gym workout shoes uses Nike's athletic wear making experience to create a lightweight but secure fit that is breathable and comfortable. It is designed as a runner so it also has great traction and responsive feedback – great for your cardio days and those calorie-burning high-impact classes.
The Revolution 4 features a light, breathable mesh upper that uses underlays to provide structure and support. It also has a soft foam midsole that is responsive but equally lightweight, making for a sneaker that will not tire your feet out during a workout. No wonder these are one of the best shoes for gym found on our list.

The soft foam midsole does more than provide comfort; its spring provides responsiveness on impact. Combined with the molded pods on the outsole, you experience a spring-back effect that increases your responsiveness and reduces the work your legs and feet do during high-impact exercise. What are you waiting for? Sign up for that Zumba class!

For such a light and responsive design, which still provides support and structure to your foot, the Nike Revolution 4 minimalist running shoes is practically a steal. It's also a very good runner, so if you want a pair of gym shoes that serve a dual purpose, this is the one to look for.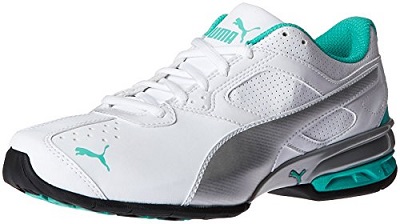 These are good gym shoes with a solid design for those with flat feet, who need some midfoot stabilization, or for beginners who want a good, stable platform to perform those sudden side-to-side moves that come in classes like HIIT workouts and Zumba. It is a very comfortable and surprisingly light pair of gym workout shoes that fit a little wide and has a lot of room in the toe box.
The stabilizing shank in the sole of the Tazon 6 gives you stability from side to side as well as the heel to toe, keeping your feet planted where you want them when you want them. The shank is made from TPU, keeping the sneaker lighter than other stabilizers so your feet will not become as fatigued.

The sockliner in these gym workout shoes is made of Puma's EcoOrthoLite material that will provide a great deal of comfort and optimal fit. The sockliner will also keep your feet dry and cool, which is a bonus if you have sweaty feet.

The Puma Tazon 6 FM HIIT shoes gives you stability and security against injury, is very comfortable and will provide you with good shock absorption, so you'll feel tired before your feet do.

5

. Reebok Crossfit Nano 8.0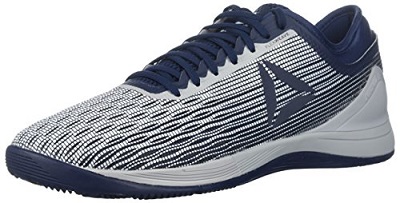 The Reebok Crossfit Nano is designed for the Crossfit crew and makes an excellent, durable indoor pair of gym shoes. The outsole on these gym sneakers can handle just about anything with ease, and the extra support in the heel means you can get in a high-impact workout and lots of lifting without killing your feet.
The outsole on the Nano 8.0 is abrasion-resistant and can grip multiple surfaces so you can climb a rope, do burpees, and lift with confidence that your feet will stay where you need them to be. Abrasion resistance also equals durability, so these exercise shoes will last through your tougher workouts.

The Reebok Nano 8.0 is designed with an external heel counter. This stabilizes the heel and creates a stable platform for lifting weights or any other activity where you want to protect the heel from movement. At the same time, the low cut of the design allows for flexibility when you need it.

When it comes to the Reebok Crossfit Nano 8.0 gym workout shoes you are getting a great design that will take you from weight training to CrossFit with ease and, because of the durable build, will last for many seasons to come.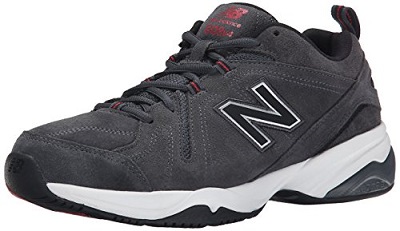 The New Balance 608v4 trainer is perfect for the gym. It can take a beating on a treadmill, in the weight room, and in an aerobics class. It is an extremely comfortable and breathable pair of gym shoes with a well-compressed midsole that will give you some bounce back and leave your body, not your feet, feeling well worked out. New Balance has more than a century of experience building athletic footwear and with the 608v4, it definitely shows.
The New Balance 608v4 comes with a padded collar and tongue which add to the overall comfort. For those with high arches, ankle issues or swelling, the added padding is a great feature. The sneaker will continue to hug as a pair of good gym shoes should, without rubbing or aggravating the top of your foot.

With all the extra padding and the suede or leather upper, you would think your feet would sweat in these aerobic shoes. However, they are very breathable and feature a textile lining that is also breathable and moisture-wicking. You get solid support and comfort while you keep your feet cool and dry.

These New Balance gym sneakers are a real value for the comfort and support you receive in a sneaker that will take you anywhere you want to be. You can be 100% confident that the 608v4 will support you and protect your feet no matter what your exercise plan is.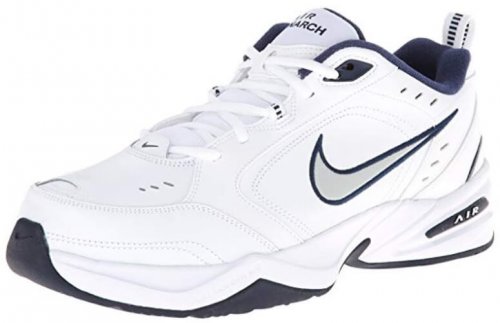 The ultimate in comfortable best workout shoes, the Nike Air Monarch IV will make your workout less strenuous on the feet. Pound the treadmill hard, lift more than you did last week and sign up for an extra spin class or two – these gym sneakers will stand up to all of that. You'll be headed for the showers before the sneakers give up and you'll get there with dry, cool, comfortable feet.
A great pair of gym shoes - they feel light on your feet and are designed to perform in the least restrictive way possible for your needs and your plan. The Monarch IV has a very minimal design that allows it to be comfortable while maintaining flexibility. This is a design that is great for those with high arches because of the minimal design and excellent cushion.

The design of these gym sneakers offers a very flexible sole that is engineered to maximize your ability to move and to enhance that movement. The overall feel is fairly light, and the cutout sole makes it even lighter, making your natural movement that much easier.

With the Nike Air Monarch IV, you get an option that is flexible and comfortable – one that you will be pleased to take to the gym over and over again. Nike put a lot of thought into this trainer, which you can take advantage of at a very reasonable price point.



The TESLA Knit Pattern is a stylish athletic design that will make a solid option for its exceptional shock absorption, good cushioning, flexibility, and breathability. This pair of gym shoes can handle weights, high impact cardio, spin class or whatever else you want to subject it to, on any surface and any terrain. The sneaker fits true to size as well, so you can be confident in ordering your regular size.
This TESLA sneaker features a polyurethane upper for security on the sides of the feet along with a low-profile design and a non-rubbing fit, leaving your feet comfortably in place. Extra padding at the heel and a well-ventilated upper adds to the comfort levels.

The flex groove sole on the TESLA begins with the hydro-grip outsole. The grooves are multi-directional, which means that you have the flexibility to move side to side suddenly without losing balance or grip. Whether you're playing 1 on 1 on the indoor basketball court or getting a spin class in, this sneaker will keep up.

The TESLA Knit Pattern is a fantastic pair of gym workout shoes that is stylish enough for everyday wear as well. The pull-on heel loop also prevents crushing of the heel counter, increasing the life of the design significantly.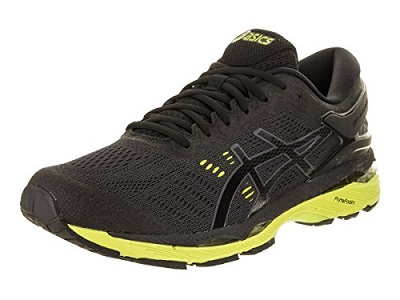 The Asics Gel-Kayano 24 are best workout shoes for the overpronator or anyone else who wants a little more stability through the sole. The gym shoes feature a number of technologies that are created to ensure a stable, secure fit, keep your foot in place, provide comfort and bounce back, and guide your foot through a natural gait without the need for heavy rocker-bottom footwear. In the Gel-Kayano 24, you get to focus on your form and getting through your burpees, instead of focusing on your exercise shoes.
This ASICS gym sneaker features a FluidRide midsole, which provides you with good cushioning and lighter weight. You also get a good bounce back from this midsole, and its design ensures it can take a pounding and last.

The Kayano 24 also features a FluidFit upper. The mesh stretches in multiple directions with reinforcements that will adapt to your foot. The fit is glove-like, allows you to move and, though designed to be flexible, will provide support throughout your workout.

These gym shoes are great if you have flat feet and want to avoid the aches and pains of an overly flexible design. ASICS' Impact Guidance System will lead the foot through a natural gait from the moment your heel touches down until the toes lift off again while still fitting and feeling comfortable.

10

. Adidas Energy Cloud 2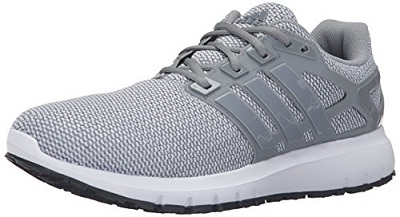 Many runner designs tend to double as great gym options because of the stability and cushioning that they offer and the Energy Cloud 2 is no different. Manufactured by Adidas, experts in exercise shoes for more than a century, this sneaker comes with Adidas durability, excellent cushioning and a supportive cage in a breathable package. Dry, comfortable feet that do not ache after a workout = exercise goals achieved.
First, the mesh upper for breathability keeps your feet dry throughout a strenuous workout; a cushioned tongue and collar provide comfort on top; the Cloudfoam midsole gives a lot of cushioning, and the supportive cage prevents strain that can come from weak gym shoes. You'll get that extra workout this week, no worries.

The Energy Cloud 2 offers a very durable ADIWEAR outsole. The upper is also engineered for lightweight and durability. This design will be a reliable companion workout after workout.

When it comes to durability, the Adidas Energy Cloud is unbeatable. Its lightweight and cushioning will serve you well as you exercise, while the wrap-around cage offers you a locking fit.

Subscribe to our Newsletter