Best Shoes for Zumba Reviewed & Rated
In a Hurry? Editors choice: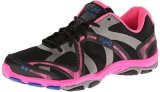 Test Winner: Ryka Influence

Zumba is a dance-based exercise routine that's become very popular as of late. However, some of the steps involved in this dance-exercise can take a toll on your feet. Moreover, Zumba can be problematic or feel uncomfortable for people who have plantar fasciitis or other foot problems.
To add to this, there are the aches and pains that the vigorous dance sessions of a Zumba class can cause to your body. The solution to all of these problems lies in wearing the correct
Zumba shoes
that can facilitate an enjoyable experience while, also, maintaining your safety.
Below we've researched the
best Zumba sneakers and shoes for Zumba
on the market today, all of which can help you dance your way to a better you, and avoid injuries.
Specifically designed for comfort and movement, you'll likely
find a pair of Zumba shoes
here to suit your needs!
Standout Picks
Criteria Used for Evaluation
Shock Absorption
Zumba, being an energetic dance form, can be hard on the feet, as it comprises of various Latin dance moves that require a person to punch on the floor with their foot, while at the same time remaining light on the toes. This makes it a must for a pair of Zumba shoes to have a good sole with adequate shock-absorption powers. This will protect the foot from a hard impact and subsequent bruises and injuries. The thickness and type of material used to make a Zumba shoe have a strong bearing on its shock-absorption powers.
The apt shock-absorbent materials are foam, rubber, or a combination of the two. Zumba shoes with extra cushioning close to the insole, also, are good for shock absorption. Furthermore, Zumba classes held on tile or concrete floors need a higher shock-absorption level and cushioning to prevent injuries, such as stress fractures and shin splints. On the other hand, dance sessions held in carpeted studios require a smoother outsole to ensure that the grip does not keep getting stuck in the rug fibers.
Traction
A good pair of Zumba shoes is those where there is a neat balance between the grip, slip, and traction features. A great dance shoe should allow you to pivot; slide and glide easily across the floor, without making you lose your balance and fall. This implies that an appropriate Zumba shoe should, also, have adequate grip and traction, and all without going overboard. Therefore, for evaluating the criteria needed to make a shoe perfect for Zumba sessions, we have ensured that only Zumba shoes that allow the right balance of slip, traction, and grip have been allowed on the list.
Trainers with a pivot point on the ball of the foot, while the rest of the sole has good grip, makes for an ideal pair of shoes to dance in. Furthermore, when we talk about excellent grip, it refers to the right amount of grip and not the kind of grip that feels like your shoes are glued to the floor. Dancing, or doing Zumba, means that a person has to be surefooted, agile, quick to change directions, and can make effortless turns and spins; without the shoes gripping too hard on the floor, as that can only cause harm to your feet.
A Zumba shoe is, also, different from running trainers in their use, as the former is primarily meant for indoor use and the latter is, usually, for the outdoors. Therefore, appropriate Zumba shoes are those that have outsoles crafted with squishy and softer compounds, as compared to standard trainers.
Flexibility
Dancing involves plenty of articulation through the feet and seamless contact with the floor. It is important to find Zumba shoes that will allow easy movement through the sole; as well as, not hinder movement. Flexibility is an important aspect of Zumba shoes because a dancer spends a lot of time on their toes. Zumba dancers need trainers that are much more flexible than the standard sneaker of a runner.
The striking pattern involved in Zumba workouts is different than it is in running or walking. Therefore, an apt pair of Zumba shoes have a flexible outsole that is less rigid and more pliable than typical running trainers. A flexible Zumba dance shoe is, also, one where the midsoles provide a little more bend. However, saying all of that, the flexibility offered by Zumba shoes should be neatly balanced with ample support.
Weight
Zumba is a cardio version of dance that needs a person to remain quick and agile on their feet. Therefore, you want a show that will not slow down your movements with unnecessary and extra weight. The ideal Zumba shoe should be made with lightweight material and should weigh less than two pounds but, also, not compromise on strength. Your Zumba shoes need to feel as though they are a part of you, moving seamlessly with every step. If you can feel your shoes while you Zumba; that is if you realize your mind is subconsciously drawing your attention down to your feet (due to the weight of the Zumba shoe); then, chances are they are too heavy.
Breathability
Zumba shoes need to be breathable because dancing is a physically-intense activity. If the shoes do not allow ventilation, they can make the feet incredibly sweaty and smelly. Shoes meant for Zumba should, ideally, have a mesh system that makes for good venting and allows the feet to breathe while dancing. Subsequently, ventilation and breathability facilitate a person to dance in comfort for the duration of the activity. This is precisely why we have Zumba shoes made with airy and lighter materials on our list. Uppers made with synthetic material and featuring seamless overlays result in cool and airy shoes that let the moisture out before it builds up; as well as, lets air in.
10 Best Zumba Shoes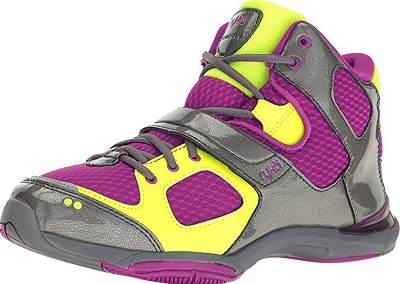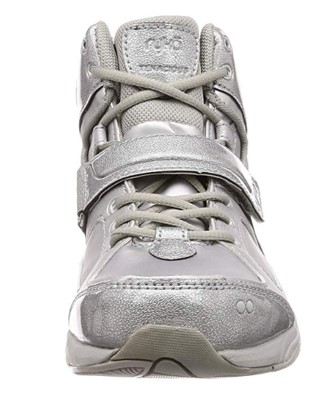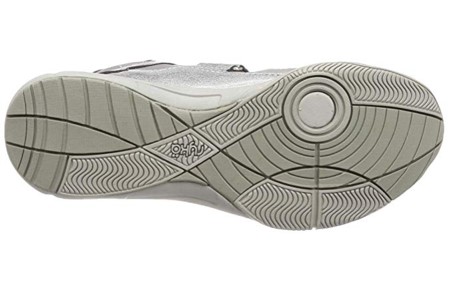 This pair of Ryka's is made with a midfoot Velcro strap, has a re-zorb footbed, a dual-foam midsole, a stability clip in the heel, and a mesh upper having Direct-Fuse layers. In essence, this Zumba shoe is ready for whatever you throw at it. Made to give you comfort, decent spring in your step, and provide an ample amount of airflow, these Zumba shoes are perfect for intensity dance-aerobics. Moreover, these shoes are, absolutely, tenacious in both design and functionality!
The layers over the mesh upper help provide stability while you Zumba. This is great for those just starting out or even professionals, as the correct amount of stability is mixed with great flexibility in these Zumba sneakers.
This midsole is an ideal choice for those who might need more cushioning during Zumba. The makeup (in conjunction with the rest of the Zumba shoe) does, however, make this shoe a little heavier than some of the others on this list. With that being stated, this shoe does provide great cushioning.

2

. Skechers Burst Divergent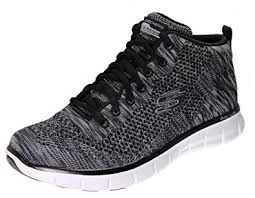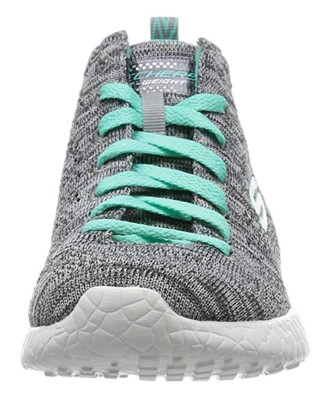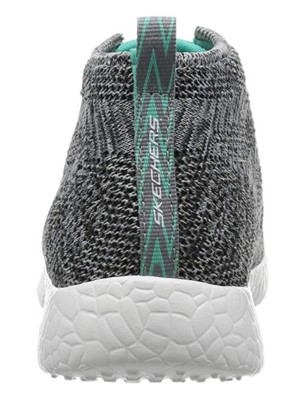 The Skechers Burst Divergent comes from a well-known company that makes some great athletic and dance footwear, including Zumba shoes. This pair of high-tops are made from synthetic materials with a lace-up vamp and wraparound midsole.
The technology in the Burst Divergent helps your Zumba sneakers stick when abrupt stops are required but, also, slide with ease when transitioning is needed. Ideal for wooden floors, these shoes for Zumba are a great addition to your footwear collection, especially for Zumba class.
The upper allows your feet to breathe. This promotes better overall foot health via airflow. In essence, your feet can remain cooler, as your body temp raises while in a heavy Zumba workout. This, in turn, helps you to remain comfortable throughout Zumba.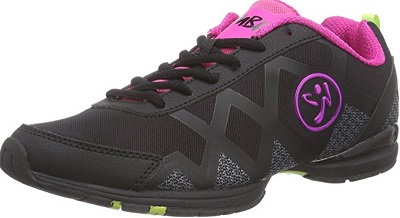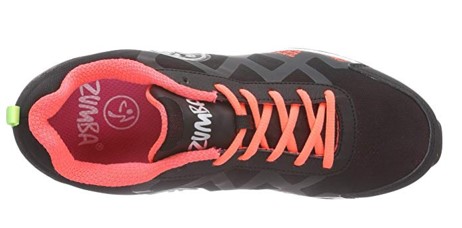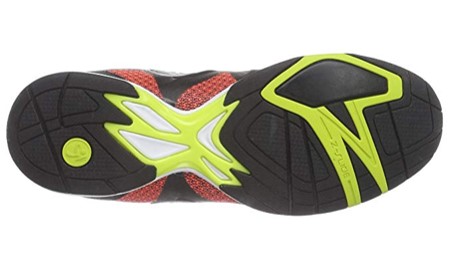 Fitted with Z-slide and Z-flex technologies, these Zumba sneakers from Ryka maintain the importance of both natural foot movement and graceful performance. Also, leather overlays help to gain stability in a Zumba shoe designed to be flexible and lightweight. And with the lace-up design, you can retain a better fit; thus, allowing you to enjoy Zumba the way it is meant to be enjoyed.
Having a mix of both synthetic and mesh materials in these shoes for Zumba, the upper provides great stability while, simultaneously, giving your feet a breathable and fresh environment. This, in turn, helps you to remain cool while under the stresses involved with Zumba.
A rubber outsole is made with pivot points; an ideal situation for high-intensity workouts, such as Zumba. With pivot points placed, strategically, as part of the outsole, transitional moves become easier. A solid Zumba shoe option to consider for your next pair!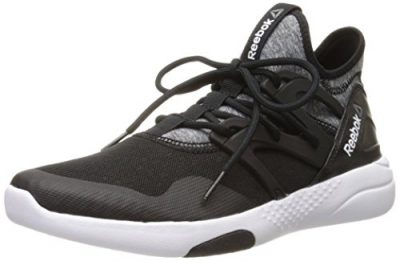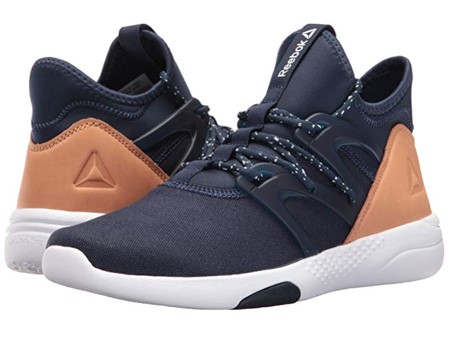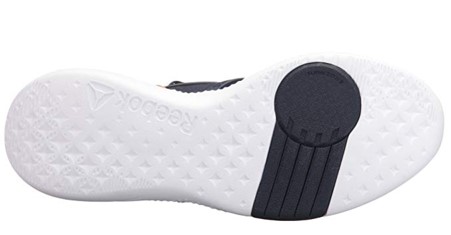 You will groove your way to the top with the Reebok Hayasu. These ultra-light Zumba sneakers have been created with Reebok's TurnZone technology, to maximize the experience of dancing. The advantage of getting these trainers is that they can be used for multiple purposes. From engaging in Zumba to a cardio session, and weight lifting to just walking around, these Zumba shoes can be worn for various activities. Therefore, they are a good all-over workout shoe.
The Reebok Hayasu provides good ankle support and sidewall stability. The turn-style on the bottom of the shoe enables quick movements, without giving up its grip on the floor. These features make the shoe a good buy for a Zumba enthusiast.
These shoes for Zumba mold around high arches, thereby providing good heel support. The pivot point on the bottom is perfect for a Zumba dancer's constant foot movement. These dance trainers have a stretchy bootie construction that allows a seamless fit. The soft side pieces of the Zumba shoe give good midfoot support.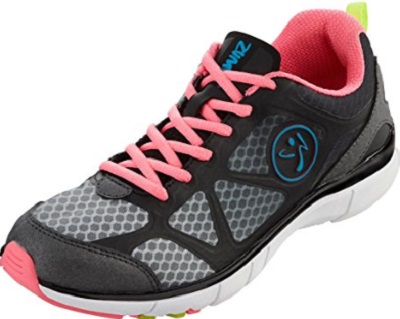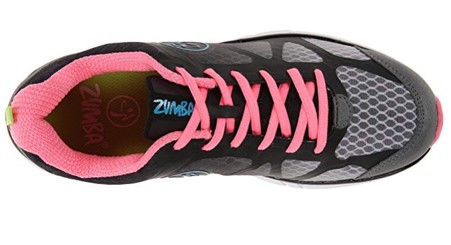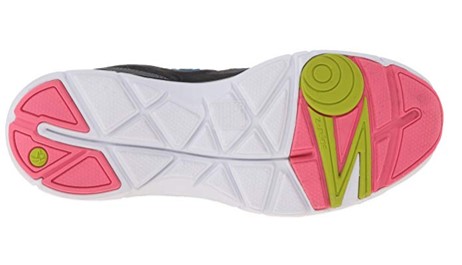 This pair of Zumba shoes provide great stability and support along the midfoot area. Lace-up, they can become part of your exercise and not a hindrance from undesirable movement within the shoe. Furthermore, they are breathable and make a great dancing training shoe mixed with a bit of aerobics, as found in Zumba. They have a lace-up vamp, an EVA midsole, utilize Z-slide technology, and have a pivot point. Furthermore, this Zumba shoe is equipped with a padded tongue and collar for added comfort.
This lining adds breathability to your feet, especially when considering it is utilized in tandem harmony with the airflow capabilities of the upper. Cool feet are happy feet and, in essence, you will walk away from Zumba class with a smile on your face; a definitive improvement over those who wear Zumba sneakers which are hot and miserable.
An EVA midsole is in place to help handle impact while you Zumba. This brings you comfort and satisfaction in knowing your feet will not ache from poorly cushioned shoes. Moreover, you will experience less fatigue about cushioning.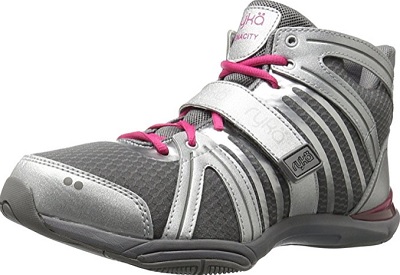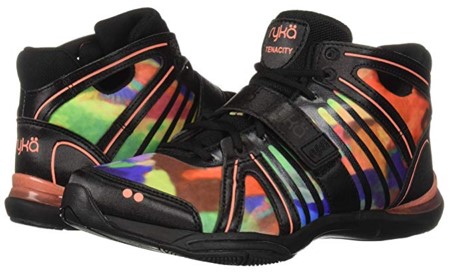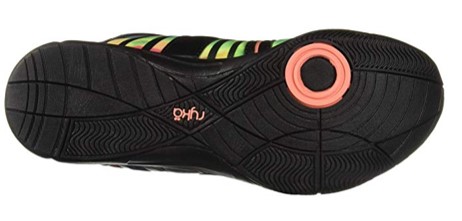 Having many color variations, you can stand out within your dance class. Additionally, these shoes for Zumba from Ryka have a 0.75-inch platform height, 0.75-inch heel height, feature metallic stripes, and have an adjustable hook-and-loop strap. Furthermore, they are high top and great as a training shoe; that is, you will have additional ankle support while dancing your way through aerobic exercises. Moreover, these Zumba sneakers are both functional and comfortable; a must-have when adding to your shoe collection.
There is something to be said about man-made gear; that is, while there can be the size differentials, there is the human element that makes them unique. Furthermore, the care by those who make an item like this can only result in the passion which brings love in the craftsmanship of a job well done, as demonstrated with this pair of shoes.
The adjustable, hook-and-loop strap allows you to create a better fit in these Zumba shoes; thereby, giving you the desirable situation for a high-impact type of class, such as Zumba. This, in turn, promotes better foot health, as your shoes will become part of the dance and not part of a problem where slipping inside of the shoe may be, otherwise, present.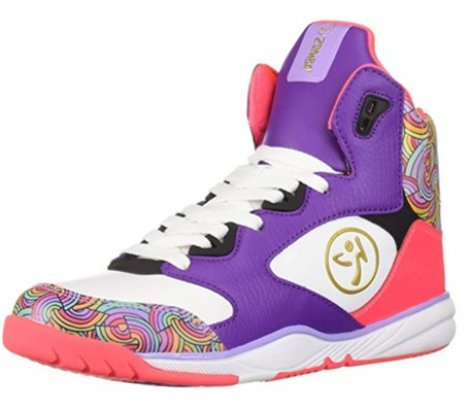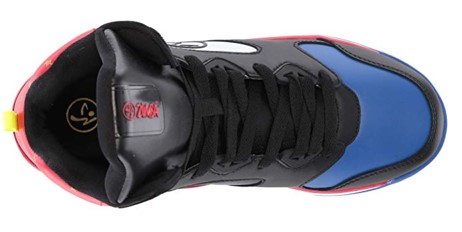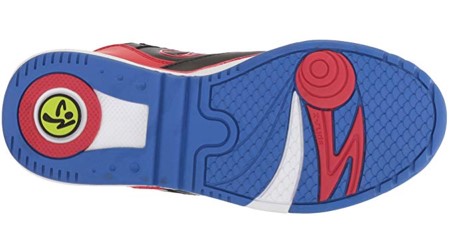 We all love the high energy, pulse pumping craze that Zumba is, and with the Zumba Energy Boom on your feet, you're sure to sweat to the beat. These Zumba sneakers are high top design, so you can rest assured your ankles will stay protected and supported when jiving along. It comes in a variety of different color combinations and options, from simple blacks to colorful purples to match whatever vibe you choose to show off with your shoes!
Zumba brand shoes are specifically designed for this fitness craze, with technology to help support you throughout your workout. Z-slide technology helps to allow for mobility that dance moves require from shoes for Zumba, letting you pivot without fear of twisting an ankle. Uppers are synthetic in material, making them vegan-friendly, but also keep the Zumba shoe lighter in weight so you can dance harder for longer.
A removable PU insole allows support when you need it most, but is replaceable with custom orthotics if you need additional or specialized support from your Zumba shoes. Lace-up vamp allows you to find your perfect fit, and a padded tongue and collar give some cushion for movements. This high top shoe offers great lateral support as well for stop and goes moves. An easy heel tab helps make them easy to pull on and off, overall a great option for a new pair of shoes!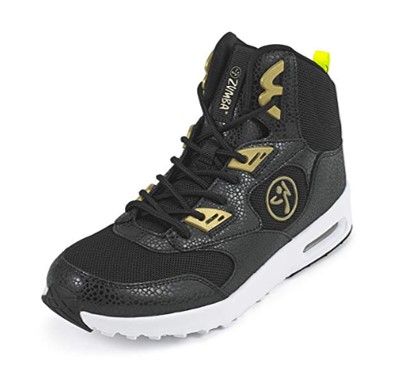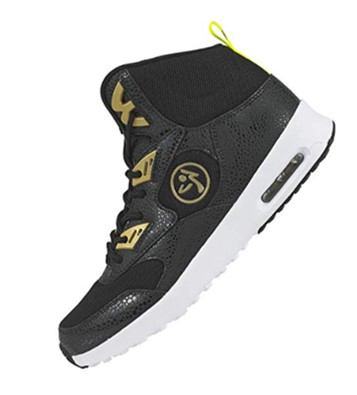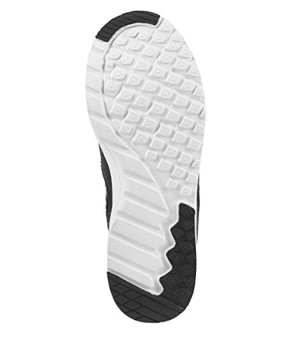 This high-top styled dance shoe from Zumba brand has the maximal kind of support you'd need for your favorite high-energy dance moves. A mix of mesh and synthetics create the uppers, allowing for breathability as well as durability. With several color options available, you can also sport these with your favorite athleisure outfits to make a fashion statement. Soles provide the ability to help with pivots safely while maintaining grip, so you can dance your way through your workout feeling supported and uninhibited.
Z-slide design pattern on the soles of the Air Classic are created specifically for movements like pivots, allowing you to execute the movements effectively without risk of spraining an ankle. Synthetic sole compound gives amazing grip and cushion at the base of the shoe, while inside you'll find the brand's cushion and support technology. Zumba brand high-rebound PU insoles help give a cushioned yet supportive feel during wear, but are also removable should you need to insert your own orthotics.
In addition to the above, the Air Classic has air technology built in to help cushion each step and move while providing that bouncy feel we love for higher impact activities. This allows better energy return to you, and cuts down on foot fatigue during your workout. High top design allows for ankle support, while the tapered collar won't hurt or rub the heel or ankle. Overall it's a stylish Zumba shoe option worth considering!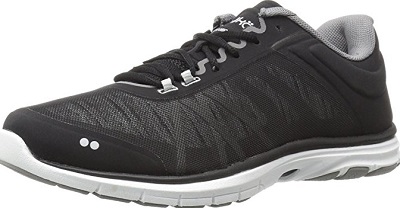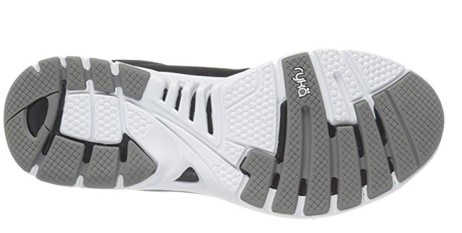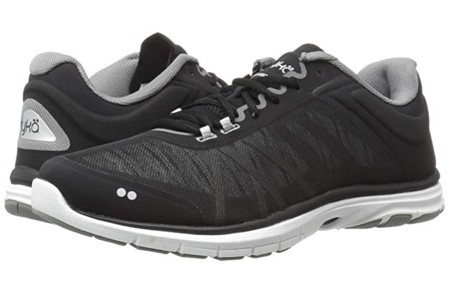 With a removable insole, you can customize these shoes with your own; thereby, allowing you to find that perfect fit and cushioning you need. Also, these shoes by Ryka are built to meet the demands of high-intensity workouts and contain both slip and grip; an ideal choice for workouts including Zumba. Having a breathable upper, your feet will remain cool throughout your routine and, thus, you will promote better overall foot health while wearing this pair of best Zumba sneakers.
This sockliner helps to provide both cushioning and comfort via its shock-absorbent properties. Furthermore, shock absorption is a must-have when participating in high-impact exercises, such as Zumba. This makes these shoes for Zumba an ideal choice for dance-aerobics.
Breathability is a desirable element when considering how quickly your body temperature rises during high-intensity workouts, like Zumba. A mesh upper helps to retain good airflow during your workout, thereby aiding in maintaining good foot health.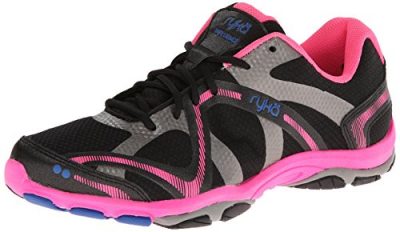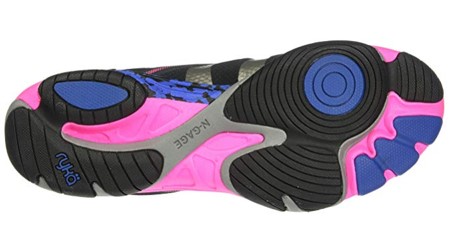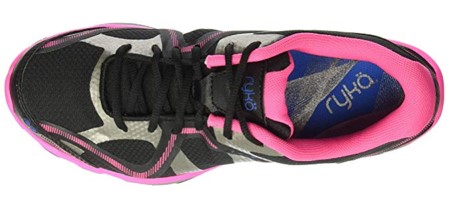 The Ryka Influence was created keeping high-impact fitness enthusiasts and Zumba dancers in mind. The sole of this Zumba shoe is ergonomically designed to facilitate natural movements during a dance-workout session and includes a pivot point. These pair of dance shoes are lightweight, supportive, and stable, which makes them a good choice for all of the jumps, spins, kicks, grooves, and moves of Zumba sessions.
With the Ryka Influence on your feet, you will pass a Zumba class with flying colors. These pair of Zumba shoes are, also, ideal for keeping knee pain at bay, even while you are doing high-impact moves.
These high-performance athletic shoes will provide you with an unsurpassed cushioning, comfort, fit, and control. The dual-impact midsoles in these Zumba shoes offer cushioning in both the forefront and heel, which will keep you comfortable when you move to the rhythm of the music.

Subscribe to our Newsletter