Best Running Shoes For Heavy Runners Reviewed & Rated
In a Hurry? Editors choice: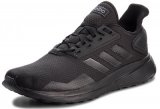 Test Winner: Adidas Duramo 9

Running is one of the best types of exercise, and is not only a great way to get in shape, but offers a plethora of health benefits. It doesn't matter whether you prefer to train at the gym, outside, or on light trails, it is an overall excellent great way to unwind and take care of your body. But, if you happen to weigh more than average, you are going to need a stellar pair of running shoes for heavy runners.

The ten shoes below are the best models for such users. All have good cushioning, stability, and support for running on flat surfaces such as the treadmill, road, and light trails. Go through the detailed feature descriptions and pros and cons for all the information you will need for a successful purchase.
Standout Picks
Criteria Used for Evaluation
Stability
Pronation is your body's shock absorber and is determined by how your foot and ankle roll when your stride hits the ground. Being a larger person this plays an important role for your knees and joints.
In order to determine your personal pronation, you can just take a look at your old shoes. If they are wearing on the outsides you have under pronation and if they are wearing on the insides then you have overpronation. If you have neither then you have a normal level.
There is a common misconception that the softest shoes are the best running shoes. This is not accurate if you are on the heavy side. Being a heavy runner you need a pair of good running shoes with better shock absorption than the average running shoe. This is especially important if you have overpronation. Poor shock absorption results in injuries.
Midsole
Being on the heavier side you need a thicker soled heavy-duty running shoe. If the shoe is too soft for your weight you will bottom out the shoe causing your body to take the shock while you run. This will also cause you to feel the outsole of your shoe while you run and that is uncomfortable and will cause your feet to hurt. A thicker midsole will allow you to run and absorb the most shock saving your joints while you are running.
By a heavier shoe, we do not mean a shoe that will weigh you down and affect your performance. Nowadays shoes are made lightweight by using lightweight products. However, you need a pair of running shoes with superior cushioning in the midsole and that will add a few ounces to the shoe weight.
The reason this is so important is that every running stride is up to three times your weight in impact on your body. Running without appropriate shoes is setting you up for injury right from the start. Your joints will take the majority of the pressure most often resulting in knee injuries. Take the time to find the right pair of shoes for your body size and foot shape.
Support
Overweight runners are typically prone to being flat-footed. When you make the decision to start running you will want a shoe that has good arch support. Running flat-footed without any support could lead to aches and pain in your feet and joints.
Depending on how flat-footed you are you may not want to over correct with too much arch support to start out. You might have to slowly move into better arch support. The best course of action would be for you to buy a pair of running shoes with light arch support with a removable insole. This way you can then replace the insole with the appropriate arch support for your feet.
The arch of your feet is your entire body's shock absorber. Over time the weight of your body may slowly start stretching the ligaments and tendons in your feet causing your feet to flatten collapsing your arch. If you run without arch support you could run into problems from aches and pains to shin splints or even sprained ankles.
Breathability
Being a heavier runner you will find that you will probably get warmed up fast and this will include your feet. Choosing a shoe that has a high level of breathability will help your feet stay cooler.
Hot sweaty feet are more prone to bacterial overgrowth that does not only lead to health issues but bad odors as well. If you find that your shoes are not drying fast enough, check whether you are wearing the correct socks. While cotton is OK for everyday wear, you need more moisture-wicking properties for heavy workouts such as running.
Furthermore, you will want to dry your shoes thoroughly between each use. For some, this will mean owning more than one pair of shoes, so that you can alternate between them. Not only will this mean that you won't suffer from smelly feet, but your running gear will last longer as well!
When shopping, you can ensure that your shoes are breathable by choosing a model with a mesh or knit upper. These materials will allow moisture to escape and will allow fresh air in, resulting in good airflow that won't result in a swamped feel. Prefer more structure and stability than mesh? Look for a model with some leather or synthetic overlays, or an internal cage system such as found in Nike running shoes.
Fit
Finding a perfectly-fitting pair of shoes can be like finding the holy grail; there are so many brands, styles, models and makes of shoes that it seems like it's next to impossible, especially when you are shopping online! Fear not, as we've ranked each product on our list for their fit and trueness-to-size to help guide you in finding the perfect match for you.
To come up with a score for a fit of a shoe, we considered several factors, like the ones mentioned above, in addition to real customer reviews, to help boil down everything into one simple score. For example, Nike tends to make shoes that are true-to-size, meaning that you can buy a pair of 11s one year, and another pair of 11s next year in a different model and they will usually still fit (unless your feet have grown or shrunk). A brand like Nike will most likely have a high score when it comes to fit, but the other variables in play, such as make, model, and purpose, will also affect the overall score.
Consider that a running shoe, with its thicker midsole and a synthetic sole, might fit differently than a flat shoe, with its thinner midsole and hypothetical leather sole. Each of these shoes, even if they are both from Nike, may have similar scores for trueness-to-size, but a size 11 in one might not be the same as an 11 in the other. What's a reader to do in this case? You must also consider the purpose and type of shoe it is. Knowing what kind of shoe you are buying, and for what purpose, will help you make a better decision. A running shoe might run smaller than a flat because it has thicker materials, so read customer reviews as well to arrive at the best decision for fit, in addition to just our overall score.
Top 10 Running Shoes for Heavy Runners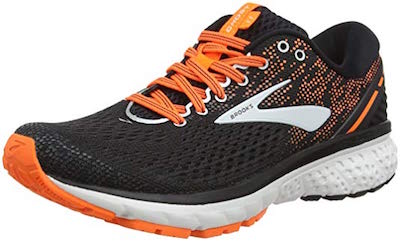 Many will agree that the Brooks Ghost 11 is the best pair of runners currently available for purchase. With a perfectly balanced amount of cushioning and support, these boast numerous comfort features that are meant to help you reach all your goals. Made for road running, with neutral support, this is an excellent choice for those with normal arches, who value a good, breathable fit that molds to the foot, a responsive ride, and a flexible outsole that provides the required traction in all weather conditions.
One of the best things about Brooks running shoes is their responsive cushioning that gives just the right amount of softness but is still supportive, which is important for those bigger runners who need something to hold their weight. Especially important is the DNA Loft heel crash pad that'll save this part of your foot from hard landings, and that'll disperse the shock to provide smoother transitions, ultimately providing you with a stellar amount of energy return.
Made with specially engineered mesh, the Ghost 11 features both stretch and structure to give you a fit that'll adapt to your foot shape, but that'll provide a good amount of support and a locked-in feel, without sacrificing flexibility. With a price that's slightly above the $100 mark, the Brooks Ghost 11 costs just as much as you'd expect a top pair of running footwear to go for. It's definitely a smart investment, seeing that it's made so as to be durable, even with daily use, and you'll be happy to hear that it provides some of the best arch support in neutral shoes you'll find.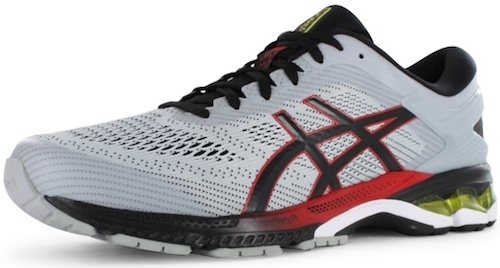 Released in June 2019, the ASICS GEL-Kayano 26 is a continuation in a line of successful stability road runners, updated with a number of technologies in order to make it a better version than its predecessor. This model is a good choice for anyone with a normal to flat arch, and can help correct overpronation issues, while also offering a wide version suited for those who need extra space, especially in the toe area. The new Kayano is available in seven color options.
The biggest update to the Kayano series comes in the form of shock absorption. The model features both forefoot and rearfoot GEL cushioning, however, the heel unit has been made more effective for a better training experience. A Dynamic DuoMax support system prevents the foot from rolling inwards by using dual-density foam materials, and an Impact Guidance System guides the foot through a natural gait from landing to toe-off.
The Flytefoam midsole is lightweight, but offers excellent rebound, giving you a springy shoe. The upper is made with jacquard mesh which promotes better air-flow and moisture management, as well as a reflective portion which increases night time visibility. Lock in comes from the MetaClutch exoskeleton found in the heel area, as well as the printed overlays that increase stability without creating bulk. The cost association of this model is quite high, being one of the more expensive models listed. Nonetheless, it's a good choice for those who are fans of ASICS footwear, or those looking for a good combination of shock absorption and support. These are without a doubt one of the best running shoes for heavy men on the market currently.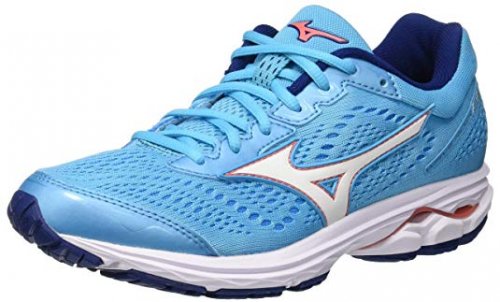 The best pair of Mizuno footwear at the moment (and their latest release), the Wave Rider continues the tradition of durable, greatly cushioned shoes with some of the smoothest heel to toe transition you'll get. Making use of the brand's Wave technology in terms of shock absorption, as well as utilizing double-layered mesh for structure and support in the upper, this is a pair of sneakers you'll be more than happy to wear on your daily runs. Made with neutral support, and for road use, these cushioned running shoes for heavy runners will also handle light trail - just make sure to stay away from the gravel as small pebbles may get easily lodged in the soles.
Featuring a Cloudwave in the midsole section of the model, the Wave Rider 22 is a shoe that'll absorb shock, dispersing it throughout the entire surface of the foot, setting you up for a more comfortable ride that's less likely to leave you in pain at the end of your run. The midsole of the Ride 22 is made with a combination of U4ic and U4icX compounds that are lightweight, with great energy return for longer runs.
Made with a double layer of mesh that'll provide great support and durability, even with heavy daily use, you'll love how this model fits right out of the box. The heel counter is wide and stable, but won't feel too loose even on those with more narrow feet. The padded collar prevents any blisters in the heel and ankle area, and the traditional lacing ensures a secure fit for all foot shapes. Ranking average in terms of price, the Wave Rider 22 is a good investment for those who've worn Mizuno sneakers before and liked the type of cushioning they provided. Made for road running, it features the recognizable rubber all other Mizuno running shoes utilize, and it's a durable choice both in terms of traction pattern, as well as midsole packing - something that heavier runners will definitely appreciate.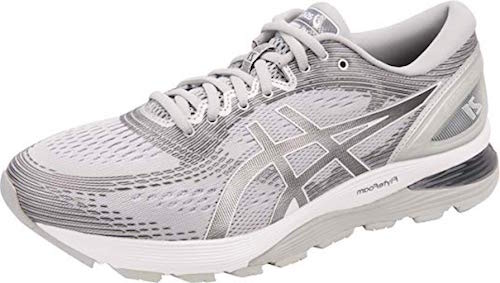 A shoe that's been around for more than two decades, the ASICS GEL-Nimbus 21 brings a few welcome updates to an otherwise favorite long-distance road runner. This neutral model, made for road conditions is perfect for those users who prefer a plush ride, similar to that of the Brooks Glycerin or Saucony Triumph lines. The look us distinctly ASICS, with a surprisingly lightweight chunky sole, and it's jam-packed with tech to make you a better runner.
The biggest update on the GEL-Nimbus 21 comes in the form of the upper. Firstly, it now features a wider toe box, allowing the foot to naturally splay and grip the ground better before toe-off. The jacquard mesh upper is slightly stretchy and highly breathable, with printed overlays added for stability, and an Ortholite Collar Sponge section that is plush and soft, and does an excellent job at protecting the sensitive heel area.
In the sole, the Nimbus uses two types of foam for the midsole section. The FlyteFoam Lyte sections keep weight down while caging the rearfoot and forefoot GEL inserts, and the FlyteFoam Propel sections allow for excellent energy return that's durable even on long runs. Structural integrity is provided by the Guidance Line technology, and the outsole uses ASICS' own compound of rubber that's highly resistant to abrasion and works excellently on both dry and wet surfaces. The Nimbus line is slightly cheaper than the Kayano, however, it is still a rather expensive pair of athletic footwear. So if you are looking for great footwear to begin with then these best shoes for beginner overweight runners are a perfect choice.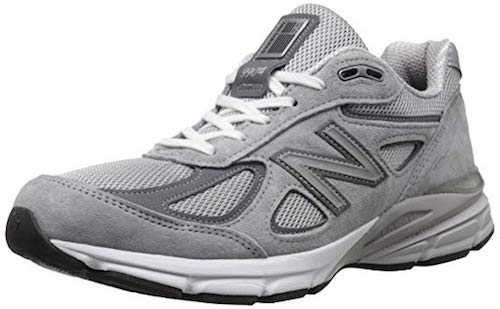 New Balance prides itself on being made in the USA. The 990v4 is a great choice for any runner who needs a durable shoe built to last. Featuring a blown rubber outsole, and double density EVA foam cushioning for support and stability, this is a great choice for those who need more arch support due to overpronation issues. Made for road use, this shoe comes in several widths, which makes sizing much easier than the rest of the models on this list.
The N on the sides of the New Balance 990v4 is made of a reflective strip. This is especially helpful for those that like to run while it is dark outside. This is a wonderful safety addition for any running shoe. Otherwise, the upper is made out of mesh-covered by pigskin overlays that not only add to the medial support this shoe offers, but also to its durability.
New Balance has removable insoles for those who either prefer a different type of support or need a custom orthotic. As these sneakers are durable in the upper, outsole and cushioning portions, it's a good idea to change the insoles every three months or so, in order to ensure the best possible foot health. The price of the New Balance 990v4 is higher than the other items featured here, which is expected, considering that it's made in the USA using a genuine leather upper. It's a great stability model for anyone with low arches or flat feet and is a sturdy option for those whose running gear always seems to take too much of a beating.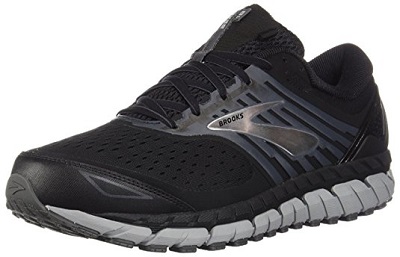 The Brooks Beast 18 is specially designed for people with flat feet and who are overpronators by implementing a combination of reinforced stability and cushioning features unlike other shoes to aid in the correction and comfort for overpronation. The extended progressive diagonal rollbar rolls your feet back to their natural position. Full-length segmented crash pads in the midsole cushion your feet and absorb shock for a smooth run. The mesh upper contains a moisture managing sock liner with a padded tongue and collar to aid in comfort. It contains a soft fabric lining with a biodegradable environmentally friendly midsole. It also features an abrasion-resistant HPR Plus rubber outsole with Omega flex grooves for durability and natural fluid movement.
The extended progressive diagonal rollbar (labeled as PDRB) is a stability feature made to prevent overpronation by adjusting your feet back to the neutral position keeping your ankle from moving inwards. It is located in the tri-density midsole which has an internal post allowing for neutral pronation. It is designed to deliver a smooth transition during the running phase for flat-footed overpronators making this an ideal running shoe for overweight runners.
A full-length segmented crash pad in Brook's midsole was designed to cushion your feet with a fully integrated shock absorber and a smooth heel to toe transition while running. When running the segments all work together to customize to your personal stride providing just the right amount of cushion that you need. The price of the Brooks Beast 18 is on the high side. But if you are an overpronator then this is a running shoe that you want to look into. Reviewers state that it is a solid shoe but does run small. Many stating that you need to order a full-size up. Buyers also stated that it is a corrective shoe so you might find that it takes some getting used to. Most consumers are happy with their purchase and state that they will buy again.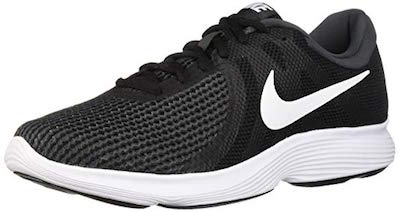 Released in 2017, the Nike Revolution 4 is a welcome upgrade to the previous model seeing that it provides a more supportive and stable upper that wraps the midfoot from the arch, ensuring a locked-in feel that doesn't come with too much weight to it. It's a neutral road running shoe with all of Nike's technologies runners like, including a flexible ride, great cushioning, and a breathable upper with great moisture management.
The Revolution 4 is made with Nike's Phylon midsole, a responsive but firm compound that does great at absorbing shock and providing a good amount of energy return. Topped with a foam insole that provides further shock absorption, the sneaker manages to keep the weight down without sacrificing comfort.
The outsole on these Nikes is slightly different from what you're probably used to seeing from this brand. Featuring large rubber pods in the forefoot and heel areas, the Revolution 4 ensures excellent traction and bounce back that start in the outsole, while flex grooves ensure that the foot's range of motion is never sacrificed. An affordable pair of runners, the Nike Revolution 4 is a great choice for those who are shopping on a budget for neutral road running gear that won't wear down even under a bit more weight. The upper features an open knit material with excellent lock down as well as ample cushioning both in the tongue and collar.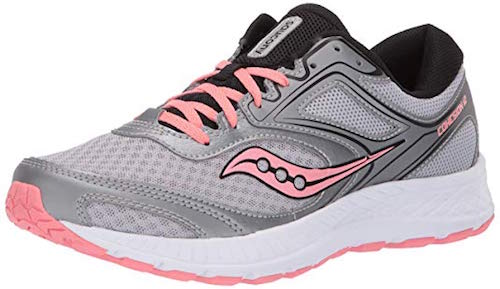 The Cohesion 12 by Saucony is one of the more lightweight models listed here, and it is a great option for those looking to purchase a good model, but are limited by budget. It is ideal for neutral pronators who intend to run on pavement, and comes in both medium and wide widths, ensuring a good fit for most. The six color options are based on grey, black, and blue, and are simple enough to allow you to wear these even as casual footwear.
The biggest update to the Cohesion comes in the form of the midsole which is made with a Versafoam top layer, a softer, spongier compound that offers excellent energy rebound, even after long runs. Shock absorption is provided by the tried and tested GRID system that disperses force from impact, preventing it from traveling up the leg and making a negative impact on the musculoskeletal structure.
As for the outsole, it uses a carbon rubber that works great on pavement and is highly durable. Flex grooves increase flexibility, so the foot's movements aren't limited by this section. As for the upper, it combines breathable mesh with stitched overlays that ensure stability during movement. There's generous padding in the tongue and collar, protecting the sensitive Achilles area from rubbing. The price is surprisingly low, making this one of the cheapest options listed, and an ideal purchase for those who are just getting started with running workouts.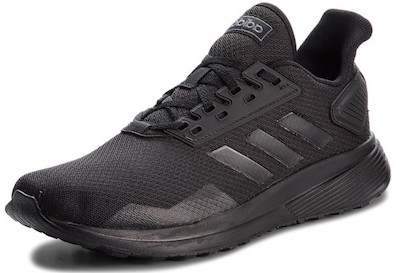 Made for both indoor and outdoor use, the Adidas Duramo 9 is aimed at providing you with a durable shoe you'll love wearing, regardless of whether you prefer to run on the treadmill or the trail. Like other models on our list, it's made with a double-layered mesh upper that's both breathable and flexible, but provides you with the required support in key places. It's neutral running shoes for overweight men and women that's been made lighter than previous versions, which is great for those who want something durable, but without all the bulk.
Developed by Adidas, AdiWear is a rubber compound material used in their footwear that requires high abrasion properties for longer use, and durable traction. Appropriate for treadmill, road and light trail running, it features flex grooves that won't stop to foot from moving naturally, with smooth transitions at a quicker pace.
While Adidas' leading cushioning may be the Boost, the Cloudfoam is a technology that was developed to provide ample protection for the foot, and especially the heel during running, walking or prolonged standing. A lightweight sole made out of EVA, Cloudfoam greatly reduces the weight of running footwear, seeing that it eliminates the need for bulky lining materials. For those looking for a pair of sneakers they'll be able to wear both to run, train at the gym, as well as on everyday occasions, the Adidas Duramo 9 provides excellent value thanks to its versatile style that's not just functional, but also looks good and is easy to put on. It's a breathable shoe that won't let your feet overheat, and you'll definitely appreciate the smaller heel to toe drop that's more natural than the standard 10-12mm seen in most running footwear.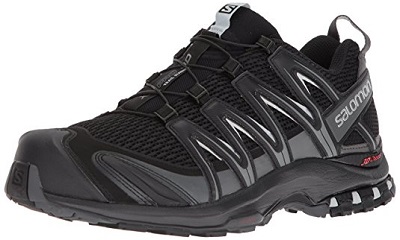 Looking for a trail runner with lots of arch support? The Salomon XA Pro 3D is a great choice, seeing that this company specializes in trail running footwear made to take a beating. Featuring a stable upper with traction that works equally well on wet and dry surfaces, you're sure to love this highly protective style. One of the best things about this model is that it comes both in a breathable mesh version, as well as a Gore-Tex one for colder, wet days.
Developed especially for challenging trails, the Contagrip rubber found on the Salomon XA Pro 3D features multi-directional lugs that'll grip any surface, while the added space between them will prevent clogging and the picking up of small pebbles. This will result in less time cleaning your shoes, and more time spent training hard.
Combining dual cell EVA foam, with injected and compressed EVA, the XA Pro 3D features cushioning that does well at absorbing shock but is less likely to pack and flatten with use. For those who carry a bit more weight, this will mean a more durable shoe that won't have to be replaced as often as other models. With protective features such as the Advanced Chassis System, the raised toe bumper, the supportive overlays and one of the best trail outsoles on the market, the Salomon XA Pro 3D is a great choice for anyone looking for stellar performance and a comfortable fit. It's an innovative shoe that features small details including an asymmetrical quicklace system, as well as a supportive arch that'll prevent overpronation.

Subscribe to our Newsletter