Best Mizuno Running Shoes Reviewed & Rated
In a Hurry? Editors choice: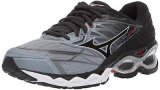 Test Winner: Wave Creation 20

Mizuno, a Japanese sportswear company has been around making shoes since 1906, which means they have mastered the art of making a great sports shoe. They have many different styles to choose from, all of which are made to give you customizable support and stability while ensuring you stay comfortable all day.

Mizuno running shoes are distinct from other runners because of their 'Wave' plate technology – a thermoplastic component molded in a corrugated shape in the sole of Mizuno running shoes. This plate starts from the heel, continuing along to the middle of the foot and it is designed to prevent your foot from rolling. This Wave plate makes Mizuno the go-to footwear brand for most athletes and of course, runners.
Standout Picks
Criteria Used for Evaluation
Advanced Features
What differentiates Mizuno shoes from other manufacturers' models is the technology they use in order to provide runners with the best possible performance when it comes to shock absorption and cushioning. In all of their models made for running, this is provided by a Wave plate inserted into the sole unit.
The Wave plate was inspired by nature, and it works so as to disperse the shock from landing onto a larger area. Wave plates have several different variations and methods of working, depending on the shoe model. Some shoes will have Wave plates that run from heel to toe in order to provide the user with a maximum amount of cushioning, while other models feature shorter plates that are focused in the mid area of the sole.
Based on the types of running shoes, there are several different variations of the Wave plate:
Parallel Wave
This is the most basic Wave plate found mostly in neutral shoes. Its main purpose is to uniformly disperse shock throughout the shoe, providing the wearer with a solid level of cushioning and stability.
Fan-Shaped Wave
Found in stability shoes, this is a plate that offers more support, especially in the arch area, and guides the foot through the gait cycle in order to prevent overpronation and misalignment which may lead to unnecessary pressure and pain in joint areas such as the knees, hips, and back.
Infinity Wave
The best cushioning found in Mizuno shoes, the Infinity Wave is made out of two parallel plates that are connected by pillars of cushioning material. What the Infinity Wave achieves is the best possible shock absorption upon impact, which makes it especially effective with users who tend to strike with their heel. It is also more visible in Mizuno models, making for a nice aesthetic addition to the shoes. Furthermore, the Infinity Wave is also more durable than traditional foam cushioning.
Fit
The way your running shoe fits and feels is always the number one most important factor. Regardless of if you've picked a pair of shoes that perfectly stabilize and cushion your feet, if they do not feel good you will not only never want to wear them but they can cause long-term problems.
The first thing to know is that running shoes should never require a break-in period. That seems to be a commonly known fact, yet it can be easily forgotten when we think we've found the perfect shoe and yet it feels slightly off, so we try to justify the pinched toes or irritated heel in hopes that that will go away as the days go on. The hard truth is that those pains and irritations will not go away, or get any better, they will only get worse and can cause serious issues.
You should have a thumbnail's length of space in the toe box area, no more and no less. This will allow for a little bit of wiggle room so you do not feel as though your toes are ever being pinched or squeezed. The overall fit of the shoe should be snug, yet not tight, and there is a big difference between the two. A snug fit will allow for your feet to not feel constrained yet still feel held in place and comfortable. If your running shoes are too tight, your feet will not be able to properly flex and move with them as your run.
Your feet tend to swell during a run and throughout the day, so take that into account when it comes to sizing. Even if the shoes fit "true to size" they may not once you've gone for a long run and your feet are swollen. Try them on after you have been on your feet all day and see if they still fit comfortably, if not, size up by half.
Upper
It is also important to take into account the type of socks you will be wearing during a run. Not only do you want them to be breathable you also do not want anything thick that is going to alter the way in which your running shoes fit. Thin cotton socks or merino wool generally feel the best during a run as they allow for proper airflow, and will wick away moisture keeping your feet comfortable and dry. If you wear medical orthotics, be sure to try those on with the shoes as well, those, plus your socks may drastically change the way your running shoes fit. Luckily most Mizuno running shoes have the option to remove the sock liner which makes inserting insoles a breeze.
Take each part of the shoe into account and think about not how it feels as a whole, but how every single part of the running shoe feels individually. The heel, for instance, should be snug and perfectly fit into the shoe. While you are running it should not move around, or slide up out of the shoe in any way, as this not only gives you no support, it can cause irritation on your heel and possible blisters, which will result in no running for a while. When the runners are tied up properly, the upper should feel snug on the top of your foot, yet not tight or applying any sort of pressure. If you have to tie the laces quite loosely so that that part of your foot feels comfortable, then those are not the right shoes, or the size is wrong.
When it comes to running shoes, never assume your size as it will probably differ from style to style. Depending on the features you need, or potential orthotics, the way each pair of running shoes fit will probably differ in some way or another. Every time you go to buy a new pair of runners check your size again to ensure you have the best possible fit.
Features
At first glance, all running shoes can appear to look incredibly similar and it is not always super easy to differentiate one pair from the other, however, Mizuno running shoes stand out from the rest due to their impressive and useful features. With styles that are sure to fit everyone's specific wants and needs, Mizuno focuses on the advanced technologies that set them apart from their competition.
Mizuno's wave technology features five different styles that all provide the runner with the perfect balance of cushioning and stability which helps to almost abolish any issues such as overpronating. Overpronation occurs when your foot rolls inward after your heel makes contact with the ground, and although common it can lead to ankle and knee pains and injuries. Wearing a shoe that properly stabilizes and absorbs shock is essential and you'll be sure to find the perfect pair with Mizuno.
The features in running shoes are all different and it is important to know which ones will best benefit you, so you are not paying for an added technology that will not make a difference with your running style. If you suffer from problems with stability during a run, a heel counter will make a world of difference. A heel counter is a plastic insert that reinforces the heel which provides the runner with motion control. This is very important for those who are in need of extra support as it helps to cradle the heel and reduces overpronation. It essentially holds the heel and foot completely in place to improve overall stability during a run.
Use
There are many different types of running shoes, which is great because it means there is a pair for everyone but also can be quite confusing and daunting when it comes to having to decide which pair will best suit you. The first step in accessing the type of running shoe you will need is knowing your foot type. The easiest way to do this is by dampening your foot and stepping onto a piece of paper towel or paper.
There are three different types of feet:
Low arch – Also known as "flat feet" will show almost your entire foot on the piece of paper.
Normal arch – There will be a thin band connecting your toes and heel.
High arch – You will see a very thin band connecting your toes and heel, and in some cases, if you have an extremely high arch there will be no band at all.
The next step is determining your gait; which is the way in which your foot moves when you walk/run. Knowing this is crucial because it will be the main factor in knowing the type of running shoe that will benefit you the most. Picking the wrong shoe for your gait can lead to chronic pain and injuries, so be sure to take the time to properly access your feet.
Similar to arch types, there are three different gait types:
Underpronation – If you supinate, it means the outside of your heel strikes the ground and rolls outward throughout the entire strike. This does not allow for proper shock absorption and can cause strained tendons and ankle injuries.
Neutral – Your heel will strike the ground and the rest of your foot will follow straight down the middle, properly absorbing and distributing shock.
Overpronation – This is when your heel strikes the ground and then rolls inward, meaning your ankle is not able to stabilize properly. This is usually the case with people who have little to no arch, are "flat-footed".
After determining your arch type and gait style, it is time to find you the perfect running shoe.
Neutral running shoes – Best for those who tend to underpronate (supinate), a neutral running shoe will have a fair amount of cushioning to help absorb the impact that your foot naturally does not, due to your high arch.
Stability running shoes – These work best for neutral gaits and slight pronation, as they will not only focus on strictly stabilizing or cushioning, but will have a good balance of both.
Motion-control running shoes – This is the best shoe for flat feet or if you overpronate, as it will help prevent your ankle from rolling inwards and will provide you with the maximum support and control.
If you are not in need of special support and cushioning there are a couple of other styles of running shoes that can be great options. The barefoot and minimalist style are quite similar in that they both are very lightweight and do not offer special features in the sole that will help with stability. A minimalist running shoe may still provide the runner with some form of stability as there will be some cushioning in it, however, a barefoot-style has little to no cushioning can be slightly hazardous if you are planning on running on unknown ground, or pronate.
Top 10 Mizuno Running Shoes Reviews in 2020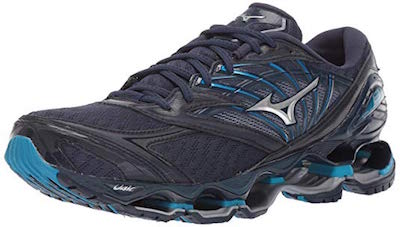 A neutral road runner, the Mizuno Wave Prophecy was made for those who want the best of the best when it comes to cushioning and performance. Ideal for long-running sessions, this is a shoe that won't lose its shock absorption capability with use (like most foam-based models do), so you can rely on it serving you for quite some time. The upper offers an unparalleled fit (although width options are limited), and the two color options are unique and eye-catching, making this a definite stand-out model.
The most important feature of the Prophecy 8 is the full-length Infinity Wave Plate which absorbs and disperses shock as soon as you get in contact with the ground, offering you the protection you need for going further. Aided by the u4icX foam, this model offers a smooth ride. The cushion on the inside has been updated too, so you now get to experience the comfort of a Max Cushion insole.
The upper uses jacquard mesh with an updated midfoot cage for increased support, and it's one of the most breathable models by Mizuno. The tongue and collar are padded for additional comfort. As for the outsole, it uses the same carbon rubber compound that's found in most of the brand's footwear for traction you can count on. In terms of price, this is the most expensive model offered by the brand, so if you're after something affordable, this will definitely not be it.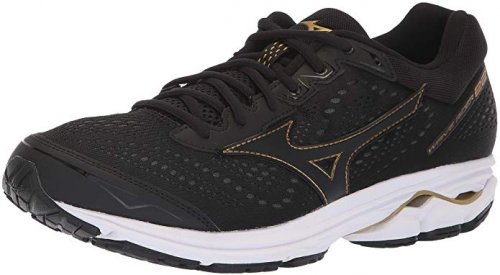 The Wave Rider 22 is the latest edition of Mizuno's most popular neutral shoes and is definitely a go-to-shoe for runners looking for great technology and comfort at a relatively low price. The midsole and outsole are exactly the same as they were in the previous version, while the parts of the shoe which were updated are the insole and the upper, now sporting an even more breathable mesh upper that will be perfect for warm weather use.
With a tradition of over two decades, the Wave Rider 22 keeps what is best, and introduces innovation where it's necessary. The latest model of the Rider features a Cloud Wave Plate integrated into the midsole which works to disperse shock throughout the entire foot. On heel landings, it provides plenty of cushions, while in the toe-off it is a bit softer.
In addition to a newly engineered mesh upper, the Wave Rider also features an anatomical sockliner which will give you the best possible fit. The mid-width will work well for most runners, while the padded tongue and lacing system work together to ensure a locked-in feel without any excess pressure. Being one of Mizuno's top-ranking runners, the Wave Rider surprises when it comes to price. Its cost ranks low on this list, while compared to other manufacturers it is cheaper than most similar flagship shoes. If you're in the market for a pair of neutral road shoes, then these are definitely worth checking out.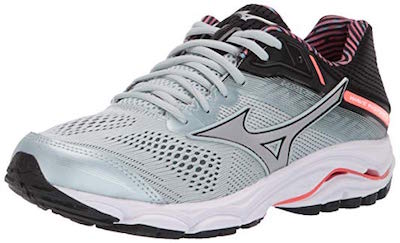 Made for moderate overponators, the Wave Inspire line has been around for 15 years, and continues to be one of the highest performing stability shoes to this date. The 15th edition of the popular model mainly includes updates in the upper - focusing on giving you a better fit, and color options you can combine with outfits even for casual everyday wear. Coupled with the technology used in the midsole, it's a definite winner in its category.
This model is one of the few by Mizuno that can be bought in both medium and wide widths, making it more accessible to users with different foot shapes. As for the upper, it uses a jacquard mesh that's more breathable and flexible than regular mesh, and the traditional lace-up closure allows for users to get the best possible fit. A premium sockliner ensures comfort, while the Fan-shaped Wave plate absorbs shock without allowing the foot to roll inwards when landing and taking off.
The U4icX heel wedge provides a great amount of protection to those who tend to land on their heel, and the midsole aids a smooth transition from heel to toe. With a great level of response and rebound, you'll be able to run longer, without feeling fatigued. The price is slightly lower than average, making this an excellent choice for anyone looking to buy a Mizuno running shoe, and you can expect the model to last you a long time thanks to the durable materials used.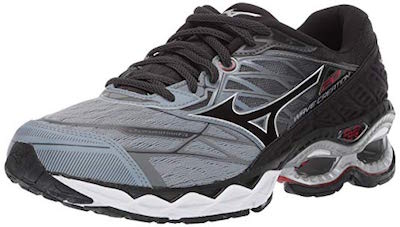 Specifically designed for long runs, the 20th edition of the Wave Creation comes with an updated shock absorbing system that offers stability to neutral runners. It's one of the brand's softest models, with a bouncy, responsive ride many will appreciate, however, it does come with a weight that's quite high compared to similar models, so if you're after something lightweight, then this definitely won't be the best choice for you. Color options are available in a limited number, but each one looks great.
The upper of the Creation 20 uses seamless mesh for breathability and seeing that it's stretchy, it allows the shoe to fit perfectly. Stability is provided through both stitched on and printed overlays, so you can expect great support, especially in the midfoot. The U4ic midsole runs through the entire length of the shoe, while shock absorption in the heel area is provided by an Infinity Wave Plate coupled with a Pebax plate which reinforces the Wave.
Heel lock-in is great on the Wave Creation 20, as is the traction provided by the X10 rubber outsole. It's highly resistant to abrasion and performs well in both dry and wet conditions. Flex grooves ensure the necessary flexibility for a natural gait cycle. As for the price, this model ranks higher than average, which is to be expected seeing that it's one of the brand's most popular releases.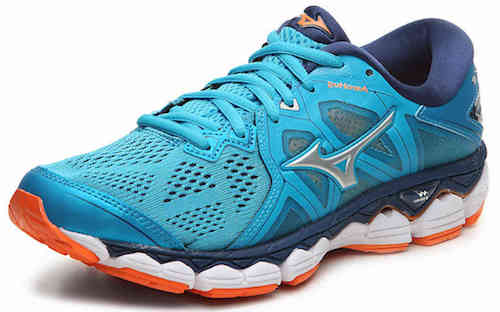 If you're looking for the best available Mizuno running shoe, then the Wave Sky 2 should definitely be on your list of items to check out. This is the most technologically advanced shoe in their line, and it's a shoe that will work best for runners in need of neutral shoes used for road running. It will perform just as well for light, middle and heavy runners, so it's definitely an all-round good choice for a lot of people.
In order to provide you with the best possible fit, the Wave Sky 2 introduces a completely new piece of tech developed to perfectly hug your entire foot. With excellent medial and arch support, the inside of this shoe features a material that will stretch with each of your steps, without allowing for any space between the foot and the shoe, making your gait more effective.
In addition to the Wave plate located in the sole of these shoes that disperses shock, the Wave Sky 2 also features a U4icX midsole that's plush and cushioning, with an excellent amount of energy return that will keep you strong even after having run for quite a few miles. While the Wave Sky 2 isn't the most expensive shoe on this list, it's definitely got a price tag that may be considered high. Nonetheless, it's a pair of footwear that boasts plenty of technological features, and it's a durable and comfortable option for anyone looking for a pair of high-performance runners.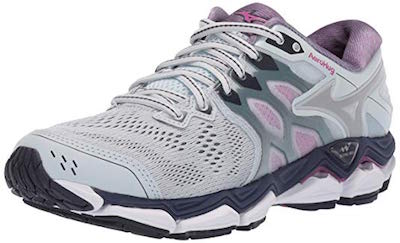 A brand new release, the Wave Horizon 3 is the latest version of one of the best shoes for those in need of a stability road runner that can put up with long runs. With updated uppers and brand new colorways, this model is definitely going to become one of Mizuno's top performers, especially considering the tech that's been included in it. It's one of those models which is extremely comfortable right out of the box, and though the 350g weight is a bit too high for road shoes, it's definitely worth checking out.
The upper of the Horizon 3 now features an AeroHug upper, which is basically an engineered mesh with hexagonal overlays, allowing you to make a wider range of movements without slipping inside the shoe, and the back of the heel is generously padded for additional comfort.
The midsole features a combination of U4icX and U4ic for a cushioned ride, both responsive and lightweight EVA foam-based compounds that aid the TPU Cloudwave, absorbing shock and stabilizing your motions. In terms of traction, the X10 rubber does an excellent job, especially on dry asphalt, but another of its big pluses is the fact that it's one of the most durable outsole materials you can get. As for price, this model isn't as expensive as some of the brand's shoes, but it's still an investment, especially compared to similarly performing shoes by different brands.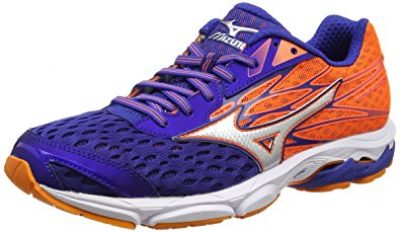 The Mizuno Wave Catalyst 2, is a light and responsive shoe with good stability, a unique shoe on the market with minimal comparable competitors. An improvement from the Wave Catalyst with a better upper, and wider toe box, as well as an improved overlay in the toe box which does not crease and rub uncomfortably unlike the Wave Catalyst. The Wave Catalyst 2 features Mizuno's signature Wave technology along with a EU41C midsole for a springy, yet cushioned ride. This is a perfect sneaker for mid-distance runs.
A fast shoe with good stability is hard to come by, but the Wave Catalyst 2 goes a step forward and is praised as one of Mizuno's most comfortable shoes. The midsole features Mizuno's EU41C foam for a more comfortable ride, users have claimed that this supplies a good amount of energy return as well. The previous version had complaints from users of a crinkling overlay in the toe box which ended up causing uncomfortable friction and even blisters, the updated Catalyst 2 solved this problem so there won't be any uncomfortable fiction in that area.
The Wave plate runs from heel to mid-foot to prevent rolling, pronation, or any other weak ankle problems, along with a cushioned collar to prevent uncomfortable chafing along your ankle. The heel is a snug fit but not too tight, keeping your heel secure while running but the Catalyst 2 also features a wider toe box with accommodates a wider toe splay. For such a comfortable and supportive shoe it's surprising to know that this is such an inexpensively priced option. While not the cheapest on our list, it certainly is very affordable and a great option for most runners.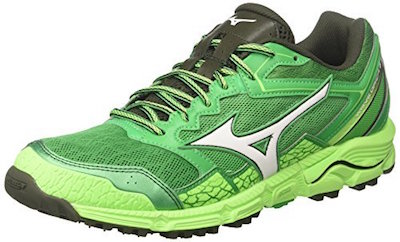 Recently released, the third version of the Mizuno Wave Daichi is a neutral trail running shoe that does est on mild trail in dry conditions. The biggest update, compared to its previous versions, is located in the upper, which is still very lightweight for a trail shoe, at 320g, and which now includes improved protection systems in the forms of a reinforced toe and heel cap. Unfortunately, color options are limited, as are widths, but overall, this is a good shoe for those who prefer the park to pavement.
The upper utilizes air mesh, along with the stretch Dynamotion fit, so you can expect a breathable, non-irritating pair of footwear. The shape of the Daichi 3 is semi-curved to follow the natural shape of the foot. As for shock absorption, which Mizuno always delivers, this version of the Daichi features a Concave Wave that cradles the heel for a greater feeling of stability, regardless of the surface you're running on.
The AP+ compound gives you a soft feeling underfoot, while the XtraRide technology allows a great level of flexibility both in the midfoot and forefoot for a personalized experience. The outsole uses Michelin rubber, designed with lugs and grooves which are meant to adapt to different types of trail, but it's the X10 rubber that does most of the work (located in the forefoot and heel area). The price of this model is quite high, and it can be difficult to get, nonetheless, if you're after a versatile trail runner, it could be the best option for you.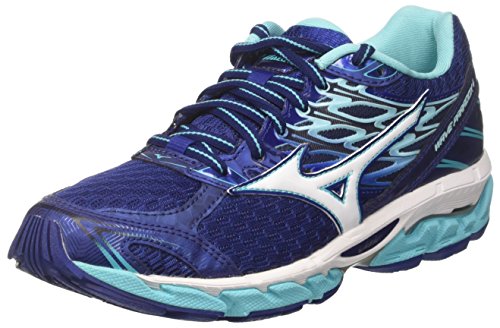 Made with overpronators in mind, the Mizuno Wave Paradox 4 is an affordable choice that offers excellent support and an incredibly comfortable upper. The 12mm drop will help those who have trouble landing on their feet, as it will shift the runner's weight forward, enabling a more comfortable ride. With three simple but stylish color options, this is definitely a pair of shoes you will want to check out.
Although built for road running, the Wave Paradox 4 will work just as well on the trail, thanks to the high-quality outsole that is both durable and provides good grip. It hardly shows signs of wear, which is one of the reasons the Paradox 4 is such a good investment. In addition to a highly breathable upper, the Wave Paradox 4 ensures that you're kept dry and comfortable with an OrthoLite sockliner which wicks away moisture and ensures proper airflow to prevent the development of any unpleasant odors in these shoes.
With a price that is average when compared to the other models on this list, the Mizuno Wave Paradox is a good option for those in need of a stability shoe, but prefer to skip the Wave Inspire line. If this shoe becomes your choice, you'll definitely benefit from its advanced features, especially if you like to mix it up and add some trail running to your routine.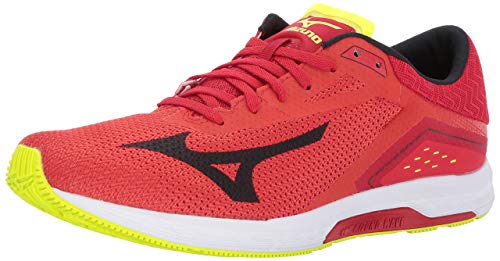 A minimalistic looking shoe, the Mizuno Wave Sonic is a racing flat that will provide you with the durability and cushioning you require, all while remaining lightweight to keep your speed up at all the crucial moments. Although not aimed at runners with low arches, it does offer more stability than other racing options, which definitely makes it an interesting choice for many overpronators.
Skipping the Wave plate found in most Mizuno runners, the Wave Sonic features U4ciX foam in a wave pattern throughout the entire sole that has as its goal to provide you with the shock absorption and cushioning you require. This makes the model more lightweight and suitable for short, fast runs.
Made out of the X-10 blown rubber that most items on this list feature, the outsole on the Wave Sonic has an outsole with a zig-zag pattern that gives runners an excellent grip on concrete and asphalt. Furthermore, it proves to be more durable than most other competition running shoes, which makes the investment in these well worth it. Ranking lowest on this list when it comes to price, the Mizuno Wave Sonic is a great option for those looking for a good pair of lightweight competition shoes. They're very durable, especially in the outsole, meaning that they will easily get you past the 400-mile mark.

Subscribe to our Newsletter