Best Neutral Running Shoes for Men & Women Reviewed
In a Hurry? Editors choice: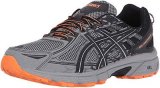 Test Winner: ASICS GEL-Venture 6

Runners know that there is a lot more to it than grabbing any 'ole pair of shoes and hitting the pavement. Neutral running shoes are those designed for people with neutral pronation who often strike towards the center of the foot when walking or running. Runners with neutral pronation do best with mild support, as too much can cause their pronation to change to something more severe. Our experts at Walk Jog Run tested, reviewed, and rated some of the best neutral running shoes, so if you are amongst neutral runners read the features and pros and cons of each model to find your perfect pair.
Standout Picks
Criteria Used for Evaluation
Support
Because runners with neutral pronation are not in need of the same kind of support structures that other pronation types are, the shoes on this list were evaluated based on whether or not they offered any forms of additional support or padding, and whether those supports were necessary or only added to the weight and cost of the shoe without benefit to the buyer. Footwear with overly high arches or unnecessary supports was eliminated, thus leaving the shoes best matched to a neutral runner. One of the biggest concerns would be the weight of the shoe, the cost of a durable pair, and the shock absorption offered. Most of the running shoes feature specific shock-absorbing attributes to give the buyers run a smoother and less aggressive rhythm and cause less pressure on the knee, ankle and hip joints.
Weight
Many non-runners underestimate the effect that a shoe's weight can have on a runner. Shoe designers, however, are very aware of this factor and it was high on the list of criteria that each shoe on this list was matched to. In many cases, an exact weight is offered, though of course, the weight varies depending on size. To reduce weight, many of these are primarily made of mesh with rubber soles, though each model has its own style and method of integrating these two materials. The base weight was not the only consideration, however. When possible, each was evaluated based on the features it offered and whether or not they were worth the weight they added to the shoe, allowing for a weight and function judgment to be made.
Use
These are, for the most part, intended for running and little else. Most people cannot designate just one activity per pair of shoes, however, and this was taken into account when choosing the best neutral running shoes to list above. Each was designed specifically for running and may be mildly uncomfortable for activities where the foot moves in a markedly different manner, but there are numerous other activities that buyers have successfully involved these in, as well. Squash, boating, and basketball are just a few that were listed, leaving the door open for many other options in between runs; albeit, doing so will lower the life-expectancy for running usability.
Breathability
The right pair of neutral running shoes must provide sufficient ventilation for your feet to breathe. The most obvious benefit is the reduction in unpleasant odor (we all know that moment when you come home from a long day, slip them off, and catch a whiff… mhm, home sweet home.). But apart from that, there's also the decrease in moisture and the reduced risk of harmful bacteria growing on the nice comfortable insole of your shoes.
The best material to provide breathability is mesh. Mesh is a type of synthetic material that is very light and flexible. Air can flow through it freely so that when it is found in the uppers of athletic shoes, the moisture from perspiration and any unpleasant odor is quickly filtered out to evaporate into the air. Besides allowing the air to flow, it also keeps the overall shoe nice and lightweight. This way, when you're jumping around and working your butt off, you won't have extra weights weighing you down at your feet. Mesh also dries quickly, which is convenient when they get wet by accident.
Some trainers also have leather in their uppers. The main practical benefit of this is that they render the shoe more durable. After all, leather is a very tough and hardwearing material. When it comes to appearance, they obviously have a handsome and luxurious look about them. Even if working out isn't about having shining kicks to show off to your gym buddies, it can be good to know you're still dressed decently when sweating and panting after a good session – because everything else about you sure isn't impressive. However, leather isn't as breathable as synthetic materials. It is breathable to some degree, but it's not as efficient as a mesh. In turn, it is not a good option for those who tend to have sweaty feet.
Value
The last criteria that we would like to share are regarding the price tag. Here's the deal, no consumer wants to spend above their budget on a good. So, when we were evaluating items, we really took into consideration a few different things when it comes to price. Primarily, we really wanted to focus on sharing brands and products that offered a blend of a good price tag with great value.
To do this, we actually started off the buying guide by scanning through a couple dozen different types of footwear. We looked at the price range and came up with an average or an estimated market value. This number was then used in choosing the best products. For example, we would look at a product and ask ourselves:
How is this priced in comparison to the estimated market price?
Does this product offer value equal to or greater than its price tag?
How does this compare to the other products we have selected?
Does the consumer receive more or less value from this than another brand?
No matter the type of good you are planning on purchasing, by asking questions like above, it can really help to ensure you are receiving your money's worth for a purchase.
10 Best Neutral Running Sneakers in 2020
Brooks is a popular choice amongst runners and the Ghost 11 does not disappoint. Having a mesh upper, rubber outsole, Omega Flex grooves, BioMoGo DNA midsole, and a segmented crash pad, these are loaded with great technologies. In other words, this pair is comfortable to wear while out on your run and have high performance in mind. Furthermore, these neutral running shoes are perfect for those who run long distances, as well.
This technology not only helps to retain your balance but, also, aids in providing the ultimate in comfortability. The segmented crash pad adjusts to each footfall, no matter the angle. As such, these provide ample security for your feet.
Flexibility is a must-have when considering great running shoes. These Ghost 10's give you that with Omega Flex Grooves technology in the forefoot. These are the reasons why we rated this model as the first choice of the best neutral running shoes on the market.
New Balance is another company with a reputation for affordable daily sneakers that, also, designs running shoes with specific runners in mind. The 99OV4 is intended for runners with neutral pronation and a need for a sold ankle cuff. They come in a range of colors and are the latest addition to New Balance's Made in the U.S. line.
Mesh has become a key material in modern running shoes, prized for its lightweight, and ability to let a foot breathe. Unfortunately, it is not particularly supportive, which is why New Balance neutral running shoes mixed the mesh with leather. The design combines breathability with the structure of the leather.
Running footwear can break down in the oddest places, one of which is the collar around the runner's ankle. With dual-density construction, the collar on the 99OV4 will last long past others.
3

. Adidas Performance Edge Lux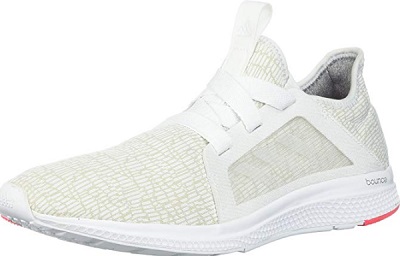 Some athletic designs have every bell and whistle mixed in. Others, like the Edge Lux, like to keep things simple. These neutral running shoes take the idea of a neutral runner to a new level. It offers a mild amount of arch support and a trademarked Bounce core to aid in absorbing shock during footfalls. Beyond that, it is designed for the runner who likes to keep things simple.
The Edge Lux weighs in at only eight ounces for a size seven shoe. A light shoe weight means less strain on the runner and allows for more foot flexibility and motion during runs or other forms of exercise.
Adidas used a very limited number of structural features when they designed the Edge Lux. Instead of heavier and more cumbersome options, they chose to use a snug sock-like construction that would comfortably hug a wearer's foot. Many reviews even claim that it can be used without laces, though this is not recommended for runners!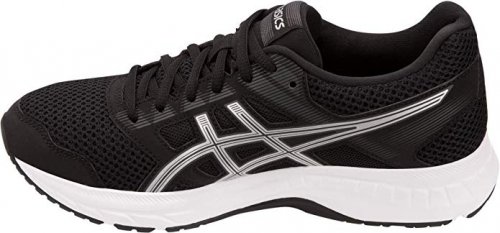 The Gel-Contend 5 is the latest iteration of the Gel-Contend line, featuring a breathable mesh upper, grippy rubber sole, a cushioned midsole and sleek design. An improvement from the Gel-Contend 4, the TRUSSTIC technology system in the 5 adds structure without weighing down the wearer. Very reasonably-priced and stylish, the Gel-Contend is perfect for running, jogging or simply wearing out-and-about.
The new midsole in this edition of the Gel-Contend is enhanced with Amplifoam, a special material the increases the durability of the midsole, while preserving the comfort, cushioning and flexibility of traditional midsoles. Midsoles are often the first thing to wear out when a shoe ages, so this helps you keep your favorite pair of Gel-Contends for longer!
Finally, the 5 maintains the amazing gel cushion in the heel of the shoe, leaving the wearer with less stress on the heel and less shock to the joints. The sockliner was revamped and now features moisture management technology called Ortholite, made by ATP Manufacturing. Overall, awesome neutral running shoes for an awesome price.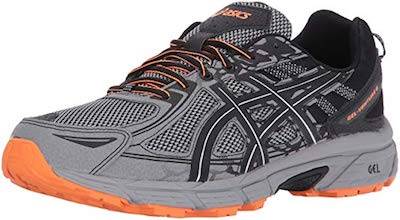 Having bright and supportive overlays, this footwear provides stability and flexibility at the same time. Furthermore, the GEL cushioning system gives you the shock-absorbent technology you need for a comfortable run. Multi-surface traction helps with easier transitioning from road to dirt and the outsole is trail-specific. This makes these perfect for both hard surface and trail running.
The upper gives you great breathability; thereby, giving you a wonderful and healthy environment for your feet while you run. Additionally, the mesh helps to provide decent flexibility, as well.
For those in need of orthotic support, a removable sockliner is in place. This makes these quite attractive, in terms of usability. Furthermore, the existing sockliner is decent in providing comfort.

6

. Nike Air Zoom Pegasus 35
If you haven't worn Nike's shoes that feature flymesh technology in the upper, you are missing out. The new Nike Air Zoom Pegasus 35 is one of the most comfortable running shoes for neutral walkers on the market today, thanks to Nike's legendary focus on design and technology.
The Pegasus 35, with dozens of cool colors, such as Floral and University Red, offers a breathable fabric upper, rubber sole for traction on any surface, and a Fitsole sock-liner that conforms to the shape of your foot. It's perfect for wearing to college or on the track, and the reflectivity of the heel supports neutral walkers throughout the gait cycle.
The Premium Cushlon foam in the midsole is strikingly comfortable and doesn't weigh down the wearer by adding excess weight to the shoe. Self-described by Nike as "incredibly snappy, both in appearance and performance," it will leave you feeling good and looking good.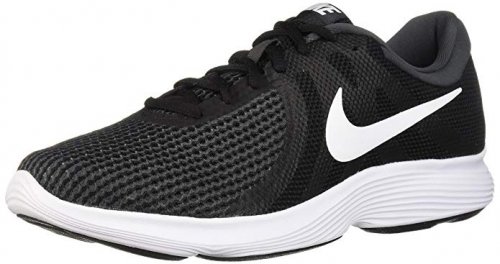 The Nike Revolution 4 is… well… revolutionary. With their lightweight, yet sturdy construction, you can have these runners for years and wear them for almost any sports activity. The shock absorption of the midsole is augmented by a soft foam material, while the rubber outsole offers traction and supports the wearer, even when making quick movements.
Like most Nike sneakers, the upper is mesh and highly breathable, meaning you won't have (super) stinky feet after playing your A-game. The ability to let moisture and heat out when in motion also means you won't find yourself with a nasty athlete's foot condition or blisters after a hard run, either.
At the middle of the road in terms of price, the Revolution 4 is a great option for someone looking for a fashionable, effective runner, but still want a bargain. The only thing to watch out for is that these Nike neutral running shoes only come in three color options, so if you want something unique, you may need to look elsewhere.

8

. Adidas Cloudfoam Vs City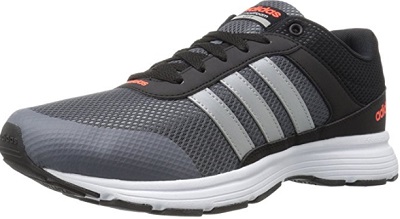 For those who enjoy pavement running, Cloudfoam Vs City from Adidas might be just what you are searching for. The traction of the rubber outsoles is perfect for road running and the Cloudfoam midsoles provide decent cushioning with this in mind. In other words, there is a chance you could feel as though you are walking on clouds, even though you are running across the pavement.
The upper is made to bring you flexibility and breathability; that is, your feet will remain cool while you burn up the road in comfort. Utilized in conjunction with the 3-strip overlays, this pair is durable, as well.
This midsole is designed specifically for the hard impacts of road running. With Cloudfoam technology at the helm, you can be certain your feet will feel great with each passing mile.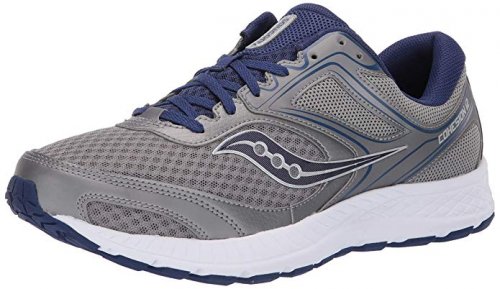 The Saucony Cohesion 12, like its predecessor, leaves the bells and whistles at the door and instead takes on a solid construction with features designed to help you do one thing: run farther and faster. The Cohesion is known for its durable construction and could endure at least one year of wear and tear from an avid runner.
The rubber sole is perfect for running on all sorts of terrain, from city streets to country roads. The traction offered by the Cohesion helps prevents twists, slips, and falls, and keeps you running upright. The pattern of the thread on the outsole augments the shoe's ability to grip any surface.
A tad more expensive than the average running shoe, these are still reasonably priced, when you consider what you're getting. Although not as attractive as a Nike or an ASICS, substance takes the cake over appearance with the Cohesion 12 Saucony neutral running shoes.

10

. Mizuno Wave Sayonara 4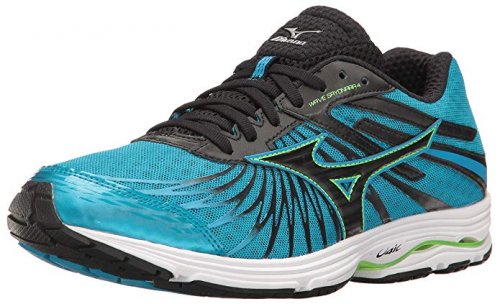 Say "sayonara, baby" to foot pain, injuries, and discomfort with the Mizuno Wave Sayonara 4. With proprietary technologies designed to enhance performance, responsiveness, and comfort of the runner, The Sayonara 4 is perfect for any neutral runner who, nonetheless, experiences pain from time to time after intense runs.
The lightweight construction of the Sayonara 4 doesn't detract from the durability of the running shoe, thanks to Mizuno Dyno motion technology. The three panels upper with a welded midfoot overlay preserves support and adds comfort for the wearer.
The new premium sock-liner is anatomically-designed, offering enhanced comfort and a better overall fit, no matter your foot shape. Bright, vibrant colors are available for those that want to make a fashion statement, whereas neutral and clean style varieties also exist for the more-muted wearer.

Subscribe to our Newsletter