Best Shoes for the Elderly Reviewed & Rated
last updated:
Mar 19, 2020
There are a number of things to consider when you are shopping for a pair of best walking shoes for seniors. You must take into account their illnesses, such as diabetes or chronic back pain, their foot support needs, and what kind of activity they will be participating in while wearing the shoes. To make this endeavor easier for you and to promote the foot health and overall well-being of the elderly, we have curated a list of the ten best shoes for the elderly.
In a Hurry? The test winner after 15 hrs of research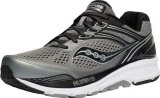 Saucony Echelon 7
Why is it better?
Built-In Sockliner
Plush Tongue & Collar
Mesh Uppers
FORMFIT Footbed
Good for Underpronation
Tri-Flex Outsole
In a
Hurry? Editors choice: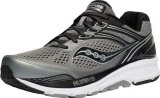 Test Winner: Saucony Echelon 7

18
Researched Sources
1278
Reviews Considered
15
Hours Researching
17
Products Evaluated
Protection
Shock Absorption
Support
Traction
Flexibility
By Default
Top 10 Shoes for the Elderly
Built-In Sockliner
Plush Tongue & Collar
Mesh Uppers
FORMFIT Footbed
Good for Underpronation
Tri-Flex Outsole
The Saucony Echelon 7 is a great road running shoe built with mesh uppers and an external heel counter to help keep your foot locked down. The plush tongue and collar help to secure and cushion your foot while the Tri-Flex Outsole promotes flexibility on ground contact from heel strike through to toe-off. They are also a great choice as shoes for old people.
The synthetic mesh upper of this shoe is designed to promote airflow to cool your feet. The mesh upper also helps with allowing water to drain out of the shoe.
The built-in sock liner offers a durable underfoot comfort while the FORMFIT contoured footbed adds, even more, cushioning and comfort to each step. With support for natural to under pronated strides, you know you're getting the best comfort possible. These are definitely the best sneakers for seniors on the market in 2020.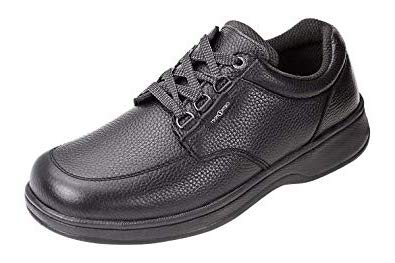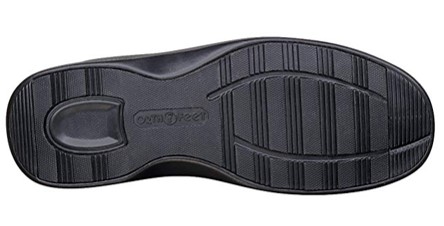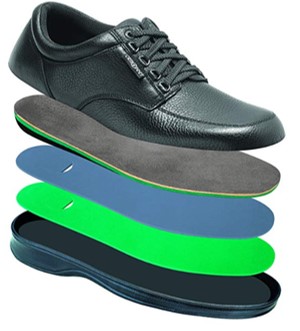 Rounded Toe
Extended Widths Available
Leather Upper
Ortho-Cushion System
Non-Binding
Wide Toe Box
Good Arch Support
Orthotic Support
Rubber Sole
This leather shoe is firm and supportive from forefoot to heel counter. The sole's rocker profile promotes natural foot motion and reduces shock from each footstrike. The Ortho-Cushion System with a lightweight sole and air cushioning helps to soften each step.
The Avery is great for those with sensitive feet and those who suffer from diabetes, neuropathy, and rheumatoid arthritis. They're great for foot, heel, metatarsal, knee, arch, and back pain. With added comfort features they are sure to be a favorite of those with injuries or pain points.
The Ortho-Cushion Systehin with a lightweight sole and air cushioning softens each step and even adds a spring to them. It is biomechanically engineered to help alleviate the stress on joints and help enhance stability. When wearing the Avery shoes, one of the best walking shoes for seniors on our list, you will feel like a brand-new person.
3

. Skechers Go Walk 4 Kindle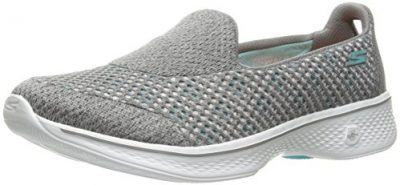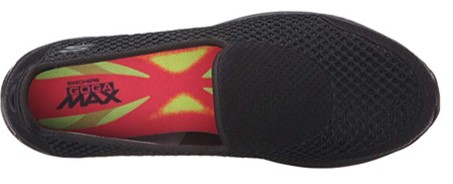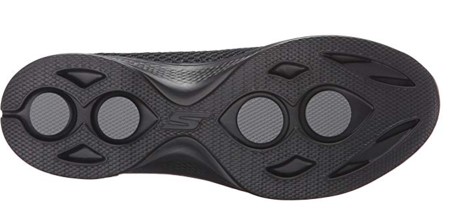 5GEN Midsole
Goga Max Footbed
Padded Mesh Upper
Rubber Sole
Wide Sizes Available
Poor Arch Support
Develops Odors
The Go Walk 4 Kindle is built with as few seams as possible, making it almost seamless. The mesh upper is breathable, which helps keep your feet cool and dry so you don't have to worry as much about the development of blisters. The upper is also lightly padded throughout, which promises to cushion your upper foot from light bumps. This is why we listed these as one of the best walking shoes for seniors and added it to our list.
Skechers uses its 5GEN midsole unit in this installment of its Go Walk series. It is a full-length foam unit wedged between the insole and outsole that provides responsive cushioning.
To add even more comfort in their Go Walk 4 Kindle, Skechers uses their Goga Max footbed as the insole for it. It is made of a responsive foam material.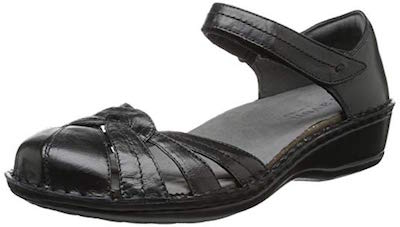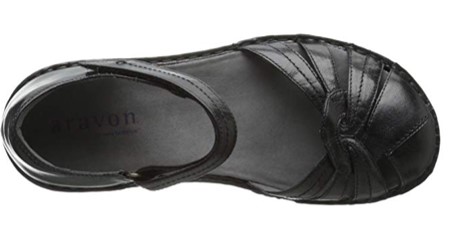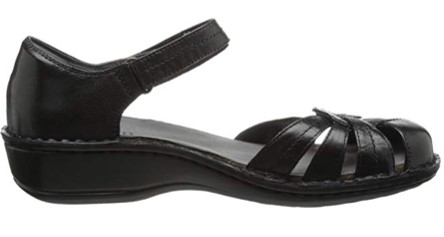 Genuine Leather Upper
Cork & EVA Footbed
Breathable Lining
1.5" Heel
Hook & Loop Strap
Unsuitable for Wide Feet
Stiff Strap
Anyone saying that aging comes with bulky and ugly shoes is completely wrong. While most style-oriented manufacturers often disregard features such as shock absorption and support, there are also those who cater to people of all ages seeking beautiful dressy footwear that feels good on the feet. The Clarissa by Aravon is a fisherman sandal with a partially closed toe section, open midfoot, and a secure strap that encases the heel and ankle, ensuring a proper fit. It's made in black brown and red leather and can be paired with a wide variety of outfits for almost any occasion.
One of the best things about genuine leather is its ability to completely adapt to the wearer's foot. The Clarissa shoes for elderly are made with several thin straps, so even those with bunions will find it non-constricting and comfortable, and the more it's worn, the better it will feel. Another advantage of leather over synthetic materials is that it's easy to care for, and can last for years.
With a footbed that's similar to what you'd find in a pair of Birkenstock sandals, Clarissa features an insole that's made by combining EVA foam and cork, providing a great mixture of support, shock absorption, and breathability. Thanks to being removable, it can easily be replaced with custom orthotics or taken out to clean every few months to ensure the best possible foot health.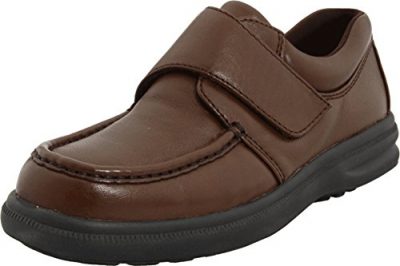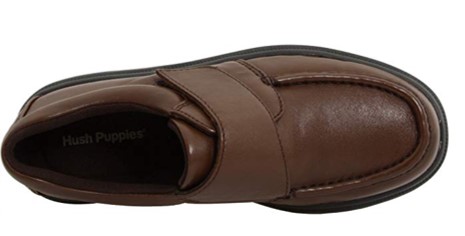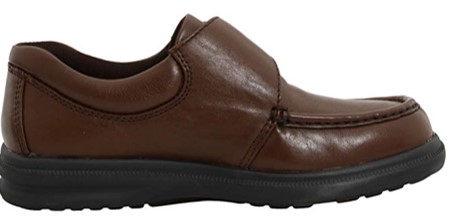 ZeroG Elon Midsole
Rubberlon Outsole
Leather Upper
Synthetic Sole
Removable EVA Footbed
Velcro Strap Closure
The Hush Puppies Gil shoes for old people isn't an eye-catching shoe, but it provides a number of essential safety and comfort features that can greatly improve your quality of life. The leather upper is firm so it can provide your foot and lower ankle with enough support to prevent ankle or foot rolling. The outsole is a slip-resistant material complete with slip-resistant grooves.
In the Gil, Hush Puppies combines ZeroG Technology with Elon foam technology to create an ultra-lightweight, responsive, and durable midsole cushioning system. This new midsole reduces foot and leg fatigue.
The Rubberlon outsole is made with a special rubber compound designed to provide support and shock-absorption. The Rubberlon outsole is also designed with a long groove pattern that improves traction. These are one of our favorite shoes for elderly men.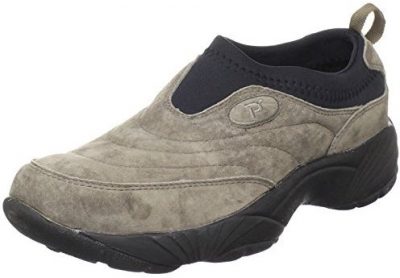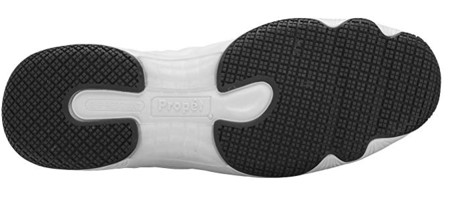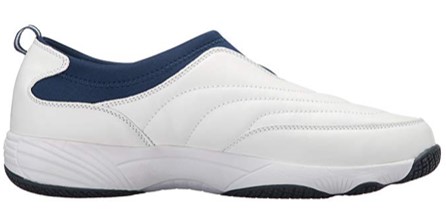 Internal Heel Counter
Padded Neoprene Collar
Leather Upper
Removable Insole
EVA Midsole
The Wash & Wear walking shoe is a great support shoe that is also easy to maintain. Its firm leather upper is both durable and supportive, which increases its lifespan and protects your feet at the same time. The EVA midsole unit is lightweight, which reduces foot and leg fatigue. The washable quilted upper won't ruin if exposed to water. Propet Wash & Wear is one of the best shoes for aging feet that you can purchase.
The firm internal heel counter used in this shoe is designed to provide support to help stabilize your step. It's a firm insert built into the back of the shoe.
The padding helps reduce painful rubbing and pressure on your upper foot and the neoprene collar stretches and flexes to make it easier to put on and to keep on.
7

. Propet TravelActiv Mary Jane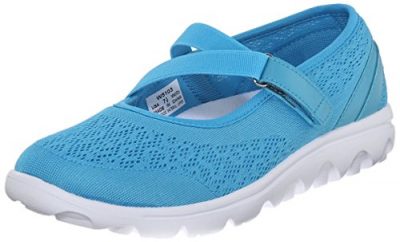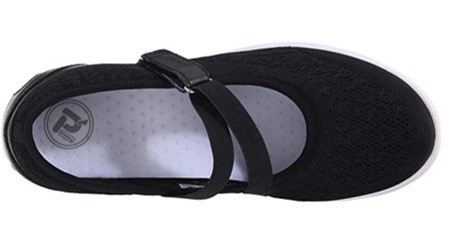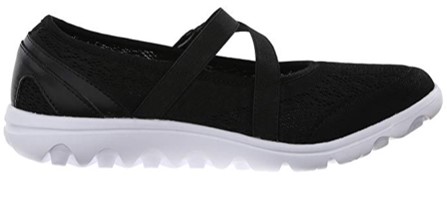 Mesh Upper
Removable Insole
Rubber Sole
Stretchy Asymmetrical Strap
Hook-&-Loop Closure
The TravelActiv Mary Jane shoe by Propet is a stylish walking shoe that is available in many beautiful colors. It's not just a pretty shoe, though. The Propet TravelActiv Mary Jane is built to be lightweight and flexible which reduces strain and absorbs more shock. The simple hook-and-loop closure and velcro strap make this shoe convenient and easy to use.
The breathable mesh upper on these best shoes for seniors serves three purposes. It cools your feet, helps dry your feet and reduce the development of odors, and flexes with your foot freely.
Sometimes when we get older, we have to use special orthotic insoles or inserts. The removable insole in this shoe means you can customize it to suit your health needs. That is why these are on our list of best walking shoes for elderly.
8

. Hush Puppies Power Walker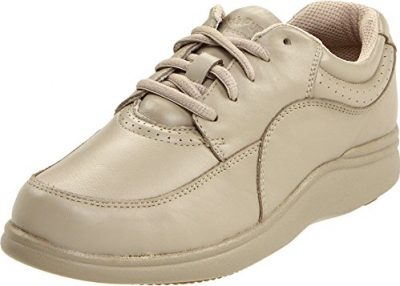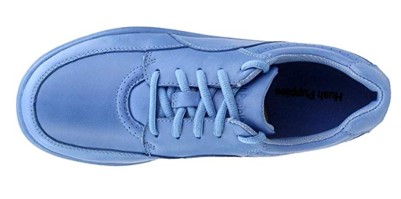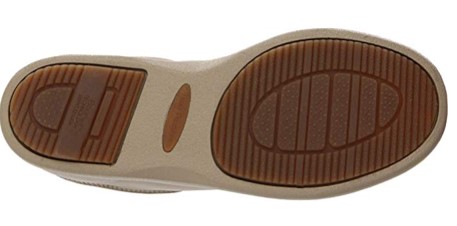 Bounce Technology
Ventilating Perforations
Removable Insole
Contoured Sole
Leather Upper
Padded Tongue and Collar
Poor Sole Attachment
Lacks Arch Support
This shoe comes in a variety of neutral colors so it is easy to find one that will go with your favorite outfit. The leather upper provides firm support and is more durable than mesh uppers. The Drilex moisture-wicking lining is used in the removable insole of this shoe, as well. The contoured sole improves shock-absorption in high-impact areas.
This lace-up shoe utilizes Hush Puppies Bounce Technology in the sole to promote more bounceback and better shock-absorption. This cushioning technology can help reduce foot and leg fatigue and discomfort.
These elderly shoes come with perforations in the upper which are strategically placed to promote airflow. The improved airflow keeps your feet dry, which in turn reduces foul odors and blisters.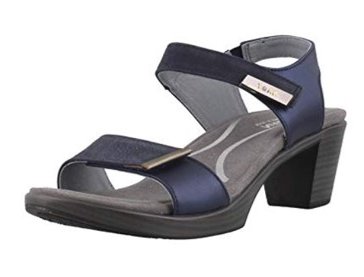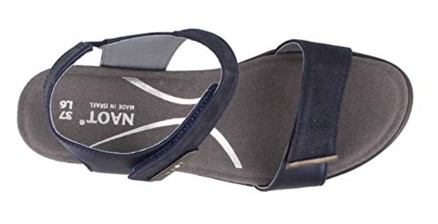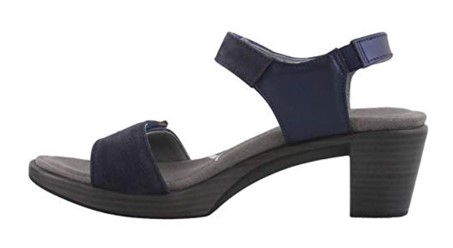 75Herringbone Tread Pattern
Removable Insole
Ventilating Perforations
Leather Upper
EVA Midsole
Padding
Medicaid Approved
Inconsistent Sizing
Very Firm
While many options on our list are made for comfort, we wanted to bring style and cushion into the spotlight with the NAOT Intact. A company backed by APMA, NAOT creates footwear that crosses fashionable style with comfortable structure and cushion, helping to keep you feeling good in your shoes. The Intact is a modest heeled sandal that can spruce up outfits for more formal occasions without being a nuisance to try and wear during longer events. With several options of color or upper material, it's a great little heel to have in your collection.
The Intact rises a modest 2.25 inches, which makes it perfect for formal events, but not over the top in height to hurt your feet. The sole is constructed from polyurethane and has a patterned traction tread to help keep you stable. A metal shank also helps to support your feet where they need it most, in the arch and throughout the heel. The footbed is designed from latex and cork, with a soft lining that gives it a plush on-foot feel.
Uppers of this heel is nubuck leather, and available in a variety of colors to compliment your favorite pieces in your wardrobe. Open toe in design, closures are found not just around the ankle straps, but also at the toe as hook and loop closures. This allows for not only easy access and use, but also adjustability for width, or any swelling. This is one option you can't go wrong with if you're looking for shoes for elderly women that are a bit more formal.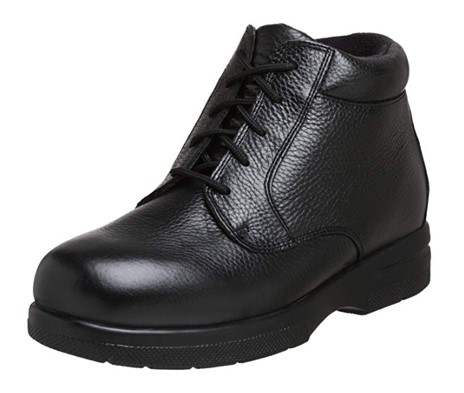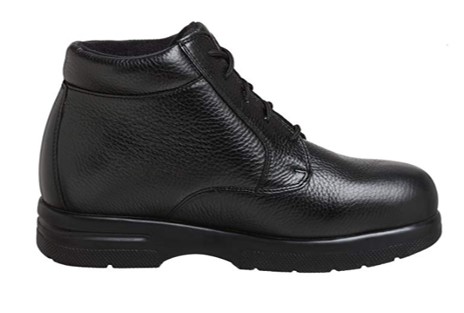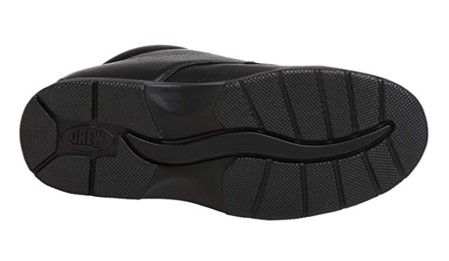 Air Cell Polyurethane Outsole
Contoured Footbed
Leather Upper
Ventilating Perforations
Synthetic Sole
Adjustable Straps
Buckle Closure
Lacks Support
The Drew Shoe brand is one that focuses its attention on making shoes for individuals with foot conditions. These old people shoes can range widely, but their mission is to make sure stylish shoes can be worn that function to alleviate foot ailments. The Tucson is a boot style shoe that boasts of rich leather, grainy in its texture, with several comfort features constructed inside to keep you happy. It's rugged appeal mixes with a rich luxurious style, sure to make any outfit a hit.
At the base of the Tucson is a synthetic sole, with pattern tread to help with traction and grip. A wider toe box creates enough room for any kind of swelling if experienced, while the heavily padded collar and tongue will keep your ankle and foot comfortable even when walking. Lace-up vamp secures a snug, yet adjustable fit and the leather uppers help keep this pair of boots durable for years to come.
The midsole of this boot has a steel shank, that helps to support the foot in all the right areas, including the arch. However, should you need something specific, the insole can be removed and allow for extra room for custom orthotics. Dri-Lex lining inside the Tucson helps to wick away any moisture or sweat during wear, allowing feet to stay cooler and drier. This pair can be suitable for not just casual walking or travel, but when paired with slacks, can make a handsome addition to a formal outfit.
Criteria Used for Evaluation


Protection
There are four primary safety feature categories: cushioning, support, traction, and flexibility. Shoe manufacturers have been able to create a plethora of different technologies to provide these essential safety features, so everyone can find a shoe that suits their personal needs. Cushioning and flexibility primarily provide shock-absorption and shock-dispersion while support and traction primarily focus on keeping the wearer steady on their feet to reduce the likelihood of falls. It is of the utmost importance to find a shoe that provides enough of each of these safety features to suit your needs or the needs of your elderly friend or relative without these features negating one another, as support features can sometimes negate cushioning and flexibility in shoes.
Ultimately, the amount of cushioning, support, traction, and flexibility that you need is something you must figure out for yourself. This guide will provide you with examples of safety features that provide each of the above categories. To ascertain if the shoe you are considering purchasing contains the safety features you want, you will need to do some research online or in the store.
As always, trying the shoe on is the best way to confirm that the shoe will meet your needs, but sometimes that simply isn't an option. Either the senior shoes aren't available at local shoe retailers or you or your elderly relative cannot get to the store to try on each of the candidates. There are many people who have already tried the shoes on this list and they have given it their stamp of approval which means you don't have to take as high of a risk when you are buying the shoe online.
Another thing you may want to consider in terms of safety and protection is the type of climate a certain model was made for. Summer and winter footwear vary greatly and require completely different aspects. We tried to include both footwear that would be appropriate in mildly cold temperatures, rain, and snow, as well as sandals more suited for summer wear, or that around the house. Do keep in mind that going outside in insufficiently insulated footwear in the cold can cause a number of health issues, not only related to the foot, but to the entire body. The same goes for hot shoes in summer, when we need breathable materials that'll allow proper air circulation and temperature management.


Shock Absorption
Shock-absorption is the first quality on this list because shock can result in pain and serious injury from your toes to your lower back. Let's take a moment to talk about shock. When you are driving a car, you are buckled in, the seats are relatively soft, and there are airbags that deploy in the event of an accident. If you are in an accident, you are jostled and shaken even though those safety features are in place to reduce the shock generated by wrecking your vehicle. If there were no cushioning features- i.e., the airbags and cushioned seats- any injury resulting from the accident would be much more severe.
Now think of your feet when you walk or run. Unlike with a car, which rolls smoothly until the driver stops the car or it is in an accident, your feet are constantly crashing against the ground. Some people have lighter footstrikes than others, but even they are affected by shock.
Biologically, feet were designed to absorb shock - that's why we have arches and why our feet look exactly the way they do. Unfortunately, when you are running at higher speeds or have heavier footstrikes, sometimes the shock-absorbing capabilities of your feet are insufficient and the shock travels up to your ankles, legs, hips, and lower back. Just like in the car accident scenario, your body is jolted and jarred with the force of impact, which results in fatigue, discomfort, and strain on your feet, legs, hips, and lower back.
This is where cushioning in shoes comes into play. Shoes are designed to protect your feet; that's why we wear them. Cushioning absorbs and disperses shock through the cushioning materials of the shoe, which reduces how much shock affects your feet and travels up your ankles and legs to your hips and back. Cushioning can be found throughout the entire shoe, but some shoes have less than others. Similarly, some people need less cushioning than others, so it's important to know what feels good on your feet and what doesn't.
Cushioning Features
So, how do shoe manufacturers build cushioning into their shoes? There are four locations in the shoe that can have cushioning features built into it: the upper, the insole, the midsole, and the outsole. Each one of these serves its own purpose and is strategically used in different shoes in different ways.
Upper: The upper of the shoe is the part of the shoe that wraps around your foot. The most common form of cushioning found in the upper of the shoe is padding. The padding can vary from shoe to shoe and it can be anything from simple fabric padding or air-pockets enclosed within the fabric and the outer material of the shoe. When looking for a shoe for yourself or an elderly relative or friend, you need to consider how much padding you need in the upper of the shoe.

Do you regularly bump your feet against things or do you have a very active lifestyle that means you go hiking or trail running? If so, you need a shoe with more padding to protect your feet from bumps and bruises. Many manufacturers use padding in the tongue and the collar, which protects the wearer's feet from painful rubbing by a firmer outer material, such as leather or a firm synthetic material. Wearing a shoe that doesn't have padding in the tongue and collar may result in abrasions and scrapes on your Achilles tendons, ankles, and the top of your foot.
Insole: The insole of a shoe is the part of the sole that touches your foot directly. It's also known as the insert or the footbed. The insole can be made with several different materials from foam to fabric padding to gel pockets. Even though this part of the sole touches your foot directly, it doesn't actually serve as major of a role in shock-absorption as the other parts of the sole! Nevertheless, the insole still needs to be considered. An insole that is too thin and offers little to no cushioning will not be able to protect your feet from shock, which in turn reduces the shock-absorbing effectiveness of the entire sole unit and, ultimately, the entire shoe.
Midsole: The midsole unit is the MVP of the sole. It's wedged between the insole and the outsole and generally serves multiple purposes, but one of the most important purposes that it serves as shock-absorption. Shoe manufacturers consistently use their best shock-absorbing shoe technologies in the midsole unit. Ethyl vinyl acetate, also known as EVA, and polyurethane foams are the most common midsole technologies, but they also come in the form of air pockets. Some shoe manufacturers even use more than one of these midsole technologies in their shoes, so it's good to look into what kind of midsole the shoe you are considering has.


Support
Support is just important of a factor to consider as cushioning is. Unfortunately, as we age, we sometimes find ourselves a little unsteady on our feet. Hence, support is extremely important in shoes for senior citizens.
As we walk or run, our feet naturally rotate slightly around the ankle. This natural movement is broken into two categories: pronation and supination. Pronation is the natural inward rolling of your foot as you roll your foot from heel to toe. As you push off the ground with your forefoot, your foot rolls outward while you bring your heel around for the footstrike. This outward rolling of your foot is called supination.
People who have normal pronation and supination- a fifteen-degree roll inward and outward- usually don't have as many problems with shock-absorption and stability, because their feet are more efficient at absorbing shock and maintaining balance. Unfortunately, many of us don't have normal pronation and supination.
Overpronation occurs when your foot naturally rolls inward too much and usually comes with hyposupination when your foot does not roll outward enough to compensate for the overpronation. Underpronation occurs when your foot doesn't roll inward enough and usually comes with hypersupination, which is when your foot rolls outward too much.
People who have pronation and supination problems generally have arch and heel pain and can develop serious medical conditions, such as plantar fasciitis. As the ability of the foot to absorb shock and to maintain balance is also reduced by pronation and supination problems, these problems can also result in additional strain and shock affecting the foot, ankle, leg, hips, and lower back. The foot's weakened ability to maintain balance can also result in rolling a foot or an ankle, which can result in a serious fall and injury.
Support Features
Fortunately, shoe manufacturers have invested time and money into researching and creating new shoe technologies that help promote your stability by supporting your feet in the areas that need it most. Support features can be built into the upper, midsole, and outsole of the shoe and it is important to consider each of these regions when making a selection.
Upper: The upper, as mentioned above, can be padded for shock-absorption and comfort. However, the upper also plays a vital role in maintaining your balance and supporting your feet. Most of the shoes on this list of great shoes for the elderly have firm leather or synthetic uppers. These uppers reduce your risk of rolling a foot and sometimes for rolling an ankle if the upper comes up high enough. Some of the shoes on this list combine breathable mesh uppers with synthetic or leather overlays that give the shoe a sort of exoskeleton that helps support your foot. These shoes can be quite effective, but the best supportive uppers for the elderly are more firm leather or synthetic materials than mesh. In the back of the shoe is the heel counter. The heel counter is a firm insert that helps make the shoe firm and supportive, often reducing your risk for injurious falls. As the heel counter is hard and thin, it can scratch your Achilles tendons, so shoes with at least a little padding and a soft lining around the upper can reduce your risk of scratches and abrasions on your ankles, Achilles tendons, and lower foot.
Full-Foot Supports: Sometimes, shoe manufacturers use firmer foams as the cushioning in the midsole. The firmer midsole foam acts as both shock-absorbing foam and as support. Like a mattress, not everyone is satisfied with the same amount of cushion and support. The more firm that midsole unit is, the better the support. For people with pronation and supination problems, shoe manufacturers created full-length foam wedges to use in the midsole. The most commonly taper off to one side to correct overpronation problems. However, foam units aren't the only means of full-foot support that shoe manufacturers use. They also use full-foot length shanks made of thermoplastic polyurethane, wood, plastic, or steel, depending on the type of shoe you are looking to invest in. Thermoplastic polyurethane, or TPU, shanks are the most common as they are more flexible than steel and firmer than just plastic. It absorbs shock and helps to stabilize your gait.
Arch Supports: Arch supports can come in the form of foam wedges, air pockets, or midfoot support shanks- all of which are found beneath the arch. Arch supports are especially important for people with high arches and for people with pronation and supination problems.
Heel Supports: For people with heel and back pain, heel support features can really make an impact. Commonly, heel cups, extra-depth uppers, and supportive rings with cushioning are used to produce a supportive effect which often also helps absorb shock. Heel cups are a solid piece of a firm substance that is used to cup the heel and provide it with support. Supportive heel rings serve a similar purpose, but these firm units are rings that are filled with powerful cushioning materials to increase the shock-absorption as well as the wearer's stability. Extra-depth uppers create a more comfortable environment for your heel because the heel and Achilles tendon won't be rubbed abrasively by the heel counter. One more key detail to consider heel supports is the heel height. It's shocking, but a shoe that is completely flat and level, even on a platform, can be just as uncomfortable as a high heel shoe. The key is to find a wide, low, and dense heel like that which is found on each of the shoes on this list. A slightly raised heel can also help reduce strain on the foot and legs, which reduces foot fatigue.
Outsole: The outsole is best known for providing traction and grip to reduce your risk of falling. However, just as it can with shock-absorption, the outsole can also be designed to support your whole foot or specific areas of your foot that need it most. Nearly every major shoe manufacturer has their own outsole technologies utilizing shanks, firm materials in the outsole, interlocking outsole units, and supportive tread design. For support, however, we will focus on the outsole material and support specific outsole technologies that are most commonly found in shoes.
Outsole Material: The most supportive outsole materials are leather, rubber, and firm synthetics. However, as we have already discussed, leather does not absorb shock well, so it would be best to eliminate any shoe with a leather outsole from the running. It should be noted, however, that the leather outsole can be more supportive than rubber or synthetics. If grip and cushioning are not major concerns of yours, then the leather outsole may serve your needs better than rubber and synthetics could.
Outsole Pattern: The outsole pattern varies by manufacturer and within each brand, the outsole also varies from model to model of shoe. The biggest thing you should consider for the outsole pattern when evaluating it for supportive benefits is the location of the firmest parts of the outsole. Some shoes come with an under-arch support beam built into the outsole rather than the midsole to save the midsole unit for cushioning, for example. These shoes often have an asymmetrical groove pattern that connects different areas of the outsole to the rest. This is most common in interlocking outsole parts. When you look on the bottom of the shoe, if there are pieces of rubber or synthetic material that are a different color and shape than the rest of the outsole of the shoe, then that means the outsole uses two or more different compounds to provide you with the best support and shock-absorption.
Supportive Air Cushioning: Some outsoles have dense air pockets or small support springs built into them. These pockets and springs are great for shock-absorption, but they can also provide excellent support. The dense air pockets raise your heel to provide more support, as do the support springs and beams.
Shanks: Shanks in the best casual shoes are usually made of hardened polyurethane. They can be found solely in the heel, solely in the midfoot, or across the entire foot as a full-length shank. They help provide support where you need it.


Traction
Another important detail to consider is the shoe's ability to grip the ground. You need traction both to propel yourself forward and to stabilize your step and help you travel safely. The primary way that manufacturers provide traction is by using effective groove patterns that help the shoe grip the ground.
The most effective groove patterns are deeper than others and extend to the very edges of the outsole. This second part is extra important. The grooves in your sole that help your shoes grip the ground are utterly useless in wet conditions if they do not extend all the way to the edges of the shoe. To illustrate why this is important, consider the car analogy we used earlier about shock. Now, picture yourself driving a car across half an inch or more of water.
Odds are, you're going to hydroplane, which happens when the car floats a bit on the water and the water separates tires from the road, which makes their treads useless for maintaining balance. The same thing is true for your shoes. If you walk in the water and the treads on the bottom of your shoes don't allow water to escape, it will fill the grooves and then you slip.
The specific outsole pattern will vary by manufacturer and shoe model, but by and large, the pattern doesn't explicitly matter, as long as the grooves are neither too deep nor too shallow, neither too wide nor too thin, and at least some of the grooves extend to the very edge of the outsole.


Flexibility
Flexibility, as mentioned above, deals mainly with absorbing and dispersing shock. This prevents your risk of running-related injuries. The best shoes for elderly come with flexible uppers and flexible soles. There are a number of ways that manufacturers promote flexibility, but it is important to make sure that the shoe isn't so flexible that it has no support.
Flexible Uppers: The most common type of flexible upper material is a breathable mesh. Other materials, such as neoprene, fabric, and canvas are also very flexible, but these materials can be hot and stuffy. Most shoes for the elderly focus on being supportive and firm, but manufacturers know that people need flexibility, too. That's why most manufacturers combine flexible mesh materials with supportive overlays. This allows the shoe to flex and bend with the foot naturally without losing control. It also supports the foot without becoming hard and unforgiving.
Flexible Outsoles: The best outsoles for support and cushioning are made with rubber or synthetic materials. Unfortunately, these materials can be firm and thick and, unfortunately, the inflexibility of the shoe can negate all of the shock-absorbing qualities of the entire sole. This is because, just as the people inside the car get jostled by an impact, an inflexible object will snap under pressure rather than bending and dispersing the shock.
To further help the shoe absorb and disperse shock, manufacturers have developed special flex grooves to help the shoe bend naturally with your foot. However, too many flex grooves can reduce the support that the shoe offers and flex grooves that are too deep can, as well. So, look for a balance of firmness and flexibility, because this can really impact your comfort as well as your health.
Expert Interviews & Opinions
Most Important Criteria
(According to our experts opinion)
Experts Opinion
Editors Opinion
Users Opinion
By Default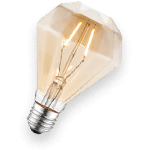 Foot Health As We Age
As we age, our feet are just like any other part of us, and age with us. Tendons and ligaments in the foot start to lose strength, causing our arches to flatten. It's important to find supportive footwear that can help support aging feet to keep mobility possible. When selecting your next pair, choose something with proper supportive features for the arch, but also something comfortable with room to accommodate your feet.
Other Factors to Consider


Comfort
Comfort features, for the purposes of this guide, are defined as features that aren't absolutely essential in shoes for the elderly but can increase the overall comfort of the wearer. The two major comfort feature categories we are going to discuss here are temperature management and odor control. These comfort features are also closely linked. For example, most temperature management features on shoes can help reduce or prevent odor development. However, not all odor control features will help manage the temperature inside the shoe, so bear that in mind.
Temperature Management
Temperature management is an important comfort feature because no one wants to walk or run in hot, stinky, wet socks and shoes. Also, people who live in colder climates need shoes that insulate their feet from the cold. Shoes that keep your feet cool and dry are not only more comfortable to wear, but they also reduce the occurrence of blisters and sores resulting from painful rubbing.
Breathability:
This is the primary type of temperature management that manufacturers use and it's usually in the form of a mesh being used in part or all of the upper. That's because meshes are designed like little nets that wrap around your feet and air can flow straight through the little holes, which cools and dries your feet. However, there is another common technology that manufacturers use to promote the breathability of the shoe: ventilating perforations. Ventilating perforations can take the form of a bunch of small holes in the firm leather or synthetic upper of a shoe, or in the form of a couple of larger holes strategically positioned to allow air to pass through.
Moisture-Wicking: 
A material that wicks moisture away sheds water easily. It's another great way that shoe manufacturers control the temperature inside your shoe. Breathable meshes also usually shed water easily, but moisture-wicking materials are usually treated with some type of chemical that repels water. If you were to purchase a can of weatherproofing or waterproofing spray for your shoes, you would be coating them with a chemical that repels water.
Some manufacturers do this for you ahead of time. Moisture-wicking materials in shoes are commonly found on the outside of the upper and in the insole. The outside layer of moisture-wicking materials prevents water from getting into the shoe in the first place, which keeps your feet drier. However, insoles that repel water helps move the sweat and moisture inside your shoes to the edges of the upper. There, the moisture can be pulled out with the air that flows in and out of the shoe via a mesh or ventilating perforations.
Odor Control
Stinky shoes are no fun. They can stink up your house and your socks and your feet. However, shoes with good temperature management and odor control can help prevent and reduce odor development. Both breathability and moisture-wicking materials can help with this, but there are also pre-treated insoles that are designed to freshen and reduce the development of odors.
These insoles are commonly made with the usual cushioning materials but are coated with an antimicrobial or antibacterial compound. The antimicrobial properties combat the development of fungi while the antibacterial compound reduces the growth of bacteria in the shoe. Fungi and bacteria are generally the sources of foul odors in shoes.


Value
Ultimately, the best shoes are cost-effective and give you great value for your money. Most of us cannot afford to go buy a new pair of shoes every couple of months, so it's important to consider the cost-effectiveness of the shoes you are considering investing in. There are three qualities in a shoe that determine its cost-effectiveness: durability, customizability, and price. Of course, all the categories discussed thus far also impact the overall cost-effectiveness of shoes, so keep those in mind, as well.
Durability:
You need a shoe that is going to last. A shoe isn't cost-effective if it falls apart after a few weeks of normal wear. Shoes with leather or synthetic uppers are usually more durable than plain mesh shoes. However, supportive leather or synthetic overlays combined with meshes can produce a durable shoe that combines flexibility and support with durability.
Customizability:
Customizability is important for just about everyone, regardless of age. However, the elderly are more likely to require custom orthotic inserts to use in their shoes that are designed to meet their specific needs. Shoes with removable insoles allow the wearer to customize the shoe by replacing the original insole with a custom one. Removable insoles also give you the opportunity to potentially double the lifespan of your shoes.
Here's how that works: cushioning and support features in an insole will wear down over time, losing their shock-absorbing and supportive properties.  Sometimes, the outsole and midsole won't wear down as quickly as the insole does, because outsole materials are typically designed to be more durable and the midsole unit is protected by the insole and outsole, which extends its lifespan. Removable insoles allow you to replace the old and worn-out insole and replace it with a new one and there are many insoles out there to consider!
Price:
The actual price of the shoe is another major factor to consider. Many of the elderly are living on a fixed income which is often not very large. They have to make good investments with every bit of their money to make it last. Many of the shoes on this list are available in low, middle, and upper price ranges. However, when you lower the price of a shoe, sometimes the number of shoe technologies used in the shoe can decrease.
Sometimes, to get a good shoe for an affordable price, you have to choose more support or more cushioning, and so on. Ultimately, you have to decide what your personal shoe needs are and what characteristics you can afford healthwise to sacrifice and what characteristics you cannot give up for a more affordable shoe.


Style
The one thing you probably noticed when it comes to this particular market is that most models are made with various comfort features, but often disregard style and versatility. And although the elderly may spend more time at home, they should be able to dress up and enjoy themselves just as much as anyone else. Whether it's an outing to a formal restaurant, a night at the theatre or a three-week long tour of Europe, there's a different type of shoe for all of these occasions.
When making our choices of the best possible options, we paid more attention to support, cushioning, flexibility and traction - the aspects needed to provide a comfortable, pain-free experience that won't result in unwanted injuries. But we also tried to include styles which would be appropriate for more dressed up environments. There are even those models which were made with foot health in mind, but don't show it at all, making them a popular choice among young people and athletes who want to get the best of both worlds.
If you're after something that will be worn at home, in the garden, or for very casual outings, then you may even decide to go with a softer, textile or synthetic upper that's going to be more lightweight (causing much less fatigue) and will provide better breathability. But, if you need something that can be worn in a variety of situations, or that'll be appropriate in colder climates, definitely try to go with a leather style. It'll not only look polished, but is also easy to keep clean, and can provide much-needed insulation or even water protection.


Bottom Line
Shopping for shoes for yourself or an elderly relative or friend doesn't have to be difficult. There are many great shoes out there that utilize innovative new technologies to make shoes more comfortable and supportive. It's not as daunting of a search as it used to be!
Some major details to consider when you are shopping for comfortable shoes for elderly friends or relatives are the type of upper, the amount of cushioning, how much support it has, and how flexible it is. As a rule of thumb, leather uppers or mesh uppers with supportive leather overlays are best, because they provide more support than mesh or fabric alone. Shoes with a low heel or a tapered effect from heel to toe are also best because they reduce strain on the foot, ankle, and legs, which in turn reduces strain on the lower back.
Be sure to take the time to try on the shoes before you buy them if it is at all possible. If it isn't possible to try them on, check the reviews on different sites that sell the shoes you are considering to confirm that they have the support, cushioning, and grip that you need.
Frequently Asked Questions
q:

Are the brands listed in this guide the only shoes that are good for the elderly?

a:

No. The shoes that made it onto this list are the very best shoes based on our criteria for evaluation. There are many other shoe brands and styles that are also good for the elderly. Orthofeet and Vionic are two other popular brands that develop good shoes for the elderly.
q:

What are the primary characteristics that make a shoe good for an elderly person?

a:

The primary characteristics that make a shoe good for an elderly person would be cushioning, support, traction or grip, and flexibility. These four characteristics are the most essential for finding a good shoe for an elderly person, as these are safety features that greatly impact your health.
q:

Are all shoes for the elderly ugly?

a:

No! There are plenty of nice-looking shoes that fit the criteria listed above that would suit the needs of an elderly person. There are lovely dress shoes, work shoes, and bedroom shoes that are all great for the elderly. The shoes on this list are simply the very best senior citizen shoes available.
Subscribe to our Newsletter