Best Walking Shoes Reviewed & Rated
In a Hurry? Editors choice: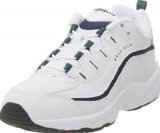 Test Winner: Easy Spirit Romy

Whether you walk for work, leisure or sports, the right type of walking shoes will ensure that you remain not just comfortable, but also pain and injury-free. Despite its many positive effects when it comes to promoting cardiovascular and pulmonary health, improving muscle mass and balance, and decreasing the likelihood of developing high blood pressure, walking can also take its toll on your body, especially if you're someone who tends to overdo it. However, you can avoid most joint, muscle or back pain, as well as more serious issues by choosing the right pair of shoes for walking to wear.
Standout Picks
Criteria Used for Evaluation
10 Best Walking Shoes for Women and Men
1

. Skechers Flex Appeal 2.0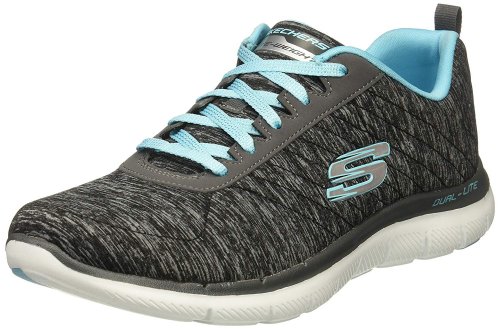 The Skechers Flex Appeal 2.0, is made for those who love to walk a lot. Made from a knit fabric with a rubber sole, it has a lace-up front, seam stitching, and a nice cushioned sole and flexible. They look more casual than your typical athletic shoes so if you're not a fan of athletic wear then you'll love these shoes for walking.
The Flex Appeal 2.0 best Skechers for walking has flexible rubber outsoles that both support and stabilize your natural walking motion. The soft knit fabric fits your foot nicely, almost making it like you're wearing nothing.
The rubber outsole provides excellent traction on a variety of surfaces you may need to grip, from city streets to slightly more turbulent terrain.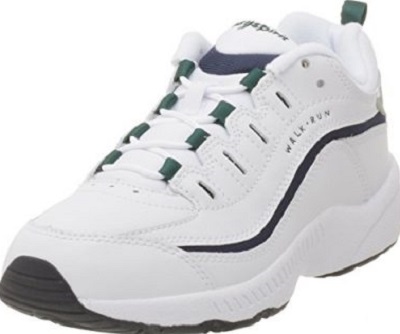 The Easy Spirit Romy shoes aren't designed just for walking but their extra cushioning and extremely padded construction make them ideal for the activity. For use in moderate athletic activities like at the gym or at a spin class, they provide the support you need to keep your energy high and your feet feeling fatigue-free. These are the perfect shoe for errand running, long field trips involving lots of sightseeing, and/or meeting up with friends for a speed walk to catch up around your neighborhood. Never feel foot pain from mowing your lawn again!
The Easy Spirit Romy has a rubber sole that's extra flexible; allowing for a full range of motion from heel to toe. Because the shoe is comprised of leather and mesh fabric uppers, it gently but firmly grips your foot. The extra padded collar and tongue give your ankles even more of that same comfortable stability. It, also, has a cushioned sockliner for extra support.
Because these comfortable walking shoes are hybrid designed, it can be used for walking trails; as well as, more involved athletic activities. Its thick rubber sole is ideal for never letting your feet feel the ground beneath you and would, also, be perfect for anything involving a stationary position like cycling or lifting weights at the gym. However, the thicker rubber sole isn't as dependable for shock absorption and alleviating joint pain.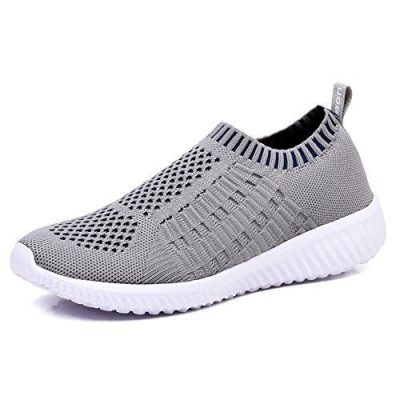 The Tiosebon Mesh is made to be lightweight, breathable, and comfortable. Created with 'green' in mind, these shoes are made for those who care about a healthier environment, especially, their feet. Furthermore, these walking shoes are unique in their aesthetic design and might be the talk of those around you.
The Tiosebon Mesh does comfort like no other model on this list. It utilizes a 'green' approach through implementing a pigskin insole which promotes comfortability. In addition, this insole allows these shoes to remain lighter; thereby, reducing fatigue levels.
A mesh upper promotes breathability thus, allowing your feet to sweat less, remain cool, and stay fresher while you enjoy your walking activity. Furthermore, the mesh upper has a wonderful aesthetic appeal to it. Other advantages of this shoe include the fact that it will easily mold to most foot shapes.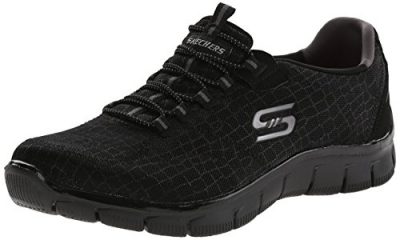 Considering the fact that Skechers is a reliable brand that makes a wide variety of high quality and comfortable shoes, it comes as no surprise that this list includes at least one of their models. The Empire Rock is a lace-up style made to work as a slip-on, which makes them unique compared to the other models featured. Their lightweight feel and flexibility make them both comfortable and highly maneuverable which makes them one of the best Skechers walking shoes.
Along with being a great fit, the Sports Empire Rock boasts of memory foam inlay midsoles; perfect for being on your feet for extended periods. The slope of the collar is designed to fit just below your ankle bone so as not to rub or chafe. The sole is, also, thick enough to be shock-absorbing, and even provide some durable traction with grooves that flex as your heel strikes the ground and rolls up onto the pads of your feet.
The Skechers Sport Empire Rock comes in a variety of colors and stylings. This enables you to wear it with a range of outfits and for different occasions. By giving it a smart, sophisticated shape and slip-on method, it doesn't telegraph as a fitness shoe.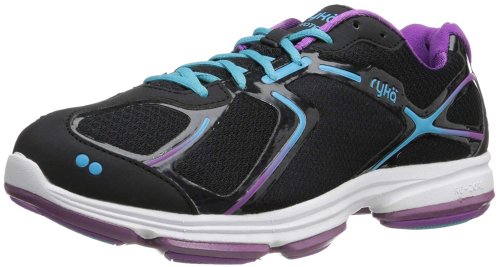 One of the more traditional models on this list, the Ryka Devotion brings together all of the features of an athletic shoe with the added cushion and comfort of a pair of shoes made for walking. Like an athletic shoe, it is constructed of a combination of fabric mesh uppers and leather overlays; making it both breathable and durable. Furthermore, it has a padded tongue and collar.
The Ryka Devotion has a shock-absorbing molded RE-ZORB cushioned foam midsole; making them impact-resistant and kind on your joints. Their flexible, rubber outsole allows for a full range of motion while a biomechanical removable orthotic has antibacterial treatments to make sure your feet stay cool, dry, and itch-free.
These comfortable walking shoes for women have a padded tongue and collar as well as a lace-up design and grippy rubber outsole. The addition of the removable precision-return footbed gives you even more comfort and protection.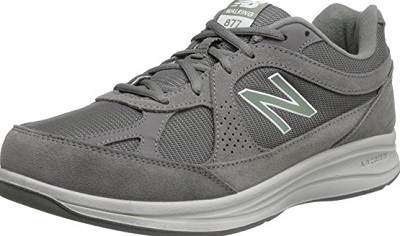 The New Balance 877 is just one of the brands many footwear options that go beyond athletic use. Made with a mesh upper, the 877 is highly breathable, providing your feet with a drier environment. Furthermore, they have been created to bring you comfort with a foam-padded collar and tongue. In addition, a rubber outsole is in place which promotes greater traction; thereby, reducing the chance for slipping.
This midsole allows your feet to walk in comfort; providing the right range of both cushioning and shock absorbency. Comfortable feet means you have the chance for less fatigue; thus, allowing you to walk a little further than ever before.
The mesh upper provides breathability. When your feet can breathe, they are less likely to sweat. This promotes greater foot health, as your feet will be less prone to foot odor and bacterium associated with such nuisances.

7

. Brooks Addiction Walker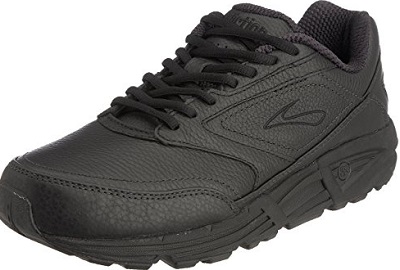 Brooks is a pretty heavy hitter in the market of comfortable, contemporary everyday walking footwear and the Addiction Walker is no different. A lot of attention to detail and care has gone into the development of this model - everything from eliminating overpronation to including a sock liner and adding a dual-density post for extra arch support along with the midsole.
Brooks has spared no expense in loading its Addiction Walker up with support for low arches, overpronation, and Hydroflow technology that enhances the midsole cushioning. Gel-like fluid units under the heel and forefoot not only give superior shock absorption but, also, give amazing padding and cushion. A full-length MoGo midsole gives you that extra-added support you need for energy recovery, as you're on your feet for an extended period of time.
Brooks has a patented Extended Progressive Diagonal Rollbar that provides a dual-density post at the medial arch which permits full and progressive pronation control. The MC Pod Configuration sets up your foot in the ideal, ergonomic placement along with the midsole and insole. In other words, when your foot rolls through its complete field of motion, it is well-supported from the first heel strike. The outsole is a durable HPR Green construction that is a silica-based and environmental-friendly compound that affords you wet-dry traction for optimal skid resistance.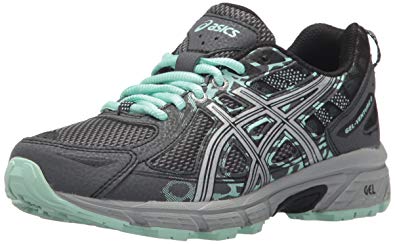 The new and improved Gel-Venture 6 comes with a midsole and upper that has been completely redesigned from the previous model. With terrific shock absorption, you can complete any trail with confidence. The outsole is rugged with multi-directional lugs for traction that'll boost any run you partake in. Also, the toe bumper is stitched down for a smart fit and the durable materials (synthetic) provide protection and comfort.
The sockliner of the Venture 6 is in place to give you a soft fit that conforms to your feet. However, you may need a little more. Therefore, the liner is removable allowing you to use any line of your choosing. Medical orthotics are great to use in Venture 6. To top it off, it falls on the lower end of pricing which is great for runners on a budget or beginning runners. The features, while very basic, are not low in quality and will give you what you need for a great traction run.
The cushioning system is constructed with a gel and is placed in the rear foot. This helps to reduce and evenly spread any shock received from an impact. You'll have a transition to midstance that is smooth.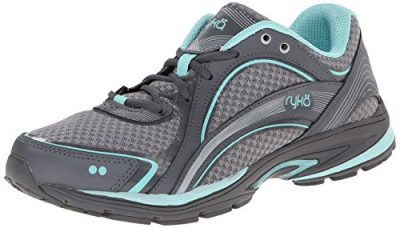 Don't let its slick sporty outlines fool you. This is a shoe made for those who love or need to walk; albeit, it may look like shoes for running in appearance. It has all the best features of a powerful athletic shoe. It, also, has good breathability and comfort while not skimping on traction or flexibility, because walking can mean serious business. The Ryka Sky is perfect for those that want to convey to the world that they're a person of purpose because these shoes for walking will, definitely, get you where you need to go with superior-performance standards.
The Ryka Sky is a very lightweight, breathable shoe. It has fabric mesh construction with thin rubber and leather overlays; making it both highly wearable and durable. Their well-cushioned, molded EVA midsoles give excellent arch support with very little break-in time required. These are the premium choice for when you want a shoe purely for comfort and ease of movement.
Primarily designed with dedicated fitness walkers in mind, the Ryka Sky is easy to slip-on when errands need doing. Even if your socks slip below your ankles, you won't feel the rub from these walking shoes because of their excellent padding. The memory foam inlay means that even after walking several miles, your foot fatigue will be almost nonexistent. Furthermore, the grip from the soles is thick enough to not wear down in excess over time.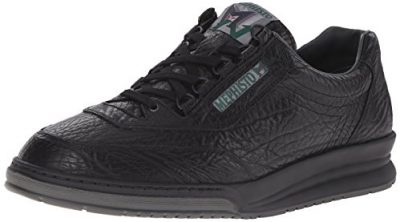 When it comes to low profile and unassuming walking shoes for men that you can wear anywhere, the Mephisto Match is one of the best. Like other items on this list, it is a basic lace-up oxford that, because of its streamlined look and simple lines, doesn't come across as a pair of athletic footwear. You can have all the comfort of an orthopedic piece of footwear while not sacrificing the rest of your look in the process. You'll look put-together and, because you're comfortable, feel relaxed and confident.
Soft-Air technology and a Caoutchouc rubber sole provide the wearer comfort and support, while the leather upper gives you durability and a refined aesthetic. Mephisto recommends measuring both your feet, as one is often slightly bigger than the other. They further recommend measuring them at the end of the day, as your feet swell from the first time you put on a pair of shoes until you take them off. Knowing your dimensions can help you get the maximum level of comfort out of your footwear.
The Mephisto Match has a D-ring lace-up front; allowing it to accommodate larger socks if need be and be customized to the wearer's preference on fit. The Soft-Air Technology and Caoutchouc rubber soles make them comparable to other best mens walking shoes features designed to absorb impact and help with joint pain; as well as, provide excellent support and traction.

Subscribe to our Newsletter