Best Shoes for Swollen Feet & Ankles Reviewed
In a Hurry? Editors choice:

Test Winner: Clarks Breeze Sea Flip-Flop

Swelling in the feet and ankles also called edema, is a problem that a huge percentage of the adult population faces. With numbers stating that up to 40-50% of Americans suffer from the condition, shoe manufacturers are working extra hard to provide footwear that can address these issues and offer
much-needed comfort
and relief. You will notice that the products listed in this buying guide differ significantly in design, support, and features, and this is mostly because your top priority when choosing a pair of
shoes for swollen feet
is to make sure that they are comfortable.
Standout Picks
Criteria Used for Evaluation
Materials
The most important thing you have to do if you have swollen feet is to treat them well, which includes comfortable shoes. Now, the size of a pair of footwear can be readily determined based on the length and width of your feet, but what makes footwear really comfortable or just ill-fitting is the shape and material of the portion that covers your entire foot. This is why it's crucial to choose a shoe that is made out of soft materials that won't constrict, and that will, ideally, allow for some stretch to accommodate the unique needs of your feet. Luckily, you can choose from a variety of materials for the upper, and find the perfect fit just for you.
Leather is one of the most popular materials used to make shoes and has been for a long time. It's an excellent choice because it is durable, and can be treated in various ways to achieve different properties. But what makes it a good choice for you is that it is elastic, breathable and soft to the touch, which allows your swollen feet to expand as needed. Now, the harder the leather, the less elasticity it will have, so make sure to choose a model which is made out of top grain leather which is softer than full grain. Suede and nubuck are an excellent choice seeing that these materials will stretch with time and wear, and will mold to your feet. The downside is that they need to be treated with unique products to achieve water repelling properties, as well as to keep dirt away.
Canvas is another excellent choice, as it is lighter than leather, breathable, and depending on the type of canvas, can allow for quite a bit of stretch. The amount of stretch dramatically depends on the kind of weaving that has been done on the fabric – woven fabric is used for more sturdy, traditional models, and knit fabric is often used on sports footwear that is expected to be more flexible. When choosing canvas sneakers, you need to take into consideration the type of weaving and thread used, as some will prove to be better than others, but you also want to look at the design. Does it look particularly narrow? Does it have a low profile? Does the pair have any elastic closures or laces that will work to allow you a better, more customized fit? Are parts of the shoe made out of mesh or similar material that will allow more stretch and breathability? These are all aspects that you should consider to make sure the model you purchase is, indeed, a good fit if you have edema.
Finally, you can also get a pair of rubber shoes, but make sure that these are a type of sandal. Although flexible, rubber will hardly mold to your feet; instead, it will allow movement, then bounce back to its original shape. You can take advantage of this with clogs or flip-flops which are roomy or open enough for your feet to be able to expand in them, but which won't lose their shape. However, it's crucial that you get a pair that is big enough to allow for swelling. There is nothing worse than being stuck in a pair of footwear that has no laces or closures that you can't loosen after a long day of wear.
Comfort
Even if you have chosen footwear that is made out of supple, flexible materials, there are still parts of the shoe which will have to be harder, due to construction or materials used. Any place that has stitching or involves two types of material coming together will inevitably be bulkier than the rest of the item, and this extra bulk may prove to be the place where your footwear bothers you the most. The thing about living your day-to-day life with edema is that you know that your feet will be expanding, and even though you cannot prevent them from touching parts of your shoes, you can make sure that these parts are padded well enough to be gentle to the touch.
Straps, for example, can be great as they will usually mean that you opted for a pair that is open, and that allows for some extra breathing space. But if these straps are rough, you could be doing more harm than good, setting yourself up for blisters. Too much padding, on the other hand, may create additional bulk and take away precious space in your favorite pair. That's why you need to look at the padding that is provided in your footwear of choice, be they sandals, sneakers or even a pair of moccasins designed especially for swollen feet.
Some shoe types will not need much. For example, Birkenstock sandals feature suede padding that provides just enough softness to ensure your feet stay comfortable throughout the day. Others will use padding generously with foam, gel or sponge components, strategically placed to those parts which could give you trouble. Before purchasing any pair of footwear, check the heel and tongue, as these are generally places where you might encounter some problems. Another good place to have some extra padding, especially if your ankles are swelling as well, is all the cuffs, particularly the Achilles notch which may prove to be cutting into the backs of your heels, making it impossible to spend any prolonged period wearing your shoes.
Adjustability
You may want your shoes to fit for comfort reasons, but there's another very important aspect why you don't just slip on a pair of clogs when going on your morning run, and that's safety. Laces, straps and all closures are there to make your footwear hug your feet, ensuring that it stays on through any activity you may decide to undertake during the day. But, when you are suffering from swelling, these closures may make or break your chosen footwear, and you want to be looking at the way in which they can work best for you.
Laces are an excellent feature to have on any pair because they will allow you to (almost) fully customize the fit. Look for models with more flexible laces, preferably ones made out of a woven material, rather than leather. This will ensure that they are softer, easier to handle and that they will allow for some stretch without coming undone. Furthermore, look at the placement of the laces – you don't want to be stuck with a pair of lace-ups where the laces are just there for decorative purposes. You will want the eyelets to start as low on the shoe as possible, which will allow you to tighten or loosen the fit more freely.
In case you have mobility issues, or prefer not to be hassled with lengthy fit adjustments, hook and loop closures (more widely known as Velcro) are another excellent choice. There's a reason why these are so popular amongst kids and the elderly, and that's the fact that they are easily adjustable, and you can do this as many times during the day as necessary. The ability to do this can come in particularly handy if you are experiencing swelling due to long hours spent standing or walking, which is making the swelling gradual throughout the day.
Finally, if you choose to purchase a pair of sandals, it's a great thing for them to have adjustable straps. These can make or break a model, as you might want your forefoot to fit snugly while allowing for more space in your arch or heel area, or even vice versa. These types of closures, just like laces and hook and loop closures, can also be adjusted as needed, which brings us to the conclusion that what you really need in your footwear is flexibility – not just in the materials, but also in the fit, as the ideal pair of shoes will be versatile enough to take you from morning until night without ever leaving you to feel constricted.
Fit
The aesthetic qualities of your shoes may be important, but you need to be aware that some designs will work better if you suffer from edema. We have mentioned it before, and will say it again – high heels are out of the question, but so are other limiting features such as pointed toes, low profiles, heavy boots with steel toes or any footwear in which the soles are made in a way to direct your stance in an unnatural way. As a rule, your ideal pair will have plenty of wiggle space, especially in the toe box and through the metatarsal area which will help prevent issues such as blisters, corns, bunions, neuroma, and others.
Models with a high profile can work great as they are less likely to press down on your feet, and the added room can allow for free movement and more breathability. Clogs are a particularly good choice, especially for this reason, and it's no surprise that medical professionals will be wearing them even for double shifts and through lengthy procedures where they are required to stay on their feet. An added bonus to this type of footwear is that they are breathable and easy to slip on and off as needed – plus, there is no hazard of tripping over untied laces.
Features
Finally, there are a few more things you want from a truly great pair of shoes. Cushioning and support are features you want to be looking into because these can make sure the swelling and pain you are experiencing isn't coming from lack of support, or from too much shock on your muscles and bones. A lot of models will offer features such as arch support or deeper heel cups, which promote correct posture and ensure proper alignment that can take much pressure off your feet, ankles, knees, and hips.
A cushioning sole is also good to have, as many people tend to walk or run in ways which put too much stress on the heel, or other parts of the foot, and consequently on the rest of their musculoskeletal frame. Whether you decide to go with EVA foam-soled shoes, rubber, or something with a memory foam insole, you can be sure that the added softness will come in very handy on a long walk or a whole day of wearing shoes.
Last but not least, you want to purchase stable shoes – ones which will not allow you to easily roll your ankles, or slip on surfaces. Look for soles which have anti-slip properties or shoes on which the bottoms have grooves that will provide traction on various surfaces. Do not opt for shoes with high platforms, as these can tend to be quite heavy in addition to limiting your feel of the ground, opening up possibilities for misplaced steps, sprains, and even more serious injuries.
10 Best Shoes for Swollen Foot
1

. Clarks Breeze Sea Flip-Flop



We all know Clarks as a solid brand when looking for comfortable shoes for swollen feet in all styles and colors. The Breeze Sea Flip-Flop is topping our list for its obvious open sandal design, along with cushioned support, and stylish pattern and color options. Although not something you'd want to wear during the winter time, for hot days where your feet may swell more than usual, these are one of the perfect options to consider!
Clarks made the Breeze Sea Flip-Flop with an adjustable hook and loop closure along the top, which allows you to fit perfectly for your needs. It's easy slip-on and off flip-flop design also makes them simple to wear, and the openness of the flip-flop is the least constrictive option to help ease any swelling or fluid retention. You don't have to worry about plain solid flip-flop colors, as these are available in several color options with a patterned design on the footbed. Synthetic uppers make these durable enough to keep for a while without them falling apart, and some styles can even be worn for dressier occasions in the summer. Clarks tops off their design with the quality comfort known in their shoes, consisting of a thick plush sole to cushion each step.
Depending on the color you select, these can vary slightly in pricing but are by no means expensive in general. With their stylish color options, brand name comfort, and open flip-flop design, they are a must have for those suffering from edema. The adjustable strap is a bonus feature that allows you to customize further, so it's perfect for you.

2

. Cole Haan Zerogrand Stitchlite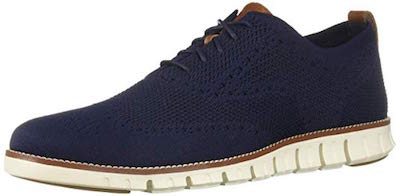 Those who need to dress up - be it for work or special occasions, will definitely want to find a pair of oxfords they can pair with a blazer or suit. The Zerogrand Stitchlite by Cole Haan is an excellent choice for such occasions, seeing that it combines the comfort and performance of a running shoe with a look that is stylish and put together. It's available in several color options including black, navy, gray and white, making it relatively easy to pair with both casual and dressed up outfits.
The upper of the Zerogrand is made with a stretch knit material that will adapt to your foot, but that still contains the reinforcements needed for good lateral stability (preventing you from rolling an ankle). On the inside, it's fully padded to prevent any hotspots, and it even comes in a wide width for those who want to make sure they have extra space for their swollen feet.
Other features of the model include a flexible rubber outsole paired with an EVA midsole that help absorb shock, all while mimicking the natural movement of the foot for long-term comfort. Additionally, it's a breathable oxford, ideal for summer wear. As for cost association, it doesn't exactly come at a cheap price, but certain colorways can be purchased on discount, helping you get a high quality product for an affordable price.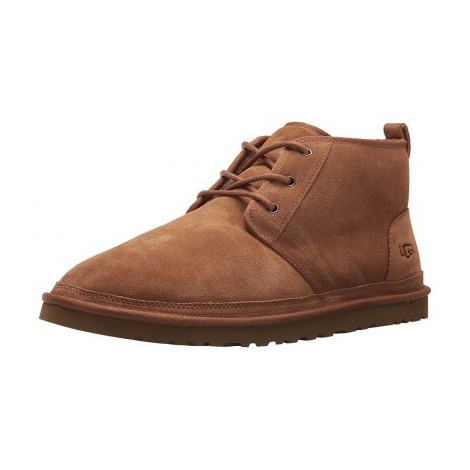 When you think UGG boots, comfort is the first thing that comes to mind. This particular pair, however, takes it a step further. Designed as a chukka boot made out of suede and wool, these can be worn both inside and outside and will provide the superior comfort that so many people love about UGGs. They are stylish enough to be worn on an everyday basis, which means that if you suffer from swelling feet that do not do well with tight spaces, these could be your go-to model even if you work in an office.
The Neumel chukkas are made out of suede for their upper and a luxurious sheep fur lining that was harvested in Australia. This means that these boots will form based on your feet, allowing for a great, comfortable fit that will last you a long time. The downside of the Neumel Chukka Boots is that they will require you to take care of them through regular cleaning and a monthly application of water and stain-repellent in order to make them more suitable for outside wear.
These boots feature sturdy soles that are made out of EVA foam, which means that they provide good cushioning while also featuring grooves that will give you a decent grip of the ground. However, keep in mind that they were not intended to be worn as professional footwear, so if you need to work in a kitchen or on greasy/wet floors, opt for something more sturdy with a rubber sole. The Ugg Neumel are in the more expensive range of this list. Still, they have become the favorite pair of a lot of people, so if you can appreciate the design, natural materials, and softness they provide, they will definitely prove to be a good investment.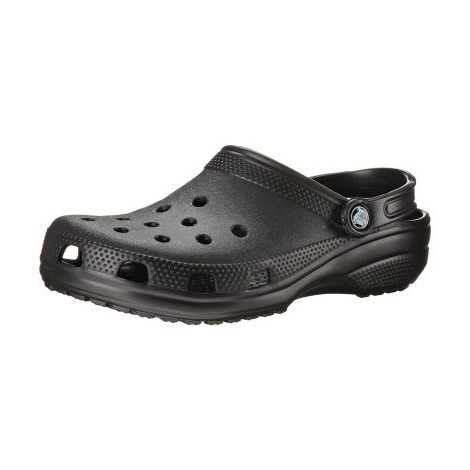 When it comes to comfy sandals, there is one brand that truly needs no introduction, and that's Crocs. These clogs are really the best way to save your swollen feet from the suffocating constraints of hard footwear. Crocs are used by almost everyone - from professional chefs and nurses to servers, to regular users who just want to be able to put comfort above anything else. These are made out of the signature Croslite material that is molded for superior comfort, while the footbed also features a textured trim and heel that offers a slight massaging feeling while wearing them.
These clogs were made to allow for extra room in the clog, and not just in one area, but all. This means that if your feet tend to swell throughout the day, you will not experience that uncomfortable tightening feeling which comes from a snugly fit shoe. The ventilation ports add breathability, while the heel strap will aid in keeping these on you without slipping off. Crocs are made out of a superior material that, in addition to its cushioning abilities also provides the wearer with ease of maintenance. These clogs are water-friendly, which means that they are easy to clean, won't stain, and most importantly, possess odor-resistant qualities.
Crocs clogs are the cheapest item on this list and will prove to be an amazing pair of shoes you will love. These shoes for swollen feet are fun, comfy, slip-resistant and breathable, all while being super-easy to clean and lightweight. They can be worn either as an outside shoe or as an inside shoe and will last you a long time as they have proven to be very durable.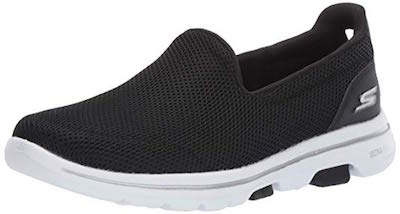 These pair of performance footwear was specifically made to serve the purpose of long hours of walking and standing, employing some of the brand's best cushioning technology in order to reduce fatigue and maximize shock absorption while still maintaining a low weight. The fifth iteration is quite familiar in terms of looks - it's a mix between a sneaker and a ballet flat, and it comes in quite a few color options.
What makes these appropriate for those whose feet tend to swell is the lightweight upper made out of a knit mesh fabric that is stretchy and breathable. It will easily adapt to the shape of your foot, without causing painful or unnecessary pressure, all while allowing fresh and cool air to reach your skin, preventing overheating and sweating. The insole is also made with cooling technologies, to maximize temperature control, and you'll be happy to hear that this is a model which is machine washable - allowing for easy maintenance.
Other comfort features of the GOwalk 5 include an ULTRA GO midsole that absorbs shock, along with the Comfort Pillars that help disperse it over the entire foot, avoiding muscle and joint pain. The heel has a stabilizing cup for a higher level of support, and the collar is generously padded for increased comfort as well. The best thing about this flat, however, is the affordable price, which is below average when compared to the other items listed.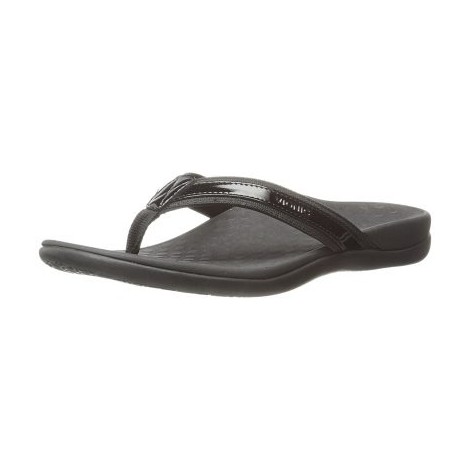 You may be thinking that a pair of flip-flops is not a good solution to anyone with feet issues, but these sandals have everything you need if you are suffering from swollen feet and ankles, and are finding it difficult to even think about putting on a constricting pair of shoes. They have been designed with strong arch support and padded straps, which means that not only will you be getting a comfortable and anatomically correct fit, but also that the straps will not cut into your feet causing you additional discomfort.
These sandals have midsoles which are made out of lightweight and flexible EVA foam which does great to absorb shock, protecting your heels, ankles, and knees from the impacts of walking. Even more, the Tide II features a biomechanical design that will hug your arches, as well as durable TPR outsoles which improve traction on most surfaces. This means that if, in addition to swelling, you also suffer from plantar fasciitis, these will become the favorite item in your closet.
The straps on these flip-flops are made out of soft materials, but in addition to that, they are also lined with soft neoprene foam that will maximize your comfort and prevent them from painfully cutting into your feet. This means that even if your feet swell during the day, you will still be able to remain comfortable and go on with your daily tasks. For a pair of flip-flops, these are quite expensive. However, they have been made in a way that was well thought out in order to provide you with a superior fit. They are a favorite with users who suffer from plantar fasciitis, require strong support, or are on their feet all day.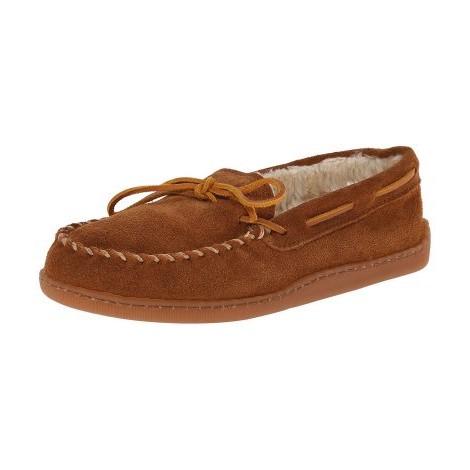 These leather moccasin style slippers were made to be an indoor & outdoor shoe that would provide soft, fluffy comfort with the protection of a hard rubber sole. Lined with a soft pile, they are warm and comfortable, and most importantly, their softness means that you will find this to be your perfect pair of shoes for running chores if you suffer from swollen feet that are simply too restricted in regular harder shoes. Make sure you choose the right size, as these run large, and you'll be looking at a pair of shoes that will serve you both around the house as well as on short outside errands.
The upper of these is made out of soft genuine leather, just like a traditional moccasin, which means that with these shoes you are getting footwear that will mold to your feet perfectly after a few uses. This is especially important if, in addition to swollen feet, you also suffer from bunions or any other similar problems. Luckily, soft leather will break in easily, which means that you don't have to suffer any pain for prolonged periods of time just to make these work for you.
Although these moccasins are a pair of house footwear, the synthetic hard sole gives you stability and protection on outside walks to get your morning coffee, or when walking your dog. Even though the leather itself is not waterproof, this sole will provide you with protection even when walking on wet surfaces. Just note that they are not anti-slip soles, which means that you should still take special care on wet and oily floors. While they may not be cheap, these still cost half of what you would pay for the most expensive item on this list. They do well for inside and some outside use and can last you up to a year with heavy use (we're talking 24/7).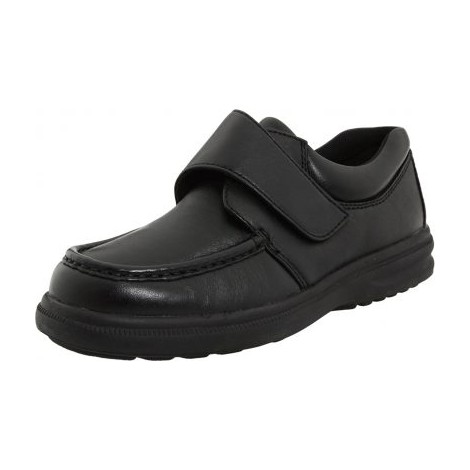 If you suffer from edema, then comfortable shoes for swollen feet is priceless, and this brand has got that in mind. Being soft and comfortable, these have features that will allow you to customize the fit to meet your requirements. Furthermore, the Gil Slip-On is the perfect choice for those with limited mobility for two very important reasons. One - they are four times lighter than a regular pair of oxfords, making it so much easier to move around, and two - they feature a simple yet stylish hook and loop closure which will make putting these on extremely easy.
The collar on the Gil is padded, which your ankles will be very happy about. Furthermore, the closure is adjustable, meaning that you can make it as tight or loose as you need it to be. Even more, it comes in a wide selection of sizes and widths, so you can be sure to find the best fit.
The footbed of this model is made out of EVA foam which is contoured with an open cell mesh cover, meaning that it will hug your feet and provide you with the necessary support. If, however, you do not need this feature, this is removable, so you can just use your own insoles. Furthermore, the outsole is made out of Zero G rubber which is very lightweight, provides traction, and makes walking in these very easy - one of the reasons the elderly absolutely love this style. It does not come cheap, but you are looking at a product that was built to last you a considerable amount of time. The upper is leather, which means that with the correct care it can last a long time, while the soles are made out of EVA foam which is durable, and rubber which will prove to be appropriate on almost all surfaces.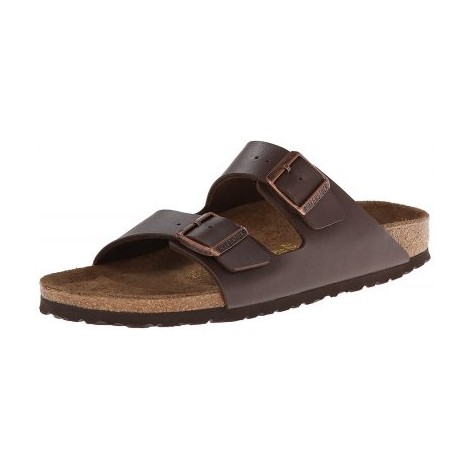 Over the past couple of years, Birkenstocks have made a huge comeback going from a fashion no-no to a must-have item that could be found in everyone's closet. And this is sure to have a lot to do with the superior level of comfort these sandals will provide you with. They are airy, adjustable and have an anatomically designed footbed, which means that if you suffer from edema and need a supportive, comfortable and stable shoe, these are a perfect choice. They come in a huge variety of designs and are made for women, men, and children, so you are bound to find the best fit for you.
The outer and inner surface of these sandals is made out of suede which provides softness and a small amount of stretch for premium comfort. But what makes this pair of shoes different than most is that they feature metal buckles on the straps which will allow you to choose the fit that you need - be it narrow or wide, or even a combination of the two, you will be able to make these shoes for swollen feet work for you.
It was the anatomical cork footbed that made Birkenstocks so popular among Europeans. It is contoured so as to conform to the wearer's foot while providing ample arch support, a deep heel cup, and a roomy toe box. It's lined with a cushioned suede, which makes them soft to walk on, but still hard enough to be wearable on any surface, with a synthetic sole that will add extra protection and grip. Yes, a pair of Birkenstock sandals can be quite expensive, but what you want to be thinking about is the value you will get for the price you pay. First of all, these shoes are extremely durable and get better and more comfortable with use. That said, they are not suitable for all weather conditions, which means that you will be limited to a shorter period of outside use during the summer. However, they can also work as an excellent inside slipper.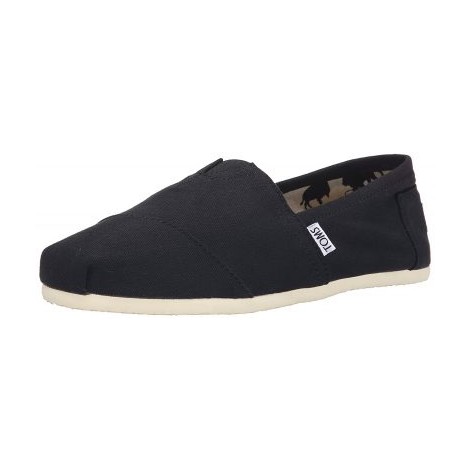 This particular brand should not need too much of an introduction. Founded in 2006, the company was started as a way to make a difference in the world, aiming to help children living in poverty through designing a simple shoe that would allow every pair sold to finance another pair that would be donated to a child in need. But through all this, the company succeeded in designing a canvas slip-on that does so much more - TOMS are comfortable, extremely light, have a shock absorbing sole, and will mold to your feet perfectly based on what you need.
The upper of these is made out of durable canvas that will mold to your feet based on the fit you need. The elastic V not only allows you to slip them on and off easily. It's also a great addition because it allows some room for when your feet swell. Note that TOMS tend to be a little tight for the first few wears so if you suffer from severe swelling or pain, do not purchase a tight fit.
Depending on the style you choose, these will have either rubber, woven or EVA foam soles. However, all will come with either a leather or vegan inner liner that adds arch support and cushioning, making your TOMS a perfect pair for everyday wear, offering you flexibility and ease of movement due to them being very light. TOMS are not cheap, and if the price looks too good to be true, it probably is. As there are many counterfeit pairs of TOMS available online, make sure you get the real deal to get the high quality make and the supportive outsoles. These are great shoes that can last you a long time and have a very versatile use, so you can dress them up or down according to what you need at the moment.

Subscribe to our Newsletter