Best Moccasins Reviewed
Picking a pair of moccasins is no ordinary task. There are even experts dedicated to selecting them appropriately. You might get away with wearing mocs for casual occasions, but you want to have the right ones when formality comes.

You should take into consideration things like arch support and the environment you will be wearing them in. Will waterproofing be necessary or will you be in a cold climate where you may need a heavy sock to keep you warm? These questions are just some of the examples of what we asked ourselves when putting this guide together to ensure we offer you the best options possible when it comes to moccasins.
Standout Picks
Criteria Used for Evaluation
Outsole
The outsole should provide you with enough grip, comfort, and flexibility depending on where you'll be wearing your mocs.
Depending on the type of moccasin you're looking for, you want to make sure the sole has a couple of specific features. Not all mocs are meant for the same purpose, thus the soles should be designed accordingly.
At first sight, this factor doesn't seem too relevant to functionality. In fact, some people don't know their outsoles should have a specific design according to their use.
For instance, the sole on a driving moc is completely different from a plain moc. Driving ones should include patterns on the outsole that provide a good grasp of the pedals. While they may have designed in grip pattern, smoothed outsoles are more inclined to slip.
Outsole patterns, on the other hand, guarantee a much better contact with the pedals. These patterns should be just dense enough to grasp the pedals, and shouldn't stand out too much.
For an indoor moc, things are completely different. When you're walking around your house, you want a sole that is soft but dense. The main quality of a slipper-moc is the comfort; if the sole fails to comfort, then it's no good for indoor use. Look for something light, but substantial enough to walk around your home. Double-bottom soles are good choices for indoor uses, especially on surfaces like hardwood.
Dress mocs usually don't have any kind of patterns on the outsole. They're meant for formal occasions, and thus should look as elegant as possible. The soles of the best dress designs are generally made of leather and rubber. When polishing this type of footwear, most users also polish their soles–especially when it features fine leather.
Regardless of the type of moc, you're wearing, you'll want some flexibility and walking support. We're not talking about running-shoe-level flexibility; you want just enough to walk comfortably. At the end of the day, you don't want to over-flex your steps when wearing mocs, or you'll end up with a caked upper.
Materials
For the maximum value, choose high-quality leather that is both comfortable and easy on your wallet.
Anyone who has owned at least two pairs of shoes can instantly notice the difference between cheap leather and quality one. Though, this doesn't mean you have to wear the most exclusive Italian leather on your feet. You just want to make sure your feet don't look like they're wrapped in plastic.
Full-grain leather is the top-quality cut of leather used for the best models. It's arguably the classiest material, and trust us, there's a huge visual difference between that and non-authentic leather.
Suede, on the other hand, is made from the interior split of a leather hide and can also look and feel great.
Don't get us wrong though–you don't have to wear full-grain leather, nor does that make suede a low-quality material. In fact, there's quality suede just like there's cheap suede. Though more commonly used for casual occasions, suede can also fit a dress occasion. Each kind of leather varies in quality, regardless of its type. The choice is really up to you and each style has its pros and cons.
There exist multiple types of leather used when making mocs. Let's take a look at the most commonly used leather for this type of footwear and what it adds to it.
Cowhide
This is the most commonly used material for this type of shoe. It is typically processed with multiple treatments covering a variety of issues such as waterproofing and stain resistance. Full-grain cowhide leather is exceptionally durable and will stick with you through the toughest situations.
Moose Hide
This type of material is softer and more flexible than other types of moc uppers. Often showing natural scarring, these offer a look that is unmatched by others in its class. The excellent feel and natural look are other reasons people truly love footwear made of moose hide.
Deerskin
This is arguably the most comfortable leather for footwear. Deerskin is known for its utter softness, used a lot around the inner side of the shoe. Deerskin should also display natural marks on the leather, similar to that of moose hide.
Sheepskin
Sheepskin is rarely used as the main material for a moc build. The good thing about sheepskin is that wool fur is very hard to beat when it comes to comfort. Though, wool isn't enough to provide structure to a pair of moccasins. That's why it's used in combination with leather. Wool is usually used as a trim around the moccasin's collar and the lining inside the design.
Mocs are usually judged by the quality of the leather they're made of. Aging and care also take part in the state of leather. Though you can still tell apart an old authentic piece of leather from a new fake one, the difference is clearer by giving them good maintenance. We recommend leather-specific cleaning products for this process, following our shoe cleaning guide.
Versatility
Choose the right style of moc for the occasion you'll be wearing it in.
Not every pair of mocs is meant for every dress code and occasion. There's a moment to wear those super-comfy soft sole ones, and there's a moment to wear elegant loafer ones. We're not saying elegant ones shouldn't be comfortable – just that they won't be like pillows to your feet, which is the case of soft sole ones.
Formal Mocs
These usually have a stacked heel; though this is not always the case. Additionally, not all stacked heel ones are meant for formal occasions. The formality or ideal occasion for a moc is determined by multiple elements, not just one. From the leather arrangement to the quality of the leather, the design and the style are all elements that have an impact.
Casual Mocs
Typically, these expose more skin of the foot, while formal ones usually go up to the ankle. Decorative elements such as laces on the upper build are generally signals of casual wear. Though, many other elements can make it a formal moc even with decorative elements present.
Multi-Use
There's also a variation that's suitable for multiple occasions. Their elements adapt to whatever you're wearing, as long as the colors are right. For instance, they can sit well with shorts just as they would with dress pants. In this case, it's your dress code that determines the aspect of the moc rather than its features. Multi-occasion moccasins just adapt to what you're wearing, in most cases.
Style
Try to avoid over-decorated designs; choose a style that is suitable for the event you're going to.
What's a moccasin without style? It's pretty much the same as a running shoe without flexibility. If you've ever owned a pair of sneakers, and chances are you have, you know how bad of a statement that is.
Well, style is to a moccasin like flexibility is to a running shoe; crucial. Let's face it; the main purpose of this kind of shoe is not comfortable, and certainly not performance. Though you keep comfort in consideration, you get a moccasin because it's stylish as can be. If they lack style why would anyone be getting them in the first place?
The element that has the most impact on how stylish a moc is, is unquestionably the leather. We mentioned that they are judged by the quality of their leather. Well, it ultimately comes down to that. Though, more expensive leather doesn't necessarily translate to greater style. Once again, both occasions and tastes play a vital role in the styling of a moccasin.
Regardless of taste, occasion, and type of moccasin, there are some things you want to avoid. Over-decorated designs are one of those things. It's fine to have some ornamenting on your mocs; some fake laces on the top, whipstitching, collar fur, etc. However, too much of it takes the formality away. Even if your pair of moccasins is not a formal one, you don't want to have a bunch of strips and things hanging off like your feet were Christmas trees.
The most important feature of a moc is the state of the leather. There's a huge difference between old, caked leather mocs and ones that are constantly polished and cared for. Cleaning your moccasin is important, as it's no ordinary shoe. At the end of the day, leather is similar to our skin, except it has been treated.
It's important to consistently clean and polish the leather. If the leather never gets hydrated or treated, it will start to develop notable degrading signs. You want to treat them at least once every month, depending on the frequency with which you use them.
Comfort
Comfort is found in flexible soles and soft leather uppers.
As we mentioned before, comfort isn't necessarily the most important aspect of a moccasin. But, that doesn't mean you should sacrifice all comfort to look good. A proper pair of moccasins should allow you to walk naturally without any disturbances.
For this, it should feature some flexibility in the sole. Leather is generally never a problem when it comes to flexibility; authentic leather (or quality synthetic leather) will flex as you need it.
The hardness of the sole also determines your ability to walk. Though this feature ultimately depends on the type of moc and the surface you're using them on. For instance, a soft-soled slipper-moc is as comfortable as you'll be able to get. But, the softer you go, the less protection you'll have on your feet. That being said, ultra-soft soles might not be your best shot on hard floors.
The materials that make the soles also have an impact on your walking comfort levels. Moccasin soles are generally always made of rubber, leather, or a combination of both. These materials have no flexibility issues, allowing you to walk naturally without bothering your feet. They're also good materials for all-day wear.
Keep in mind that leather, just like skin, grows softer as it matures. Repeated wear softens the shoes out, making them more comfortable, but they don't look as rigid as new ones, of course. They are generally stiff during the first wear, especially full-grain leather ones. This doesn't mean the fit is wrong, you just need to give some time so the leather can soften and adjust to your specific foot shape.
Top 10 Moccasins
1

. Sperry Authentic Original 2-Eye
When it comes to this type of footwear, to impeccable style and timeless appeal, there is no better than the Sperry's original 'boat shoe', also known as the Authentic Original or simply A/O. This is a hand-sewn design made from only the best materials available, including closure and traction technologies that easily make it stand out from the rest.
The A/O is made from full-grain leather for the upper, with that classic Tru-Moccasin construction that is standard for Sperry and offers high levels of comfort and stability. There is a 360 Skip lace system which makes it easy for you to adjust the fit of this boat shoe just the way you like it. The rust-proof eyelets ensure you can wear it on a boat or around water without any problems.
The outsole technology on the A/O is Razor-Cut Wave-Siping which means that it is made from non-marking rubber and that it offers traction on both wet and dry surfaces. If you're looking for a classic moc design, but one which is supported with all the latest innovations and offers superior comfort, then the Sperry A/O is definitely the way to go.
The UGG brand is known for its ultimate comfort and a unique sense of style. Some love the look and others not so much. The UGG Dakota is lined with the infamous UGG Pure Wool. The upper is soft and supple suede leather that looks as good as it feels. In addition, they offer a molded rubber outsole that will give you good traction and grip indoors as well as out. The classic look and stitching make this a preferred style of the UGG brand.
UGG has taken the time to make the upper of this moc water-resistant and ridiculously soft. If you spend the time to maintain it, this upper will last quite some time all while looking and feeling great. The sole is part of what makes this shoe great for indoor and outdoor use. In addition to the water-resistant upper, the outsole is made of rubber. Naturally, water will not penetrate the rubber, which is great if you intend on wearing them outside of the house. The outsole will also give you better grip and traction than other mocs within our guide.
UGG brand footwear has become a commonly known name and a powerhouse in the shoe market. These will cost you quite a bit and you may have to adjust your budget if you decide these are a must-have pair. They do offer superior comfort, great durability, and the option of wearing them inside and out. These reasons help make the price a little less shocking.
Sorel is a brand well known for warm winter boots and footwear, and the Manawan brings its design styling and insulation to a moccasin. It's different from some other models as the upper wraps up around the ankle, keeping not just your foot warm and cozy. Mobility isn't hindered, however, as the collar allows for forwarding flex due to design. Rubber outsoles allow these to be worn inside or out, and Sorel has lined the Manawan with cozy lining to keep you warm all winter long.
Inside the Manawan, uppers are lined with a wool blend of faux-fur to wrap your feet and ankles in warmth and leave a luxe feeling on bare feet. Leather helps to keep warmth inside the bootie while still providing breathability. Whipstitching along the outsole gives the Manawan a genuine aesthetic and preserves the integrity of the shoe's construction and durability.
As with many of Sorel's other designs, the Manawan has a removable EVA insole, should you prefer to instead use inserts. EVA gives support to the shoe in areas needed most around the arch, so you're able to wear these throughout the day without discomfort. Sturdy, rubber soles provide excellent traction if you venture out in the cold for short periods of time.
With the Pineland from Chaco, we have a silhouette that is slightly different, but one which is nevertheless reminiscent of the classic moc. This is an autumn bootie in a way, a design meant for that in-between weather when it's not too cold and yet not warm enough for standard sneakers and shoes. It is definitely a timeless style that you can take with you outdoors and enjoy beautiful walks in nature.
The Pineland has an upper made from full-grain leather. This means that it is high in quality, as well as comfortable and durable. The laces are made from waxed cotton for even more sturdiness, and the toe area has moc detailing to it. The footbed of the Pineland is a LUVSEAT PU technology that is specific to Chaco, and it can easily be removed, should you desire to insert your own orthotics.
The outsole of the Pineland is made from 75% natural rubber, and it is non-marking, meaning that there will be no floor damage if you happen to find yourself indoor in these. If you're looking for a stylish option to take with you on your next walking adventure, make sure to consider the Pineland, as it will keep you comfortable, protected and looking good at the same time.
Perfect in time for fall, the Ariat Spitfire is a bootie with very distinct moc accents. It's available in several different color and print options, each one cuter than the other. However, if you wish for something more subdued, you can always go for the more toned-down version in our picture. The Spitfire is great to throw on for your autumn walks, and it is a nice style combo between classic moc and urban boot.
The upper of the Spitfire is made from full-grain leather for that premium feeling and personalized comfort. It is unlined so that you experience the benefits of leather without anything holding you back, and the laces are elastic which makes it easier to slide into these. When it comes to comfort, the Spitfire has an EVA midsole that absorbs shock and provides more than enough cushioning so you can spend hours on your feet.
The outsole is made from TPR that is both long-lasting and flexible, and that will keep you steady on all types of flat surfaces. The Spitfire is a versatile option that you can wear with jeans, tights, coats, jackets, you name it, and be stylish throughout!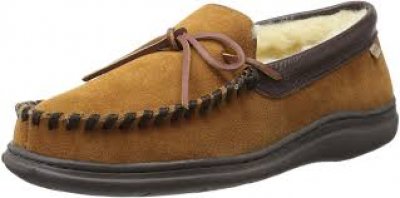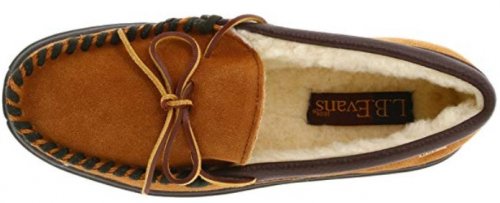 L.B. Evans was established in 1841, with the mission to create better quality slippers designed from felt. Their business has grown over the last century to showcase high-quality leather and suede slippers and moccasins, all with a quality sole for wear inside or outside the home. The Atlin keeps a thick BOA lining inside this leather and suede shoe to keep you warm and has a rugged outsole that won't wear easily.
Inside the Atlin is an acrylic BOA lining, which helps repel moisture, is non-allergenic, and also has the feel of real sheepskin so you have a great foot feel. Uppers are made from insulating genuine suede leather, with a leather collar and rawhide laces to give it an air of sophistication. You'll be warm and cozy in them, no matter what the weather brings.
At the base of the Atlin is a durable rubber sole, allowing for both indoor and outdoor use should you need to quickly run out in nasty weather. In addition to the faux fur lining of the Atlin, a full-length memory foam insole helps to cushion the foot during every step. Memory foam is moldable over time, so these will feel more and more comfortable over the course of wear.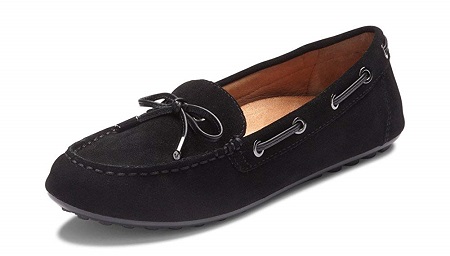 Vionic is a brand with a focus on biomechanics and how it can intersect with style. Virginia is a leather moccasin that features a specialized concealed orthotic that is designed to give you the comfort you need and the style you want, with metal eyelets and a large bow gracing the top of the shoe. This moc is offered in eight colorways, and sizes range from a US 5-11, including half sizes and additional width options.
Everyone's feet are different and will have different needs. While Virginia comes with a cushioned insole made of microfiber and EVA, this insole can be removed and replaced with the orthotic of your choice. This allows you to customize the shoe to your exact needs if the original insole isn't to your liking.
Let's talk about this included insole a bit more. EVA is a common choice for the midsole of a shoe, though it has become increasingly popular as an insole material. EVA is a type of foam prized for its supportive properties and lightweight, which allows it to provide cushioning and support without having a significant impact on the overall weight of the shoe. This insole is covered in microfiber that is soft and resistant to pilling and damage from regular use.

8

. Minnetonka Thunderbird II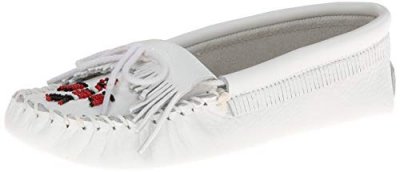 Minnetonka has been dominating the world of moccasins, and if you're in search of an individually styled model, their Thunderbird II is a solid option to consider. With its decorative features and fringe, and soft sole giving it a nearly barefoot feel, you'll lounge in comfort in the Thunderbird. Stylish beading adorns the top of this moc, and the number of color options will make certain you find one that suits your tastes and style.
Atop of Minnetonka's already prominent moccasin quality construction, the Thunderbird II highlights decorative beading atop the shoe, giving it an individual flair. Fringed tongue adds to the style for an authentic feel, while quality stitching helps keep the integrity of the shoe as well as adding some stylish elements.
Nothing feels quite as good as going barefoot, and with the Thunderbird's soft sole design, you'll feel as if nothing is between you and the rest of the world. Soft soles can be treated with a suede protectant before you head out into the elements to help keep the shoe's integrity. Padded insoles help give an extra feel of cushion for each step.

Originally started by a pair of Australian surfers, UGG has become a brand that is synonymous with warmth and style. While their boots are their signature products, they do also offer moccasins as well. The Ansley is the second UGG product on our list and features a cozy UGGpure wool lining along with a leather upper. This shoe is available in eleven colorways, and sizes range from a US 5-12.
Leather has been used in shoemaking for thousands of years and is prized for its unique qualities. It is one of the most durable materials that can be used for the upper and sports natural water resistance qualities. The Ansley features pig leather instead of bovine, and this leather can be dyed a wide range of colors, from basics such as tan and grey to beautiful maroons and soft pinks.
If there is one thing that UGG footwear is famous for, it's the comfort. The UGGpure lining used in a wide range of their products is super soft wool that is designed to keep your feet warm without feeling stifling. Wool, like leather, also sports some water resistance, helping to keep your feet dry even if it's snowing.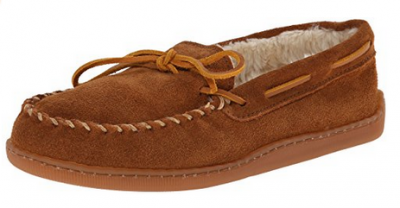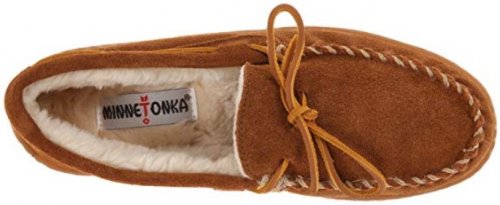 Minnetonka never fails at making you look classy, even within your own house. The Pile lined slipper-moc features an interesting design; the toes are whipstitched and the collar is surrounded by decorative lacing. This model includes Minnetonka's signature inner fur approach to keep both comfort and warmth at the top during all circumstances.
The inner faux fur lining not only makes the slipper much more comfortable, but it also makes it an ideal barefoot choice. The fur is also located around the neck of the shoe, maintaining all parts of your foot warm. A synthetic rubber outsole guarantees a firm, yet comfortable wear around all parts of the house. In fact, the hard sole design even allows you to take it outside. The comfort of a slipper, with the outsole of a moccasin combined in one element.
The cost of this product meets the average price of the list. They're not reliable outdoor wear, but they sure meet their purpose indoors.

Subscribe to our Newsletter