Best Ariat Boots Reviewed & Rated for Quality
In a Hurry? Editors choice: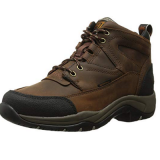 Test Winner: Terrain H20

If you're tending horses, hiking, or working in the office, having the right boots for the job is a necessity. Ariat is a brand that has been around for 35 years, offering their customers great footwear, made with the best materials and high tech comfort and performance solutions. Whether you're after a hiking boot, a western or even an English riding boot, you'll find it from this brand, and you can rest assured that it'll serve you well. The list below gives you some of the best Ariat boots that have been carefully chosen to provide you with comfort, quality, and durability.
Standout Picks
Criteria Used for Evaluation
Materials
When Ariat was founded, it revolutionized western-style and riding footwear with innovation and attention to detail that you would have difficulty finding from other brands, at similar prices. Because their products are made to be used by professional cowboys and riders, they need to be made from the highest quality materials that will stand up to the demands of these activities. Not only does this mean quality stitching and construction, but also carefully chosen materials to make up the upper, sole, as well as the linings and insoles.
Overall, you'll find that most Ariat boots are made using the following two materials:
Leather: Traditionally used for as long as anyone can remember, leather is an excellent material to be included in footwear for almost any activity. If the right quality is chosen - and that is full-grain leather - you will reap the benefits of a protective, durable, breathable and comfortable material that keeps your feet protected, but is flexible enough to mold to your foot shape, giving you a superior level of comfortability.
Duratread: Ariat's own rubber compound, this material is used in the outsoles of a large number of their shoes, and it is a great choice for those looking for slip and oil resistance. It's less likely to deteriorate with daily wear, making it a great choice for the work environment.
Mesh: Though not a heavy-duty material, mesh is actually a great addition to footwear which is to be worn in active situations. As it's highly breathable, it allows for moisture and hot air to escape your footwear, keeping you cool and dry throughout the day.
Comfort
It goes without saying that your boots need to be comfortable on your feet, without causing any rubbing, pain, or blistering. To ensure this, you need to purchase the correct size, but you also need to consider some additional factors to ensure that it's the best possible model for your personal needs.
Ariat footwear comes with several comfort-oriented features, any of which will have you feeling great. These include:
Shock Absorption: Crucial for both athletic and professional use, shock absorption in a pair of shoes is what prevents force from impacting your joints and muscles, and can make a difference between a happy work day, and a sore back. It's usually provided by different types of foam and gel, and most Ariat boots feature a 4-layer shock absorbing insole that can be replaced if worn through or if you need additionally customized features.
Support: While no Ariat boot is made for flat feet or very high arches (or for people who suffer from ailments such as plantar fasciitis), they all have a stabilizing shank that prevents excessive twisting in the sole, and all can fit custom orthotics.
Weight: Traditionally, cowboy boots were always heavy, which was mainly due to quality leather construction. With the replacement of leather soles with those made with rubber, a lot of excess weight has been cut, allowing you to wear these for longer periods without experiencing fatigue.
Padding: Some of the brand's models are geared towards hikers and those who are expected to walk for long periods. These models will often include collar and tongue padding that prevent chafing and allow you to securely tie your laces without having to worry about them hurting the tops of your feet.
Protection
The main reason many people purchase Ariat boots is because of their ability to offer protection in extreme situations. Whether this is at work, in competing events, or just everyday life, if you need to keep your feet safe, there's a chance you'll find just the right Ariat model for you.
Steel Toe: Most often chosen by professionals who work in construction and industrial settings, a steel toe can protect you from sharp and falling objects, as well as accidents around heavy machinery. It's best to go with composite options that are slightly less heavy than traditional steel and perform better in extreme temperatures.
Water Protection: Crucial for winter and autumn wear, water protection is one of the first things you should consider when shopping for boots. If you live in a climate where you will encounter rain and snow, choosing a waterproof boot is a must. While most leather shoes can be treated with sprays to stand up to moisture better, they won't last for long and won't stand a chance in puddles or deep snow.
Abrasion: Those who walk on concrete for long periods know how easily an outsole can deteriorate, losing its thread as well as its resistance to water. If you know you'll be spending a lot of time on such surfaces, opt for something with a more resistant sole so that you won't have to purchase new boots too often.
Slip Resistance: A requirement for a number of workplaces, slip resistance will keep you on your feet, preventing falls that could result in injuries.
Oil Resistance: Many workplaces include work with oils and chemicals that speed up the deterioration of materials used in footwear. If this is the case for you, look for models with oil and chemical resistant soles.
Style
It's possible that you've come to this page because you're after a quality western boot that won't break the bank, if you're looking for professional equestrian equipment, or just need some good boots to serve you while doing your tasks around the ranch. However, Ariat is more than just that. In the last two and a half decades, this brand has grown from a small manufacturer to a name that offers many styles for all types of use.
Western: Ariat's biggest line is that of their western boots. Here, you'll find exotic, cowboy, roper, hunting, work, and even casual styles. All are made with the required technical features, including specialized soles, stability shanks, levels of cushioning, protection in the uppers and water protection.
Work: Their work boots are geared towards all professionals - both those looking for slip on styles, as well as those who prefer a lace up. If you're after a safety toe, make sure to choose the composite toe models, as they'll be lightweight, but still, do a good job at protecting you.
English: Made for riding horses, these feature all the tech you need to perform at your absolute best. Moisture wicking linings, shock absorbing soles, and quality, waterproof uppers, combined with a sleek look.
Outdoor: Made for hiking, wet and muddy conditions, these are great for those who need a functional boot to wear on a rainy or snowy day.
Fashion & Casual: Made with less bulky materials, but with the same attention to design, these are perfect for those who like the sporty, western look, but don't need all the tech that goes into a professional shoe.
Durability
How long your boot lasts is mainly up to you. First and foremost, always make sure you've chosen the right style and features for the activities you intend on engaging in. Rubber wellies may be a great idea in spring and autumn, but they're highly unlikely to serve you while you're out riding, or on a hot summer day spent at the beach.
A quick look at the section above will show you the different styles you can get from Ariat, and you should always purchase based on how appropriate it is, not how it looks. But, in addition to that, there are a few things you can do to make sure your favorite footwear lasts you longer.
First and foremost, regularly clean your shoes. Cleaning them right away will eliminate the need to use harsh chemicals, thus protecting the leather and consuming less of your time.
Take the time to condition the leather. Following the manufacturer's instructions, you will want to condition the leather on your boots, preventing it from getting dried out and cracking. You can even use some of the protective sprays available that will make it less susceptible to staining and being damaged by moisture.
Replace your insoles every three to six months to prevent bacterial overgrowth, and to ensure you've got the right amount of cushioning underfoot. This is an easy fix that can make your shoes last for several years. And it's definitely more budget-friendly than buying new boots every year.
Top 10 Ariat Boots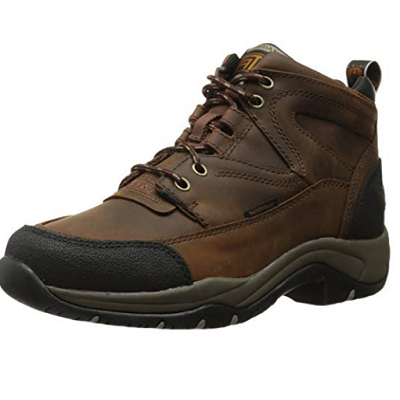 As we start to reach the middle of today's buying guide, we are excited to share with you a different type of product from this brand: the Terrain H20 Hiking Boot. Rather than a traditional riding type, this one is designed for rougher terrains and environments. Made from quality leather materials, this waterproof footwear is bound to become any hiker's best friend. Let's explore what makes this product so special.
When it comes to hiking, it's important to purchase a pair of boots that can handle not only the terrain but also Mother Nature. This entails both sunny days, rainy days, and snowy days. These specific boots are designed with unique waterproof properties in order to handle these times of climates, which makes this shoe very valuable.
In efforts to provide consumers with more support and stability than other hiking boots, this specific item is made with a unique cushioned footbed, which is made from gel. This is meant to help provide the individual with the stability needed to walk on rough terrains without any discomfort, or trouble staying grounded to the surface. Since this product is not a full-scale riding boot, this product is much cheaper than other products featured on today's list. This boot is still made with the same quality and value that the brand offers in all of their other shoes – making it arguably one of the best deals for a hiking boot on the market today.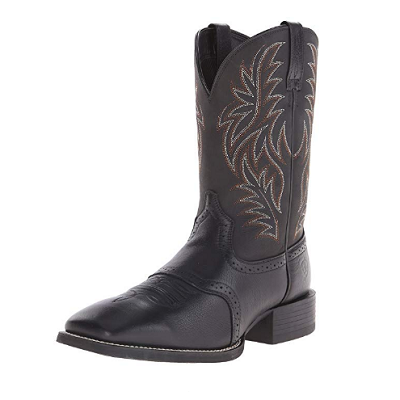 Out on the trail or in the office, you're sure to make a statement when you walk in the room. These synthetic mesh boots help your feet stay cooler and breathe better for a day of comfort. Leather helps your feet stay protected from the hard day on the trail.
Duratread soles help improve the traction for muddy conditions or dry conditions. If you're doing chores around the barn or working hard at the office the traction, you have on your shoe matter. When riding all day long or walking for a long period, the importance of a comfortable shoe becomes apparent. The 4LR comfort system starts with a four-layer footbed for comfort followed by lightweight shank that provides support for arches.
In the field of different boots – this product holds the lead as the most expensive product from this brand, and probably in the riding boot market. In addition to this, it's also probably one of the finest-crafted pieces of footwear, given the high-quality leather, six-row stitching, and the numerous other innovations that the brand invested into the product. With this, it's without question that it's worthy of a true rider's attention.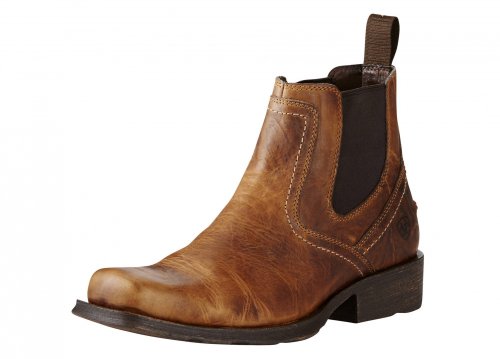 To finish up our list today, we are very excited to share with you the Midtown Rambler. This specific item is one of the most unique products that we are sharing today – as it's not necessarily a riding boot – and it has a unique closure system. Without further ado, let's look a bit deeper at this product.
What we thought was such a great an innovative feature was the pull-on technology. With side stretch materials on the sides of the boot, an individual can easily slide this right onto their feet without any hesitation. If you look at other western footwear offered on today's list, they all had a unique design, which resembled the western or Spanish art of design. These go against this theme and are really designed to look used, or pre-worn. This fashion is quite popular, which is why so many riders and workers have taken a liking to this product.
For the price tag, this product is most certainly worth the money. It's one of the most affordable items on today's list – and also one of the best deals. If you are looking for a typical work shoe, whether for the farm or everyday work around the house, this model can rise to the occasion and join a consumer on many journeys.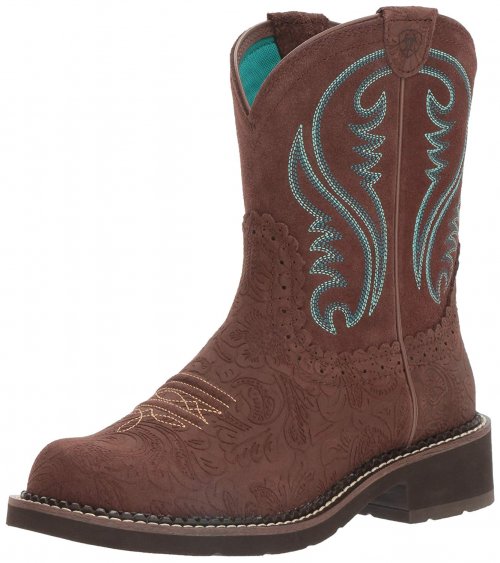 After reviewing a wealth of different boots from this brand, if there is one product that can really take the throne, it's the Fatbaby Collection Western Cowboy Boot. This product is arguably one of the best from the brand, thanks to it's 14 different unique and stylish designs, great cushioning and durability, and unique 4LR technology. Let's take a minute and explore some of these features.
You might think that a leather boot is a standard, brown footwear, right? Well, with this brand, they are redefining the market by creating over 14 different types of this model. In other words, consumers can purchase this product in a wealth of different colors and designs, making this is a great gift or personal purchase.
At the core, these shoes are designed for those interested in riding. If you are looking for a serious riding boot that is designed to enhance your performance and provide the technology needed to keep your feet comfortable and in control, these are a great choice. Thanks to the Everly sole and wear-resistant outsole, consumers will be very pleased with the overall quality of this shoe. When it comes to the market for this brand's products, we can say that this product is one of the more cost-friendly choices. Now, in some rare cases, depending on the size and the color pattern, it may fluctuate the price; however, it should not be too drastic. Once you consider the value that this riding boot offers, it's a great deal!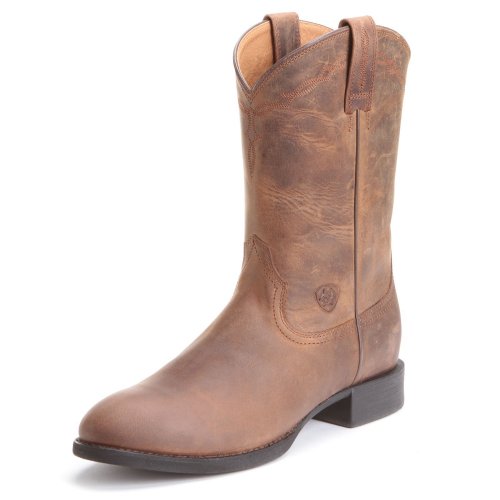 The Heritage Roper Western Cowboy Boot is one of the most popular options among consumers today, which is why it's near the top of our list today. This piece of footwear balances both the style and fashionable aspects of a western boot, while also staying true to its purpose: riding and everyday wear and tear. Let's take a look at two highlights of this product.
The last thing that any consumer wants when purchasing a riding boot is for it to break down after a few uses. Well, fortunately, this brand invests a wealth of time and money into the durability and longevity of this foot apparel. The outsole has been made from the brand's Duratread technology, which is known to boast great resistance to wear and tear and prolong the life of the shoe.
While it's important to always consider the physical aspects of a shoe or piece of footwear, the design is also quite important. This specific boot is one of the nicest looking riding boots that we have come across. This product is classy and models the traditional western cowboy design, which is definitely a major selling point. This specific western riding boot is priced quite relative to the rest of the major riding boots featured on today's list. While it's not the most expensive – it's also not the cheapest. What really makes this product unique and worthy of any equestrians attention is the way the product was design; it's classy, comfortable, durable, and comes in a few different sleek styles to pick from.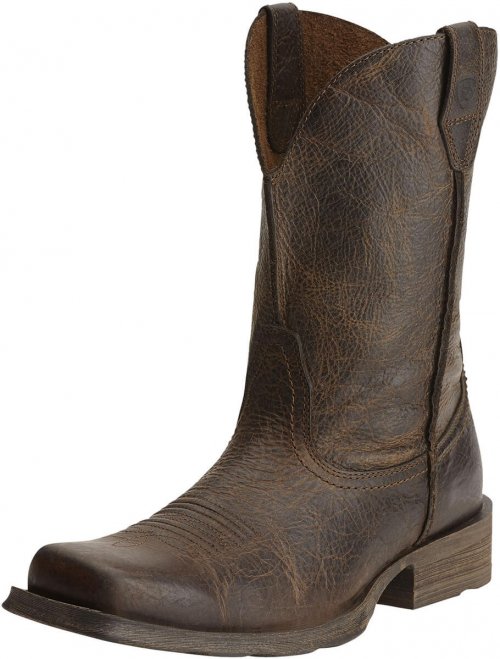 When it comes to Ariat, there is no better product from this brand than the Rambler Wide Square Toe. Not only does this shoe boast a unique and fashionable design, it's packed with valuable innovations, including a quality outsole, comfortable infused midsole, and a stable-focused footbed. If you are looking for advanced footwear, there is nothing better than these.
One of the most important parts of this footwear is the way the outsole was designed. Whether you are looking for these boots for riding or for ranch daily-tasks, these are designed to handle any venture. The Duratread outsole is a unique outer material that is known to provide some of the best resistance and protection from whatever the ranch or terrain may have in store.
Let's be honest, cowboy boots may not be the most comfortable footwear in the world. For some people, the toe box may be too narrow, or the footbed too uncomfortable. To make this product the very best in the industry, the manufacturer carefully crafted the footbed from moisture-wicking materials and infused a wealth of gel and padding to absorb shocks and provide comfort when walking or riding. As far as cost is concerned, this specific footwear is considered to be priced quite competitively. Since we are reviewing all products from this specific manufacturer – we can say upfront, most prices are relative and around the same range. What really sells this product from any other is the way that it was designed and the different technology and innovation that the company put into this shoe. This product is superior for a reason, perhaps it's your turn to find out why!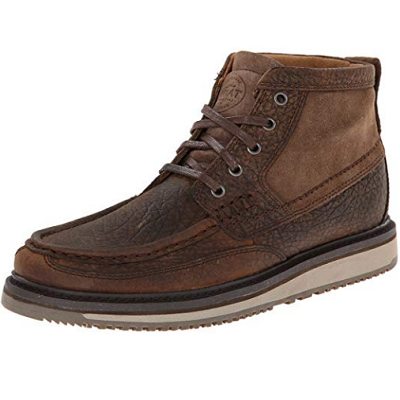 The Lookout Chukka boot is the jack of all trades that is rugged and ready to work or go out on the town when the work is done. Designed to be comfortable with an EVA midsole for the perfect arch support as well as Ariat's patented 4LR comfort system.
The night out or a day of work starts with a shoe that gives great traction. DuraTread is a flexible molded rubber plastic outsole that Ariat is known for. DuraTread is both lightweight but also strong. Ariat's patented comfort system starts with four layers of comfort in the footbed followed by a lightweight shank that provides support for higher arches. The Lookout Chukka boot is designed to be comfortable on long days in the field or out on the town.
What is the price of a good versatile boot that is perfect for most situations? This full leather shoe is a reasonable price with a long and durable life.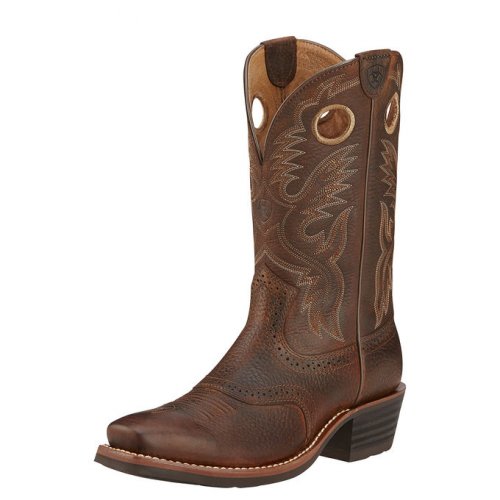 When it comes to this Ariat brand, the Heritage Roughstock Western Boot is easily one of the most popular, go-to choices among consumers. This can be attributed to the high-quality full-grain leather material, strong outsole, and some of the best styles and designs that the brand has to offer. They are classy, they are western, they are exactly what consumers are looking for, and more.
Whether you are riding or tending to some needs around the ranch, it's imperative that you are comfortable and in control of your movements. As you might attest, at any moment, you may need to move quickly or jolt your feet in a certain mannerism. These shoes are designed with the ATS footbed, which is known to provide consumers with both the control, comfort, and stability while wearing them.
What really enjoyed about this pair of shoes is the way that they were designed. This footwear was constructed from high-quality full-grain leather, which is one of the higher-tiers of leather available for manufacturers to use. In this, it allowed the company to design the footwear in a few different ways, which is what makes this product so popular among fans and riders alike. Now, you might be wondering, how much does a pair of boots like this go for? Well, like most of this brand, it's quite relative. For riding boots, these are quite fairly priced in the mix of the competition. With that being said, it's more important to really look at the unique value and opportunities that this product provides. With some of the most unique designs, ATS footbed, and the Duratread outsole – this is most certainly a valuable and feasible option.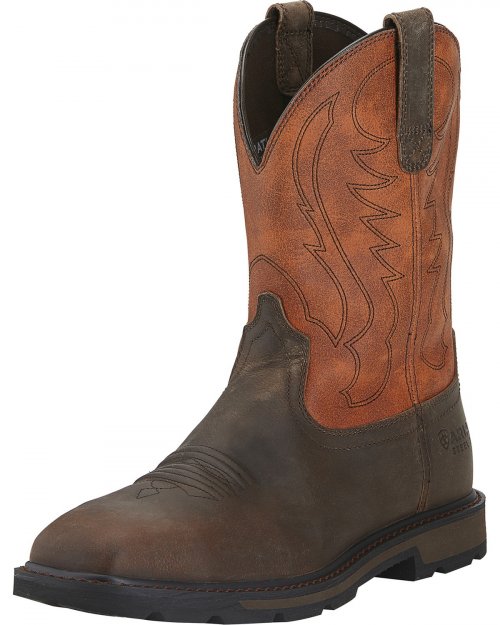 As we start to near the end of our list, we are excited to share with you today the Groundbreaker Work Boot. This item from Ariat is another popular choice from fans of the brand and equestrians. Reason being, this product is designed as one of the heavier-duty items – thanks to the full-grain leather, quality outsole, and the adjustable comforting features. Let's explore this model a bit further, shall we?
As we said above, one of the biggest reasons why so many consumers are flocking to purchase this foot apparel is because of the heavy-duty properties. This product was made from a higher grade of leather, which is known to resist wear and tear and promote greater durability. Additionally, the outsole is the standard Duratread outsole, which is seen throughout this brand's products, while also being oil resistant.
When evaluating different boots from this brand, we noticed that a few products, in particular, came with sewn insoles, preventing consumers from replacing the insole. This one specifically comes with the ability to replace the insole, empowering the consumer with the ability to insert the desired cushioning and padding. When it comes to the cost of this specific product, we can say that it's priced quite fairly in consideration of the amount of value that it offers. This item comes with such a unique and stylish design, both made of leather and suede. Additionally, the bottom part of the bottom is heavy-duty, making it a great fit for anyone seeking a quality work boot.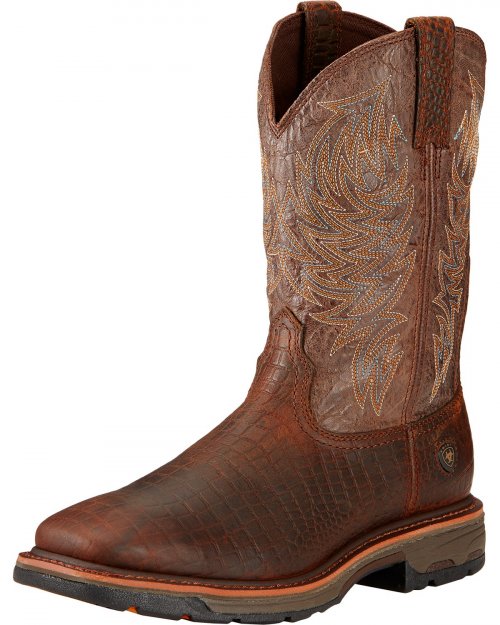 Out of the many different products that Ariat has to offer, the Workhog Wide Square Toe Work Boot happens to be one of our favorites. This piece of footwear is made from premium leather material and offers some unique benefits unseen in other products featured on today's list. With that being said, let's explore two specific features worth your attention.
Unlike many other products that we shared with you today, these are the first that offer some unique resistant properties. The outsole of these shoes not only include the classic Duratread outsole – but they also are slip-resistant and oil-resistant. Now, if you are a rider or work on a farm, you can understand how beneficial these features might just be.
Working on the horse farm or riding can cause an individual's feet to become hot and sweaty. As a result, the boot starts to build-up with moisture, and the footwear begins to develop an odor. Sound familiar? Well, with these boots, they have a special mesh liner to help release that moisture to keep the interior part of the boot dry and cool. As far as the price point is concerned, these specific boots are considered one of the costlier items that we are sharing with you today. Based on the product highlights, it's quite evident that these shoes are of higher-quality and have some unique features that other riding and work boots do not have. With that being said, if you are looking for a top-of-the-line pair of riding and work boots, these will rise to any occasion.

Subscribe to our Newsletter