Best Vionic Shoes & Sandals Reviewed & Rated for Comfort
last updated:
Oct 19, 2019
What separates Vionic from other footwear brands is that many of their products are recommended by the APMA or the American Podiatric Medical Association. Their shoes have unique orthotics built right into them which help support natural alignment and provide superior stability. Even if you're not suffering from any type of foot problem, Vionic shoes guarantee comfort and contoured relief, and they are sure to mean the world when you're expected to be on your feet for longer periods.
This is the best product on our list that is currently in stock:

Preston
Why is it better?
Premium Leather Upper
Removable Footbed
Helps Overpronation
Padded Collar
Twin Gore Detail
In a
Hurry? Editors choice:

Test Winner: Preston

17
Researched Sources
1343
Reviews Considered
14
Hours Researching
20
Products Evaluated
Features
Materials
Fit
Comfort
Durability
By Default
10 Best Vionic Shoes & Sandals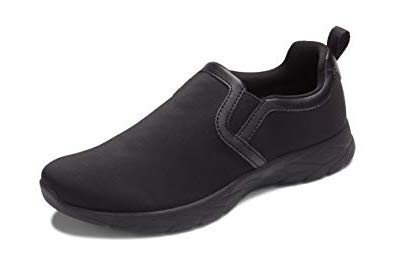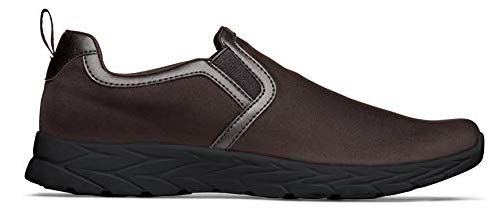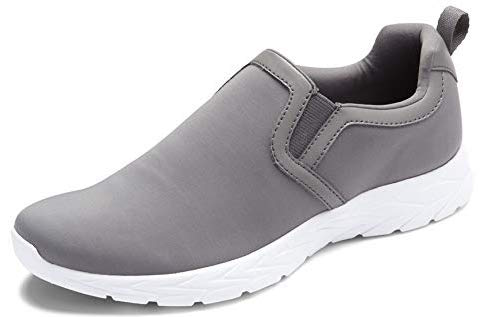 Optimal Arch Support
Promotes Natural Alignment
Leather or Natural Cork
EVA Orthotic Insert
For a comfortable men's slip-on shoe, the Blaine is a perfect fit. The Vionic Blaine is a comfortable, breathable, slip-on that will fit right into your style and become a staple in your shoe closet. It has a low profile and classic look. Its upper comes in a few colors and is made with a suede upper and synthetic sole. As most Vionic models, the Vionic Blaine has a removable, microfiber-covered EVA orthotic insert, and a TPR outsole. This flat has received an APMA Seal of Acceptance and is outfitted with Orthaheel Technology.
These natural suede materials take on the shape of your foot while letting it breathe at the same time, promoting a healthy climate within the Vionic Blaine, and reducing the risk of infection.
The trademark Vionic Technology, Orthaheel is biomechanically created to compliment body alignment, and support arches from the ground on upwards. With the Vionic Blaine, you won't have to worry about your arches falling, like in most other slip-ons.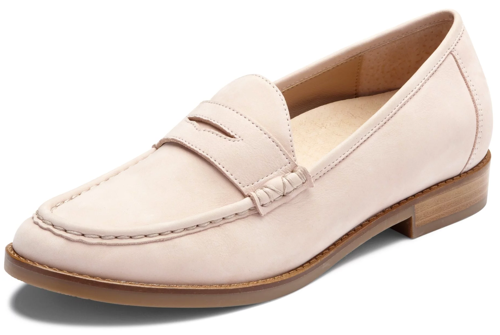 Leather Upper
Vio-Motion Technology
TR Outsole
Versatile
Color Choices
Break-in Period
Runs Narrow
If there's one model of footwear you can't go wrong with, it's a go-to penny leather loafer you'll be able to wear almost everywhere. The Waverly is a pair of shoes you can rely on for work, casual, semi-formal, and even formal wear, and thanks to the plentiful color and material options, you'll easily find the ideal look. It comes in half sizes, so you'll easily find the best fit.
The Waverly comes in several upper material choices. You can choose between nubuck, metallic finishes, and embossed leather, allowing you to style this model in a way that works best for you. The footbed is also made with leather and is removable, so you'll find that this model breathes well, without allowing your feet to get swamped during hot weather.
The footbed makes use of the brand's Vio-Motion technology, which is a newly developed support system that moves as you do, allowing for better arch and heel support. It also includes some shock-absorption for those long days on your feet, while the TR outsole keeps things lightweight and flexible.
According to the brand's website, this model will take a bit of time until it's perfectly broken in, but once you've worn it for a couple of weeks, it should feel perfect. As for price, it's about average, which means you get great value, for an investment that is sure to last.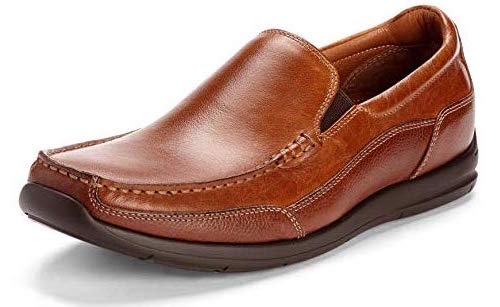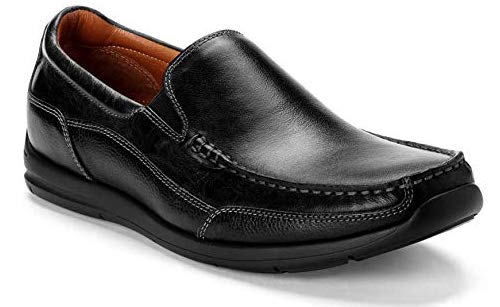 Premium Leather Upper
Removable Footbed
Helps Overpronation
Padded Collar
Twin Gore Detail
Runs Tight
Prominent White Stitching
This is a pair of slip-on loafers ideal for everyday wear. The premium quality design makes them a good choice for work, as well as casual activities where you want to look better than in regular sneakers. The Preston can be purchased in two color options - black or brown - and both look amazing with a number of outfits including slacks, jeans, and chinos. There's only one width available for this model, but you'll find that the numerous comfort features make it a great fit for most people.
The upper of this pair of loafers is made with high-quality premium leather. What this ensures is a breathable yet supportive foot covering that is going to stand the test of time, without causing excess rubbing or discomfort. Once broken in, it will feel like a second skin, and maintenance is relatively easy. There is a twin gore detail on the instep that ensures easy on and off, as well as a secure wearing experience. Additionally, this feature allows the foot to remain comfortable even if it swells during the day.
The footbed of the Preston is podiatrist-designed, leather-covered EVA foam. It offers the right amount of support for most people, and those with specific needs can easily remove and replace it with custom orthotics. In addition to helping with overpronation, the Preston will also have a shock-absorbing effect, making walking and standing less taxing on your musculoskeletal system.
As for cost association, this model ranks slightly higher than average. It's best chosen by those who need something versatile they can wear to the office, on casual outings, and while running errands.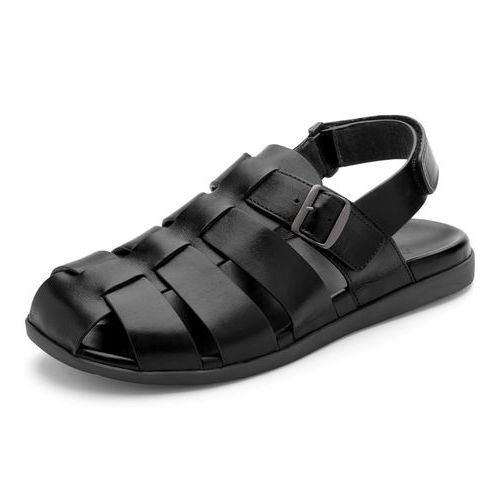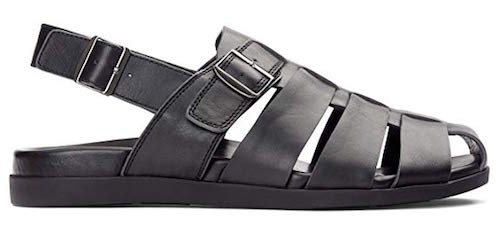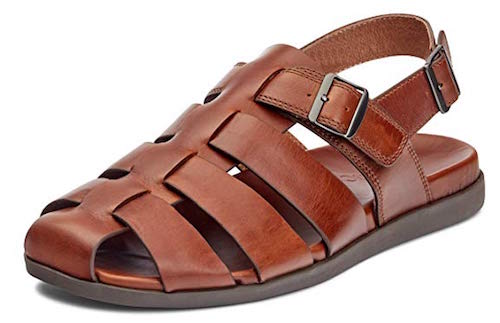 Water Resistant
Kid Suede Upper
Side Zipper
Tassel Accent
Narrow Toe Area
Not for Wide Feet
Orthotic comfort and contoured support also come in the form of these stylish men's sandals. The Vionic Ludlow Gil is a comfortable and breathable sandal you will not want to take off. It has a velcro closure on the back strap and a removable EVA footbed, and a TR outsole. This is truly a shoe that will tie together any outfit layered for windy, drizzly fall weather!
For a breathable summer sandal - the Vionic Ludlow Gil is the perfect fit. The upper of this sandal is treated with a special protective formula which makes it resistant against unfavorable weather, regardless of the fact that it's made of usually-sensitive suede.
The velcro on the outer side of the Vionic Ludlow Gil is there as a trendy touch but also serves to help slip on the sandal with the least amount of effort. Additionally, it offers a secure fit - just velcro it up and don't worry about a thing!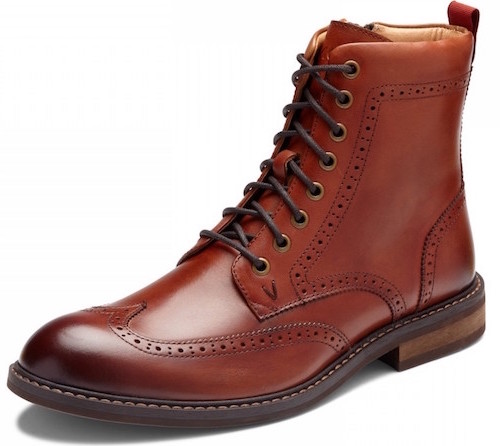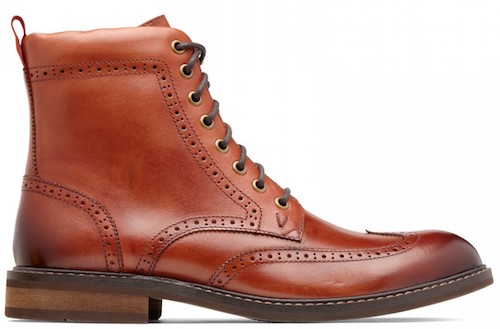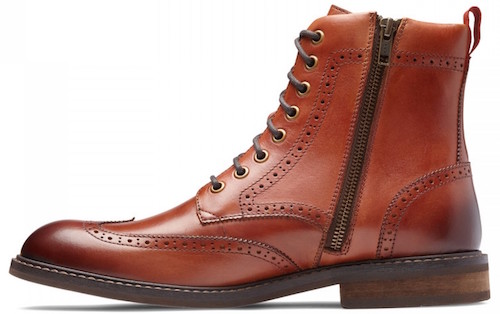 Leather Upper
Zipper Closure
Heel Pull Tab
Rubber Outsole
EVA Footbed
This pair of boots is ideal for urban winters where you want to keep your feet protected from the cold, rain and snow, but still need something that will look great, even at the office, even on a Friday night out. It's a classically designed pair, with broguing details that will make it stand out, while the color options allow you to choose between brown (which looks fantastic with dark wash jeans) and black, which goes pretty much with everything.
The upper of the Wesley is made with premium quality leather, like a number of models listed in this guide. What this means is that you won't have to worry about it becoming unsighly with wear. Instead, quality leathers tend to look better with wear, as long as you clean and condition them on a regular basis. It would also be recommended to apply some level of water and stain protection to this pair of boots, especially if you want to wear them in wet conditions.
The outsole of the Wesley is made with durable rubber that will work well on most surfaces. The footbed is anatomically designed so as to provide orthotic support and is removable for those who require custom inserts. You'll also find that the boots are made better through the side zipper which allows easy on and off, the heel pull tab, as well as the lightly padded collar.
As for cost, these shoes definitely cost a lot, but you'll find that the higher price is justified considering the type of product you'll be getting - a versatile pair of boots that will elevate each of your professional or casual looks.








EVA Midsole
Contoured Orthaheel Footbed
Clinically Approved
TPR Outsole
Foam-Lined Strap
Needs Breaking In
Thick and Heavy
We would be remiss not to include the legendary Vionic Tide II on our list. This sandal is a Vionic all-time favorite, one that customers keep returning to over and over again. It features Orthaheel technology built into the footbed, a flexible toe post and foam-lined strap for comfortable wear, a lightweight EVA midsole, and a durable TPR outsole. The upper is made out of leather with cushioned neoprene as a liner. When it comes to summer footwear, it truly doesn't get any better or more comfortable than the Vionic Tide II.
Vionic funded a clinical study which included patients suffering from mild, non-traumatic heel pain. They were given the Vionic Tide II to wear for 12 weeks and reported significant improvement and decrease in the intensity of their pain.
The lightweight, medium-density EVA midsole absorbs impact and reduces stress on the feet, ankles, and knees. Thanks to this material, the Vionic Tide II is incredibly flexible and comfortable - a cloud-like sandal.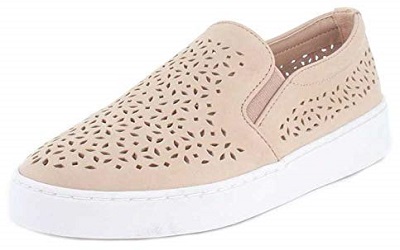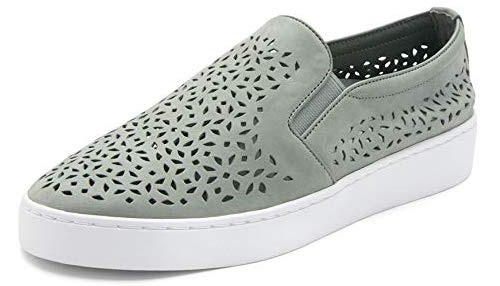 Perforated Leather Upper
Round-Toe Silhouette< Flexible EVA Midsole Durable Rubber Outsole Comfortable & Versatile
Stretches Out Easily
Not for Wide Feet
The Vionic Splendid rides the wave of the current craze for slip-on round-toe platform sneakers. It has a perforated leather upper and gore panels for all-day walkability, as well as a flexible, removable EVA orthotic insert. The outsole, as with all Vionic products, is made out of durable TPR, and it boasts Orthaheel Technology which keeps you comfortable and prevents the development of any foot-related medical conditions. We honestly can't say if casual, orthotic footwear ever looked this good.
While all the laser-cut perforations on the upper of the Vionic Splendid look like a nice decorative touch, they are not there just for the aesthetic. These holes help promote proper airflow and allow the foot to breathe, even when the weather is too hot outside.
One of the best things about having slip-on sneakers is that it only takes you a second to put on your shoes before you're out the door. With the Vionic Splendid you never have to worry about zippers or laces - just slip it on, and you're good to go!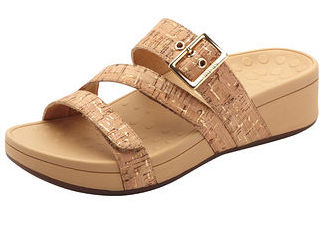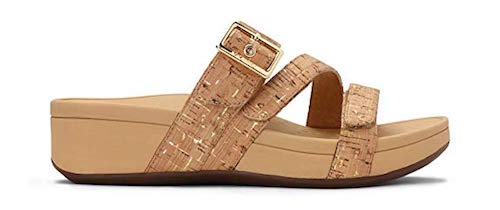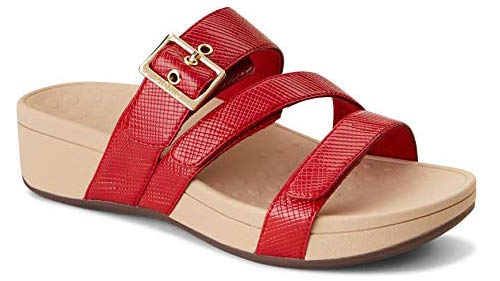 Synthetic Upper
EVA Footbed
Anti-Microbial Orthaheel
Breathable & Moisture-Wicking
Outstanding Traction
Too Wide for Some
Needs Breaking In
Another customer favorite, the Vionic Pacific Rio has been designed for - you guessed it - walking. It features AMS (Active Motion System) technology as well as Orthaheel technology with an anti-bacterial outer layer to control foot odor. This sandal comes with synthetic upper and a lace-up system, as well as a polyester mesh liner. Walking just gained an entirely new dimension with the Vionic Pacific Rio.
This technology combines a special podiatrist-designed orthotic with a flexible, cushioned outsole and a lightweight, breathable upper. The Vionic Pacific Rio will provide you with ultimate support whether you need to work, run or play.
The Rubber Sole of the Vionic Pacific Rio is not only breathable and moisture-wicking for that dry, cool foot climate, but it also has a PU foam base which helps reduce friction against skin. Blisters be gone!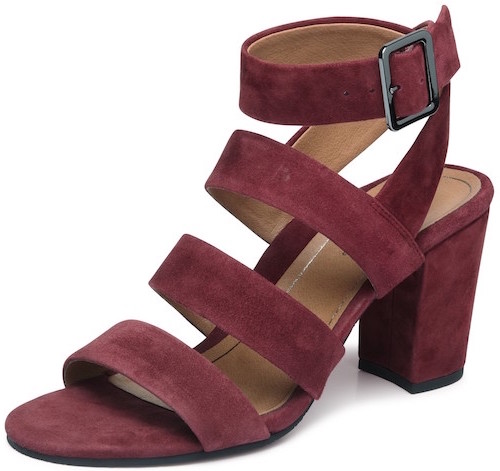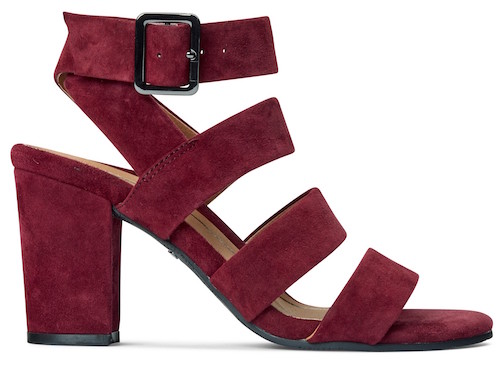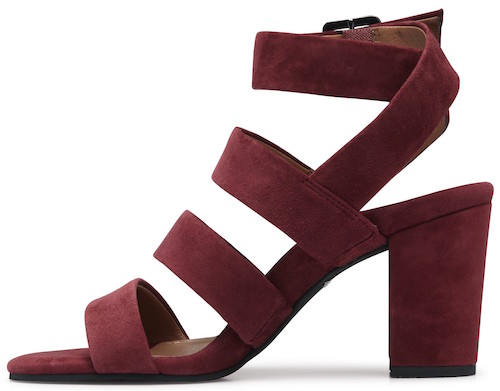 Suede or Leather Upper
Adjustable Ankle Strap
Chunky Heel
Comfortable Footbed
Great Price
Runs Narrow
Irritating Lining
The Blaire heeled sandal was designed as a pair you can wear during the day, as well as for special occasions or nights on the town. It has a beautiful contemporary design that will work well with almost any outfit - from jeans to cocktail dresses, plus it comes in four color options - wine suede, charcoal suede, black suede, and a novelty snake option.
This strappy sandal made with genuine suede or novelty leather looks great because of the smart choice of materials. Not only do they have a luxurious appearance, but they're also very durable, and even more importantly, comfortable. Suede, especially, has a good reputation because it is softer than full-grain leathers, and it allows for a great level of breathability, especially when taking into account the numerous openings that allow unrestricted airflow.
The ankle strap features an adjustable buckle so you can get the best fit, without having to worry about stability. The chunky heel has an excellent balance, offering a bigger surface to put your weight on, while the podiatrist-designed footbed hugs your arches and protects the ball of the foot from too much pressure that's put on it while walking.
As for cost, the Blaire ranks average, but can often be found on sale, so you can get it for a price that's very affordable. This is what makes it one of our favorite options - the fact that it offers design, quality, comfort and price, all in one classy package.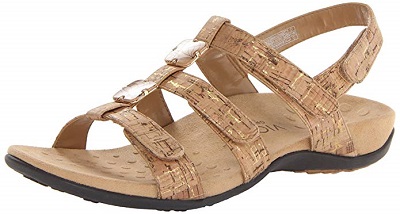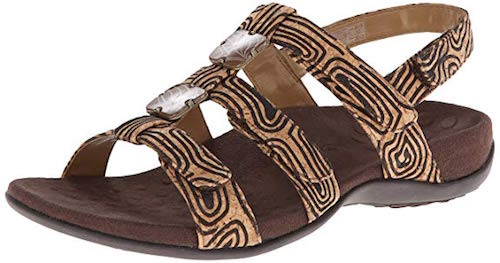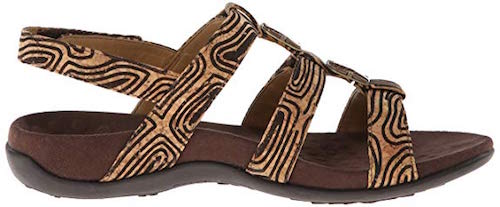 Cork Upper
Four Point Adjustability
Absorbs Shock
Built-in Orthaheel Technology
APMA Seal of Acceptance
Unreliable Sizing
Stiff Straps
The Vionic Amber brings stylish comfort to the standard summer sandal. This cork backstrap shoe has four points of adjustability, an EVA midsole, and built-in Orthaheel Technology. It is fashionable with its two square beads on top of the vamp, and it also has a durable outsole specially patterned to provide traction regardless of the terrain. The Vionic Amber isn't only recommended by a physician, but it also has the APMA Seal of Acceptance, guaranteeing that it promotes good foot health.
Usually, sandals have one or two straps with buckles which can be adjusted for a good fit. But the Vionic Amber has no less than four points of adjustability in the form of velcro straps, which you can tighten or loosen for a fully customized fit.
The EVA midsole of the Vionic Amber absorbs shock while you walk, lessening the pressure on your heel and minimizing your pain, but it also reduces stress on the feet, ankles, and knees. Full-leg comfort!
Criteria Used for Evaluation


Features
Vionic is a brand name synonymous with comfort and supportive technology. In this fast-paced world where we don't have enough time to properly eat, let alone to stop and consider what would be the best for our feet, having shoes which guarantee pain relief and cushioned stability is essential. This is where Vionic comes in, with their three types of designs, both of which are grounded in biomechanics and which ensure that your feet are supported from the ground up.
Natural Alignment
Orthaheel Technology - which is the official name of the technology in Vionic shoes - is designed to hug your arches and support natural alignment. Alignment problems such as pronation and supination are unfortunately quite common. Pronation is the inward roll of the foot during normal motion. Moderate amount of pronation is normal and expected; however, excessive pronation can lead to flattening of the arches and uncomfortable stretching of the muscles and ligaments underneath the foot.
Similar can be said for supination, which represents the opposite of pronation - the outward roll of the foot. Excessive supination can put a strain on the muscles and tendons which are responsible for stabilizing the ankle. The result could be an ankle sprain or a total ligament rupture.
To prevent these issues, and to correct possible problems with alignment, Vionic products come with Orthaheel Technology. It consists of a deep heel cup that provides essential stability, an innovative biomechanical footbed for substantial arch support, and a firm, yet flexible midsole for perfect balance.
Elevated Support
If you think it is difficult to find high-quality, contoured shoes with flat soles, try finding adequate comfort technology in heels. Heels are considered detrimental for foot health, because of the unnatural position they keep the foot in. In high heels the weight of the wearer is shifted towards the front, putting unnecessary pressure on the ball of the foot and causing a wide variety of problems - from pain and numbness to hammer toes, corns, bunions and similar.
Vionic's Elevated Support ensures stability with its deep heel cup, and full contact with the arch of the foot to evenly distribute the weight within the shoe. This is vital for keeping the strain off the ball of the foot. Furthermore, this technology provides enhanced cushioning in the front as well, for that much needed ball-of-foot support.
Sandal Support
While all Vionic styles and models feature contoured footbeds and orthotic support - most with the coveted APMA (American Podiatric Medical Association) Seal of Acceptance - Vionic sandals are something truly extraordinary. Regular summer sandals and flip-flops can't accommodate orthotics or inserts, which are often prescribed for chronic heel pain. Therefore, Vionic sandals come with built-in orthotics, right in the footbed. Vionic contoured sandals offer effective relief for those who are suffering from heel pain, putting standard flip-flops to shame.
In fact, there has been a study about the efficiency of Vionic sandals in treating heel pain. In it, 150 people with heel pain problems averaging over the age of 50 were examined and given Vionic sandals to wear. Over a 12-week period, results showed that patients wearing Vionic sandals were 68% more likely to report improvement in symptoms when compared to the patients who wore flat flip-flops. This study also confirmed that Vionic's contoured sandals provide similar relief to their most popular orthotic inserts when it comes to relieving heel pain.
For our Features criterion, the higher the score, the better the technologies contained in the product in question, resulting in improved health and performance of your feet.


Materials
Materials are crucial when it comes to the quality of the shoe. They can be well-constructed and carefully designed, they can impress the crowds with their visual appeal, but the truth is that shoes are not worth much if they are made from cheap, low-quality materials that fall apart in record time.
Fortunately, that won't happen with Vionic shoes. Vionic's footwear is made of the best materials money can buy, and they don't limit themselves only to natural materials.
While full-grain leather, nubuck, and suede have their advantages - mainly in the sense that they promote proper airflow in the shoe and help maintain a dry and healthy climate for your feet - they are not animal-friendly, and shoes made out of these materials are not vegan.
To ensure that all their customers are satisfied, Vionic also offers a wide selection of footwear made from synthetic materials, such as synthetic leathers, fabric, neoprene and similar. These materials are sturdy and wear well over time while having the bonus of being eco-friendly, as well.
For their orthotics, Vionic uses a flexible material called EVA (ethyl vinyl acetate). EVA is responsive and supportive at the same time. It provides shock absorption not only to the feet but also to the ankles, knees, hips, and back. This makes Vionic orthotics more comfortable and more natural compared to orthotics made of hard materials. However, EVA is also firm enough to provide proper realignment to the foot and allow you to walk with your natural gait.
It is important to mention that EVA changes over time. It is a material that compresses and eventually loses its springiness and the ability to cushion the impact. Therefore, these shoes need to be replaced every 12-18 months.
Lastly, for their outsoles, Vionic uses TPR or thermoplastic rubber. This material is recyclable and offers superior comfort compared to regular die cut soles. It is flexible like a traditional leather sole, but more durable and easier to maintain. In addition to that, TPR soles are also lightweight, resistant against abrasions, weather conditions and wear and tear.
At the end of the day, a higher score on the Materials criterion means that the product is likely to exhibit a higher level of comfort, support, feel and performance.


Fit
One of the things about footwear made by Vionic is that they're designed with comfort and foot health in mind. For most people, this is as simple as a great fit.
What you'll find for most of the models listed above is that they can be purchased in whole and half sizes, allowing you to get the correct length of footwear. Not only does this prevent excess room inside the shoes, such as in the toe or heel area, but it also ensures that the arch and heel support are placed exactly where you need them.
Furthermore, a shoe that fits too large allows for movement inside the foot chamber, that often leads to problems such as rubbing or blistering. While some people have to size up due to having wide feet, it's highly recommended that instead, you choose a model that is offered in a wider fit. This may be a bit more difficult to find, but taking the time to make the correct choice will definitely pay off.
Another factor to consider when it comes to fit is adjustability - or your ability to improve the fit with straps, laces, zippers or hook and loop closures. You should also try to invest in footwear made with pliable materials that will break in easily, following the contours of your foot. Leather is always a good choice, but there are synthetic materials as well that will ensure that your foot is supported but not restricted.


Comfort
Vionic stands by their product and believes in their mission to make available to everyone comfortable shoes and sandals that are effective and stylish. For a pair of shoes to be worn over and over, they can't be uncomfortable; similarly, no one wants a pair of comfortable shoes that are unsightly or out-of-fashion. This is where Vionic shines: their product looks good and feels good. But for now, let's examine the comfort aspect of the product, revealing three key areas to watch for.
Outsole
The outsole, or more simply, the sole of the shoe, makes direct contact with the ground and supports the entire foot and body when in motion. A poorly-constructed outsole will lead to discomfort, slipping and a foot or other bodily injury. For this reason, many manufacturers use materials that are water-, weather-, heat-, and impact-resistant. Depending on the type of footwear, one will often see outsoles made from natural or synthetic materials, such as PVC, EVA, rubber, and leather. Each of these has their advantages, depending on the shoe's purpose; however, as a general rule, they each are resistant to the aforementioned factors. They are also flexible enough to support a proper foot cycle when in motion, but they are not so flexible that they feel like a pair of socks. A sole made of the materials above tends to score higher on our product evaluations, as they are not only comfortable but also support other criteria, such as "support" and "durability."
Midsole
The midsole is designed to provide cushioning and shock absorption to the shoe, nestling the foot in comfort. Whereas running shoes tend to have thick midsoles, flats and thinner shoes not designed for high-impact activities often have thinner midsoles. The reason for this is simple: you need more shock absorption and vibration dampening during high-intensity movements or activities to maintain comfort and prevent foot injury then you otherwise would with a regular shoe, flat or sandal. Midsoles are often made from EVA (ethyl vinyl acetate), a synthetic plastic also used to make insertable orthotics. A firmer type of EVA for the midsole will make the shoe heavier, but more durable; whereas a softer type of EVA, like those found in running shoes, improve shock absorption, but wear much more quickly. Podiatrists tend to prefer firmer midsoles for those suffering from orthopedic conditions, such as plantar fasciitis.
Insole
The insole is the proverbial foundation of the entire shoe. The sock liner lays on top of the insole, which is then fused to the midsole, and finally the outsole. A firm insole will give good structure to a shoe and increase its stability and durability, but it will also increase the weight of the overall product and be less comfortable. A softer insole might be more comfortable, but that comes at the expense of stability and durability. We tried to balance these weights when evaluating our products, but each reader and wearer is different, so be aware of this trade-off.


Durability
Because footwear made by this brand is slightly more expensive than average pairs of shoes, you'll want to make sure you're getting something that will last you longer than a single season.
If long-time wear is something that's a priority for you, go with a model made with high-quality materials. For uppers, these will be leathers or textiles, while for the outsole, you won't go wrong with rubber. You can read the Materials section above to get a better idea of how each of these will perform. You can also take precautionary steps such as shoe protection and proper storing, which will all contribute to a better wearing experience.
Another thing you can do is to go through customer reviews, as these will often point our design or material flaws. The Pros and Cons listed for each of the models show any possible flaws such as a lack of durability in an outsole, stitching problems, and similar issues.
Expert Interviews & Opinions
Most Important Criteria
(According to our experts opinion)
Experts Opinion
Editors Opinion
Users Opinion
By Default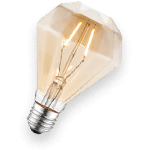 APMA Approved
Vionic is one of the brands that the American Podiatric Medical Association has approved for being kind to your feet. This means that the shoes produced have features and technology to help support, cushion, and otherwise give a great in-shoe feel, especially for those suffering from foot pain. For more information on approved brands, you can search their website here.
Selecting Your Next Pair Of Vionic Footwear
Vionic makes a multitude of styles for functional footwear, and dressier models, which can be applicable to any situation you encounter. From exercise such as walking, to office footwear and casual flats, it's really up to you to decide how you'll use your Vionic shoes.
Approved by the AMPA, Vionic brand footwear is designed for the most comfort and support you can find in footwear, so whichever model or style you select, rest assured your feet will thank you!
Other Factors to Consider


Bottom Line
Vionic shoes are not only foot-friendly; they are also visually attractive as well. We have seen countless examples where orthotic shoes or those designed to aid in foot-related medical conditions have an underwhelming appearance - grandma footwear if you will. Fortunately, when it comes to Vionic shoes, you don't have to sacrifice style for comfort.
Of course, while pressure relief is practically guaranteed with a Vionic shoe, you should consider some other things, such as the shoe style, its quality and durability, and of course, its price tag.
Vionic shoes come with a variety of technologies that are unique to the brand, and all those new features might seem confusing at first. Therefore, in our Criteria section, we have gathered vital information about all these innovations and more, to make sure you are fully informed before you make your final decision on which Vionic model to get for yourself. Only by knowing what you are looking for in a Vionic, and comparing it to our exhaustive list of criteria, can you truly select the right model for you.
Frequently Asked Questions
q:

Do I have to break in my new shoes?

a:

The experience in wearing these shoes for the first time depends on each person. Most people find these shoes comfortable right away, while others may take some time to adjust. Vionic itself recommends wearing their new shoes for just a few hours for the first few days so that your feet can adjust to the new level of orthotic support. However, in no more than two weeks the shoe should be completely comfortable for you.
q:

What is the difference between a footbed or insole and an orthotic?

a:

Standard footbeds provide cushioning and absorb shock. They feel comfortable and are great for everyday use, but they don't address the cause of the problem, such as excessive pronation or supination.

Orthotics, on the other hand, also provide some shock absorption, but their key role is in reclaiming your footprint by ensuring natural alignment from the ground up. Some footbeds also feature arch support, but high-quality orthotics do a lot more than just that.
q:

Did Vionic have a different name before?

a:

As a matter of fact, yes, it did. Vionic's previous brand name was Orthaheel. However, customers expressed their dissatisfaction with the brand name, calling it "old" and "orthopedic." So Orthaheel changed to Vionic, but everything else - their products and technologies - remained the same.
q:

What is the best way to clean my Vionic footwear?

a:

Vionic shoes are very easy to clean - just wipe them with a damp cloth and leave them to dry under direct sunlight.

In case your shoes or sandals have taken on an odor, you should give your footbed a good scrub with warm water and mild soap. It is important to regularly clean and deodorize footbeds to stop the growth of bacteria and fungi which can cause infections, bad odor, and itchiness.

Vionic does not recommend: submerging the shoes in water or using solvents to clean them, exposing the shoes to extreme temperatures and using dry cleaning or wash and dry laundry machines.
q:

My shoe is squeaking! What do I do?

a:

Oh dear, this is unpleasant. The most likely cause of squeaking in your Vionic shoe would be that the orthotic is rubbing against the upper of the shoe. What you can do is to locate the source of the squeaking, then lift the orthotic and apply baby powder or baking soda over the area. Place the orthotic back with the powder still inside and leave the shoe to set overnight.
Subscribe to our Newsletter