Best Shoes with Ankle Support Reviewed & Rated
In a Hurry? Editors choice: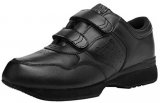 Test Winner: Propet Life Walker Strap

There is nothing worse than looking forward to your next jog or run, sports meet, or a general outing with your friends or family only to twist or sprain your ankle beforehand. That's why ankle care in the here and now, as well as prevention, is so important. Whether you are recovering from an injury or trying to prevent one, any of the ten best ankle support shoes below will serve your needs. We looked to have a variety of designs, including fashion and functional boots, trainers and hikers to ensure you have variety and choice.
Standout Picks
Criteria Used for Evaluation
Comfort
Many factors go into deciding the comfort levels of a design (such as the material quality, the fit, the adjustability, breathability, etc), but none more so than cushioning.
Cushioning comes in many varieties. There are ankle support shoes without any cushioning, all the way up to those with a lot of it.
Some people need stiffer cushioning, whereas others might be in need of softer cushioning. Arches, the weight of the person, and pronation types play a huge role in this, as well as the type of activity you're engaging in. In other words, arches and pronation types are not going to matter much if you choose to play basketball in a pair of high heels.
If you're looking for additional comfort features, make sure to pay attention to the footbed, as a molded or contoured footbed provides good arch support, which you need to stave off foot fatigue. Furthermore, a removable insole may also help, as it allows you to increase the space inside your design, should you need it.
Finally, to make sure that you are choosing the most comfortable option for yourself, pay attention to the materials of a design. If they are natural, such as genuine leather and suede, then these materials will change shape over time and mold to the forms of your foot, providing you with a tailored type of comfort. Similar is true with lightweight materials, such as mesh and canvas, which are breathable and provide a sock-like fit.
However, keep in mind that synthetics, like faux leather, are not as malleable, and thus may not be as comfortable.
Advanced Features
Midsoles: Midsoles play an important role in ankle health. In addition to providing comfort, a midsole creates a more stable environment and is responsible for decreasing load rates in conjunction with returning stored energy. By releasing the stored energy gained from your foot placement upon a surface, the best footwear will put a 'spring' into your toe-off. This quality helps to minimize impact force, thereby, increasing the chances you will avoid an injury.
Tongue: The tongue should fit snug and provide additional lockdown while remaining comfortable. Sometimes, tongues tend to slip to the side, reducing the support they provide. Depending on the situation, anytime foot support is lowered, the risk of injury potentially rises. So, it is paramount to check the tongue for fit and increased snug-effect. The 'bootie' design has one of the better tongues out there.
Shank Plate: Without a shank plate, your footwear would more-or-less fold in on itself. The shank plate is made from many different materials. One of the most expensive parts of a design, the cost can drastically increase when a high-grade shank plate is present. It lies between the outsole and the insole and is responsible for stability and durability. If you can bend your shoes at the midfoot, they either have a really bad shank plate or there is none present (think house slippers).
Heel Counter: The heel counter can either add balance or take it away, depending on its design. In high-quality basketball sneakers, the heel counter creates a more snug environment around the heel, thereby, initiating greater stability. The same is true for everyday footwear as well. If you want stability and to avoid rolling your ankle, then definitely aim for footwear which has a solid heel counter.
Fit
When looking for the perfect fit, there are a few things you want to remember:
Your shoes need to fit a half-inch from the toe box to the tip of your longest toe.
Your feet are largest at the end of your day. As such, footwear should be fitted and your feet measured in the evening.
Next, footwear should be snug; not overly tight or too roomy.
Lastly, ensure the tongue does more than separate your foot from laces. The tongue should be thick and provide a 'snug' sensation.
As previously mentioned, comfort is only part of a solution, but it is a big part. We are all made different in one form or another, and our feet are not dissimilar in this regard. Always choose footwear which is a better fit for you and not for someone else. When wearing your shoes, you should experience a comfortable, regular day.

In short, if you experience increased discomfort when trying on new footwear, then it is not the right one for you. Any slight discomfort or tightness that you might feel during this process will most likely turn into a real nightmare when it comes to long-term wear.
Features
We already touched upon some stability features, such as a solid footbed and a shank plate inside a design. In the next section, Style, we discuss the pros and cons of a high top vs. a low top design, but here, we will take a moment to explain about footwear stability and why that is important in preventing injuries of this type.
Whether you are wearing a high top or a low top design, one that is comfortable or not, or one that has a snug tongue or a foamy midsole, means very little if you are someone who is prone to twisting their leg as they walk. What helps in avoiding these incidents is a design which puts emphasis on stability.
Stability is required to keep your weight evenly distributed throughout the design and to make sure that you don't slip or skid at any given moment. Therefore, look for options which make you feel secure on your feet. Look for solid footbeds that aren't too soft or too padded - excess padding can easily lead to toppling over - and also for extra lockdown features, such as velcro straps, adjustable laces, or even velcro straps and laces.
For your convenience, we tanked the items on our list according to their stability characteristics. Some are better at making you feel more secure on your feet than others, and if this is what you're looking for the most, definitely sort the products by this criterion. Good luck!
Style
In an article written by the Bone, Muscle, and Joint Team of Cleveland Clinic, Dr. Miniaci-Coxhead is stated as saying that she believes high tops could very well be good for those recovering from an already existing sprain and help those pre-disposed to ankle sprains. Furthermore, she states studies have shown that high tops decrease the likelihood of minimal inversion; but in excessive inversion, there is no real difference between high tops and low tops.
In other words, in minimal inversion situations, high tops can be used to minimize the chance of injury and can work as an assistive device to those already suffering from a sprain. Additionally, high tops are a good choice for those prone to injuries.
But there is another side to the same coin, as it were.
According to the Bone, Muscle and Joint Team of Cleveland Clinic, Dr. Miniaci-Coxhead also states that the best way to with ankle health is to strengthen their muscles in the long-term. The muscles (evertors) associated with preventing inversion injury can react later than normal when wearing high tops. This, in essence, can cause your ankles to become weaker. At the end of the day, low tops would be better-suited for strengthening over the long-term.
In short:
High tops are best suited for those prone to ankle-related injuries and who are already suffering from a sprain.
Low Tops are best suited to help strengthen the muscles associated with inversion prevention.
So next time you go shopping for footwear, keep these things in mind! If you are already suffering from an injury, opt for a high top to speed up the recovery. But if you feel like you need to work on your muscles to prevent injuries in the future, definitely go for a low top!
10 Best Ankle Support Shoes in 2020
1

. Propet Life Walker Strap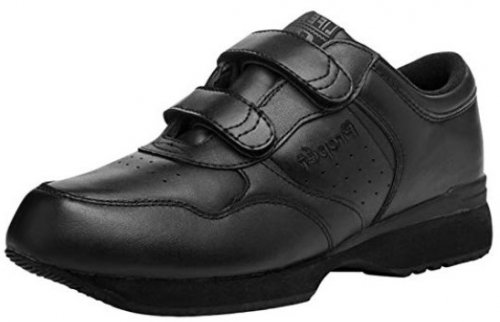 You might have heard the name Propet in relation to footwear for diabetics, and medically approved footwear for all sorts of different foot-related ailments. Well, this very helpful and very versatile brand also has a walking shoe that specializes in providing stability and motion control. The Life Walker Strap ankle support shoes are comfortable, orthotic-friendly, and Medicare-approved.
The Life Walker Strap comes with a leather upper, a padded collar for extra ankle security, a padded tongue for that snug fit, and a dual-strap closure. These two straps keep you firmly locked inside the sneaker while enabling you to easily put the sneakers on and take them off. The Life Walker comes with an EVA midsole that is cushioned, and a firm heel counter for stability in the rear. The footbed can be removed for your own orthotics if need be, and the outsole has a herringbone pattern in it, for superior traction.

We are inclined to name the Propet Life Walker the best choice on our list. It has everything a solid design of this type needs to have - the right amount of cushioning, stability in the heel, a tongue that fits snugly and a padded collar which keeps the ankle secure. On top of all of that, you are safe from slipping or skidding any time soon, thanks to the traction rubber outsole. What an amazing deal!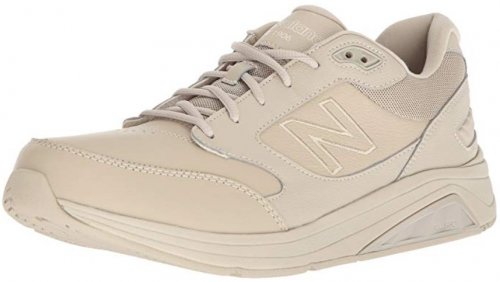 New Balance is a brand which has been at the forefront of the supportive and motion control footwear industry for years. The 928v3 is one of their best shoes for ankle support yet, a classic trainer which is not only comfortable and easy to wear but which also comes with special technologies that deliver stability and motion control right where you need them.
The 928v3 is made from synthetic materials, meaning that its durability may not be up to par as some of our leather options. However, this design makes up for it with its outstanding comfort and stability system. The 928v3 features the ROLLBAR technology which reduces movement in the rear foot, as well as the Walking Strike Path system which stabilizes your foot and guides it through a proper step.

On top of this all, the New Balance 928v3 has a plush, cushioned midsole, a seamless Phantom Liner and is also odor-resistant. What more could we possibly want out of a design which keeps us this safe, this stable, this comfortable, and which also reduces the risk of smelly feet? Amazing!



These shoes with ankle support provide just the right amount of stability where you need it the most. Made of leather and canvas in the upper, it is also breathable and a great work boot. It is stable, good-looking and has comfort features throughout to ensure that you are able to work all day in comfort. Superior traction completes this boot's design as a solid performance option.
Often when a boot is waterproof, it also means that it is incapable of breathing. However, with the Kinetic 8" GTX, you get the best of both worlds. The Gore-Tex liner in the boot keeps the water out while also allowing your feet to stay cool and dry. There's not a whole lot of use in a boot if it leaves you slipping and sliding all over the place. This design features a kinetic outsole that has multi-directional lugs o ensure superior traction.

With the Danner Kinetic 8" GTX, you are getting a hard-working and durable design that will keep your joints stable and leave you comfortable through long days at work. It is breathable and waterproof on top of all that, and you have a good value.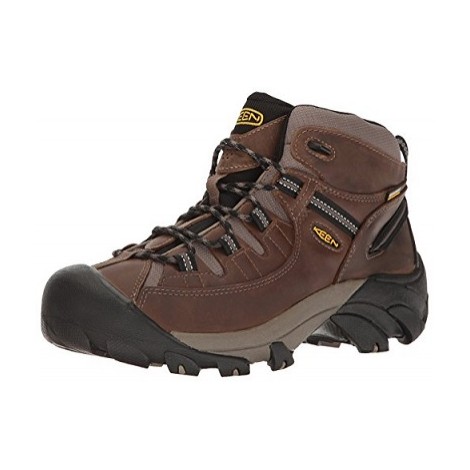 Who says you can't go hiking with joint problems? Not KEEN, who made the Targhee II to be supportive, comfortable and rugged for your time in the outdoors. This boot will transport you over various kinds of ground in hiking without affecting your joints and while keeping your feet dry, comfortable, and cool. The heel lock allows you to adjust the level of support too. Score!
No one is comfortable when their feet are damp during exercise or hikes. The Targhee II ankle support shoes feature a KeenDry membrane on the interior, and waterproof leather upper. This ensures that your feet stay dry while the boot keeps its breathability for cool comfort.

The footbed in the Targhee II is a removable dual density EVA. It is metatomically formed to suit the natural shape of your feet, providing additional comfort. The midsole is also a compressible EVA for cushion and shock absorption.

For exceptional value, you get a design that is not only made to support, but also waterproof and breathable. It has a number of features that are designed for your comfort and it includes adjustable joint support with the heel lock.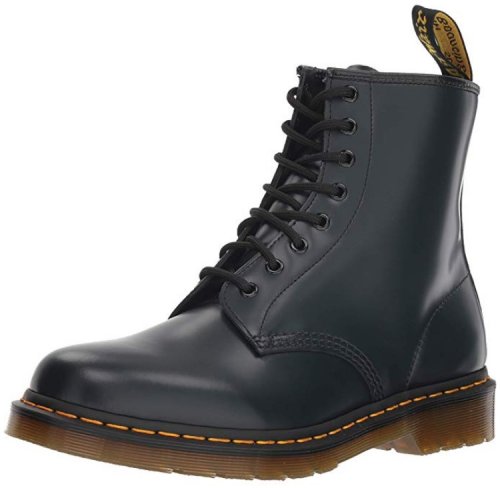 Behold, the original Dr. Martens boot! The reason this punk classic has a place in this guide is not only because it is a boot, and thus has material around the ankle. No, the 1460 comes with the iconic Dr. Martens air-cushioned sole, which rivals that of Nike in terms of comfort and energy-return, and it all comes in one hardcore, amazingly durable package!
The Dr. Martens 1460 is a classic silhouette that we all know, and it comes with 8 eyelets for a fully adjustable fit. The 1460 shoes for ankle support are built using the Goodyear welt technique, meaning that they can be resoled easily without damaging the design, which, in turn, means that you will be able to wear this option for practically a decade! Thanks to the air-cushioned sole and the high topline, the 1460 will keep you stable and cushioned in all the right places.

While it may not be the most conventional choice, the Dr. Martens 1460 is a highly versatile boot. You no longer have to belong to a punk or an alternative group of any kind to enjoy all the stabilizing and comfort benefits of this intimidating, yet incredibly long-lasting design!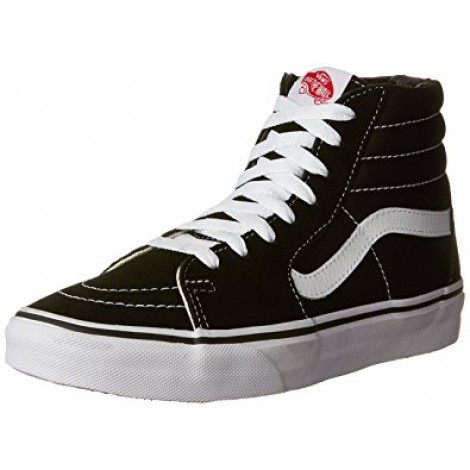 Firstly, these high top skateboarding sneakers offer all the support needed while also delivering an outsole with an incredible grip. Secondly, the collar is padded on the Vans Sk8-HI creates a better fit and allows a more comfortable wearing experience. Finally, as you ride and perform your tricks throughout the day, reinforced toecaps help to prevent unruly wear. Check out more from Vans, if you are interested!
The padded collar on these creates a snug fit. In addition to raising the comfort level, the padded collar works to allow your joints mobility and strength while freeing you from the worries of gear. By allowing your feet to remain mobile enough for the demanding tasks of skateboarding, yet, firm enough to provide stability during a trick, the canvas upper is a good choice in its design. In this regard, the canvas is an ideal fit.

The cost of these is size-dependent and stretches from low-to-mid. With both the padded collar and the canvas upper, the Vans Sk8-HI is more than worth its price. With all things considered, the small investment to bring peace of mind while riding is worth every last penny.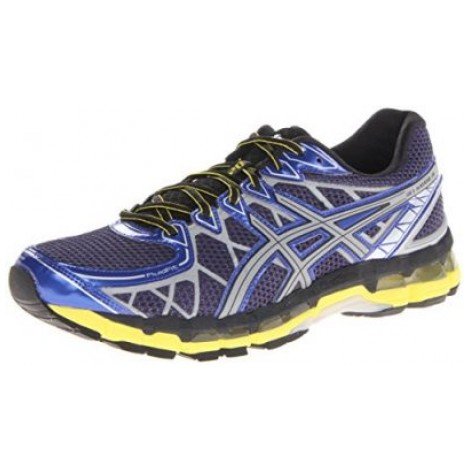 First of all, this pair of running sneakers contains a stretchable upper to allow for a glove-like fit. Second, a heel clutching system is in place to provide an even better fit, thus, increasing the support your joints need. An impact guidance system ensures a smoother transition through your natural gait. Finally, in addition to giving you more stability, the comfort results from the wonderful engineering these sneakers offer.
These runners come equipped with FluidFit™ upper technology. Made from mesh and stretch reinforcements, these ankle support shoes have multi-directional flexibility. As a result, your joints will be gently cradled thanks to the glove-like fitting design.

The Gel-Kayano 24 has a heel clutching system deployed. This means your heel is in a more acceptable environment via the exoskeletal heel counter. When your heel strikes the ground, there is shock absorption when it is most needed. As such, your joints will be thankful.

With all of the high-quality technologies to help your joins remain strain-free, however, the Gel-Kayano 24 is well worth the investment. After all, great foot stability decreases the chance for a sprain.

8

. Ryka Tenacity Cross Trainer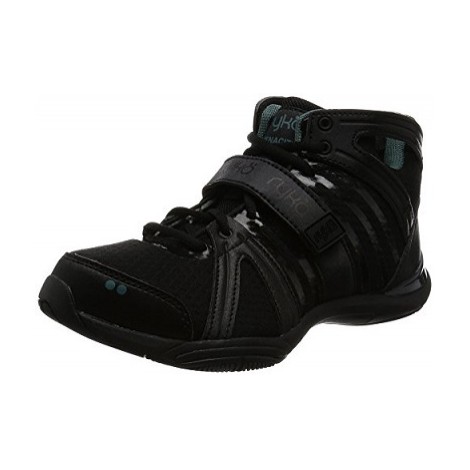 This cross trainer provides joint stability and a secure fit throughout the entire foot. It is a very fashion forward looking trainer that was created specifically for dance aerobics or activities, so it can take multiple uses and high-intensity training while still providing support and security. Ryka designs footwear specifically for the shape and structure of a woman's feet, and these are made for the active woman.
You won't have to worry about your joints or your traction when executing those pivots while dancing. The rubber outsole on the Tenacity is designed with pivoting in mind so you can move easily from one spot to the next. The Tenacity also features Flex-Foil and Direct-Fuse materials that provide stability to the foot. A Velcro strap over the midfoot also provides a secure fit.

For the value, you get a very supportive and secure design that will serve you well in the gym without having to worry about your joints. The rubber outsole is also designed for those moves in your dance, aerobics, Tae Bo, Zumba or other quick paced classes.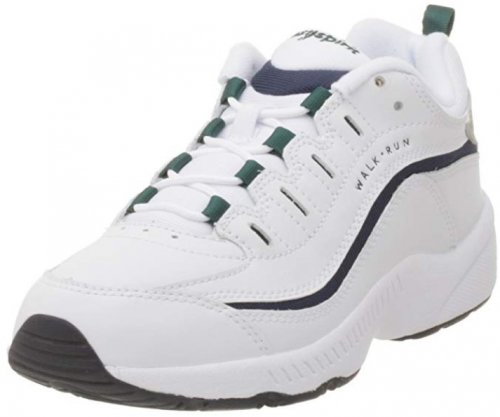 Easy Spirit is a company created by women for women, and their main goal is to make life easier by designing footwear that helps you feel lighter and carefree. The Romy is one of their bestsellers, a walking sneaker designed for all of your most casual outings. A true athletic trainer, the Romy is lightweight, orthotic-friendly, and has exceptional shock-absorbing abilities.
The upper of the Romy is made from leather, making it amazingly durable and comfortable. It is easy to put on and easy to take off, and thanks to its removable sock liner, you will be able to insert your own orthotics should you choose to do so. The footbed of the Romy is cushioned and impact-absorbing for a smooth, pain-free ride.

The Easy Spirit Romy is here to meet all of your needs, whether it be walking, light running, or just having a casual day out with your friends and family. You will feel light on your feet and will be able to get through your day without worry about possibly twisting your joints or suffering a similar injury.

10

. Under Armour Valsetz RTS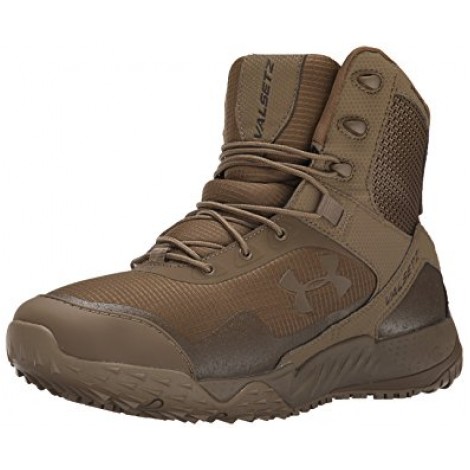 This pair of military/tactical-style boots provides awesome stability through the cushioning system. Additionally, the feel of the UA ClutchFit design around your joints is not only supportive but highly comfortable, as well. Next, these boots are water-resistant to help provide a more tolerable weather environment while you enjoy your favorite activity. Overall, they are a great addition to your footwear collection.
In reference to the way these boots feel around your joints, the UA ClutchFit design is more like a tougher second skin. In other words, your ankles will have the stability they need. This type of setup is ideal for preventing rolling of the joints. The full-length UA Micro G foam keeps your joints in place by supporting your feet. Less impact and more spring can help take impact load off of your joints.

The UA Valsetz is not your average design, or at least not one meant for everyday wear. However, if you require a tough, no-nonsense boot like this one, then there is no better option than the Valsetz RTS for both your feet and your joints.

Subscribe to our Newsletter