Best Easy Spirit Shoes For Free Spirited Women Reviewed
In a Hurry? Editors choice: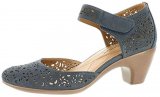 Test Winner: Cindie

For 35 years, Easy Spirit has worked hard to bring nothing but the most innovative technologies for women's footwear, creating not only shoes but also whole experiences. To them, the most important thing is feeling comfortable in your own skin and making your life easier.


The brand puts emphasis on comfort and versatility – producing footwear for the way women (really) live – as well as smart solutions which simplify and improve their lifestyle. Easy Spirit values truthfulness and connections, as there is no pretense in what they do, and their customers are what truly matters in the grand scheme of things.
Standout Picks
Criteria Used for Evaluation
Advanced Features
What we mean when we say Advanced Features is all the technologies this brand installs into their designs. Namely, the company has two collections which have special sets of features built into them, each with their own purpose, and here we will look at them more closely.

Anti-Gravity

The slogan goes, "Float with Anti-Gravity!" Products which belong in this line are designed with the aim to improve your athletic performance, to keep you on your feet for longer and to make sure that you can conquer your day without the slightest stumble.

Anti-Gravity technology offers materials which spring with each step. Footwear with this technology has rubber soles that rebound, meaning that they are always ready to absorb any impact that comes their way – be it from walking or running or anything in between. This is accompanied by footbeds which fight foot fatigue, enabling you to engage in activities for longer, as well as by all-star arch support to keep away the pain.

When it comes to lightweight, simple support, this brand has truly outdone itself with the Anti-Gravity line.

E360

E360 is similar to Anti-Gravity in a way, but still distinct enough to have its own category. This is also a technology which wants to help you stay on your feet for as long you need to but in a less athletic way. The line goes, "Go all day with E360!", and what they really mean is – we know that life can be nerve-wracking and full of things we don't want to do but have to, and our footwear will make sure that you are at least fully comfortable and pain-free as you tackle the stress of your day.

E360 footwear has malleable memory foam as an insole, as well as a rejuvenating gel which keeps your feet cool and amazingly cushioned all throughout. Seriously, it's like walking on clouds. They combine these with a stretchy smooth interior that doesn't constrict you in any way, and a support which sustains.

If you are not into exercise but still like to keep active and are out of the house more often than not, then E360 is a great alternative to Anti-Gravity and will keep your feet just as happy.
Adjustability
One of the main properties that is vital for the brand is adjustability. This is the option of the wearer to adjust the fit of the design to their liking. Every shoe should fit tight enough that your foot feels secure in it and that it's not slipping out, but still not so tight that it's cutting off your blood flow and causing problems.

There are several ways in which adjustability can be achieved in a design. The examples from our list are: lace-up systems, velcro or hook-and-loop straps, and even stretch panels, which don't exactly fall under the category of adjustability, but they do offer a better fit, more tailored to the shape of your foot and leg.

Easy Spirit uses special lacing systems in their footwear to allow for maximum adjustability. With such a simple way of tightening up or loosening the fit, you should have no problems finding a product which feels good for you. We see these systems in the Romy, the Nuria and the Motion, which are all fully adjustable.

An alternative - and second best choice - are velcro straps, such as those on the Cindie and the Chatt. These allow you to customize the length of the straps to your liking, so that you can wear these dainty options with ease.

Lastly, some of the designs - the Kalayla, the Adabelle, the Gessica - have special stretch elements inside and out, which offer much-needed snug support. Stretch panels are not adjustable per se, in the sense that you can't control the level of customization, but they do offer more space and better accommodation.

If you find that it is difficult to find the right footwear size for your feet - whether you need a wide size shoe or a wide calf boot or maybe you have a high instep - then every bit of adjustability counts, and you should take a moment to consider which one would work best for you.
Breathability
Breathability is arguably one of the most important qualities in footwear. No one enjoys sweaty feet or bad odors. Not only is this uncomfortable and unhygienic, but also hot, damp environments with no proper air flow are a breeding ground for bacteria and fungi. They lead to foot infections, such as athlete's foot, which cause itchiness and other unpleasant symptoms.

This is why the brand we are focused on here makes sure that their products have superior breathability. They outfit their designs with special footbeds with built-in ventilation – perforations which allow the air to pass through – as well as mesh materials. These fabrics are porous, and they are both gentle on the skin and allow for cooling of the feet, keeping them dry and comfortable all throughout the wear.

Obviously, the most breathable options will be the ones which keep most of the foot exposed, like the Kalayla sandal, or the perforated Chatt and the Cindie. These are great for high temperatures, when you want to avoid sweat and want to feel light and breezy on your feet.

The items that are not so breathable on our list are the boots, for obvious reasons. The Nuria and the Adabelle are as breathable as boots can be, but they can't compare to thinner, more open footwear meant for warm weather. They are built to preserve heat, not expel it, and as such they're not so good at ventilation.

When you're shopping for new footwear, definitely keep in mind the season you're shopping for. It would be best to avoid heavy, confining designs in the summer, and light, flimsy options in the winter. Always dress appropriately for the weather, as you don't want to risk either overheating or catching a cold.
Comfort
The main goal of all (or most) footwear is to provide you with the ultimate comfort and ease of wear. If you are experiencing any pain or numbness, if you are getting blisters or bunions, chances are that you are not having a good time in your shoes and that you likely won't buy from that same company – or even store – again.

This brand leads the way when it comes to effortless designs, as they build all of their footwear on flexible foundations. It is important for the item to move with your foot – though not to be flimsy! – and the total-comfort construction of Easy Spirit enables just that.

If you are intent on spending an entire day on your feet – whether you are sightseeing or running errands or simply enjoying a day at the park with your friends and family – then you need adequate support for it. Walking for hours on stiff, unyielding soles causes pain, and long-term can lead to medical problems such as plantar fasciitis.

Cushioning is the solution here. Extra padding in the midsole area provides shock absorption, meaning that the force of your heel impact evenly spreads throughout the design so that no part of your foot suffers from additional pressure. Products in this guide are outfitted with feel-good footbeds which have heel-to-toe reinforcement. This enables you to go about your day without feeling even a hint of pain or discomfort.

With all of these outstanding qualities and abilities, it is truly no wonder that this company encourages their customers to move, to bravely face on anything that comes their way and to live their life to the fullest!
Weight
Yet another important aspect of Easy Spirit footwear is their density.

You may wonder what density has to do with footwear, so we are here to tell you that this property determines how light the shoe is. Lightweight footwear is preferable, as it doesn't put a strain on the foot, the ankle and even the shin and the knee. Heavy designs can weigh down your joints and cause a potential injury in any part of your leg, as well as the lower back.

Easy Spirit produces footwear with lightweight layers, which make your feet feel free and unburdened while you're on the move, but they also provide ample arch support. This is important to ensure a natural gait – that your foot doesn't roll inward or outward as you walk – and to reduce the risk of ailments such as pes planus, or flatfoot.

As it stands to reason, the heaviest options in our list are the boots. They are made from hard-wearing materials and outfitted with thick outsoles that protect you from all types of terrain, and it is only natural that they weigh more than the minimalist, sandal designs.

However, what you should know that footwear of this brand in general is quite lightweight. Meaning that their boots are lighter than most other boots, their sneakers are lighter than most other sneakers and so on and so forth.

If you are looking for that ultimate carefree experience where absolutely nothing is dragging you down, then any of the items on our list will become your new go-to option; you won't regret investing money in it even for a second.
Our Favorites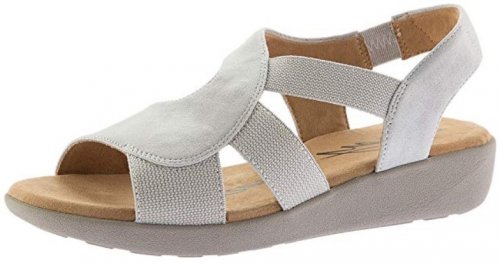 If you are tired of the same old styles - the slip-on sneaker, the boot, the flat, even the pump - then why not mix it up with a sandal! The Kalayla is a refreshingly open design, with a strappy upper which includes elastic inserts in three different parts for a stretchy fit, and a wedge sole of about 1.25 inches in height. This sandal comes with a cushioned insole which makes you feel like you are walking on air. It might not be the most fashion-forward of options, but it is solid, and it will keep your feet happy in the warmest of months, while at the same time seamlessly blending into your wardrobe collection.
For those of us who have wider feet and higher insteps, a little bit of stretch goes a long way. And the Kalayla sandal has more than a little elastic built right into it. With this design, you don't have to worry if your feet will fit, as the straps will stretch out to accommodate the shape of your foot no matter what.

Wearing closed-toe footwear in the summer can be a real pain. Our feet sweat, our toes can't wiggle, and in general, it is not a pleasant experience. Fortunately, with the Kalayla sandal, you don't have to worry about bad odors or overheating - this design keeps most of your foot exposed, and lets it breathe in the warm summer air!

The Kalayla sandal is lightweight, stretchy, and amazingly comfortable to wear at the same time. You will absolutely have a blast spending your time outdoors in the wonderful Kalayla!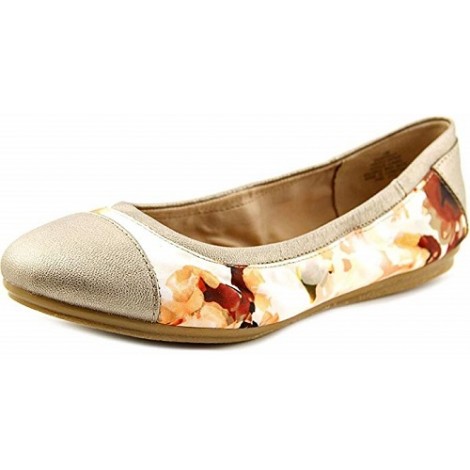 A design which doesn't make you sacrifice style for comfort, the Gessica is one amazingly fashionable flat! It comes in a wide range of color combinations, each one more interesting than the last. The Gessica provides a stretchy fit with its elasticized topline, an outrageously comfortable ride with the E360 Comfort technology, and a one-piece rubber outsole. Additionally, it comes with a faux patent cap-toe accent for a dash of that much-needed elegance. In a flat as supportive and as cute as this one, you will be ready to seize the day!
We love a good stretch in a design, as it allows for just the right fit. The Gessica is such an option, with its elasticized topline which accommodates feet of all shapes, and provides you with a fit that won't be too tight or too loose as you walk around.

The E360 technology is truly a revolution in footwear comfort. The construction of the Gessica flat is there to provide you with the ultimate padding while you walk; combined with a refreshing gel formula this design staves off foot fatigue and helps you stay on your feet for longer periods of time.

There is no doubt that the Gessica flat is one of the most sophisticated and most fun designs in this list. It is also comfortable and easy to wear, and it will complement most outfits that you have in your wardrobe.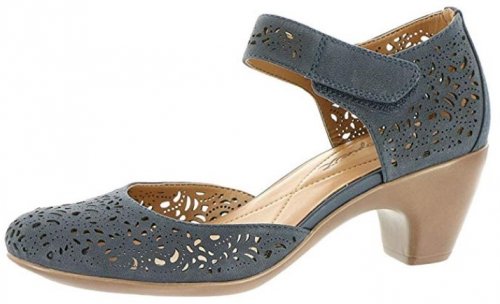 What cuteness! What refined practicality! The Cindie is truly one of a kind pump. Its visual appeal doesn't fail in bringing a smile to your face - with its plush nubuck upper and laser cutouts all over - and its comfort features are not to be messed with, either. The Cindie comes with an Efinity footbed, built specifically for shock absorption, a cushioned ball of the foot area, as well as a low, two and a half inch chunky heel. To help you feel more secure in the pump, there is a wide strap across the ankle which has an adjustable velcro closure. It hardly gets any better than this adorable and yet amazingly functional design!
Another Easy Spirit creation, the Efinity footbed is entirely made out of impact-absorbing materials. As a result, the Cindie pump softens the blow of every step and lessens the strain put on your foot, making sure that you can walk with confidence and your head held high.

The ankle strap of the Cindie pump is there to keep your foot secure within the design. It prevents your foot from sliding forward or otherwise moving around and also prevents your heel from slipping out of the shoe. The velcro on the side allows you to adjust the width of the strap to however tight or loose you'd like it to be.

We are thrilled with its interesting design and are sure that you will easily find a space for the Cindie pump in your closet. It works for any occasion you can think of, be it a day at work, or a lunch date with your friends, or even a summer garden party!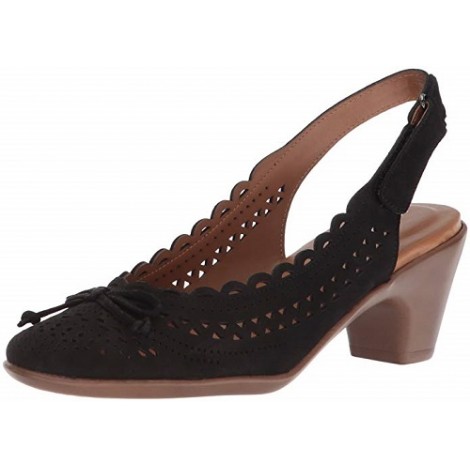 Be fashionable and adorably flirty in the Chatt pump! This design comes with a low, two-inch blocky heel, entirely fashioned out of rubber for extra stability. It has a comfy, round-toe silhouette, and an adjustable hook-and-loop slingback strap for an easy fit. There are cute laser-cut perforations all over its suede upper, as well as Easy Spirit signature shock-absorption and cushioning in the Efinity footbed. This vintage look will seamlessly complement your new sundress, and you can expect to be able to spend an entire day - and even night - twirling around in these sweet pumps!
The Chatt is still a heel, but it is one that is unbelievably comfortable. With its height of only two inches and a square, chunky design, this pump will feel as though you are walking on padded flat soles. In it, you can easily go from office to cocktail hour without stopping to change your footwear on the way.

While having an undeniable visual appeal, the cute little perforations all over the suede upper of the Chatt are not there only for decoration. Rather, these holes allow for proper air circulation in and out of the pump and thus help your feet breathe and not sweat in warm summer temperatures.

The downside to the Chatt pump is that it is leaning a bit towards the higher price range. However, it is still not ridiculously expensive, and we feel that its comfort level and stylistic appeal are absolutely worth the cost.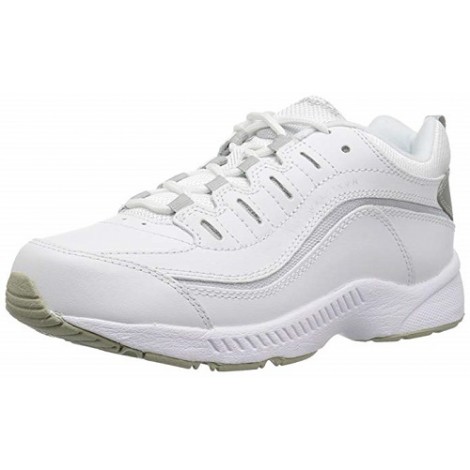 If you wish to have all the support and cushioning that this brand offers, but packed into a sporty, secure design, then the Romy sneaker is a great choice. This is a walking shoe, as its description declares, but it is also suitable for light running. Its upper is constructed out of leather, while the sole is made from durable rubber. Similarly to the legendary Traveltime, the Romy sneaker also has a removable sock liner for superior shock absorption. It is an orthotic-friendly design which comes in several neutral colorways, and also helps those which have medical problems, such as bunions.
When you're intent on covering a lot of ground, whether it's in the city or while enjoying the wonders of nature outside of it, your main goal is to be stable on your feet. No matter what terrain you find yourself on, you don't want to slip or skid and risk taking a fall. Fortunately, the durable rubber outsole of the Romy is there to prevent just that and keep you secure throughout the ride.

We have encountered a great number of reviews from people who work at demanding jobs, which require them to be on their feet for hours at a time, and who praise the Romy for sparing them pain and discomfort. Even those who suffer from unpleasant ailments can find comfort in the cushioning of this sneaker.

On the outside, the Romy may look like a regular sneaker you usually come across, but we assure you that its comfort and support levels are unlike any you have ever experienced. If its sporty silhouette is what would complete your shoe collection, then let nothing hold you back from getting the Romy!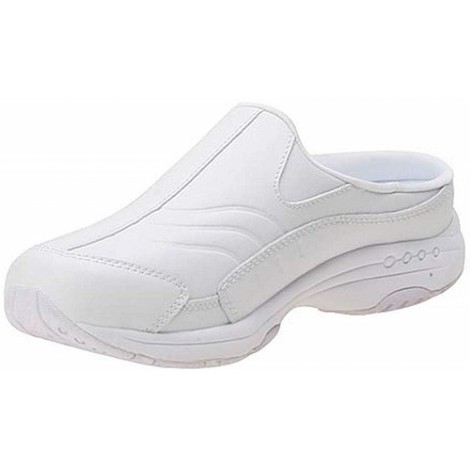 Easily the most popular and most sought-after design of the entire brand is the Traveltime mule. The reason for this is that we have yet to encounter a model which is more comfortable and simpler to wear. This leather-constructed mule has a removable sock liner which absorbs shock and has excellent arch support. Its heel is almost two inches thick, while the sole is made of rubber. The Traveltime is indeed that perfect option for the weekend, whether you just want to relax and kick back, or perhaps engage in some walking or light activity. Leisure time will never be the same again with this mule!
We love the idea that you can remove the insole of the Traveltime if you feel like it's not for you, or if you have your own orthotics to insert instead. Not only that, but this lining has the ability to absorb impact as you walk, meaning that it cushions your heel strike on each step and helps reduce foot fatigue.

We cannot stress enough the importance of arch support in footwear, especially designs which you wear day in and day out. The Traveltime comes with this much-needed feature, and it ensures that you don't feel any pain in your feet or joints, no matter how long you walk around in these mules.

The Traveltime mule is a best seller, and there hasn't been a customer which hasn't loved these easy, refreshingly comfortable mules. If this is your style, then what are you waiting for? Go for it!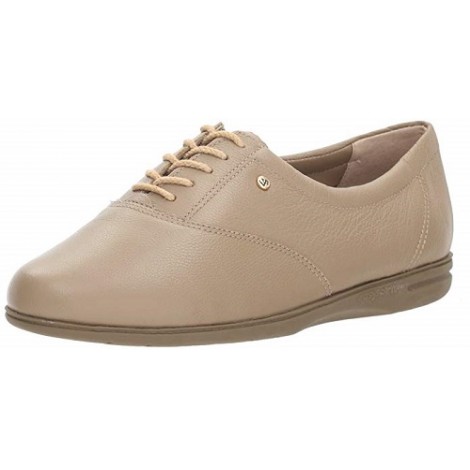 Venturing into the world of classic silhouettes, we run into the Motion oxford. This is a minimalistic, streamlined design with a leather upper and a five eyelet lace-up system at the front. It has a cushioned insole with arch support for that renowned all-day comfort, as well as a flexible rubber outsole. The Motion is a design which goes well with any type of outfit - you can either dress it down with jeans and a blouse or play up the fun factor with a colorful sundress! There is very little you can't do with this lovely oxford.
The upper of the Motion oxford is made from genuine leather. This material is soft and malleable, and it molds to the shape of your foot the longer you wear the design. It provides a level of comfort that is customized to fit your feet only.

As its very name suggests, the Motion oxford is created to move with your foot! You won't have any problems that usually accompany rigid soles and stiff uppers, and this flexibility also increases the Motion's durability! This oxford will certainly last you for many seasons to come.

As all shoes made by this brand, the Motion has a genuine leather upper and special comfort features - such as cushioning and arch support in the insole - which allow you to make the most of this design for a rather reasonable price.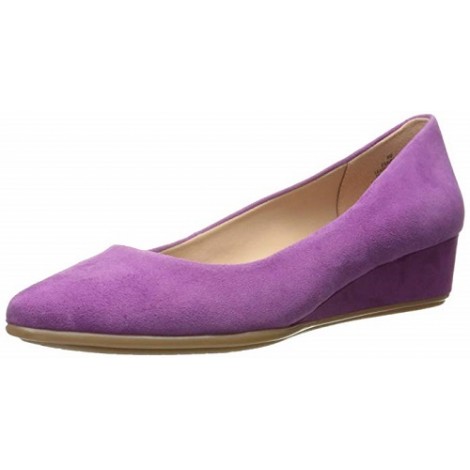 While the Avery does look like a fashionable, even professional wedge, it also has comfort levels that are out of this world. Namely, this pointy-toe pump comes with the famous E360 Easy Spirit technology, which we will describe in more detail later on. This is a stylish, simple silhouette which you can take with you anywhere - work or play. It has a low wedge heel and a suede or leather upper, depending on the color choice you decide on. The Avery is that simple, streamlined design which will become a staple in your closet in a blink of an eye, and you will be absolutely addicted to its cloud-like feel!
The E360 technology is all about cushioning and reducing foot fatigue. Footwear outfitted with this system has a memory foam insole and a rejuvenating gel formula in its footbed, which allows you to stay on your feet for longer without even the slightest hint of pain or discomfort.

While it is not a high heel by any means, it is still reassuring to know that the Avery comes with one of the most comfortable heel styles there is. Wedges allow your weight to be evenly distributed throughout the sole of the shoe, meaning that the ball of your foot doesn't suffer from excess pressure.

The Avery pump has unbelievable features and is also quite stylish to boot, and we have a hard time getting used to its more than reasonable cost. You shouldn't waste a second in getting these amazing wedges just for yourself!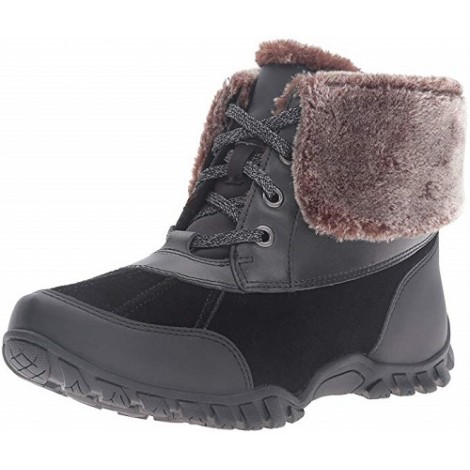 If you are looking for the ultimate snow boot, then look no further than the Nuria! Your feet will be extra cozy and extra warm in this design, thanks to its faux fur collar and fleece lining. Not only that, the Nuria keeps moisture away with its rubber and suede water-resistant upper and rubber outsole. For an extra comfortable step, there is a removable insole and a sculpted EVA midsole which ensures cushioned walking. A lace-up closure in the front provides a snug, secure fit that is perfectly adjusted to the size of your foot.
With the Nuria, you don't have to limit yourself to going out only in dry weather. This badass bootie is able to withstand any type of wet conditions, from light rain to heavy snow, all the while keeping your feet amazingly dry.

When January sets in and the temperatures drop ridiculously low, regular footwear simply won't cut it when it comes to preserving heat. Fortunately, the Nuria is a pro at this, as its faux fur collar and fleece lining on the inside keep your feet nice and toasty the entire time you spend outside.

The Nuria is a great option to brave the winter weather, be it dry or wet, extra freezing or just somewhat chilly. It will help you conquer any type of terrain and any type of conditions, and we are honestly a little in love with it.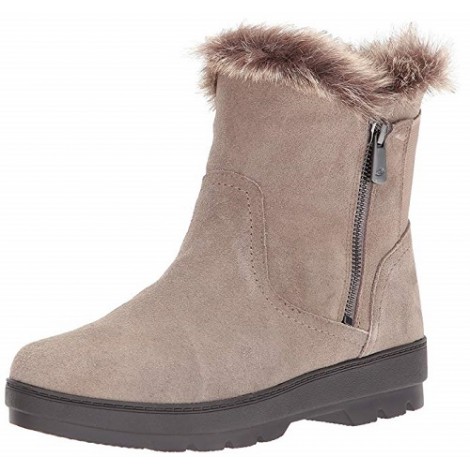 Step into a winter wonderland with the gorgeous Adabelle! This design is an ankle boot, with an upper made out of leather, fully lined with faux fur on the inside. The sole is made from rubber which provides good traction on slippery terrain, and there is the ever-present cushioned insole for extra comfort. What makes the Adabelle stand out is its outstanding system for getting in and out of the boot, which is comprised of not one, but two zipper closures - on the left and on the right side - as well as elastic panels at the back which ensure a good fit. We are enamored with the coziness and comfort that this boot promises, even at a first glance.
When harsh winds come in and snow falls in thick, sparkling layers over everything, you need every scrap of warmth you can get. The Adabelle boot comes with a faux fur lining which will keep your feet cozy and toasty regardless of how cold it gets outside!

Getting into a boot can sometimes be tricky, especially if you are someone who has an unconventional foot shape or size. However, the Adabelle ensures maximum adjustability with its two zipper closures and stretchy panels in the back, providing you with a quick and easy way in and out of the design.

The Adebelle is made out of leather and offers all that you'd look for in a good snow boot - slip-resistant rubber soles, warmth-preserving lining, and protection from the elements. Overall, it's a great deal!

Subscribe to our Newsletter