Best Chunky Heels Reviewed & Rated
In a Hurry? Editors choice: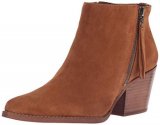 Test Winner: Sam Edelman Walden

Nothing looks as good, or makes you feel as confident as a stylish pair of high heels. Even the simplest models of these shoes do wonders to boost your self-esteem, but they do have one downside - they tend to be utterly uncomfortable. This is why a great pair of chunky heels is a definite must-have in anyone's closet.

This type of footwear provides the same type of elevation a stiletto or classic heel would, but adds a level of support at the heel that goes a long way in preventing ball of foot pain, and ensuring an overall sense of stability. The list below features some of the highest rated chunky heels currently available for purchase.
Standout Picks
Criteria Used for Evaluation
Style
While the first thing you notice about any pair of footwear is how it looks, there are other things to keep in consideration, one of which is the closure system and adjustability the model offers. When it comes to high heels, there aren't that many options, but each of them has its distinctive look and functional features:
Straps: Straps are the most common element used in shoes to help them stay on. Straps are used frequently because they are adjustable which allows them to accommodate a wide variety of leg and feet sizes and shapes. Even more, they can greatly contribute to the overall look of the model. Many designers will make the buckles chunky or a contrasting color so that the footwear has a pop of accent. The strap is also a good place to put spikes, rhinestones, and other decorative accents on an otherwise plain canvas. One last feature that straps offer up is bringing the eye up off of the actual shoe. It can divert attention upwards to the ankle and leg.
Laces: There are laces or strings that some chunky heels will use to help securely keep them on the feet. Strings are a different approach to buckles simply for visual reasons. There is really no benefit of one over the other. Strings simply exhibit a more familiar detail as they are used in taller options and athletic footwear. Strings also allow the person wearing the heel to adjust how tight or lose the shoe is on the foot.
Toe Strap: A toe strap shoe is a model that will only have a strap across the toe portion of it. These can definitely be the easiest to get on your foot, however, some people find that they smack the bottoms of the feet when walking. Also, depending on the texture of the footbed, they can become slick if they get wet from sweat or rain.
Stability
Some pairs of footwear, at first glance appear to have very, very tall heels. You might wonder how anyone would walk in something like that without breaking their neck. Or at least experiencing foot pain. However, designers will sometimes integrate a platform into the toe/ball of the foot portion. This acts as a lift to offset the arch from a high heel.
A shoe with a 3-inch heel but a 1-inch platform really only has a 2-inch rise in the heel. Some people find that they are able to wear taller heels if there is a platform simply because it takes some of the pressure off of the ball of the foot.
On the other hand, there are consumers that do not like the look of a platform in a high heel as it takes away from the high heel. They prefer to have their foot right on the ground. The downside to no platform is that there is more pressure placed on the foot. Also, it can cause the toes to bunch into the toe box. In cases like this, it is best to find a shoe that has a footbed with a slight grip to prevent foot slipping.
Heel
Named for the stiletto dagger, the stiletto heel is a mere 1 cm thick on average. A chunky heel is slightly more around 2 cm, minimum. This gives a larger area for the strike to occur on. As with each step, the landing zone is a tiny bit larger, therefore, women report having an easier time walking with a chunky heel. This is not to say some women aren't extremely confident wearing stilettos.
Not only is a chunky heel easier to walk in but it is beneficial for standing as well. When standing in a chunky heel that is more than double the size of a stiletto, you do not have to attempt to balance as hard as when wearing a regular or skinny heel. Lastly, a chunky heel absorbs more of the impact from walking and standing. This can ease some of the foot pain associated wearing high heels. The surface it is resting against is larger. Thus, it distributes the energy more widely.
Traction
The ultimate factor we consider for every type of shoe, but especially for heels is the traction of which they provide. There is nothing more intimidating than walking in heels because you worry about slipping and falling which could lead to minor or major injuries. Heels are also notoriously known for not providing very much traction on the soles. It is important to have at least some traction. However, there are a few designers that put leather or suede on the bottoms of the soles. This may look aesthetically pleasing but unless you are a professional at walking in heels, it is best to avoid that type of heel.
Secondly, just because a heel has a small amount of traction when new does not mean that the shoe will keep the traction for long. It is equally important to find a shoe that has traction that is durable and will not wear down quickly. This can usually be found on shoes that have rubber soles. Rubber is exceptionally durable and provides natural grip on a variety of surfaces. Shoes that have leather or some other type of fabric will not last long on the traction aspect when compared to synthetic or rubber soles.
Brand
When we think about some of the hottest and most luxurious brands in the fashion industry, ones like Prada, Gucci, Louis Vuitton and Jimmy Choo might come to mind. A product is a promise made, but a brand is a promise kept; generation after generation. A brand and its label are a statement of quality, craftsmanship and service found in each of its products.
When assessing the products on our list for "brand", we took into account the quality of its products, its attention to detail and style, its reputation within the fashion industry, its commitment to customer service and its perceived luxuriousness and exclusiveness, to create an overall score for brand equity. Brand equity can loosely be defined as the pricing power a brand has in the marketplace due to each of the aforementioned factors.
So, while a product that scores high on this list may be gorgeous and exclusive, you can also bet it will much pricier, as well. After all, if everyone could afford it, it wouldn't be exclusive or luxurious, would it? Be prepared to look amazing, but feel the pain at the bank, if a product scores high on this metric!
Top 10 Picks
1

. Gentle Souls by Kenneth Cole Christa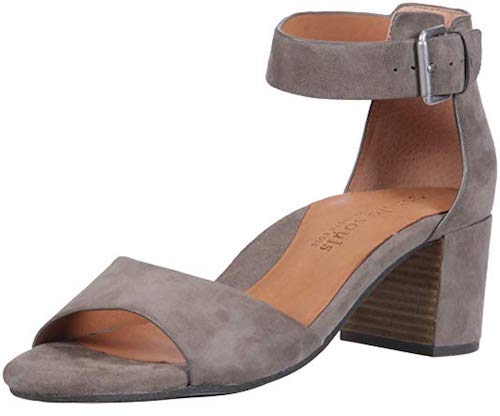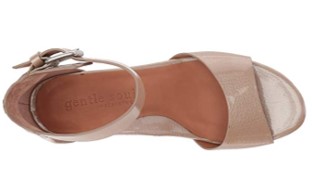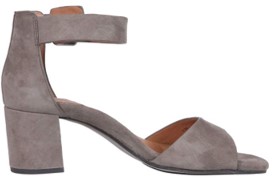 The Christa sandal is one of those pairs of footwear everyone should consider owning. Simple in design, it's the perfect casual pair, made with quality materials and attention to detail. Plus, it never goes out of style. The Christa comes in a wide variety of color and upper options, including leather, suede and metallic effects, so you can either go with something classic, or opt for a more eye-catching version.
The lining used in the Christa is made with sheepskin - a natural material that is soft and breathable, which will prevent discomfort due to rubbing. The toe strap will easily break in, while the ankle strap is adjustable through a sturdy buckle.
The best thing about this pair of footwear, however, comes in the form of the footbed which was made with nothing but comfort in mind. In addition to offering plenty of arch support, something that is rarely found in high heels, it also absorbs shock through the Poron material. This can prevent ball of foot pain even after long hours of standing and walking. Additionally, the outsole uses rubber and a traction pattern that'll prevent accidents on slippery floors. The price of this model is quite high, and may not be within everyone's budget, but it's a good investment on the whole.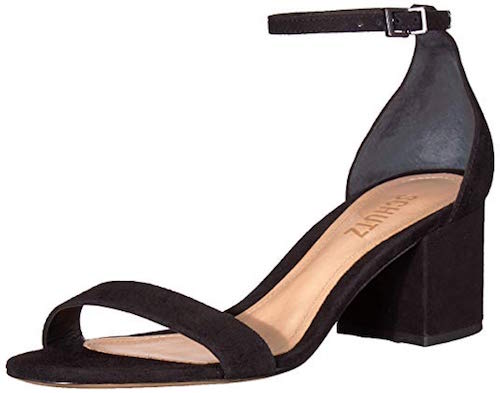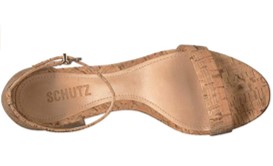 A strappy sandal with a heel low enough to be worn on a daily basis, but high enough to add a bit of elegance, the Schutz Chimes is one of those pairs of footwear that are greatly versatile, and an excellent investment for anyone. It can be bought in several color options, including black suede, natural cork, as well as metallic leathers, so you can easily find the perfect pair for you.
As you'd expect from Schutz, the leather used in making their footwear is of high quality, soft to the touch, flexible, and breaks in easily. This is especially beneficial in the forefoot section, where the strap will mold to the metatarsal area of the foot, providing a good balance between support and comfort. As for the ankle strap, it's adjustable, so everyone can get a good fit.
The 2 ¼ inch heel is covered with the same leather which makes the material, while the bottom is protected by lightweight yet durable rubber. This prevents slips and skids, and improves the overall wearability of the Chimes. The price point is slightly higher than most other models listed, but nonetheless, it's an excellent pair of footwear for a number of people.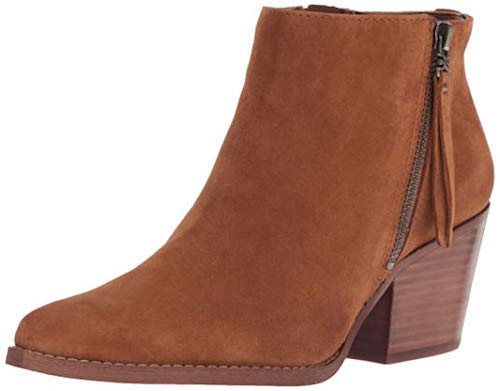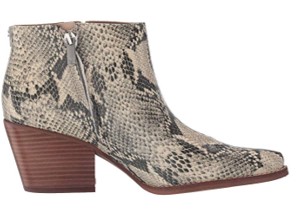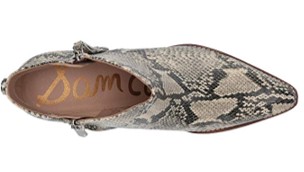 This ankle boot by Sam Edelman is perfect for fall and winter when you want to look good, but need a bit of extra protection from the weather. It's a classic shoe that looks just as good with jeans as it does with a midi skirt or dress, and it comes in several color options including black suede, whiskey leather and sand leopard brahma.
On and off is easy with the Walden, considering the double zipper closure on the sides. Not only do these make for a stylish feature, but they're also easy to use, even when you're in a hurry. The slanted 2 ⅓ inch heel is easy to walk in, being stable and low enough to prevent too much pressure from being put on the front part of your feet.
The thing that most users love about this boot is that it's relatively lightweight, with an elastic upper that doesn't require a painful break in period. Even more, the pointed toe doesn't pinch, and will even accommodate those with a slightly wider forefoot. As for price, it ranks average, making this a stellar choice for anyone looking for a good balance between quality and cost.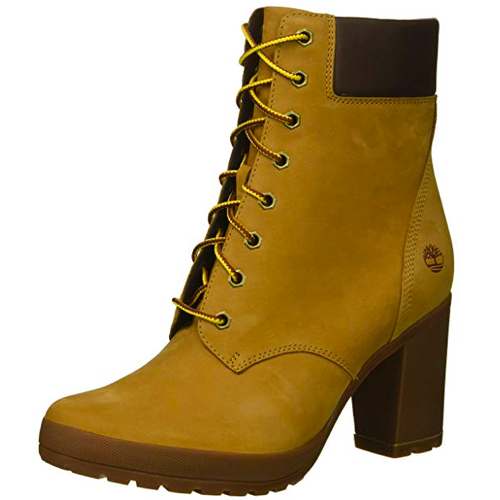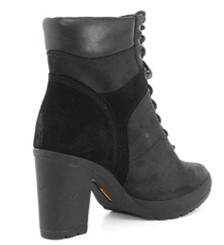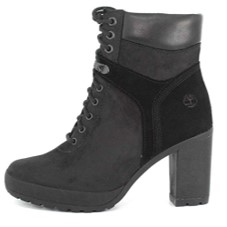 A pair of high-heeled lace up boots ideal for bad weather, the Timberland Camdale is one of the highest quality pairs of footwear you can invest in. It is perfect for those who want something edgy yet still feminine, as well as those who are fans of the Timberland Premium look that so many other brands have tried to copy. Available in four color options, the iconic wheat nubuck, as well as black, grey and light taupe versions, this is a great shoe to have in your cold-weather arsenal.
The leather which makes the upper of the Camdale is a premium nubuck sourced from silver-rated tanneries that use the best pieces, paying close attention to the tanning process. This ensures you get a boot that will stand the test of time, regardless of the conditions you wear it in. The lace closure allows you to get a customized fit, while the padded collar ensures comfort around the calf.
The Camdale uses an Ortholite insole which is not only breathable and moisture wicking, but it also contributes to the overall shock absorbing qualities of the boot, allowing you to wear it for hours without pain. The rubber outsole and heel have prominent lugs and grip all surfaces effectively, and if you apply a waterproofing agent, you can even use these in rain and snow. The price of the Camdale ranges between average and slightly more expensive, but this is to be expected from a brand as reputable as Timberland.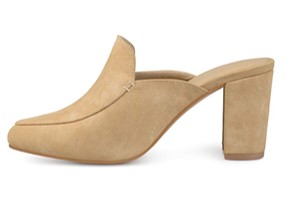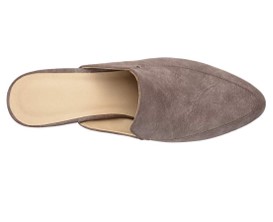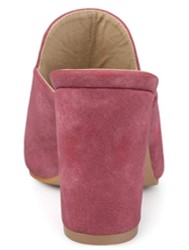 This sassy mule brings together the trending loafer style combined with easy slip on mule and chunky heel. Constructed with a faux suede and ma- made material upper, it has a longer tongue to cover the forefoot, with decorate side stitching for a classic look. Raising about 3 inches in height, the chunky sole helps provide stability and ease for walking comfortably throughout the day, making it a great option for business or work attire. With several color options, you'll find the perfect one to suite your wardrobe pieces for any season.
In 2019, the trend for loafer style feminine footwear has started to steal the spotlight in the fashion industry. The Thirza keeps that classic silhouette of a flat loafer, but elevates it style and height to a three inch raise, giving ample boost and added confidence. Slid on mule makes it an easy design to slip on and off after a long day at work. Uppers are made from faux suede, giving it a softer textured look, and come in a variety of colors for whatever attire you select.
Almond toe on the Thirza help to give it a feminine appeal as well as a bit more toe room. Synthetic soles help give some grip and traction on streets and tiled surfaces, while inside, a lightly padded footbed provides more cushioning. A 1-inch platform also keeps the angle from heel to toe minimal, so these are quite comfortable for walking during the day as well. A great pair to add to your collection for a fashionable take on your work or business shoes!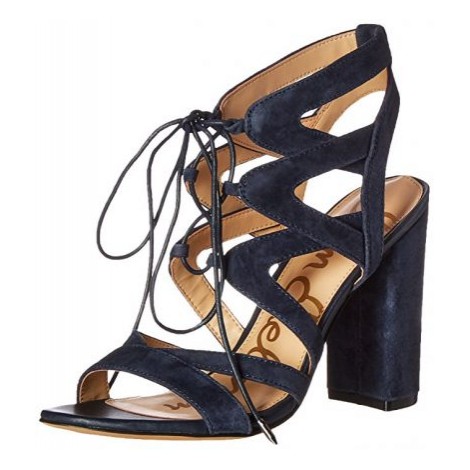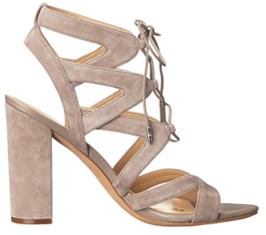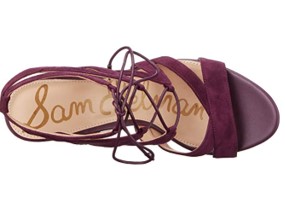 This shoe is one of the more sophisticated looking designs of the list. It has eloquent straps that are meticulously cut finished on with a string-like closure. They have a very fancy look that makes them the perfect shoe for semi-formal to formal events. They could also be worn for casual outings if you prefer to dress them down. Finally, the synthetic sole will provide some traction but not as much as a rubber sole or a sole that has a traction pattern cut into it.
The shoe is very accommodating for various sizes of feet. The adjustable string closure makes it easy to pull tighter for smaller feet or loosen for thicker feet or if your feet swell as the day goes on.
While this design is very sophisticated, it still keeps its comfort factor with a luxurious and padded footbed. Your feet will feel very supported and cushioned with the insole underfoot. This shoe is a bit higher priced than some of the others in the category. However, overall it is a great price point. It can easily be put into anyone's budget. Also, the model is very comfortable and can be worn for many different events or as a daily option.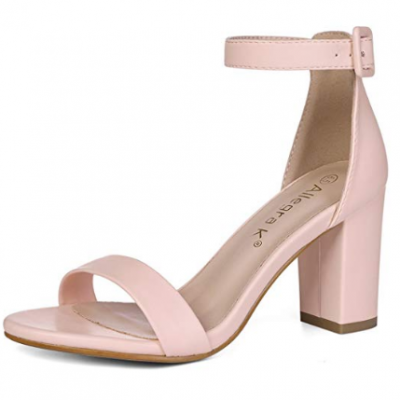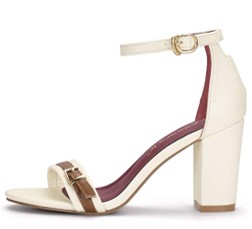 Simple and beautiful, this model will complement any outfit for any occasion. It has a slight mid-rise heel as just over 3-inches, making it the perfect height to dress up for fancy events or to be worn with jeans for a more casual look. This shoe is highly-rated for comfort and durability. It won't flop around on your foot making it an easy pair to walk in even if the footbed gets wet.
When judging the overall comfort of a high heel, it comes down to more than just the height. The actual footbed of the model has got to be comfortable and supportive. The Allegra K has a padded insole to help you feel like you are walking on cotton.
A key aspect of any pair of footwear is the traction. Styles such as this one are usually lacking. However, this chunky model has a rubber sole with grooves etched into it to keep you from slipping on slick surfaces. For a versatile model, this pair is a great bargain. You will be able to wear it to so many events and with many different outfits.

8

. Soda Delicious Yummy Cutout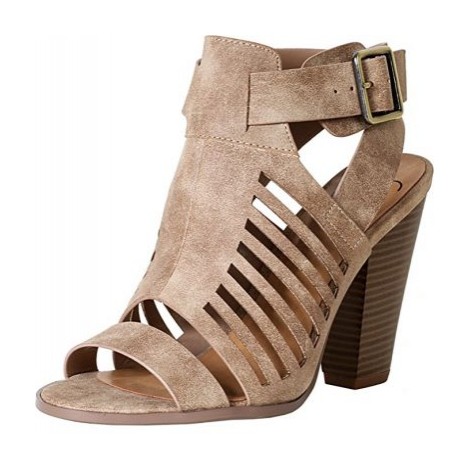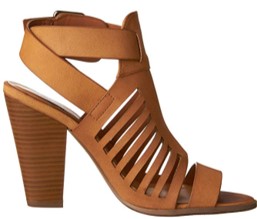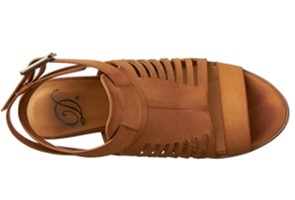 Soda is a fashion brand that produces many cute and widely popular shoes. The design of the style Yummy with cutouts is versatile and fashion forward. These will make a perfect compliment to everything from shorts to skirts to jeans. The chunky heel style can be worn in a fancy manner or dressed down to accessorize a vest and jeans. The ankle strap helps hold the shoe onto your foot securely and is soft against the skin.
Using a laser to cut the style of the straps means that the shoe has even rows and is precisely cut. You won't need to worry about the edges fraying or being off-center. It helps to promote a uniformity throughout both shoes.
These shoes would appear to be cumbersome to keep on your feet. However, this is not the case thanks to an ankle strap. Not only does it help keep the shoe secure to your foot, but it is adjustable so that you can find the perfect fit whether you have skinny calves or wider calves. For such a cute and stylish shoe, they are a great price. They can easily fit into any budget and will make a perfect compliment to any wardrobe.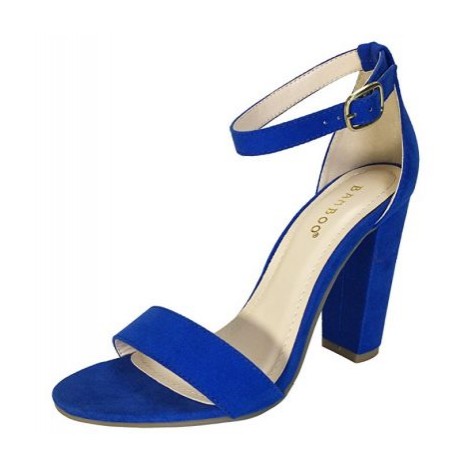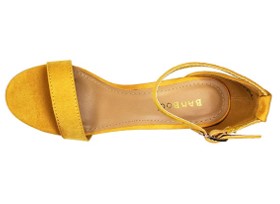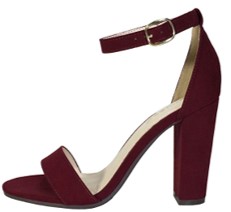 This model by Bamboo features a taller heel height which makes it a bit fancier than some of the other pairs listed. If you are looking for a shoe that will be worn to a more formal event, this pair is the perfect option. It is highly rated for comfort so you can wear it for hours without your feet feeling the pain.
Feel confident in each step and in all weather conditions when you wear these shoes. You won't have to worry as much when you step on to a typically slick surface. The rubber sole has a nice traction cut into the ball of the foot.
This shoe has a softly padded ankle strap to help keep the shoe from digging into your ankle. There is nothing worse than a shoe that causes blisters, which is why so many people love this pair. Additionally, the price point allows this model to squeeze into any budget, making for an overall great dress shoe.

10

. City Classified Cutout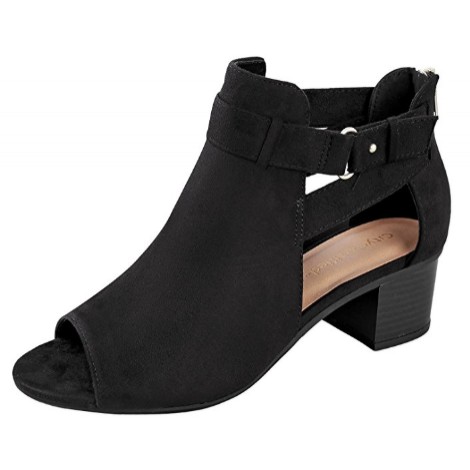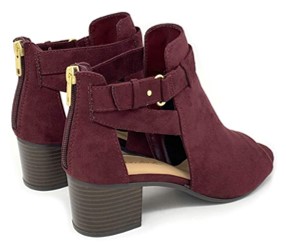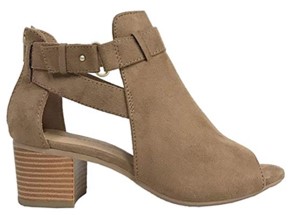 A shoe for all seasons, the City Classified Cutout is the perfect investment for those in search of a a versatile model that works for more than just warm or cold weather. Plus, it will look great with a number of outfits, especially considering the number of color options available.
The flexible ankle strap makes this model the perfect choice for many sized ankles. You can easily adjust the fit by loosening or tightening the strap. It is also nicely adorned to give it some flair instead of being a hidden buckle.
The material of the upper is a soft and supple synthetic. It will feel nice against your skin without causing chaffing. These cutout booties have a luxurious look to them because of the material used. These fall in the mid to upper price range when compared to other pairs in the category. However, they are a great price point and can easily fit into any budget.

Subscribe to our Newsletter