Best Duck Boots Reviewed & Rated
In a Hurry? Editors choice: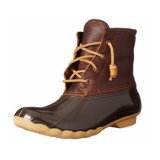 Test Winner: Sperry Saltwater

On the days that your regular pair of sneakers simply can't hold up against rain or snow, a pair of reliable duck boots will aptly do the job your everyday shoes cannot. When the weather isn't cooperating, duck boots perform well as proper protection against the elements, which explains their popularity among those who value comfort and protection above anything else. The origins of the duck boot can be traced back to Leon Leonwood Bean (founder of the company L. L. Bean), who was responsible for its trademark design.
While hunting
in wet, marshy conditions, he had found the need for a pair of hunting boots designed to be water-tight. More than a century later, his design is still a popular choice for those who need boots to protect them in wet and
snowy climates
.
Standout Picks
Criteria Used for Evaluation
Water Resistance
For very obvious reasons, when looking for the best duck boots, waterproofing is one of the most important aspects. Wet feet can lead to a variety of painful, and outdoor adventure stopping, issues. You may have dealt with blisters that have popped and caused pain and irritation, while this is uncomfortable it is nothing compared to a frostbitten toe. While it may seem extreme it has been known to happen because of cold wet conditions and feet that were not kept dry.
Waterproofing is not only about the outsole and upper material. It also has to do with the closure of the shoe. The tongue of the shoes is an infamous place for letting water in. You want a duck boot with a gusseted tongue. Put simply, these are pieces of material that attach the tongue to the shoe, keeping water, snow, and debris from penetrating into the boot.
You also need to pay attention to the very top of the boot, known as the cuff. This is also a common problem area. Manufacturer's focus tends to be on the outsole of duck boots, however, companies that know good boots also pay attention to the cuff. An elastic band at the top, which may or may not be adjustable, is excellent at keeping snow and other unwanted items out of your boots. Another great way to stop the slush from creeping inside is a fur lining. Thick fur will allow moisture to gather on the outside but not make its way inside.
Waterproofing is exceptionally important to maintaining the quality and comfort of your feet. It is necessary and great duck boots will give you superior dryness. All of the boots in our guide have qualified in the waterproofing category. No matter what you choose, we are sure you will have the dry feet that your outdoor activities require.
Insulation
We have looked at two of the key elements in a great pair of duck boots. One of the most important aspects, that has not been discussed in our criteria, is warmth. Regardless of your outdoor activity, when the temperature starts to drop, you need to be ready for it. Most winter boots are rated for temperature. You want to know your surroundings and what activities you may find yourself a part of. This will help you prepare with the perfect duck boots.
Cold feet will not only decrease your overall body temperatures but the lack of sensation, due to decreased circulation, can lead to frostbite. At the extreme end of it, you could even lose a toe, if wearing improper footwear. Avoid this at all costs, by remembering warm, moisture wicking socks, and appropriate boots for the conditions.
You need to make sure to keep the cold out, as well as keep the heat in. A faux fur lining made of high-quality synthetic material is used by many companies and it does a good job. The long, thick pile traps heat inside the boot and helps hold the cold at bay.
There are other choices if you are not a fur-lined boot type of person. For example, The North Face, has a pocket system that traps heat in and doesn't have the bulk of faux fur. This keeps their duck boots exceptionally light and gives a less restrictive feel to the boot.
Durability
Taking care of any shoe is important when looking at the overall longevity of use. If you spend a lot of money for a pair of great duck boots just to find them cracking and falling apart a few months later, your care for them may be causing it. Low-quality duck boots crack easier than ones made for durability and hard wear.
Cracking rubber will cause you a variety of problems. If the crack goes all the way through, you will have leaking areas and wet feet. Any crack that has started will eventually work its way through, giving you the same problem. Cracks can also interfere with the warmth factor. Cold air will be able to penetrate the boot more easily and heat will be able to escape.
Cracking of rubber can be greatly impacted by improper drying of the outsole. We all love to come in from the cold and stand in front of a roaring fire or right on top of the register vent. Likewise when our boots our wet we tend to put them in a similar place to dry. The problem is we don't move them and the excessive heat drys out the material, causing cracks.
Rather than needing to dry your shoes this way, invest in a great waterproofing agent. A waterproof barrier will keep the inside of your boots dry and remove the need to put them on the register or in front of the fire for drying and hopefully help cut down on cracking.
If cracking is happening on a leather upper, you will want to condition your leather. After conditioning, you will also want to waterproof. Leather naturally keeps water out however, it needs to retain its own moisture. Well maintained leather will last you for years to come as long as you take care of it.
Value
The price of shoes is a very important factor when people look into purchasing shoes. Duck Boots are no different. Because boots tend to be more expensive, we had to look really closely at the value they provide so that every item on our list, whether expensive or not, was of good quality for the price. In correlation to value, we looked at many factors:
Durability & Longevity
Boots, usually, lasts more than a few months, because shoes that are going to fall apart after a few months of use aren't worth the investment of more than a few dollars. Leather and synthetic overlays can be used to make the shoes more durable without sacrificing flexibility. Firm leather or synthetic uppers provide durability and support.
Versatility
Duck boots usually serve a specific purpose: to keep your feet warm and dry, but we wanted to make sure they could be used for more than one activity. The more situations you can use the shoe in, the more value it offers for the price.
Maintenance
Good footwear is easy to maintain and clean. They don't require a lot of expensive shoe treatments or time-consuming upkeep. Duck boots are no different. Boots that need a lot of effort, time and money to maintain, don't sell as well as shoes which are easier and cost less to keep.
Cost
A hefty price tag can be a deal-breaker for people on a budget. That's why many can be found in the low-to-middle price range. They're affordable, and if they are priced a little higher than others, then they offer many features to make the footwear worth the extra investment.
Traction
Wet leaves, snow, ice, mud, and muck is there really a set of duck boots out there that can keep us on our feet through it all? Yes! Looking at traction is no easy task. Most have differing opinions on what is the best for which situation. There is some truth to that, however, an outsole with great traction, deep tread, and decent flexibility is really what you need and that can be found in a variety of traction patterns.
A great example is, the MuckBoots Edgewater – MuckBoots uses a deep tread in a horizontal pattern.
This is not only good for deep mud but in general, you are looking at superior tread. The gripping ability is superior and you would find yourself steady on your feet when wearing this type of tread in mud, wet leaves, and a variety of other slippery situations.
Another great example of what superior tread looks like is found with the Nike Lunar Force 1 Duck Boots. Built to grip the ground, these boots have nubs of rubber that help you reach the ground and grip it.
This is not only beneficial in snow but also for hiking in the woods, on wet leaves, or pavement. Versatility in situations where you need tread is awesome and finding duck boots that will carry you through all of them is important.
Whether you decide one pair of duck boots will meet your life's traction needs or if you buy four pairs, know that it is important for your safety and comfort to take a look at the bottom of the shoe before purchasing. Know that each person is different and may have different results with a variety of patterns and tread depths. Knowing your feet and the work you do will help ensure an educated decision when picking out your perfect pair of duck boots.
Top 10 Duck Boots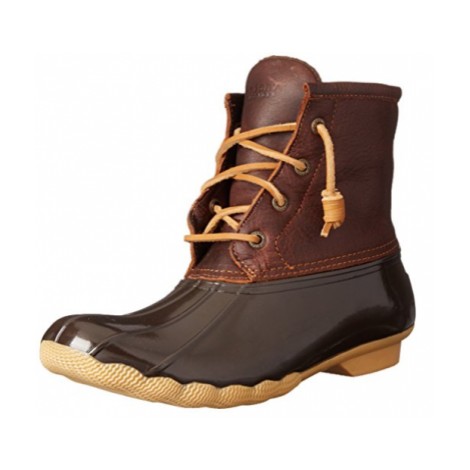 This pair of Sperry duck boots is completely focused on allowing you to be adventurous and spontaneous without having to worry about the weather. Made to look absolutely beautiful, this is a pair of shoes that will have you looking great no matter where you are - walking coastal trails, on the deck of a sailboat, or just going to work in slushy winter snow. With just one pair of shoes, you can be sure that you'll be ready for all of nature's challenges.
With over fifteen different styles to choose from, there is no reason you can't find a pair that fits your taste. Different color combinations are aplenty to appeal to those who would like coordinate with their own personal style. The slight heel that's added to this boots adds both to style and stability so that you can feel just as good as you look while wearing these boots.
As a rain boot should, the Sperry Saltwater does its job well by keeping feet comfortable and dry during the rainiest weather. The ankle height is similar to a bootie style and is high enough to prevent water from seeping through boots within deep urban puddles. The non-marking rubber outsole is sure to keep you slip-free both on wet and dry surfaces.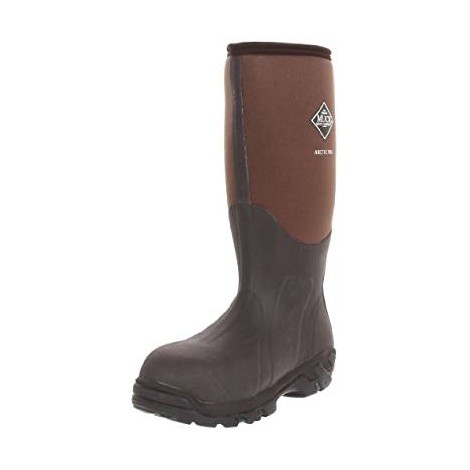 This is a professional hunting boot made for extreme conditions. This means that if you happen to live in (or are planning on visiting) a part of the country which sees temperatures well below zero, these boots are the perfect choice for you. Being comfortably warm up to -30°F, you can focus on what you're doing without having to worry about getting your feet wet or cold.
The boot is made with both waterproof fabrics on the upper and synthetic materials in the midsole and outsole. The heavy tread allows for good traction in snow or muck. The top line of the boot is built with stretch to give wearers an easy time of slipping into this pair.
A thermal foam underlay insole gives your feet both comfort and warmth while also protecting them from bumpy, rugged terrain. Being waterproof throughout means that these are an excellent choice if you're looking for something rugged to protect you from the cold.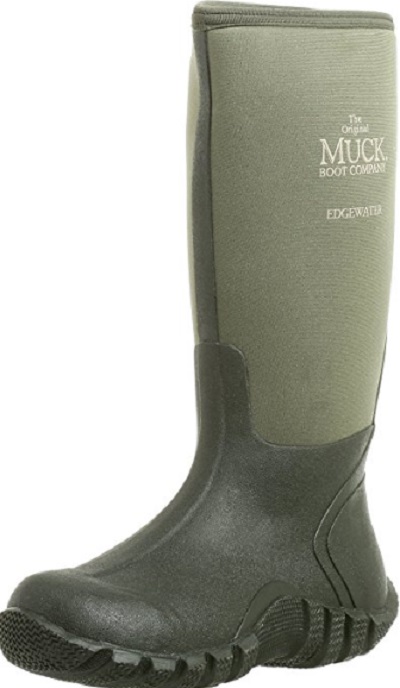 Since 2002, the Muck Boot Company has focused solely on making great boots. They offer us advanced breathability because of the Airmesh ling. MuckBoots Edgewater uses CR Flex Foam, which gives you the best waterproofing out there and horizontal traction for deep mud situations. The features of these duck boots also include a rubber overlay which makes cleaning them a cinch!
The MuckBoots Edgewater has a stretchy top line to ensure nothing gets into your boots. The stretch material is comfortable and helps keep the cold out. This top line also protects against rain, allowing your feet to remain dry, which should always be a number one priority. Without having to worry about rain, snow, debris, and the cold, you'll be able to go further and work harder with the backup of a great pair of duck boots.
Sliding feet can lead to a variety of problems when enjoying what nature offers. Not only could you cause yourself injury due to decreased balance but you may also end up battling blisters, ingrown toenails, corns, or painful feet at the end of a long day. The wrap-up toe bumper gives you added protection while the Achilles reinforcement provides stability. These two features help keep your feet firmly where they belong in your boots while providing comfort for all-day events.

4

. Tommy Hilfiger Ravel 2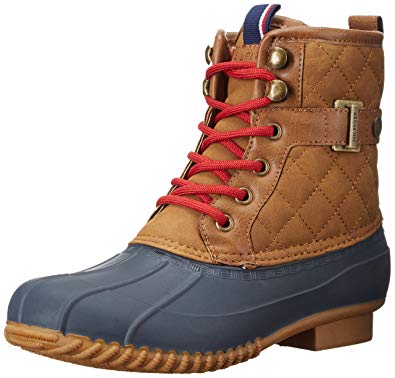 Tommy Hilfiger is adding to our list with their own take on the duck boot. The Ravel 2s are a great option for those looking for the typical Duck Boot design with the added flare of a high end brand. An exceptional design paired with ridiculously superior ground-gripping traction and waterproof leather outer, well what else is there to say, this is an awesome set of duck boots. All your friends will be talking and you will have dry comfortable feet throughout the toughest weather situations.
There is probably nothing better at keeping water out and giving you great grip and traction, than rubber. The tread pattern in their rubber outsole is sure to keep your feet on the ground, where they belong. We all know how important it is to keep your feet dry. Wet feet can lead to blisters, ingrown toenails, fungal or bacterial growth among other uncomfortable things. The solid rubber sole of the Ravel 2 duck boots will keep your feet comfortable and dry.
You can find duck boots of many different colors and slight variations in style, but finding one that looks like a comfy winter quilt is an added bonus. This new detail is a departure from many of our boots on the list so you can rest assured you'll have a unique pair on your feet.

5

. The North Face Thermoball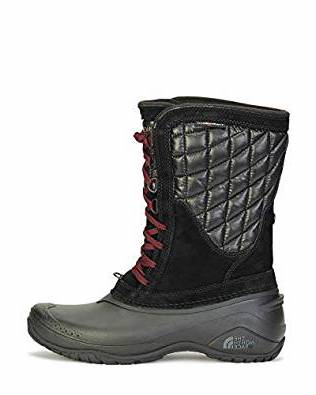 Outdoor adventures in cold climates or wet, muddy conditions can lead to major problems with your feet. Finding a great pair of duck boots to ensure your feet stay warm, comfortable, and most importantly dry, is crucial to enjoying what nature has to offer all year round. The North Face gives us a boot that seals out the cold and looks good with almost everything. The collar keeps your ankles warm and helps keep the snow out. This duck boot aims to please and has become a common addition in closets across the globe.
Let's face it, when we are all geared up to head out in the cold, eventually we work up a sweat. Whether you challenge yourself by climbing the side of a mountain or you head back in to warm up by the fire, a good pair of duck boots will have your feet nice and warm, most likely to the point of sweating. The removable EVA footbed in the Thermoball boots will allow your boots to dry out overnight and if you find your insole is getting flat, you can replace it with a new pair. These very durable duck boots will last for miles to come, the ability to replace the insole guarantees continued comfort through everything you decide to get into.
Extreme temperatures can occur all over the world and you never know what you may be in for when spending time in the wilderness. Keeping your feet warm and dry should always be a top priority. We lose heat through our feet, and wetness can cause a multitude of problems. If not insulated properly, you could battle with frostbite, not to mention the whole body freezing that happens when your feet are cold. The special collar keeps the ankle warm and also keeps the snow out. Add to that the lining on the inside and what you have is a match for what it takes to keep your feet dry and warm throughout your journey.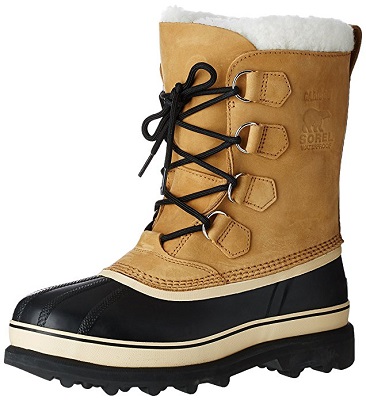 This is a snow boot perfect for extreme, wintry weather, designed to keep your feet safe from the elements. Its bulky look - a rubber sole, a waterproof nubuck upper and 9mm of removable felt lining - is telling of its functionality, seeing that this is a pair of duck boots intended to be used in heavy snow. With a temperature rating of -40°F, you are sure to stay warm during all your winter adventures. The fact that you'll look good as well is just an added bonus.
A waterproof fit is accomplished with a waterproof nubuck shaft that has been seam sealed to prevent moisture from entering the boot, stitched to a handcrafted waterproof vulcanized rubber outsole that is non-slip even in icy conditions.
These boots are great for winter thanks to the 9mm of recycled felt lining, that can be removed and washed in order to keep your boots feeling fresh all the time. A Sherpa pile snow cuff prevents snow from getting inside the boots, while a D-ring lacing system ensures a secure fit.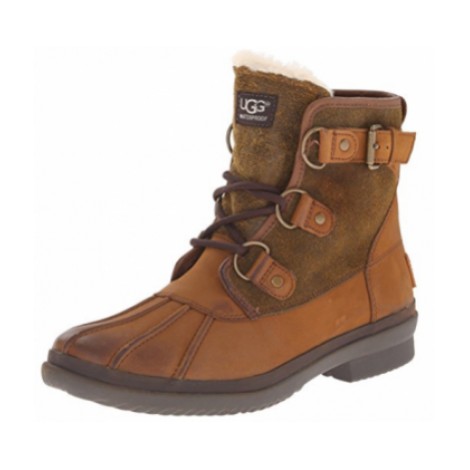 If duck boots and the classic UGG boots got married and had a baby, this would be their child. Incorporating UGG's styling with the functionality of duck boots, you are sure to look amazing wearing these boots during the winter cold. One of the best things about these duck boots is that they forego the clunky rubber, and replace it with stylish waterproof leather instead.
Like Classic "UGGs", this Australian contribution to winter footwear features the signature pure sheep wool that pads the insole and tongue, destined to keep toes warm. Its combination of waterproof leather and sealed seams inside and out make this pair perfect for both winter and rainy seasons. The boot's upper and midsole are comprised of cow and pig leather as well as lamb suede for waterproofing.
The brand name itself recalls the same comfort found in wool-lined bedroom slippers. This level of comfort is ingrained in its foam-padded insole which also features Waterguard technology. The outsole's composition is comprised of synthetic rubber and cork for better traction in addition to a more comfortable stride.



The Sorel Cheyanne Lace is a waterproof work boot that will work just as well on your days off enjoying the snowy outdoors. It's a completely waterproof duck boot that will work in heavy snow and in temperatures down to -25°F. This means that you can enjoy a warm pair of boots that won't look too out of place even in a casual office.
Walking in snow requires you to have a pair of boots that are watertight. These boots are made with a waterproof leather upper and a vulcanized rubber sole that has a herringbone traction pattern to keep your footing safe on all surfaces. Thanks to being seam sealed, you can rest assured that no snow or water is going to make it into your boots.
This boot features 200g of insulation to keep you warm even in cold winter conditions. A die-cut EVA footbed is removable and adds to the warmth you will feel when wearing these duck boots. An upside of this is that it can be removed should you want to insert something warmer or with custom support.

9

. The North Face Shellista II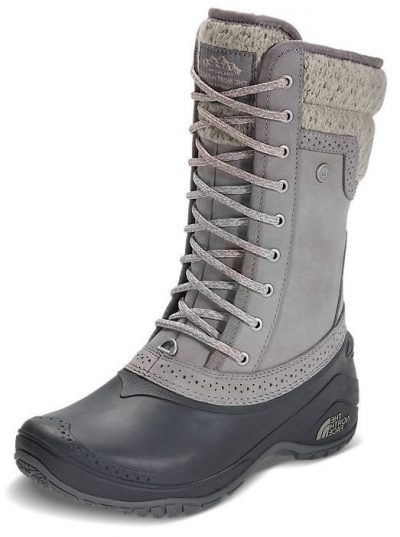 A company known for its high-quality gear, The North Face believes in the exploration of all things. For over 50 years they have been offering exceptional gear, clothing, and shoes. The Shellista II is proof that North Face deserves their place among the leaders of outdoor supplies. These duck boots give you superior warmth and a 100% waterproof leather upper paired with a waterproof shell bottom.
Designed to let your feet move naturally in lightweight, durable, and warm duck boot, the Shellista II uses PrimaLoft insulation to show what all your other boots are lacking. Small pockets trap your body heat in extreme conditions. These pockets maintain this warmth throughout rain, snow, and sleet. The innovation in these boots will keep your feet warm and dry, just as you expect them to be.
Most of us believe that nothing in life is guaranteed. Most companies give you a very short time frame for returns if any at all. With The North Face Shellista II, you won't have to worry. If something happens to your boots, breathe easy knowing you can replace them without the frustration you usually have to go through.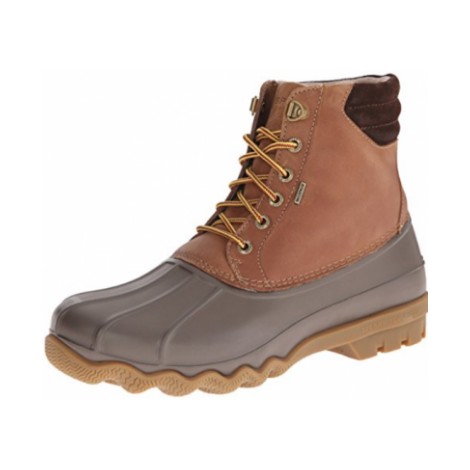 The Avenue is another pair of duck boots made by the brand Sperry, but this time, a little bit more focus is put on style. With a waterproof leather top and a rubber outsole that is a standard with this type of footwear, the Avenue stands out through the fact that it offers a warm lining without looking too much like a pair of hunting boots.
Its Wellington toe style, as is common in most duck boots featured here, is telling of its function as a serious work boot with its reinforced toe. This feature allows the wearer protection from mud and grime, but with its minimalist look, both function and form work harmoniously well in this pair.
In addition to being completely waterproof, these boots also have a warm fleece lining which ensures that you are kept warm even when the weather turns for the worse. Whether you plan to wear these boots at work in an industrial setting, in the city during cold winter days or on your sailboat when you're out exploring the vast blue, you can count on a level of comfort that is definitely worth investing in.

Subscribe to our Newsletter