Best Snowshoes Reviewed & Rated
In a Hurry? Editors choice: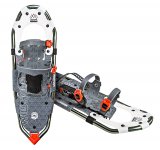 Test Winner: WildHorn Sawtooth

2018 has seen some great releases in the world of snowshoe gear and utilities from companies such as Evo, Alps, Tuggs, and many others. Picking the right snowshoes for the upcoming winter months is certainly something that shouldn't be overlooked and you should make sure you know exactly what type of environment you're going to be up against before making your choice.

When searching for snowshoes you should try to keep in mind whether you're going to be hiking through roaming hills, deep snow, or any sort of technical terrain in order to optimize your trailing experience to its fullest potential. Either way, we've compiled a list of the Top 10 snowshoes currently on the market with plenty of all-terrain options as well as shoes suitable for more experienced hikers so you can make sure you get the best bang for your buck.
Standout Picks
Criteria Used for Evaluation
Compression
The Binding System is an important part of snowshoes, and often one that confuses beginners. Different types of snowshoes are often categorized by their binding, as Mountain or Backcountry snowshoes have stiffer bindings that offer more support, usually with bigger snowshoes. Running snowshoes are designed with light but strong bindings so the wearer can move freely.
Here are the different types of bindings and their materials:
Nylon straps – these are often found on entry-level snowshoes and are lightweight and simple to use. They also offer tons of adjustability, which is their capability to be used with different types of snowshoes. Nylon, however, is less supportive and less durable than other bindings.
Ratchet straps – these are similar to the type of straps you might find on snowboard bindings, so you know that they will keep you strapped in. They offer also offer a high adjustability and are easy to use, making them also a choice for beginner snowshoers.
Rubber straps – these are the most common types of straps and are found on most snowshoes. They can also be used on a range of snowshoes and are durable, especially in freezing conditions. Rubber straps can be found anywhere from Flat Terrain to Mountain Terrain snowshoes.
Boa Closure – this is a new type of strap that's becoming more popular in the snowshoe industry. It offers a secure fit and is extremely easy to use, but this can mean that they are more expensive. They are generally made for beginner snowshoers.
3 strap vs. 2 strap system – snowshoes also come in a 3-strap or a 2-strap system. The 3-strap is the best as its the most secure and won't come undone or freeze shut. The 2-strap system might be lighter but it is less secure, though it is still sufficient in keeping your foot in place.
Similar to the frame, the bindings on a snowshoe should be one of the most important features to look for because it is exclusive for each and every snowshoe. Make sure to find a binding that is made of quality materials like the ones listed above.
So, to restate, when buying snowshoes, first look at the bindings, then the frame, then the crampons. Doing so will ensure you prioritize the most important parts of the snowshoe. Try to look for quality materials and avoid cheap materials as durability is the most important aspect of snowshoes.
Fit
We all know how hard it can be sometimes to find the perfect pair of winter shoes that we not only love, but that also fit snugly and comfortably. With so many styles, brands, colors and models, how can one compare hundreds of supposed "size 10s"?
To assess for trueness-to-size, we considered the opinions of thousands of wearers from across the globe to find out the answer to the ultimate question: do these 10s fit like a 10? While some things can give you a hint as to whether they will fit true, small or large; like brand name, shoe type and year of make; we believe that the opinion of buyers cannot be wrong. If they say the shoe doesn't fit the way it's supposed to, then you won't find it in our 10-best list.
You will find that a pair of shoes or boots or sandals that score high on this metric tend to experience a trueness-to-size that was verified by our large community of sampled buyers. Just don't forget to take into account the factors above to also make sure your favorite pair will fit you perfectly.
Size
Unlike the sizing of regular shows, snowshoes use a diverse sizing that measures not only your shoe size but the size of the frame to provide the best amount of flotation. First, it's important to know that there's a difference between Men's and Women's snowshoes. Men's snowshoes tend to be larger and can carry heavier weights, while Women's snowshoes are narrower and have a more contoured frame design, while their bindings also fit women's shoe sizes.
The size of your snowshoe depends on the weight you are carrying, which includes your equipment. Here is a guide for size and weight:
20 inches – 85-100 lbs
25 inches – 120-200 lbs
30 inches – 170-250 lbs
36 inches – 220-300 lbs
Again, this measures the length of the snowshoe and approximates it to the weight you will be carrying, including yourself and your equipment, while snowshoeing. If you are planning to snowshoe trails or tightly packed snow, it's fine to wear a smaller snowshoe than your accommodated weight. However, if you are snowshoeing in powdery or backcountry snow, it's imperative that you follow this sizing guide to get the best type of snowshoe.
Traction
Now, there's also Crampons, also known as the Traction. Crampons on snowshoes are most frequently made of steel or metal composites since they offer a strong foundation with a good grip. Aluminum can also be found on lightweight snowshoes, though most crampons feature a two-prong design at the toe made for grip. Some crampons, such as Backcountry snowshoes, include a set of teeth on the underside of the snowshoe, making them better for downhill trekking or icy pitches. When buying snowshoes, make sure your Crampons are made of quality material, such as steel, so you know they'll be durable and have good traction. If you're an avid snowshoer who encounters harsher terrain with ice, crampons with spikes underneath can also be an option.
Having a high level of traction is important. Nothing is worse than falling down a hill and embarrassing yourself in front of a crowd. Make sure you check out the product you are about to buy for the type of traction it offers.
That being said, a higher score on this metric means you will get better traction from your snowshoes.
Weight
Knowing the parts of the snowshoe is essential because it allows you to compare the features of each snowshoe with each other. Understanding the following features—Frame Type, Crampons, and Binding System—is crucial when buying snowshoes and for snowshoers.
First, let's talk about Frame Type. The Frame is the outer part of the snowshoe normally made with a tubular aluminum or any thin, flexible material. Some new designs, however, have started to incorporate plastic frames or flat metal frames.
Tubular Frames are a traditional choice for Frame Type. The design is good for softer surfaces when you don't need tons of grip. Tubular Frames are often found in Flat Terrain snowshoes while also sometimes in Backcountry models for deeper snow.
Flat Stock Frames are a new design that features a metal frame with serrated edges and rubber decking. This design is often better when climbing in advanced or moderate terrain, as it helps with steep hills or icy pitches.
Plastic Decking is also a new concept, and this lightweight design generally doesn't include a separate frame. The decking is made of stiff plastic, which makes them slippery on slick surfaces and not ideal for icy pitches. Plastic Decking isn't the best for flotation, either, and this Frame Type is generally chosen by those who want to save space and money.
There is also a hybrid of Plastic Decking with Partial Tubular Frames, making them lightweight with better flotation, offering both of both worlds.
10 Best Snow Shoes Reviews



While we had our fair share of designs meant for tame, easy trails, here we have something that is designed to conquer the backcountry without any problems. The Tubbs Mountaineer is an option with an 'aggressive crampon' that will help you explore the wild, undiscovered landscape with comfort and safety, and which will make you want for nothing as you venture out into the great outdoors.
The Mountaineer is built on a Pro-Step frame that has a lower height nose and a tail bend which reduces strain put on the joints. The asymmetric AcitveFit+ binding comes in versions for men and women, and it centers the heel and delivers a personalized fit without causing any discomfort. In terms of traction, there is the Anaconda carbon steel toe crampon, as well as the Python heel crampon for easy braking when you're going downhill.

To complete this design there is SoftTec decking for lightweight flotation and an ActiveLift system to reduce fatigue in the calf muscles during ascents.

Overall, the Tubbs Mountaineer is one badass design. In it, you will have no trouble taking on terrain that you're not familiar with, or that hasn't been broken in yet, and you can rest assured that you will be safe, secure and comfortable in the backcountry for as long as you'd like.




The reason that Atlas has not one, but two products in this guide is that their constructions are truly outstanding in both quality and performance. The Treeline is outfitted with several top-of-the-line technologies which serve to make you feel comfortable, light and supported as you take on all of your favorite winter hikes. As the brand's description says, these will take you to the treeline and beyond, and you will love every minute of it.
The Treeline has a ReactiV frame which increases strength in the areas where the frame holds the most weight. There is Nytex decking that provides durability, All-Trac toe crampons for traction in all directions, as well as a heel cleat that has a special shape for a superior grip. Cushioning comes in the form of LRS (Light-Ride Suspension) which helps your foot move in a natural way and cushions the impact of your steps. Lastly, the Treeline is equipped with a heel lift bar that reduces fatigue and strain put on your muscles during steep climbs.

In short, we are impressed with this choice. It has everything you need out of a solid, reliable design, and more. All the latest advances and innovations the Treeline comes with make it one of the top choices on any list for this category of footwear, and for good reason. If you're looking for that outstanding option, then look no further than the Atlas Treeline!

An upgrade of the popular original Ascent, this new model gives you a snow trek that doesn't weigh you down. Lightweight and technical, the Lightning Ascent is constructed for various trekking such as backcountry activities, terrain that is rugged, and mountaineering. You'll have stability and security with the 360-degree traction and edge-to-edge grip that can withstand different challenging environments. The ultralight frame is compatible with modular flotation tails for any needed excess float or varied, unpredictable terrain and conditions. The polyurethane decking provides durability, flotation, and the snow footwear is equipped to handle different body weights, and gear loads with maximized maneuverability.
The binding is freeze-resistant to help any footwear you are wearing to avoid any unnecessary freeze-related issues. It also provides a secure fit to keep your footwear from detaching from the decking. The PosiLock is attached to give it lightweight durability. On the Lightning Ascent, there is a lift bar at the heel to help improve your efficiency while going uphill. This will decrease fatigue and increase traction. The Ergo Televator flips up very easily, giving you extra help and support on steep hills.

This lightweight construction improves traction, movement, and ability in any environment, terrain, and conditions. The advanced features on the MSR Lightning Ascent provide greater fit, security, and enhance your snow trekking skills.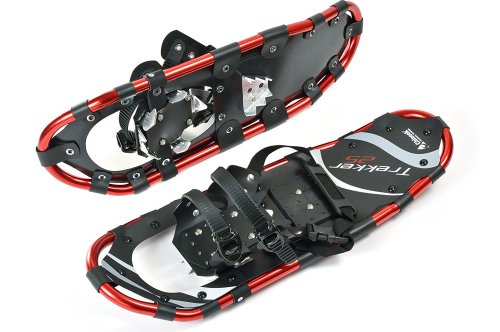 Widely considered the best beginner as well as a budget design on the market, the Chinook Trekker is tried and true in the world of snow footwear and offers a reliable kit and carrying bag suitable for all ages and skill levels.
The Chinook Trekkers may look like just an ordinary design, but they include a couple of features that may not be noticed right away. In addition to their heavy-duty build, the Chinook Trekkers also come standard with UV protection, making sure to protect your gear on the trails. One thing that you should always look for when purchasing a new pair of snow footwear is, of course, the quality of traction, and the Chinook Trekkers are no exception to this rule. The Trekkers include aluminum heel crampons allowing for fantastic traction and rotation for great control when you're trekking down the slopes.

Coming in a variety of sizes and even including a carrying bag and other various accessories, the Chinook Trekkers are a great budget model capable of competing with even the most expensive options on the market. If you're looking for a cheap and reliable pair, these are the ones you should shoot for.

Now here is something a little different than the other options on our list. The Crescent Moon EVA is an all-foam design, which we don't see often in this line of footwear. It is meant for packed powder snow and mostly flat terrain, and it is incredibly easy to use. Thanks to its simple, lightweight EVA foam construction, this option is perfect for beginners who are just learning how to tackle the clunky movements of walking in a snowshoe.
The Crescent Moon EVA is made from dual density foam, which means that it provides both shock absorption and cushioning and that it is incredibly flexible. There are hook-and-loop bindings for security, as well as tire-like lugs on the underside for better traction. It also comes with so-called 'ice spikes' to help you make the most out of icy and hard pack conditions.

One more great thing about this option is that it is entirely recyclable!

Granted, the Crescent Moon EVA is not as high-tech or as hardcore as some of the more advanced choices in this guide, but that is precisely what makes it stand out. If you're looking for a simple, easy design that will help you walk better on unchallenging terrain - this is the perfect one for you!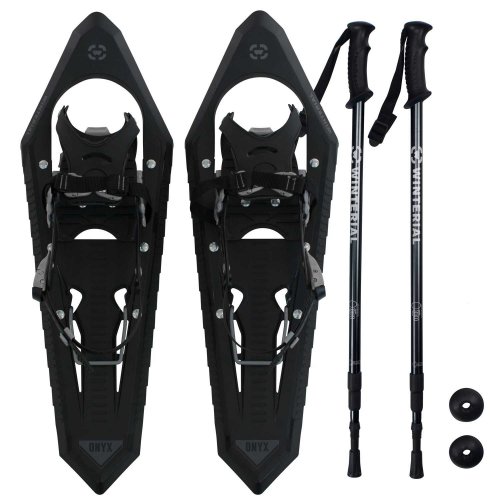 Another great pair of all-terrain snow footwear suitable for experts and beginners alike, the Winterial Premium is great for backcountry, recreational, and even for use on more technical trails for more experienced snowshoers. Also coming in a variety of colors and sizes, this design is a wonderful all-in-one option with a cheaper price tag.
Functionality is one of the major strengths this design possesses allowing a variety of trails and hills to be climbed as mentioned above. The aluminum teeth on the bottom of the Winterial Premium allow for increased traction and grip in the snow and, in comparison to the MSR Ascent, they are a real competitor. Comfort is a major focus and selling point for Winterial as they attempt to optimize every model for maximum comfort, and this design is no exception. The sleek construction and included anti-shock poles allow for the best possible experience whether you're traveling long or short distances.

The Winterial Premium is a great option for seasoned hikers and offers a great value with the included poles and features. Seven colors are also available as well as kids sizes allowing you to tailor your experience to its greatest potential.



Another entry from MSR makes the list and this time it's their latest model of innovative snow footwear that comes in at an inexpensive "middle of the road" price tag. It's perfect for beginners looking for a more high-end design or regulars looking for something reliable that can be worn often. The Evo Trail is molded, has widespread appeal among all skill levels and is known to be quite versatile.
Like almost all of MSR's snow footwear, versatility is one of their selling points, and the Evo Trail with its optional add-on tails for increased flotation allow for this design to carry quite a heavy load without sinking too deep into the snow. It also maintains traction on beginner level trails and rolling hills. Delivering a freeze-proof, glove-friendly, and secure binding, the Evo Trail is able to accommodate a large range of footwear while also being able to slip on and off with ease. In addition to the versatility of the bindings, they also are well built and durable in a variety of conditions.

You can never go wrong with a pair of MSR snowshoes as currently, they offer the best items there are on the market. In terms of the Evo Trail, it is a great option for all terrains and skill levels in addition to having great traction, not to mention comfort due to the spikes being on the underside of the design.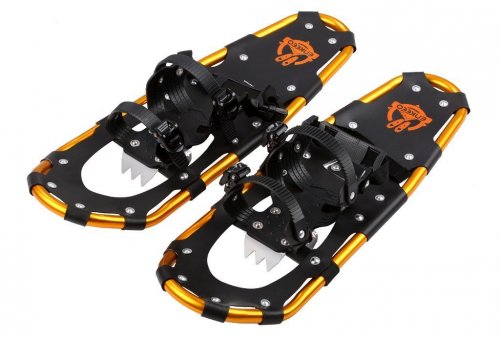 Here's yet another great pair of all-terrain snow footwear at an extremely affordable price for anyone interested in snowshoeing. The Enkeeo All Terrain comes in four sizes and features a simple but effective design supporting up to 210 pounds, allowing you to carry a large load out on the trails.
Without any sacrifice in weight, this design comes with a complete metal build, making them reliable and resistant to constant wear. The overall strength of these, thanks to the aluminum build, supports up to 210 pounds as mentioned above allowing you to travel long distances with a lot of supplies without any worry of your snowshoes failing on you. The PE Decking on this pair is great for all snowy scenarios providing you with great flotation in deep snow and aluminum crampons for a reliable and stable bite into the snow. However, traction when trekking downhill is a little iffy so that should be taken into account when considering this option.

All in all, this is a great choice of all-around snow footwear for beginner and intermediate walkers alike. Coupled with their cheap price, they provide a nice package for mild trail-blazing. However, when attacking more technical terrain with rolling hills you should consider putting up a little more money for better traction.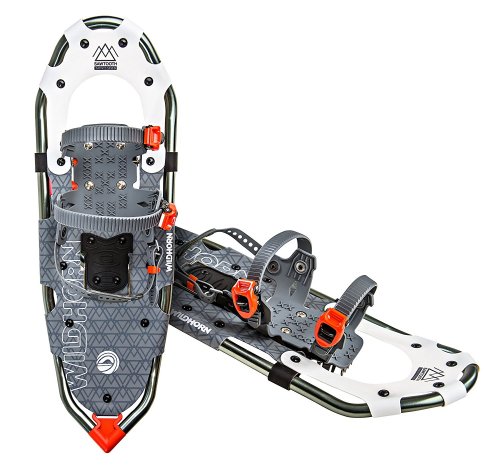 The WildHorn Sawtooth just hit the market and for their low price, they are a steal! Everything that you could want when going snowshoeing is included in this all in one package, together with great all-around traction, build quality, and adjustable bindings, making this another great and cheap option for getting into this sport.
Coming in two 21 and 27-inch sizes, these also feature adjustable bindings for a much better fit when out on the trails. The simplicity present in these features ratchet style buckling and with no lacing compared to other similar choices on the market, great for keeping you secure when hitting the trails. Each Sawtooth comes standard with two fantastic sets of reinforced and heavy duty crampons for great traction on icy surfaces. In addition, they also feature a steep heel lift riser providing traction and control when trekking up and down hills, a great and convenient feature perfect for those newer to the sport.

The WildHorn Sawtooth is the best all-around design you can get on the market with no real downside. The build is durable and lightweight while the traction and heel support are great for any type of environment, ultimately providing one of the best experience at a low price.




With the addition of bindings that lay flat for easy travel, the Atlas Endeavor is a great lightweight and stealthy design with added comfort due to the narrow frame, a great feature when going out on a day hike without the worry of fatigue.
The narrow frame design makes these great for stepping over obstacles and for long-distance travels. Zero tripping or fumbling is present when using these, because the decks are so small, allowing for long-distance travels with ease. As mentioned above, these shoes are great for bringing with you on a trailing vacation as they collapse neatly and attach easily to any backpack. In addition, the bindings are extremely comfortable as the straps zigzag across the foot and allow for a lot of flexibility when putting on and taking off when hitting the trails.

Ultimately, the Atlas Endeavors is a great choice for wintertime nomads who are always on the move. The ease of use in terms of its storage is great for snowboarders and skiers and they offer a really nice all in one package.

Subscribe to our Newsletter