Best Boots for Snowshoes Reviewed For Warmth & Practicality
In a Hurry? Editors choice: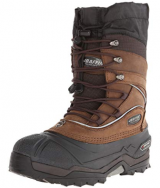 Test Winner: Baffin Snow Monster

Walking through a
winter wonderland
sounds great, at least in theory, but without the right equipment, trudging through the snow can feel a whole lot less than great. But do not be in despair, there is still a way by which you can enjoy the snow as much as you did while you were a kid. Today, they have evolved beyond their practical uses, to become a popular choice for both a fun, leisurely activity and a great workout! How best to step out in these wintery accessories? With the right boots for snowshoeing of course! By going through the list provided below, you will be able to take a glance at the best equipment for the winter, and purchase items that will be able to keep you warm, and yet, safe from harm.
Standout Picks
Criteria Used for Evaluation
Insulation
For any activities in the cold weather, you want a shoe with great insulation. For the best boots for snowshoeing, we paid careful attention to just how protected your feet would be in the cold. While some may snowshoe for fun, others might be going long distances, and there needs to be options to protect their foot from winter frostbite and damage, no matter the conditions.


For this list, we were looking for at least 200g of insulation and up, for boots with different quantification of insulation, we looked at the what degree of cold it was able to withstand. Some snow boots go by a layered standard, where instead of weight of actual insulating material, they are using multiple layers of separate materials to come together for supreme warmth.


Many of our options utilize Thinsulate, an industry standard of insulation. Thinsulate is an extremely thin insulating fabric or material made from polypropylene fibers. Popular among cold weather gear, as well as in tents and sleeping bags, this material is worked to keep in the heat without adding bulk to a design.


Another factor in insulation that was looked at is layers within the construction that "reflect" heat back into your shoe. Multiple options on this list utilize an aluminum or silver reflective material that doesn't allow heat to escape but also doesn't encourage the build-up of moisture in the shoe. This retains warmth without adding moisture, which creates a healthy shoe environment and dry comfort.
Water Resistance
A huge factor for anything you will be wearing in the snow is water resistance. Obviously, you are going to be spending some time in the snow when using boots for snowshoeing, and not only can poorly waterproofed shoes cause discomfort, but wet feet in cold temperatures can be downright dangerous. There needs to be a barrier that will allow your feet to stay dry, or else you could find yourself having serious problems in the long run.


Gore-tex is a great option for waterproofing because it is very light, it keeps your feet dry, and it can last years and years. This fabric keeps water out but passes water vapor from perspiration out. Most people have experienced breaking a sweat in winter clothes, whether it be from shoveling or sledding, and know first hand the discomfort that can come with getting clammy inside your gear. Gore-tex keeps your boots breathable and dry.


Many cold weather and outdoor brands utilize a proprietary waterproofing material or fabric, and the best brands really set a high standard for others to follow. In snowshoeing, you want a shoe that is light enough to not strain your legs when bringing them up to step, and a waterlogged shoe would do the opposite. Our list contains many signature waterproofing methods from the top names in the business.
Durability
If you're trudging through the snow for hours on end, a shoe that can last as long as you can is truly necessary. This list features certain qualities of footwear that ensure your boots will still look and feel like new after long time use.


Many of the metal details on the boots listed are rust-proof. That means your laces won't be getting caught in rusted D-rings after a particularly active winter in the snow. It may not seem important, but when you are using a shoe in wet conditions, they generally take a much greater beating than those used in dry.


Every boot here has multiple rubber guards on the toe, heel, or even all around the outsole. When snowshoeing, the edge of your boot won't often contact anything but snow, but when you consider strapping and unstrapping a shoe multiple times, there can be a lasting effect on the integrity of certain features.


To protect the stitching and construction, rubber guards are a feature that shouldn't be overlooked when searching for a shoe intended to use with sports gear. Small features such as this set long-term wear boots apart from their short-living counterparts.
Traction
When the snowshoe is on, you won't have to stress traction, as the snowshoe goes under the boot to distribute your weight more evenly across the snow. However, most people aren't stepping out a lodge door and immediately strapping on snow shoes. For adventurers, traction is important, because terrain cannot always be predictable.

Boots with traction for any terrain are integral, and included here are options suited for any explorer. With traction that has soft and hard lugs, and ice ready rubber soles, you are sure to be stable on any ground. Snow boots in terms of snowshoes are considered one of your "base layers", the goal is always to have high functioning base layers because you can't take them on and off like you can outerwear. A shoe that is ready for all situations is ideal because you can't be changing into a high traction option for a change in terrain.

So you can get to where you're going, most of these options are winter hiking boots, rather than the typical snow boot. Not every environment is fit for snowshoeing, and when your traversing long distances, having a shoe that is dependable the whole way from point a to point b is integral.
Weight
To snowshoe, you have to pick your knees up quite a bit. Snowshoes force your stance to be a bit wider than normal, to account for the width of them while walking. Due to this, your steps will be high and your legs will become fatigued if weighed down by heavy shoes.

The snow boots chosen here are all relatively lightweight, to not add any additional work to your workout. While someone who is testing their strength or athleticism may want to opt for a heavier weighted option, for most, the ease of walking and wear is a necessary consideration.

Many cold weather boots utilize engineered fabrics that perform with little bulk. Materials like Gore-tex, thinsulate, and air cushioned insoles are all ways to decrease weight and bulk without sacrificing performance.
Our Favorites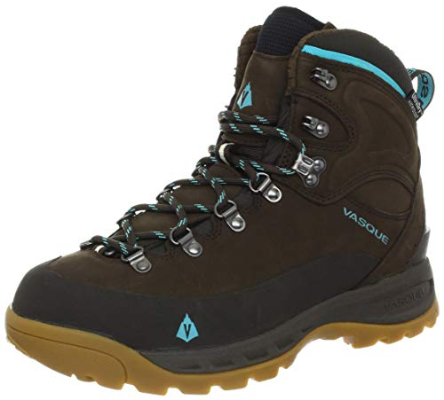 These boots for snowshoeing with baby blue accents are a knockout from Vasque, a company whose only concern is making footwear that gets you outdoors and inspires adventure. Vasque has been making trail footwear since 1964, and with their commitment to making trail running shoes, hiking boots, and backpacking boots, they have been credited with helping to open America's greatest mountain ranges. With a name synonymous with product integrity and technical innovation, Vasque wants to provide you with great mountain accessories you can trust.
This snow boot has some truly amazing features, its Snowblime insulated technology will keep you dry and protected when braving the elements. With UltraDry waterproofing and 200g 3M Thinsulate Insulation technology, these boots will more than likely outperform even their wearer! The Snowblime has a true understanding of the technology needed in footwear for extreme cold and snow because your gear should be far more than just a shoe.

When trudging through the snow and sleet, it can be common to feel soreness at the top of their boot on their shin, and the Snowblime even thought of that. Their boot tongue is padded with CuShin, a thick, soft layer of padding to cut the impact of the top of the boot while you are snowshoeing. This Vasque is extremely high quality, and it is a modestly priced option considering what normal snow equipment of this caliber can go for. Genuine leather and waterproof construction, as well as thick rubber soles and contrasting accents, make these Snowblimes as gorgeous as they are durable.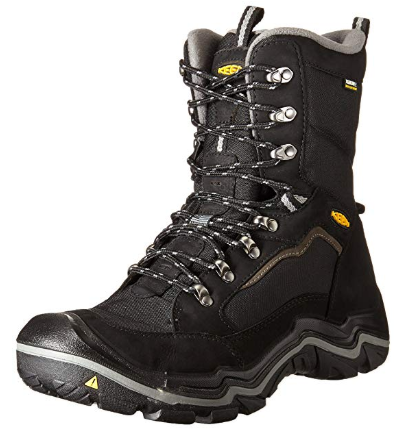 Humanitarianism probably isn't the first word you think of when considering footwear companies, but for Keen, "better takes action" and their commitment to people is displayed by both their footwear and their philosophy. The brand is extremely focused on giving back to the community that supports them, and they craft items specifically designed to treat every foot with the utmost care. With integrity and quality in every style, Keen creates to encourage a healthy lifestyle. There is no company more prepared to equip you to get up on your feet in any condition. If you are looking to try something new and attempt at snowshoeing, Keen is a brand you can trust to make the foray into the cool festivities.
Woolly thermal footbeds make this Keen feel luxurious, but they have a rough and tumble, rugged exterior that deceives their soft interior. Equipped with a heat shield, these footbeds allow for an extra layer of comfort between you and the harsh temps of the snow. Their insulation is nearly double that of many similar snow boots. With 400g of insulation, no amount of frightful weather will discourage you from getting out there with your snowshoes! Equipped with Keen dry, a proprietary protection membrane that allows moisture out without letting any in, nothing will have a chance to permeate your dry feet.

This Durand Polar has an integrated PU footbed that diminishes the need for any aftermarket insoles, and an added TPU stability shank for support. A shank is a piece that is put under the arch of a shoe, it increases stability and makes the foot less susceptible to torsion. While a shank may limit the level of flexibility in a shoe, for something that is being used with snowshoes, you need something relatively stable that can be resistant to the normal over extension that can affect arch support.

Charcoal and bamboo are the main materials utilized in Keen warm insulation, and the choice is a nod to the sustainability in Keen's ideals that was mentioned prior. A lighter weight option available at a moderate price, this Durand Polar will bring all the staple dependability of a Keen hiking boot, but equipped to handle much lower temperatures and much higher moisture levels. The thermal foil beneath the footbed guarantees no heat will get out of this Keen.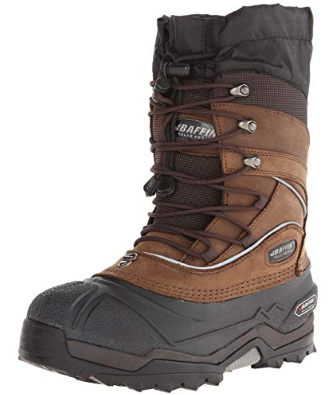 Baffin has been specializing in cold weather outdoor gear since 1979, their concept is to "over-engineer" their products to outperform any condition life throws at the wearer. Each part of the shoe is crafted to perfectly execute its role, coming together to create the ideal boot for facing the cold. In 2006, the company's CEOs were put to the ultimate test, they were challenged to wear their footwear through the north and south poles. Choosing a pair of -100c boots, and they successfully withstood the full trip through both poles. This bred the philosophy of "Polar Proven" which is still closely followed to this day. Baffin's guarantees a shoe that you can rely on.
Insulation is integral for any footwear expected to be worn in snow, but the Snow Monster boots for snowshoeing take it to the next level. Utilizing a layered system that both wicks moisture and holds heat, there is a Hydromax layer, which acts as a moisture reservoir, when the hydromax holds the moisture away from the foot, the Baffin proprietary B-Tek takes over. With a four channel hollow fiber system, the moisture is carried away from the foot, through the foam, and out of the boot. Baffin's Thermaplush is a super soft layer that starts the process of keeping your foot warm and dry. Wicking moisture away from the foot, this "next to skin" material envelopes your feet and provides a soft texture between your foot and the insulated layers.

The Snow Monster does not only utilize layers for temperature and moisture control but also has a layered footbed designed to relieve pressure on every expedition. With padding on pressure points added to already stacked support, their Monster insole has a contoured footbed, memory foam, high-bounce lite-blown PU foam, and then the addition of the anti-fatigue point pads. The Snow Monster has quite the number of amenities for a moderate price. Though it may be in a higher price range as compared to more basic shoes, the innovative technology you are getting is well worth the amount you pay. For the average excursioner, these snow boots will hold up to hard use and brutal temperatures, with or without snowshoes.

4

. Columbia Bugaboot Plus III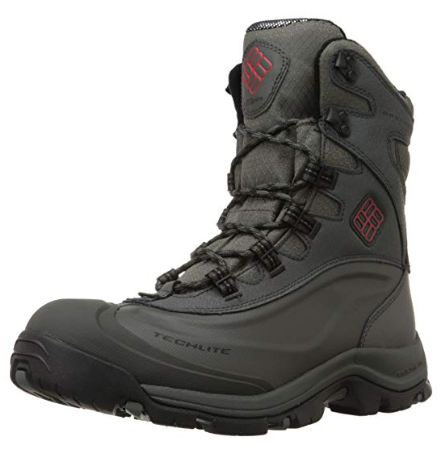 Columbia has been in the game for 80 years, and at the forefront is their no-nonsense approach to gear. Gert Boyle has been heading Columbia for 50 years, and she takes a "Tough Mother" persona on, to deliver a product that is as serious about the outdoors as she is. Based in Portland, Oregon, many of their designs were created to withstand the extreme chill of the Pacific Northwest. However, no matter where you go, you will be well prepared in a pair of Columbias.
The Bugaboot is a staple for the brand, they release updated versions of this style frequently because it is a consumer favorite. The Bugaboot Plus III has Omni Shield technology that makes fabric impermeable to both stains and the liquid itself that it is up against. The outsole is equipped with Omni Grip for extreme traction, so this boot is as functional with or without snowshoes, which makes it an optimal option for a mixed activity trek.

This style has a Techlite midsole, which provides a lot of bounce back with every step, and long-term support and comfort for a whole day of snowshoeing. The super cushioning in the Techlite will make it feel like you're walking on a warm cloud, rather than the freezing snow. For anyone who wants to try new things on a budget, this is a wonderful way to do so. The Bugaboot boots for snowshoeing are constructed using leather and nylon webbing, then topped off with multiple metal hardware, joining together for a sophisticated monochromatic look. Another option great for beginners, because the Bugaboot can function as a dependable cold weather pick for shoveling the driveway, or you can experiment with cold weather activities with little large-scale financial investment.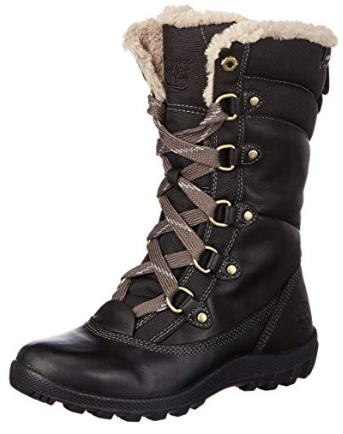 Part of their Earthkeepers line, these Timberland boots for snowshoeing are super adorable and environmentally conscious. This line focuses on utilizing only renewable, organic, and recycled materials, but still manages to create a super adorable end result. Timberland brand has a long, four-decade commitment to keeping their wearers both dry and comfortable. The brand revolutionized the industry standard in 1973 with the release of their waterproof, genuine leather boot. Not only are they committed to beautiful boots, but they have focused on corporate responsibility as well as civic and social duties to invest in the communities who adore them.
A personal favorite, the look of this boot is delicate and attractive, to the point where you wouldn't expect its level of functionality. 200g of PrimaLoft insulation is intended specifically for active feet, so if you are practicing your snowshoeing in style, this is the boot for you. With GripStick and Green Rubber outsole, you'll be ready to go in or out of snowshoes. The Mt Hope features aluminized strobel construction. What this does is reflects the heat emitted from the body back into the shoe, ensuring a toasty wear, whether you're out for hours or just moments.

Quilted shaft and D-ring laces make the style as current as the cold weather technology that comes with it. Plush faux-fur reveals itself at the edge of the top of the boot and lines the shoe fully to envelop your feet in softness.

While you can remove the footbed and replace with your own personal inserts, their stock insoles are high-performance and anti-fatigue. Keeping your feet feeling refreshed for any winter sport or activity. Rich leather covers this shoe, and there are full black and rich tobacco options that look as sharp as they do supple. Their laces are thick and easy to fasten due to their D-Ring eyelets. Timberland is in the higher price range, but you are supporting a company that is ethically manufacturing beautiful shoes that you can trust. These gorgeous snowshoes are a high point of cold weather fashion, and every penny spent will be validated once you put them on. This style is also available in a smart CorDura fabric outer.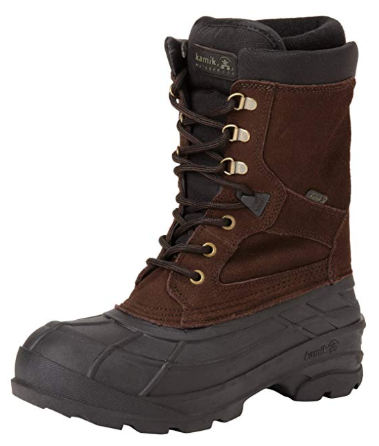 "Singular. Strong. Simply dependable." Those are the words Kamik lives by. The brand realizes some of the most beautiful sights are accompanied by the roughest of conditions. Kamik is a family owned and operated business, and has been since its inception. They are bringing the quality assuredness of a mom and pop shop with the accessibility of a major retailer. The brand is constantly looking for new and innovative ways to provide customers with a warm and happy foot, while also maintaining sustainability.
The Nationplus is a great example of the type of snow boot for snowshoeing produced after 100 years of practice. Canada tends to know a thing or two about the necessities of the cold. This style is -40F rated, which will keep you toasty when trudging along through the snow. With a rubber sole and complete rubber guarding all around the foot, strapping into snowshoes will leave you feeling secure and protected.

200B Thinsulate adds additional warmth to this rubber and leather upper. Their moisture-wicking lining will protect against foot damaging moisture and discomfort when out exploring any tundra. Rust proof lacing that is designed to be quick and simple allows for you to get these on and off much quicker than some other lacing systems commonly found on winter wear. The duck boot appearance of the Nationplus allows for seamless transitions from outdoor to indoor, without appearing bulky and unattractive. Extremely affordable, this is a great option for beginners or those unsure of their commitment to venturing out into the cold.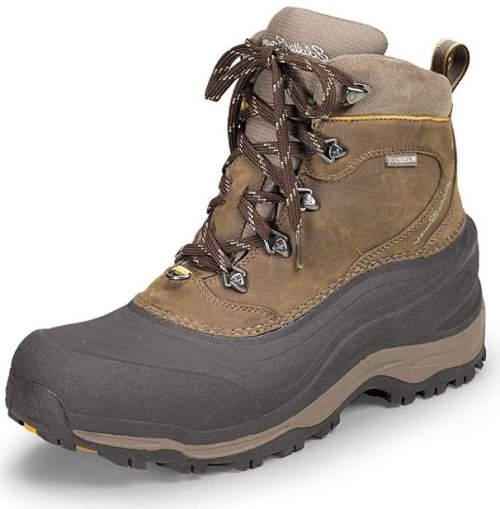 The founder of the Eddie Bauer brand, unsurprisingly named Eddie Bauer, was an outdoor guide. He loved the outdoors, which he found wild, beautiful and worth sharing with other people. This is why he designed products to enhance everyone's outdoor experience, including the Eddie Bauer Snowfoil that we have here. This is a design meant for both winter commutes and for exploring the trails with snowshoes on.
The Snowfoil is made from a combination of materials. It has a leather upper paired with a waterproof but breathable membrane. What makes the Snowfoil especially protective is its injection-molded TPR shell that covers the foot portion of the design. It is completely waterproof and it prevents you from mechanical injury. The inside of this design has 200 grams of ThermaFill insulation which preserves warmth and keeps your toes from going numb or, god forbid, suffering from frostbite. In terms of comfort, there is an EVA footbed for shock absorption and cushioning.

While the Snowfoil may not come with some complex named technologies that other options on our list have, it still a contender. It checks all the boxes in our list of everything that a good boot for snowshoeing should have, and you will not regret taking this option home, that's for sure!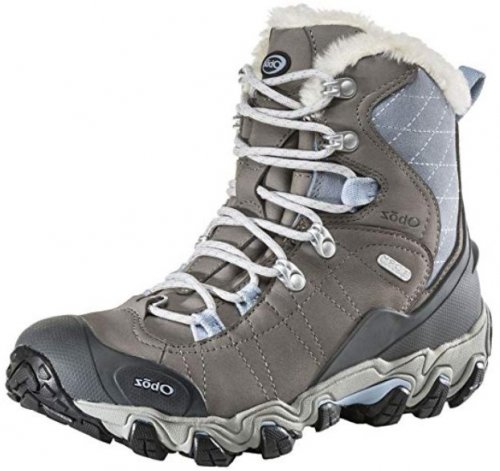 The Oboz brand does something only a handful of others do - for every pair of Oboz sold, the label plants a tree. What an amazing way to help protect the environment! The Oboz Bridger 7" is a design that is perfect for when the winter hits, the temperatures fall, and suddenly there is snow everywhere. This is the shoe you need whether you're going sledding or just braving the ice in front of your house to get your mailbox.
The Oboz Bridger 7" comes with a special O FIT Insole. It is contoured to match the shape of the foot, and is thermal in quality, meaning that it preserves warmth! The insole has a top sheet for warmth and a bottom sheet which reflects the heat back to your foot, keeping it nice and toasty. The Bridger 7" also has a TPU Chassis for stability and a single-density EVA midsole for cushioning and comfort. Perfect for a days-long backpacking adventure! What's more, the outsole of this design is cold weather-specific and has special rubber that provides amazing traction in a variety of conditions.

With the Oboz Bridger 7," you will feel safe, warm and protected, no matter where you go. It is a boot which keeps you toasty, which absorbs shock as you walk, and won't let you slip or stumble on unfavorable terrain. What more could we possibly ask for?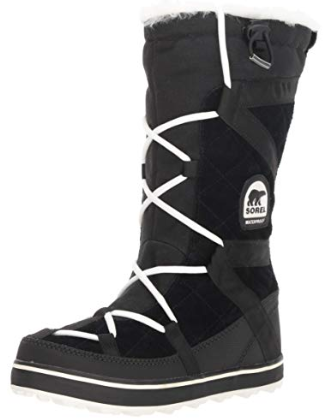 Canadian company Sorel may not only produce boots, but their claim is there is a boot in everything they make. Through attention to detail and superior construction, Sorel executes footwear in a way that is both luxurious and functional. Their wide range of high quality materials come together in perfect harmony. The Glacy Explorer is both on trend and fashionable. With contrasting white details on this mid calf boot, frumpy cold weather styles have met their stylish match.
Fleece lined and high rise, the Glacy marries all the elements of adorable winter boots for women, with all the features ideal for snowshoeing. The inner fleece covers every inch of your foot, but with a layer for moisture wicking, the fleece remains dry, so heat is insulated without causing clammy feet. The waterproofed suede and nubuck will resist stains and spots from snow or mud. The overall shape of the Glacy is simplistic, and it has a flat smooth bottom that works wonderfully in snow shoes. Sorel managed to design a style that maintains a sleek aesthetic while fitting every qualification of great cold weather footwear.

This Glacy has a faux fur lining that peeks out from this midcalf rise boot, and a soft waterproof suede which creates a boot that is as luxe as it is beautiful. This quilted fabric style has a ghillie lace-up shaft and webbed overlays, adding soft details to this striking design. Conservatively priced, these Sorels are evocative of the brand standard without venturing into an the price point that usually comes along with that. A truly phenomenal value for cold weather gear.

10

. Merrell Moab 2 Waterproof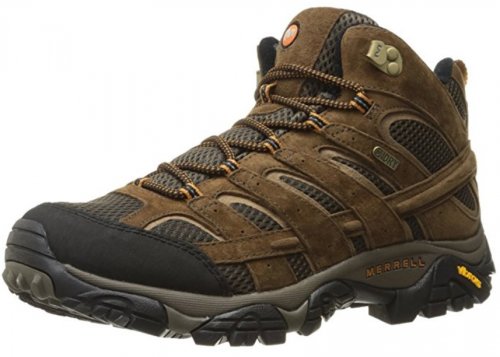 Merrell is that brand that we turn to when we want solid, rugged and reliable footwear for venturing outside. And the Moab 2 Waterproof is all of that and more. This mid-height design is for the hiker who needs ample water resistance. It is 100% waterproof, made from durable leathers, with a footbed that will support you every step of the way. Not to mention the whole Vibram traction deal - the Merrell Moab 2 certainly has it all!
This design is constructed out of suede leather and mesh, with the M Select DRY technology which repels moisture and makes sure you are dry when you're on the move. It has a closed-cell foam tongue which is also water and debris resistant, and the rubber toe cap on the front is there to protect your toes from unwanted bumps or stubs. On the inside, the Moab 2 has a breathable mesh lining, as well as a contoured footbed. This footbed as a very complicated name (M Select FIT.ECO+), but what matters is that it is made from EVA materials and has zonal heel and arch support, as well as an arch shank for stability.

We're rounding up this design with an air cushion in the heel which absorbs shock, and a Vibram TC5+ outsole for maximum traction. Honestly, there isn't a design in this world that is as sturdy, and as hi-tech as the Merrell Moab 2 Waterproof. If your goal is to take on all the challenges of deep snow and extreme chills - this is the perfect option for you!

Subscribe to our Newsletter