10 Best Shoes for Walking on Ice Reviewed & Rated
In a Hurry? Editors choice: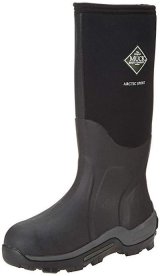 Test Winner: Muck Boot Arctic Sport

If you want to stay safe while walking on ice, look for shoes that have rubber soles and treads designed to grip icy surfaces. You'll also want a design that is waterproof and will insulate your feet against the cold. And, as with any type of footwear, you'll want to make sure your shoes for walking on ice are comfortable and provide good support.

Our top ten shoes for walking on ice combine the best of form and function and provide a great guide for selecting a pair of winter shoes that will keep you safe without sacrificing style. With a wide range of designs and prices, you're sure to find the right shoes for walking on ice to keep you from falling the next time you find yourself on a slippery, sub-zero surface.
Standout Picks
Criteria Used for Evaluation
Outsole
The safest way to avoid injury on ice is to avoid ice altogether, but those of us who live in colder climates may regularly find ourselves having to traverse a frozen surface to get from point A to point B. In order to stay safe on the ice, we need to wear shoes that are designed to hold in the slickest situations.
The most important factor you should consider when purchasing shoes for walking on ice is how well they will grip the ice. The warmest, nicest-looking, most comfortable boots in the world won't help you stay up on the ice if they don't have an outsole that is equipped with a good tread.
Rubber outsoles and treads will be the most durable, and the larger the treads, the better grip they will give you. Some of the shoes for walking on ice even have steel studs to help you grip the ice. Look for those with a bottom that is specifically designed to grip slick surfaces, and you will have met the main criterion for staying safe on the ice.
Different Tread Options:
Rubber grip patterns
Cleat-styled shoes
Materials embedded with sand or grit
Arctic grip
Built-in miniature crampons
Attachable crampons
Shoe chains
Water Resistance
Once you've found your shoes for walking on ice, make sure they will also keep your feet dry. The biggest danger we want to avoid is a fall, but having wet feet, especially when you're out in the cold for a long time, can be dangerous as well.
The best shoes for walking on ice have rubber enclosures around the bottom and waterproof seams to keep moisture out. Look for boots that are made of waterproof materials as well, such as specially treated leather or rubber.
There is a significant difference between waterproof and water-resistant, so make sure you know what type of material and resistance your shoes for walking on ice have before you buy them.
Waterproof shoes can be submerged in water and keep your feet completely dry in the process. Regardless of how much water they come in contact with, waterproof shoes should not allow any water to get inside them. Most fully-waterproof shoes are constructed with synthetic materials, such as:
Polyurethane (PU)
Rubber
Neoprene
Polyvinyl chloride (PVC)
Gore-Tex
Materials treated with a wax coating
Some leather (if treated appropriately)
On the other hand, water-resistant footwear means that it can take some moisture, but not a lot. You're likely to be fine in rain or perhaps even snow, but avoid standing with your feet submerged in water for extended periods of time.
Whether or not you reach for waterproof or water-resistant shoes for walking on ice is entirely up to you. Think about the environment you'll be wearing the footwear in, and make your choice accordingly.
Insulation
In addition to protecting your feet from slipping on frozen surfaces, as well as from wet weather, you also need to consider the type of insulation your shoes contain. Because water freezes at low temperatures, it is natural that you'll need warm shoes for walking on ice.
Although toe warmers and wool socks may add to the feeling of warmth you get from footwear, you also need to consider the type of insulation it includes. This may be natural fur or wool, or it may include synthetic materials such as neoprene, fleece, or Thinsulate.
Usually, insulation is measured in grams, and the higher the value indicated on the model you're looking at, the warmer it will be. For example, shoes with 200g of insulation will provide just the right amount of warmth you'll need for outdoor activities such as hiking (where your foot will be moving and producing heat on its own) or for times when you need to spend some period indoor without taking off your shoes.
1000g of insulation, on the other hand, is appropriate for Arctic conditions and is usually what explorers and people living in extreme conditions will go for. These shoes for walking on ice will almost always be tall, heavy and bulky, and will become extremely uncomfortable to wear once the temperature starts to rise.
Comfort
Although this may not be as important as the outsole or insulation levels, you'll also want to make sure your shoes for walking on ice are comfortable. Safety is the first priority, but that doesn't mean you should settle for an uncomfortable pair just because they have a good grip or keep your feet warm.
You'll want to find a shoe that has all the qualities listed above and is also comfortable to wear and provides good support, especially if you plan to wear them for extended periods of time. Walking on the ice is stressful enough—no need to add the prospect of foot or back pain to your worries!
For maximum comfort, look for cushioned, contoured footbeds. These will support the shape of your foot and absorb the shock from each of your heel strikes. This shock tends to travel up your leg and into your joints, causing damage long-term. A well-cushioned pair of shoes for walking on ice should evenly distribute this shock throughout the design and stave off the accumulating strain.
Additionally, look for footwear that has a soft interior. No one likes blisters or uncomfortable rubbing; to avoid nasty wounds and pain, opt for plush or fur-lined shoes to keep you cozy.
If you encounter a design that comes with arch support - don't hesitate to grab it! Arch support is vital if you're crossing long distances. It will reduce foot fatigue and any pain you might be feeling in your ankles, knees, or even hips. Just make sure to match the height of the arch support with the height of your own arch!
Finally, keep in mind that some of the materials used for shoes for walking on ice are sturdy and may take longer to break-in.
Durability
There's nothing worse than finding a hole in your shoes. This is why durability is a big deal. A pair of shoes for walking on ice that isn't durable is going to cause problems, from possible injury to being the low point of your day. Not to mention if the design is seriously damaged, you'll have to shell out the money for a new pair, and that can be expensive.
Some materials are more durable than others.
Leather is often used in shoes where durability is a concern, such as outdoor shoes. Leather also sports some native water resistance, though in the case of winter shoes this is often reinforced with some sort of coating.
Vegan leathers are also available if that is a concern for you, but pay attention that they are not as durable. Synthetic leathers tend to crack easily and are generally not as comfortable as their natural counterparts.
When gauging durability, pay close attention to the outsole and the seams as well. The outsole is often the first part of a shoe to show signs of wear or damage, as this is the part making direct contact with the ground. A damaged outsole can leave the inside of the shoe exposed to the elements, which can result in cold and snow getting into them. Not only can this be incredibly uncomfortable, but it can also lead to problems such as frostbite.
10 Best Shoes for Walking on Ice in 2020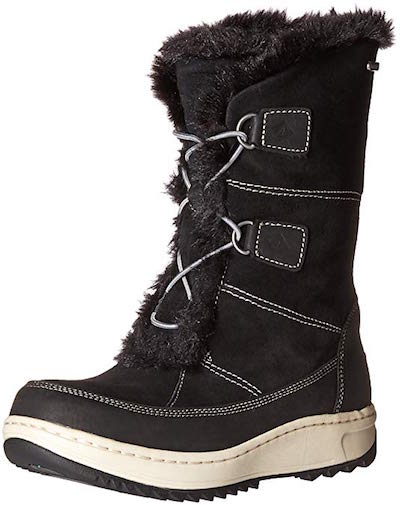 The fact that these shoes for walking on the ice were developed for Arctic temperatures becomes obvious from a single look at them. Worn by natural scientists in Siberia, the Sperry Powder Valley is an excellent option for anyone who needs a high level of insulation, easy adjustability (even with thick gloves on), a good outsole for icy conditions, and a comfortable wearing experience that won't let the elements ruin your winter adventure.
Made with an upper that's completely waterproof, the Powder Valley uses suede to protect you from the moisture that's inevitable with lots of snow and ice. It's a seam-sealed ice boots with Thinsulate and faux fur lining that'll keep you warm in cold conditions, and if you find that you need a customized level of arch support, you can remove the insole and substitute it with your own.
The Vibram outsole on these shoes for walking on ice is made out of non-marking rubber that's been specially designed to grip the surface in wet and icy conditions. Wave-siping ensures superior traction, preventing you from slipping.
Being made by a reputable brand that brings you durable, comfort-driven footwear, you'll definitely benefit from investing in a pair of these arctic boots.

2

. Muck Boot Arctic Sport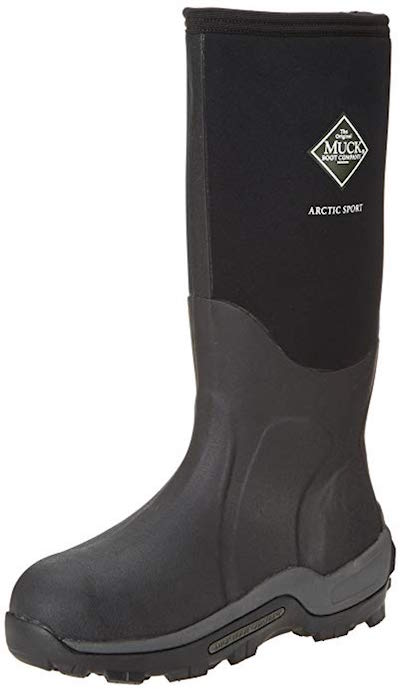 A wellington boot made for extremely cold conditions, the Arctic Sport is a favorite among hunters, workers, and explorers who need a style that's both protective and comfortable for all-day wear. Not only is this boot fleece-lined, but it also features a 5mm neoprene inner bootie that completely locks the heat in, ensuring the safety of your feet in a warmth that's comfort rated from -40 °F to 40 °F. These shoes for walking on ice are both flexible and shock absorbing, which makes them a great option for walking long distances in less than perfect conditions.
Made out of cold-resistant rubber, the outsole on the Arctic Sport features rugged molded lugs that perfectly grip any surface, be it muddy or frozen. Furthermore, thanks to the deep grooves, these ice boots won't pick up mud or dirt, keeping the level of traction consistent throughout your snowy hike.
Winter boots are often extremely heavy, which is mainly due to the materials used, seeing that they need to both provide insulation and protection from water. Nonetheless, the Arctic Sport features a midsole that does great at absorbing shock and cushioning your foot, without adding any extra bulk. Made out of EVA foam, the midsole on these shoes for walking on ice will hug the contours of your feet, providing firm cushioning that's long-lasting.

3

. Salomon X Ultra Winter 2 CS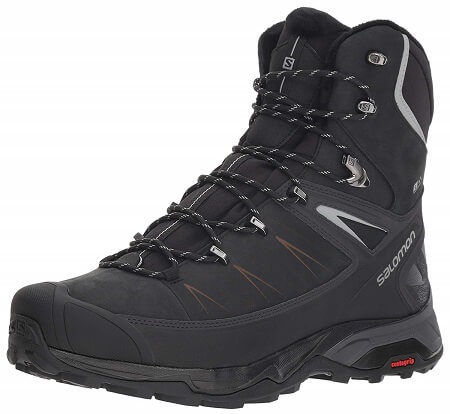 Salomon got their start in mountaineering gear, so it's safe to say that they know a thing or two when it comes to handling ice and cold conditions. The X Ultra 2 is packed with advanced technologies that work together to provide the traction you need to keep you on your feet rather than your rear end. These shoes for walking on ice also have the insulation to ward off frostbite, and an Ortholite insole to keep your feet comfortable and well-supported.
A lack of insulation when you're out on the ice can become dangerous, as you're opening yourself up to the risk of frostbite or hypothermia. This is why Salomon used Thinsulate insulation in these ice shoes. Thinsulate, as its name implies, is a type of insulation that is both strong and lightweight, keeping your feet warm without being too heavy or cumbersome.
Your shoes for walking on ice also need to be comfortable, otherwise, you won't get the full benefits out of them. Ortholite insoles are becoming a popular choice, as they offer both cushioning and temperature management. They also have a low long-term compression rate, so they'll last you longer.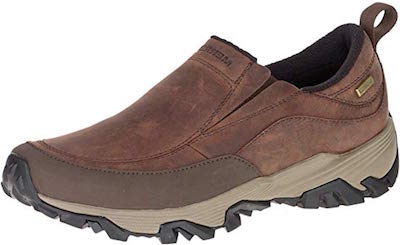 Made by a company that specializes in hiking footwear aimed towards a protective and comfortable fit, the ColdPack Ice+ is one of the options from Merrell's line of footwear made for wet and icy conditions. Unlike other models on this list, this is a low rise shoe that allows excellent mobility in the ankle and is more lightweight than what you'd expect from winter footwear. Completely waterproof, with a stylish leather upper, this is a pair of shoes for walking on ice you'll gladly wear anywhere, including to work and casual outings.
Though waterproof, thus preventing water from getting in, the shoe also needs to let moisture escape, especially if you find yourself in a warm room, or if you've worked up a sweat while walking. A moisture-wicking lining in the ColdPack Ice+ draws wetness away from your feet, keeping them more comfortable and odor-free.
In order to keep you more comfortable, these slip-on shoes for walking on ice feature a Merrell Air Cushion in the heel area that absorbs shock from walking and helps align your foot properly, taking the pressure off the ankles, knees, hips, and back. A molded nylon arch shank provides additional support, while a removable EVA footbed ensures a high level of fit customization.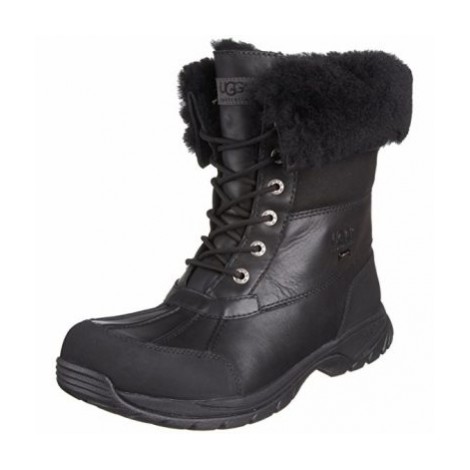 When we hear UGG, most of us think of the classic fur-lined suede boot that looks great but may not do much to keep us steady on the ice. The UGG Butte snow boot, however, delivers on both the design and functionality fronts. Made with a leather upper that also incorporates suede, this is a warm pair of shoes for walking on ice that'll keep you comfortable down to 0°F. This means they'll be warm enough for wearing outside, but won't have you sweating if you happen to have to be indoors in your footwear.
The Vibram outsoles and lug pattern on the bottom of these shoes for walking on ice provide superior traction on icy surfaces. The razor siping ensures good traction even on wet or slick surfaces, which is why this boot makes our list of best boots for ice.
The folks at UGG have created snow boots that can handle the worst winter will throw at you but is perfectly suitable for any setting. Available in several color options, the Butte will look great with most outfits, and won't have you wearing footwear that's too bulky for the more casual urban settings.

6

. Columbia Ice Maiden II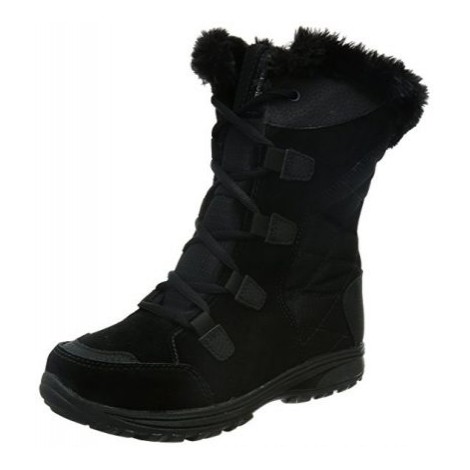 If you want to be sure-footed while staying stylish, then the Ice Maiden II is a great option. It's designed to keep your feet warm and keep you safe even on icy surfaces. These shoes for walking on the ice come with all the great features of a rugged winter boot but are designed to be worn anywhere winter takes you.
These best shoes for snow and ice are made to keep your feet warm in the worst winter weather. With a rating of -25F/-32C, the ice doesn't stand a chance of freezing your feet. The entire interior is lined with faux fur which is not just a great insulator but is also incredibly fluffy in touch with your feet.
Although the first thing you may want from your shoes for walking on ice is plenty of insulation, comfort is also important, especially if you're planning on spending a lot of time wearing them. The Ice Maiden II features a cushioned sole that absorbs shock without being too heavy to comfortably wear all day.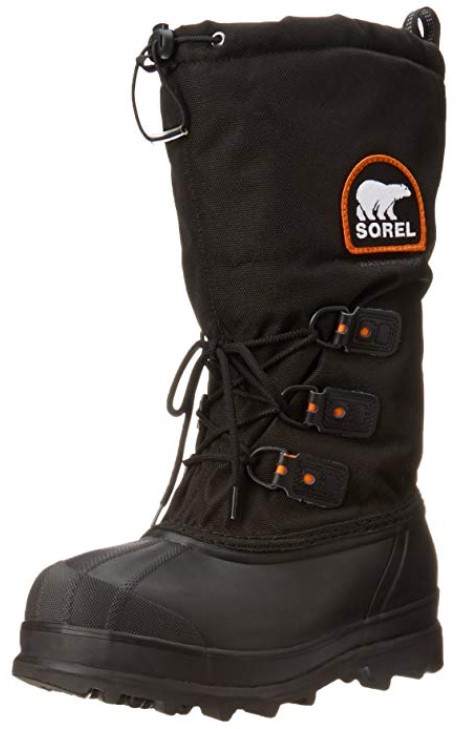 Sorel is a brand famous for its insulated, winterproof footwear, and the Glacier is a fine example of that. This heavy-duty design comes with Omni-Heat lining against extreme cold, is fully waterproof, and even has a drawstring closure at the top, to prevent snow and water from sliding inside these shoes for walking on ice.
The upper of the Glacier is made from textiles which is coated with PU resistant to water and wind. The drawstring closure is what you'll appreciate, especially if you find yourself in deep snow. The insulation on this design consists of a ThermoPlus felt inner boot that is removable and Omni-Heat lining which reflects your body heat back to you. On top of all of that, the Glacier keeps you steady on ice thanks to Sorel's signature aero-trac outsole.
If you often find yourself in unfavorable conditions, in frigid surroundings and knee-deep snow - you'll need adequate protection. Aside from not letting you slip and fall, the Sorel Glacier will keep you toasty, dry, and comfortable. These shoes for walking on ice are truly one of the best of their kind.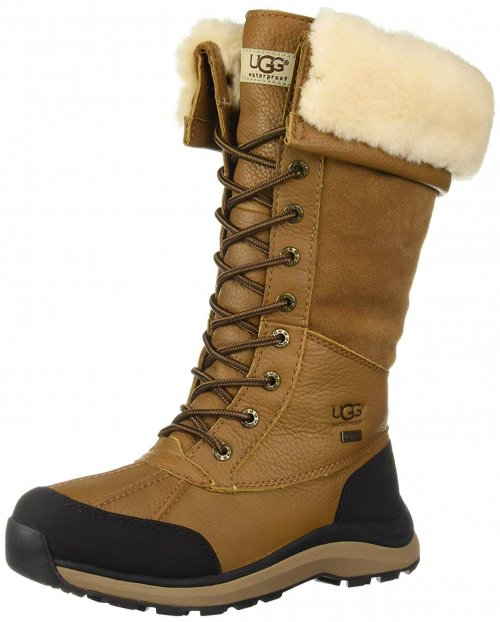 Featuring the wool lining that UGG boots have become famous for, as well as a spider rubber outsole, the Adirondack III is made for whatever mother nature can throw at them. The newest version of the Adirondack is also made on a women's last, meaning these shoes for walking on ice are designed specifically for the anatomy of a woman's foot. This ensures a secure and comfortable fit.
Wool is incredibly good at insulation, which is important when choosing a pair of shoes for walking on ice. The Adirondack III is rated to be warm down to an astonishing -32F (-35C), thanks to its mid-calf length and wool interior.
A last is a foot-shaped model that is used in the design and manufacturing of shoes. This ensures that they are made to be the correct shape. Since men's and women's feet are different, it only makes sense that they should have their own unique lasts. The latest iteration of the Adirondack boot is made on a woman's last, ensuring a solid fit and the comfort that UGG is known for.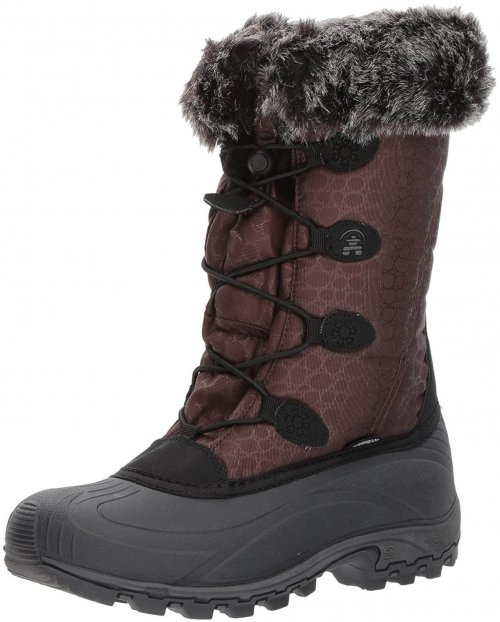 Kamik has been in the business of making shoes for over 100 years, and along the way, they've carved out their place in the industry. The Momentum snow boot is made with both style and function in mind, and wouldn't look out of place with jeans and a nice peacoat. The subtle patterning gives these shoes for walking on ice a fashionable look, while the seam-sealed construction and faux fur lining keep the cold out and the warmth in.
Breathability is sometimes considered an afterthought when it comes to cold weather footwear, but it's more important than you'd think. If your feet start to overheat it can become incredibly uncomfortable, and cause irritation and odor as a result of sweat. This is why Kamik used a moisture-wicking lining in the Momentum boots, as this works to keep your feet dry no matter how cold and icy things get.
Even the best waterproofing is moot if water or snow gets into the top of the shoe. A secure fit on the top of these ice slip-resistant shoes can help with this, but the only way to fully prevent moisture from getting in from the top is to have a gusseted tongue as well. This, along with the moisture-wicking interior of the Kamik shoes for walking on ice, will keep your feet dry and free from odors and frostbite.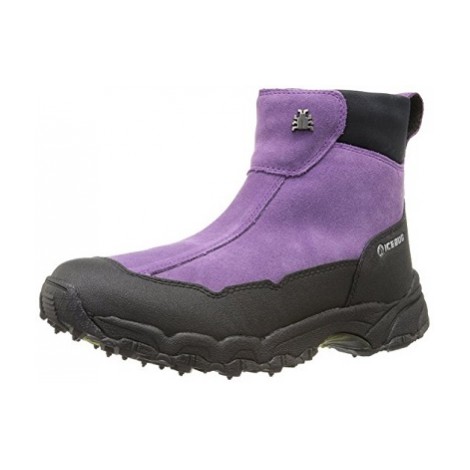 Rated to -4F/-20C, this pair of shoes for walking on ice offers warmth and good traction for walking along icy roads and sidewalks. You won't have to worry about sliding and slipping on slick surfaces with these on. The side zipper ensures easy on and off, while the fact that this is not a tall boot makes it easier to pair with jeans that are not skinny.
The Metro BUGrip features 16 carbide-tipped studs on the outsoles for traction on slick and slippery surfaces. Great for those times at the beginning and end of winter when ice melts and reforms into slick, flat sheets overnight.
The boots are rated to -4F/-20C and feature a warm fleece lining inside a suede or nubuck upper. They are also easy to take on and off thanks to the zipper and elastic top collar. You'll stay good and warm in these shoes for walking on ice on most winter days.

Subscribe to our Newsletter