Best Snow Boots Reviewed & Rated
In a Hurry? Editors choice: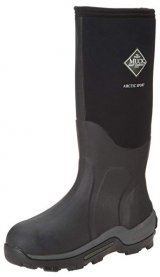 Test Winner: Muck Boot Arctic Sport

A world blanketed in downy white can mean snowball fights, winter sports, and snow days. It can also mean mountaineering icy peaks,
navigating treacherous avalanche country
, and the dreaded task of shoveling your front driveway. The right snow gear is essential to brave the arctic climate and allow you to take on the fierce beauty of mother nature's winter wonderland with confidence. When choosing snow boots, the temperatures they're designed for, their durability, and their price point all play major factors.
Standout Picks
Criteria Used for Evaluation
Insulation
When spending time in the snow, keeping your feet warm is paramount. While your pair of snow boots may not be able to generate heat themselves, they can help you retain the heat that your own body produces within the boot. It's extremely important that your snow boots come with the necessary features that prevent heat from escaping the boot. This retained heat is what keeps your feet from suffering the consequences of being exposed to low temperatures, and it becomes more and more important as it gets colder.
Aside from retaining heat, your snow boots also have the task of preventing natural airflow, more precisely the entry of cold outside air into the boot itself. If you're in snowy climates, one thing is for sure; the wind will be just about as cold as the snow beneath your feet. As you can guess, cold is not something you want passing through your inner boot and affecting your feet, so less air flow means more warmth for you.
In order to properly retain heat, snow boots must be equipped with a smart sealing system. These systems usually consist of strap seals and specific upper build materials that make sure the heat stays inside. Additionally, the fit of the boot has a role in heat retention; in order to optimize the heat seal, your boots should fit snugly. This doesn't mean your boots have to strangle your feet – just keep in mind that an adequate fit is better at retaining heat.
Regardless of the activity you're performing – whether it's snow hiking or simply walking in the snow – making sure that your feet are warm is imperative, seeing that it can influence your performance, especially during athletic activities such as hiking. If your winter boots do not perform adequately, allowing for cold air to reach inside them, you may find yourself seeing a drop in your performance levels, or even experiencing some rather unwanted symptoms. Not only will feeling cold slow you down and make you uncomfortable, but it can also pose a safety threat.
Every single part of your body must be prepared to endure very cold circumstances, with your feet being no exception, which is why a decent pair of snow boots is so important. Exposure to the cold can eventually numb the entirety of both your feet, and it can damage the skin if this happens for a prolonged period of time. The numbness you feel will represent a huge reduction in your performance, and it can quickly escalate to becoming a reduction in your mobility as well.
Additionally, the numbing can affect your sense of touch. This means that your feet won't quite feel the surface they're stepping on, and thus fail to obtain a firm and stable grasp on it. If you're not able to fully determine the orientation or elevation of the surface you're walking on, you are simply waiting for an accident to happen. So, if for any reasons your feet start numbing from the cold while hiking, we recommend to immediately stop the activity and to make your way back down the mountain. Like we explained, numbness can elevate from a performance factor to a security hazard and you should never take that risk.
Water Resistance
In addition to heat sealing and retention, it is highly advised to look for an upper build sealing that also protects your feet from being affected by water leaks. Water is already an annoying obstacle during regular hiking, but this measure becomes especially important in cold weather.
Performance-wise, water within your shoe is terrible. If you're in a snowy environment, chances are any natural water nearby is pretty cold. Soaked feet can lead to fungi, odors, blisters, and calluses, but can also up your chances of experiencing hypothermia as your feet will inevitably get more and colder.
However, when we talk about waterproofing we're not just talking about the inner part of the shoe. Waterproofing also refers to the ability of the snow boot to repel water from its materials; in simpler words, applying materials that do not absorb water. This is a fairly simple point – bulky snow boots are already heavy enough and if they soak during contact with water their weight could potentially become twice as much.
Interior
Water within the shoe would also interfere with our first criteria; heat accumulation. If water manages to leak into the inner shoe, not only will it make your feet cold at that moment, it will also affect the inner accumulation of heat, and prevent further heat accumulation within the inner build.
Leaking
The leaking of water also becomes an obstacle to multiple shoe elements. For instance, the contact between the foot and the insole is obstructed. Additionally, the insole itself becomes soaked if it's not waterproof – leading to a very sloppy performance and a lack of inner traction. The leakage would also affect the socks, exposing feet to irritation.
Additional Options
We recommend the use of further waterproof equipment, such as socks that offer protection from water and waterproof insoles. In case of leaks (whether it's because of a fabric malfunction or natural deterioration), this equipment will considerably reduce the impact water has on both your feet and your performance.
Waterproofing is especially important because it's not a temporary obstacle. The effect of water (soaked insoles, wet socks and feet) will follow you around until you're done hiking or performing activities in the snow. If you happen to then get a fungal infection or other issues, this can last days, weeks, or even longer making you both uncomfortable and unhappy.
It is important to keep in mind that certain products offer water protection in place of waterproofing. There's a huge difference between these two features, and while they may seem similar at first sight, waterproof products offer a much more complete protection against water. Water resistant products offer simpler protection, such as walking through a puddle or preventing rain from leaking in. But, when it comes to submersion or prolonged exposure to water, water resistant products are not the most optimal choice.
Weight
Equipment for cold wear, such as snow boots, needs to adequately prepare you for when the temperature drops; this often involves a high-top design, a thick rubber midsole with a substantially lugged outsole design. While all of these features are necessary, they start adding up quite a bit of weight when they're all together.
Thick protection is necessary when we're talking about cold environments, especially if activities such as snow hiking are involved. However, the excessive bulk has one huge downside – weight. While environmental protection features are important, weight tends to have a big impact on the quality of the shoe. We're not even talking about performance yet – as even casual wear can become tiresome when having to drag a very heavy boot around, especially during extended use.
However, modern technology allows manufacturers to deliver these environmental functions at a much lower weight than ever before. In fact, some of the lightweight technology we'll mention has proven to be more efficient than their heavier counterparts. This innovation applies to pretty much every element of the shoe; from the upper build fabrics to the insole, midsole, and heel/outsole design.
The midsole materials, for example, went from the traditional rubber to a more modern EVA midsole. Ethylene-vinyl acetate (EVA) is a somewhat new compound that resembles some of the features offered by traditional rubber. It also improves some other functions and even offers some aspects of its own that are not present in rubber. Although, there's a big misconception regarding EVA products and their use that needs to be dispelled.
Contrary to what most people believe, EVA is not a rubber derivate – it's a type of foam. You may have heard of this compound being used in all types of shoes, although mostly in performance ones. In comparison to rubber, this compound is much more flexible, counts with low-temperature resistance have stress-cracking resistance, and protects against UV radiation. Lastly, and most importantly for this parameter, it's much lighter.
In addition to using different materials, applying them in a different manner also makes the shoe lighter. For instance, manufacturers employ these materials in denser amounts, rather than in greater volume. When you combine low volume with high density and a lighter material, you obtain a considerably lighter boot.
Performance-wise, weight has always been (and continues to be) a huge factor. In sports that involve running and jumping, every single ounce of difference is considered an advantage amongst professional competitors. While an ounce might not make that much of a difference in such a voluminous build such as snow boots, you want to focus on finding a shoe that is light in general.
When snow hiking, for example, dragging a boot that weights 2kg is considerably tougher than doing so with a boot that weighs 600g. You might not feel it at the very moment you put them on – but when we're talking about 2-3 hours of hiking, that extra 1.4kg will sure be noticeable.
The longer you plan on performing (or simply walking), the lighter your boot should be. A lightweight approach will reduce the effort you need to take a step. If you take 10 steps, you might not notice a thing. Walk a thousand steps, however, and the difference is crystal clear.
Protection
There are many aspects of the protection a snow boot should deliver. Basically, it comes down to two different types: external protection, and internal protection. Customers tend to focus on the external protection, which as you can guess, is the one responsible for protecting your feet from external elements (water, rocks, snow). Some of them make the mistake of forgetting about the internal protection.
Now, it would make sense to think that your feet are safe as long as they're protected from external factors, but that's not the case. In a good snow boot, there should be no physical element in the inner shoe that would harm your feet. However, it's not physical elements that you need internal protection from.
Internal Protection
Things such as impact and shock can be just as harmful to your feet as physical external elements. Some people would argue these two are even a greater threat than any external hazards. If a boot isn't equipped with adequate cushioning and shock-absorbing materials, activities as simple as walking can generate a considerable amount of stress on your heels, your arch, and even your forefoot (toes included).
Additionally, any further impact activity or rough sport such as hiking will produce a much larger amount of stress on your feet. Thus, we consider cushioning and shock-absorbing features to be paramount when selecting the best snow boots. The lack of these features would make any shoe a bad option, let alone a boot that is meant to endure rough environments.
External Protection
Yet, this doesn't make external protection any less important. The elements have proven to be a pretty rough obstacle if you underestimate them. Waterproof or water-resistant protection, like we mentioned above, is one of the most important aspects of protection in a snow boot – and any shoe that is meant to be near water.
Some snow boots (and boots, in general, depending on their purpose) may have a toe cap plaque. This plaque is usually found on construction boots and footwear intended for similar activities and is meant to provide additional protection to the toes in case something lands on them. This feature has been quickly adapted to hiking boots and boots in general, given that protection is one of the main aspects people look for when they decide to purchase boots.
The upper build materials have a big role in external protection as well; these materials are the only thing standing between you and the exterior. Thus, they should be able to endure pretty much any circumstances you put them up to (as long as they meet the boot's purpose). Certain external elements, such as branches and debris, should pose no threat to a boot that features adequate upper build materials.
Keep in mind that it is possible that external elements may penetrate the boot regardless of the materials, although it's unlikely. In these cases, a high-quality boot should be able to stop the penetrating object from reaching your foot. While the first layers of material might receive damage, your feet will be safe. You might lose the boot – but it's much better than receiving direct damage to your foot during a hike.
Traction
Snowy environments are unpredictable; the uneven surface and the things it may cover can quickly become hazardous. People tend to underestimate snow; it sure is harmless while you hold it in your hands, but environments covered in snow are a completely different story. When stepping on snow, especially when hiking, you need to know there's something under the surface – even if it's more snow. Taking a false step and sliding is the last thing you want.
To avoid this, the primary thing you should focus on is a strong grip. Having a grasp of the surface is a must when you're on snow. If your shoe lacks grip and fails to work as a solid platform, your feet will just bend sideways with every step due to the irregular surface.
Aside from proper equipment, there's a tiny bit of practice when it comes to walking on the snow. While it's not a super complex skill to master, knowing how to move around on snow can make it much easier for you. If on top of that with the right equipment, you'll be all set for hitting the snow like it was any other surface.
Now, we've seen a question that troubles a lot of users while they're looking for shoes: "What's the difference between grip and traction?" The answer is fairly simple.
Grip – The grip of a shoe is what allows you to hold onto the surface – to literally grip to it. A completely flat sole with a very smooth surface will barely have any grip, as it will fail to firmly grasp the surface. On the other hand, a snow boot with a fairly thick sole should be able to keep you on almost anything you step on (given that the balance is right).
Traction – The traction, on the other hand, is the quality of the contact between the outsole and the surface. In this case, a smooth, flat outsole delivers efficient traction. Keep in mind, though, that a slippery shoe has good traction – but this doesn't make it practical or efficient.
An example of traction is a car tire and the highway; the material of the tire has super smooth contact with the road. Thus, mobility is considerably easy and is possible with even a slight impulse. The less traction there is, the harder it is to perform a continuous sliding motion.
Depending on the activity you'll perform, you should opt for more grip and less traction, the opposite case, or simply an equal balance of both.
In order to obtain a better grip, you should look for snow boots that feature a thick sole with some kind of irregular surface (as in not smooth). Rubber lugs, for example, do a great job of gripping to the surface – especially on environments that involve dirt or snow. Aside from acting as a firm platform, these lugs dig into the snow, providing you with much more stable gaits.
It's important to remember that low traction, or no grip, doesn't necessarily translate into a bad shoe. It all depends on what you'll use them for. In the case of snow boots, you'll want to get as much grip as you can, instead of a smooth outsole design.
Our Favorites
1

. Muck Boot Arctic Sport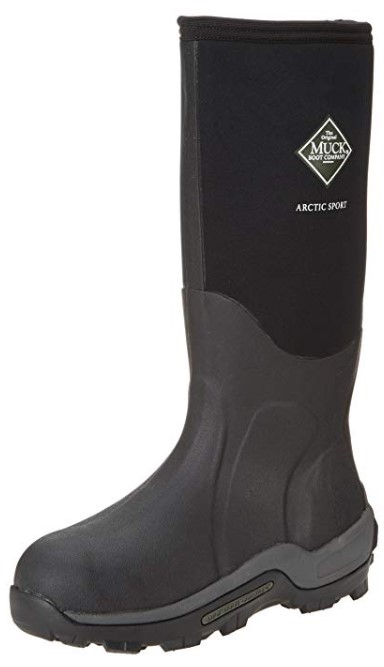 The Muck Boot Arctic Sport may look like your run-of-the-mill Wellington, but it is, in fact, a badass design for extreme conditions. It has a 100% waterproof construction, fleece insulation, a stretchy fit that so many of us need, and it is perfect for muddy or frozen days when you have to leave the house and trudge through the unforgiving countryside.
The Arctic Sport has an upper made from a combination of rubber and neoprene. The neoprene is 5mm thick, providing flexibility for wide calves and heat retention, and there is also fleece lining on the inside to keep you cozy. A 2mm thermal foam under the footbed provides extra warmth if you need it. The sole of the Arctic Sport is made from molded EVA for comfort, and the rubber outsole has double reinforcements on the instep, the heel and the Achilles area for durability.

Everything about the Muck Boot Arctic Sport is built to make it withstand freezing temperatures and extremely unfavorable conditions. In this design, you can trudge through mud and slush all you want, safe in the knowledge that your feet will remain dry and warm inside. If you're someone who finds themselves exploring the great outdoors often, you won't regret investing in this hardcore pair of snow boots.

2

. Columbia Ice Maiden II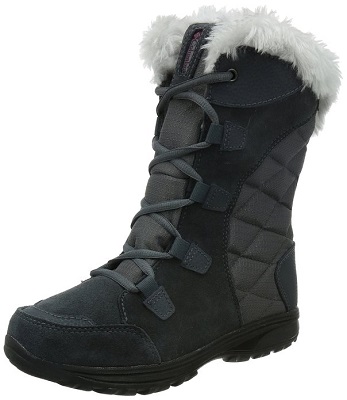 Columbia may be known for their rugged, tough, and sporty winter gear, but it doesn't mean they can't introduce a luxe piece into their catalog. Conjuring images of Dr. Zhivago in a horse-drawn sled, the Ice Maiden II is ideal for the wearer that wants to navigate inclement environs while looking every bit the snow queen. A waterproof exterior and fuzzy lining keep the elements out while not sacrificing the elegant look.
The Ice Maiden II is rated for -25 F weather and the hard rubber outsoles have enough traction and endurance to make sure you won't slip on any embankments any time soon. The shaft is suede and the toe box a canvas and rubber combination, making for a highly versatile and uncompromising design. You can trudge in ice, mud, and into powdery drifts while your feet stay completely dry and toasty with insulation rated at 200g.

The interior of the Ice Maiden II consists of the insulation familiar to all Columbia footwear: Techlite. The lightweight midsole and extra cushioning mean long-lasting, all-day comfort is guaranteed, while the removable, waterproof bootie sock on the inside means your feet will stay dry no matter what.

Columbia has taken great care to make sure these design-heavy shoes measure up with their Bugaboot line in every way, from waterproof construction, Techlite insulation, to unparalleled comfort. It is only for the most hardcore snow bunnies at a truly attractive price.

3

. The North Face Chilkat IV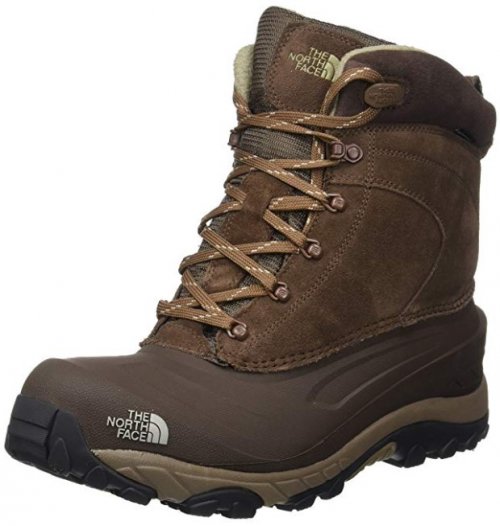 The North Face is a company named after the coldest side of a mountain, specializing in outdoor gear, performance equipment, and footwear. The Chilkat IV is one of their most popular designs, one which you can use for doing chores, for braving the snowy city streets, and even for light duty hiking on unchallenging terrain. It is sturdy, rugged, and definitely an option that you can rely on.
The Chilkat IV is made from synthetic materials for the upper and the outsole, and its lace-up system is easy to use and to adjust the fit to what feels right for you. The medium-height allows you to put it on and take it off without any problems. In terms of insulation, the Chilkat IV carries 200 grams of Heatseeker insulation, meaning that you will be sufficiently protected in all but the coldest of climates. It goes without saying that the entire construction is waterproof, barring only the wettest conditions.

The Chilkat IV may not be the go-to choice for a frigid winter, but it is still a great all-purpose option that you can wear any time and any place and be sure that your feet are toasty and cozy. Its rubber outsole and aggressive tread pattern mean that it has amazing traction on slippery terrain, and you should have no problems enjoying these in snowy days.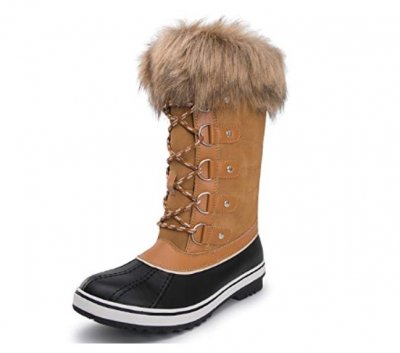 All footwear of this type should include waterproofing and insulation, and the Kingshow Globalwin maintains these qualities, then ramps up the styling with a fun, functional look you can pair with jeans, or leggings to keep you warm and fashionable. Traction at the base of the Globalwin lets you step out into slush without the worry of falling, and the cushioning keeps you going all day long.
This knee length design keeps fashion in function, utilizing PU uppers to keep water at bay, and a cement construction to maintain the weatherproof seams for all-day wear and flexible comfort. A number of color options and combinations are available, so you can pair with your winter wardrobe to either make a statement or create an outdoor insulated cozy look. Fully lined with faux fur, you'll stay toasty and warm in the Globalwin.

The man-made outsole helps keep your feet dry in deeper slush and provides exceptional grip over slippery surfaces with a groove patterned sole for traction. A long, traditional lace-up vamp allows for an adjustable and secure fit with D rings for durability and water resistance. Inside is a mesh covered footbed, delivering cushioning and some climate control to help with sweating or chills.

For a taller, well-made winter option, the Kingshow Globalwin combines comfort, style, and function into one solid pair of outdoor shoes. Its fully lined faux fur will keep your feet toasty and warm, while the rubber outsole and patterned sole give traction and stability. Definitely worth the budget-friendly price!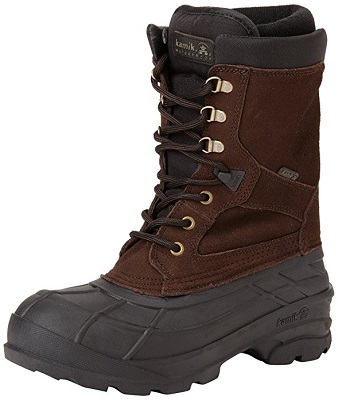 Proving that producing high tech snow footwear isn't the only game in town, Kamik also offers a classic design that has a tall but rugged profile, is able to withstand -40 F temperatures, and is comprised of a leather shaft and a rubber outsole. It's not as tall as their Greenbay 4 but it's taller than a Sorel; halfway between the calf and the knee. It's perfect for inside or outside the chalet since Kamik believes functionality doesn't mean sacrificing style.
The Nationplus uses Thinsulate for insulation, a common material among the Kamik brand. It manifests in a removable slipper-like liner that can be taken out. This is a feature usually found in ankle boots, but helpful in a taller design that might mean its wearer is trekking through higher mounds of snow. The Thinsulate insulation is composed of three layers of moisture-wicking material that makes perspiration evaporate and keeps the foot dry. The seams of the liner are also reinforced so that it's more durable and won't fray. The lacing system has speed laces and rustproof D-rings.

For the innovation and functionality of Kamik designs, they consistently rank as one of the most economically friendly brands out there. They have more tread than Sorels, are every bit as warm as a Merrell, are light for a tall design, and all for a low price.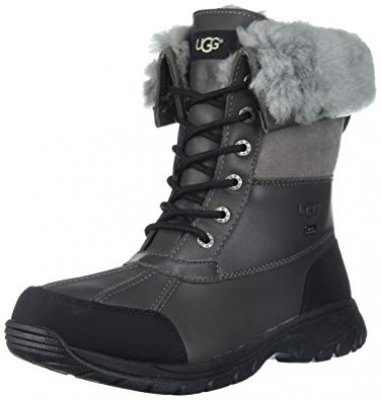 If you're a fan of UGG, you'll love their winter option, the Butte. A mid-length model, it's designed from cow leather uppers and with a waterproof construction, a Vibram sole and insulation rated to -20 C. Traditional UGGpure wool lining and a faux fur collar keep you feeling wrapped in warm softness. Packed with the brand name comfort you expect from UGG, it's sure to win a spot in your footwear collection this winter.
The Butte was made for outdoor wear and tear, especially in the brutal cold of winter. Faux fur lines the collar to pad you in a cozy soft feel and help keep warmth inside, as well as prevent snow from creeping into the boot. Rated for cold weather down to -20 degrees Celsius, you can brave the winter without worrying about cold toes hindering you and keeping you inside. The waterproof construction prevents water from getting in and risking wet, cold feet.

The Vibram sole of the Butte keeps a lugged tread pattern and makes for an excellent base for traction in icy, slushy, conditions. The outsole wraps the top of the toes as well, making sure your feet stay dry. Foam molded construction allows for a unique fit and conforms to your individual foot shape.

Similar to other UGG footwear, the Butte can be considered somewhat pricier but is well worth the investment for its waterproof construction and -20C insulated warmth rating. Perfect for some of the worst winter weather, it's an ideal option for both UGG lovers and others alike and keeps a great sense of style for winter. If you're in search of functional and insulated quality in your next pair, then look no further!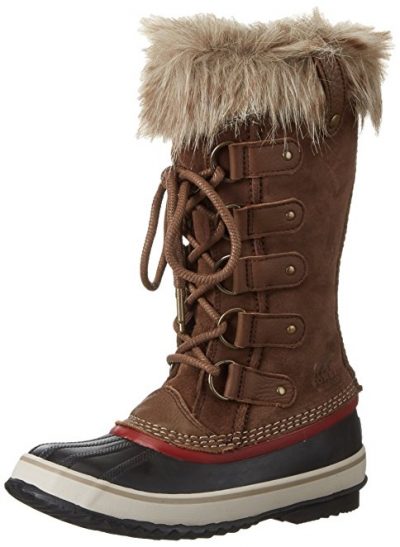 A gorgeous and versatile design, the Joan of Arctic from Sorel is something you will love slipping on and wearing throughout your long winter days. Sorel has put together a number of features which make this a durable option that will keep you warm and dry in the snow. With extra insulation, a liner, a frost plug, and a seam-sealed construction this is going to become your winter favorite for sure.
The Joan of Arctic is rated with the ability to perform in down to -25F/-32C. If you live or play in conditions that meet or are above this temperature, then this design will be very effective at keeping you warm and dry. While most options are filled with a material to give it insulation, the Joan of Arctic is built with a removable liner. What this means is that you can change how warm they are by either adding or removing the liner, making them great for warmer winter days, as well as for very frigid ones.

A lot of winter options are designed with only performance in mind and they look bulky and bland. The Sorel Joan of Arctic, however, has decorative fur features and an attractive design that makes it look just as good as it feels.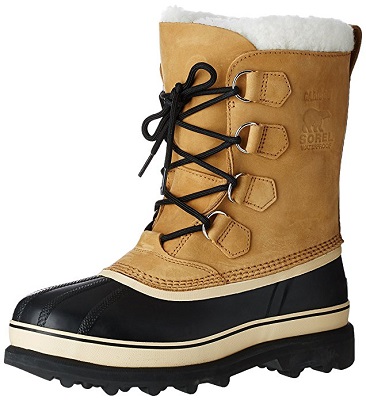 Sorel Caribou looks like what you think of when you think of snow footwear. They have the classic two-toned design of the shaft and toe-box, and a puffy white cuff around the calf. Like other options, they're waterproof and will keep your feet toasty, with a standard lace-up closure and a rubber sole. In a market of styles that have become more streamlined and sporty, the Caribou style is enduring and timeless and reminds us of hot cider, sledding, and hours spent building the perfect snowman.
The leather and rubber construction and the D-ring lace system on the Caribou make for a tried and true element-defying construction. Thinsulate is the insulation of choice for Sorel, with thin, hollow fibers trapping heat in their footwear. Normally, this would be considered light insulation, but the Sherpa-style lining inside provides plenty of extra cushioning. No need to double layer your winter socks.

The Sorel Caribou can be worn while shoveling the walk, jousting on snowmobiles, or delivering Christmas packages. They're solid at a little over 6 pounds, and they're definitely meant to be taken seriously.

9

. Columbia Bugaboot Plus III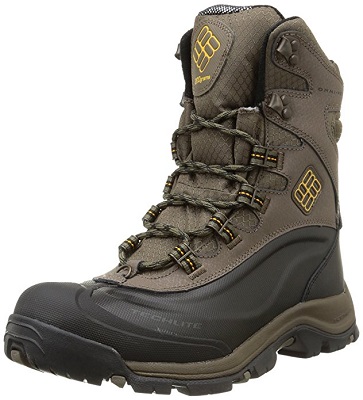 A rugged ankle-high design that looks more like athletic footwear than a snow boot, the Columbia Bugaboot Plus III is a study in functionality and durability. It has features specifically designed to trap heat in and keep water out, as well as being some of the most comfortable footwear on the market. Rated at -25F/-32C, these are the perfect choice for all outside activities in the winter months.
These have some pretty amazing features, including the non-marking Omni-Grip outsole that is specifically designed for walking in the snow. The Omni-Heat reflective lining has 200g of insulation, keeping you warm with the aid of small silver dots reflecting heat back onto your feet. Spend all day in the Plus III and you won't feel a thing. Their Techlite lightweight midsole is made for support, cushioning and shock absorption, while still providing you with enough energy return so that you aren't fatigued at the end of the day. With all of these amazing features, you will be happy to hear that the Plus III is a durable design, ready to last you for several seasons.

The features that make these so functional, like the Omni-Grip and Omni-Heat, mean they're ideal for outdoor activities, like hiking. Because they're waterproof, you can rest assured that your feet will stay dry and warm, even when met with deep and slushy snow, while the 200g of insulation means they're ideal for moderately cold weather, but not arctic conditions. They're incredibly comfortable and breathe like sportswear, which means that the Bugaboot Plus III offers excellent features for an average price.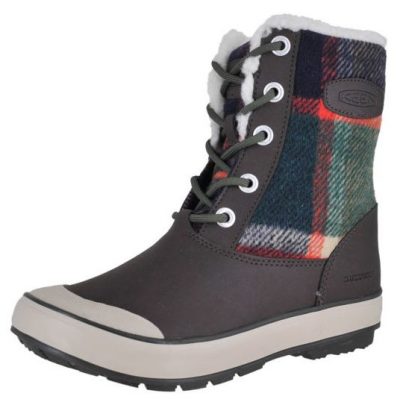 With an array of fun and funky designs and colors, this is an option that is sure to stand out in a crowd. Not only is it visually appealing, but it also has all of the important features that make it a useful and well-performing design. The seam-sealed waterproof construction is also paired with water repelling materials so that no moisture penetrates any part of this boot. It also has a heat reflecting feature, which provides a thermal barrier to keep you nice and toasty warm.
If you live in a climate that gets extremely frigid, then these may not be best suited for you. For those who live in more general climates, where winters are cold but not arctic cold, then the Elsa II will withstand most temperate conditions. They are rated as being effective down to -4F/-20C. The lining on the collar and inside of the Elsa II is made from a faux fleece known as sherpa. This gives it a warm and comfortable feeling, while also looking attractive and wintery. The lightness of the material makes it extremely breathable, so it won't make your calves sweaty or irritated.

You are getting a well designed and effective boot for a lot less than some of the others we have looked at. The tradeoff is that if you are going up into the mountains, or live in very cold areas, the Elsa II may not be enough to keep you completely warm.

Subscribe to our Newsletter