Best Columbia Shoes Reviewed & Rated
In a Hurry? Editors choice: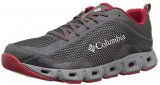 Test Winner: Drainmaker IV

Columbia is known for creating some of the most durable, yet stylish footwear that is on the market today. Founded in the USA, Columbia made their mark by releasing various skiwear, camping equipment, and outerwear designs. Their line is known for being inexpensive and providing people with necessary protection when they're tackling a treacherous outdoor environment. Recently, they have become known as the leading seller of outdoor apparel.

If you are interested in Columbia shoes, then you have come to the right place! From lightweight, stylish options for the summer to rugged, sturdy designs meant for winter and hiking, you will find a design for any type of activity! Scroll on down and take your pick from the best Columbia shoes available on the market today!
Standout Picks
Criteria Used for Evaluation
Features
Columbia has a vast portfolio of technologies with which they imbue their shoes. Each one of these technologies is used for different things and below we will explain a few of the key ones. These technologies take several different names, but each one is there to help improve overall functionality; something that was carefully considered when creating the guide.
Out Dry
This technology is a thin construction that creates a waterproof barrier. The material works to keep feet dry and also helps the shoes and boots to dry quicker.
Techlite
Techlite provides wearers with what they need in terms of comfort and cushioning on various terrains. It is placed in the midsole of the shoe and adds very little weight to the overall design, meaning you have reduced foot fatigue after a long trek.
Fluid Foam
This foam is yet another cushioning material that provides wearers with what they need in terms of comfort and easily conforms to whatever pressure that is placed upon it. It also makes it relatively easy for wearers to run on a multitude of terrains.
Fluidglide
Fluidglide provides support for the inner arch of the wearer's foot with ease. It conforms to the shape of the of the wearers foot as well; meaning that it will provide a high level of support for various arch types. It also aids in shock absorption; a feature that increases in importance as individuals move through rigorous terrains.
TrailShield
This protective technology provides wearers with what they need in terms of protection on various terrains. The design of the material ensures that the forefoot is fully protected and helps to ensure safety while hiking off-trail.
PRFRM
This is a technology that easily shrinks to blend with the curves of one's foot. The material itself is heat activated, and so increases the cushioning and comfort levels provided to the wearer as they engage in more activity.
Columbia models on our list with higher than average scores on "features" contain more engineering marvels than other models with below average scores.
Durability
To assess each of the products on our list for durability, we not only read through thousands of customer reviews on our recommended products, but we also looked for some of the hallmarks of quality construction. From brand name reputation to their initial smell out of the box, there are a few ways of identifying a well-built, made-to-last product.
The Details
A zipper that doesn't zip? Poor threading technique? A smelly, chemical residue on the shoe when you open the box? All these details were looked for an evaluated when assigning a score for durability.
Materials
Certain materials last longer than others, even if that comes at the expense of a higher score in the "comfort" criterion. Materials that are synthetic, thicker and firmer tend to score higher on durability.
Product Purpose
A shoe made for running and high-impact sports will not likely last as long as a good pair of general activity shoes, and that's okay. Being aware of the shoe's purpose is critical for you as a reader and for us as a reviewer. Although shoes that will last longer score higher on this criterion, you might also see high scores to shoes with a more limited durability, if that product was specifically designed for certain purposes that involve high-impact and high-stress motions. We take into account the type of shoes you are trying to purchase when assigning scores to shoes in this criterion.
Brand Name
A product is a promise made, but a brand is a promise kept. A brand name is often a signal of quality and consistency in construction and durability from product to product. Although there are always exceptions to this rule, quite often brands that perform continue to perform. Brand names on our list tend to score higher in the durability score.
Style
While style is often a matter of personal taste, we've checked thousands of online reviews to see what people are saying about each of the Columbia's on our list. Some things, such as sleek design, seamless construction and overall weight and shape of the shoe, were common likes or dislikes among buyers of each product.
To evaluate style, we considered everything from the design, color, shape, weight, lines and overall construction of the shoe in question. While no one wants to wear an uncomfortable shoe, they also don't want a comfortable shoe to be ugly on the eyes. We've selected all of those on our top 10 to be not only stylish but also comfortable, supportive and durable.
The higher the score on the "style" metric, the more fashionable we and the community of buyers we surveyed deemed the product to be.
Comfort
While it's one thing to have shoes that are comfortable, it's a different ball-game to have a shoe that provides the wearer with comfort for a significant length of time. Thankfully, the technologies that Columbia incorporates into the designs of their shoes work to ensure comfort for rather long lengths of time. The uppers of these shoes also work to create a comfortable environment. From soft interiors, flexible uppers, and secure fits - the shoes we reviewed go out of their way to keep your feet comfortable and blister-free.
There are three key parts of the shoe that provide comfort to the wearer. Check them out to know exactly what you are looking for if you are a comfort shopper.
Outsole
A poorly-constructed outsole will lead to discomfort, slipping and foot or other bodily injuries. For this reason, many manufacturers use materials that are water-, weather-, heat-, and impact-resistant. Depending on the type of footwear, one will often see outsoles made from natural or synthetic materials, such as PVC, EVA, rubber, and leather. Each of these has their advantages, depending on the shoe's purpose; however, as a general rule, they each are resistant to the aforementioned factors. They are also flexible enough to support a proper foot cycle when in motion, but they are not so flexible that they feel like a pair of socks.
Midsole
The midsole is designed to provide cushioning and shock absorption to the shoe, nestling the foot in comfort. Whereas running shoes tend to have thick midsoles, flats and thinner shoes not designed for high-impact activities often have thinner midsoles. The reason for this is simple: you need more shock absorption and vibration dampening during high-intensity movements or activities to maintain comfort and prevent foot injury then you otherwise would with a regular shoe, flat or sandal. Midsoles are often made from EVA (ethyl vinyl acetate), a synthetic plastic also used to make insertable orthotics. A firmer type of EVA for the midsole will make the shoe heavier, but more durable; whereas a softer type of EVA, like those found in running shoes, improve shock absorption, but wear much more quickly.
Insole
The insole is the proverbial foundation of the entire shoe. The sock liner lays on top of the insole, which is then fused to the midsole, and finally the outsole. A firm insole will give good structure to a shoe and increase its stability and durability, but it will also increase the weight of the overall product and be less comfortable. A softer insole might be more comfortable, but that comes at the expense of stability and durability. We tried to balance these weights when evaluating our products, but each reader and wearer is different, so be aware of this trade-off.
Materials
Having a shoe that is high-quality means that both its design and longevity need to be superior. This basically implies that one will receive what they need in terms of functionality from the shoe for an adequate length of time; a length of time that will justify the shoe's purchase. With that being said, the shoes on this list were all sorted so that wearers can only see the best of the best; the ones that meet certain quality standards. The quality that these shoes hold comes in the form of tight stitching and durable uppers; features that will be discussed below.
Overlays
A shoe that has thick overlays in its upper is almost guaranteed to be durable. The shoes that made the cut for this list are sure to provide what is needed in terms of comfort for adequate lengths of time due to the various overlays that their uppers have incorporated into them. Making sure the shoe keeps your foot protected, the overlays increase durability and stability while in motion.
Tight Stitching
A shoe's stitching can make or break the entire design. If a shoe makes use of tight stitching, it's very likely that it will be able to provide increased longevity; or at least last longer than various other shoes on the market. If a shoe has loose stitching, it's very likely that the material won't be able to hold up long enough to provide any level of protection; this is something that it was very important to pay attention to while picking these shoes.
Our Favorites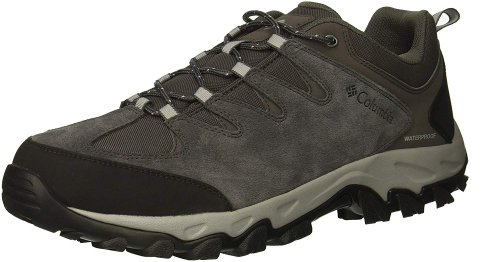 This shoe is named the Columbia Vulc N Vent for a very good reason, the shoe is meant to provide wearers with what they'd need in terms of comfort and fit for a rather long period of time. The design of the shoe is one that can be called nothing short of peculiar; this is because of the fact that it's meant to be adjustable and provide a comfortable fit for various different foot types. With that in mind, this shoe is on this list because of its use of mesh all-throughout the design as well as the sporty fit that it has.
If you see a shoe that has a thin layer of mesh that makes up a huge portion of its design, I suggest that you give it a try. The design of the Columbia Buxton makes use of both mesh and canvas to provide wearers with what they need in terms of airflow while the shoe is in use. The use of mesh as a second layer of sorts also allows the shoe to provide wearers with a lightweight feel; mesh doesn't weigh much by itself and so, makes for a great pair with canvas.
The design of this shoe is sporty in its own right. This may be a sort of double-dipping, but it's so done to make patrons well-aware of what exactly the use of mesh in this shoe's design does for its wearers. The fact that the shoe incorporates mesh as well as various other lightweight and flexible materials make it' rather ease to enjoy the experience while in the shoe. For instance, aside from the mesh, the rubber in the sole unit allows this shoe to perform relatively well on various types of developed surfaces. While this doesn't mean that the shoe can, or even should be used for rigorous activities, it does imply that wearers should be relatively safe inside of their shoes.



Have you needed a shoe that is both comfortable and shock absorbent? Yes? Then it's pertinent that you give the Sunvent a try. This shoe has an overtly comfortable and secure design that can easily be noticed by glancing at the features of the shoe. Things like the Omni grip outsole are why this beast had to have mention in this guide; it's full of features that make its wear one that you'll never forget.
Omni-grip is a material that is native to the Columbia brand. The technology is designed to provide wearers what they'd need in terms of grip on various surfaces. This technology is so named because of the versatile and multi-directional patterning that's featured on the outsole and what it provides to its wearers; in all portions of the sole unit, wearers receive what they need in terms of grip and do so simply because of the fact that the sole unit tends to sway in every single direction. Not to mention the fact that there are also lugs present in the design of the outsole.
This was briefly touched on in an earlier review but, another technology that Columbia likes to make use of is their Techlite midsole cushioning. This is a thin membrane of foam that allows the shoe to both cushion a wearer's steps and provides them with what they need in terms of shock-absorption when they are out on a trail. The fact that the material tends to take up very little space in a shoe opens it up to being able to provide wearers with a lightweight feel while the shoe is in use as well.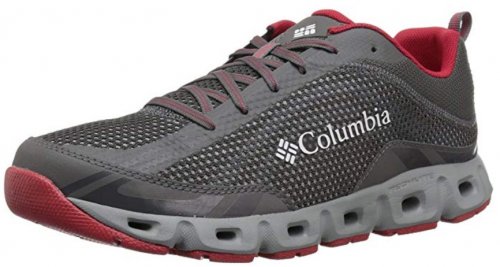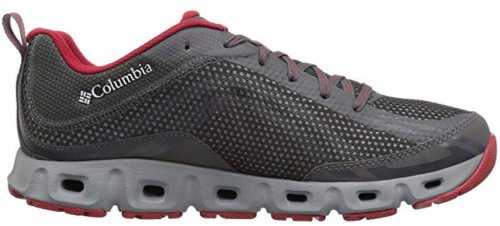 Here's something that should switch things up quite a bit; the Columbia Drainmaker IV. This is the first water shoe on the market needed to be mentioned simply because of the added features that come with its purchase. The Drainmaker features a midsole equipped with water-drainage features as well as an open-mesh upper. These qualities alone are what make this design something that simply needed to be featured on this list. So, without further ado, it's time to get into what makes this option all that it is.
In short, the design of the upper on the Drainmaker IV is something that not many individuals get to see every day. This being a water shoe means that it must provide an added level of airflow to ensure that it doesn't retain all of the moisture that comes in contact with its design. The mesh in the upper of the Drainmaker is dual-layered; one of the layers is a bit more porous than the other and is meant to provide drainage capabilities that the design is known for.
To keep in line with the name of the shoe, the outsole/midsole design also features drainage ports which enable it to provide wearers with what they need in terms of drainage capabilities. These drainage ports act as a backup to the upper and are what allows this shoe to be known for its actual drainage capabilities. Due to this option being primarily used for walking in damp areas, the porous features that it has are warranted and ensure that wearers have what they need in terms of functionality.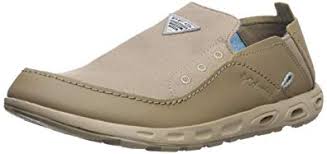 Last but not least, we have the Columbia Bahama. This shoe is meant to provide wearers with an adequate level of functionality due to the various features that are present in the shoe's design. Things such as the base layer (which is made from a thin layer of mesh) and the use of EVA foam in its midsole allows this shoe to provide wearers with the highest levels imaginable of comfort and responsiveness. These are the very reasons why it was important to feature this shoe on this list (and as the closer no less).
To provide wearers with what they need in terms of breathability while this shoe was in use, Columbia decided that it was a great idea to give this shoe a design that makes use of mesh materials. When engaging in high-intensity exercises such as hiking. An added effect that the mesh in the design brings to this shoe is that it allows wearers to had a higher range of motion than they would have otherwise.
The foam in the design of this shoe allows it to provide wearers with both a high level of responsiveness and comfort. One of the biggest issues that individuals tend to have hiking shoes is that they don't manage to provide wearers with what they need in terms of support or cushioning for the rough trail surfaces. Luckily, the EVA in this shoe's midsole manages to do both of those things; this is actually why it was so important to highlight Columbia's use of this material in its design.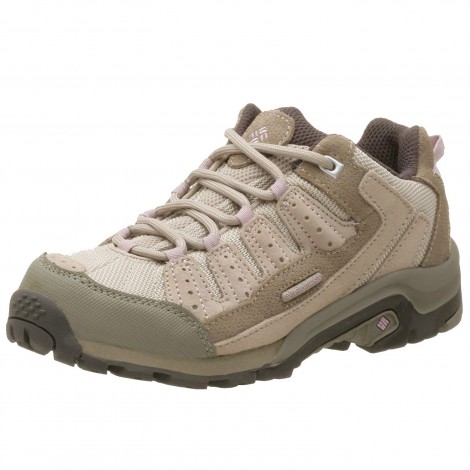 The Columbia Pima is a shoe which is designed for use on various terrains. The shoe's design makes use of protective features which allow one to do their best on their respective surface without having to worry about immediate injury. These protective features come in the form of their famous lugged outsole design as well as rubber overlays in place on the upper. The very same protective features that make this shoe such a pleasure to wear are the reasons why this shoe had to be featured on this list.
A shoe whose design makes use of rubber overlays in its upper is simply unheard of, until now. The design of the Pima features overlays on both the heel and toe which allow it to provide wearers with added security when they are traveling on their terrain of choice. The added security also enables the shoe to be a bit more durable than it would be otherwise; rubber does a great job of repelling damage that other materials such as mesh and other fabrics simply wouldn't be able to catch.
The Multi-directional outsole design on this shoe is simply yet another double-threat. One of the perks that come with buying a lugged design such as the one featured on the Pima is that the wearer is guaranteed to be able to enjoy adequate grip on a variety of surfaces. Another perk of having a shoe such as the Pima with a sole unit such as this one is that it is sure to protect the wearer's foot from the entry of materials into the shoe's design; things such as rocks and glass potentially, have a very difficult time of entering the design of the shoe and thus, justify the use of the thick rubber in the outsole.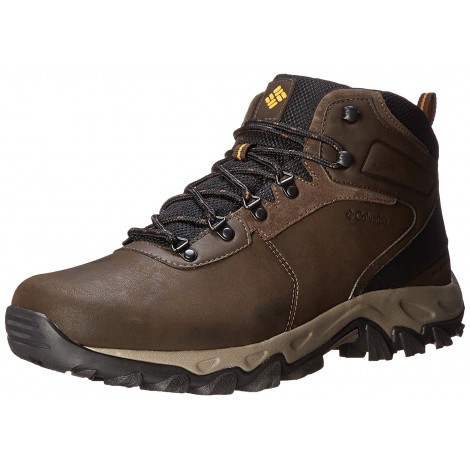 Columbia has simply outdone themselves with the Newton Ridge Plus 2. This boot has all that individuals would likely need from a hiking shoe; the design has a waterproofed upper as well as ample padding in place throughout that very same upper. One of the major reasons why this shoe simply had to be featured on this list though, is that the shoe is both breathable and waterproof at the same time(this will be expounded upon later). In addition to the features of the upper, the cushioning in the midsole should also be mentioned; its techlite.
The midsole of this boot is something that Columbia has developed themselves and is featured on various shoes but still hasn't been spoken about enough. This boot features a midsole designed with Columbia's Techlite materials. This material allows the shoe to provide wearers to have what they need in terms of cushioning but, also manages to do so without adding very much weight to the shoe's overall design. In addition to this design feature, the material also works to provide wearers with what they need in terms of support due to the responsive nature that it has.
The upper of the Newton Ridge Plus is really why it needed to be featured on this list. The Newton Ridge Plus features an upper that makes use of both breathable and waterproof materials; this is something that not many individuals can say that they've seen in a shoe at one time. The waterproofing is present simply because of the thick leather material in the shoe's upper; it's rather difficult for things to enter into the shoe's design. In addition to this, the shoe features ample mesh which allows it to retain a level of breathability as well.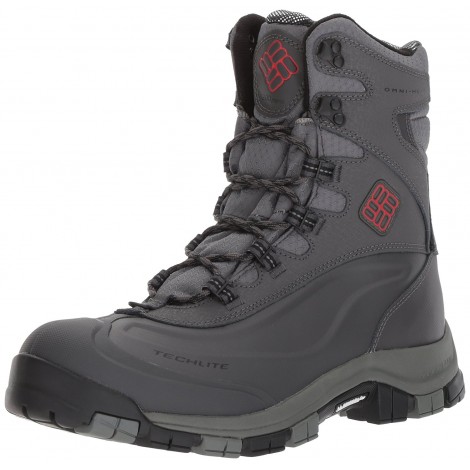 Here's a hypothetical example for you. Say it's the coldest time of the year and you're tired of wearing boots that only keep your feet partially warm. You've looked everywhere and you can't seem to find a pair that will do the job and, I forgot to mention, you plan to go hiking sometime in the near future. What do you do? Then, I beg you to keep in mind that you're shopping online and you just so happen to run across a beautiful and surprisingly inexpensive pair of hiking boots; they're called the Columbia Bugaboot Plus. Do you get them? Speaking for myself, I definitely would. These boots have all that one would need in order to function on the terrain of their choice and manage to keep your feet incredibly warm while doing so. They are on this list simply because of the use of both Omni-Heat reflective lining as well as seam-sealed waterproofing in its design.
These are a pair of highly functional, cold-weather boots. They are meant to keep your feet warm while also allowing for an adequate range of motion while so doing. With that in mind, the Omni-heat reflective lining is in place to keep the wearer's feet warm while they are trekking through incredibly frigid climates. The material is meant to reflect body-heat while the boot itself is in use. The material's ability to reflect body heat is one of the reasons why this boot can provide wearers with such a high level of warmth while in lower-temperatures.
Another great aspect of this boot is that it is thoroughly waterproof. The upper is seam-sealed and meant to keep the snow out of its interior while in use. For those who may not see the importance of such a feature in the design. I want you to consider other boots of the same style. Do you remember the feeling that you get when you step into a mound of snow while in the boot; many other hiking boots allow the snow to enter into boots design easily which always results in one's feet getting wet. The seam-sealed design protects the wearer's feet from the entry of liquids into its design.



Columbia's Venture is a hiking-inspired, waterproof, mesh & leather shoe that can follow you from the trail to the woods to your house. An all-around winner, its lightweight midsole will keep you comfortable and supported, without weighing you down. It provides excellent traction and grip over multiple terrains.
The Venture is made of Omni-Tech waterproof technologies and has a seam-sealed construction. In spite of these technologies, Columbia has managed to keep the breathability of its Venture model intact, which you'll appreciate on the trail.
The outsole of this shoe provides wearers with more than adequate grip on the terrain of their choice as well. The shoe features Columbia's Omni-Grip patterning in its sole unit; augmenting traction performance. The outsole of this shoe makes use of a thick layer of rubber which enhances both the durability and protective features, as well.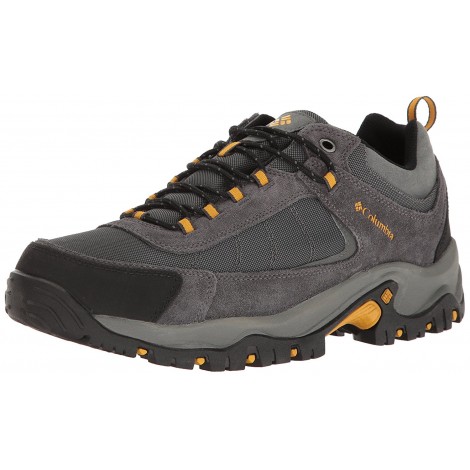 Granite Ridge. That's an amazing name for a shoe, isn't it? The Granite Ridge by Columbia is yet another shoe that is chock-full with both comforting and protective features. You can tell from simply looking at the shoe but, it has an inner design which is meant to cushion every single one of your steps. In addition to the inner portion, the shoe has an outer design which is meant to provide wearers with what they need in terms of protection from the moist outdoor areas that the shoe is meant to be used for. Without further ado, we'll begin speaking about the Granite Ridge's various properties and why they needed to be mentioned in this guide.
For a shoe to be used for hiking and not be waterproof is a crime in and of itself. This particular shoe has what wearers would need to walk comfortably through the various puddles during a hike without getting their feet wet; again, to be able to do that is of the utmost importance. The reason that this shoe can do this is because of the use of the thick textile and webbing in its design. A side effect of having a shoe with an upper as waterproof as this one is that it also keeps various other substances from actually entering the design of the shoe.
The fact that the insole in this particular shoe's design is removable allows it to provide wearers with what they need in terms of comfort. At first, thought, having a shoe with a removable insole may not sound like the best thing but, it introduces something into the picture; since the insole in this shoe's design is removable wearers can place their specific model of insole into the shoe with ease. For those who require a specific type of support for their arch, this is incredibly important.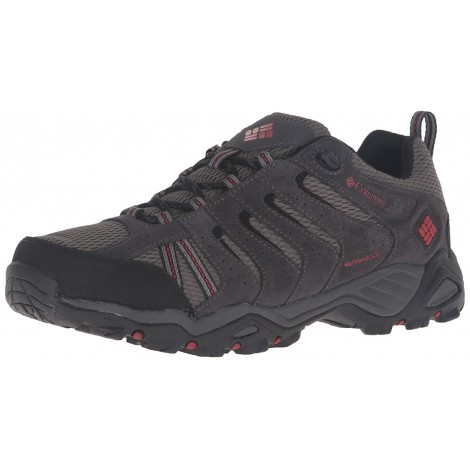 The Columbia North Plains II is a shoe that has enough protection to allow one to rough through a mountain landscape. This guide is starting strong with a shoe that features various signature technologies; the ones that are meant to provide wearers with longevity as well as comfort when they are using their shoes on especially technical terrain. With that being said, these shoes are on this list for a reason (hint: it's not only because they're pretty). The Omni-grip sole unit and thick upper in this particular model is why they were chosen.
When you're out and trying to be safe on a mountainous, probably technical terrain, the one thing that you can't live without is a thick outsole. With that being said, the outsole on the Columbia North Plains II is one that makes use of a thick rubber Omni-grip outsole. The outsole is so named simply because of the fact that the material allows wearers to have what they need in terms of grip ensuring that wearers don't suddenly slip off of the terrain that they are traversing.
In addition to a shoe having a relatively thick outsole, the upper is chock-full of protective features. The design of the upper on this particular model is relatively thick and ensures that they have both a degree of waterproofing for their feet as well as protection from the more technical aspects of their respective terrain. The design is made from a thick rubber material and also has various overlays that work to act as backup for the shoe's design.

Subscribe to our Newsletter