Best All-Terrain Shoes Reviewed For Their Superior Traction
In a Hurry? Editors choice: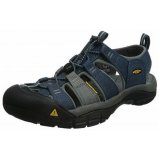 Test Winner: KEEN Newport H2

Are you a fan of hiking, trail running, or just exploring nature? All are great ways to keep yourself active without being confined to the gym. Also, exercising outdoors allows you to enjoy the view and breathe in the fresh air, making it a great way to de-stress and to take a break from your busy schedule. It allows you to reconnect with nature and zoom out from your daily routines and working life. But as always, you've got to make sure you have the proper equipment and attire for the task.
When you're outdoors, there are more factors to consider than ever – including weather, the time of day, and most importantly, the terrain. There are options for both men and women, and the brands they are from include
KEEN
, New Balance, and Adidas. Find your perfect pair, and get out there! There's an adventure waiting for you.
Standout Picks
Criteria Used for Evaluation
Outsole
Surprisingly, the outsole of a shoe is one of their most crucial aspects, especially when it comes to outdoor exercise footwear. The outsole simply refers to the very outer part of the sole which comes into contact with the ground beneath. The underfoot sensation, the stride efficiency, and how the shock impact of each step is handled all comes down to the outsole. This is important for all pairs, including those for indoor sports, for street wear, and a Friday night out. In a good pair of all-terrain footwear, there are additional features to consider, including grip, and mudguards.
Grip: Having insufficient grip on smooth or slippery surfaces will result in slipping and falling. This doesn't just cause embarrassment – if it's a serious fall, it could result in broken bones and even more severe consequences. Yet preventing the problem before it happens can be very simple. To ensure that your footwear has a good grip, the pattern on the outsole is very important. Thicker, deeper grooves (or "lugs") on the outsole result in an optimal grip. Good quality hiking and mountaineering boots will have very deep lug patterns. Also keeping the cleaning process in mind – smaller and more widely spaced lugs are desirable because it is much easier to clean mud off of them. However, if you know that you'll be walking on wet terrain, there are slightly different requirements. Though certain patterns are suitable for smooth surfaces, they may not be of much use on wet ones. For example, basketball shoes have enclosed tread patterns that don't allow the liquid to flow out from beneath the foot once trapped. As a result, the water is trapped in between, making you prone to slipping. What you'll want is an interlocked trad pattern that channels the liquid away and allows for more contact with the ground.
Mudguard: More likely than not, you've heard of mudguards on bicycles and cars. However, miniature versions can also be found on athletic footwear designed for outdoor use. They are essentially a type of pattern that runs along the edge of the outsole in the forward part of the footwear, preventing mud from splashing onto the upper when running, walking, or hiking. They won't keep you untouched from those mud spots, of course, but having one still makes a huge difference. Usually, this feature will be listed in the product descriptions, but could also be spotted on the shoe itself. If you don't want the wet weather to come in the way of your plans, we highly recommend you look for mudguards in your shoes.
Breathability
There's nothing worse than having sweaty feet when you're trying to concentrate on your workout, your walk, or your hike. Obviously, it's uncomfortable, and you'll be met with a strong whiff of bad odor later when you're taking them off later. But what many don't know is that it may lead to long-term, more severe consequences. Sweat creates the perfect amount of warmth and moisture for bacteria to start growing and proliferating, potentially resulting in foot and nail fungus. Nobody wants that!
If you're someone who constantly has sweaty feet, even in cool weather, considering taking care of your feet every night, such as soaking and exfoliating them.
If you sweat an average amount, finding breathable shoes will be sufficient in preventing your socks from being soaked with sweat after getting home. The key to breathable footwear is a synthetic material, also known as man-made fabrics. Some examples include nylon, polyesters, and spandex. These materials have a lightweight feel and do not absorb much water, allowing the moisture to dissipate rather than holding on to it. Some synthetics processed with special technologies will allow air to pass through the material while keeping water out, resulting in the perfect condition – sweat is prevented from accumulating while body heat can also dissipate.
Weight
Our final criteria to look out for is something that is often overlooked, but which can affect your whole experience. A footwear could have all the desirable features – a shock absorbent midsole, a comfortable lining, a mudguard, and durable leather overlays. What could possibly go wrong?
Well, when too many features are stuffed into one shoe, the result might be a ridiculously heavy shoe. Overall, they will be bulky and clunky and will weigh you down when you're trying to focus on your performance. You'll tire more easily, feel less energized, and you won't be able to feel the full benefit of the other desirable features of the footwear. Because of this, a lightweight is super important
The key to keeping them light is the use of synthetic materials since this type of material is lighter than leather, silk, suede, and many other natural fibers. When a pair of runners is made from all synthetic, it's very unlikely that they will end up being clunky.
However, if you're looking for hiking gear, synthetic isn't the best option because it simply doesn't offer the necessary protection. It cannot protect you from harsh weather conditions or be very long-lasting. In this case, you'll have to decide on a compromise between a lightweight and other desirable features such as a thick sole and a leather lining. Both are important, but as they tend to counterbalance each other, you've got to find the combination that suits you. To judge their weight, turn to product descriptions, where it should be listed. Pay attention to whether the indicated weight refers to a single shoe or to a pair, and make the comparison between the pairs you are eyeing.
Comfort
The designs are usually made for comfort and offer a relaxed fit for all-day comfort. The thing to watch out for is that you're getting proper arch support because some of these boots might not properly protect the delicate underside of the foot. If the arch isn't supported it can lead to collapse or can worsen the painful effects of plantar fasciitis, an inflammatory condition that affects the connective tissues of the foot. In order for adequate support to be provided a shoe should have a supple insole that's still firm enough.
The pairs on this page have excellent insoles and offer beneficial features like memory foam padding which contours to the structure of the foot and provides a customized fit every time you wear it. It's also important to take into consideration the height of a pairs heel because ones that are too high can make it difficult to walk. If you're shopping for sandals consider the materials used for the toe post because the wrong ones can cause all sorts of discomfort, a soft material like suede or leather will be much less likely to rub and won't result in blisters from the friction.
Airflow is another concern because a hot shoe will cause your feet to sweat and your shoes will start to stink. The best material to prevent overheating is leather because it allows for proper airflow inside of the shoe which is key for controlling odors. In colder weather, it's important to consider waterproofing as well as non-slip materials that will keep you stable on your feet in the wet condition. Rubber is one of the best materials for this because it provides a solid grip on any surface including wet and slippery ones.
Value
Another important criterion that we used when picking out products is the price tag. The truth is, we all know the price is important. When picking out footwear, we have a budget in mind and try to stay in-between a specific dollar amount. However, when it comes to this type of evaluation, we are looking at something a bit different. Here, we focused on a way to ensure that no matter what product you decide, you receive your money's worth for the purchase.
So, to start off the buying guide, we actually first scanned the market and looked at what companies were charging. We paid very close attention to the highest priced items and the lowest price. In this, we were able to draw some conclusions as to what perhaps maybe an average price tag.
For us, we used this to our advantage when assessing each product. We carefully looked at each product and considered whether or not the price was fairly priced, in accordance to the average price tag. From there, we also were able to draw conclusions as to whether or not the value it offered was fairly priced.
10 Best All-Terrain Shoes


For summertime outings by the lake or in the trails, you need footwear that provides airflow as well as adequate protection. The KEEN Newport H2 sandal for men offers both and more. With a complicated-looking yet super simple strapping design, your foot can be kept secure at all times. Designed as a water shoe, they are easy to wash and quick to dry. Both in water and on land, foot stability is ensured by their TPU stability shank, and improved traction is offered by the razor-siped outsole. The overall shoe is made entirely from PFC free materials. One pair can suffice for all your hiking, walking, and summertime exploring. Just remember that the model runs half a size small, so order accordingly to receive a better fit.
Traction
Being outdoors on rocky, slippery, and/or wet grounds requires good grip and traction to reduce the risk of slips and falls. For this purpose, a multi-directional lug pattern can be found on the outsoles of these sandals.
Easy to Clean
Got muddy? No worries. The webbing upper is made of washable polyester that is easy to clean and air-dries quickly. They are machine washable and should be used with a bit of detergent and on gentle cycle.
Cost and Value
These sandals are on the higher end of the price spectrum when compared to the other items on the list. They may seem overpriced considering the fact that they are sandals, not hiking boots. But keep in mind that very few sandals can provide the same quality of protection necessary for outdoor adventures.

Number five on the list is some trail runners for men by Salomon. Ideal for soft ground, the outsole is made to ensure a strong foothold. They are also designed for wet, muddy days since a mudguard can be found all around the base of the shoe. Comfort is provided by the Ortholite sockliner as well as the EVA-shaped cushioning footbed. Molded EVA is used in the midsole for stability and to absorb the shock impact of your strides. On top of that, they have a minimalist, yet super strong lacing system that's secure when it needs to be, but also makes the shoes easy to slip on and take off. The only downside is their high cost, but you can't expect high quality without an equal price. Something's got to counterbalance all their excellent features, after all.
Foothold
Ensure that each stride lands with precision. With the legendary Speedcross lug pattern and their lacing technology, this pair ensures you step right and perform your best on the trail.
Lightweight
When running, it's never pleasant to be wearing heavy shoes that weigh you down. This pair ensures it doesn't happen with their synthetic materials and Ortholite sockliner. At the same time, sufficient protection is provided nonetheless.
Cost and Value
Unfortunately, these runners are the priciest item on the list. They are definitely not the best pick for beginning runners. However, for those who are often hitting the trails, they are the best possible investment towards improving your comfort and your performance.


This first pair we chose is women's running shoes that not only looks good, but also boasts a long list of amazing features. To begin with, they have a protective toe cap that keeps you safe from bumps and abrasion. Odor and moisture are prevented from accumulating thanks to their polyester linings that quickly wicks perspiration away from the skin. A lace pocket hides away the laces to prevent them from flopping around and causing distraction. As well, a special frame runs along the outsoles that maximize performance by providing smoother heel-to-toe transitions and allowing you to push off on your next stride with more efficiency. L To ensure safety and comfort on all sorts of terrain, grip and traction are provided by the outsoles as well. To top it off, they have a vibrant and eye-catching design that's not only energizing to look at but is also reflective to increase visibility at night.
Precise Fit
To stay comfortable and supported during your multi-terrain run, it's vital that your footwear has a snug and precise fit on the feet. Thanks to the asymmetrical overlays made of synthetic leather, the insteps are wrapped, secured, and provided with exactly the support they need.
Underfoot Protection
The midsoles are made of EVA that cushions your footfalls to protect the joints from shock impact. There are also thermoplastic urethane inserts to act as a barrier between your foot and the sharp rocks on the ground beneath.
Cost and Value
Sitting at a moderate price, the Salomon XR Mission is a great bargain for all they have to offer. They are definitely worth checking out, so make sure you do so before they sell out!

4

. Troadlop Mesh Trail Runners


To conclude this list, we have our final pair of footwear. These men's shoes are labeled as runners but can be suitable for both trail running and hiking. The versatility is all thanks to their cleverly designed outsole. Adequate cushioning is provided to absorb the shock impact of your strides, leaving you feeling more energized and performing your best. If you like wearing footwear without socks, they are also ideal - the insole makes them comfortable and supportive even when you're barefoot. The fit is flexible and will adjust itself to the contours of your feet to offer the best possible experience. But there is a downside: even though they are super quick-drying, they are not ideal for the beach, as the ventilation holes may allow little gritty rocks to get in and create uncomfortable friction against the foot.
Lacing
A secure lacing system can be found in this design. The laces are made of elastic nylon laces that are easy to tie and will stay tied during your hike or run.
Quick-Drying
It doesn't matter if you splashed into a puddle, or just washed your pair. The drainage holes in the uppers result in optimal breathability and airflow, which renders them quick to dry.
Cost and Value
These runners are one of the cheapest ones we've got. They are also offered in different colors, including blue/green, grey, and black.

Not a runner? Don't worry, we've got picks for you, too. This next pair is waterproof hiking boots for men. The name Moab is short for Mother Of All Boots, which describe them perfectly considering they've got all the basic features you need for a comfortable, protected hike. The rubber toe cap keeps you protected while also preventing scuffs. On the other hand, suede leather and mesh are used in the upper for their flexibility and breathability. EVA is used in the midsole for cushioning and comfort, and structural support is offered by the Merrell M Select FIT.ECO and EVA contoured footbed with their arch and heel support.
Protective Yet Breathable
The closed-cell foam tongue in these boots ensures that no debris gets in to bother your foot in the middle of your hike. At the same time, the tongue, along with the mesh lining, keeps moisture out to ensure you stay fresh and dry.
Stability
The Merrell air cushion is located in the heel and serves to absorb the shock impact of your strides in order to keep you stable. With a 5mm lug depth in the outsole, a firm grip on the terrain is also guaranteed.
Cost and Value
Hiking boots have more demanding features than regular boots. That's why this pair has a relatively high cost. But when it comes down to it, every penny will be going towards a high-quality pair of boots for a high-quality hiking experience.
6

. New Balance Kaymin TRL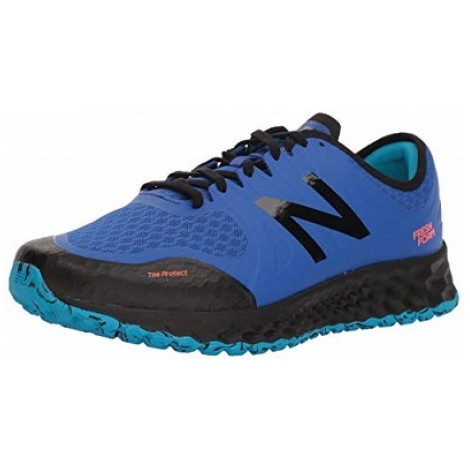 New Balance is yet another great sportswear brand that can be seen all the time. The Fresh Foam Kaymin TRL is a pair of all-terrain men's trail runners designed to conquer both the trail and the road. They've got AT Tread outsoles made of durable rubber that create a barrier between your foot and any rocks, stones, or uneven terrain. Underfoot, there can be found the precision-engineered Fresh Foam for lightweight cushioning. The toe is protected by the toe cap while the NB Response 2.0 inserts are included to boost performance. The uppers are made of synthetic and mesh for flexibility.
Lightweight
As much as cushioning, lining, and a reliable outsole are all important features (amongst many more), a lightweight is ultimately the most vital. Your footwear should not weigh you down when running, and the lightweight materials used in these runners make sure that doesn't happen. As a result, you can fully experience their benefits.
Waterproof
The Gore-Tex fabric used in their construction provides protection against water and moisture. At the same time, the moisture inside is able to escape thanks to their breathability.
Cost and Value
There's nothing outstanding about the price of these. They cost about as much as the average pair of runners. They do, however, come in many different colors so that you can find exactly what suits your tastes.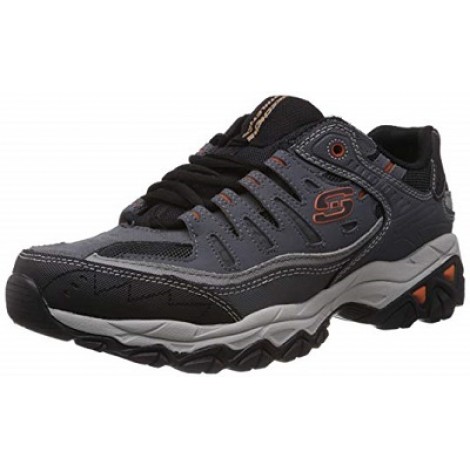 What's remarkable about this pair of men's athletic training sneakers by Skechers is their insole. You've heard of memory foam used in mattresses - now, find them in your footbed as well. The same concept is in use. Each step lands comfortably and molds the footbed to the curve of your foot to provide maximum ease. Besides that, the sneaker is reinforced with synthetic overlays at the toe and heel for a snug fit and to ensure durability. The shock impact of each stride is also absorbed evenly thanks to the Articu-Lyte midsole. When it comes to appearance, they're definitely not fashion sneakers, but they do have a variety of color options for you to choose from.
Materials
Most sports footwear use only synthetic materials. However, these sneakers incorporate a clever combination of smooth leather, lightweight synthetic and breathable mesh to offer the benefits of all three in a single shoe.
Comfort
The collar and tongue are padded to ensure a comfortable, snug fit around the ankles. The lining is soft, and the mesh panels at the front and side provide a cooling effect that keeps you feeling fresh and energized.
Cost and Value
This pair is one of the least expensive ones on the list, and they've got a lot of good features in spite of that. However, some reviewers claim that the soles are not very durable.

8

. Columbia North Plains II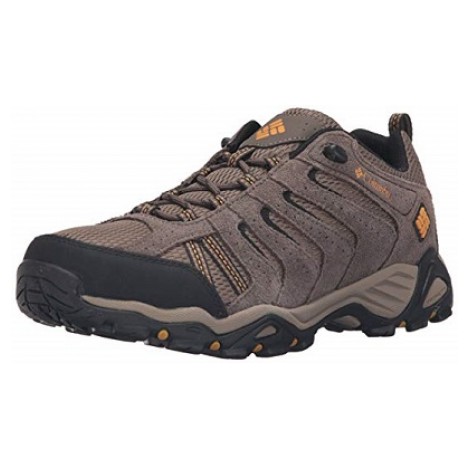 Like the last item, these are waterproof hiking shoes for men. However, these are not boots. They also have a more modern and casual look. Their profile is lower, meaning more ankle flexibility is offered. In addition, rich leather is added to the mix to provide better comfort and durability. As well, the Techite midsoles are (you guessed it!) super lightweight while also being effective at energy return and cushioning. This way, you won't feel like you're dragging your feet. Instead, you'll be energized and focused on the trail, mountain, or woods ahead. However, they do have one downside - some customers claim that they are not as waterproof as they claim to be.
Attractive Appearance
Now, we know that hiking isn't about looking fashionable. Most hiking footwear have the same kind of rugged and not-so-stylish look. However, their design makes the ruggedness more subtle and clean, resulting in a more aesthetically pleasing facade.
Grippy Outsole
Are you walking on slippery stones? Or maybe navigating a bumpy trail? The outsole of these shoes is made of Omni-Grip non-marking traction rubber that keep you stable no matter what surface you're on, minimizing the risk for slips and falls.
Cost and Value
For hiking footwear, these are moderately-priced. You won't have to pay as much for them as you might for other equally good pairs, rendering them of excellent value for beginner and advanced hikers alike.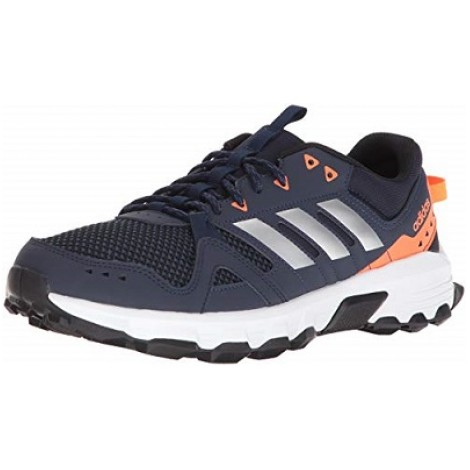 Obviously, we couldn't conclude a list without including at least one item by the legendary athletic brand Adidas. Unless you live under a rock, you should already be familiar with three stripes and superior quality provided by this brand. The Rockadia men's trail running shoes are no exception. Built for all-terrain performance, they are sure to boost rather than hinder your performance when you're pushing hard. Their materials in the uppers include textile and synthetic, resulting in a perfect combination of flexibility and protection. The textile lining and cloudfoam midsole used in the construction means that you feel comfortable and supported with every stride. Besides that, there are several color options to choose from, and their price is very reasonable. However, when ordering, it is advised to order half a size down because they have a narrow fit.
Great for Downhill Routes
Running downhill is tricky, but if you're an outdoor-running kind of person, it's inevitable. Stay safe when wearing this pair thanks to their protective rugged toe cap and their outsole that grips on uneven surfaces.
Long-wearing
The conditions are harsh out on the trails. Thankfully, these runners are well-prepared for it all. The synthetic stitched overlays, along with the tough yet breathable mesh upper, ensure maximum durability.
Cost and Value
Surprisingly, these Adidas trail runners are a great bargain. Thanks to their long-wearing design, one pair is sure to serve you well through all the thicks and thins of your running journey.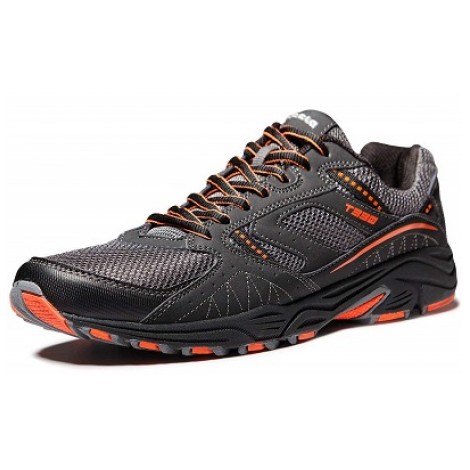 No, it's not the car brand. Though this brand shares a name with that of one of the world's biggest providers of sustainable energy, Tesla gear is a manufacturer of activewear first known for their Triathlon suits. But the two brands do have something in common - and that's using innovative technology to facilitate tasks in our daily lives. The T330 is a trail running shoe that ensures protection and high performance regardless of the difficulties in your surroundings. They were designed for both paved roads and uneven trails, as well as everything in between. The midsoles are shock absorbent, and a reinforced heel cup keeps the foot in place. As well, the uppers are breathable and comfortable. What's more, they come in different color accents.
Dynamic Movement
A TPR outsole provides dynamic grip, giving you more balance and power with every step. With an ergonomic design, support is also provided in key areas.
Lightweight and Breathable
The materials used in their construction includes mesh, nylon, webbing, TPU, and synthetic leather. All these materials are light in weight, and allow air to flow through them to keep the feet dry and fresh.
Cost and Value
This pair is the least expensive one on the list. Inevitably, there are some defects in their quality that make them not very long-lasting. But while they're good, they provide lots of desirable features.

Subscribe to our Newsletter