Best Triathlon Shoes Reviewed & Rated
In a Hurry? Editors choice: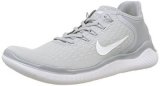 Test Winner: Nike Free RN 2018

There are various versions of triathlon events around the world, but they usually follow the formula
swimming
, cycling, and
running
in that respective order. Transition and performance are paramount in shaving seconds and even minutes off your time. Some athletes might try and wear the same shoes from cycling to running, but they are paying for this short-term gain in the long run; as your overall foot health depends on wearing the
right kind of shoes
for the job-at-hand. As such, many athletes switch over from cycling to running shoes to better their long-term health. Since triathlon shoes are
job-specific
, they outperform and are more advantageous once you become accustomed to shoe transitioning.
Standout Picks
Criteria Used for Evaluation
Comfort
Comfort is a big factor in choosing your footgear; especially, when considering the length of longer triathlon events. Your feet need to remain as comfortable as possible to help prevent potential injury. Also, a more comfortable foot is more likely to remain healthy. For example, if your feet are uncomfortable, the chance rises your mind will think about the cause of your discomfort. When exhaustion sets in, not only will the race become tougher to focus upon but the likelihood of an injury begins to increase.
Comfortability factors really matter when considering your footwear. The idea, generally speaking, is to participate in more than one triathlon race. After all, you have been training a long time to make the first event. No one desires to be made a victim from their gear; thereby, being eliminated from participating in the race they love. At the end of the day, if the footwear feels uncomfortable, then they are the wrong shoes for you. Some of the things you can keep an eye on for are attributes such as toe box width, arch support or the lack thereof, shock absorbency, breathability, quick-dry properties, aerodynamics, weight, and etc.
For toe box width, you need footwear that does not cramp in any way. While you may need a tighter toe box for cycling, your running shoes should be a bit wider in this area. This is because your toes need to have a bit more space in relation to proper power, support, stability, and overall correction in the gait cycle. With cycling shoes, however, your forefoot is doing most of the work and aerodynamics comes into play. As a result, cycling shoes may, indeed, have a tighter toe box than your running shoes will.
Arch support is another deeming factor in comfortability. If you are flat-footed, then a high arch support in your footwear will be utterly horrendous. Not only would this be painful as your ride or run, but the aftermath could be disastrous in that you could cause serious injury. Although cycling shoes will have a flatter arch system, due to the sheer design of what cycling footgear is, the basic concept of applying the correct arch support is vital. For cycling shoes, if you find that your feet are aching from a lack of arch support, look for replacement insoles that give you the support you need while, also, ensuring they are made of the lightest weight materials possible. In this, you will keep weight factors to a bare minimum and will increase the comfort levels where you are housing your feet.
Shock absorbency is one of the key factors in determining what is best for you, in the realm of your running footwear. The race is long and you will be tired when the final leg begins. You need midsoles that absorb shock and, also, return a degree of energy during toe-off. This will lower your overall fatigue levels and can aid in minimizing energy expenditure. If your a small person, a dual-density midsole is too much, generally speaking. If you are of a larger build, however, a dual-density midsole might just be the ticket to the finish line.
Breathability and quick-drying properties are essential in both your cycling and running shoes. For cycling, you want gear that allows the water from your feet to drain away and not get trapped inside of the shoes, per se. This will give your feet ample breathability while, also, allowing time for them to dry out prior to running on a hard surface. Wet feet will take more damage on the run than those feet which are dry. In addition, your running footwear should be lightweight and highly breathable. Even though your cycling shoes might be correct in that they drain properly, you will sweat. Choosing running gear which has nice breathability will aid in extending comfort levels.
Effectiveness
When purchasing shoes for cycling, whether you're a triathlete or a road cyclist looking for something breathable and easy to put on, you will want to look for the pair that'll give you the most efficient pedal stroke, that is, that'll allow the best amount of power transfer. Simply put, generated by your feet, the energy needs to be transferred to the pedals to give you as much speed as possible, without losing any of the generated energy in the process.
The key to this is definitely a good sole, and usually, the harder a sole is, the better. Nowadays, manufacturers will turn to carbon materials that can achieve the required stiffness without being too heavy (and thus causing fatigue), and have even developed compounds that are durable and can withstand use in less than perfect conditions such as water and humidity. This point is crucial for professional triathletes, seeing that they'll often go from phase 1 of the race to phase 2 without stopping to dry their feet or put on socks.
However, finding the best cycling model for you isn't as simple as going out and purchasing the stiffest shoe you can find. Even more important than that is finding a model that fits your feet both in length and width, so that there's no unnecessary energy loss or generated discomfort that would make you have to stop mid-race.
Furthermore, cleat placement is also crucial, and there's a ton of research being made at the moment that focuses solely on finding the perfect placement for each individual. Not only can it make you faster, thus more likely to win a race, but it can also play a crucial part in preventing injury and pain.
Shock Absorption
In terms of the running portion of the race, you want to look for features which are completely different than those found in your cycling gear. Your running sneakers need to be much softer and more cushioned, absorbing the generated energy and preventing it from traveling up from your feet to your ankles, knees, hips, and spine.
Most models on this list will have a good shock absorbing system in place, mostly made from foam, gel or silicone compounds found in the midsole portion which focus on dispersing the shock, spreading it across the entire foot, or, even better, transforming it into springy energy that's returned to you during the toe off phase, propelling you forward and giving you a much faster running experience.
One of the aspects to keep in mind in the midsole is how much it is that you exactly need. While very little may be sufficient for sprints, the length of a triathlon race requires more endurance, and thus a higher level of protection that won't flatten after a couple of miles. Too much, on the other hand, may weigh you down, causing fatigue that would prevent you from achieving your best speed.
When shopping for tri events, it would be best to look for the best possible combination of weight and cushioning, opting for more technologically advanced models that provide more but weigh less than traditional EVA foam.
Use
Fitting your shoes correctly leads the way for comfort, stability, and support. When your footwear is not properly fitted, health concerns can, also, arise (*see Overall Health Factors). During a triathlon event, foot swelling occurs rather quickly from rapid blood flow and foot-related stress. The best way to fit them properly is to take a measurement of your feet in the evening after your full day nears its end. In doing so, you will have a better gauge when your feet will be at their largest.
Transitional Speed
Transitional speed refers to the performance of the shoe in relation to your ability to switch from one footwear type to the next. In traditional triathlon events, each leg of the race begins at swimming, moves to the cycling stage, and then ends with running. As such, quicker transitional speeds for cycling shoes need to address the concerns of wetness, feet feeling too soft, and contain a quick-lace component. All of these considerations must be taken into account when choosing the correct gear.
Overall Health Factors
The best triathlon shoes for men & women take into account your foot health. For example, in a triathlon race, you will need to transition from swimming to cycling. We ask ourselves if cycling shoes have a breathable component to combat dampness. If they do, then the shoes take into consideration our foot health. If not, they could be the wrong shoe for the job.
Common risks associated with the wrong type of footwear may include, but are not limited to:
Minor skin irritation and abrasions
Major skin irritation and rawness; involving bruising and blisters
Ankle sprain and/or dislocation
Smelly feet, or bromodosis
Athlete's foot, or tinea pedis
Load-rate spiking; resulting in potential damage to ankles, knees, and hips
Weight
Weight matters in long-distance marathons; especially, when participating in multiple events, in consecutive order, like in a triathlon race. Moreover, shoe weight is directly related to fatigue levels. As such, it is important to note the weight of the footwear you are planning to purchase. The idea here is to decrease as much weight as possible without sacrificing the shoe's performance and ability to maintain your foot health integrity. The correct gear for your feet will give you the best of both worlds.
Top 10 Triathlon Shoes
1

. Scott Sports Tri Carbon
The biggest advantage of a BOA closure on a tri shoe is the fact that it allows for a really fast dismount that most other models would simply not allow. Much faster than velcro, and better with micro adjustments, it really is all you could want from a model that'll allow you to put your focus on the race instead of your footwear. Made with a really comfortable upper with Airmesh inserts around the forefoot to allow for breathability and moisture elimination, these could very well be the model that will help you get that medal.
The insole in the Tri Carbon was anatomically designed to adjust to the riders foot in order to provide the best possible levels of comfort, power transfer, as well as proper alignment, all of which can positively affect performance. There are three different metatarsal and arch inserts which can be applied to this insole, all of which influence the padding and support for each person's individual foot shape.
Called PowerZone, the stiff outsole found on the Tri Carbon has a stiffness rating of 9 which is found on the best road cycling shoes. It's made with lightweight fibers that don't sacrifice weight (and your stamina) and ensures the right amount of power from toe to heel. There's some torsional flex in the arch area, while the alignment system has been updated to make cleat mounting easier and more precise.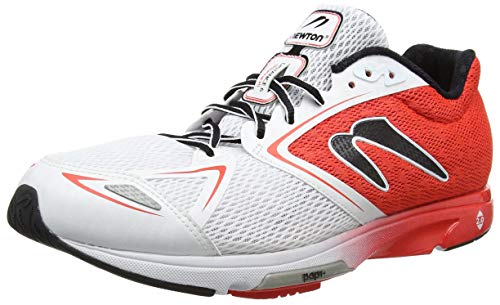 This pair of running shoes is superbly built with the triathlon athlete in mind. With a quick-drying and breathable upper mesh and comfortable seamless upper, you'll be comfortable during your triathlons. Additionally, the Full Flex Zone helps foot splay and the Newtonium Foam Cushioning supports your tired feet.
The mesh upper is created to allow your feet the ability to both dry and continually breathe, as your race moves forward. This promotes a healthy atmosphere which can help lower recovery times after a long race.
The great thing about the Distance VIs is the Full Flex Zone that accommodates foot splay to help your feet fall in the way they were meant to. This aids in keeping your feet from tiring out and will help you during your long bouts of running.

One of the top running sneakers currently available, the Brooks Ghost 11 is sure to help you perform at your best on the last leg of the race. Not only does it feature some of the best cushioning in running footwear currently available for purchase, but it's also got a newly updated upper that'll feel like a second skin on feet tired from pedaling during the previous portion of the race. Being an inclusive brand, Brooks offers this model in several widths and sizes, making it a breeze to find the shoe that will fit you perfectly, even if your feet have swollen or are more sensitive due to fatigue.
The newly developed mesh upper of the Ghost 11 includes stretch fibers that allow the material to completely conform to your foot, giving it more flexibility without sacrificing support. It's non-irritating, which can be quite important to feet which are already damp with sweat, while an internal heel counter keeps you securely locked in for injury risk reduction.
The forefoot of the Brooks Ghost 11 features a BioMoGo DNA midsole that's highly adaptable to the amount of force you put on it, giving you a customized amount of cushioning, making it a great shoe for anyone. The heel portion features the DNA Loft that disperses shock and helps prevent fatigue and pain, converting each impact into a burst of energy to propel you forward.
A neutral road runner made for daily use, the Ultraboost by Adidas features some of the best shock absorption you can get in any shoe. It's constructed with durable, lightweight materials, namely a Primeknit upper that'll make it comfortable enough to wear without any socks. This quick drying material also features a bit of stretch that'll make the running portion of the race considerably more comfortable. A Fitcounter heel perfectly hugs the back of the foot to eliminate any unwanted movement, while still allowing the Achilles a full range of motion.
This is the brand's best midsole in terms of shock absorption and energy return, seeing that it's made with 3000 blown TPU capsules, 20% more than any other Boost sneaker. Upon impact, each of these capsules will contract, then convert the shock into energy, giving you a more springy feel underfoot. The drop from heel to toe is 10mm, which puts your weight forward, making you run slightly faster.
The outsole on the Ultraboost resembles a web and was developed to allow maximum flexibility, allowing you to make the best of your gait cycle. It works great on road and light trail, and will even provide adequate grip in wet conditions, giving you peace of mind for your next race.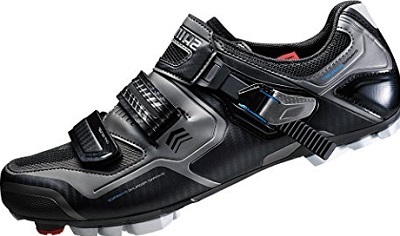 To begin with, these cycling shoes from Shimano is designed for quick-on and are pedal-ready. More than gaining transition seconds; however, they are created to be cleat-friendly; furthering your options as a triathlon cyclist. In addition, this pair is equipped with a breathable lining and is compatible with SPD cleats.
The hook-and-loop closure is made with ease of transition at its core. Secondly, these are created with your pedals in mind and the very design will help aid you in shaving the seconds you need.
After swimming, your shoes need to breathe to allow your feet to be comfortable and healthy. With the breathable lining this pair utilizes, not only will your feet feel cooler but they will remain healthier, as well.

A model 25 years in the making, the latest edition of the GEL-Kayano employs a number of updated tech that's made for heavy overpronators who need a stabilizing road running shoe that's durable in the sole and comfy in the upper. One of the most innovation packed models by the brand, it features the already expected GEL cushioning both in the forefoot and rearfoot, while strategically placing different types of foam in parts of the midsole to ensure the best possible support.
The upper of the Kayano is made with a jacquard mesh upper that's got just the right amounts of breathability and stretch, while an internal fit system supports the foot without creating any pressure points, mainly thanks to the no-sew construction. The heel clutching system is an external one, providing the perfect amount of lockdown, preventing movement inside the shoe while remaining soft through the padded collar.
The midsole in the Kayano features FlyteFoam elements which are extremely lightweight but provide great shock absorption as well as energy return. The midfoot benefits from a Dynamic DuoMax System that's a wedge inserted underneath the arch to prevent overpronation, while the outsole itself makes use of a Guidance System to prevent unbalanced weight placement throughout the gait cycle.
7

. Pearl iZUMi Tri Fly V Carbon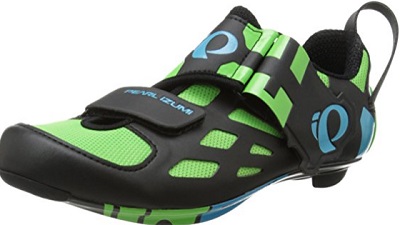 After a long swim, soft feet can use less stress when jumping on a bicycle for the next leg of the race. With the anatomic 1:1 tri-closure system in place, you will be able to tell the difference in this pair. Next, the longitudinal arch support system helps to provide more power with better efficiency. Finally, these deploy a direct-ventilation technology to aid in drainage and cooling.
This technology is created to help alleviate hot spots. Furthermore, this pair works to relieve unwanted pressure from the forefoot area. At the end of the day, this technology takes care of the runner.
The arch support system in these is designed to not only support but, also, stabilize your feet. Furthermore, this longitudinal system promotes power and efficiency; a must have when considering you are in a race.

8

. Pearl iZUMi Tri Fly Elite V6


With 1:1 anatomic tri-closure system and a carbon plate built for both power and speed, this footwear is an ideal candidate for any triathlon lover. In addition, the dual-density EVA insole helps promote a more comfortable environment while working to maintain the lightest weight possible. In essence, less weight equals more speed.
First, this technology helps to remove pressures from your feet; particularly, in the forefoot area. Second, the elimination of hot spots ensures a more frictionless and painless ride. As a result, you can concentrate on your race without the worry over your gear.
The integrated power plate is built with carbon to help ensure the lightest; yet, strongest composite material for the situation. In essence, you will have the potential to shave more off of your time via the plate's makeup.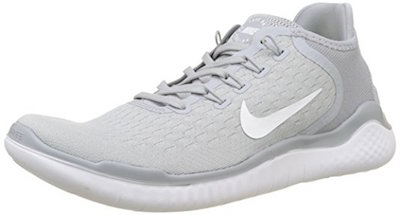 Whether you go with the standard or the Flyknit version of the 2018 edition of Nike's Free RN, you'll love how this sneaker feels on your feet, especially as you're most likely to wear it without any socks on. Breathable and lightweight, it still boasts some great shock absorbing abilities, with an 8mm heel to toe drop for those who prefer to stay away from high differences. The EVA outsole does well on road surfaces, giving you secure grip, mile to mile.
Following the latest trend in running sneakers, the Free RN 2018 also includes stretch fibers in the upper, allowing the shoe to completely mold to your foot, giving you a customized fit that's both supportive and flexible. On the regular (non-Flyknit) version, you'll find a wraparound heel strap that's made with stretchy fabric as well, that does great at providing you with a locked in heel, while the padding takes care of keeping you comfortable.
Made with Nike's version of a lightweight cushioning foam, the midsole of the Free RN 2018 features two foam units that work together to provide you with adequate support and cushioning that is durable and won't pack too easily. On the inside, you'll find a removable insole that adds to the comfort level, but that can also be replaced with custom orthotics should you need a bit more than the offered neutral arch support.

Another cycling shoe made for triathletes that ned easy on and off but with the performance capabilities of serious road shoes, the SIDI T-4 does plenty things well. It's got a comfortable liner that's suitable for barefoot wear, the perforated upper will dry relatively fast, and the velcro straps allow for easy closure that stays put. It features a pull tab at the heel that can come in quite handy during T1, and there's a replaceable PU heel pad that makes walking easier in these shoes.
Using a construction that combines two materials, the SIDI T-4 provides a better outsole that won't lose its stiffness with use or in wet and humid environments - especially important when you put your shoes on with wet feet. The carbon component is injected into a nylon matrix, giving you a lightweight shoe with excellent power transfer.
Made for ultimate protection and performance, the T-4 features an anatomically shaped plastic heel that prevents slippage and doesn't lose its shape even with prolonged use and forceful on and off. It will even help protect the feet in case of a crash, and will contribute to more efficient pedaling, giving you an advantage over your opponents.
Subscribe to our Newsletter