Best Shoes for Spartan Races & Mud Runs Reviewed
In a
Hurry? Editors choice: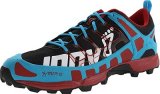 Test Winner: Inov-8 X-Talon 212

Obstacle course racing (OCR) is an exciting and invigorating experience full of challenges which push us to the limits. Naturally, some races are much more demanding than others, demanding a more serious training regimen. Spartan & mud runs can be grueling and unforgiving; testing your physical, mental, and emotional endurance to the limits. Selecting proper footwear can be stressful, which is why we have put together an evaluation process for the best shoes for Spartan race to help you make an informed decision.
Standout Picks
Criteria Used for Evaluation
Upper
There are two ways in which a pair of OCR shoes differs from regular running sneakers. The first, and most important one has to do with the very nature of Spartan races, which are mostly done on uneven, demanding trail courses where you'll be required to go through muddy, wet and slippery terrain before you reach the goal. Naturally, your feet will require a higher level of protection than that which you get from your mesh road runners, which is why this type of footwear is always made with added technology in the upper that's supposed not only to protect you, but also to ensure you have all the support you need for improved results.
Overall, trails are usually filled with small rocks, twigs and pebbles which could potentially break your shoe and cause injury. To prevent unwanted discomfort, try to purchase shoes with a stronger, anti-debris upper that won't allow pebbles into the shoes, but also won't tear if it's caught on something. Trail-specific models will often include these types of additions, ranging from mud guards, toe bumpers, gusseted tongues and others.
For a higher level of protection, you may even want to look for strong overlays, but be aware that these may influence the shoe in terms of weight and drying speed. Leather is usually unsuitable for OCR, so nylon and TPR should work better. If you know you won't be going through water, but want to stay dry in rainy conditions, you may even opt for a Gore-Tex upper which won't allow your feet to get wet.
Nonetheless, waterproof shoes will usually not be the best choice for two reasons. For one, they're usually heavier than their lightweight mesh counterparts, which will slow you down and cause you to be more fatigued as the race progresses. Second, if you're ankle deep in a puddle, no amount of Gore-Tex is going to keep water out. In these cases, a shoe that has moisture-wicking and quick-drying abilities is going to perform incomparably better.
Comfort
Ask any professional athlete what the main thing they want from their gear, and they'll tell you without thinking: allowing them to perform at their best, without having to think about it. When it comes to shoes, this is most reflected in the comfort they provide. In a perfect world, you wouldn't even know they're there, save for the cushioning underfoot, the protection from the rugged terrain, and the support they provide under the arch.
Being made with more durable and tough materials, trail footwear will often disregard comfort factors such as flexibility, softness and breathability. But, the best pairs will offer all of these aspects. Some manufacturers even invest into research that looks at finding the best possible fit, resulting in excellent models such as the Salomon Speedcross and Speedcross CS which will not only mold to the foot, but will even support it in the medial area to offer a feeling that's locked in and secure.
The most important thing you should look for in your next purchase is definitely the lining. You should try and get a pair of sneakers that are breathable, with moisture wicking abilities that'll draw swear and water from the feet, letting it evaporate and preventing infections, bacterial overgrowth and blistering.
Secondly, you may want to get a pair of footwear that has some padding in the upper, namely in the collar and tongue area. The collar is important because it's often the area which can cause the most rubbing, and sometimes even socks aren't enough to prevent chafing. A padded tongue, on the other hand, can allow you to tightly fasten your shoes without the laces cutting into the top of your foot, making the entire run more comfortable and enjoyable.
Midsole
Regardless of the type of running you'll be doing, you need to be aware of the fact that this athletic activity puts a force 5 times your body weight on your feet. While for one landing this isn't that much, with a race or daily training, it can add up to quite a bit. To protect your body from such impact, you will want to go with footwear that's got a good amount of shock absorbing abilities which will disperse this force, saving your muscles and joints from pain and fatigue.
Most shoes listed above have some sort of shock absorption, from traditional EVA foam components to Air, GEL or even Wave cushioning. All of these can do a great job, and you should definitely go with what works best for you. But, this is not the only aspect of the midsole you need to look out for.
Flexibility is rather important. If the gear for your feet has no flexibility, then you will be unable to transition to various terrain types with ease. Not only can this slow you down but there is a higher potential for injury if the shoes are not flexible enough, as well. Likewise, on the other side of the same coin, sturdiness must be present. If your shoes are too flexible, they will give in when harder terrain types are faced; thus, causing potential ankle twisting, foot slippage, or some other kind of foot-related injury. Making certain your OCR shoes are balanced well in the realm of flexibility is essential.
Heel-to-toe differential refers to zero-drop, offset, and ramp angle. Zero-drop is when your heel and toes lie flat as you land; or at the very least, there is zero-drop between the heel area and forefoot. An 8mm drop means that is how much it raises your heel in comparison to the location of your forefoot. Understanding the type of race you are facing is extremely important when choosing your heel drop.
More than this, however, is making sure to know your own body. If you are a minimalist and have not been treading around in supportive shoes all of your life, zero-drop shoes might be perfect for you. If, however, you have not been running around barefoot a lot, zero-drop runners are known to cause injuries in relation; that is, many people are not ready for zero-drop footwear and an extreme obstacle course combined. If you truly desire to run in minimalist shoes, try working your way down to zero-drop. In this, you are taking care to protect your health.
Support
Regardless of the type of trail you'll be running on, you need to consider how well a pair of Spartan race shoes is going to aid your feet in getting you to the finish line. For many, this means higher levels of support, namely in the heel and arch areas that can take quite a beating during any running session.
Most models on the list above are made with neutral support, meaning that they're most suited to those with a medium arch, without any pronation issues or arch-related pain. However, they definitely won't be enough for flat-footed runners, nor for those who tend to overpronate, suffer from plantar fasciitis, or pain in any part of the foot. These individuals should always look for footwear that'll hug the foot from below, lifting the arch and ensuring that it isn't working overtime in order to absorb the generated shock.
It's important to note that plenty of support can also be provided by the shoe's lacing system and overlays on the upper. Oftentimes, running sneakers will have internal cages that wrap around the midfoot and are tightened through the laces, ensuring that there's enough stability so that there's no unwanted frontal movement that would lead to a lower level of stability.
Outsole
OCR footwear and mud run shoes need to give you the ability to traverse multiple terrain types. Furthermore, this transfer of terrain type should be doable with ease of transitional motion. If you find it difficult to transition from one terrain type to the next and you know it is the shoes, then they are not the right kind of shoes for the job. Transition with ease is the characteristic you look for. Lug traction outsoles will allow you to traverse from mud to dirt or vice versa. OCR footgear should have a lug system in place and should be considered aggressive traction.
The tread type will determine your ability to navigate through certain ground surfaces such as wet, dirt, mud, and rocky. If your shoes have a flat waffle-like outsole, they are not going to do very well in the mud. Footgear with a nice lug system is better for mud. The bigger the lug, the more 'aggressive' the traction; generally, speaking.
When determining performance in OCR (obstacle course racing) shoes, the ability to shed dirt, rocks, and mud are critical aspects.  The further you traverse into the course, the more chance there is to gain a more massive load via unwanted hitchhikers. These hitchhikers come in the form of debris and latch onto your shoes. The more substantial your runners become, the more rigorous the course is. Fatigue begins to set in, and the race turns into a more prominent monster than it should be. The correct footwear, however, can shed dirt, rocks, and debris; thereby, allowing you to focus on the course and not on heavy hitchhikers weighing you down.
Look for lug systems which are based upon the type of race you are running; that is, do you need long lugs are shorter ones? Spacing is essential in determining whether or not your footwear will, indeed, shed the monstrous hitchhikers, as it were. If the lugs are too closely situated, then they will hold onto the dirt, instead of letting it go. Spacing is a big factor in whether or not mud will be released when you pick your foot up.
Top 10 Spartan Mud Run Shoes
Featuring a stronger grip and a more responsive upper than its predecessors, the Salomon Speedcross 5 shoes for Spartan race are the ideal shoe for OCR. Maintaining its Sensifit upper, the 5 is highly breathable, which prevents the dampness you can encounter when participating in high-energy activities like OCR. Further, the 5 has synthetic overlays for a snug fit that compresses your foot into the cushioned midsole.
The cushioned midsole of the 5 is made of EnergyCell+ technology, giving you a high amount of cushy feedback when in motion. It also provides unparalleled comfort and allows you to go the distance, something demanded of OCR.
A Contagrip outsole with chevron-style lugs provide traction and grip, working with the lightweight construction of the 5 to help the wearer save energy versus previous editions of the Speedcross. A bit on the higher end of the price-points on this list, but still a good value for what you get.
2

. Salomon Speedcross 4 CS
First, with the high-quality design and the addition of both the water resistance and anti-debris systems in place, these qualify as great OCR footwear. Secondly, Sensifit with Quicklace system allows for the duality of both comfort and a quick-tie speed; thus, allowing you to truly focus on the race ahead. Lastly, Contragrip technology helps to traverse through wet and soft terrain types.
Debris and water can be an absolute pain for those running obstacle course races. These trail runners, however, is designed to withstand such nuisances and further your ability to navigate wetter, rockier, and softer terrain than ever before. With both anti-debris mesh and water-resistant textile, these are perfect for any obstacle course racer.
Sensifit technology allows this pair of shoes to cradle your feet in both comfort and support. Moreover, these Spartan shoes are equipped with a quick-lace system; providing less time for your shoes and more time concentrating on the upcoming race.
Firstly, these Spartan race shoes are for navigating through technical, soft terrain. Secondly, designed for OCR, this pair will help you traverse more efficiently via the aggressive lugs. Thirdly, lightweight with the obstacle course runner in mind, lace pockets are in place to keep laces out of the way. Finally, molded EVA ensures a comfortable ride while you challenge with the spirit of a champion.
As most trail runners know, traction is all about the ability to prevent any pickup of potential debris and performance of the lugs. These lugs do not disappoint, as they are specific in design for technical OCR. Furthermore, created to rip through some of the softer grounds, these lugs are well-placed and are efficient.
A molded EVA midsole is in place to help increase comfortability levels. One of the last things any racer desires to worry over is discomfort created from their shoes while they still have a lot more race to go. This EVA midsole provides comfort throughout the race; thus, alleviating any thought of aching feet and furthering your drive to stay the course.
These mud run shoes are equipped with 3-mm lugs and are created to give grip to wet, mud, and slippery surfaces. Made with an upper mesh design, this pair of OCR shoes is both breathable and comfortable. Also, this zero-drop trail footwear provides excellent support and traction for rockier terrains, such as gravel. Finally, the soft dirt navigators are great for your next obstacle course run.
When traversing questionable terrain, underfoot protection is a necessity. With TrailProtect technology, these Merrell Glove 4 trail-running shoes offer just that. Also, they are comfortable and allow for navigation through soft dirt and wet environments.
Utilized in conjunction with TrailProtect technology, the Vibram TC5 Outsole provides grip on surfaces such as mud, wet, and slippery terrain. With this kind of traction, you no longer need to worry about your gear and can concentrate on the run ahead.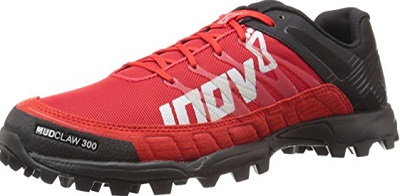 These mud run shoes are equipped with two types of sticky rubbers on the outsole; medium and hard. This allows for optimized gripping through multiple terrain types such as wet, mud, and rocky. Furthermore, the 8-mm studs provide aggressive traction while you rip through the obstacle course of your choosing. Overall, this pair is an ideal choice for OCR.
Precision Fit creates an environment conducive to maximum comfort and overall stability. Also, the design utilizes the right mix of both flexibility and support; thereby, helping you to navigate, even against some of the roughest types of terrain.
The 8-mm studs and aggressive outsole will navigate nicely through wet, mud, and rocky terrains. Moreover, these shoes are created for easy transition between the various types of terrain found within an obstacle course race.

6

. Salewa Ultra Flex Mid GTX
Firstly, this pair of trail runners takes traction to another level. With Michelin rubber at its foundation, these are sure to not only hold traction in slippery mud and/or rocky terrain but they will, also, help you to perform quickly through your course. Secondly, stability is the heart and soul of these traction go-getters; providing easier climbing situations. Overall, these are certain to be worthy of any obstacle course race.
The Flex collar provides better ankle range of motion. Moreover, this design helps to add both flexibility and stability while hiking your favorite trail and course. In essence, climbing becomes less strenuous.
The outsole has exceptional tread and creates a wonderful environment conducive to speed hiking, mountain training, and trail running. If your racing course is full of rocky terrain, these hikers are the way to go.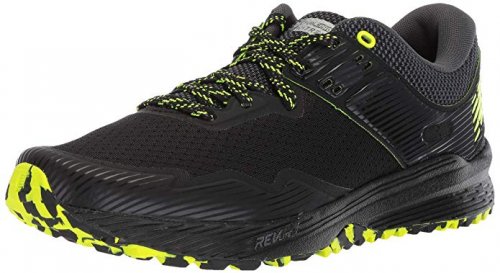 Any Spartan race participant is sure to appreciate the aggressive technology found in the New Balance Nitrel v2. Featuring a lightweight construction, combined with a synthetic, mesh upper and a hybrid outsole, the v2 will let you perform on multiple terrain types, all while keeping you dry and comfortable.
The mesh upper of the v2 is highly breathable and allows for easy heat regulation. The upper is constructed of a lightweight fabric that doesn't hold down the wearer. In addition, the v2 comes with a performance insert that protects the heel and foot and offers excellent support.
The all-terrain outsole is unique, insofar as its ability to adapt to multiple terrain types. The tread pattern on the outsole offers grip and traction, without rocks and debris from getting stuck in between the grooves. The design pattern on the bottom of the shoe adds stylish flair to the entire product. A great shoe if you're conscious about fashion and driven to win.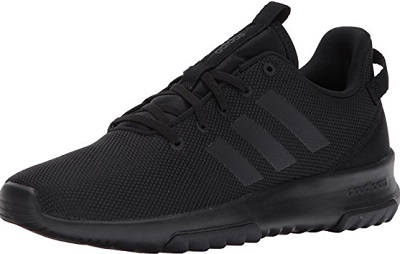 The Adidas CloudFoam Racer TR trail running shoe is perfect for lightweight obstacle course racing. The added rubber outsole insert serves to both provide traction and support. Additionally, these have a breathable mesh upper for dampness prevention and a three-stripe seamless strap system for more stability. Finally, these are great for light-wet, light-rocky, and light-mud situations.
The mesh upper is designed with seamless three-strip overlays to provide greater stability. In addition, this pair of trail runners is breathable. Lastly, the mesh design creates a flexible; yet, supportive environment.
The rubber outsole inserts help to stabilize and support your feet while you race your favorite lightweight obstacle course. Moreover, they help provide traction through wet, dirt, and rocky terrain.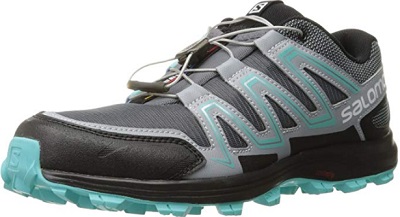 If you run about 3 miles (5K) or less in an OCR, then this pair will do the job. They are great for releasing mud and continue to do so with each step. The comfort factor of these requires you to not run long distances, however, as they are built better for short runs. They have decent technologies such as endoFit, Sensifit, and Quicklace. This footwear is a perfect beginner's OCR gear.
The lugs are spaced apart, so as to evenly distribute and release water and mud. They handle well in multiple conditions and are durable. Their height is minimal enough that you retain decent stability, as well.
These are lightweight and aid in reducing overall fatigue while on your run. With the plethora of technologies in use and the structure of the shoe, this lightweight feature is fantastic.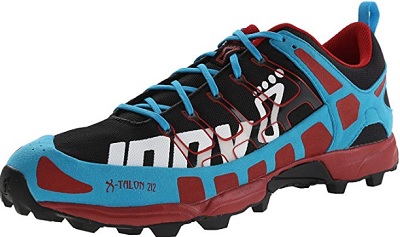 Great for obstacle course racing, especially in the mud and dirt, this pair of shoes for a Spartan race are made with a 1.25-inch heel height. An injected EVA midsole helps with shock absorption and a heel pull loop assists with on and off. A textile and rubber upper helps to make these anti-abrasive and the traction is multi-terrain. Overall, we like these for OCR where mud and dirt reign.
As OCR runners know, shock absorption is the key to happier feet. Furthermore, the EVA midsole does a great job at handling load-rate; thereby, your feet will thank you for a job well done.
This is a slight heel height which can add a bit more stability during your run. It is not minimalist; nor, is it a bit too much. This is a heel height that meets the happy medium between the two.

Subscribe to our Newsletter