Most Comfortable Shoes for Flat Feet Reviewed & Rated
In a Hurry? Editors choice: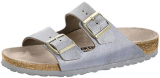 Test Winner: Birkenstock Arizona

When it comes to most comfortable shoes for flat feet, it can get a little overwhelming in terms of features and model selection. Remember that cushioning is important, but so are other factors, like shock absorption and stability. You want to make sure you find shoes that will relieve pressure from your feet while also distributing it up and away.

Sturdy soles will give you more stability and comfort and will ensure that you can spend long hours on your feet without fatigue, aches, or pain. The list below is a great place to start and is sure to get you on the right track to finding flat feet shoes.
Standout Picks
Criteria Used for Evaluation
Support
To understand why arch support is so vital in flat feet shoes, it is necessary to first understand what exactly is meant by "flat feet".
The bottom of everyone's foot is more or less flat, but it's the arch that can be either flat, neutral, or high. When you look at the side of your foot, does your arch go up, or does your profile look completely flat as well? If you don't see the side of your foot raised at all, you most likely have flat feet.
Flat feet on their own aren't necessarily a problem, but when it comes to selecting shoes or participating in activities like running, the type of arch you have is going to factor in. Those with flat feet tend to have issues with pronation, meaning their foot doesn't land naturally when they walk or run; instead, their foot and ankle roll either inwards or outwards. This can cause problems with your Achilles, as well as general foot pain and aches.
Arch support is one of the most important things to look for if you have flat feet because you do not want to end up with more serious health issues down the road. A lack of arch support will mean that your foot isn't properly balanced, and every step you take will put the full weight and pressure on the entirety of the foot.
When you add in proper support, your weight and pressure become more evenly distributed between the forefoot and the heel, reducing the likelihood of hip or back injury and pain. Looking for shoes that have more pronounced arch support, or even orthotic inserts is the number one thing that needs to be done when purchasing a pair of shoes
Overall Fit
When the majority of us go shoe shopping, we have a pretty good idea in our head of what size our feet are. Some brands may move us a size up or a size down, and then there are always half sizes to consider, but you more or less know where to start when you're trying on shoes.
The problem with flat feet isn't so much that your shoe size is different, but that the type of shoe you choose may impact your shoe size more than you realize. As we talked about in the previous section, the type of shoe you are after is going to be one with more built-in arch support, and this can change the way your shoes fit and feel.
Lengthwise, you may not notice anything different, but shoes with arch support or orthotics will often be significantly more narrow than standard shoes. The reason is that there is extra foam or padding located on the instep, which inevitably reduces the amount of space inside the shoe.
Sizing up can help with the narrow fit a bit, but then you're left with shoes that may be a bit too long, causing your foot to slide around unnecessarily.
The best option is to look for brands and models that are available in wider sizes, giving you more variety and space to work with. Not all brands have wide sizing, and some models will be already very narrow even on their own.
Understanding the type of width you need is as important as knowing your general size, so trying on shoes in different widths can make your shopping process a lot easier in the end.
Comfort
There are a few other factors that come into play when considering a shoe's ability to provide one with what you need in terms of comfort.
The fewer overlays in the design of a shoe, the more likely it is that that it will provide a higher level of comfort. On top of this, there are several other features of flat feet shoes which must be taken into account when considering their comfort.
Breathability: The circulation of air is something that must be taken into account when considering the design of the shoe. No one likes to walk around in a pair of shoes that stifle the foot and result in the footwear feeling like moving saunas; it's incredibly uncomfortable. On top of this, the design of the shoes for flat feet should typically provide one with a level of moisture-wicking during use.
Responsiveness: Another aspect that is incredibly important when looking at shoes is the level of responsiveness that the sole unit provides. Responsiveness typically stems from the materials' ability to redirect energy. This redirection of energy depends on the level of cushioning found in the sole; the placement of rubber also plays a major part in responsiveness.
Durability
From running to working out at the gym to having a long casual walk on a weekend, a pair of flat feet shoes that fit well and are comfortable is a number one priority. However, the way they will wear and the amount of time they will last can mean whether a pair of shoes is worth buying or not.
Although you may put your shoes through the wringer, a quality pair should last a decent amount of time, depending on the exertion you place on them.
If you are extremely active, then a flimsy pair of slip-on shoes are not going to hold up. Determining what your needs are and what a pair of shoes must provide is essential. You are going to want to splurge a bit more on shoes that are getting almost daily use than you are on a pair of, say, rain boots that are seasonal.
Any white or light-colored design is going to get scuffed up and dirty very fast. Darker shoes that have a thicker rubber sole are perfect for running around outside; stains will show up much less, and they will grip the ground well.
When deciding on a pair of shoes, consider if they are machine washable or not; this can make a huge difference in the durability of the design. Not only are the uppers important, but so are tough soles. Consider the entire shoe when looking for a durable option.
Flexibility
While everyone is always talking about soft shoes as if they are the most comfortable, stiff shoes get left out and are typically assumed to be the more uncomfortable option. Contrary to popular belief, stiff shoes can actually be the more comfortable choice, especially for those who have flat feet.
When talking about stiffness, it is usually broken down into three main components of the shoe: the upper, the midsole, and the heel.
A stiff upper is generally made of materials such as leather, and it keeps your feet more securely in place than other materials available.
The benefit to a stiff upper is that your foot moves around a lot less, and for those who have pronation problems this is key. By ensuring your foot doesn't have the flexibility to move from side to side, you have a better chance of forcing your foot to land in the proper position and thus your weight is more evenly distributed.
If the shoe you are looking at is easy to bend and twist, it's not going to be the right shoe for you. The more a design bends and twists, the more your foot bends and twists, and even with a personalized orthotic you will still not be getting proper overall support.
The upper isn't the only thing that needs more stiffness, and, as we mentioned, the midsole is also a very important component.
Often referred to as a stability shoe, these feature additional padding and support in the midsole that aid in giving you that extra bit of arch support. These shoes tend to be slightly more uncomfortable for those who aren't used to them, so you lack a lot of the give that other midsoles provide. Instead of a light bounce, you will have a more firm step; great for your overall health but not the softest option.
Heel stiffness is one more thing that you should always take into consideration, as firmer heel counters will do wonders for your gait; they will ensure your foot does not roll at all. Heel locking mechanisms can be found in some brands of orthotic shoes, and these do exactly what the name suggests – lock your heel into place. With this type of technology, it is virtually impossible for your foot to roll, giving you a happier back, knees, and hips.
10 Best Flat Feet Shoes Reviews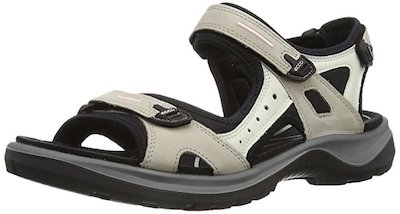 These versatile sandals by ECCO are an excellent choice if you are looking for comfortable shoes for flat feet that will serve you well on your outdoor walks and treks when the temperatures are up. They are a great choice for anyone with flat feet as they provide good support, are very pleasant to wear even during prolonged periods of standing and walking, and are adjustable both in the front and back to ensure a secure fit you can enjoy all day. To top it all off, they are available in several colors, both for women and men.
These walking shoes for flat feet have a triple hook and loop closure system which is excellent because they will allow you to tighten or loosen them just as you find it most comfortable. You will especially like the adjustable closure in the front as it can be readjusted during the day, in case you experience any swelling due to heat or long periods of walking.

The midsole of these shoes features direct-injected polyurethane that provides long-lasting cushioning and support, while the footbed is covered in a lightweight EVA foam and soft microfiber. The RECEPTOR technology outsole is designed to maximize traction, give you a boost in energy during the push-off phase, as well as a 20-degree heel that promotes a landing that will put less shock on your feet.

With the ECCO Yucatan, you will be getting a quality pair of flat feet shoes that will not only last you long but will provide you with the plenty of arch support and encourage a natural gait cycle so that you do not put unnecessary stress on your joints; you can avoid experiencing any pain in the feet, ankles, knees, and back.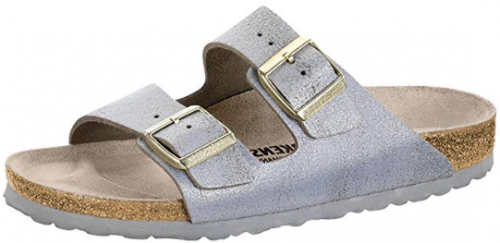 When it comes to shoes for flat feet - or shoes for any other unpleasant foot ailments, really - there is hardly a better warm-weather option than the Birkenstock. These German-made sandals are unparalleled in comfort and support, and you will love wearing them in all of your casual summer outings.
The Arizona is a simple two-strap slide made from a synthetic material called Birko-Flor. This upper will be gentle on your skin, and the straps are adjustable thanks to their buckle closures. What makes the Arizona stand out, however, is its footbed. The footbed is made from a combination of cork and latex, with the ability to take on the shape of your foot for a personalized type of comfort; it is also covered in suede for a gentle, plush feeling all day long.
These shoes may not be the most fashionable of choices, but there is a certain appeal to them, one that many fashion bloggers love to combine with their favorite outfits. If you're looking for a simple, easy option that you slip into and forget about your worries, then the Birkenstock Arizona is the obvious solution.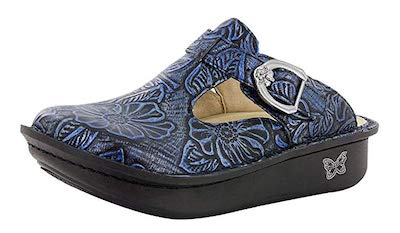 With it's classic clog, slip-on style, this shoe is as convenient as it is comfortable. Anatomically designed for comfort, Alegria Classic uses a patented leather design that is sturdy on the outside while smooth on the inside. The footbed has ample cushioning for shock absorption, as well as superior arch support to relieve pressure. With 60 color choices to choose from, these shoes can be paired with any outfit; either casually or for more formal occasions.
To ensure their shoes offer maximum comfort and support, Alegria has designed their own footbed that is crafted using multiple materials. By having an interlocking system that is comprised of latex, memory foam, and cork, they are able to offer a well-rounded support system that holds up over time and use. Not only will these shoes for flat feet be comfortable, but they are a great choice when you need to be on your feet for long periods of time. The thickness of the sole and footbed means that it will take away the pressure and leave you with pain-free feet. If you work in a job that requires long hours of standing, these shoes are an ideal choice.
Given that these are made of leather, the price is a bit higher than some of the other shoes that made this list. What you're getting for the cost though is a shoe that is long-lasting and comfortable, that has high versatility for different occasions. With so many color choices to choose from, you can make these shoes feel personalized and that adds a lot of value.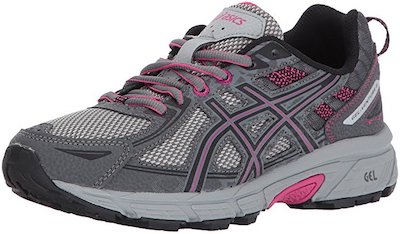 Orthotic running shoes have always tended to be bulkier and clunkier than your regular shoe. The reason for this comes down to adding in extra cushioning, specific footbeds, and added support. With these runners by ASICS, you get sleek-looking flat feet shoes and other various conditions. With more cushioning added to the rear foot, these shoes will be comfortable whether you're running errands or running trails. The added traction on the bottom offers stability in both wet and dry conditions and across all terrains.
The ASICS GEL cushioning system is a very unique and well thought out technology. Since these shoes are made for running, the GEL cushioning absorbs the impact every time your heel strikes down. For people with foot pain or flat feet, this means that the weight of your body is distributed with every step, and it keeps you from feeling any aches or pains after wear. The additional cushioning will stabilize you and keep your foot protected from impact forces. What makes these shoes great is that the liner is fully removable so that you can take it out and replace it with custom liners that you may require. The shoe is built to accommodate medical orthotics for flat feet, so you can get the precise support you need.
ASICS is a well known and reputable brand, so one might expect their shoes to be fairly expensive. On the contrary, ASICS running shoes for flat feet tend to be fairly inexpensive and given how well built they are, they certainly are worth their price. As one of the cheaper options on this list, you can't go wrong with a pair of GEL Venture 6s.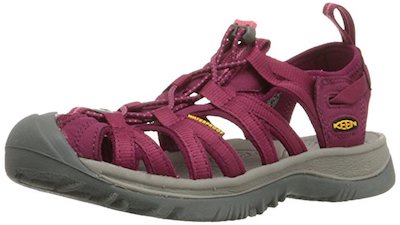 KEEN is a well-recognized brand, and for good reason. Their shoes have always been crafted with comfort and support in mind, and these Whisper sandals are no exception to that. Bringing together some of KEEN's best technologies, this sandal is a dream for anyone that suffers from flat feet or other generally uncomfortable conditions. The bungee styled laces allow you to find the fit that is comfortable for you, while the footbed design cradles and supports the entire foot. As a water sandal, these shoes are incredibly versatile and will serve you well on any adventure.
Through the use of probiotic Cleansport NXT technology, these shoes rely on an advanced mechanism to provide effective odor control that is long-lasting. Selected healthy microbes which are naturally occurring are then bound to the footbed of these shoes. Once these microbes come in contact with things like sweat, they activate and break down the particles ensuring that no moisture or smell builds up. The footbed of the Whisper is crafted with an internal mechanism that gives you the feeling of a more personalized fit. The footbed will cradle your foot, providing support and cushioning where you need it most. With their excellent arch support, there is no way these walking shoes for flat feet won't feel amazing on.
Given that this shoe is also a water shoe, it can be worn and used in a variety of situations. Shoes this durable, that you can go hiking and travel in, tend to run very expensive so the price on these would be considered fairly low. You are getting exceptional value with a pair of KEEN's sandals, so the cost is negligible by comparison.

6

. Vionic Tide II Toe Post



Flip-flops are notorious for being bad for your feet, but these sandals by Vionic have changed the game when it comes to sleek, simple footwear. Choose any of their 20 color options, and enjoy an attractive looking thong sandal that will keep your foot comfortable and supported. With an orthotic footbed, deep heel cup, and a durable rubber sole, these flat feet shoes are bound to feel great all summer long.
Designed by a podiatrist, the footbed on the Tide II is made so that it captures the shape of your foot and provides support and comfort where you personally need it. The heel has a deep cup which gives added support and helps realign your feet as you walk. Having your feet in their most natural position means you won't have any aches or pains even after a long day of walking. People with a variety of conditions have turned to Vionic to help find shoes that will ease some of the burdens that come with sore and painful feet. This is a brand that focuses on making shoes that can remove discomfort and make you feel good regardless of the problems you may have.
Flip-flop styled shoes are generally very inexpensive, but you really do get what you pay for. Most flip-flops offer zero support and can actually harm your feet over time. These sandals will definitely cost you more than a pair of foam flip flops, but the price is still very reasonable. If you have a foot condition and still want to enjoy the fun, simple style then these shoes are worth the money.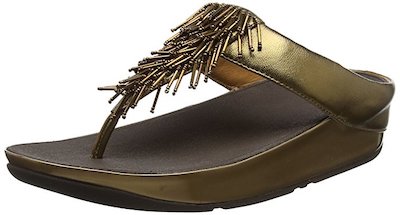 FitFlop is a brand that is known for making comfortable footwear, and these sandals are no exception. Created with the help of two biomechanists, this line of shoes is specifically designed to support all foot shapes while giving excellent cushioning and shock absorption. With a shape that runs on the more wide spectrum of widths, these shoes will be comfortable no matter how big or small your feet may be.
Cha Cha's Microwobbleboard midsole is one of a kind patented technology; it is a triple-density midsole that is specially crafted from multi-density EVA. What makes it so great is that it gives your underfoot an extremely thick platform which easily absorbs any shock. For those with flat feet, this midsole diffuses foot pressure so you won't end up with any foot pain or aches after wearing.
Style doesn't always have to be sacrificed for comfort, and these shoes feature a fun embellishment comprised of strands of beads that look fun and flashy. Enjoy making your feet look just as good as these shoes will make them feel.
When it comes to comfort it's hard to really put a price on it. With that said, these sandals will get a lot of use out of them as they will be one of the most comfortable pairs of flat feet shoes you've ever owned. Keeping that in mind, it is easy to see that these sandals will be worth every penny spent on them.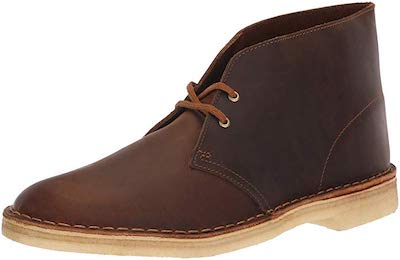 To really understand that flat feet shoes can also look amazing, you need to take a look at the Desert boot from Clarks. These are a gorgeous, low cut boot that will surely make your feet stand out in a crowd. The suede leather exterior is carefully crafted to be both soft and supportive, making them easy to get on and off. The crepe outsole has been the same design for over 60 years and hasn't needed to be changed as it is long-lasting and effective. Made from completely natural materials, this shoe is a great option for most foot types.
Made of a crinkly type of rubber, crepe soles on the Desert are both heavy-duty and very durable, making them great for any type of walking. They will hold up well over most terrains, and this is the same type of sole that troops wore during WWII. It delivers a very comfortable and cushioned step that reduces impact and protects your foot. The heels of these shoes are reinforced with a stabilizing suede, to make sure they do not break and wear down over time. This also keeps the shoe more comfortable and should reduce any rubbing or irritation. The heel counter will increase the support your foot receives, making these a good choice for someone who needs that added bit of support to get through the day.
These boots are the most expensive option on our list, but this is for a good reason. While we have looked at shoes for flat feet that can be both casual and formal, these boots take style to a whole new level. They are gorgeous and well crafted, giving you a boot that you can be proud to wear and feel great in - both physically and mentally.

9

. KEEN Atlanta Cool Steel Toe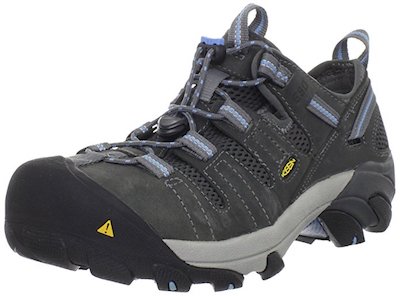 While it would be great if we could all live in orthotic clogs and sandals all day, unfortunately, work calls and we need to lace up some proper shoes that meet our job requirements. While work boots generally are clunky and heavy, these Atlanta Cool Steel Toe boots from KEEN are actually a great choice for the more flat-footed individual.
Locking your heel into place ensures that your foot and ankle don't roll while you walk, and this can save you from a variety of health issues in later years. Pair these shoes for flat feet with a good pair of orthotic insoles and you won't even notice the usual foot fatigue that most people feel after a long day at work. These boots have a torsional stability shank built in which will ensure your foot has proper alignment every time you step down. This stable platform is perfect for its additional support and added stiffness.
While these are expensive when compared to other items on our list, it's important to remember that a pair of flip-flops and a pair of steel toe boots are vastly different in terms of what they are and how much they cost. For steel toe boots these are a great deal, and they provide plenty of features compared to other models that have the same cost.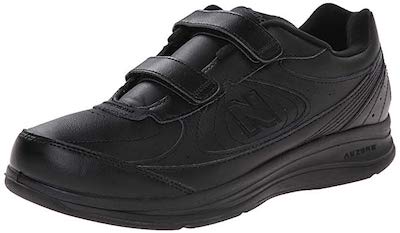 Another well known and reputable brand, New Balance has been crafting shoes for a very long time. With a focus on athletic footwear, these 577s are a testament to New Balance's ability to make comfortable and practical shoes that can be worn by everyday people as well as athletes. With a simple, monochrome design, these shoes are far from flashy, making them easy to pair with any outfit. These walking shoes are well cushioned and extremely durable, perfect for everyday wear, especially for those who have flat feet or other conditions.
Unique to New Balance shoes, Abzorb cushioning is a foam-based polymer cushion that sits in the heel for exceptional shock absorption. When you put pressure on the Abzorb cushion, that weight and shock are then evenly distributed, then transferred from the shoe up to the leg. This relieves foot pressure and makes it easier for you to be on your feet for long periods of time. Since we are looking at shoes that have a medical purpose and are designed for certain conditions, it's important to note that shoes like the 577s may be eligible for Medicare reimbursements. That means that you could get the price of these shoes for flat feet covered if you meet the medical requirements.
These are really an average priced pair of shoes, and they sit right around the low mark when compared with other shoes on this list. There is nothing flashy or fancy about them, but from a medical and orthotic perspective, they are a worthy pair of shoes. With all of the bells and whistles removed, you get a simple and sleek design that will be comfortable and durable; making being on your feet a painless experience.

Subscribe to our Newsletter