Best Sandals for Flat Feet Reviewed
last updated:
Jan 21, 2020
When choosing summer footwear, it is important to look for these properties in your next pair of sandals. Summer footwear is often made to be flimsy, lightweight, and will usually not provide much or any orthotic support. Our list of the ten best sandals for flat feet will give you some much-needed options of comfortable, supportive footwear that you can wear in the heat without having to suffer pain after spending a full day of walking on your feet. Check out our list of the best sandals for flat feet, available today!
In a Hurry? The test winner after 16 hrs of research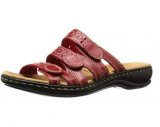 Clarks Leisa Cacti
Why is it better?
Comfort Cushion
Ortholite
Adjustable
Arch Support
Stylish
In a
Hurry? Editors choice: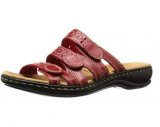 Test Winner: Clarks Leisa Cacti

18
Researched Sources
1500
Reviews Considered
16
Hours Researching
20
Products Evaluated
Support
Features
Shock Absorption
Weight
Materials
By Default
10 Best Sandals for Flat Feet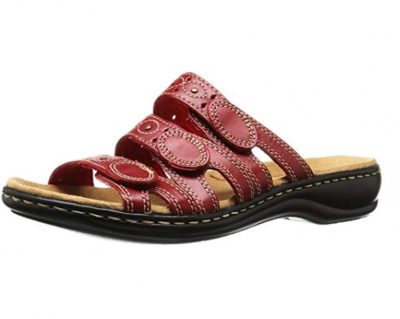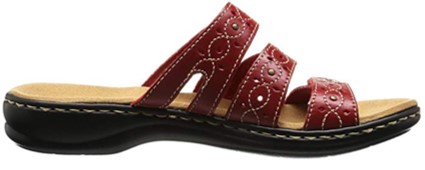 Comfort Cushion
Ortholite
Adjustable
Arch Support
Stylish
Price
Can Irritate After Prolonged Wear
Top of our list sits Clarks Leisa Cacti Slide, which earns its place at the top for its catching design, comfort and support, price, and brand name quality. The styling alone of this comfortable option brings a western flair, one of the top trends for fashionable footwear in 2018. Add to it an Ortholite footbed and cushioned softness with adjustable straps, and this shoe is perfect for any summer gathering!
Within the footbed of the Leisa Cacti Slide lies the Clarks Cushion Plush comfort system, which anatomically targets the ball of the foot to help reduce strain and promote natural foot gait. This dual-density cushioning helps foot fatigue for all-day wear. Ortholite technology in the footbed is an open cell structure that helps provide long-lasting comfort, breathability, and helps keep feet dry. EVA sole gives extra support, especially for those with fallen arches.
This adorable option comes in many color options, and with a three hook and loop closure hidden by decorative contrast stitching and aesthetic look, western styling finds adjustable comfort. Breathable and open, moisture-wicking Ortholite helps you keep cool on the hottest of days to keep your cool. These are great to dress up any outfit, or just paired with shorts for casual walks outside.
For a cushioned, supportive product with western style and flair, the Leisa Cacti Slide is a great option for the fashion-forward thinker who wants the most from their sandals. Ortholite technology combined with a soft cushion and adjustable closures makes it great for all sorts of individuals, not just those with flat feet. Well worth the investment, as these are certain to be in style long after the summer of 2018 is gone!
Leather
Cork and Latex Footbed
Heel Cup
Heel Strap Stability
Anatomically Shaped Footbed
Naot is one of a few trusted brands for footwear that is both stylish and supportive, and by making use of quality craftsmanship within the footbed and structure elements of their shoes, they create shoes for those who need a little extra. The Dorith is an option that's perfect for summertime fashions, with a strappy design that makes it versatile for casual and some more formal events. Add to this all of Naot's technology and you'll have one solid option to help your feet feel good all throughout the day.
The Dorith features structural elements designed to support those with fallen arches. Designed from a latex and cork material, the footbed not only feels softer than other shoes that can use wood or PU but is strong enough for optimal support where you need it. This footbed has been ergonomically and anatomically designed to support the arch, and nestle the heel into place with a heel cup. Straps along the back of the Dorith help to wrap around the heel, providing a snug fit that won't let them come off, but also keep your foot in place for proper support.
Uppers are made from synthetic materials, but with its strappy design, the Dorith is quite airy and light. Maximal breathability and ventilation help keep feet cool and prevent slippage. It's available in several colors and hues, from brighter oranges and blues to neutral tones like whites, browns, and blacks. Versatile for both formal events like dinners or weddings, as well as casual settings during summertime, it makes for a great option to consider!
Hook & Loop Closures
OmniDirectional Rubber
Receptor Technology
Leather Upper
Microfiber Footbed
This versatile option by ECCO is an excellent choice if you are looking for comfortable footwear that will serve you well on your outdoor walks and treks when the temperatures are up. They are a great choice for anyone with flat feet as they provide good support, are very pleasant to wear even during prolonged periods of standing and walking, and are adjustable both in the front and back to ensure a secure fit you can enjoy all day. To top it all off, they are available in several colors, both for women and men.
These have a triple hook and loop closure system which is excellent because they will allow you to tighten or loosen them just as you find it most comfortable. You will especially like the adjustable closure in the front as it can be readjusted during the day in case you experience any swelling due to heat or long periods of walking.
The midsole of these shoes features a direct-injected polyurethane that provides long-lasting cushioning and support, while the footbed is covered in a lightweight EVA footbed covered in soft microfiber. The RECEPTOR technology outsole is designed so as to maximize traction, give you a boost in energy during the push-off phase, as well as a 20-degree heel that promotes a landing that will put less shock on your feet.
As all ECCO shoes, these will cost you more than any regular pair of footwear. However, for the price you pay, you will be receiving a quality pair that will not only last you long, but they will provide you with the plenty of arch support and encourage a natural gait cycle so that you do not put unnecessary stress on your joints and can avoid experiencing any pain in the feet, ankles, knees, and back.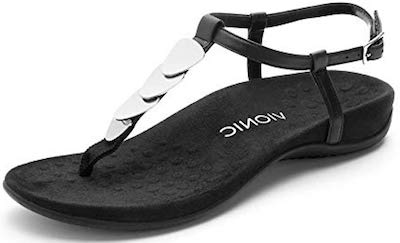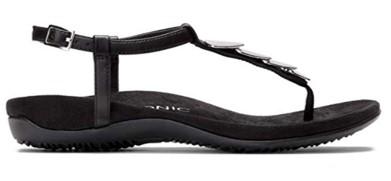 Leather or Cork Upper
EVA Foam Midsole
Microfiber Lining
Orthaheel Technology
Rubber Outsole
Runs ½ Size Large
Soft for Some Users
Vionic shoes are all designed by podiatrists who are dedicated to making footwear that both looks good, but is good for your health as well. The Miami is a T-strap that is ideal for more dressed up occasions, but still has all the comfort features you will need to remain pain-free, even after hours of walking or standing. It comes in four color options, white, rose gold, gold cork and black, and is an elegant choice that will look great with dresses and skirts, as well as jeans and shorts.
The materials used to make the upper of the Miami are either genuine leather or real cork, ensuring that you get a fit that will be easy to break in and that'll mold to your foot's shape. The midsole is made with EVA foam which absorbs shock and prevents joint and muscle pain, and it is covered with microfiber which is both soft and breathable. As for the outsole, you will benefit from a durable rubber that performs great on all types of surfaces.
In terms of support, this model features Orthaheel technology that has been biomechanically designed to hug your arches. Developed to treat plantar fasciitis, this model will surely help alleviate any pain you may be feeling. Do note that the high level of support will require getting used to, so it is recommended that you wear these for a couple of hours for the first few days. In terms of cost, these rank average on this list, which is a great deal considering their great looks, versatility, as well as supportive features.
Gender-Specific Midsole
Vegan-Friendly
Non-Marking Outsole
3mm Lug Depth
Fully Adjustable Upper
Not Quick On-&-Off
Runs Small
These by Chaco are what happens when you take good technology, high-quality materials and marry them with a stylish design that will look absolutely amazing with anything you pair them with. The midsole of these shoes is made so as to offer ultra-lightweight support that will hug your arches while the upper is fully adjustable so that you can have an excellent customized fit. With their wide versatility, you will be able to wear these with a casual outfit, or to the beach and even into the water on your holiday adventures.
The footbed on these are the reason they made it on our list, as users simply love it. If you've got flat feet, you will appreciate the gender-specific support these shoes offer, through the vegan-friendly PU compound. The outsole is made out of non-slip, non-marking rubber that had been recycled so as to help the environment.
Although our list features other three-point adjustable shoes, you will love these as they are something completely different. The innovative design allows you to adjust the fit of these all around the foot and through the midsole with two injection-molded ladder-lock buckles. The toe loop is there for added security in all your movements.
Even though they aren't exactly cheap, these shoes offer great value as they are versatile and durable. You will be able to wear them almost anywhere, while still reaping the benefits of a comfortable and supportive sole that won't leave your feet feeling any pain after hours of walking or standing.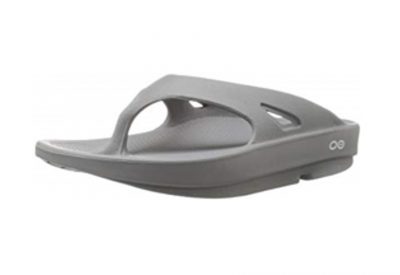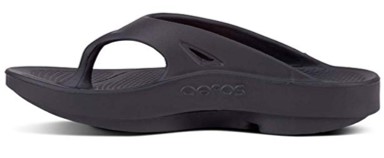 Biomechanical Design
Cushioning
Shock Absorption
Slip On
Price
The OOFOS Ooriginal Thong is all about functional comfort, combined with unisex design to suit anyone's foot. Color options can step up the appeal of the shoe, but it's best suited for days at the pool or lounging around town for casual meetups instead of dressier occasions. Pack with Oofoam technology in the sole, and boasting of almost 40% more shock absorption than others; it's no wonder it ranks high on our top ten list.
OOFOS Ooriginal boasts of a patented footbed, made to support the arch, and relieve strain from pressure on the knees, hips, and ankles. Its foam is proven to be 37% more shock-absorbing than typical materials they are comprised of, and each step returns energy to you, helping to alleviate foot fatigue. Oofoam is comfortable enough where it helps prevent chaffing normal thong flip-flops may end up giving you and are super lightweight.
The unusual look of OOFOS Ooriginal does have a function! They are created to flex with your foot, but also with whatever surface you're walking on, allowing and promoting a proper gait when walking, and natural foot articulation. Oofoam also holds it's the cushion for life, and these shoes can handle whatever moisture they encounter. The closed-cell foam makes them water-resistant or machine washable!
Slightly less than our number one spot, for a supportive, cushioned option that primes its construction on functionality, the OOFOS Ooriginal Thong is a solid summer flip flop option. With Oofoam to cushion your steps, a biomechanical design for promoting natural foot articulation, and Oofos patented footbed with arch support, they are an ideal option for those with fallen arches!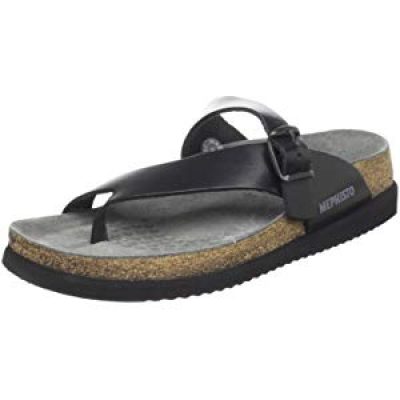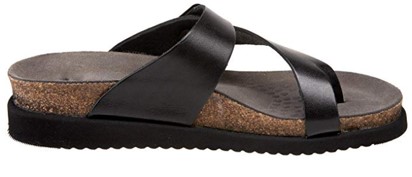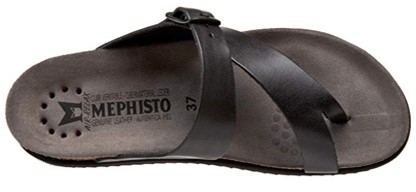 Soft Air Technology
Cushioned
Flexible
Contoured Footbed
Price
Size Conversion Varies
Newer to our list is the Mephisto Helen, a simple asymmetrical design similar to Birkenstocks, but full or support and comfort that have reviewers raving about the shoe. Incorporating their Soft-Air technology to pad the product with comfort and flexibility, but also have shock absorption found in the heel to alleviate impact when walking. The adjustable strap helps you find the perfect fit, and soft suede lining will pad your feet in plush cushioning.
Platform constructed outsole and cork midsole give this product about an inch platform off the ground, but considerable cushioning for all-day wear. A textured sole helps keep you from slipping when caught in summertime thunderstorms, and contoured footbed design helps promote foot alignment, and conforms over time to your specific foot. Leather straps provide soft adjustable closures to ensure a proper fit.
The midsole of the Helen is like many of Mephisto brand shoes and sandals, consisting of their Soft-Air technology. It's made to be breathable and flexible but also minimizes shock absorption from walking in general. This technology helps to reduce pain in the hips, knees, back and promotes a soft 'moss' feel to each step, ensuring you walk in comfort.
On the pricier side of our spectrum, the Mephisto Helen is still a great investment for those with fallen arches. The Soft-Air technology pads this option with plush cushion, and combined with cork midsole and adjustable leather closures, it's sure to fit perfectly. The asymmetrical design gives it an added aesthetic if you're looking for something a bit unusual.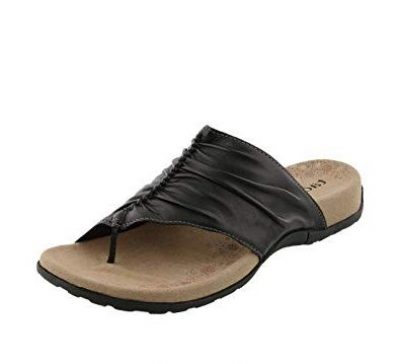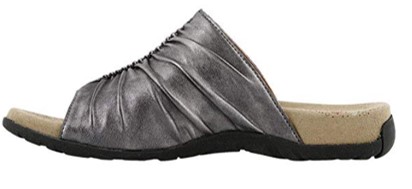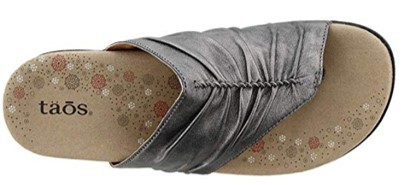 Metatarsal Support
Arch Support
Cool Recovery Foam
Slip On
Style
Last but far from least on our list, is the Taos Gift 2. This stylish option really steps up design when it comes to supportive footwear for summertime. Support is found for both the arch and front of the foot and toes, and with plush soft leather uppers and microfiber lining, you'll be able to wear these for long days out in the sun. Gift 2 is available in a number of color options as well, so you can find one to suit your favorite summer look.
Taos Soft Support lines this product, with metatarsal support and arch support made from premium polyurethane. Also, Cool Recovery Foam gives the footbed a plush microfiber cushion and proprietary gel that cools your feet as you walk. Microfiber is treated with Silvadur to prevent any unwanted buildup of moisture and bacteria, and durability is found in the rubber outsole for your next adventure outside.
Scrunched leather adorns this one to cover the top of the foot, and a thong toe helps keep this slip-on in place. With a number of color options to select, you are certain to find one to pair with a cute skirt or summer dresses. The Gift 2 is perfect for nights out where you dress to look your best, or if you want to stroll along the boardwalk for a day of carnival rides and sweet treats.
Similar to the cost of Birkenstocks, the Taos Gift 2 is a great option for those who want support and cushion, but also prefer a bit more stylish options in their footwear collection. With the Cool Recovery Foam and Silvadur antimicrobial treatment, it's a smart purchase for fashionistas who want to keep theirs longer than a summer season. Worth considering for your next pair!
Roomy Toe Box
Anatomical Arch Support & Heel Cup
Non-Marking Rubber Soles
Breathable & Quick To Dry
100% Vegan Friendly
These classic Hawaiian inspired flip flops are perfect for women who are looking for a simple yet stylish summer option that will be comfortable, water-friendly and will provide them with plenty of arch support to prevent foot and lower leg pain. Made out of 100% natural materials without the use of any animal products, these are vegan-friendly shoes that will serve you well even if you decide to wear them around water.
The footbed of these flip-flops is made out of anatomically compressed EVA foam midsole combined with a soft ICEVA drop-in footbed that provides not just cushioning, but also excellent medial and lateral arch support to reduce pain and fatigue from long days of standing and walking, promoting natural shock absorption in the feet. The toe box is roomy for better balance and less stress on the back part of the foot, while the heel is cupped so that lateral movement is minimized and the body is properly aligned.
Not only are these shoes 100% vegan, but they use the highest quality synthetic materials which provide you with breathability, durability and quick-drying water-friendly properties. In addition, the outsole is made out of non-marking rubber that has razor siped edges so that you have a solid grip even on wet surfaces.
Although expensive compared to some footwear, these flip-flops are well worth the investment if you are looking for a high-quality pair of shoes that will allow you to feel as if you were walking in wet sand. They will perfectly mold to your foot, giving you plenty of support, cushioning and shock absorption, exactly where you need them.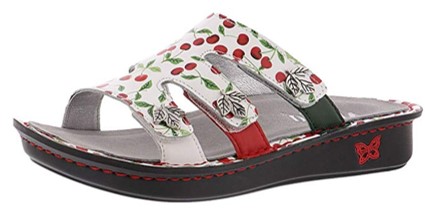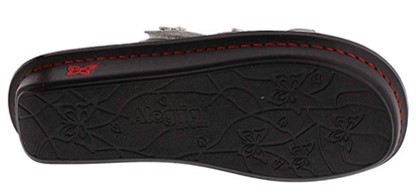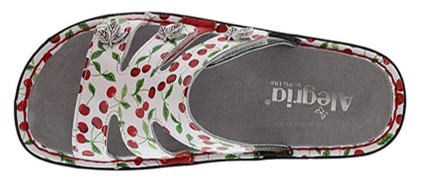 Three Strap Velcro Closure
Cork & Latex Footbed
Leather Insole
Rocker Mini-Outsole
Requires Leather Protectant
Another great option on our list, the Alegria Venice is a slide style option with comfort features to have you on your feet all day long feeling supported and happy. One great difference with this pair from other brands is the rocker mini-outsole, designed to promote the heel-toe movement during walking and alleviate foot fatigue and better gait. With an adjustable three-strap closure, it's also great for several foot shapes and sizes and comes in a plethora of stylish colors and patterns.
Alegria footwear is known for their latex and cork footbeds, which help pad footfalls in the cushion, but also remain supportive over time. This combination of materials will conform to the shape of the foot over time, without losing the supportive arch feature. Leather insoles create durability, so you can rest assured the shoe won't break down quickly when you wear it for daily use. Synthetic soles have some patterned tread to help with traction and grip, as well as keeping your steps cushioned.
Uppers on the Venice are constructed from leather, as is the footbed lining, giving it a durable structure. We'd recommend using a leather protectant spray to ward of stains or damage from rain or liquid spills, however. A three-strap closure fastens with strong Velcro to make it adjustable for many widths. With cute patterns and a number of different solid hues, you'll likely find one suitable for your wardrobe for summertime fun.
Criteria Used for Evaluation
Expert Interviews & Opinions
Most Important Criteria
(According to our experts opinion)
Experts Opinion
Editors Opinion
Users Opinion
By Default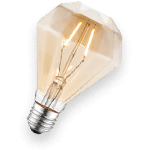 Fashionable Footwear That Supports
Many times, when we think of supportive footwear, an image of something not quite so stylish may come to mind. But with brands evolving to meet the needs of consumers, they've melded together fashion and function. Many stylish options are available, with intricate stitching designs, color options, and strappy style to keep your look on point.
Pairing Sandals For Summery Looks
Pairing sandals is quite easy for a sleek summer look. Go for something with more design elements, like stitching or colors, to boost your outfit to something more polished. Sporty sandals can be worn with just about any attire, and make it easy should you find yourself off the beaten path for a bit of adventure.
Other Factors to Consider

Bottom Line
Shopping for sandals with a generous amount of arch support is often frustrating. Because this type of footwear (almost) never includes a removable footbed, you can't just do what you'd do with regular shoes - remove the insoles and replace them with custom orthotics. Instead, you need to look for models that already have an appropriate level of arch support, plus that have the necessary features for the type of wear you're interested in.
Overall, finding supportive sandals will be much easier for those who are ready to wear models made for hiking. In addition to anatomical footbeds, these will also often feature protective uppers, moisture-wicking linings, as well as traction outsoles that will work well on all types of surfaces. They will also often have multiple adjustment points that allow wearers to find the best fit.
Other options include anatomical footwear, but this type will usually be more casual than elegant. Birkenstocks are a great example of this - and while they can be combined with certain outfits, they unlikely to be appropriate for formal occasions.
For beach and pool wear, you will probably do great with simpler models. The OOFOS Ooriginal is great, but you can also go with a simple pair of Crocs that ensure proper alignment and are cushioning enough to be worn all day, without you having to worry about material deterioration due to moisture.

Use
Everyone will probably use their summer sandals for different occasions, so you need to consider how you want your sandals to serve you. Do you plan on wearing them to the office, or do you prefer to wear them for long hikes in nature? Will you be taking them to the beach, or are you more of a city kind of person? It is important to choose the correct sandal, especially for activities that require special features. If you plan on going hiking, you will need a sturdier sandal that will provide better shock absorption and cushioning so that you can feel comfortable after several hours. If you plan on heading to the beach, your sandals will need to be water-friendly – this not only means a rubber outsole, but also upper and lining materials that will dry more easily than leather or cork.
Some people may work as servers at restaurants, which will require a non-slip sole for safety reasons. Before making a purchase, make sure to check whether your favorite choice ticks all the boxes for the type of use you intend to get out of your footwear. And although the style is important, the fit should always take first place when prioritizing.

Adjustability
Last but not least, when purchasing a pair of sandals, you want to get a pair that will fit your feet in the correct way, and that includes a secure fit of the upper. As sandals have much less material on the upper than regular shoes, it is crucial that they are safely on your feet to prevent putting too much stress on certain parts of your feet. This includes making sure that they are properly fitted at the heel and ankle.
The best choices will be fully adjustable shoes with secure buckles that won't give in after a few uses. Our favorites for their level of adjustability are the ECCO Yucatan, Vionic Gerrit, and Chaco Zvolv X2 W, all of which will allow you to choose your own perfect fit in multiple points on the sandals.
Frequently Asked Questions
q:

What are the symptoms of flat feet?

a:

Some people who have flat feet will never experience any symptoms. Others, however, will feel pain in their arches, tendons, ankles, knees, hips or back. If you have flat feet and leave them without the support they need, you may find that you will start overpronating which can lead to even more consequences such as hammertoes, calluses, and corns, heel spurs or even arthritis.
q:

How to prevent symptoms related to flat feet?

a:

Luckily, the consequences of flat feet can be prevented very easily. Although your podiatrist may prescribe you with medication or exercise to manage pain and to strengthen your arches, you will easily avoid experiencing any symptoms at all if you opt for footwear that gives you the correct arch support and that will help you align your feet correctly so as to avoid putting too much stress on certain parts of your feet or other joints in your body.
q:

Are flat sandals a good option of footwear if I have flat feet?

a:

Generally, sandals will not be the best option for you if you have flat feet, as most models have a completely flat sole without cushioning and shock absorbing properties, and that doesn't provide you with the anatomical support you need. In addition, the uppers of sandals can often be flimsy, adding unnecessary stress to your feet which will have to work overtime in order to keep your footwear on. All sandals on our list have been chosen because they possess the features that are necessary for anyone with flat feet, but even among these, you may find that some models work better for you than others.
q:

How do I know whether my shoes offer enough arch support?

a:

A good pair of shoes will hug your arches even when you are sitting. You will find that the raised part of the shoe gently lifts your feet and prevents you from sinking into the inner part of your feet. You can check this by looking at the soles of the shoes and seeing whether they are more worn on the inside than on the outside portion. In addition, with insufficient arch support in your shoes, you are likely to experience foot, knee, hip or back pain after a period of standing or walking.
q:

What materials are good to look for in sandals for flat feet?

a:

The best materials to look for are shock-absorbing rubber or EVA foam, but some makers make excellent shoes out of other materials as well, such as Birkenstock sandals which have cork soles.
q:

I'm not sure what size I need? Should I size up or down?

a:

If you are unsure what size to get, you can always read the reviews on Amazon, which will tell you whether a particular shoe fits smaller or larger than expected. If you still don't know, you can either visit a brick and mortar store to be fitted or order a pair of shoes in both sizes, then return the ones which don't fit well. As with any type of footwear, it is crucial that your sandals fit well, as the arch support needs to be in the correct place for you to actually get its benefits.
Subscribe to our Newsletter