Most Comfortable Shoes for Work Reviewed & Rated
In a Hurry? Editors choice: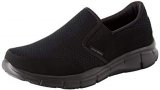 Test Winner: Skechers Equilizer Persistent

A very common mistake is to think that shoes must match the job, in terms of appearance; rather than, in terms of performance. And although it's important to meet the
work etiquette
, it's much more important to meet your acceptable comfortability and functionality standards. That is, don't go out looking for something that will match your outfit the best, but rather, look for a pair of shoes that match both your feet and health needs while also honoring the type of work you do every day. No need to go out and look anywhere else, we've brought you all the
best work shoes
, right here!
Standout Picks
Criteria Used for Evaluation
Comfort
When standing or walking for a prolonged amount of time, it is important to be equipped with comfortable shoes. People who work long shifts, especially those shifts that involve constant movement or standing, will quickly find out the differences between a comfortable pair of shoes and a pair of uncomfortable ones. When it comes to work, comfort is much more than just a feature of your shoe. It can have a direct impact on your work, too. In other words, when you feel good, the day seems to be a bit brighter (i.e., birds chirping, best clients ever, spilled coffee on the shirt is not so bad, etc.).
On the other side of the same coin, wearing the wrong pair of shoes can, considerably, reduce your efficiency at work and it's not just about walking or performing physical tasks. There's another important factor that takes part in us all when feeling uncomfortable: the psychological factor. It's this simple; if your shoes are constantly bothering you, you'll have a hard time concentrating and doing your best. Furthermore, even if you're able to work in uncomfortable shoes, it'll seem the day must now require greater effort in nearly everything you try to do.
If you've ever owned a pair of uncomfortable shoes, and chances are you have, then you'll know how annoying they are. Despite the shoes being physically impossible to wear, you'll be reminded with each new step just how uncomfortable they are. A shoe that doesn't fit well, or that features the wrong materials becomes hard to ignore. It's an overwhelming notion to consider a constant thought process about uncomfortable shoes, but unfortunately, most of us have had these kinds of days.
So, what makes a shoe comfortable?
To begin with, the selection of materials is paramount. This is sometimes one of the main flaws of a poorly constructed pair of shoes. They, usually, employ generic materials that offer little-to-no benefits. This causes a chain reaction, per se, for poor comfort, poor overall foot health, and poor performance. Quality shoes, on the other hand, are designed to provide all-day comfort, promote better overall foot health, and increase general performance. Keep in mind, however, that aspects such as arch support and shoe width, of any type of shoe, will depend on the anatomy of your feet.
Support
The lack of cushioning is one of the biggest factors that can, considerably, decrease the comfortability of a shoe. The longer you wear them, the more your heels, ankles, and hips will be exposed to direct load-rate; that is if the shoes have inadequate cushioning and minimal shock absorption.
On the other hand, a shoe that features rich cushioning and absorbing materials make a huge difference in comfort. EVA midsoles, for example, have proven to deliver an extremely efficient support and cushioning system; and ultimately, increases the shoe wearer's comfort, as a result.
Cushioning and support, aside from being a very influencing factor in comfortability are, also, key points to your performance at work. Something as simple as enhanced support can make a huge difference in the way you walk, the amount of time you can stand, and the after-effects of these two combined.
By acting like your own personal, supportive team, adequate working shoes will noticeably enhance and correct your posture. Shoes do more than just support your feet; they can have a direct impact on your ankles, knees, hips, and even your lower spine. Poor-quality shoes, for example, fail to act as a solid support system. Because of this, a standing posture can place a lot of stress in the areas above.
Having adequate support allows you to have a much more natural posture. This not only stops your working efficiency from decreasing but it, also, has important health benefits in the long term.
Cushioning is, arguably, one of the most important factors of working shoes. Regardless of the type of work you're doing, it's paramount to place some protection between your feet and the surface. Cushioning plays a massive role in shock absorption. Shock absorption is not only an attribute needed for sports performance; it's a feature required in certain working conditions, such as a lot of walking.
It's a big mistake to assume that there's no impact or shock during walking. If you've ever used a pair of flat shoes for a long and active shift, you know what we're talking about. Cushioning can be the difference between a comfortable working experience and an uncomfortable one.
Well-cushioned shoes offer great protection for your feet. As natural as walking may seem, it still fatigues your feet, especially zones of high stress such as the arch and the heel. Furthermore, this protection extends even up to the knee and hips, as impact doesn't stop at your heels. If you've ever felt the urgent need of taking your shoes off at work, then you know what a lack of cushioning feels like.
Support and cushioning can do more than bring you comfort. By providing you with physical advantages and improvements, these two features can, and will, boost your efficiency at work. They may not be able to help you move faster or become better at what you do, but they do have a huge impact on your ability to walk and stand. Moreover, they can improve overall foot health, which can result in better performance in the long run.
Lastly, the impact (load-rate) is a factor that accelerates muscular fatigue. The more exposed you are to impact, shock, and muscular stress, the quicker your muscles will become tired; thus, these two features, also, allow you to go through long shifts with considerably less physical effort; or at least, the effort it requires to move actively.
Breathability
Depending on your work environment, this factor may be less important. Likewise, it can be critical. Even for people who work in fairly ventilated environments, a shoe that lacks breathability can be a pretty big obstacle; especially, in those environments which can become hot (e.g., standing at a stove inside of a kitchen). Furthermore, aside from blocking the flow of air into the shoe, some shoes can make it worse by not allowing heat to exit, either. Typically, these types of shoes are best suited for winter and/or cooler environments.
First off, let's analyze the importance of breathability in a shoe. Regardless of the kind of work you perform, a completely closed shoe can cause you to retain the heat. Shoes having no mesh or leather upper and lacking ventilation for the circulation of airflow; they are an influencing factor in sweating. The longer your shoes retain heat, the faster and longer you will sweat, as a result. Additionally, heat concentration has multiple other consequences. For instance, it makes your feet much more susceptible to irritation, can increase the chance for a bacterium to grow inside of the shoe, and cause other foot ailments such as athlete's foot.
As previously mentioned, the humidification of a closed shoe exposes you to the development of bacteria, which at the same time, can bring about bad smells with them. But it doesn't stop there, as these bacteria, along with the humid environment within your inner shoe, make you a perfect candidate for feet fungi. This is because the bacterium is attracted to damp environments.
The accumulation of heat within a room, such as a kitchen, is already enough of a factor to sometimes decrease your efficiency; let alone, adding to the heat by wearing a shoe with bad breathability features. Generally speaking, the thicker the shoe build, the less breathability it will deliver. This is part of the reason why sports performance shoes feature such a thin design, in general.
Color is equally important. This is, especially, important if your shoes are black, as this color does an excellent job of absorbing heat. This can be great for winter, per se, but not so much under the direct rays of glorious sunshine in midsummer.
Breathability has a role in the comfortability of a shoe, and the quality of a shoe can be directly judged based on its ability to let the air flow through it. Generally, both the upper and footbed are the elements responsible for the breathability of a shoe. By applying materials such as mesh to the upper, the airflow within a shoe can increase considerably. Furthermore, the lack of airflow can mess up even the best of shoes. If your feet become irritated, due to the concentration of heat, your efficiency will decay, regardless of the rest of the features and elements the shoe offers.
When breathability is required, the lack thereof is not an option. As such, we highly recommend looking for shoes which include breathable panels, especially around the most common areas of heat concentration. For maximum efficiency, the panels should be located in the forefoot (just above the toe box), the internal and external curve of the shoe (the sides), and the tongue (lacing area).
Fit
Flexibility is the very basis of any motion that involves walking, jumping, or running. The lack of flexibility translates into poor-quality of comfort, improper form, and loss of efficiency, in general. A shoe that doesn't allow you to properly move around at work is no good, as it will not only be considerably uncomfortable, but it will, also, slow you down.
To deliver a quality build, a shoe must be made with flexible materials. Unlike many people think, flexibility is not something that goes just on the outsole. At first glance, it may look like the place where the most flexing happens, but it's not the only part of the shoe where flexing is responsible. The upper build materials, for example, play an important role in the flexibility of a shoe. A stiff upper will not only make walking more uncomfortable, but the lack of flexibility may, also, deteriorate the materials when the shoe bends, repeatedly; as it's nearly impossible to keep the upper from bending along the rest of the shoe. This leads to what is commonly known as a 'caked surface' on the upper build.
Performance-wise, flexibility is an important factor when it comes to movement, such as walking. The lack of flexibility not only damages the shoe material but it, also, places unnecessary stress on parts of your feet such as the arch. Our instinctive walk involves the ability for our feet to flex in a natural motion. This flexing, as it were, starts at the forefoot and elevates to the arch. A shoe that lacks flexibility won't fit into this motion. Also, this lacking will hurt your feet, as they will still try to flex while you walk. If you believe this is something you can avoid or ignore, imagine walking with your feet completely flat and straight without bending them. Aside from looking weird, walking like this places additional stress on your heels. If you're reading this guide, you're probably someone who stands a lot; thus, heel stress is the last thing you desire.
Additionally, people who have certain arch conditions suffer the most from shoes that lack flexibility. This is because flexibility is directly related to arch support; the lack of flexibility will, ultimately, result in the lack of arch support. Regardless of the condition, whether it's high arch or flat foot, the lack of flexibility will considerably enhance the amount of stress on the arch.
Weight
The weight of shoes might be something underestimated by people who stand or move a lot at work. This scenario is pretty similar to that of performance scenarios in that the weight difference may not seem like a lot initially. However, the longer you use them, the greater the impact of the weight of the shoe will have on you.
It's pretty simple; if a shoe weighs an ounce less than another pair of shoes, this is an ounce off of every single motion. While you're not moving, you won't even notice the difference. However, after a full shift of walking, standing, and moving around at work, heavier shoes will become your worst enemy. On the other hand, a lighter build will notably enhance long-term comfort, and it will, also, reduce post-work heel and arch pain.
The main factor affecting the weight of a shoe is the materials. Usually, the heaviest element of shoes is the midsole, as it's the thicker component of a normal shoe. While it's important for shoes to take a minimalist approach, it's also important to maintain the quality of the materials. Minimalist materials are lighter but, also, less resistant and durable than thicker materials. They, also, offer less protection.
The upper build, for example, is much lighter when composed of materials such as mesh and nylon. Leather, on the other hand, is heavier but, also, much more protective, generally speaking. Additionally, thin materials lack the density to act as a frame for the shoe.
Because of this, the ideal upper build design relies on a combination of both thin, lightweight materials and other firm materials that provide structure. Alternatively, certain synthesized materials deliver the features of resistant materials in a lightweight manner. We highly recommend looking for materials such as thermoplastic polyurethane (TPU), with properties arguably better than rubber, and in a much lighter approach.
Ethyl-vinyl acetate (EVA) is another popular compound making its way into the shoe industry. This material has a wide variety of uses thanks to its adaptive composure. The foam-like material is widely used by manufacturers for insoles and midsoles, mostly. EVA midsoles are not only much more efficient than the traditional soles but they, also, weigh a lot less.
These synthetic materials are applied in density rather than in volume. This means manufacturers can fit 100g of EVA in a midsole in which they would only be able to fit 60g of traditional rubber. To add more rubber, the midsole would have to be bulkier. EVA, on the other hand, increases density without adding volume to the shoe – also being more effective, as there's more of the compound present.
10 Best Shoes for Work
1

. Skechers Flex Advantage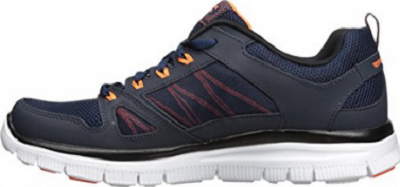 The Flex Advantage by Skechers, as suggested by its name, delivers the flexibility and other qualities of performance work shoes. Its low-profile design and lightweight makeup of materials allow it to be an ideal choice for fitness and tennis instructors and anyone who needs a trainer shoe for work.
This has the cushioning and comfort expected from a sports shoe, including a soft footbed and memory foam that delivers customized comfortability, arch support, flexibility, and breathability via the mesh upper.
Skechers Flex Advantage sports design is efficient in both weight and durability. Built to be lightweight, this shoe helps to lower fatigue levels during your workout and training sessions. The synthetic overlays help to ensure stability while, simultaneously, giving you 'play' enough for decent flexibility.

2

. Skechers Equilizer Persistent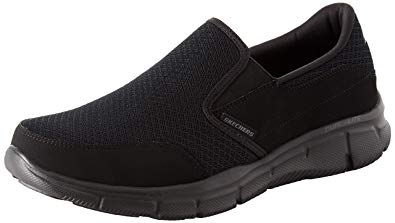 The Equalizer sneaker from Skechers is perfect for those working in casual, lightweight work environments (i.e., dental assistant, etc.). The Equalizer comes with the comfort you expect from Skechers and an appealing design for both the office and casual wear. Furthermore, they are lightweight, breathable, and can help reduce overall fatigue levels.
Within the shoe lies a comfortable footbed. Combined with memory foam insole and a shock absorbing FlexSole midsole, these loafers are exactly what your feet need when taking long, active shifts at work.
The memory foam padding provides your feet with a sink-in experience, extending comfort throughout the whole day. These loafers flexible, as well; allowing you to move around freely while in comfort.

3

. Skechers Sport Flex Advantage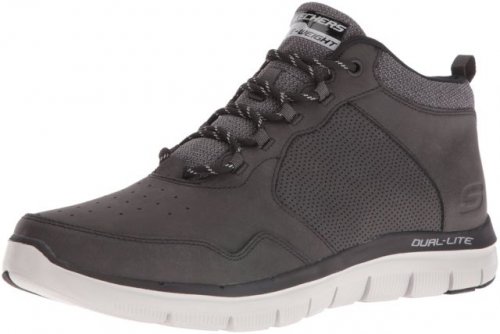 Nicershoes.com brings you all of the best shoes for work, athletic shoes, casual, etc. And these shoes are no exception. Rated 5 stars by shoppers like you, customers found their comfort and durability second to none.
The look makes these shoes even more irresistible. Enjoy the long-lasting advantages of leather with all of the trends looks of its matte finish.
The Air Cooled Memory Foam cushioned comfort insole just sounds like a dream doesn't it? It has happy customers raving "Comfortable from the first time you put them on." Midrange in cost association, the Flex Advantage shoes are a great shoe to have. It delivers professional quality and has the features desired when on the job.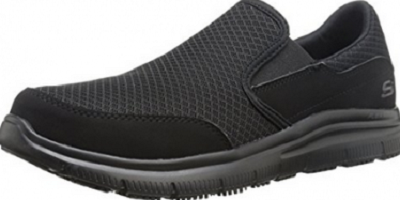 The Flex Advantage Mcallen is the Skechers solution for office and formal wear. Having similar technologies as their sports release, the Mcallen has a considerable amount of features that make standing while working much lighter on your feet.
The upper consists of a mesh build with a slip-on closure, maximizing the airflow within the shoe. This mesh panel extends all the way to the lateral bands, allowing air to enter from multiple directions.
The memory foam cushioning on the insoles helps to make standing and walking more comfortable. These cushions are molded by the pressure of your feet, resulting in a personalized insole. The elastic side gores make walking seem effortless and, also, prevents loafer surface caking.

5

. Skechers Synergy Ekron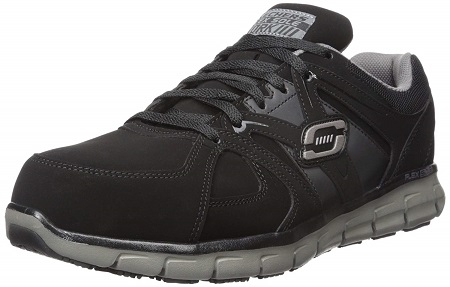 These best shoes for work are rated for electrical hazard. In addition, they are equipped with an aluminum alloy safety toe, have a slip-resistant outsole, one-inch heel height, and a leather upper. Slip-resistance is meant to meet (or exceed) the expectations of 0.5 coefficiencies on wet/oily surfaces. In other words, these shoes are, most definitely, slip-resistant and ready for the workday.
This is a lightweight metal composite; thereby, a men's size nine weighs in at 14 ounces per shoe. Strong enough to handle lightweight debris, these shoes are great for areas not requiring heavy-duty boots.
These shoes pass electrical hazard testing (ASTM F2412/2413-2011) and are ready for that moment when the unexpected may arise. Made with a leather upper and having a one-inch heel height, these shoes are designed to withstand electrical mishaps.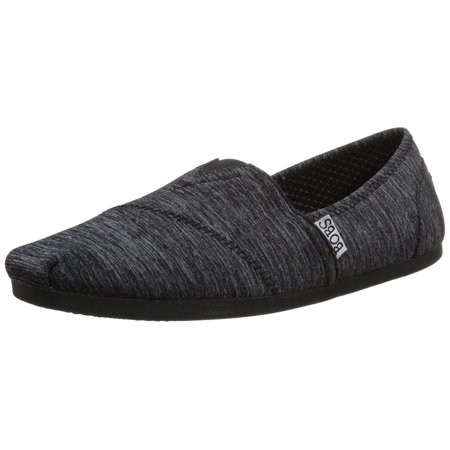 BOBS from Skechers are designed with comfort and support in mind with a casual look. As a slip-on, these shoes will quickly become a staple of your uniform for their quick on-and-off as well as their casual style. You will feel like you aren't even wearing shoes with how lightweight the material is.
These BOBS slip-on shoes from Skechers provide the cushioning you need for all-day wear and when you're on your feet for extended periods. It also provides the right amount of energy return to keep that bounce in your step and doesn't compress as quickly over time even with their lightweight midsoles.
Unless you work in the entertainment or fashion industries, or an environment with a more strict dress code, you don't have to worry about having a super stylish pair on your feet. It's no denying that the BOBS aren't winning any designer awards but their relaxed look, combined with their lightweight material yet support midsole make these the perfect shoes for your job. The simple, no-nonsense design is made to go well with any uniform, and are easy to clean and maintain.

7

. Saucony ProGrid Integrity ST2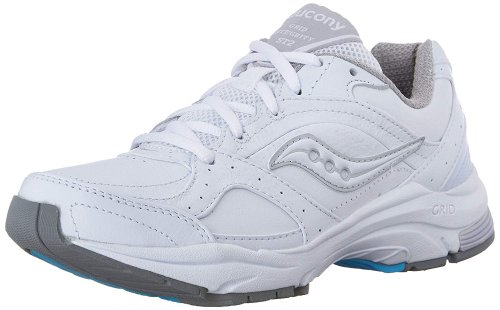 Chances are you get a good concept of the shoes by looking at the name. The Saucony Integrity ST2s offers the qualities that must be present in every nurse's shoe. This easy-on shoe is extremely durable; as well as, lightweight. Including EVA elements, anti-slipping technology, and a flexible frame, this shoe is great.
The upper build consists of a leather upper, which is not only durable but, also, flexible. The design helps to provide stain protection and an easier clean when the time is needed. Additionally, the upper has a cushioned collar and double side goring.
The Integrity ST2 is one of Saucony's best sellers for many reasons and being lightweight is only one of them. This shoe applies stain-resistance and functionality; yet, utilizes lightweight compounds in the process. The Walk-Trac comfort outsole helps aid in traction to keep you on your feet.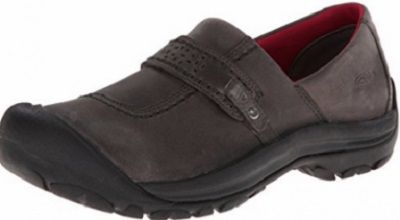 Style and efficiency come together to form this full-grain shoe. Its formal design is ideal for a professional work appearance, without sacrificing comfortability elements. The shoe features a slip-on design, with an incorporated strap to adjust the fit. The synthetic and flexible materials make walking comfortable; as well as, standing.
This full-grain pair endures long shifts that involve a lot of movement. Its EVA foam footbed and insole are not only comfortable but, also, protects against bacteria.
The Keen Kaci is a lightweight shoe, engineered so well you might just forget you're even wearing them. This model is breathable, too; making their wear much more comfortable. The inner cushioning, along with the leather paddings, are fairly soft.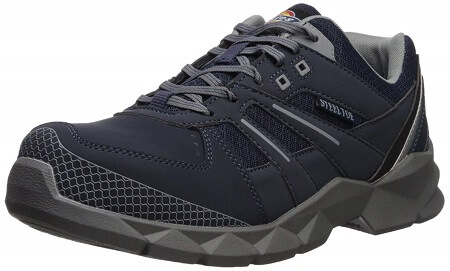 In chess, the rook is an important piece, outranking bishops and knights. They can be instrumental in securing victory. On that note, the Dickies Rook shoes can be instrumental in having a comfortable and successful day, no matter what you do for work. The polyurethane outsole is non-slip to ensure stable footing, and the memory foam insole works hard to support your feet.
When it comes to work shoes, a non-slip outsole is very important, especially if you work in environments that are prone to spills or wet ground. A slip or fall can lead to embarrassment, injury, or having to fill out paperwork and incident forms, which is something nobody wants to have to deal with. This is why Dickies put a non-slip and non-marking polyurethane outsole on the Rook shoes, to keep you on solid footing.
While durability is a major factor when it comes to shoes for work, comfort is just as important, if not more. An uncomfortable shoe can lead to pain and fatigue, which can negatively impact your productivity and focus. This is where a memory foam insole comes in. Similar to a fancy mattress, they conform to the unique shape and pressure areas of your foot to keep you comfortable all day. The insoles are removable as well, in the event you need a special orthotic.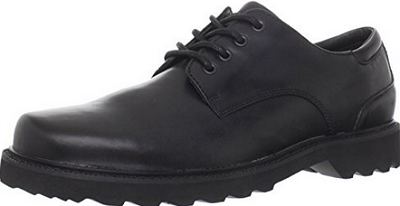 Rockport is a specialist when it comes to office shoes, delivering both fashionable design and functional structure. The Northfield Oxford merges both style and comfort, bringing a breathable approach; as well as, multi-directional flexing. Furthermore, Rockport has a huge variety of sizes and dimensions, guaranteeing an optimal fit for the anatomy of your feet.
Waterproof protection helps to keeps away water via seam sealing, in combination with waterproofing materials, and a waterproofed insole. No matter what your job is, or the number of hours you work, water won't be an obstacle.
Breathability is a critical factor of any shoe, especially if you expect to use them for a long and active shift. The Northfield Oxford has technology which allows air to circulate in a specific pattern, preventing overheating and irritation throughout the day.

Subscribe to our Newsletter