Best Shoes for Work in Kitchen Reviewed & Rated
In a Hurry? Editors choice: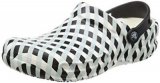 Test Winner: Crocs Bistro

From professional chefs to home cooks, we all deserve an exceptional pair of shoes to get us through our time in the kitchen. A chef's job does not include time to sit and relax. More often than not, it can involve
standing for a minimum of eight hours
at a stretch; therefore, choosing the
right pair
of shoes for kitchen work can make all the difference.
Not every shoe advertised as a good and practical choice for the kitchen, however, can deliver all of the support, comfort, or
protection
you might need to receive
optimal benefits
. Therefore, to make your selection easier, we have compiled a list of the 10 Best Kitchen Shoes after reviewing several pairs of footwear available in the market.
Standout Picks
Criteria Used for Evaluation
Outsole
The kitchen floor can be a perilous territory if you do not wear the right shoes. More often than not, the floor of the kitchen has smooth tiles where a person is more prone to skids, slips, and falls. Water and oil spills; as well as, food peels can, also, make their way onto the floor, which can further lead to someone losing their balance and falling.
Slips and falls contribute to the maximum number of accidental injuries in restaurants. Falling on the hard and concrete ground can not only lead to obvious injuries but, also, burn injuries, which can take place if the person falling is carrying a pan with hot food or drinks, and etc.
Moreover, a colleague working in the same room may get injured, as well; due to the flying debris caused by a fall. Matters can be even worse if the resulting debris, accidentally, touches customers. Therefore, it is imperative to buy chef shoes that are anti-skid, provide traction, have a good grip, and fit perfectly.
Whether you're a chef, a waiter, or you assume any role that involves activity inside of the kitchen, features that prevent slippage are paramount. One of the most important aspects of slippage prevention is the resistance that the outsole offers against oily substances and grease, which may affect the stability and smoothness of the surface on which you're working. This can be prevented in a variety of ways:
For instance, the outsole pattern has a big impact on the slippage preventing features. Although it's one of the most underestimated elements in a shoe, the outsole pattern, actually, improves or decreases the grip of the shoe, depending on the force and direction in which you're moving. Certain, slightly, lugged outsole patterns, for example, help prevent forceful forward or backward motions that, normally, cause slippage.
It's, also, very important that the outsole materials prevent any liquids, oil, or greases from adhering to itself. There are multiple reasons for this with the main one being the simple fact that you don't want any slippery substances sticking around with you on your outsole. Any residual disposals that adhere to the outsole's surface may be a contributing factor to an accident later on.
Additionally, it's considered good etiquette to wear non-marking/non-skidding outsoles when involving yourself with the kitchen. When we're talking about a shift related to the kitchen, traditional outsole materials may help expand the grease and oil that may, normally, be found on the floor of restaurant kitchens. By picking up grease on your outsoles, you're making the environment more dangerous for you, the customers, and co-workers.
Comfort
A chef's job includes long hours of standing and, therefore, the shoes they wear have to be extremely comfortable in every possible way.  During busy rush hours, you might need to move quickly and be on your feet for a prolonged duration of time. A comfortable shoe will not only reduce your fatigue but it will, also, impact your job performance significantly.
An apt pair of kitchen shoes should have a great light padding which will prevent the foot from hurting while standing for long hours. You must, also, choose a shoe that has thick platforms, comfort-padded insoles, and a bit of heel to protect the feet from the hard floor of the kitchen and, also, to add spring to your step.
There's not much to think about here if you'll be standing all day long; that is, you want to be as comfortable as you possibly can; regardless, of your shift. However, sometimes it can be difficult for users to determine what the features that really make a shoe comfortable are. Before any purchase, it's important that you analyze and take into consideration the tasks you'll be performing with the shoes.
In order to ensure your shoe has all the comfort features you require in order to do your job well, there are a few things you might want to search for in your footwear:
Shock Absorption: Whenever you take a step, an impact is generated, as your foot hits the ground; regardless, of how softly you land each gait. A simple walking gait, certainly, doesn't represent any sort of critical impact, but when we're talking about a full shift of standing on your feet or walking around the kitchen and restaurant, things start to look different. After an 8-hour shift, each little impact from the gaits adds up to a considerable amount of stress on your heels, arch, toes, forefoot, ankle, muscles, and even joints. Something as simple as the shock, from a walking gait, can go as high as your spine; ultimately, having an impact on your posture and the walking form. The cushioning of a shoe acts as another layer that shock has to go through upon impact, and unlike our joints and muscles, the cushioning materials are, specifically, made to absorb impact. Don't get it wrong, though, there will always be a certain portion of the shock that will still make its way into your body. But, if it's already gone through the midsole and cushioning, it will have lost a considerable portion of its force.
Breathability: Kitchen work means long hours spent near a stove or source of fire, which can, also, make the environment around you hotter. This can lead to sweat build-up if you are wearing the wrong pair of chef shoes. Kitchen shoes must be made of breathable material. A good pair of shoes for the kitchen is one that allows air to circulate around the feet and prevents moisture-related ailments like fungal infections, blisters, and open sores that come with trapped sweat. At the same time, you should look out not to over-do the breathability of your kitchen work shoes. There are two ways to achieve a breathable shoe: perforations and breathable materials. When using breathable materials, we do not recommend using a shoe that has any sort of breathing mesh panel on the upper foot or any area that is too exposed. Remember, whenever you drop something, your upper foot will, most likely, be the first thing that gets in the way. The lateral panels and back heel are common places for perforations and mesh panels to be located. Not only are the panels less exposed there but these regions of the foot are, usually, the ones in which the heat accumulates the most commonly, too. You may, also, see combinations of both perforations and breathing panels, which is perfectly fine; as long as, they don't take away too much structure from the shoe. When seeking for breathability, you want air to be able to flow within the shoe in and out in multiple directions, in order to optimize ventilation. This doesn't mean that one mesh panel or one perforation isn't enough; we're just saying the more, the better.
Adjustability: As far as recommendations go, slip-on shoes are, usually, more suitable for chefs. This is because they do not have laces that can come untied and make a person fall. Moreover, there is a sanitary factor to consider. Every time a person stops to tie a shoe, they have to wash their hands after. Though such a step may sound simple, in a busy work environment it can soon become tedious. After having said that, normal laced up shoes are, also, okay for kitchen use; as long as, they include all other good qualities that a chef's shoe must have.
Support
In order to determine the amount of support in a shoe, you should first understand support, itself. The support is the 'strength' with which the shoe sticks together to your foot. If your shoe is loose and not firmly covering the foot, then it lacks support.
A firm and supportive shoe, on the other hand, is one that follows your foot around and mimics each motion perfectly. This means with each step the shoe must not tilt forward, backward, or to the sides; but rather, remain in a position, as neutral as possible. In simpler words, the shoe should not make any motion that the foot is not doing.
A highly-supportive kitchen shoe will prevent the foot from overpronation or underpronation. By holding feet down on a completely natural position, a shoe can have a huge improvement in the way you walk throughout the day. This is directly related to how quick your muscles fatigue and how much your joints suffer.
Purchasing a neutral pair of shoes is not enough for those suffering from such ailments. The shoe must be able to adequately accept an orthotic. This means you will need a shoe which has ample room within the realm of volume. Shoes which have removable insoles are a good place to start.
Arch support
While you are choosing the right pair of kitchen work shoes for optimal comfort, also, ensure that it provides good arch support. However, not all arch supports are the same and they come in low, medium, and high variations. The right arch support will prevent foot pain, plantar fasciitis, and heel spurs.
You must ensure that the arch in your feet fits comfortably with the arch support provided in the shoe. For example, a person with flat feet should look for shoes for work in kitchen with a minimum height of arch support, as prescribed by a doctor. Typically, if a flat foot person wears a high arch support shoe, they can do damage to the metatarsal bones of their foot. The best chef shoes have a memory foam insole which provides both cushion and arch support, simultaneously.
You should, also, keep in mind that the arch is not the only part of your foot that needs support. While it is true that the arch is one of the most delicate areas of feet, you don't want to overdo support there and leave out the rest of your foot. As someone who will be standing and walking for a considerable amount of time, you want all-around support.
Heel & Ankle Support
The shoe must support the foot in all directions and areas. However, there are key areas of the foot in which support is needed the most. Back heel and ankle support, for example, are critical features for someone who spends a lot of time in the kitchen.
A supported ankle helps your body rotate in a neutral manner, meaning that there's no additional stress placed on the joints. A common defect in traditional shoes is that the build, in general, is supported correctly except for the ankle. Having different levels of support in the same shoe will lead to an unnatural stance and walking form, as each part of the foot will react differently to the respective level of support it receives.
You know your shoe counts with enough support when it doesn't slide forward or backward when walking, and it's not loose around the ankle, either. Kitchen work shoes should always move in perfect synchronization with your feet. The best kitchen shoes are those that feel as if they were your own feet.
With that being said, too much ankle support can lead to weaker ankles overall. Finding a balance between the two is the best possible solution.
Tongue & Laces
Yet, another highly-underestimated element of the shoe, the tongue and closure are key elements to the support of a shoe. These two elements are meant to work in combination to support the upper foot; the tongue held down against the upper foot to prevent any unnatural motion, and the closure placing additional tension to compress these two together.
Protection
Working in the kitchen means a person is more susceptible to spilling hot food or drinks; as well as, dropping cooking knives, heavy pans and other objects on the foot. This can cause physical injury and damage to the skin and bones of the feet. Therefore, it is crucial to choose a shoe that can protect against such accidents and mishaps.
At the same time, a pair of chef shoes should be tightly sealed and should have a water-resistant/waterproof upper. Wearing such type of kitchen shoes will ensure that hot and cold liquid, or even bits of food, do not end up trickling inside your shoe. That can not only be uncomfortable but, also, burn your foot if the food or drink is hot. It will, also, mean the added burden of having to clean or replace your shoe in the middle of work.
For the sake of helping you understand the different elements that contribute to the protection that shoe offers, we'll divide protection into two parts: physical and indirect. Physical protection will involve every aspect of the shoe that prevents your feet from being directly injured by an external physical object, such as a knife falling on your foot.
Physical protection
Depending on the role you represent in the kitchen, you may want to opt for more physical protection or more indirect one. For chefs who handle sharp knives, tenderizing hammers, and other variety of potentially hazardous kitchen tools, we recommend more physical protection. This is delivered, mostly, by the upper-build materials and their resistance.
A material-like mesh would offer little-to-no physical protection from a falling pan or knife. On the other hand, a shoe like the New Balance MID627 that has a thin, steel plate protector on the toes will be your salvation in this scenario. If you're a waiter or someone who assumes any other role in the kitchen, we recommend a healthy balance between physical and indirect protection.
The elements of physical protection we recommend to look for would be a resistant upper build; preferably, leather or a strong synthetic material. It's important that such material is not affected by oil or other contaminants that may harm the surface of the shoe for good. If possible, a thin layer of steel on the toes is an excellent protection method, as well.
Indirect protection
Indirect protection will involve events or scenarios in which the lack of certain protection features can lead to an injury or an accident. For instance, we would refer to a non-slipping outsole as an indirect protection feature. Despite not protecting your feet physically, it plays a huge role in preventing a variety of potential accidents in the kitchen. In fact, some would argue that this kind of protection is much more important than physical one, as the potential damage is, arguably, greater.
Waterproofing kitchen work shoes would, also, fall into this category. Additionally, features like an odor-resistant insole, also, make it as indirect-protection measures. If you have a kitchen shift, you'll know that it can, easily, become an excessively sweaty environment for your feet.
This sweat contributes to the development of bacteria, fungi, potential infections, and irritation. These conditions are not to be underestimated, as they can easily become an obstacle to both your optimal-work performance and your health in a manner of just days. All it takes is a couple of shifts on the wrong pair of shoes.
Ease of Use
A chef can step on all sorts of food and other squishy-squashy objects that somehow make their way down to a busy kitchen floor. And, of course, there is the added peril of water, oil, other liquid, food ingredients, and the food; itself, spilling down on the shoes. Hence, kitchen work shoes should be easy to clean.
For the very reasons mentioned above, a pair of shoes for work in kitchen can get dirtier, far more easily and frequently, compared to daily wear shoes. An important criterion for judging kitchen shoes' quality is to see how easy they are to clean; particularly, because chef's shoes have to be cleaned regularly, sometimes every few hours. An important factor here is that whether the shoes can be wiped off easily and hand washed because it can be tedious; not to mention, expensive to get a professional to do the job.
Preventing dirt
Always remember that the easiest way to clean a shoe is preventing it from getting dirty in the first place. This, obviously, is easier said than done, but we're not referring to the care you give the shoes (although that actually has an impact on how cleanable they are), but rather, the qualities offered by the shoe to prevent getting overly dirty.
The first thing you should be looking for is non-absorbing materials. No matter what it is, you don't want your shoe absorbing anything that falls on it. Materials like mesh and absorbing foams are, extremely, easy to get dirt on, especially in a kitchen. If some oil or sauce falls on your shoe, you want to be able to clean it smoothly without the shoe materials absorbing any of it.
In order to prevent contaminants from getting into the annoying parts of a shoe, we recommend using footwear that is closed; at least, in the upper build. Alternatively, if the footwear is open or has perforations on the upper build, we only recommend it if the shoe can, easily, be washed as a whole, like in the case of Crocs. Otherwise, you'll find yourself spending a fair amount of time getting the food out of the impossible spots it gets into.
If possible, opt for a shoe that counts with a non-spaced outsole. This means that the outsole doesn't feature a design in which there's too much free space where food could, potentially, get into when stepped on. Sliced outsole designs, for example, easily pick up any food that they step on, and they can create an irregular surface on the outsole that makes walking nearly impossible; not to mention, it will look and feel odd. Depending on what you step on and how long it's been there, it may be easy or troublesome to get rid of the thing you stepped on.
Cleaning shoes
That being said, if the shoes get dirty for whatever reason, you'll want to clean it as effortlessly as possible. Generally, you'll have access to the washing instructions of shoes before you purchase them, whether it's in retail stores or online platforms. These instructions should give you a complete idea of what you'll be dealing with once you have to clean them.
Before machine washing and drying ANY shoe, it's extremely important that you verify such shoes are compatible with the machines. A non-compatible shoe can get easily ruined, both torn or permanently stained by soap, if inserted in the washing machine.
Also, keep in mind that the washing machine will harm any pair of shoes, even those compatible with it. At the end of the day, the banging of the shoes inside the washing machine has a considerable effect on the external materials and, thus, their usable lifetime. The same goes for the dryer.
Best Shoes for Kitchen Work Reviews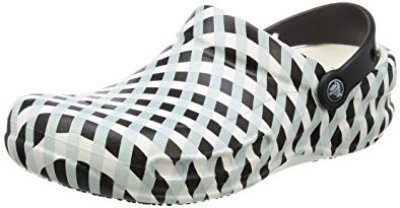 Slightly different from the classic Crocs design, the Bistro Work Clog has extra protective features and easy wear design that make them specific for kitchen environments and hazards. Slip resistant synthetic soles are combined with a thicker toe area, and enclosed toe box for protection, but it still keeps all of Crocs classic comfort and cushioning to help you keep going pulling a double shift.
Nothing's worse than pulling a double shift in a pair of unsupportive footwear, or a pair lacking good cushioning. Croslite material keeps the Bistro Work Clog extremely durable and lightweight, so you can put this pair through some tough shifts without the worry of them falling apart. The footbed has a contoured construction in its design, which helps to cradle the foot and provide more comfort when you're busy churning out plates.
Even though the Bistro Work Clog is an easy slip-on style, it packs protection with a few design elements to help against the occasional kitchen hazards and spills. A slip-resistant tread pattern gives the synthetic sole grip on any surface, and the clog's heel strap helps keep you from slipping out. The enclosed toe box has a thicker toe are so you're protected against items falling off the counters, or stubbing your toes making them the perfect kitchen shoes.
Averagely priced on our list, the Crocs Bistro Work Clog is quite functional for kitchen work while being comfortable and easy to wear. Extra toe protection guards you against falling items, and a slip-resistant tread helps keep you on your feet. Lightweight and comfortable, it will have you pulling doubles without foot fatigue!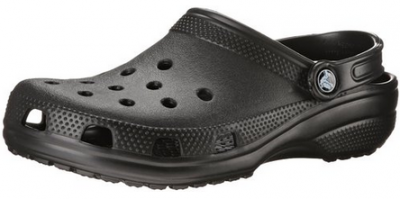 There's not much to say about the Crocs Classic that you haven't already heard, most likely. This model is, hands down, the king of all comfortable and breathable sandals/clogs; not only in terms of popularity but, also, functionality, making them the perfect kitchen shoes. The Crocs Classic is ideal for steamy environments like the kitchen; and the dark colors (black, preferably) may meet work uniform etiquette. Aside from being utterly comfortable, the classic clog counts with enough perforations to ventilate your feet properly.
It's hard to find a silhouette more versatile than the classic clog, as it endures pretty much anything you put it up to. The ventilation channels, also, work as a drainage system in environments exposed to liquids, and these very same channels allow air to flow consistently within the build that keep feet fresh anywhere, anytime. Furthermore, the non-marking outsoles are exactly what you should be looking for as a kitchen employee or chef.
Although not, originally, designed to be in the kitchen, the Crocs Classic Clog has the necessary features for it. The non-slipping outsole keeps you away from slipping hazards in the work environment, while the friendly materials easily handle oil and sauce stains. They are, also, easy to clean and quickly dry. As if that wasn't enough, the odor-resistant inner build prevents the accumulation of bacteria.
Some customers would argue that the cost of the Crocs Original is something they're not willing to pay for with such a simple approach. But, in reality, Crocs count with an amount of underlooked features that will surprise you; not to mention, they're some of the most-durable pieces out there. We believe this footwear is worth the investment, in terms of quality, comfort, and durability.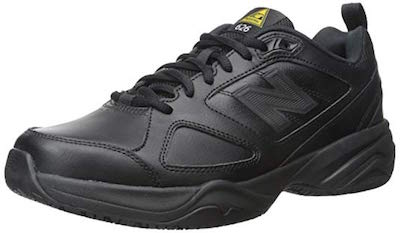 The New Balance 626v2 was developed for professionals who work in industrial environments, spending most of their day on their feet. The athletic style combines both comfort with protection and practicality, making it one of the best choices of kitchen work shoes. The upper is made with leather which is protective against spills (even hot liquids), but that'll allow your feet to breathe, no matter how big of a sweat you've worked up during the afternoon rush.
To ensure you don't lose your footing on wet and oily floors, the 626v2 has been developed to meet the highest industry standards in terms of slip resistance. It features a non-marking outsole that's been tested according to ASTM 2913-11 standards, while it's also oil resistant, meaning it won't deteriorate in kitchen environments.
This model features an internal stabilizing shank that's perfect for those with pronation issues. An ABZORB pad dissipates shock from walking, preventing you from becoming fatigued or experiencing pain and discomfort. Even on the inside, there's a lot of padding to prevent any rubbing, and you'll find that the mesh lining will allow for plenty of airflow, allowing for moisture and hot air to escape your shoes.
With a price that's slightly above average for this list, but costing less than a similar quality pair of sneakers, the New Balance 626v2 is a great investment. Those who need stability shoes will even be happy to hear that this model may be eligible for Medicare reimbursement, so if you need footwear that will alleviate your podiatric issues, this is definitely a great option.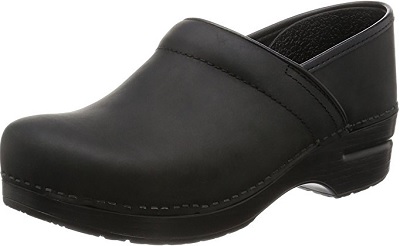 The Dansko Professional Mule is one of the smartest-looking clogs for kitchen work shoes. The woven clog design of the shoe will add a stylish touch to your ensemble. They are a good change from the plain and regular pairs one, usually, finds for kitchen wear. The wide heel strike of these shoes will, also, provide you with good stability all day long.
You can wear these shoes for long hours at a time without facing any problems that will hamper your movements in the kitchen. Moreover, the shoes won't weigh you down or make you feel tired on your feet. These mules have a roomy and reinforced toe box for greater protection. The padded instep collar adds to the comfort factor and the polyurethane outsole with rocker bottom enables greater shock absorption.
The professional clog is priced on the higher side. Considering its stylish look, coupled with all-day support and unbeatable comfort, we can understand why. In fact, these shoes for work in kitchen can be worn for various other activities and outings.

5

. Birkenstock Boston Super Grip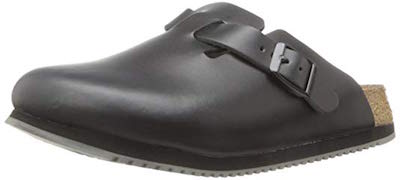 Birkenstock sandals and clogs are famous for being comfortable and supportive, which really is what you should be looking for if you work any job that requires you to be on your feet for 8 or more hours at a time. Using quality, natural materials, the Boston Super Grip was developed especially for those professionals who expect to find themselves in slippery situations, such as kitchens or operating rooms.
The upper of this clog is made with full grain leather that'll cover your entire foot in a protective layer of material. This means you won't have to worry about smaller spills, but will still get to reap the benefits of the breathability of natural materials. The sole uses cork which molds to the foot, supporting your arch and heel, ensuring proper alignment, and allowing for plenty of room in the toe area.
What makes this kitchen shoes model different from traditional Birkenstocks is that it was made for the professional environment, and the outsole features a sticky rubber compound that will give you a great grip of any surface underfoot. It's also oil and grease resistant, making it the perfect choice for the food service industry. The price of this item gravitates towards the higher end of our list, but a great thing about it is that any sandal by the brand can be expected to have a long lifespan, making this a great investment for almost anyone.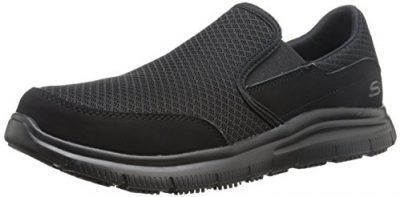 These shoes are great for walking around slippery kitchen shoes, even near the dish-wash areas. The slip-ons have a cool and sporty look to them. They are a good combination of comfort and style. It won't be a wonder if they end up becoming your go-to shoes for the kitchen, especially because you will be light and fast on your feet in these.
The Skechers Flex Advantage Mcallen slip-on features a memory foam insole that will give you the feel of walking on a soft carpet. The good part is that there are no slip issues with these shoes. Slipping into a pair of these shoes will provide you with all-around comfort throughout the day. The slip-on offer a comfortable and roomy fit with its Relaxed Fit® design and lightweight shock-absorbing midsole.
The Skechers Flex Advantage Mcallen slip-on falls in the midrange price category. The supportive, comfy, and flexible shoe offers a good value for the money spent on it. They are simply one of the best shoes for work in kitchen.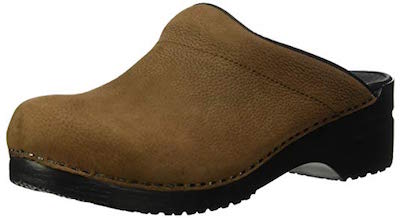 One of the best thing about a sturdy pair of clogs is that you get a ton of protection and support, without sacrificing comfort, making them They're also a good choice for those who prefer a more airy shoe (but that's not made with mesh) that can be worn both in winter and summer conditions without having to worry about overheating or sweating. Easy to put on and off, the Karl by Sanita is one of the company's original designs that has stood the test of time, and is a popular choice not just among kitchen staff, but anyone who wants only the best for their feet.
The upper of the Karl is made with oiled leather that's highly breathable, that will mold to your foot shape with time, and which you can easily clean and care for, ensuring that your work footwear always looks presentable. You'll love the fact that the instep is padded for your comfort, as well as the insole which is shock-absorbing and supportive.
The outsole is made with lightweight PU which is flexible but features a rocker bottom that allows you to walk more easily. Sanita clogs are often recommended by podiatrists, so you can rest assured you'll be getting a great pair of kitchen work shoes you'll likely want to wear for more than just cooking. The price definitely is steep, being one of the highest on this list, but you'll be getting a great product you can count on in any situation.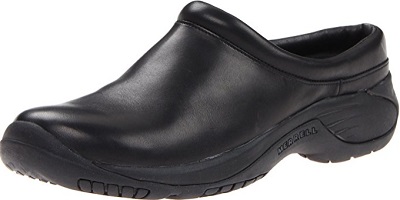 Gust with a wind-like performance; carving through your kitchen work environment in perfection with these best kitchen shoes from Merrell. They boast of a 2-inch heel height, Ortholite footbed, compression-molded EVA footframe, M-Select GRIP outsole, and are made with high-quality, full-grain leather uppers. This is a shoe ready for the day, or night. Most of all, this shoe is ready to bring you stability, comfort, and style, as you work.
The mesh lining allows your feet to breathe during those warmer moments, usually, found in kitchen environments. Moreover, this lining wicks away moisture which aids in helping to keep your feet dry.
The leather upper adds a bit of both professionalism and longevity to these shoes. After the break-in period, these kitchen work shoes should feel good throughout the workday; as well as, bring you the toughness you need for a kitchen-ready shoe.
These shoes are at the upper end of cost association. With all of the high-quality materials and the design of the shoe overall, however, these shoes are worth adding to your workwear collection. In other words, Merrell does not disappoint.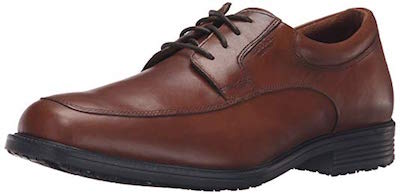 Originally developed for men who were looking for office footwear that would stand up to commutes in less than perfect weather, the Rockport AprOn Toe quickly showed its benefits even in the food service industry. Made to withstand walking in rain and snow (which includes wet surfaces), this is a great choice for waiters and baristas who need something safe for their feet, but also need to look presentable in front of their patrons. These shoes for work in kitchen come in three color choices - black, dark brown and tan, and is an incredibly easy shoe to pair with any uniform.
The AprOn Toe was developed with Rockport's own HydroShield construction that makes use of waterproof leather in the upper, a seam sealed waterproof insole, and a gusseted tongue that won't allow any liquid to enter your footwear. This is a great feature to have, especially when you're dealing with liquids.
This model is made with a sponge EVA footbed that absorbs shock, while molding of the shape of your foot, perfectly supporting your arch through long shifts. A rubber outsole, made better by a shock absorbing heel further prevents fatigue and pain, and is slip resistant so that you can walk without having to worry about slipping.
This is definitely one of the more expensive items on this list, and those who do not have to wear a professional-looking shoe to work would probably do better to choose one of the cheaper models. Nonetheless, there's a number of professionals who need to keep their appearances presentable, which is where this model comes in - combining looks with practicality that would be difficult to find elsewhere.

10

. Merrell Jungle Moc Pro Grip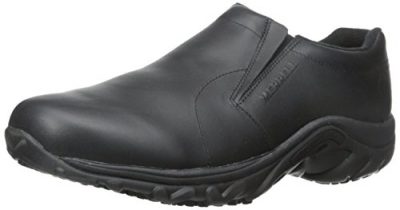 These shoes are available in both men's and women's versions. This professional moc features the Merrell air cushion underfoot, leather uppers, and non-marking outsoles. The breathable, mesh lining is a blessing; especially when you have to spend long hours in your shoes in a warm environment. These slip-on shoes offer comfort, sturdiness, and slip-resistance in one stylish package.
The Merrell Jungle Moc Pro Grip is ideal for use on the hard and slippery floors of kitchens. They give incredible support to the feet in the challenging wet and greasy environments of kitchens. The shoes for work in kitchen include air cushioning in the heel that adds stability and absorbs shock. A pair of Merrell Jungle Moc Pro Grip, also, provides good arch support; making the shoe comfortable for long wear. In a few cases, an extra insert may be needed; dependent on individual needs.
These shoes are budget-friendly; and as such, the cost is justified considering the shoes' multipurpose uses and diverse features. In the end, you will be shelling out less money, solely, for a top-quality product.

Subscribe to our Newsletter