Best Server Shoes Reviewed & Rated
In a
Hurry? Editors choice: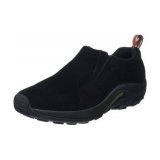 Test Winner: Merrell Jungle Moc

Few jobs can take their toll on the entire body as heavily as serving does. With long hours of standing and walking, dependability and comfort are absolute top priorities. Little to no rest during the workday means that servers require premium stability and ease of movement, since even the slightest discomfort can turn into a nightmare. This is why choosing the right pair of shoes should be a top priority for anyone who works as a server.

Having looked at over hundreds of models that were made for or are regularly worn by servers, this list of the top ten server shoes will help you choose your next pair of work shoes.
Standout Picks
Criteria Used for Evaluation
Our Favorites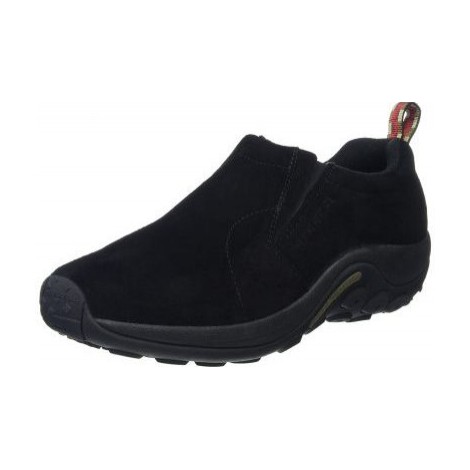 This slip-on shoe has been around for 20 years, and there's no wonder why. The Jungle Moc features a Merrell air cushion in the sole for comfort, deep grooves for floor grip and a breathable mesh lining which will come in handy during those long shifts. The shoe is one of the top choices of experienced servers as it ticks all the boxes when looking at its key features.
The Merrell Jungle Moc is made to last. The upper comes in a variety of materials such as leather and suede, while the sole is made from rubber, with a compression molded EVA foot frame that provides cushioning for comfort. Originally intended as an outdoor shoe, the Jungle Moc gives you the secure grip of its 3mm lug depth that will keep your feet firmly on the ground during your working hours, as well as if you decide to take it out into the wild.

At their price, the Merrell Jungle Moc could prove to be one of your best investments. With excellent performance, it could see you through a lengthy period of time. And best of all, it doesn't require a lot of maintenance - just slip it on and you're ready to go!

2

. Dr. Martens Orson Overdrive


An elegant but sturdy slip on, the Orson Overdrive by Dr. Martens is a good choice for those looking for something stylish and rugged at the same time. Available in either black or brown leather, this is a shoe that'll easily pair with any uniform, and you'll probably even want to wear it during your off hours. Built on the brand's legendary air-cushioned sole, this model is abrasion and slip resistant, which should translate to years of happy wear.
There are several things that set the Orson apart from similar styles. First and foremost, it's a shoe with a moisture-wicking mesh lining, something that you don't see very often in leather loafers. The two elastic gussets on the top eliminate the time needed to tie laces but still allow a comfortably snug fit.

A good upper can mean several things when it comes to work performance. Ideally, you will want a shoe that'll look professional, that'll be easy to clean and care for, that'll protect you from accidental spills, and that will conform to your foot the more you wear it. The upper of the Orson has all of this.

If you decide to go with the Orson Overdrive, you'll be getting a professional looking server design that's abrasion and slip resistant, that allows a good amount of airflow to keep your feet dry and cool. Additionally, it can be expected to last for a longer time than some cheaper versions of the same style.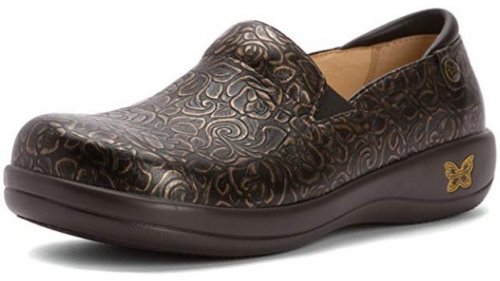 Granted, it may not be the most stylish design out there - though it does come in some funky color options! - but the Alegria Keli is everything we look for in a solid, reliable server shoe. It has a stain-resistant upper, loads of comfort materials in the footbed, and an outsole that is resistant to slipping to matter what surface you find yourself on.
Originally built for nurses, the Keli works fine in any restaurant or serving environment. Its upper doesn't stain easily and features elastic gore panels for an accommodating fit. The footbed is made of cork, memory foam, and latex - three materials that take on the shape of your foot and deliver a tailored type of comfort. Finally, the PU outsole is not only slip-resistant but also promotes a natural rocker motion.

All parts of the Keli are built with comfort and stability in mind. You can't miss its server-proof and support features, not the least of which is the outstanding arch support which prevents foot fatigue over long periods of time. Serving has never been as easy as in the Alegria Keli!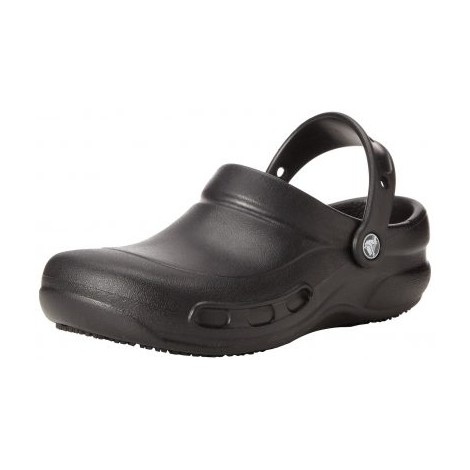 If you're looking for something comfy and cheap, look no further! Crocs have become a staple of comfortable footwear, and these clogs are no different. The only downside is that there is a very limited number of places where these can be worn, seeing that they are universally labeled ugly. Nonetheless, they have a good non-slip sole that will last you up to a year, so if it's value you're looking for, these shoes are perfect for you.
Like any other pair of Crocs, these are as comfy as they can get. They've got adiPRENE+ inserts which provide cushioning, as well as a massaging footbed that will get you through the day. They are contoured for maximum comfort and are a good fit for almost anyone.

These shoes can take you a long way. Even if you're working double shifts, they're pretty difficult to ruin. Being synthetic means that they are resistant to almost all spills, while the material itself is durable and flexible enough not to break with use.

The Crocs Bistro provides great comfort and safety, which definitely means you should consider it. Unless, of course, your workplace is not completely casual - in that case, pass them by.

5

. Thorogood Classic Poromeric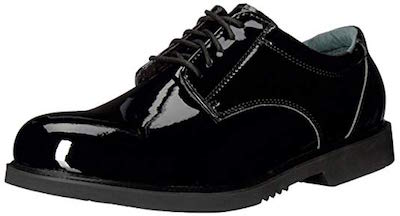 While you may have heard about Thorogood and the amazing work boots they produce, you probably haven't encountered their Uniform Classics line, which boasts footwear made for those who need high-quality footwear to wear at their jobs. The Classic Poromeric is a high shine oxford lace-up that'll look great in those fancy establishments where you may be required to wear slacks or a skirt. Additionally, it also features high performing comfort and functionality features made especially for the workplace, so you don't only look good, but are thoroughly protected throughout your shift.
The removable footbed on the Classic Poromeric is made with shock-absorbing materials in order to provide you with the cushioning you require while you serve. Additionally, it's treated with antibacterial and anti-odor agents which ensure that your feet stay fresh for longer, wicking moisture away from the foot, and helping it stay healthy.

Made with Goodyear welt construction, the Classic Poromeric features a slip-resistant Vibram EVA outsole with heavy lugs that'll keep you on your feet no matter the surface underfoot. Whether you have to walk on hardwood, tile, marble, or even concrete, this material will wear evenly, preventing you from losing your footing while doing your job.

For a shoe made in the USA, the Thorogood Classic Poromeric comes at a surprisingly low price. It ranks average on this list in terms of cost and provides high value for anyone who needs a polished pair that is also comfortable and has the necessary safety features.

6

. Timberland Powertrain Sport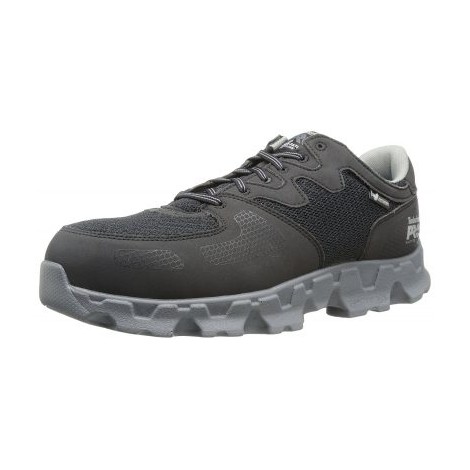 You can trust a brand such as Timberland to make a shoe that will be of high quality. The Powertrain Sport is well thought out for all servers who find themselves in need of a heavier duty sneaker that offers great protection on more than just one front. It'll do great in slippery situations, is built to reduce stress on muscles and bones and will even keep you protected should your toes happen to be around falling objects.
The best thing about this pair of sneakers is the unique anti-fatigue technology which was developed to absorb shock and return this energy through multiple inverted cones to different points of the foot.

No need for long periods of breaking in your footwear in order to be able to spend a whole day in the Powertrain Sport. These sneakers are good to go from the box as they are made with a flexible cement construction. They'll provide great arch support and are comfortable enough to wear all day.

While the Powertrain Sport may not be the most expensive on this list, it is up there. However, it does provide that tested Timberland quality that a lot of users appreciate and turn to.

7

. Skechers Rockland Systemic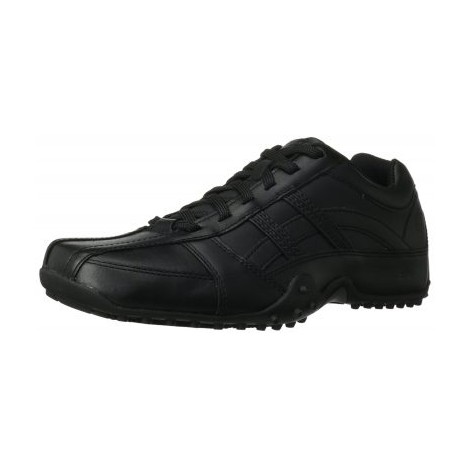 The Skechers Rockland Systemic is one of the most popular designs with all servers in the restaurant industry. Part of the brand's Work Footwear line, it is slip-resistant, meets the electrical hazard requirements and features a ton of details specifically designed for the work environment. Made in a simple style, these sleek sneakers will fit even the more dressy uniforms.
The Rockland Systemic has some very nifty features when it comes to making you comfortable throughout the day. These include a padded collar and tongue, a removable cushioned comfort insole and a shock absorbing midsole. The fact that these shoes have tiny cleats not only makes them great for working in restaurants, but Skechers has taken it a step further. The sneakers were tested using ASTM F1677-96 Mark II standards which specifically take into consideration wet and oily conditions.

The Rockland Systemic server shoe is a steal by all standards. It will give you all the necessary features to keep you safe during your working hours, while still allowing you to look dapper without breaking the bank.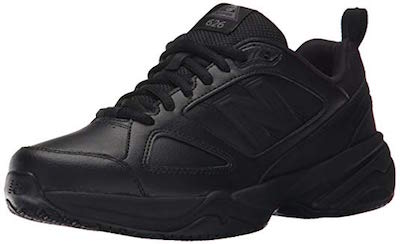 This pair by New Balance features multiple comfort and safety qualities that have been added to help you get through your shift (or shifts) without sacrificing the health of your feet. The newest version of the 626 is available in two color options, grey and black, and boasts a leather upper that will look professional without going overboard. That means that this sneaker will comply with most dress codes, while still allowing you to reap the benefits of wearing athletic footwear to your job.
New Balance may have become popular for lifestyle footwear in the past decade, but it's important to remember the company's roots in running footwear, at which they still excel. The 626v2 features an ABZORB crash pad in the heel which prevents the shock of landing from traveling up your legs, resulting in less fatigue and pain even after hours of working.

Going in and out of the kitchen, you're bound to encounter some wet or oily surfaces, so a good outsole is crucial in keeping you safe. The 626v2 has been tested according to the highest standards and will provide resistance to both oily surfaces and to slipping, thanks to the rubber outsole with its grippy lugs.

The New Balance 626v2 is definitely a top choice for anyone working as a server or bartender, who needs to look sharp, but still requires comfort features that many other options simply don't provide. An added bonus of this model is the stability shank in the sole that aligns the feet properly (preventing overpronation) and is even eligible for Medicare reimbursement.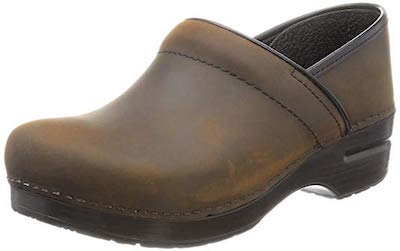 If you're unsure about the footwear you should wear to your serving job, just look at what nurses are wearing - they too have to endure long shifts on their feet, walking on highly polished surfaces that are often wet, and are usually standing. The Dansko Professional, as its name suggests, was developed for professionals who require a design that's comfortable, reliable and durable. It's a leather clog with a roomy fit that allows for some swelling throughout the day and has an outsole made with the purpose of minimizing fatigue.
The outsole on the Dansko Professional is made with PU, a synthetic material that won't allow you to slip. It's quite chunky, meaning stable, and has a raised toe that promotes a rocking motion while walking. The effect this creates is excellent power transfer and energy return that allows you to walk with ease, propelling you forward. That means that even if you're tired, your footwear will be there to help you along.

The footbed in these clogs is made out of memory foam that'll cushion and mold to your feet, never losing its softness. Additionally, the instep is padded to minimize rubbing you would otherwise feel on the top of your foot. The roomy toe box allows for some wiggle room and for your toes to splay naturally, allowing you to walk more easily and to maintain better balance.

If you're looking for something truly amazing, then the Dansko Professional is at least worth a try. For the money spent, you'll be getting a full grain leather upper, some excellent stabilizing features, a cushioned and supportive footbed, and, most importantly, a pair of shoes that'll last for a long time.

10

. Skechers Ghenter Bronaugh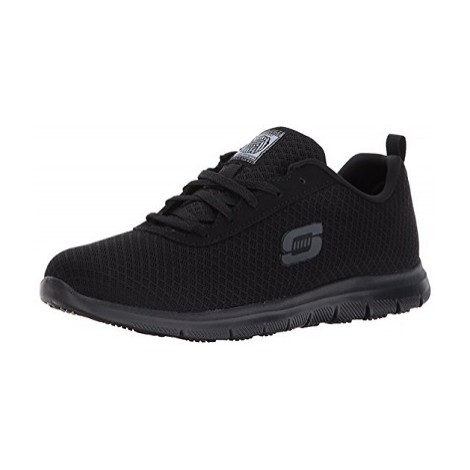 Skechers knows all about making comfortable shoes for work and for daily life. This model was designed specifically for those who are on their feet all day long – nurses and servers, for example. They perform very well while keeping you cool, dry and comfortable. The style is a casual sneaker in black, which suits most uniform codes and can double for those who just want a comfortable design for walking around in.
No matter who you serve, you know better than anyone how much spillage happens wherever food and drinks are involved. For that reason, a water-repellent design is a must and these shoes are just that. The upper is still breathable though, so your feet will stay dry inside as well.

When the spillage happens, you'll be glad you're in a shoe with good traction. The rubber sole on the Ghenter Bronaugh will hold onto tile, wood, and most other surfaces, preventing you from slipping and falling.

The Skechers Ghenter Bronaugh is a very good value for servers who are on their feet all day and want a shoe that is protective and water repellent. Breathable and dry interior only adds to their comfort and the rubber sole will make them safe and durable.

Subscribe to our Newsletter