Best Extra Wide Shoes Reviewed For Comfort
In a Hurry? Editors choice:
Test Winner: Naturalizer Jessie

You may have recently decided that
wide shoes
are no longer sufficient for you and that you should start looking into extra wide footwear. And perhaps that brings its own set of concerns: whether all that you will ever wear from now on are drab, ugly walking shoes, whether what you can look forward to is footwear that is better suited for the elderly than for yourself.
Fortunately, we are here to help you overcome these worries. Just because you require footwear in the extra wide size does not mean that you have to say goodbye to fashion and style. As you will see from our list of top ten designs, there are plenty of choices waiting for you to try them on, from fancy pumps to cute flats to sleek loafers. Extra wide has never been as trendy as in our guide!
Standout Picks
Criteria Used for Evaluation
Comfort
Regardless of the size you're wearing one of the key aspects when it comes to footwear is its comfort. Comfort determines how much time you can spend wearing a design, how much distance you can cover, how long you can stand for, walk for, work, dance, exercise for. While the appearance, the quality and the durability of design are also important, nothing can beat comfort when it comes to actual wearability.

Achieving that perfect level of comfort is not an easy feat. It requires trial and error, testing, innovation, and a careful combination of traditional construction methods and the latest technologies. Different brands deliver comfort in different ways - through special systems, through the materials, the footbeds, the overall construction of the shoe and many more.

Fortunately, we can sort all of those into a few categories, to make it easier for us to describe each one. So, let's begin:

Technologies: Where there are world-renowned footwear brands, there is also an abundance of carefully planned and conceptualized comfort systems that cater to every customer's need. Or most customers' needs. In this list, we encounter quite a few of them: the Naturalizer N5 system, the Skechers Air Cooled Memory Foam insole, the OrthoLite footbed in the Clarks Ashland, the HPO2Flex of the Hush Puppies Chaste - all of these and more are outstanding innovations that are not often seen, and most unique to the specific brand (with the exception of the OrthoLite footbed).

Each of these technologies includes a set of features to help with a particular problem you may be having while walking. This problem can be that you require a bit more cushioning, or arch support, or would like a moisture-wicking experience, or perhaps even motion control the New Balance Rollbar technology can provide.

If you're keen on having a shoe with any of these advanced features, take a bit of time to study them, and carefully consider if they would work for you. Remember that, even though systems like these are useful to have, and may even make a big difference in the way you approach footwear, they don't necessarily agree with everyone. Each person is different, and each pair of feet is different, and it is quite alright if you discover that these fancy hi-tech options don't work for you.

Footbeds: What you can look at, instead of - or together with - a comfort technology, is what the footbed of the design is like. Extra padding in this area helps with absorbing impact from your steps; instead of that impact traveling up to your joints and causing damage in the long term, it gets distributed throughout the footbed and minimizes the pressure put on your ankles, knees, hips and even lower back.

A step further are footbeds which have contours to them. These molds in the footbed correspond to the shape of your foot sole - or should, at least - and gently support it as you walk, providing you with stability and comfort like no other.
Molded footbeds can also have arch support in them, which is probably the ultimate comfort experience. This reduces tiredness in your feet at the end of the day and also helps you avoid medical conditions such as flatfoot and overpronation.

Materials: While we will expand more on how materials affect the overall design, here we will briefly discuss why they matter for comfort.
Materials are the ones which surround the foot, essentially, and because of that they should be soft and malleable, but still firm enough to provide security within the design. They should have the ability to take on the shape of your foot, like genuine leather and suede do, for example, for that sock-like fit. They should also be lightweight, and not cause any chafing or blisters, such as canvas, or mesh materials.

If, by any chance, the design you're trying on feels stiff, unyielding and is even digging into your skin somewhere - there is a chance that these issues will resolve themselves with a little breaking in. But there is also a chance that they will get worse the longer you wear the shoe for. Choose wisely when you're shopping, and opt for materials which you know are reliable, and which will provide you with enough support as you go about your days.
Style
Because extra wide shoes is a broad category, we strived to include a wide range of footwear styles. We already mentioned in our introduction how needing a size like this doesn't mean that you have to compromise between fashion and comfort. There is plenty of fun, flirty and fancy choices for you to enjoy!

Probably the most fashionable, and most business-appropriate out of all the items on our list are the Hush Puppies Deanna pump, the Clarks Ashland loafer, and the Hush Puppies Chaste flat. All of these styles are versatile, in the sense that they can take you from the office to a date night in a blink of an eye, and they have timeless silhouettes that are always on trend. You can pair each of these with pants and skirts or dresses, and be one cute fashionista!

We also have to mention the Naturalizer Jessie, a riding boot that is its own category. When winter sets in, and we need a design to keep us protected from the elements, but we don't want to go the heavy, bulky route (such as Sorels, for example), then this is a stylish solution. Riding boots like these are great because you can both tuck your pants in them, or choose to wear the pant legs over the boot while looking cool and casual at the same time.

And of course, there is no shortage of comfortable walking designs, which mean the world during your leisure time. When all you want to do is relax, take a nice long walk and enjoy a nice day outside with your family and pets, then sneakers such as the Nike Tanjun or the Skechers Synergy Trend, or the New Balance 813 are the safest choice. They come with all the necessary technology we've talked about in the Comfort section, and they will support you and stave off the pain, the cramps, and the blisters no matter how much time you spend on your feet.

A special shoutout goes to the Skechers Bikers Fiesta, which is a comfy design that has all the features of a great walking shoe, but is also cute to wear and goes well even with that new sundress you just bought for a playful, everyday style. The best of both worlds!
Materials
We talked about materials in terms of comfort - now it is time to dive deeper into this subject, and really discover how this aspect of a design affects its performance. Materials are the ones which not only determine the comfort levels, but also the shoe's breathability, flexibility, ease of use, and durability.

There are some materials which are great in all of these categories; some which are decent, and some which leave something to be desired, and here we will describe them all.

We will start with the outstanding ones, which are, of course, natural leather and suede. Examples made out of these are the New Balance 813, the Hush Puppies Chaste and Deanna, and the Clarks Ashland. The reason we love these materials so much is that they are breathable, allowing air to easily circulate in and out of a design. This keeps your feet cool and dry, and maintains a healthy climate inside, for staving off itchiness, skin redness and flaking, and bacterial and fungi infections.

Genuine leather is also flexible, as we mentioned in our Comfort part, and it will conform to your foot over time. And it last for a long time as well, meaning that you won't have a problem enjoying designs made out of this material for years to come.

The downsides to leather are that products made from it are more expensive, and that it requires a bit of care and conditioning (but not too much).

An alternative to genuine leather and suede are synthetic materials - combinations of textile and mesh and faux leather and suede, such as in almost all other items on our list. These materials have their benefits - textile and mesh are lightweight and breathable, faux leather and suede is inexpensive - but ultimately, they are not as high quality as genuine leather.

Finally, we need to point out the material which doesn't belong in any of the previous categories, but is actually on a platform all on its own - the Crocs Croslite. This closed cell resin material has been specially engineered by Crocs to deliver buoyancy, water-resistance, foam-like comfort and odor control, and there is no other material like it on the market. It is one of the many reasons why Crocs is such a popular design, despite its less than favorable style.
Adjustability
When you need an unconventional footwear size, any bit of adjustability comes in handy. We love a design which we can customize to fit our feet, especially if we suffer from bunions, high insteps, thick ankles, and similar conditions and states which make us desperate for a shoe that isn't uncomfortable from the get-go.

There are several ways one can adjust the fit to their liking, and we will outline the ones found in this guide:

Laces: Shoelaces represent the best way to customize the fit. When you tighten them, the entire upper of the design holds your foot more securely, and when you loosen them up, so does the shoe, allowing you more wiggle room. They are great in sports and walking sneakers, like in the Skechers Synergy Trend, the Nike Tanjun, the New Balance 813, as they provide a good lockdown so that your steps aren't wobbly, but they also don't constrict too much - rather, you can adjust them not to be too constricting.
The only disadvantage here is that laces require a minute or two to tie them up, and are maybe not the best if you're not in a position to bend over so easily.
Hook and Loop Straps: If you're not a fan of laces, a good alternative is the hook and loop strap. We see this in the Skechers Bikers Fiesta - a thin strap across the instep that serves a similar purpose to shoelaces. However, the benefit of this type of closure is that you don't have to bother with any complicated maneuvers. You simply adjust the strap to the tightness you like and fasten it on at a moment's notice. No muss, no fuss!
Gore Panels: We admit that we're cheating a little with this last one. Gore panels, or elastic panels (like in the Naturalizer Jessie), aren't exactly adjustable in the sense that they allow you control over the level of adjustment. However! They do allow for a stretchy fit, one which accommodates your foot regardless of its shape. Therefore, we felt the need to include this feature here as well, since it is something that will definitely be useful in choosing a design which fits the best.
Lastly, if you are not thrilled about any type of closure, and would just like a simple, easy design that you can slip on and off without even looking down at your feet - then clog type designs are the way to go! These are the Easy Spirit Traveltime and the Crocs Clog, which can be worn as slippers, but which are still sturdy and supportive enough to be taken outside.
Durability
It is expected that no design lasts forever, but that doesn't mean we can't enjoy a shoe we like for as long as possible. Many factors determine a design's durability, some of which are: material type, construction methods, frequency of use, way of use etc. If you expect to engage in some high-impact sports in your new footwear, and on a regular basis - they certainly won't last for a very long time.

That being said, let's look at which of the items from our list are the most durable and why.

Starting from the top, we have those options which are made from high-quality materials, like the Naturalizer Jessie, the New Balance 813 and the Hush Puppies designs. We said how genuine leather and suede have an advantage over other material types, and this is one of the reasons why - footwear made from these materials can last up to a decade, especially if treated right. With a little bit of cleaning and conditioning, you should be able to wear your leather design for years in the future.

Other items, which are made from textile or mesh or a mix of synthetic materials, are not going to fall apart in record time, but they are going to scuff and fray more easily. However, they are also less expensive than leather options, as we mentioned before, and thus replacing them after a few seasons shouldn't be a problem.

Once again, the one design that is standing out from the rest is the Crocs Clog. Given that Croslite is neither plastic or rubber, this material is unusually durable, with reports of Crocs lasting for over 10 years!
Our Favorites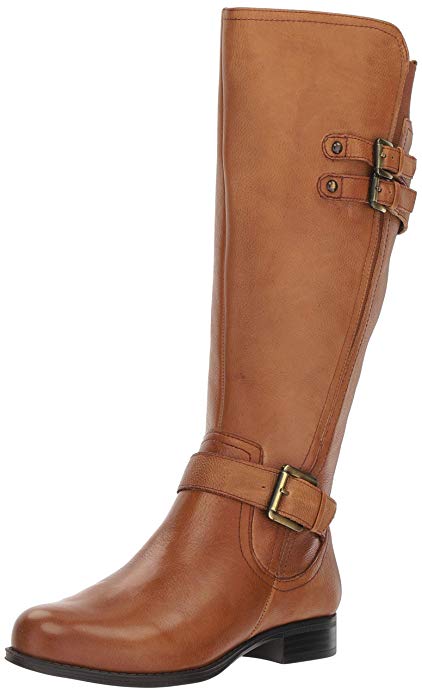 Naturalizer encourages their customers to 'wear what moves them'. They design for free-spirited risk takers and help them navigate everyday life with ease. And with the Naturalizer Jessie, you will have no problems navigating cold, winter days; this knee-high boot will keep you dry and warm all throughout.
The Naturalizer Jessie has a timeless silhouette of a riding boot, one that everyone needs in their shoe closet come wintertime. It is made from pebbled leather and outfitted with straps that wrap around the ankle and the top, for a more rugged look. The round toe front provides plenty of room for your toes to wiggle comfortably, and there are extra gore panels in the calf for added flexibility.

And speaking of comfort, the Jessie comes with Naturalizer's signature N5 comfort technology. This means that the boot has extra cushioning, a soft, breathable lining, is balanced head to toe and has a non-slip weightless outsole. On top of that, there is also a full-length zipper in the inner side, to make it easier for you to slip this gorgeous boot on and off.

The Naturalizer Jessie is that perfect combination of feminine, trend-defying style and comfort which can be found only in sports sneakers. This boot comes in three different color options - the black, the chocolate, and this refreshing banana bread one - and whichever one you choose you are surely going to enjoy this boot every step of the way.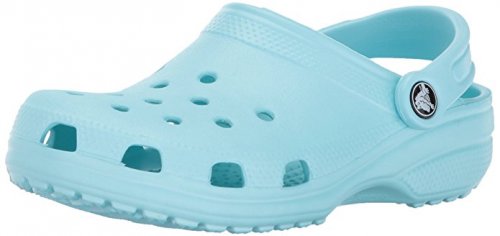 The reason the Crocs Classic Clog is so popular despite its questionable style is its undeniable comfort and wearability. You have undoubtedly seen these clogs everywhere, and it is no wonder since they provide a fit like no other. The Crocs Classic design landed on this list because it has a generous, roomy fit that is a breath of fresh air for all foot widths.
The entirety of the Crocs Classic Clog is made from Croslite, a material that is neither rubber or plastic. It is a closed-cell resin material that has exceptional cushioning abilities, shock absorbing and anti-microbial properties. In the Crocs Clog, you don't have to worry about bad odors, itchiness or bacterial infections - the Croslite material makes sure that you are safe from all of these unpleasantries.

The Crocs Clog has a back-strap to keep you steady in the design, but this strap can also be pivoted to the front if you'd rather wear it as a slipper. What's more, this clog is a perfect water shoe, as it doesn't stretch out or lose shape in wet conditions, and it also floats in the water! The perforations on top and in the side of the design are drainage ports, through which water and debris are eliminated.

We have yet to encounter design as comfortable, as water-friendly and as ubiquitous as the Crocs Clog. If you are on the fence about this clog's functionality, we are here to reassure you that it is worth every penny. The Crocs Classic Clog comes with unparalleled comfort and simplicity, and you will love taking it with you everywhere.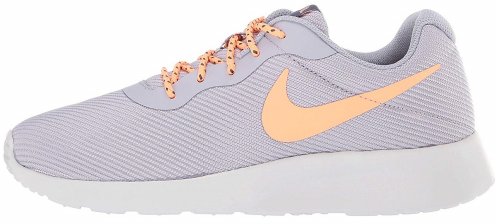 Nike is the absolute champion in sports footwear - a leader and an innovator unlike any other, and we are glad that a Nike design has found its place in this guide. The Tanjun sneaker was named after the Japanese word for simplicity - and simple it certainly is. The minimalistic, refined silhouette of this sneaker will seamlessly fit with your everyday style, and bring a whole new level of athletic comfort with it!
The Nike Tanjun has a textile upper that is breathable, allowing air to circulate in and out for a sweat-free experience, and amazingly lightweight. There is a lace-up system in the front which helps you adjust the fit of the sneaker to however tight or loose you'd like it to be. The elegant, modern design is enhanced with funky dotted laces and a Nike Swoosh logo on the side.

Comfort-wise, the Tanjun comes with a lightly padded collar and tongue for bonus cushioning, and a foam midsole and outsole which add some spring to your step. The round toe silhouette makes this sneaker comfy to wear on any occasion, and the rubber outsole provides ample traction wherever you go.

In a world with fancy-named technologies and long lists of extra features we have trouble grasping the purpose of, it is refreshing to encounter something this effortless, and yet this stylish at the same time. The Nike Tanjun will be that trustworthy companion whether you need to pick up your children from school, or walk the dog, or even go for a long walk as part of your exercise routine. You will not regret investing in these glorious sneakers!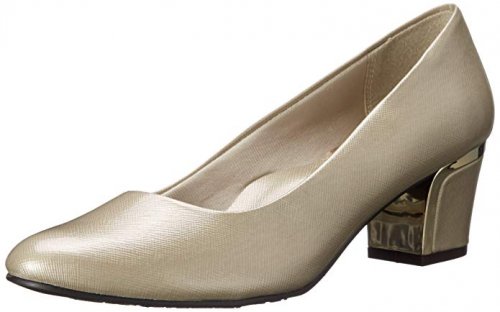 As we stated before, extra wide doesn't mean that you have to settle for unfashionable, frumpy designs which don't add anything special to your outfits. The Hush Puppies Deanna is a classic round-toe pump which delivers effortless style and elevates your looks to new, classy heights, thanks to its sleek finish and a heel which sports a metallic trim.
The Hush Puppies Deanna is constructed out of patent leather which has a crosshatch texture to it. It has a slip-on silhouette, meaning that it is amazingly easy to put on and to take off, and it comes in several different color options, out of which you can choose the one which best suits your aesthetic.

When it comes to comfort, the Deanna holds nothing back - this pump comes with a memory foam footbed for that molded support, and it has a Soft Comfort Beauty Sock for a cushy fit and relaxed, all-day wear. The square heel of this pump is almost two inches high, which means that walking in it is a breeze. There is also a molded rubber outsole to provide flexibility and durability.

The Hush Puppies Deanna is that classic pump that you can pair with jeans, leggings, or a skirt or a dress, and step out in confidence. It is work-appropriate, and the metallic trim detail also makes it fancy for a cute date night out or a party. Take full advantage of the versatility that is the Hush Puppies Deanna!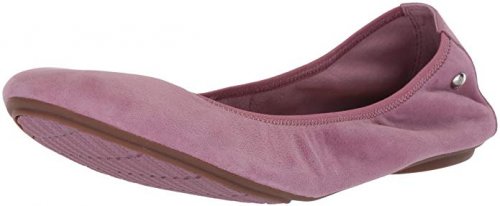 An irresistibly cute design that is just what you need for a sunny, spring day, the Hush Puppies Chaste is a ballet flat that is suitable both for work, for the weekend, and everything in between. It comes in a large number of chic colors, and after you try it out, we bet that you will be tempted to get a pair in all of your favorite colors!
The Chaste flat is made out of genuine suede, a material that is soft to the touch, and which has that wonderful ability of molding to the shape of your foot over time. The upper is unlined, which allows for a relaxed fit and comfort, and there are perforations in the footbed which provide breathability, making sure that your feet are sweat-free.

We understand that flats are sometimes uncomfortable to wear for long periods of time because they lack support, but that is not the case with the Hush Puppies Chaste. This flat comes with HPO2Flex technology - a triangle footbed pattern which is cushioned and which conforms to the way you walk, delivering flexibility and maximum support.

Additionally, the outsole of the Chaste flat is what the brand calls ZeroG, meaning that it is made from super lightweight materials to keep your feet from getting tired throughout the day.

If you are apprehensive about getting a pair of flats because your previous experiences with them weren't stellar, we advise you to give this one a go. It is truly a design which has to be worn to be believed. The Hush Puppies Chaste is not only adorably feminine in style, but it is also addictively comfortable.

6

. Skechers Bikers Fiesta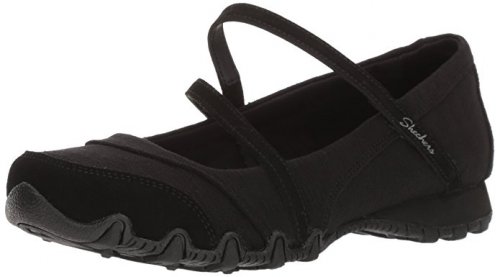 Skechers is a leading manufacturer of footwear for all areas of life - work, lifestyle, athletic performance - outfitting people of all ages, gender identities, and activity levels. The Bikers Fiesta is a version of their infamous casual Mary Jane silhouette with a roomier fit, for every foot shape and width.
The Bikers Fiesta has a knit fabric upper that is textured and has plush suede overlays over the toe and the heel parts. This combination is amazingly soft and comfortable, moving together with your foot and not causing any chafing or blisters. There is a hook-and-loop closure across the instep, which helps you adjust the fit of the Mary Jane.

On the inside of the Bikers Fiesta, you will find a soft fabric lining, as well as the Air Cooled Memory Foam insole, which both promotes proper air flow in and out of the design and provides you with firm, cushioned support. The outsole of this option is flexible and made from rubber, delivering great traction on all types of surfaces.

The Skechers Bikers Fiesta is that go-to design that you will want to take with you absolutely everywhere. It is ideal for covering long distances, for any type of activity - from going to the grocery store to exploring a foreign city on foot. There is nothing you won't be able to do in this lovely Mary Jane!

7

. Skechers Synergy Trend Setter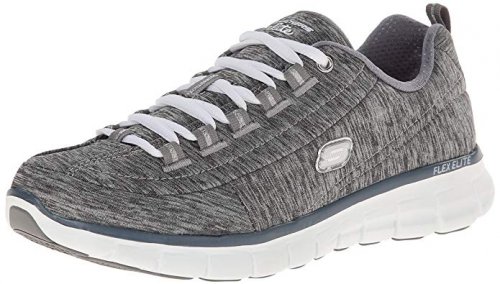 The Skechers Synergy Trend Setter is here to meet all of your sporty, leisure needs. This is a standard sneaker design which you won't want to part from in your free time. It will take you from the park to the shopping mall, to a long stroll around town, keeping you comfy and cushioned and stylishly athletic at the same time.
The Synergy Trend Setter has a synthetic upper with a lace-up closure for maximum adjustability. It features streamlined stitching details, as well as micro-perforations in the side and at the heel for a cooling effect. There is a pull-tab in the back for easier entry with a slight glitter accent which you can also find in the shoelace eyelets.

The collar and tongue of this sneaker are padded for extra comfort. There is also a Memory Foam Elite insole for support and a Synergy midsole which ensures shock absorption and flexibility. The outsole is made from rubber to provide the ultimate traction on both indoor and outdoor surfaces.

Everyone needs a reliable sneaker in their collection, one which they can throw on without a second's thought - and the Skechers Synergy Trend Setter is exactly that type of design. It is stylish and comfy, and it will not let you down on a relaxed, fun-filled weekend outside of the house.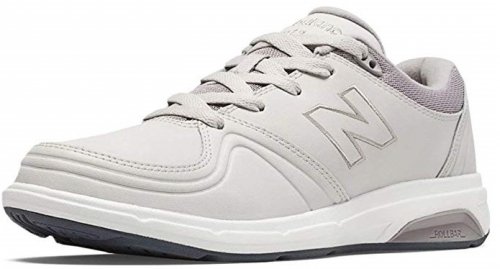 The New Balance 813 is a sneaker tailored for those who are ambitious about pushing past their step count, either on the job or in their free time. If you are someone who is spending a lot of time on their feet, you will need the kind of cushioned support that this design provides, keeping you secure and well-balanced at all times, regardless of your surroundings.
The 813 is a standard sports sneaker silhouette made from genuine leather, with a lace-up system to customize the fit. It has a soft comfort collar which doesn't rub you the wrong way, and it is approved by Medicare, meaning that it is eligible for reimbursement.

The New Balance 813 is outfitted with a couple of New Balance original technologies. The first one is the Rollbar technology, designed to reduce rear-foot movement. It helps correct overpronation and supination and provides total motion control. The second technology is an outsole system which stabilizes and guides the foot through the walking gait cycle.

This sneaker is that ultimate walking design that you need. It is specially constructed to deliver maximum security and support, and with it, you will have no trouble walking for hours on end without feeling even a hint of discomfort. Walking and other types of light activity have never been as easy as in the New Balance 813!

9

. Easy Spirit Traveltime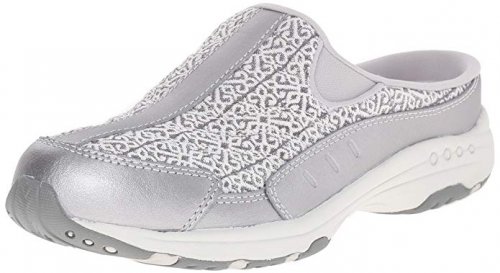 Easy Spirit is a brand created by women, for women, with the aim to provide smart footwear to make life simpler and easier, while not compromising on style at the same time. Their absolute bestseller is the Traveltime mule - the perfect design for walking and light activity, delivering uncomplicated comfort in every aspect of life.
The Traveltime mule is made from a range of materials, depending on what color combination you choose from a wide selection. What they all have in common, however, is the easy mule design, which means that sliding in and out of these shoes requires no effort at all. There are no straps, no laces, and no zippers to get in your way!

The interior of the Traveltime is outfitted with a sock liner which absorbs shock, reducing pressure in your joints, and which provides arch support, to keep you comfortable all day long. The Traveltime is also orthotic-friendly because this sock liner can easily be removed to add more space to the design.

If you are suffering from arthritis or plantar fasciitis, if you are not in a position where you can easily bend over to fuss with complicated closures - the Easy Spirit Traveltime is a great solution! It is wonderfully comfortable and simple to wear, but it is also cute, with so many colorful options you won't know which one to turn to first.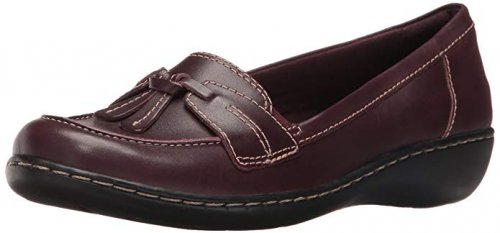 In case you are not about that heeled lifestyle, but want something that is office-approved, that looks elevated and refined but is still comfortable to wear every day, a great choice is the Clarks Ashland loafer. It is sophisticated, but it is also cute, with its simplistic tassel detail in the front to complement any style.
The Ashland is made from extra-soft genuine leather, utilizing a Bendables flexible construction method. This technique ensures that the Ashland loafer moves along with your foot, promoting a natural way of walking. There are several color choices, ranging from the burgundy in our picture, to standard black, brown and tan, all the way to metallic versions.

The inside of the Ashland is lined with textile fabric that will be gentle on your skin, and it also comes with the famous OrthoLite footbed. This OrthoLite technology has an open-cell structure which provides not only long-lasting cushioning but also superior breathability and moisture-wicking, meaning that your feet will be sweat-free throughout the ride.

The Clarks Ashland is a loafer that you will have a hard time saying no to, whether you are spending your days on your feet or mostly sitting at a desk. It is designed to be comfortable and business-cute at the same time, and you can easily match it with jeans, slacks or skirts, no matter where you go.

Subscribe to our Newsletter