Best Riding Boots Reviewed
In a
Hurry? Editors choice: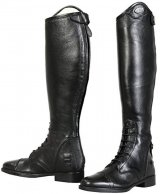 Test Winner: TuffRider Belmont

Finding the right pair of riding boots can make your time in the saddle comfortable and increase your level of protection. There are numerous styles to choose from, the safest and most stylish of which is the tall boot. These are made in either rubber or leather and both materials have their advantages.
Rubber riding boots
can be wiped clean with minimum fuss after a long day out and are also a popular choice for work in the stables; however, the most superior and stylish of the two are long boots made out of leather. Many long boots have the option of a zipper in the back or in the side. While all of these models are designed to pull onto the leg, having a zipper may be an advantage, especially if your hands are numb with cold. Check out our options for the best riding boots, available!
Standout Picks
Criteria Used for Evaluation
Style
There are a number of things one must consider when it comes to choosing good riding gear.
First of all, the boot must be sturdy with a small heel. The sturdiness will help protect your feet if they get stepped on, and the heel should prevent your foot from slipping through the stirrup, should you be unfortunate enough to fall off your horse. This is why sandals, canvas sneakers, and flip-flops have no place in equestrian activities - the protection they provide for your feet is simply inadequate. You'll have to be eagle-eyed too, as some high street brands will market high heeled footwear as riding footwear. Check the size of the heel and if you suspect it is too big, leave them on the shelf.
When it comes to this type of footwear, there are different varieties available, and which style you choose depends on the discipline in which you would like to compete. It's well worth researching the dress code required for each discipline before you apply for it.
The two main types are the full length and ankle heights, which are also known as jodhpur boots.
Long (or Field) Riding Boots
There are two traditional types of long designs:
Dress boots are generally worn in horse shows, show jumping and formal fox hunting. They are elegant and plain without lacing at the ankle and are generally stiffer. They are traditionally black in color, and a recent fashion trend is for them to sit higher on the outside of the knee than on the inside.
Field boots feature lacing at the front which aids in flexibility and movement. This means that the rider is more comfortable and able to bend the leg at the ankle. Because of this, they are worn in all types of riding. The majority of the models are black; however, brown is also acceptable.
You may also find hunt or top styles in the long boot section, as these are similar to the dress style, with the addition of a cuff at the top.
Short (or Jodhpur) Riding Boots
The other popular type is the short paddock or Jodhpur style. These allow closer contact between the rider's legs and the side of the horse. Some riders prefer the long style for the added protection on the leg as they may experience chaffing whilst wearing Jodhpurs. One way around this is for riders to wear gaiters, which also give the appearance of long designs.
This type of footwear offers to protect your legs and ankles, which you may find useful if you fall off your horse! The lower leg protection also prevents irritation, as the legs can rub up against the horse's saddle.
Some footwear comes with a steel toe cap for added protection. Whilst this would keep your toes safe from an unplanned stomp from a horse's hoof, they can add considerable extra weight to the foot.
These styles can be made from a variety of materials. The two most popular are leather and rubber. Both leather and rubber types can be pulled over the leg and onto the foot.
Materials
Leather has always been the most prestigious material for a riding boot. It is sturdy, hardwearing and waterproof if treated right; all the qualities required for outdoor activities.
Leather will become supple over time, providing the right amount of 'give' in areas that require added flexibility, in accordance with your riding style. It may take some time to break in your leather boots, but be cautious of the tips you may read online on how to speed up this process. Some of them are not so reliable and may lead to permanently damaging your footwear.
You might, therefore, have to put up with the rub until the leather eases up and softens. If the blisters get too severe, try applying band-aids on the affected areas. You may experience a lot of pain in the process of breaking your footwear in, but in the long run, it'll be worth the agony when you have a fully customized pair of equestrian shoes.
Rubber riding boots are generally considered an inexpensive alternative to the leather options.
Wearing rubber can come with its advantages. During bad weather, you may not want to damage your prized leather footwear, so rubber styles are perfect for these occasions. If they get muddy, they can be easily be wiped clean and provide excellent protection against all of the elements. They're also great to wear when cleaning the stables. Many riders will make a quick change to rubber footwear to avoid damaging their more expensive leather types.
If you're just getting into equestrian sports, then rubber riding boots might be your best option. They share many of the same qualities as leather designs, but without the huge price tag. It will give you something to look toward if you decide that equestrian life is for you.
Weather Resistance
The type of materials we discussed in our previous section directly leads us to the topic of weather resistance. You may not always be riding in the most ideal weather conditions, and perhaps you like doing it in all four seasons.
This means that you need footwear that withstands intense sunshine and heat, as well as light or heavy rain, and perhaps even snow and freezing temperatures! You need your legs and feet to be dry and warm and not too sweaty throughout all of these, and thus you need adequate footwear for each season.
Leather as a material is breathable and will keep your feet reasonably dry and cool. Its downside is that it is not water-resistant unless specially treated with a waterproofing agent.
Weatherproofing your footwear will prolong its life, protecting it against the elements such as rain and snow. There are many different types of weatherproofing products; it's important to research what's out there because some products may affect the appearance of the shoe. If this is important to you, use a spray, as it will provide an invisible barrier between your footwear and the elements.
On the other hand, rubber is a great option for all seasons, barring the most intense heat and sunshine. Rubber is not breathable, and can easily crack if exposed to high temperatures for prolonged periods of time, so make sure you're not taking your rubber footwear out at the height of the summer.
Finally, when the days get cold and you still want to experience the thrill of riding, opt for well-padded designs - those which have faux fur linings, extra insulating interiors, and which are built to endure low temperatures. That way you won't freeze your toes off as you work up a sweat!
Comfort
A lot goes into determining the comfort of the design. Things like materials and overall fit will play an important role in comfort, especially when it comes to horseback riding. Let's take a look at these factors in a little more detail.
Materials:
When we look at materials in the context of comfort, we look more at the interior and soles of a boot. While the upper does play a part, the interior and soles have a larger role in this, as those are what will be constantly touching your feet. Some boots will use leather for the interior as well as the upper, and others may use a fabric lining. Fabric linings make the design slightly more lightweight, while a leather interior helps preserve a healthy foot climate inside.
Leather or not, soles are one of the most important parts of a design. The insole is making direct contact with your foot, the midsole provides support and shock absorption, and the outsole is making direct contact with the ground. A good insole will keep your feet cool and well-cushioned; Ortholite, for example, is a very common insole material. Most midsoles will be made with EVA foam, which provides good shock absorption and longevity. Outsoles are typically made of rubber, which can be made to be waterproof, non-marking, or even slip-resistant.
Overall Fit:
Most of us know our shoe size, and for most adults, it isn't something that will change drastically over time. However, size only tells you so much about design, and won't be an exact determination of fit.
What will be an exact determination of fit is putting the shoes on and ensuring that they're comfortable. It's best to have about a half-inch of room between your big toe and the front of the shoe, as this will allow your feet wiggle room while you walk and move. Wiggle your toes around a bit to ensure that there is enough room.
Two different products can be the same size but fit very differently because of their shapes. Let your comfort be your guide, and read customer reviews before purchasing so you can get an idea of the real-world experiences that others have had.
Some leather footwear will fit very well but feel a little tight at first, though not unbearably so. Leather takes longer to break in than textiles, and some leather designs take longer than others. Be patient with this process.
Durability
Leather is one of the most durable materials there is, and in ancient times was even used as battle armor. You can get a lot of durability and longevity out of high-quality leathers. They offer natural protection that textiles such as canvas don't have, and a solid leather boot will resist cracking and wear with the right amount of care.
Not all leathers are created equal. Some boots will be made out of multiple cuts of leather, which can impact durability and cause it to not have a uniform look. This can be seen in discoloration, or even one boot being a completely different color than the other. When it comes to durable leather, you want something that is thick and uniform in color. This ensures that the footwear is made out of the same cut.
Leather lends itself well to riding and if well maintained, leather boots can last for years. They may take some time to break in and this can be a painful process; although, once the leather softens, you'll find it has bend and flex in all the right places. This will customize the footwear to your particular riding style.
Of course, the upper isn't the only part of a design.
Durability also depends on the soles. A leather of exceptional quality doesn't mean much when paired with a sole that is lacking in quality. The outsole is usually the first part to show signs of wear and tear, so it's important to take good care of your footwear so it lasts for as long as possible.
10 Best Riding Boots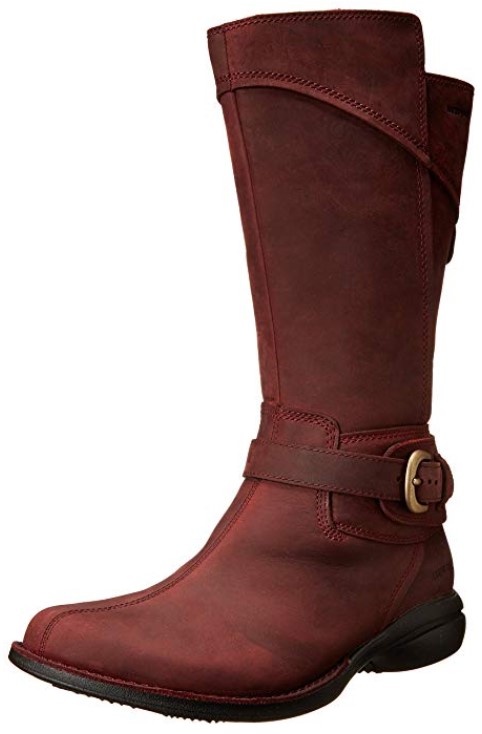 This may not be the most conventional of choices when it comes to riding, but the Merrell Captiva checks all our requirements for a good riding boot, and then some. It is sturdy and solid, incredibly comfortable, waterproof, and has a slight heel which makes it perfect for stirrups. It may not be the most elegant of boots, but for everyday riding, it will definitely serve the purpose!
The Merrell Captiva has an upper made of full-grain leather. Thanks to its mesh lining with odor control, your feet will stay dry and odor-free no matter how long you spend outside. There is a zipper on the inside for easy entry, an EVA footbed which you can remove should you require more space inside the design, and a whole array of features that provide stability, shock absorption and comfort. The outsole on the Captiva has special M-Select GRIP traction that lasts for a long, long time.

The Merrell Captiva is not a show design, but rather one in which you can ride without a care in the world! It keeps your feet comfortable and dry, drawing the moisture out, and it also protects you from bad odors. There's nothing more we could want out of a pair of durable boots like these.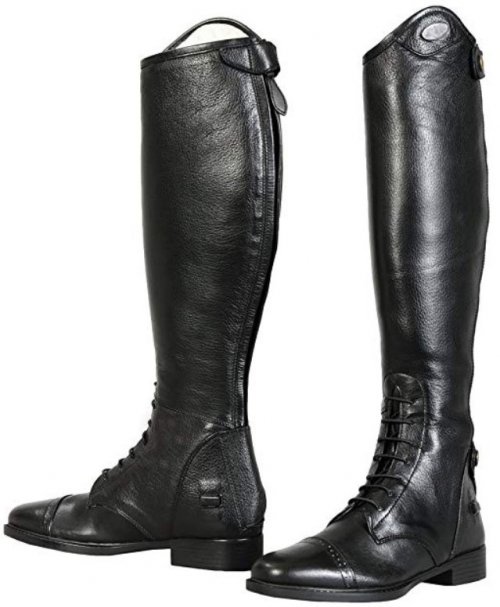 What aristocratic elegance! The Belmond field boot from TuffRider is an option that speaks of wealth, quality and of simple, streamlined silhouettes. It has a Spanish top, a toe cap with perforations for a touch of interest, and several different closures and options to help you adjust the fit however tight or lose you need it to be. TuffRider is famous for creating sturdy, fashionable riding boots that don't break your bank, and this model is no different!
The Belmont is made from genuine leather. In the back, it has a zipper for an easy on and off, and there is also an elastic gusset for a stretch fit. A snap closure provides security, while the laces at the front are merely there for decorative purposes. The ankle part of the Belmont is contoured, and thanks to the spacious round toe and the memory foam footbed, you can rest assured that your feet will enjoy more than enough comfort.

Finally, this sleek design has a slight heel for security in the stirrups and a spur rest, in case you feel like adding some. The Belmont truly is an outstanding design! It is flexible, it is made of premium materials, and everything about it is geared towards your comfort and performance. What a great deal!

3

. Ariat Heritage Contour II



Ariat is a leading brand when it comes to riding boots, most notably for producing a wide range of impeccable English styles. The Heritage Contour II is just such an example, a boot that looks and feels luxurious and is perfect for all disciplines. It features Ariat's signature 4LR technology, as well as elasticized inserts for a better fit, and a sock liner that wicks moisture away from your feet. If you want quality, if you want a reliable riding option that will last for quite some time, don't hesitate to reach for the Contour II.
This design has a full-grain leather upper, as well as a full-grain leather lining for a healthy climate inside. Its 4LR comfort system ensures that you are comfortable throughout the day, while the sock liner keeps your feet dry and cool during the ride. There is an elasticized panel on the side, as well as an elastic gusset on the inside which together deliver a snug fit that you will appreciate. The Duratread outsole has rider-tested zones of traction, perfect for in and out of the saddle.

Ariat is a name that is truly one of the best when it comes to equestrian footwear, and the Heritage Contour II is one of their best selling designs. The downside to it is that it is a little costly, given the label and the exceptional quality of craftsmanship. However, if you're serious about the sport, it is definitely an investment worth making.



The Ariat Heritage Roper is a high-performance boot with an outsole specially created for the stirrup. It features a stability shank, a roper toe, a full-grain leather upper, and a Duratread sole. The lining is leather for breathability and comfort, and the design is built in a classic but simple Western style.
No slipping from the stirrups in the Heritage Roper! It is designed for horseback and more importantly, for working on horseback. The design is for ranchers and cowboys who spend a lot of time in the saddle and need a reliable, performance footwear. The ATS (Advanced Torque Stability) shank in the sole ensures your feet do not over-flex while you are in the saddle. A stable foot means you can focus on your work and not fighting for the placement of your feet.

The Ariat Heritage Roper represents an investment, but it is are an incredible design for anyone who works around or on horses. They will last and will keep your feet protected, are easy to clean and reliable. Well worth the price.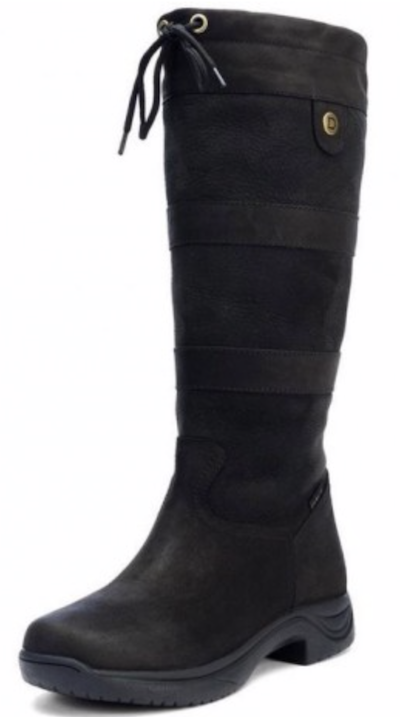 The Dublin River is a tall riding boot packed with features. It is made from waterproof material and features an HBR waterproof membrane to 160mm of water, designed to keep your feet warm, dry and well protected. It comes in two different styles of two-tone colors, or, if you prefer to keep things uniform, there is an all-black variety too.
The River has an elastic gusset at the inside upper calf area for an accommodating fit, and it also features a drawstring at the top so you can be sure of an adjustable, snug fit. The Dublin River features a unique Rider Comfort System (RCS) which means that moisture on the foot is controlled through its advanced lining technology, with a superior cushioning layer for comfort.

A fully waterproof design, The Dublin River is a choice worth investing in. Its RCS insole is designed for all-day comfort, meaning riders can be sure that it won't let them down.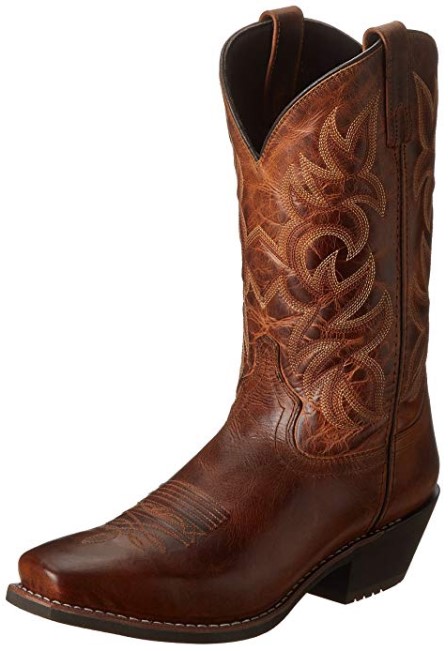 If you wish for something more cowboy, a Western boot to make you feel stylish and powerful, then the Laredo Breakout is definitely our prime choice. It has that signature Western square toe shape, as well as intricate design and stitching all over the upper for that cowboy flair. On top of that, the Breakout is exceptionally comfortable, as well as durable.
This design has pull loops in the sides which make it easier for you to pull it on when you're in a hurry. The insole is contoured for maximum comfort and can be easily removed, if you wish for more space or if you want to insert your own orthotics. The lining of the Breakout is mesh, meaning that it provides proper ventilation and keeps your feet from sweating too much.

The reason we love this style so much is that it is not only good for horseback, but also for hitting the town as well! Just make sure to clean them first, throw on a pair of jeans and a nice button-up, and you're ready to take your significant other out to have some fun!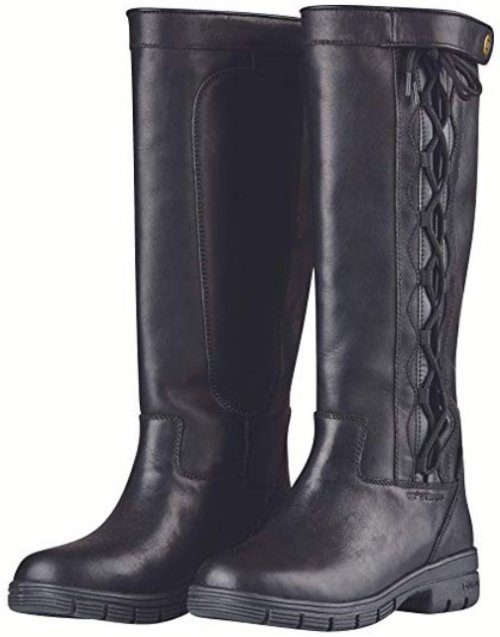 The motto of the Dublin brand is 'born equestrian', so you know that they offer equestrian apparel and footwear at premium quality. The Pinnacle II is one of their top-selling options, a tall boot that is both waterproof and breathable. It offers lace-up adjusting in the side and a special footbed system that provides you with ultimate comfort.
The Dublin Pinnacle II is made from full-grain leather and we love that its fit is easily customized thanks to the laces in the outer sides. It is perfect for various calf widths! The RCS footbed technology includes both heel and arch support, as well as a dual cushioning layer for that all-day wearability. It is also moisture-wicking, for keeping sweat and foul odors at bay. The Pinnacle II is durable and lightweight thanks to its Touch Tec rubber outsole.

While it may not look like a riding option on the outside, the Pinnacle II is definitely that when it comes to its performance characteristics. This solid design will keep you supported and comfortable in the saddle, and you will have no problems wearing it day in and day out for years to come.

8

. Mountain Horse Sovereign


This tall boot features a Spanish cut top and lacing across the front for a customized fit. The leather lining is premium selected for its comfort and durability. The leather uppers are hardwearing, lustrous and full-grain. The Sovereign has a buffed-up shine and finishes , which will make you the envy of your riding friends.
This design features an MH Prolaze Stretch-Flex notch that makes for an easier heel down position, which will feel considerably softer. There is a hidden and hardwearing piece of elastic that runs along the inside of the back of the shaft and provides a superior customized fit for the rider.

Packed with features, including a ripple zone in the outsole for a more responsive grip, The Mountain Horse Sovereign is a pricy option. However, it more than justifies its price tag with great looks, top-notch materials, and technology to give any rider an edge against the competition.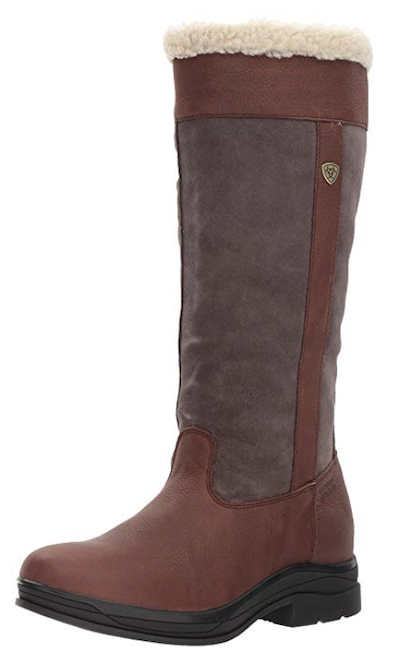 The Ariat Windermere is a boot that is both stylish and versatile. Made from full-grain leather, it features a suede upper that is soft to the touch and waterproof. Its Duratread rubber sole provides excellent traction and grips the ground well regardless of the conditions. It features a stirrup-friendly small heel, designed so that a rider's foot won't slip whilst in the stirrup.
Ariat has always endeavored to stay one step ahead of the competition with its technology, and this one is no exception. Its Four Layer Rebound technology is designed to keep the foot stabilized for comfort that lasts all day. The Ariat Windermere is fashioned from full-grain leather and soft suede for the upper, which if looked after correctly will last the rider for years to come. Both leather and suede are fully waterproof and durable for all seasons.

The Ariat Windermere is not the cheapest design on our list, but what you get is a brand with a leading reputation and quality that is hard to beat. Riders trust Ariat, and the Windermere is a fantastic option, which is why it has earned a spot on our list.

10

. Roper Metallic Underlay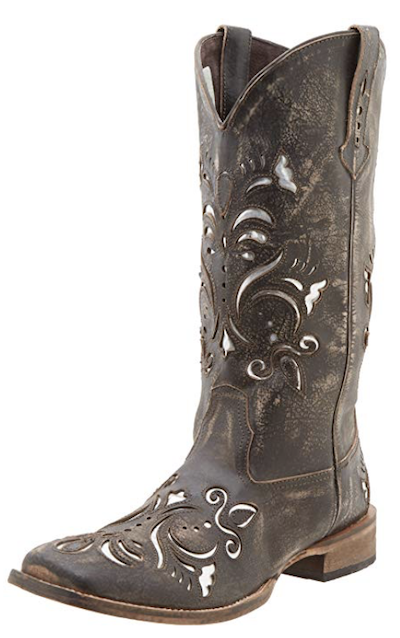 This lightweight Western boot is made of 100% leather in the upper and a synthetic sole. It has a metallic underlay pattern all throughout - which is definitely where it gets its name from. This Roper design is more fashion than work due to the lack of tread but it will perform in the saddle in any event, keeping your feet protected and in the stirrups.
The underlay is very unique, made of metallic coated leather. The cutouts on the upper are well sewn and durable. The distressed style of the leather adds to its fashionable elements. This is a very stylish Western design that anyone would be proud to have in their collection.

The Metallic Underlay is a substantial shoe, but it is also designed to be lightweight, so it doesn't fatigue your feet. Whether you're in the saddle or just hanging out, the light weight and the breathable leather will keep your feet comfortable.

The Roper Metallic Underlay will perform in the saddle but, due to the underlay and glue on upper, it will neither be easy to clean nor durable for stable work. Save these for your time off from the ranch.

Subscribe to our Newsletter