Best Horseback Riding Socks For Expert Equestrians
In a Hurry? Editors choice: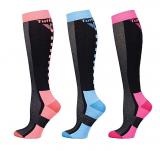 Test Winner: TuffRider Neon

Equestrian riders know how uncomfortable it can get inside of a riding boot. They tend to rub against your skin and can make you sweat excessively when there isn't proper airflow. Riders can ensure that they're boots fit more comfortably by investing in a quality pair of horseback boots that are designed to provide all-over comfort and support. This type of
hosiery
will wick excess moisture away from the skin and prevent a build-up of nasty odor-causing bacteria so you can enjoy your ride. Since we've already created a list of the best pairs, the only thing left for you is to sit back and choose the best option.
Standout Picks
Criteria Used for Evaluation
Comfort
Riders can ensure that their boots fit as comfortably as possible by wearing a pair of socks. As every horseman and woman knows, these boots sit high up the leg and are often quite tight against your skin. This can lead to all sorts of uncomfortable problems like chaffing and blisters that could have been prevented by wearing the right pair of hosiery underneath them. There are lots of aspects that affect the overall comfort of a pair including its height, thickness, and weight.
 
Ideally, your sock should run the entire length of your boot in order to fully protect your legs from irritation. Though some riders prefer wearing a mid-length sock because they tuck their pants inside of their boots. The thickness is a matter of personal preference but should ideally be thicker at the foot and gradually thinner towards the cuff. This allows for more room in the legs while protecting and cushioning the feet for a more comforting wear. A lot of time will be spent on your feet when you're dismounted and you can find yourself with achy tootsies by the end of the day if your socks aren't well padded. This is why its best to opt for a pair that has different thickness in certain areas because you'll find them more enjoyable to wear in the long run.
 
It's also very important that your socks are weather-appropriate in order to protect you from the elements. When its hot outside thick pairs that are made from materials like cotton are best avoided altogether. Whereas, in the winter, cotton is a great choice because its warm and will help to keep the cold air away from your skin. Materials like nylon and Spandex are better options for summer because they're lighter and allow for better airflow inside of your boots.
 
Airflow is crucial in order to prevent excessive sweating that can make the rubbing and chaffing even worse! If your socks are too thick at the legs it will cause you to overheat and you'll more than ever. This leads to a build-up of odor-causing bacteria and makes for a pretty uncomfortable experience.
Style
There are various styles of equestrian socks to choose from which let you express your personality through the gear you wear. Some of the aspects you'll need to consider are colors, patterns, and lengths. These are the key style elements and are what contributes to the appearance of your socks.
 
Those socks come in practically any color including neon, pastels, and shades like black, white, or nudes. With so many options to choose from it's an important aspect that shouldn't be overlooked. Some riders prefer to match their socks with the rest of their gear for a more professional look, while others like to mix a fun splash of color to their, otherwise, plain ensemble. Whatever your preference, it's important to keep in mind that what you wear while riding horse will be a part of your presentation, which is especially true if you're competing. Some horses have colors that they aren't particularly fond of, so it's important that you take this into consideration because you could end up spooking your horse if you wear a shade that they don't like.
 
You should also take the time to think about the patterns you plan on wearing because some are made to look more streamline while others are more far out and fun. This aspect won't be too important if your boots completely cover your socks, which most do, but some will extend out past the top and be visible while you ride. In this case, considering the pattern will be more important. Otherwise, it's really all about what you like and dislike. Some of the most popular pairs will have checkered or pinstripe designs, while others are simply a solid color pattern. The more lively choices often have cartoon imagery of horses or other fun artworks which are particularly popular with younger riders.
 
The length of your socks should be determined based on the height of your boots and should most often extend the entire length of the shaft of the boot. This will help to protect you from rubbing and other discomforts associated with this style of footwear and can help to make your ride more enjoyable.
Materials
The materials your socks are made from can make a huge difference in their performance. They also control several key features including moisture, heat, and support. Elasticized bands are a must because this will keep your socks from falling down inside of your boot, though you don't want ones that are too tight because this can cut off circulation to your legs and feet and can lead to medical problems from lack of blood flow.
 
Nylon is a great choice of material particularly for the cuff and neck of the sock because it's supportive for better protection and comfort. Nylon is also a thin option that won't crowd your leg inside of the boot. Whereas, cotton is thicker and can make it difficult to fasten your boots comfortably. Cotton is best reserved for the foot part of the sock because it offers better cushioning than nylon and can help to lessen foot fatigue if you're standing for long periods of time.
 
Spandex is another option that's very similar to nylon and offers the same snug fit without causing excessive sweating. Moisture control is vital in order to prevent a build-up of sweat and odor-causing bacteria that can lead to increased friction and rubbing.
Value
The value of these socks isn't defined by their price tag, but rather, by the kind of benefits, they offer the rider. A pair should be made from quality materials that won't fall apart after a little wear. The materials should wick excess moisture away from the skin and prevent rubbing or friction inside of your boots.
 
If a pair is well-made it could last for years without needing to be replaced whereas, a cheaply made option will fall apart very quickly. The selling price might seem better at first, but when you're having to replace your socks every month or so it's going to end up costing way more than if you buy a high-quality option right from the start.
Brand
When it comes to the brand, it's important that they are experienced with designing equestrian-geared apparel. This intensive sport requires a certain level of quality and not every brand will be able to produce the right kind of results. The following are some of the most trusted names in this feild;
 
Ariat is one of the most popular brands of equestrian apparel. They are notorious for their durable and high-quality designs which include boots, hosiery, and apparel. Ariat manufactures comfortable items that are designed to maximize the enjoyment you get from long days spent in the saddle. This line is also a go-to for riders who enjoy a more lively look because they make items with colorful and bright patterns, as well as, more neutral colorways too.
 
Noble Outfitters has climbed their way through the ranks to become one of the top equestrian apparel brands. They're noted for designing products that are ideal for muddy conditions and are especially popular during the cold winter months.
 
Equine Couture is another trusted provider of equestrian gear and are recognizable by their fashionable approach to equestrian apparel. They craft bold and beautiful designs which include hosiery, breeches, jackets, and all other equipment required for riding.
Top 10 Picks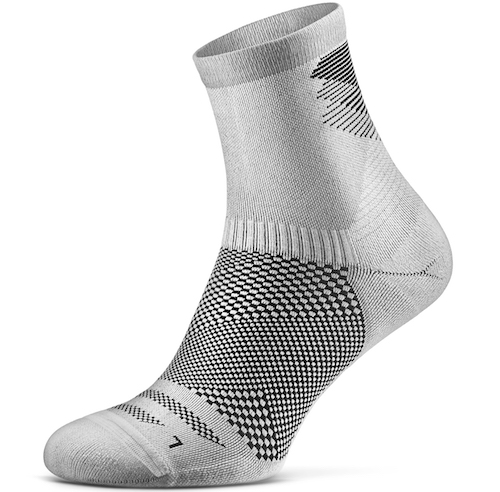 Originally designed for trail runners, the Rockay Razer is actually a great choice for horseback riding as well, thanks to its use of performance-enhancing technologies, the use of great materials, and the high level of durability it offers. This is a crew length pair of socks and it is ideal for those who do not like the restrictive fit of knee-height models. It will also work well with regular workout footwear, so you can use it throughout your entire fitness routine.
The Rockay Razer Trail is ideal for summer when excess material and padding lead to sweat, heat retention, and ultimately skin that is more sensitive to chafing or blistering. This pair utilizes a specially-developed formula made to rapidly wick sweat away from the skin, keeping you absolutely dry, no matter how hard you're going (or how hot the temperature is). Mesh breathability panels increase fresh air circulation, allowing your body to cool down, without actually having to stop.
The arch of the Rockay Razer Trail features compression support that's especially beneficial to those suffering from plantar fasciitis, but it also serves the purpose of preventing bunching in the toe area. The seamless construction minimizes irritation, while the heel and toe area enjoy higher levels of protection through the strategically placed cushioning.
As for care, these socks are coated with Polygene, a great piece of technology that protects the fibers from bacterial growth, lowering the likelihood of odors, and allowing you to go longer between washes. Not only will this contribute to fewer laundry days, but it's actually great for the environment as well. Plus, the Razer Trail is made with 100% recycled materials, making it a unique product on this list. As for cost, it's about average compared to the other products listed, and you get the benefit of a lifetime guarantee against tears and functionality loss as well.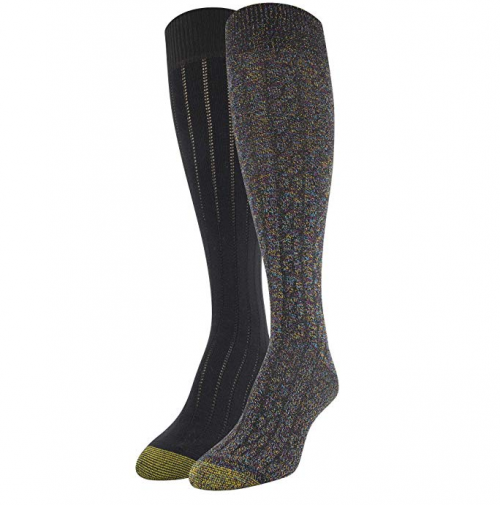 GoldToe's Sparkle is a great knee-high sock that's perfect for this activity. This pair is made from an ideal blend of materials that provide both the comfort and functionality needed to ride. Their easy pull-on closure system allows for a customized fit and ensures that your socks don't slide down throughout the day.
GoldToe was established in 1934 and is well-known for their high-quality hosiery that wearers just can't seem to get enough of. Their socks are made with an innovative Fresh 24/7 technology that inhibits the growth of odor-causing bacteria while making a healthier environment for your feet. GoldToe makes pairs that are easy to care for and machine washable so you won't have to worry about tedious hand-washing and their convenient one-size-fits-all approach makes shopping a snap.
 
Sparkle socks are made from a comforting polyester blend that includes 6% nylon and 2% spandex for a stay-put wear. Anyone who is shopping on a budget will love this affordable option that comes in a two-pack for better value.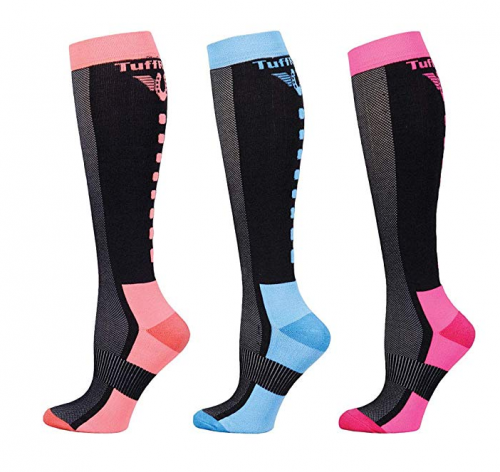 This pair of TuffRider socks offers a cool looking neon exterior and comforting interior design. Its well-ventilated build allows for adequate airflow and helps to prevent a build-up of sweat and odor-causing bacteria for an all-day fresh feeling that wearers love. Its made from an excellent blend of materials and delivers the kind of performance-enhancement required for riders of any skill level.
TuffRider is a trusted name in equestrian apparel who are well-known for their high-quality designs and unique looking pieces. This option's neon detailing is ideal for riders who are looking to add some extra personality to their attire and the knee-high length is perfect all skill levels.
 
These socks feature an extra stretchy opening for easy on-off wear and reinforcing at the heel and toe for greater durability. Its blend of materials includes 35% bamboo, 35% cotton, 25% nylon, and 5% Spandex. You can choose from one of six colorways so you'll have trouble finding a pair to suit your style.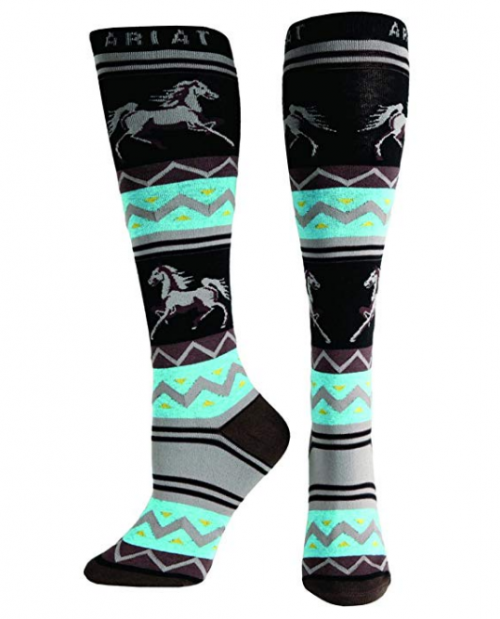 Ariat's Apache socks are perfect for equestrian riders! They offer a cute novelty pattern that puts a unique spin on the usual style of boot socks and their Western-themed design lets riders feel right at home while adding some personality to any wardrobe. These socks aren't just a pretty sight though, they're also a comforting option that will help riders of any skill level to feel at ease while they're on the move.
Ariat is a trusted brand in athletic apparel who are dedicated to enhancing the equestrian experience. They're noted for designing high-performance gear that helps to lessen the strain that riding puts on your body. Ariat is one of the most trusted brands who specialize in this type of sporting apparel and are notorious for their quality of craftsmanship.
 
The Apache sock delivers a smooth ride and stay-put design that is perfect for this intensive sport. Its polyester and cotton blend makes for a luxurious cushioning that will keep your feet pain free at the end of the day and will help to prevent lower limb fatigue too. A 2% Spandex cuff ensures that this sock stays perfectly in place without sliding down on those higher jumps.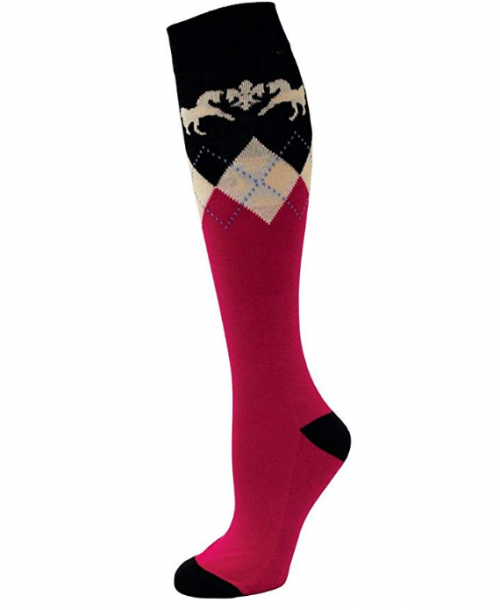 Equine Couture's Hadley is a solid choice to wear under your boots! These socks offer a stylish geometric look and are extra comforting so you can ride for countless hours in total comfort. The Hadley comes in three colorways: hot pink, navy, and red so you'll have no trouble choosing ones that match with your sense of style.
Equine Couture offers boutique designs for a fraction of the cost and retails traditional equestrian apparel. Their looks have a bright and cheery flare that plays heavily of bold colors and unique details. Equine Couture delivers high-quality choices that are made to enhance the riding lifestyle by providing the ultimate in comforting gear.
 
These knee-high boot socks offer an extra stretchy opening for easy on-off wearability and sit nicely at the knee for whole-leg coverage. The Hadley is made from 80% cotton, 15% nylon, and 5% Spandex which makes for a plush feeling and stay put wearability. This option is a great choice for riders of all skill levels and will help you to get the most out of your activity.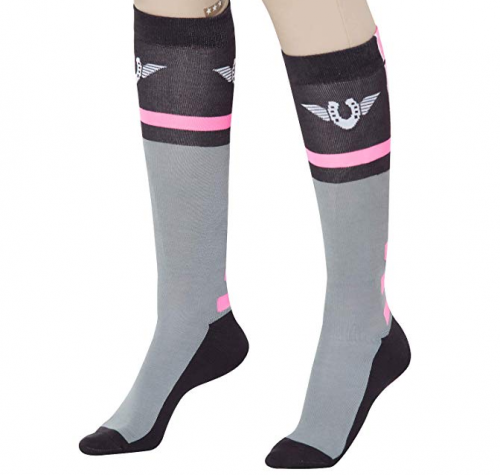 TuffRider's Impulsion offers a cushioned footpad that helps to prevent foot pain and lower limb fatigue for all-day wearability, It's contrasting color scheme makes this a fun choice and lets you express your sense of style through your hosiery. The Impulsion is made from an eco-friendly mix of bamboo and fabric making them an excellent choice for naturists and those who avoid the use of animal products.
TuffRider is one of the leading brands sold under the JPC Equestrian label. JPC is the world's number one manufacturer of riding gear and equestrian products. For over 25-years, this name has been a trusted source among the riding community and is known to deliver well-made apparel that's appropriate for riders of any discipline and skill level.
 
The Implosion is made from an ideal blend of materials including 35% bamboo, 35% cotton, 25% nylon, and 5% Spandex. The Spandex is concentrated in the cuffs to help hold the socks perfectly in place and to prevent any sliding or slipping down. Its reinforced cotton footbed provides excellent underfoot cushion and makes for a comforting ride, while a slim nylon neck allows for adequate room inside of your boots.

7

. Noble Outfitters Solid Peddie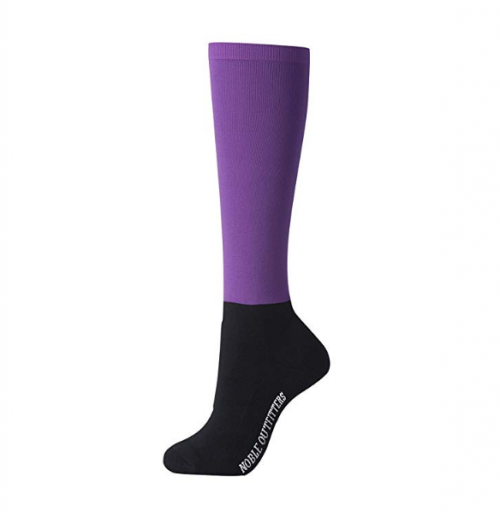 Noble Outfitters' Solid Peddie offer a uniquely beautiful appearance and smooth finish that make this pair a desirable choice for this sport. The Peddies' fit true to size and their thinner calf panel allows you more room inside your boot. A lightly padded footbed and cushioned ankle area help prevent foot and lower leg fatigue even after long hours spent on your feet. Riders who are in search of a pair that won't crowd the space inside of their boots will love this pairs barely-there design that fits perfectly under your boots.
Noble Outfitters is a respected brand who develop innovative equestrian apparel for riders of any skill level. They're noted for their high-quality designs that exceed the expectations of riders in both comfort and functionality. Shoppers on a budget should consider a pair from Noble Outfitters, who retail their products for an affordable price and never cut corners on the integrity of their items.
 
The Peddie's a cute pair that offers a dual-colored appearance so you are able to let your sense of style shine. These socks are made from a lightweight polyester blend and feature 56% nylon and 12% Spandex. The Spandex ensures that your socks stay put without over-squeezing while letting you move without restrictions. A ventilation panel across the top ensures you won't overheat and when combined with Peddies' Opti-Dry technology, the results are unbelievable.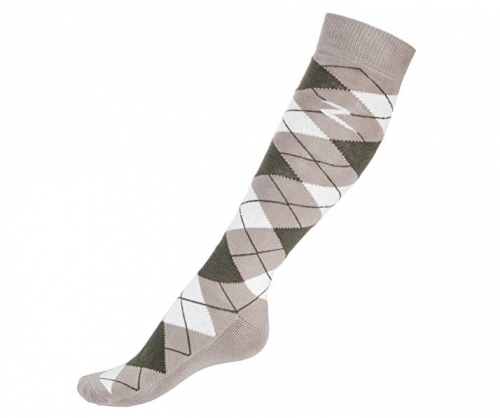 Horze' Alana Soft is the perfect pair for this thanks to its knee-high design and cotton-terry mix foot. This pair is breathable and lightweight with extra reinforcements for a more durable build. Its gorgeous checkered pattern and smooth colorways make this choice almost too nice to cover up and will look great with nearly any gear for this sport.
One of the most recognized names in European equestrian apparel, Horze hails from Finland and is notorious for their quality products. This brand has stores all throughout Europe, as well as, successful e-commerce retailers making them a top contender in the world of riding gear.
 
Their Alana Soft is a warming pair that will keep you nice and toasty on colder days. Its reinforced toe and foot make for a long-lasting design that won't fail under tough wear and tear. The Alana's stunning argyle pattern adds to its overall allure and wearers just can't get enough of this pairs soft feeling against bare skin.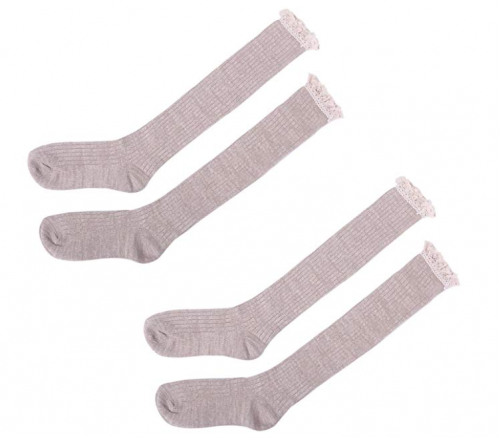 HDE's Crochet Socks are a super-cute option that adds personality to any riding gear. Knitted crochet detailing at the cuff peeks out from your boots for a fun look that ladies love and adds a unique appearance while you're practicing it. These socks are made from a comforting blend of materials and deliver a durable structure that's able to withstand the tough wear and tear you'll put them through.
These socks are made from 70% cotton and 30% Spandex, making them a great choice for colder weather. Their Spandex material ensures a secure no-slip fit so you can ride with peace of mind knowing that your hosiery isn't going to slide down. They're 23.5-inches in length so they will peek out above most standard riding boots to add that cute crochet look to your attire.
 
This option will look great with any style of riding boot including knee-high, ankle, or calf-height. Their insulated fabric is perfect for riding in cold conditions so your feet will stay nice and toasty, which is essential while you're riding. HDE is an affordable brand and these socks retail for a budget-friendly selling price.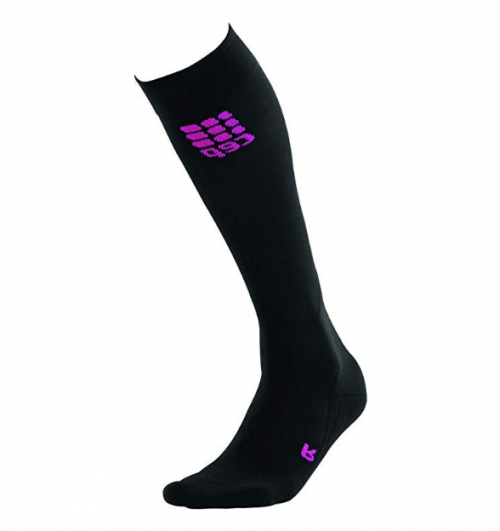 CEP's Progressive+ Riding Socks are a high-performance pair that delivers a graduated compression that helps to improve circulation while you ride. This pair is designed for easy wear and boasts right and left specific labels so you know exactly how to wear them correctly. The Progressive+ offers gender-specific sizing and an easy-to-follow sizing chart to help make your purchase as accurate and effortless as possible. They come to a smooth finish that's very stylish and will have you looking sharp while you ride.
CEP compression socks are medical athletic apparel designed to help athletes improve their overall performance and lessen the time it takes to recover from injuries. They're specially designed to help protect your legs, Achilles, and feet so you can feel assured while you ride. This pair will improve your overall circulation and help to stimulate blood flow to the legs and feet. They are very similar to the model SB SOX.
 
The Progressive+ is made from an excellent blend of materials including 85% polyamide and 15% Spandex for a streamlined feel. Its elasticized cuffs help to ensure that these socks won't slide down while you're active. They're available in three colorways: black/grey, pink, and black/pink which makes them easy to match with nearly any athletic gear.

Subscribe to our Newsletter