Best Compression Socks & Stockings 2021
last updated:
Feb 15, 2021
There are several reasons for wearing compression socks. If you have a job that causes you to be on your feet all day, if you suffer from swollen ankles or have bad circulation, compression socks are a great option.
You may suffer from plantar fasciitis; blood clots or muscle pain and your doctor may have recommended you wearing them.
Whatever the reason, we have carefully researched and selected some of the best compression socks and compression stockings on the market. Enjoy reading and deciding which ones are best suited to you.
This is the best product on our list that is currently in stock: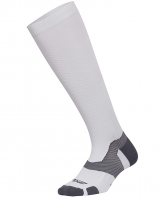 2XU VECTR
Why is it better?
Not too thick, not too thin
Consistent compression throughout
Good midfoot support without uncomfortably squeezing
Well constructed
In a
Hurry? Editors choice: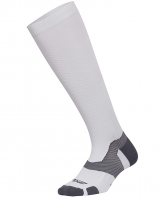 Test Winner: 2XU VECTR

14
Researched Sources
1278
Reviews Considered
19
Hours Researching
20
Products Evaluated
Features
Compression
Materials
Durability
Value
By Default
10 Best Compression Socks for Men & Women
Consistent graduated compression
Halo top band
Front ribbing
Elastic toebox
Functional fit
Fabric may be abrasive
May shrink
The CEP Progressive+ compression socks offer true graduated compression. It has built-in temperature management through the ribbing along the leg. The toebox is elastic, so it doesn't squeeze your toes. Its simple aesthetic makes it excellent for use at the office or on the ballfield.
This sock is designed to be form-fitting, to reduce blisters and uncomfortable rubbing, as well as compression.
Some compression socks have compression zones, but the CEP Progressive+ sock has true graduated compression.
The pressure decreases as it goes up the leg with no unnatural shifts. These compression running socks come with a halo top band, which holds it in place just below the knee without squeezing.
This option bears the highest price tag, but it can be found in the middle-to-high price range. The built-in temperature control and consistent graduated compression, make it worth the price.
Not too thick, not too thin
Consistent compression throughout
Good midfoot support without uncomfortably squeezing
Well constructed
2XU gets on some of our other lists, but this particular sock made it to second place this time. They found the right balance between being not too thin or not too thick. Generally, the brand makes good compression gear all around.
Their newer Vectr full-length compression socks are well made, which is something that is even noticeable straight out of the package. They do apply the appropriate amount of graduated compression, without squeezing the life out of your legs.
As far as versatility goes, running is just one use for these, although the main focus for us of course. A couple of miles in, you shouldn't experience any sliding down to your ankles, which is a solid plus. The compression itself is pretty consistent throughout the entire sock, giving that needed support to the midfoot and arch.
With regards to overall value, we definitely recommend these.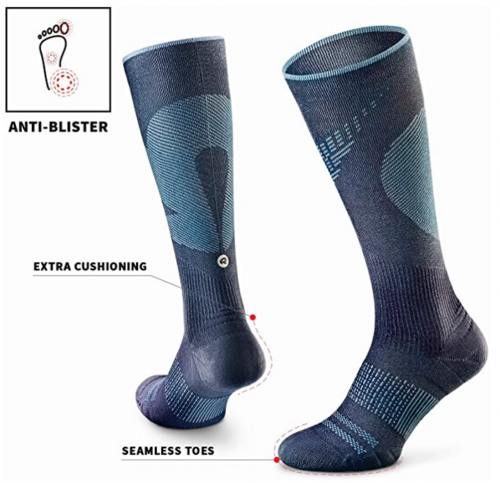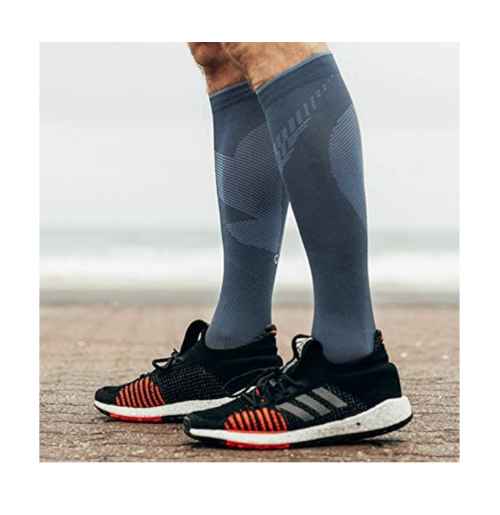 16 - 23 mmHg graduated compression
Machine washable
Cushioned toe and heel
Arch support
Reflective details
Slightly complicated sizing
Athletes who train hard know how important a pair of good compression socks can be in ensuring peak level performance and a quicker recovery. Whether you're a marathon runner, a jogging enthusiast, or even just looking for the right type of compressive gear to wear to work, you'll be delighted with Rockay's newly released Vigor, a pair of knee-high socks made to maximize your comfort and health.
The Vigor offers 16 – 23 mmHg of graduated compression which has a host of benefits to anyone participating in athletic activities or just spending a lot of time on their feet. This amount of compression improves circulation, resulting in higher amounts of oxygen being delivered to your muscles, decreases soreness, fatigue, and ultimately speeding up the amount of time you need to recover. It's also a great choice of socks to wear if you happen to suffer from shin splints, or even if you're recovering from an injury.
In addition to the compression provided, the Vigor also offers the benefits of top-quality running socks. The ball of the foot and heel are cushioned for increased impact protection, the arch is supported, and the toe is seamless to prevent rubbing or blistering. You'll also see that finding the right fit is easy enough thanks to the 9 available sizes.
This model features a reflective logo for late-night runs, has breathable mesh zones for a cool and dry wearing experience, and is made from recycled materials that are water-resistant which means less sweat being trapped next to your skin.
As for price, it sells for an average cost, all the while providing you with great value. Plus, as with all Rockay products, you get a lifetime guarantee against tears.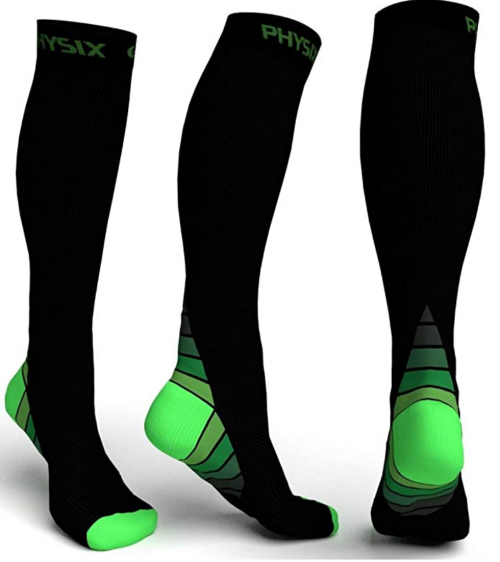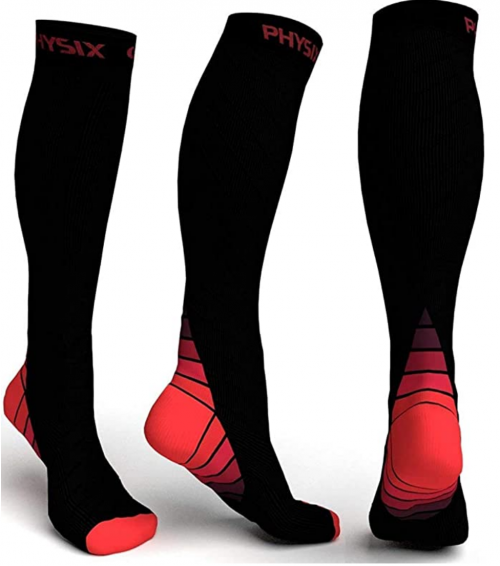 Moisture-wicking properties
Easy to put on and take off
Highly breathable 
Durable 
Available in 9 different colors
Affordable 
The Physix Gear Sport compression socks are designed to last without compromising comfort and quality. They offer 20 – 30 mmHg of graduated compression that will improve your blood circulation and increase the amount of oxygen reaching your muscles.
These socks are suitable for people who suffer from calf compression or swelling issues. They can also prevent clots when worn after surgery. These apply compression and instant support to the heel, foot, toe, and calve area. Wearing them can provide vascular toning benefits and reduce fatigue as well as swelling in the lower leg. 
This option is made from 70% nylon and 30% spandex. They feature moisture-wicking properties. The socks are machine washable and highly breathable. The durable 20-30 mmHg sleeves can withstand a lot of wear. 
These socks come in 9 different colors, giving you a variety to choose from. They also come in 3 different sizes including Small- Medium, Large – X-Large, and XX-Large. Sold for an affordable price, this option is a great buy. 
4 Compression zones
Seamless toe
Absorbs moisture
Moderate compression
Temperature regulation
Light cushioning
May be hard to put on
Threads come loose over time
Sockwell's Circulator are made in the US and come in a variety of colors, including different stripe patterns. In addition to the swelling reduction properties inherent in compression running socks, this sock absorbs moisture to keep your feet dry. It has temperature regulating properties and light padding to give you a more comfortable day on your feet.
Some compression socks have similar amounts of compression from your toes to your knees. These graduated socks have four zones of compression, so they won't be pinching your toes.
Everyone has had that one pair of socks with the seam that irritates your toes. This sock has no toe seam, so say goodbye to toe irritation!
These socks are in the low-to-middle price range. They wash well and they are comfortable to wear. If you're going to be traveling long distances, give this option a try.
200 needle count construction
Ankle area compression
Elastic band around foot
Graduated compression
Seamless toe
Zensah Tech+ socks for swelling are built to last with an emphasis on stabilization and comfort. It sports a seamless toe. It bears an elastic band around the foot for arch support. The graduated compression tapers off as it progresses up the leg to provide appropriate levels of compression.
The exclusive Zensah fabric used in these compression running socks is lightweight, durable, and offers the most protection. These compression socks for swelling also have natural moisture-wicking and thermal regulating properties.
The high needle count used in the construction guarantees its durability and compression power. The construction process ensures that the compression is effectively placed.
The Zensah Tech+ rests in the middle-to-high price range. However, it has real graduated compression to make it worth the somewhat higher price tag.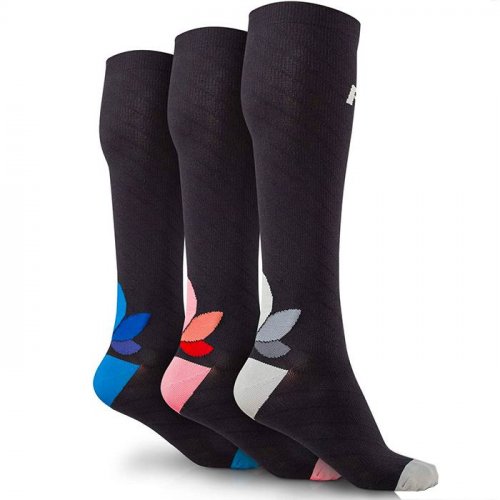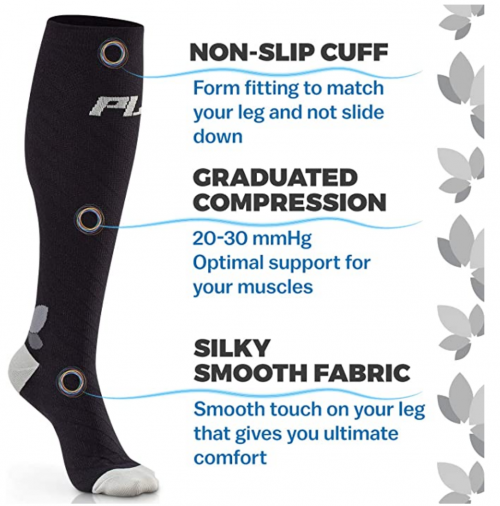 Lightweight 
Made from high-quality fabric
Odor-free
Sweat-wicking technology
20-30mmHg graduated compression
1-year guarantee
5 color options available 
Affordable price  
The Powerlix are a fantastic way to provide pain relief for your legs. Whether you suffer from plantar fasciitis, blood clots, edema, swelling, or simply muscle pains, these compression tights are a great way of reducing or eliminating leg and calf pain.
These socks are made from 80% nylon and 20% spandex. The smooth and soft lightweight fabric allows your legs to breathe easily due to their sweat-wicking technology. The socks can be worn for a long time without leaving any long-lasting marks on your skin. They are odor-free and machine washable. 
The Powerlix offers a 20-30 mmHg graduated compression that improves blood circulation and oxygen delivery. It reduces swelling and ailment pain. They are suitable for pregnant women, nurses, and athletes. They can be worn all day and night.
The socks provide a good level of support and enhance performance without compromising mobility. 
The compression socks come with a 1-year replacement guarantee. Available for a low price, this option is a brilliant deal that you will not want to miss out on.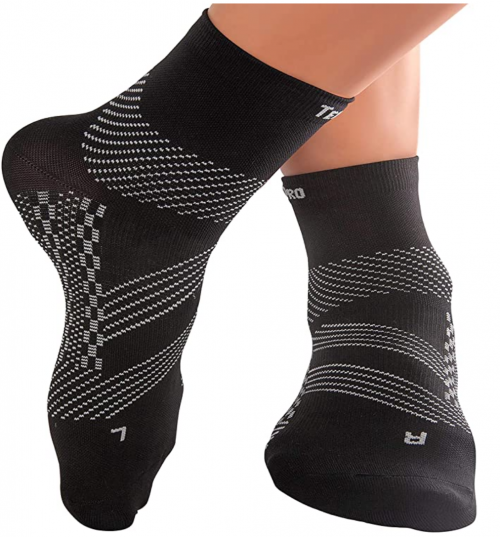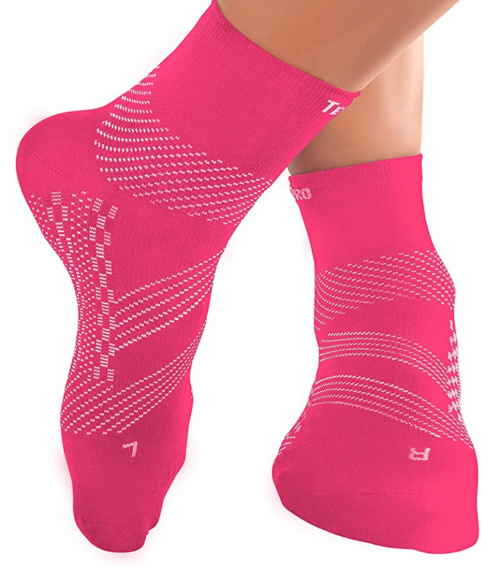 Comfortable heel and toe pocket
Reduces foot and ankle pain
Breathable 
Features moisture-wicking technology
Some reviewers found that the socks were a little too tight 
These TechWare Pro ankle/ foot compression socks provide strong graduated compression, in a thin sock design that is extremely stylish. They work by reducing foot and ankle pain, in particular arthritis, sprains, tendonitis, and fractures. These are suitable for people with plantar fasciitis and those who suffer from swollen feet.
The TechWare Pro socks are made from 80% nylon and 20% spandex. They are extremely breathable and have been made using moisture-wicking technology that ensures your feet stay dry. The compression socks are skin-tight so they can be worn on their own or with another pair of socks.  
The socks come in 7 different colors including White/Gray, Pink/White, and Black/Gray. They also come in a variety of sizes including Small, Medium, Large and X-Large.
Sold for a low price, if you are on a limited budget, these socks are a brilliant buy, and they look more expensive than they are.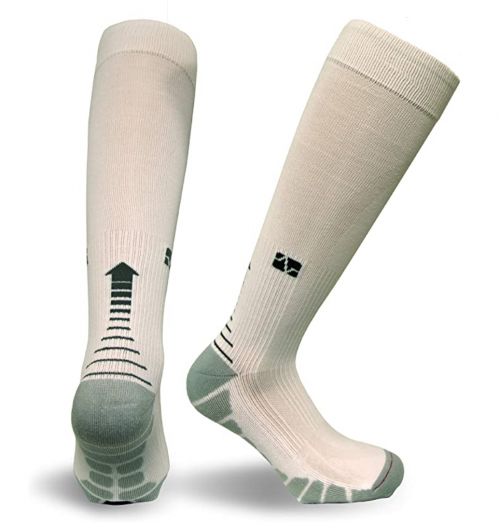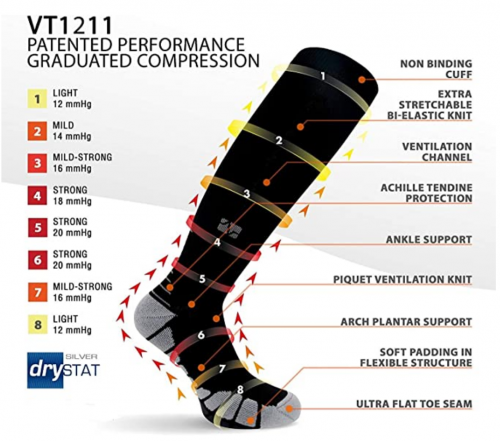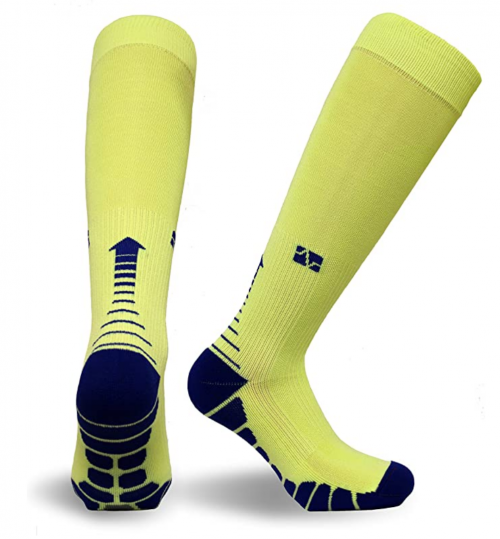 Vitalsox exclusive silver drystat
4-way stretch
Plantar ligament & arch support
Graduated compression
Light padding
Prewashed
Low compression
Retains heat
These graduated compression socks from Vitalsox have light padding to maximize your comfort on those long days at work. The compression starts low at the arch of your foot and works its way up your calf for a secure, comfortable fit. These socks are prewashed, so you can put them on right out of the package and start your day.
The Vitalsox VT1211 boasts an exclusive material called Silver Drystat, which is bacterial- and fungal-resistant. Your socks won't get smelly, even if worn all day. This material also dries quickly.
Gone are the days of straining and groaning as you pull on those stubborn compression socks. The Vitalsox VT1211 stretches in four directions, making them much easier to put on.
This option can be found in the low-, middle-, and high-price ranges. The exclusive material and 4-way stretch are worth the price but look around for the best deal.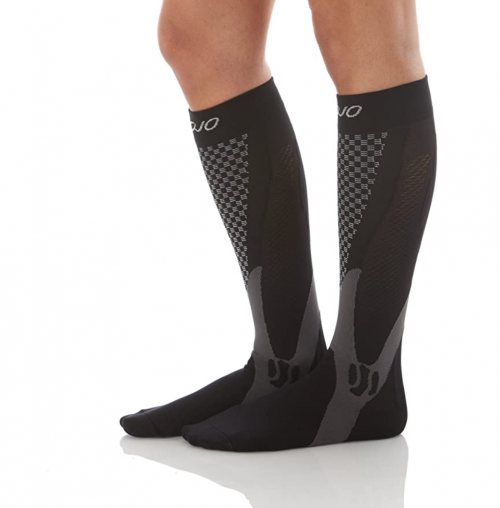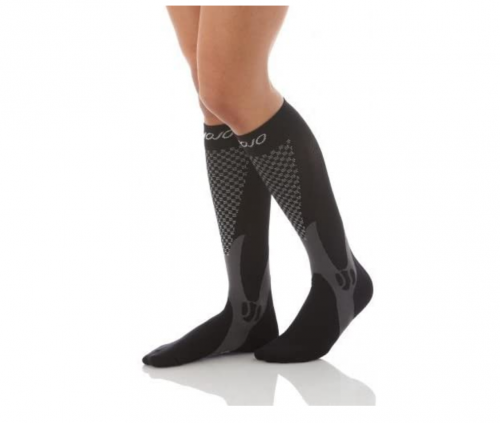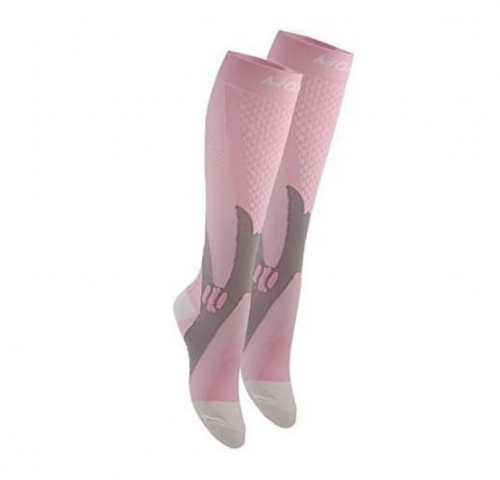 Medical grade compression
Latex-free fabric
Reinforced heel & toe
Moisture-wick material
May be hard to put on
Top bannd constrictive
The Mojo Recovery and Performance is a stylish sock with cushioning and padding in high-impact areas of your feet and legs for maximum results. To prevent tears and rips, the heel and toe are reinforced. The fabric is extremely gentle on your skin.
Medical grade compression is important if you have vein diseases or blood clots in your legs. If you have a medical condition requiring compression socks, these are built for you.
These socks offer a high level of compression, with an arch band support that hugs your foot firmly, supporting your muscles and reduces fatigue. The heel has also been stitched using a Y shape which offers a snug contoured fit, preventing any slippage.  
The Mojo Recovery and Performance is latex-free, so it's perfect for anyone with a latex allergy.
This option is in the middle price range. The latex-free fabric and medical-grade compression make this sock reliable and safe, which is a great value.
Criteria Used for Evaluation

Features
When we talk about compression levels, we are talking about different areas of the compression sock or sleeve.
A sock that goes up to the knee is going to give the best circulation and support if you have swelling in your legs, feet, and ankles. If arch support and ankle swelling are your main issues, a shorter sleeve may be your perfect match.
The level of compression affects swelling reduction ability, circulation, pain relief from plantar fasciitis and deep vein thrombosis, and overall energy and support of your legs and feet.
There are four levels of compression that are primarily used. They are rated by how much pressure they put on your body. It is important to note, mmHg stands for millimeters of mercury and it measures the level of compression offered.
Levels of compression
14 mmHg and Under
– This is the lowest level of compression. You would wear this if you were pregnant and your legs were feeling fatigued. Overall healthy people would also choose a low level of compression like this.
15 – 20 mmHg
– A moderate level of compression, 15 – 20 mmHg offers relief to minor leg swelling. It has also shown to be helpful with deep vein thrombosis on long flights and other activities that involve sitting for long periods of time.
21 – 30 mmHg and 30 mmHg and Up
– These are considered medical grade and are used for a variety of problems with swelling, pain, joint placement, and recovery. They help with varicose veins, blood clotting, and edema. Compression socks at this level usually offer graduated compression that is tighter in the foot and looser at the top.
The most important thing about compression socks is understanding what level of compression is needed. When choosing medical-grade compression socks, you may want to discuss your exact needs with a healthcare provider.

Compression
Depending on why you need compression socks, you'll want to choose a compression type that will work best for you.
If you already wear leggings to workout, wearing compression leggings might be your best option. However, most runners are looking for a sock with graduated compression.
Graduated compression helps provide runners with pressure which helps to increase blood flow and oxygen for better performance and that also supports and shock absorption. The graduated sock will loosen as it goes up the leg to help with blood flow.
If, however, you need socks because of a medical issue, you may need to go with more specific products. This type of product comes not only in over-the-calf lengths, but can even be bought as simple socks, thigh-highs, and even stockings. If you're not entirely sure which type you need, the best course of action is to ask your doctor for recommendations, but also to go with what feels most effective.

Materials
The material from which the sock is made can determine its elasticity and breathability.
Synthetic:
Synthetic materials are fibers that are entirely man-made. Some types include spandex, nylon, polyester, and acrylic. Often, socks will be made from a combination of many different types for maximum benefit. The pros of this material are that it is super thin and lightweight, even after getting wet.
As a result, they won't add additional bulk or weight to the feet. They are also breathable and moisture-wicking, allowing the feet to stay fresh and dry by wicking away perspiration to the surface of the fabric, where it can evaporate.
Not only does this prevent smell, but it also reduces the growth of bacteria and prevents blisters from forming. The con is that they do not provide warmth. When wet, their insulation is reduced, and they cannot provide adequate protection against the cold.
Cotton:
Cotton can often be found alongside synthetic materials. 100% cotton materials are not good for physical activity because they don't offer the necessary features to ensure comfort, but when it is used with synthetics, its benefits are far greater. Cotton is a natural fiber – and is one of the most widely produced in the world.
The benefit of this material is that it has a soft feel and is elastic. It is also fairly inexpensive. When combined with other fibers, the socks are made stretchy and comfortable. The downside, however, is that it absorbs moisture. The result? The perfect conditions for blisters to form, not to mention the discomfort of having sweaty feet. In short, we recommend you look for a pair with mostly synthetic materials or a blend of cotton and synthetic.

Durability
We made sure the items on our list were made from quality materials so that it will last you a long time and provide the correct support you need to help prevent and correct injuries.
The most commonly used material in this type of sock is Lycra and spandex which grants the necessary flexibility. These are durable materials that shouldn't retain moisture, so you can usually rely on them to wick sweat away from your feet, preventing bad odors.
Other materials may include cotton, nylon, and microfiber, and you can choose from a variety of blends to find the pair that suits your needs.
Value
When looking into the best compression socks, we wanted to make sure that we recommended socks that were going to last you a long time.
Overall, you can expect this type of product to be more expensive than any other regular pair of hosiery, and the price will only go up depending on suitability for medical/athletic use. Other factors that may influence price include brand, reliability, product quality and additional features.
Those who are buying this type of sock for the first time should definitely go with more affordable pairs that don't have a high compression level, as wearing this type of sock will definitely need getting used to.
However, if you need to wear this type of product because of a medical condition (especially if you need to wear it on a daily basis), investing in a more expensive, higher quality product may be the better option.
A good thing to consider, especially for athletes, is purchasing these in value packs of three or five, where you get a larger number of items at a slightly lower price per item. Not only can this help you save on the overall cost, but it can also mean lower shipping costs, as well as the possibility to alternate between several pairs, ultimately prolonging their lifespan.
Expert Interviews & Opinions
Most Important Criteria
(According to our experts opinion)
Experts Opinion
Editors Opinion
Users Opinion
By Default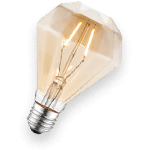 Compression Socks When Racing
Compression socks aren't just for those with circulation issues or medical conditions, but they also help professional athletes when racing and for post-race recovery.
Longer distance sports, like Ironman races, or even cyclists that average over 80+ miles a day during the road cycle tours, can benefit from the support compression socks provide, as well as the recovery benefits.
Reduce Swelling
Compression socks help reduce swelling in the legs due to medical conditions or physical stress.
Many times, swelling of the legs can reduce blood flow or cause pain, simply from being inflamed.
Anti-inflammatories can help alleviate swelling, along with rest, ice, and elevating the feet and legs. Check with your doctor if you're on other medications, to make sure anti-inflammatories won't interfere with your medication.
Other Factors to Consider

Bottom Line
Choosing the right pair of compression socks can be a difficult task, especially if you've never worn them before. Whether it's for your daily run, travel, for work, or all-day use, you will want to invest your hard-earned money in a quality product.
The above list features 10 of the highest-rated compression socks available for purchase. With a variety of features, amounts of compression, heights and even designs, you'll surely find something that will work for you.
Nonetheless, before committing to a purchase, it's not a bad idea to read the Criteria for Evaluation section above to find out more about what really makes a good sock with compression capabilities.
Here's a quick summary of what you should be looking for:
The right amount of compression
The right height for you
Quality materials
A breathable model
Durability
Affordable price and good value for money
Frequently Asked Questions
q:

I've noticed swelling in my ankles, should I be wearing compression socks?

a:

If you sit for long periods of time, have varicose veins, a history of blood clots or deep vein thrombosis, athletes, and people that are looking for a little extra support may find comfort with a great pair of socks. Increased circulation and support built with foot health in mind is something most people can benefit from.

If you have noticed swelling in your ankles, take time to consider why this is happening. Pinpointing the reason can help make an educated decision. Finding yourself sitting more or standing more to be the reason, a compression sleeve or sock may be the perfect answer to minor swelling in your ankles.
q:

How exactly do compression socks work?

a:

Circulation problems happen for a variety of reasons including sitting or standing too much, causing blood to pool in the legs rather than head back to the heart. This pooling can lead to swelling, pain, and fatigue.

These socks squeeze the legs and vein walls, opening them up to help blood flow more easily to the heart. Graduated compression squeezes the ankle and arch more firmly. As you move up a graduated compression sock the compression lessens promoting excellent blood flow.

It is important to note, the fit of your socks is crucial to find out the benefits of wearing them. If you buy socks that are too loose, they won't give the right amount of pressure to help you and you might as well be wearing tube socks.

On the other hand, wearing compression socks that are too tight can be dangerous. There isn't much give to a sock and if it's too tight you may cut off circulation to your feet and lower leg. You may also cause damage to your skin from it cutting into you. Make sure the fit feels good and you will have great feeling legs and ankles in no time.
q:

How do I measure myself for these socks?

a:

This is an excellent question and must be done correctly in order to make sure you receive compression socks that fit appropriately. As stated before, compression socks that are too tight or too loose will be a big problem. Correct measurements will ensure you feel great every day and don't waste time and money with returns and re-orders.

Supplies Needed

✓Paper
✓Pencil or Pen
✓Cloth Measuring Tape

Start with the measurement of the circumference of your ankle. You want to measure just above the ankle bone, at the smallest part of your ankle. Make sure the measuring tape is straight when wrapped around the ankle and write down the measurement.

Next, you will want to measure your calf. Find the widest part of your calf and wrap the cloth measuring tape around. Here again, you want to make sure the measuring tape is flat and level around the calf. Take note of the measurement and write it down also.

Finally, you will want to measure the length of your calf. To do this you will want to be sitting down with your foot flat on the floor. You will measure from where the bend in your knee is all the way to the floor. Make note of this measurement and write it down.

Now that you have all the measurements you can check out socks and know you are ordering the correct size. Sizing really matters and accurate measurements can make a huge difference. If you are having a hard time, reach out and ask a friend or loved one to help with the measurements to make sure they are correct.
q:

Can I sleep in my compression socks?

a:

The answer to this question is not easy. Honestly, the answer really depends on the person. While your feet and legs need time to breathe outside of socks if you aren't wearing them all day then wearing them through the night may be fine for you. More often than not you would not sleep in your compression socks.

Typically you want to wear socks during times that you are sitting for a long time or standing for an extended period of time. Post-surgery or injury may have different instructions from your doctor in which case you will want to follow what they have told you to do.
q:

Will these socks help with my neuropathy?

a:

Unfortunately, you will not find relief from the pain of neuropathy in compression socks. Neuropathy causes damage to the veins, different types affect different nerves. These socks help blood flow back to the heart if you have neuropathy they can interfere with blood flowing back down into the legs and make symptoms worse.

Instead of socks, you will want to look for something with more padding. Diabetic socks are wonderful for people suffering from a variety of neuropathy problems.
Subscribe to our Newsletter