Best Shoes for Plantar Fasciitis Reviewed
In a Hurry? Editors choice: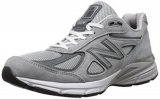 Test Winner: New Balance 990v4

Plantar fasciitis
is one of the most common causes of heel pain which occurs when the band connecting the heel bone to the toes becomes inflamed, causing a stabbing pain that is most pronounced in the morning, or after long periods of sitting. Although there are several factors that can contribute to the development such as age, weight, certain types of exercise or foot mechanics (flat feet, high arches, irregular walking patterns), there's not one singular cause for the disease. Luckily, the condition can easily be treated with rest, ice, elevation, as well as with the correct choice of shoes for plantar fasciitis.
Standout Picks
Criteria Used for Evaluation
Support
Arch Support
Plantar fasciitis is a disease that is caused by repetitive strain injury to the ligament which connects the heel bone with the toes. Although it's not directly connected to flat feet or low arches, and can just as easily occur in feet with high arches, it is connected to the insufficient support given to the foot by the arch. As this curved part at the bottom of the foot is in charge of contracting and expanding with every step in order to absorb the shock of the impact of the foot with the ground. When the arch of the foot is not doing an adequate job – either because of strain, physical limitation or too much weight, it occurs and is manifested through a recognizable pain that occurs first thing in the morning, or after long periods of standing.
A perfect pair of shoes will have a good arch support that hugs the arches of the foot and aids its role in the gait cycle. Furthermore, an anatomical arch in a pair of shoes will help improve the alignment of the entire foot, preventing overpronation (rolling of the feet inwards) or underpronation (rolling of the feet outwards), thus minimizing further complications and pain. This support to the arch area and plantar fascia can also be achieved by using custom orthotics which further improve the fit of any shoe, conforming to your foot so as to avoid any discomfort.
Comfort
When you have plantar fasciitis the best thing for you is a shoe that's made for comfort. That's where ergonomic soles come in. They are going to take stress off your joints and soften the impact of each step. When looking for a shoe to help with pain, this is a feature that should be on your list. Look for footwear that is advertised as absorbing shock or impact. An ergonomic sole can resist odor and bacteria and keeps your feet from getting tired by increasing blood circulation.
Be sure to always consider custom orthotics and other inserts to get the most of your footwear. A bit of cushioning will be great, but there are some insoles that provide much more than that. Insoles can be made for support, and can even be 1/2 units for direct heel or forefoot support. This gives them a diverse use and makes custom inserts perfect. Make sure you look around as a bad insert can be just as bad as no support at all. Superfeet has some great orthotics, and we highly recommend checking them out.
Midsole
When looking for a shoe to help with your pain, you want a midsole designed to prevent you from injuring or stretching your plantar fascia anymore than it's already been damaged. The midsole provides support directly to that area so it is an important part of looking for the best shoe. A weak platform means instability that will irritate the area and make any injuries worse, or more painful. It will also hinder any efforts of treatment or healing.
Heel
Heel support is important because you don't want your foot rolling to one side or the other. Not having a stable stride can cause plantar fasciitis or can prevent the healing of your already developed issue. When you aren't walking the correct way with good heel support, you put pressure on parts of your foot that don't need it. Remember, it occurs where the plantar fascia ligament attaches to the heel. The heel is the area that will be affected most, and that will need a high amount of consideration in the design of the shoe. This means support of this area will give perhaps the best results of any other area.
10 Top Rated Shoes For Plantar Fasciitis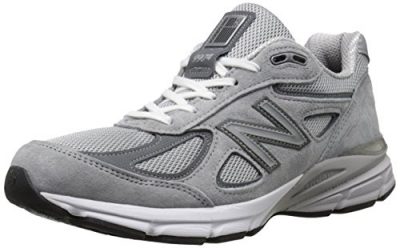 Having debuted in 1982, the New Balance 990 was the best running shoe available on the market, boasting advanced technology, comfort and stability features made for runners who were ready to pay a $100 price for a top of the line running shoe focused solely on performance. Today, you can buy the latest version of the shoe that's even better cushioned and comes in a great variety of colors so that you can let your unique style shine through. Made in the US, these shoes are produced in order to comply with the highest standards in shoemaking, ensuring that you are getting a quality product that will serve you well and last for a long time.
ENCAP Midsole Technology
The New Balance 990v4 uses some of the latest technology to provide a supportive and cushioning midsole, made out of lightweight and durable ACTEVA LITE foam which works especially well for people who tend to underpronate or have flat feet. If you suffer from plantar fasciitis, you will find that these shoes can help prevent heel, arch, shin, and knee pain while providing you with plenty of cushioning and comfort.
Great for All Types of Activities
Although originally intended as running shoes, the New Balance 990v4 are often worn as everyday shoes thanks to their versatile design. The leather and mesh upper is breathable, the collar is padded with dual density foam, and the 12mm drop puts your feet in a favorable position for all-day wear. The blown rubber sole works excellent on all types of terrain, regardless of whether you're wearing these to run, or just as a regular everyday shoe.
Cost and Value
These shoes rank average to high on this list, depending on the color you choose. Offering top quality craftsmanship, high levels of comfort and excellent arch support, you will find that these are a great choice, if you need a pair of stable and supportive footwear. Thanks to their iconic style, you can even wear these sneakers as a fashion statement, especially seeing that they come in a wide variety of stylish colors.

2

. Brooks Addiction Walker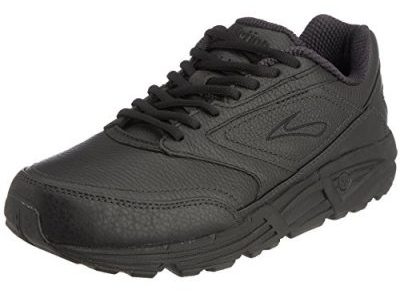 This is a pair of shoes you will love if you need adequate support for your flat arches, if you gravitate towards extreme overpronation, or have weight issues. Minimizing the pain you may be feeling, the Brooks Addiction Walker is a pair of shoes that are well loved by anyone who tries them out. Available in three colors and offering a very simple style, you'll be able to wear these sneakers anywhere, reaping the benefits of the stable and supportive fit they offer.
BioMoGo Midsole
The midsole in these walking shoes for plantar fasciitis uses advanced technology to provide you with a fit that offers plenty of cushioning, shock absorption, and supports your arches and properly aligns your foot in order to prevent overpronation that can result in pain in the joints or foot. The Extended Progressive Diagonal Rollbar is a feature which will ensure that your foot is correctly placed through every phase of your gait cycle.
Roomy Toe Box
In addition to being a good choice to all problems related to the arch of the foot (flat feet, fallen arches, etc.), the Addiction Walker also provides a roomy toe box which means that they're a great option if you suffer from bunion pain, hammer toes, or have a wide foot that needs plenty of room to allow for the proper placement of the forefoot while walking.
Cost and Value
These shoes rank average on this list when it comes to price, and you will be happy to find that they are one of the favorite styles of people who also suffer from plantar fasciitis and require a supportive, motion control shoe that prevents pain and enables long hours of walking or standing. In addition, these shoes are sturdy, which means that they will put up with plenty of use in addition to being a great choice for people who are overweight and need a strong supportive shoe.

3

. Brooks Adrenaline GTS 18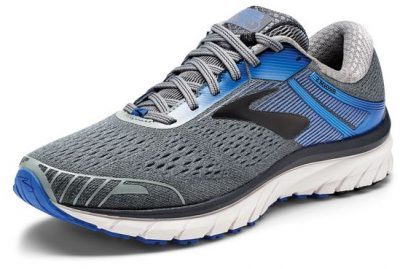 This is a pair of flagship running shoes by Brooks, made for runners who need a comfortable stability shoe that provides good support and cushioning, and a flexible upper that won't create additional problems. They are best for people with low to medium arches and you will find that these shoes are a great choice for all your running sessions, or even for everyday casual wear. What differentiates this pair of shoes from other stability running shoes is the low weight they feature, weighing in at just 244g.
BioMoGo and PDRB Technology
These shoes feature Brooks' bio-degradable foam midsole which provides excellent arch support, and it is combined with the Progressive Diagonal Rollbar which prevents overpronation and properly aligns the foot so as to ensure that the tendons in the arch do a good job at cushioning each of your steps. The insole is plush, while the roomy toe box is a great addition for anyone with wide feet.
Light and Flexible Upper
These shoes are very comfortable out of the box thanks to the mesh upper which is stretchy enough to accommodate any foot shape, but still supportive enough to provide a stable fit. A 3D Fit Print and TPU saddle pull from the heel, locking it in for a fit that won't allow for movement inside the shoe. Available in 18 fun colors, you'll definitely find a pair of Brooks Adrenaline GTS 18 that goes perfectly with your favorite outfits.
Cost and Value
This is a pair of running shoes that ranks average on this list when it comes to price, and considering the fact that they are a flagship footwear item, this means that you're getting all the quality at just a fraction of the price you would be paying with other manufacturers. They are an excellent go-to shoe, especially if you're a runner or athletically inclined person who happens to suffer from plantar fasciitis or has low arches.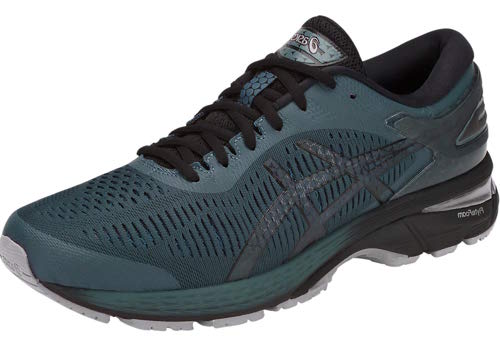 The 25th anniversary edition of the tried and tested GEL-Kayano by ASICS brings you innovation in its cushioning technology, coupled with its well-loved features. This stability running shoe is perfect for road use, and while most people may opt for it for their daily run, it can also be worn as a casual sneaker, thanks to its plentiful arch support that prevents overpronation, properly aligns the foot, both while standing as well as in the landing and toe off phase, and can greatly help reduce or prevent the symptoms of plantar fasciitis.
Jacquard Mesh Upper
Although the most important aspect of the shoe may be located underfoot, it's important that the upper is equally comfortable and supportive. The GEL-Kayano 25 is made with a stretch mesh upper with supportive reinforcements, and a seamless internal fit system that perfectly molds to the foot. The exoskeletal heel clutching system ensures that your foot is in the optimal position to minimize the pressure put on your arches.
Improved Flytefoam
The cushioning found in the GEL-Kayano 25 is made with the newest Flytefoam - Flytefoam Lyte in the back that's 55% lighter than standard EVA, while providing excellent energy rebound, and a Flytefoam Propel forefoot that is a durable shock absorbing system that'll help you go further and longer.
Cost and Value
The ASICS GEL-Kayano 25 is an averagely price pair of running shoes, specially designed for those who tend to heavily overpronate - that means that in addition to having flat feet or low arches, their foot is not doing well with natural cushioning. With plenty of guidance features, this shoe will make you walk with proper alignment, which will take some of the stress off your arch, and will reduce or even eliminate the pain that you are experiencing.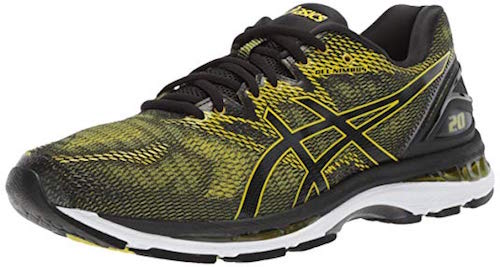 Here's the deal with plantar fasciitis - while it usually occurs for those who have an inadequate arch that would be able to absorb shock, it often occurs for those who have high arches that need additional support that's lacking in regular shoes. If you have such a high arch, and tend to underpronate - walk on the outside portion on your feet, then the ASICS GEL-Nimbus may be a good choice, seeing that it's a neutral shoe that allows your foot to rest in a natural position, ensuring that your arch is supported and doesn't have to work overtime.
Rearfoot and Forefoot GEL
One of the reasons ASICS shoes are so popular is the GEL cushioning they use in most of their footwear. The GEL-Nimbus 20 is no different, featuring pouches of gel that absorb shock during all levels of the gait cycle. Combined with a Flytefoam midsole, you get a cushioned, responsive running shoe that gives the perfect amount of energy return, and doesn't pack like traditional foam materials.
Guidance Trusstic System
Placed in the outsole of the shoe, the Guidance Trusstic System is a line located at the bottom of your shoes that ensures that all your steps are properly aligned. Preventing the shoe from bending in areas which would allow you to walk/run out of alignment, and allowing it to flex in places that need to be more flexible, it greatly contributes to your running experience - especially if you're a beginner who's just starting out.
Cost and Value
Ranking high on this list when it comes to price, the ASICS GEL-Nimbus 20 may not be for everyone's budget. It's an excellent neutral running shoe you may even enjoy wearing as an everyday pair of footwear, and it's comfortable throughout, thanks to the number of high end technologies used in the design and manufacturing process.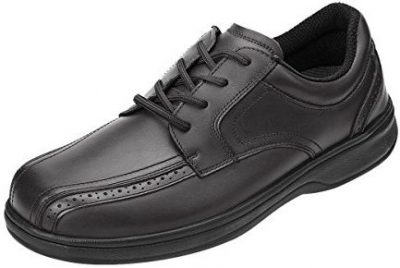 If you are looking for a pair of therapeutic shoes that will look good even on formal occasions, the Orthofeet Gramercy may just be the perfect choice for you. Offering precise support and cushioning, with a roomy and soft toe box which allows your toes to spread out naturally, evenly distributing weight over the entire foot, these shoes will ensure that you say goodbye to heel, arch and joint pain for good.
Premium Ortho-Comfort Insoles
The removable insoles in these shoes feature anatomically correct support and cushioning, ensuring that your feet are properly aligned and that the stress on your heel and joints is lessened due to the cushioning it gives. In addition, they use a system which helps propel the foot forward so that you can easily walk even after hours on your feet.
Adjustable Fit
In addition to having the option to remove the insoles and substitute them with your own custom orthotics, these shoes have two sets of removable spacers which will give you the option of further customizing the fit of these shoes. You will find that this works excellent in combination with the soft leather, non-binding upper which eliminates pressure points for all-day comfortable wear.
Cost and Value
These shoes rank slightly above average compared to the other items on this list, but if you're looking for a versatile pair of shoes to help you deal with your plantar fasciitis, these just may be the perfect pair. The air cushions on the inside of the shoe are an additional advantage over other models on this list, seeing that they ensure proper heel protection and cushioning that is anatomically correct.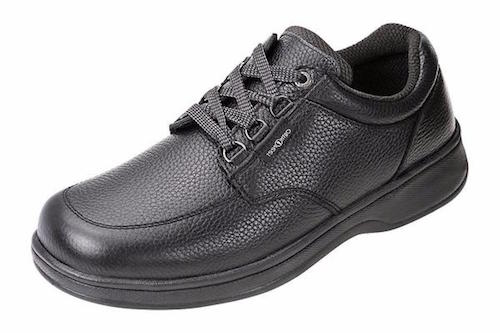 The Avery by Orthofeet has been specially designed for those who experience heel and arch pain on a daily basis. It's a classic leather lace up that will fit in perfectly at any workplace, casual setting, or even a dressed up event. Made with a full grain leather upper, and an easy lace system, it's a comfortable style that'll require no breaking in, and will allow plenty of room in the toe box, making it a good choice even for those with a wider foot.
Orthotic Support
The Avery was designed to provide you with the best possible cushioning - the anatomical arch support will ensure that your feet don't have to work overtime, preventing cramping and pain, and the multiple layers of cushioning accommodate better shock absorption in the heel area for an improved walking and standing experience.
Comfortable Inner
In addition to its amazing support under the foot, the Avery wraps the entire foot in a padded, seamless inner that's made to reduce pressure points and prevent any rubbing. The insole is removable, which means that you can even use it with your own custom orthotics, and it's available in several widths, all of which promote a healthy, constraint-free environment for your feet.
Cost and Value
With a cost that's just slightly above average, the Orthofeet Avery is an excellent choice if you're looking for a smart looking pair of footwear that will be so comfy you will easily make it through the day wearing it. It promotes foot health, regardless of whether you work a desk job, have to stand or walk throughout the day. You'll even be able to wear this shoe at formal events, which will easily make it your go to pair of footwear that looks and performs great.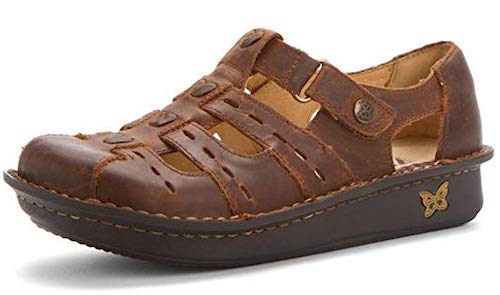 If the arch of your foot is not performing as well as it should, you may have found that finding a good pair of summer sandals is a real pain. Very rarely will you find a model with a good amount of arch support, and will even if you do, it's very possible it won't look any good. The Alegria Pesca is a casual fisherman style sandal that's perfect for summer wear - it has all the comfort features you may want, while still giving you a beautiful pair of summer footwear that'll work great for a number of occasions.
Promotes Proper Posture
The outsole of the Pesca is made with polyurethane in a shape that's unique to this company. With a slight rocker bottom, the outsole is flat and stable, and promotes proper alignment, preventing you from overpronating or putting too much pressure on the inside portion of your feet. In the long run, this will make walking much easier, helping minimize the pain you are experiencing on a daily basis.
Leather Upper
As a pair of sandals that are comfort oriented, the Alegria Pesca gives plenty of small improvements that contribute to your general foot health. The upper is made from a rich, soft leather, while the inner also features a leather lining. The closure is a disguised hook and loop strap that'll allow for a customized fit, and the footbed is made with suede, and is removable, replaceable, and can even be substituted with your own custom orthotics.
Cost and Value
With a price that's slightly higher than the average for this list, the Alegria Pesca is one of the top options you can get when it comes to summer sandals. It comes in three colors, all of which are easy to match, and is a durable pair of footwear that you'll easily wear for years to come. The removable and replaceable footbed is a huge pro, one that's sure to greatly extend the lifespan of your sandal.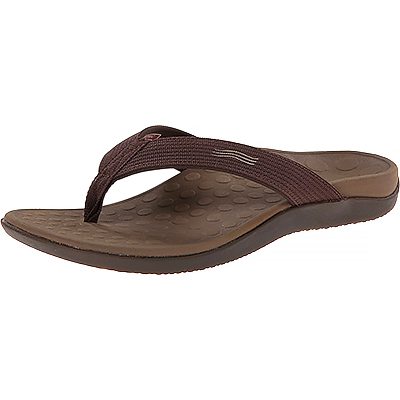 The Footminders BALTRA Orthotic Arch Support Sandals are a comfortable way to support your foot and help it heal. Made out of compression-molded EVA foam, they will mold to the foot, supporting the heel and arch, and will absorb the shock from landing on your feet when walking. With a rubber sole, they are appropriate not just for everyday use, but can also be worn near water, at the beach, or even just around the house.
Anatomically Molded
These sandals feature an anatomically correct sole which will adapt to the foot, providing excellent arch support. This means that they're a great option for those with flat feet, but can also be worn by people who just want a comfortable pair of flip-flops. The cushioning and shock absorbing properties of the EVA sole are especially beneficial.
Enhanced Lateral Stability
The Footminders BALTRA sandals feature a deep heel cup that helps properly align the foot, promoting better balance and walking motion. This is a feature which is especially important seeing that it ensures you are walking in the right way, putting equal weight on the entire foot, and aren't putting too much stress on any joint in the body.
Cost and Value
The cost of the Footminders BALTRA Orthotic Sandal is perfect for the amount of support it gives the foot. Ranking lowest on this list when it comes to price, this pair of sandals is a great choice for the summer months. It looks great on, like a normal sandal, but works hard to keep you safe and pain-free. It is a great everyday shoe to help get you back to walking normally.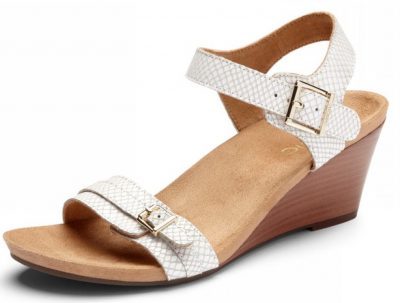 Designed by podiatrists, the Vionic Noble Laurie is a style that is perfect for summer, for every day and for special occasion wear alike. These are a pair of wedge sandals that will look perfect with dresses, skirts or slacks, and will look good in any setting, no matter how formal. Recommended by doctors, these sandals offer plenty of arch support and cushioning, while still giving you some elevation through the 2.25" heel height.
Lightweight EVA Midsole
The midsole on these shoes is made out of EVA foam which absorbs shock and offers excellent support, both in the arch, as well as in the forefoot and heel sections. The deep heel cup helps with proper foot alignment, while the contoured forefoot prevents slipping and prevents hammer toes and metatarsal pain.
Stylish Leather Upper
These sandals come in four very stylish colors with small buckles that enhance the style without being too much. Easy to maintain, these shoes can be cleaned with just a dry cotton cloth. Seeing that there is not much material in the upper, these will require a minimal break-in time, however, it is advised that you wear them for a few hours around the house before going out in them.
Cost and Value
These shoes cost a little bit below average when compared to the other items on this list. Designed to be stylish and supportive, while still allowing for some heel height, these shoes are unique in their focus on looks that doesn't sacrifice comfort.

Subscribe to our Newsletter