Best Foot & Shoe Odor Sprays Reviewed & Rated
In a Hurry? Editors choice:
Test Winner: Kiwi Fresh Force

There are many ways to deal with unpleasantly smelling footwear. Wearing cleans socks, letting your sneakers air dry before wears, washing it or
replacing your insoles
are all effective ways to minimize smelly feet. But sometimes, none of these really work, at least not in the long run. While some sources may suggest boiling, freezing or even throwing out your favorite pair of kicks, there are better ways to combat smells.
Check out our reviews and find the
best shoe odor spray
or
best foot odor spray
on the market for you!
Standout Picks
Criteria Used for Evaluation
Features
This one goes without saying, but the most important feature you want in a shoe deodorizer is an ability to remove any unpleasant smells from your feet and shoes. When shopping for such a product, you should not only consider its smell but even more importantly, its abilities in removing and preventing future stinkiness. If a nice smell was enough, we would all just spray perfume or cologne in our shoes. However, that would only result in masking the foul olfactory experience, and would not last for more than a few days at best.
To achieve maximum effectiveness, you need to pick products that contain the best possible ingredients. These can include essential oils like tea tree and peppermint that not only smell nice but also have disinfecting properties. Nothing smells worse than stinky feet mixed with the smell of freshener, so make sure the remedy you choose will get rid of the odor and its causes instead of just covering up the smell.
Materials
Although this wasn't at the top of our list, finding deodorizers with all-natural ingredients was very important in selecting the top ten products for getting rid of smelly feet. Your feet are very porous, so whatever substances you're putting in your shoe is likely to be absorbed through the skin of your foot and get into your body. We all want better-smelling shoes, but we don't think getting rid of odor should be done at the expense of your health. Not all the sprays on our list were made from all-natural ingredients because some of them were designed to target more serious foot issues like athlete's foot and ringworm. For problems like those, something stronger might be required.
But if you're simply looking to stop odor, then the wide range of all-natural deodorizers found on our list is a good place to start. Besides being safe for you, many of the ingredients, like the essential oils, actually have a soothing and moisturizing effect on your feet, so they're not only stopping foul smells, but they're also benefiting the skin on your feet as well, and that's a win-win in our book. Remember, your safest and healthiest option is to find a product that can combat foot odor without employing chemical agents, so don't be afraid to pay a dollar or two more for a superior remedy.
Use
Finally, in putting together our list of the best sprays for getting rid of footwear and foot smell, we looked for products that had antibacterial properties. Sure, it's great for your shoes to smell better, but if you're not hitting the bothersome odor at its source, then it's just going to come back, meaning your efforts at stopping it was a waste of time and money. As we explain further below, unpleasant smell results when the bacteria on your feet feed on sweat, so if you're not using a product that kills bacteria, then the cycle of foot odor will continue. Look for products that have antibacterial and antifungal properties. Your shoes can turn into a cesspool of nasty microbes with enough time and sweat, so besides letting your shoes air out between uses, you'll also want to spray your shoes with a product that is effective at the microbial level. A majority of the items on our list boast antibacterial and disinfecting properties.
Some utilize synthetic or chemical agents to kill bacteria, but many of the antibacterial deodorizers on our list use only natural ingredients to kill bacteria and, thereby, reduce or prevent foot odor. Many of the essential oils used in the sprays listed above have antibacterial and disinfectant properties, so starting with one of those all-natural options is a great way to begin combating foot odor. Other shoe odor sprays may use harsher ingredients to kill bacteria, so although they'll be very effective, you may want to wear socks to limit the direct contact your skin has with the spray residue.
Application
Odor Control products come in creams, powders, or sprays. The following are the most common ways to fight foot odor:
Powder:
Powders are suitable for covering a large area of space and are an excellent choice for someone with sweaty feet because it absorbs moisture well and can be sprinkled inside of shoes for ongoing treatment and moisture control. The only problem with this is that it can get very messy, and you might find yourself with powder marks on your clothes.
Spray:
Sprays are easy to apply and make little mess, unlike powders, and you never have to touch the area while using it. Sprays also come in the form of a powder spray which offers similar absorbency as a powder but with less mess.
For this list we stuck with foot odor sprays. And to rank each, we looked at the way the sprays worked and how easily they functioned.
Value
The last criteria that we would like to share are regarding the value. Here's the deal, no consumer wants to spend above their budget on a product. So, when we were evaluating items, we really took into consideration a few different things when it comes to price. Primarily, we really wanted to focus on sharing brands and products that offered a blend of a good price tag with great value.
For example, we would look at a product and ask ourselves:
How is this priced in comparison to the estimated market price?
Does this product offer value equal to or greater than its price tag?
How does this compare to the other products we have selected?
Does the consumer receive more or less value from this than another brand?
No matter the type of good you are planning on purchasing, by asking questions like above, it can really help to ensure you are receiving your money's worth for a purchase.
10 Best Best Shoe Deodorizer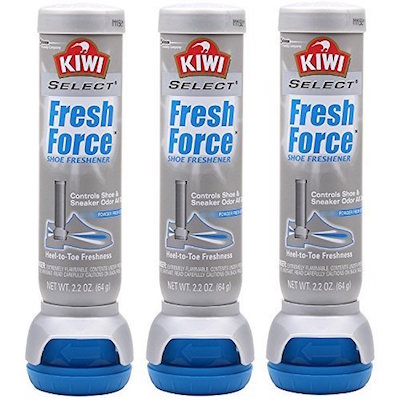 A company that is well known for their line of products aimed at shoe care, Kiwi has developed a deodorizer that will put an end to all unpleasant smells in your footwear. It's easy to apply and has obviously made to be used in your shoes, no matter the type.
This is a product that was made to be used in your shoes. First and foremost, it is to be applied upside down, with its specially designed nozzle. Secondly, it will not just coat the toes of your shoes, leaving the rest of them untreated. This nozzle sprays both forward and backward for the best possible results.
If you're looking for a product that will not leave your favorite pair of sneakers smelling like a garden salad, then you will love the fact that the Kiwi Fresh Force has a smell that evaporates. Ideally, you will use it on your kicks after wearing, and by morning, all of its smell will be gone.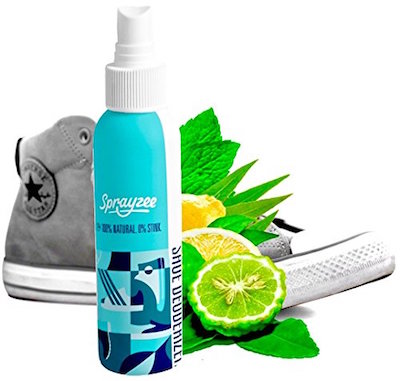 While primarily intended to be used on all your shoes - both sports and every day - the Sprayzee Natural Shoe Deodorizer is a product which has many more uses than just that. It will fight of unpleasant smells in a wide variety of fabric, synthetic and leather products, and is completely safe for use on multiple surfaces. You can use it to deodorize your sports bag, tent and even some of your household items.
The ingredients of this shoe product include 8 extra strong oils, including Peppermint, White Thyme, Eucalyptus and Tea Tree Oils, as well as Bergamot, Organic Apple Cider Vinegar, and Clove. This is a product that fights stink through its antibacterial and antiseptic properties. All the ingredients included are used in medicine for having these features, which means that combining them in one strong deodorizer is the best way to go if you want to de-stink your shoes and feet.
Ranking low on this list when it comes to price, the Sprayzee Natural Shoe Deodorizer is a great option. Thanks to its natural ingredients it is safe to use on kids and around pets, and you'll even be able to put it to use on some of your smelly household items.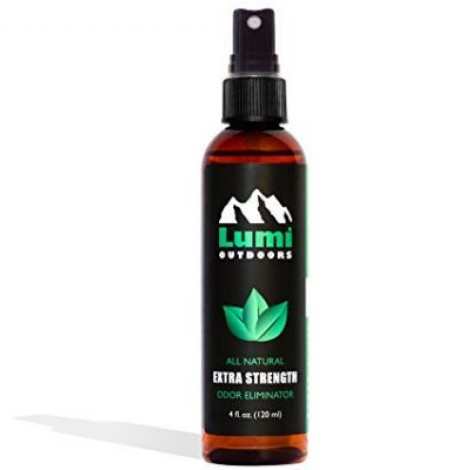 This is another deodorizer on our list that boasts a chemical-free ingredient list. The Lumi Natural extra strong smell eliminator is made from a combination of essential oils that will help knock out the smell of your shoes and fight odor-causing bacteria to keep it coming back. With this deodorizer, you can freshen up your shoes and give your feet a breather without exposing them to harsh chemicals.
We all want to kill foot funk, but none of us wants to lather our feet or our shoes in harmful chemicals to do it. The all-natural formula Lumi uses in their deodorizer is both safe and effective. Foot odor is a sign that bacteria have taken up residence in your shoes, so using an antifungal and antibacterial product like this one will help protect your feet by killing both the smell, as well as the bacteria that cause it.
Because it comes in a smaller-sized bottle, the Lumi Natural is on the higher end of our price range compared to other, larger bottles that cost the same amount.

4

. Elite Sportz Equipment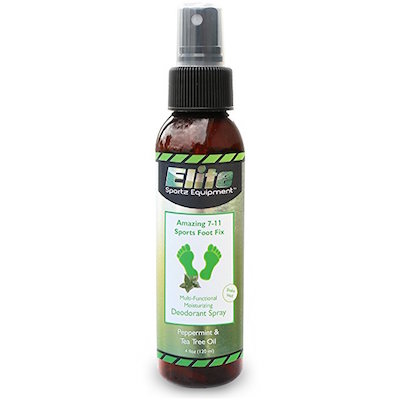 No one knows more about smelly feet than professional athletes who train hard and compete even harder. To say that a product intended for them to use with their feet and shoes should be efficient is an understatement. These professionals require the best possible foot care they can get, and the Elite Sportz Equipment Sports Foot Fix gives them just that.
The ingredients in this product are all natural and include tea tree oil and peppermint oil. It is to be applied both to your feet and shoes, and it has the great advantage over most similar products in that it also acts as a moisturizer, helping you treat those cracked heels.
f you know about sweaty feet, you know about athlete's foot which is a direct consequence of the bacteria on your skin becoming too well fed on your sweat. The ingredients included in the Elite Sportz Equipment Sports Foot Fix can help solve this problem, leaving you itch and odor free.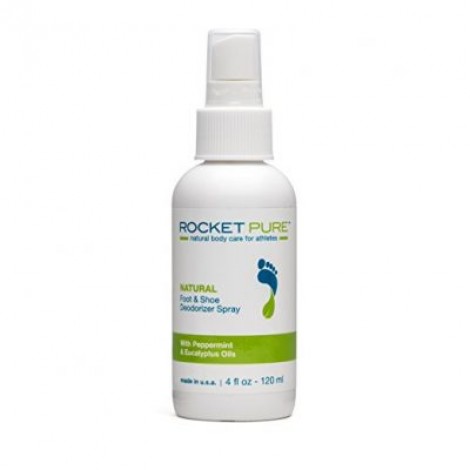 The natural mint shoe deodorizer from Rocket Pure is a powerful, all-natural formula that fights odor and freshens your feet and shoes. It's strong enough to combat the smelliest feet but is made from gentle ingredients and is free from parabens and harsh or toxic chemicals. It packs a punch and doesn't expose you to harmful substances, a win-win in our book.
The ingredients that make up this natural shoe deodorizer are specifically chosen to help fight even the worst-smelling shoes, so it's up to the challenge of defeating foot smell, no matter how active you are. The combination of oils and fragrances in Rocket Pure's mint deodorizer helps the freshness last longer, so you can wear your shoes all day confident that they'll still smell fresh when you take them off.
This deodorizer lands in the middle of our price range. It costs a little more than some of the cheaper options we've listed, but the odor-combating, all-natural ingredients make it worth the investment.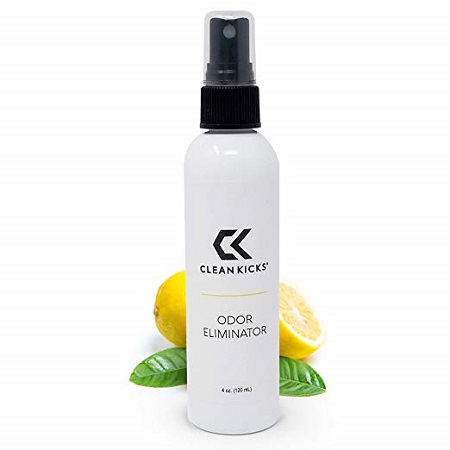 Some shoe sprays simply mask odors using heavy fragrances that can cause irritation, especially for those with sensory problems or sensitive noses. This deodorizer spray from CleanKicks goes a step further by actually eliminating the most common cause of foot odors; bacteria and fungus. These antimicrobial properties also work to prevent conditions such as athlete's foot and general irritation of your feet.
CleanKicks Deodorizer is made using essential oils, which are becoming increasingly common in personal care. Lemon essential oil is a natural antimicrobial, which reduces the amount of odor-causing bacteria in the shoe. It also has a light and pleasant smell that isn't overbearing. However, do note that some people are sensitive to essential oils, so be mindful of that if you're one of those people.
Some sprays come in a large bottle that is great for keeping at home, but not so much for traveling with. CleanKicks comes in a small portable size that is perfect for leaving in your gym bag, or your carry on at the airport provided you follow the TSA guidelines. A little goes a long way with this spray, so even though it's a smaller size, you'll get a lot of use out of it.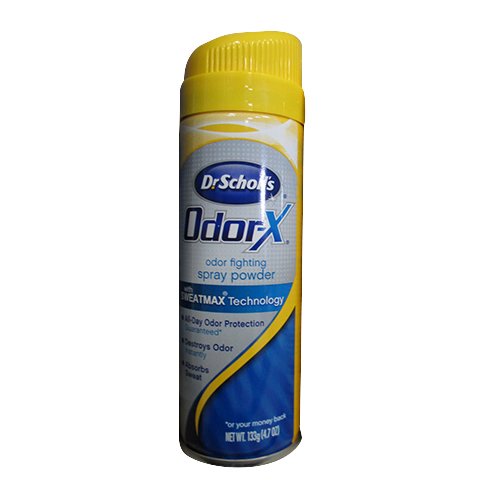 From their signature gel insoles to their odor sprays, Dr. Scholl's is a household name when it comes to foot care. This Odor-X spray is actually more of a pressurized powder, similar to some personal deodorant sprays. It is formulated with Zinoxol compounds, which not only work to mitigate odor, but they also help kill odor-causing bacteria, ensuring that the smell won't come back.
When it comes to odor-reducing products, powder-based sprays aren't exactly an uncommon thing. These sprays feature both odor-reducing and antimicrobial properties similar to liquid-based sprays, but in the case of Dr. Scholl's Odor-X, the powder also helps to cool your feet and reduce sweat, which is one of the principal causes of odor. Sweat can also lead to discomfort and bacterial growth, making sweat management an important part of foot care. Because this is powder-based, it is advised to use this in a well-ventilated area.
Some sprays are designed to be used directly on the inside of the shoe. This is especially true for those that contain essential oils, as these can be irritating for people with sensitive skin. However, some of these sprays can take a long time to dry or leave the shoe's interior feeling damp. This powder-based spray is designed to be used directly on your feet, making the waiting period for them to dry a thing of the past.

8

. Doctor Care Right Foot Spray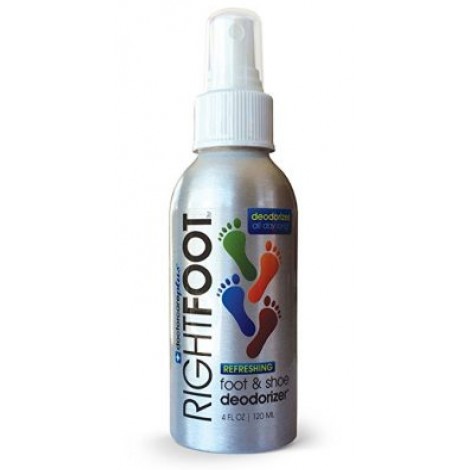 The Right Foot Spray from Doctor Care claims to be the most potent foot product on the market. Its all-natural ingredients make it safe for anyone in the family to use, and the combination of essential oils will moisturize your feet and leave your shoes smelling great. This made-in-the-USA foot care item is the perfect antidote to persistently smelly feet.
Besides giving this deodorizer a great, fresh smell, the essential oils it contains also work to fight foot fungus and bacteria. This means that it can prevent even more serious issues that include athlete's foot. In addition to relieving your feet and shoes of their funk, Right Foot by Doctor Care also works great as a general-use deodorizer. Use it to freshen up your house, your car, and even your gym bag!
This item falls right in the middle of our price range. Doctor Care promises hundreds of sprays per 4 oz. bottle, so you'll get a lot of use out of it and you won't have to pay a lot for it.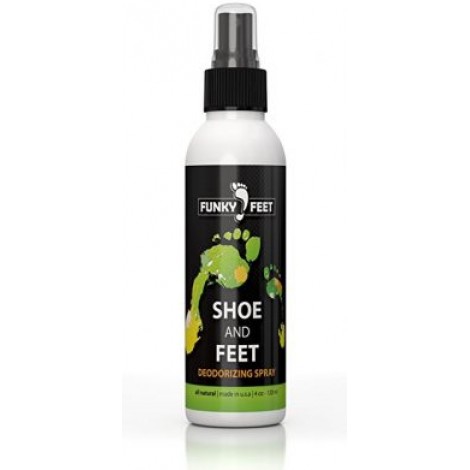 If you're plagued by stinky feet, then this Deodorizing Spray is just what you need. It's an all-natural shoe and foot deodorizer that is safe to use in your shoes or directly on your feet. The combination of essential oils used to make this product helps kill the bacteria that result from excessive foot sweat and will leave your shoes smelling great.
Unlike other foot sprays and deodorizers that use chemicals that can irritate your feet, this stuff is made from all-natural ingredients that are tough on stink and easy on your feet. The unique blend of peppermint, lavender, tea tree, eucalyptus, and thyme essential oils helps destroy microbes and bacteria that can cause foot odor and lead to foot fungus and other skin issues.
This deodorizer costs less than other products that come in similarly sized bottles, so you pay less per spray and still get all the great qualities you expect in a foot and shoe deodorizer.

10

. The Body Shop Peppermint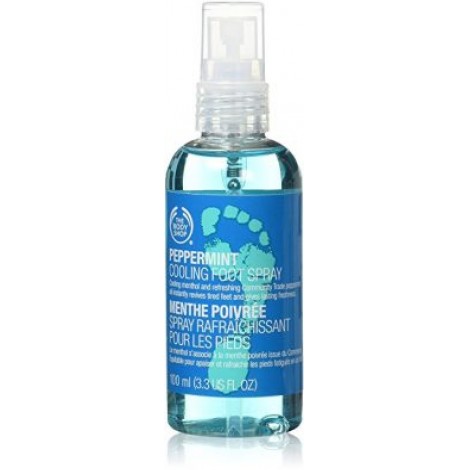 This is a product that made our list due to its multiple purposes. First and foremost, it can be used to treat smelly feet and give them a pleasant peppermint scent. However, it can also help in treating the symptoms that come with standing on your legs all day, including fatigue and swelling. Treat yourself to this amazing concoction by The Body Shop.
The unique blend of peppermint oil and menthol not only combat odor and give your shoes a fresh, minty scent; they also cool your feet and provide relief from heat and sweat. We all love using products with all-natural ingredients, especially when our skin is involved. The grape extract in this product gently smooths and exfoliates your skin and won't have any harmful side effects.
Although this spray comes in a slightly smaller bottle than others on our list, the price point per ounce is still very reasonable, meaning The Body Shop Peppermint is not only effective, but it's also affordable.

Subscribe to our Newsletter