Best Foot Care Products For Healthy, Happy Feet Reviewed & Rated
In a Hurry? Editors choice:
Test Winner: Microplane Colossal Rasp

Your feet have it rough. They carry your weight as you go about your day, and often receive the least attention. Depending on it you're walking, standing, or doing an intense HIIT circuit, the amount of stress put on them may vary but will always be present. Not only that, but for the average person they are confined in stuffy sneakers or
uncomfortable high heels
. Because of this, it's incredibly important to take care of your feet properly. Now, we're not talking about anatomical issues that are treated with orthotic shoes or insoles, though those are just as important. In this article, we'll focus on things like how to get rid of dry skin on the heels, ugly cracked nails, or
frequent blistering
. These are minor issues compared to anatomical ones, but must still be addressed to prevent the small issue from snowballing into a severe one.
Standout Picks
Criteria Used for Evaluation
Materials
More and more, we are seeing an increase in popularity of natural ingredients in beauty and skincare products. It has become common knowledge that natural products have fewer side effects and are more gentle than their heavily processed counterparts. Now, it's important to take action and make sure you make the change in your own lifestyle.
It's been shown in a study by the Environmental Working Group that the average woman uses around 168 chemicals on their body every single day. Men use roughly half of that amount, but it's still a lot. Through time this can lead to a lot of problems, though their severity will depend on the person.
For one, the chemicals in beauty products are one of the only unregulated products by the FDA, meaning there isn't really a way for you to know if the product is safe or not. Even if the label claims that it is 100% okay for use, some chemicals in the formula might not go well with your skin simply because of your skin type. On top of that, a product that seems to work well may cause harm in the long run and does not cause any visible harm in the short-term. Our skin has a natural protective barrier designed to protect itself from dangerous compounds, but as 60% of what's put on the skin is directly absorbed, there are lots of harmful chemicals that may penetrate regardless and get to the bloodstream.
That's not to say natural ingredients are 100% safe, of course. There are some natural and organic ingredients that still have a high chance of causing skin irritation if used in excess or with the wrong skin type. Some may cause skin sensitivity that will accumulate over time, disrupting the skin's renewal of itself and making it more vulnerable and delicate. Some natural products that may have these effects and for which you should watch out for are alcohol, cinnamon, lime, and lemon.
But when the right natural ingredients are used, the list of benefits goes on and on. We have to keep in mind that we were life carved out of nature, just like any other being on the earth. It's only logical that things coming from the earth are much better for us compared to man-made products – they work with your skin rather than against it. They are generally more gentle than their chemical counterparts and have a lower risk of causing irritation and allergic reactions, meaning they're especially suitable for those with sensitive skin. Some examples of good natural ingredients are cocoa butter, clays, honey, olive oil, and jojoba oil.
Use
This next point goes hand in hand with the previous topic, as fragrances are more often added to chemical formulas to cover up their chemical smell. Though these fragrances are pleasing to the nostrils, they're not so pleasing to your skin. These chemicals are often the culprits to skin irritation, redness, itching, or other discomforts. Again, since the FDA doesn't do much to control or monitor chemicals in cosmetics, some smells come from toxic chemicals that can be dangerous to the wearer.
With that said, natural fragrances aren't all that good either. You may have heard lots of good stuff about essential oils, but their benefits come from breathing them in, not from putting them on your skin. In fact, they can harm the skin and cause irritation to the wearer.
Because of this, we highly recommend you opt for an odorless product. By odorless we don't mean they don't smell like anything at all, but simply that any smell comes only from natural oils or other ingredients. Most of the time, the fragrance will be indicated on their packaging, but sometimes they are sneaked in and not carefully pointed out on their label. Again, you can look at the list of ingredients to double check.
Style
Unlike the other two characteristics, this one does not concern balms or moisturizers. Rather, it's something to consider with files and scrubs. The coarseness of the file or the size of the gritty bits in the scrubs can cause harm if they are too rough. After all, it's your skin they are are scrubbing, and no matter how thick or dry it is it's still a part of your body.
When the file or the scrub is so rough that it strips away all the dry skin in one go, the body may try to regulate itself by producing even more to protect itself. This process may sound awfully familiar to you if you've had skin problems or acne as well – you used products that dried out your oily skin, but in response to the drastic change, your skin started producing even more oils, resulting in more acne and skin problems. It's an endless cycle, where every time you think you've conquered the problem, the problem comes back. For the feet, though your heel may feel super smooth at first, it could begin to get rough and dry in just a few days. On top of that, coarse files and gritty scrubs can be so 'efficient' that you accidentally strip off too much and end up with a tender or even bleeding foot.
With that said, these items are still okay to use. Their biggest advantage is their efficiency – they can strip off years of accumulated dry skin on the heel in just a couple of minutes, and make them look nice and smooth. If you need results quick – for example, if you've got an important event next week where you'll have to wear open-heeled shoes – they are the go-to option. But just make sure that you use them in moderation and know when to stop to prevent any painful aftereffects. Use them slowly and stay attuned to your senses for any tenderness or pain. If possible, apply a moisturizer afterward to smooth out the skin and keep it moisturized.
Effectiveness
The best part about using these tools at home rather than going to a salon is the sanitation. At home, you are responsible for keeping all your items clean and sanitized. When you've done so, you can rest easy when using them. In the salon, however, sanitation is put into the responsibility of others that may not do as good of a job. Of course, it sounds disgusting, but there are more serious consequences than that. If the tools used on your feet are not cleaned properly and/or if you get a nick or a cut by accident, you could easily get a fungal infection or other types of unpleasant conditions.
At home, you have to take the necessary measures to ensure all your tools are sanitary. After every use, your tool is bound to have some powdery skin still lingering on it. Just using water and soap isn't enough. It is recommended that you use a brush of some kind (a toothbrush should be fine – just don't use your own) to scrub it and get into every little crevice that might exist. Then, use a disinfecting solution or sanitizing liquid and soak or spray the tool. Finally, put it into an airtight bag to ensure it is sealed off from any bacteria outside.
Value
Cost and value are always one of the determining factors when it comes to many of our products. The reason being is that we want to share the best value products for the price. Other than that, we wanted to widen the spectrum of the different costs that an individual can expect.
When looking at the value of foot care products it's important to take the brand, ingredients, and type of product into consideration. Not only will this affect how long it lasts, but how well it performs, and also, the safety of using it. You don't want to cut corners on a product and have it affect your skin negatively or cause any issues. It might be worth it to pay slightly more to ensure your safety.
10 Best Foot Care Products
1

. Microplane Colossal Rasp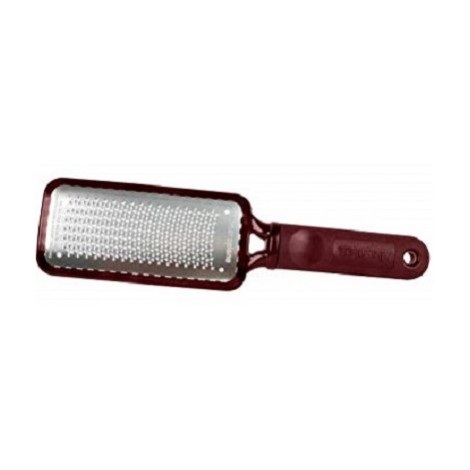 This next pick of ours is another foot file, though this time it's not electronic. For those who often wear sandals and flip-flops, or who walk around the house barefoot often, you may experience hard, dry, and cracked heels. This can be solved by the Microplane Colossal Pedicure Rasp. With a large surface area, it ensures that you get the work done efficiently and effectively. Their design also ensures that they remove all that should be removed without causing pain or discomfort. We recommend you purchase this along with a foot balm to use on the heel afterward and watch the magic happen! Do keep in mind, though, that they will likely leave the heel tender for a few days if you file it down in one sitting, but it should be okay if you keep it moisturized and rest for a couple of days.
Convenient
If you're using a weak file, you might have to soak your feet beforehand to make sure the dead skin is soft enough to be eliminated. Thankfully, that's not necessary with this product. Thanks to their design, they can be used right away without causing damage to the skin.
Lightweight
Unfortunately, these aren't electronic. Having to file by hand could cause cramping or tired hands, but the manufacturer has done all they can to prevent this from happening. With a lighter weight, they'll minimize that strain put on your hands.
Cost and Value
This is a budget-friendly choice. You won't be breaking the bank, but you still get a pretty decent footcare product.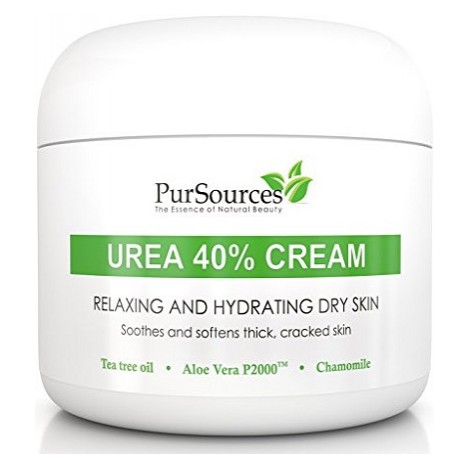 Nothing gets rid of annoying and ugly callouses like this product. With their premium quality formula, they offer only the best against all kinds of stiff or dry skin. The purity of their formula ensures that they do their job well without leaving any annoying side-effects such as tender or even aching heels. Those who live a fast-paced life will ensure this product, as it allows for a gradual yet maintainable change to your skin. All in all, this treatment will give you the relief you deserve.
Healthy Ingredients
This USA-manufactured cream is very effective, yet also gentle at the same time thanks to their premium quality ingredients. Results will be seen quickly with minimal risk of harmful side effects.
Great for Callouses
If you do lots of sports or are often busy and on your feet in uncomfortable shoes, then you might be familiar with callouses. The effective yet gentle hydration provided will smooth out your callouses and replace them with soft, supple skin.
Cost and Value
Though this is one of the most expensive products on our list, they are still not that costly. They are around the same price as typical facial lotions and provide special care in a similar fashion.

3

. Bliss of Greece Foot Butter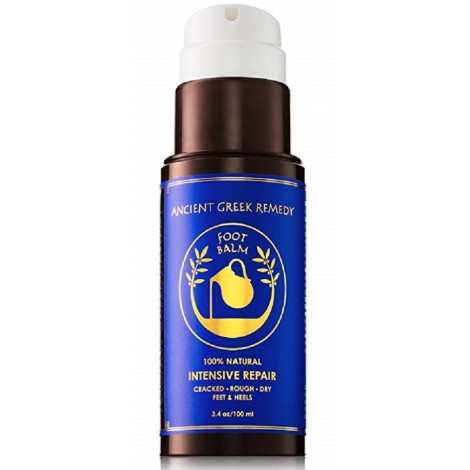 Just by reading the name of this product, you must be getting high expectations - and the product will meet 'em for sure. Like the name suggests, this butter is made 100% from natural and wholesome ingredients, which provide intensive hydration that can do the job of files, scrubbers, and scrapers of all kind. By allowing the moisturization to reach deep into the skin, it solves your problems with stiffness, callouses, and dryness from their roots. Use them every night after bathing or showering, and in just two weeks your feet should have undergone a transformation. The areas that are dry and stiff should soften and become smooth and supple. However, on the rare occasion that it doesn't offer the desired effects, they will give a full refund of the product without asking for the bottle to be mailed back. To sum it up in two words: satisfaction guaranteed.
Intense Care
This is the perfect choice if you don't like scrubbing and scraping at your heel. With their wholesome recipe of natural ingredients, you'll be able to fight the problem without using force. Gradually, within two weeks, the dry and stiff areas of the foot will soften and become silky smooth.
Ingredients
You can't expect good results from a formula full of chemicals. That's why the formula for this butter includes only the best natural products, including five effective natural raw oils - among which are extra virgin olive oil, almond, and lavender essential oil for a soothing smell.
Cost and Value
Each bottle contains 100mL of product, which should be enough to provide intensive care for a long while. In addition to that, the price is moderate and the features are abundant, making them a worthy purchase.

4

. ZIZZON Pedicure Callous Shaver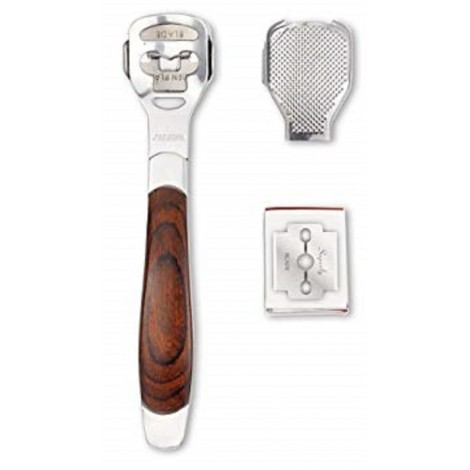 With moisturizing balms and creams, their results will usually take some time to become apparent. If you want faster results, using files, scrubbers, and shavers are more efficient. This particular shaver is made of high-quality stainless steel and a dark wood handle, resulting in a balance between aesthetics and practicality. It's easy to use them, too: simple soak your feet in hot water for a quarter- to half-hour, wipe dry, then scrap the dead skin one to three times before using the other side of the file head to smooth the skin. Be careful not to over-shave, however, as this is a highly efficient tool that could cause pain or overly-tender heels if used too vigorously.
Long-lasting
Because of their material, they will not rust nor become deformed with usage. They'll stay good for longer, ensuring you won't have to go searching for another one any time soon.
Comfortable Grip
The handle is made from a solid and smooth wood, allowing you to hold them with ease while you work away. The dark brown of the wood also adds to the aesthetic appearance.
Cost and Value
This shaver is moderately-priced. They are very effective and durable, and we're sure that every penny will be worth the purchase.

5

. O'Keeffe's Healthy Feet Foot Cream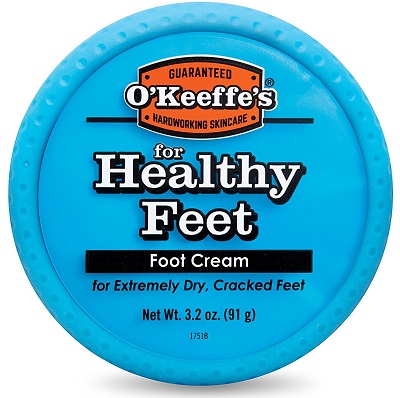 Having dried, cracked skin is no fun. Not only does it look bad in sandals and other summer shoes, but it can also make your feet feel stiff, too. This cream by O'Keeffe's is a moisturizer that's specially designed for severely dried skin. It has a high concentration of glycerin, allowing it to draw in and retain moisture, keeping the skin hydrated and healthy. The Allantoin in the formula also helps it penetrate through the thick, stiff skin of the heel to offer results regardless of how bad your conditions may be. In addition, they work quite quickly, and many users claim to see results in just a few days. Use after bathing and/or at bedtimes to ensure the moisturizer is allowed to be absorbed with maximum efficiency. To top it all off, they have a compact container and are sold at a low price. They sure are a must-have footcare product!
Hydrating
Not only does the formula hydrate the skin naturally, without adding any perfume or odor, but it also helps your skin retain that hydration, too. The pH balance is adjusted to help your skin stay fresh and soft for longer.
Safe to Use
This cream was made to cater to all. The manufacturer claims it to be hypo-allergenic, meaning it's very unlikely to cause unwanted allergic reactions. On top of that, it is safe for use with diabetics as well.
Cost and Value
As a relatively inexpensive item on the list, we think they are worth purchasing and trying out. Even if you're not a big fan, you won't have to feel guilty about chucking them out and getting another - but with such promising features, we doubt they won't satisfy.

6

. Foot Glide Anti-Blister Balm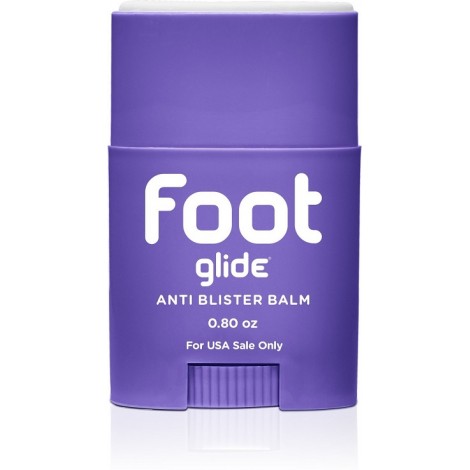 Finally, we have an anti-blister balm for our final pick. The stick resembles deodorant, but instead of preventing smell, it's there to keep the foot from rubbing against your footwear and resulting in uncomfortable friction and blisters. It's super easy to use, too. Simply apply before putting your shoes on, and stay comfortable for the rest of the day! At the same time, the anti-blister balm prevents inflammation and keeps the skin refreshed and moisturized, as it is infused with vitamin A and C. What's more, the formula consists of allergen-free, plant-based ingredients and is not tested on animals.
Long-lasting Protection
Though this balm must be applied every single day, it provides consistent and long-lasting protection to the toes and feet, even in conditions that are fast-paced or demanding such as when doing sports.
Lets Skin Breathe
Not only does this prevent painful blisters, it also keeps the pores from clogging up. This way, sweat is allowed to escape, leaving the feet feeling fresh.
Cost and Value
Considering how long one stick of this product can last you, it is an incredible deal. Just a few dollars can ward off discomfort and keep you feeling good on a daily basis.

7

. Soft Touch Foot Peel Mask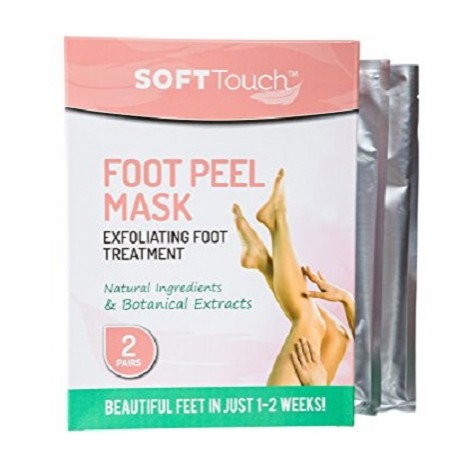 We've all seen face masks - now get ready for the foot mask. Just like the skin on your face (and any other part of your body, actually), your feet need to stay hydrated to prevent any drying, cracking, and callouses. If anything, they need to be looked after even more, since they're carrying all your body weight and may be exposed to all sorts of things when you're wearing open-heeled or open-toed footwear. This mask by Soft Touch offers relief from stiff, dry skin without having to use force. After their application, the dead skin will begin to fall off on its own without requiring scrubbing. They are excellent for getting rid of dry heels and callouses and will help you achieve the soft, supple feet you've always strived for.
Natural
You'll be glad to hear that the lotion of this mask has no artificial additives or chemicals. All its ingredients are natural, including safe botanical extracts, and come straight from mother nature to help you stay moisturized.
Easy to Apply
Not only do they work well, they're easy to use as well. To apply, simple clean and dry the feet, slip them into the mask, seal, and leave it on for an hour before taking them off and rinsing with soap and water. Meanwhile, you can relax, perhaps with a book and a glass of red wine, and wait for it to do its magic.
Cost and Value
Two treatments are offered in each pack, though the manufacturer claims they can be saved for a second use if necessary. They aren't the cheapest, but if you want results while sitting back and relaxing rather than scrubbing violently, they're definitely the right product for you.

8

. ArtNaturals Salt Body Scrub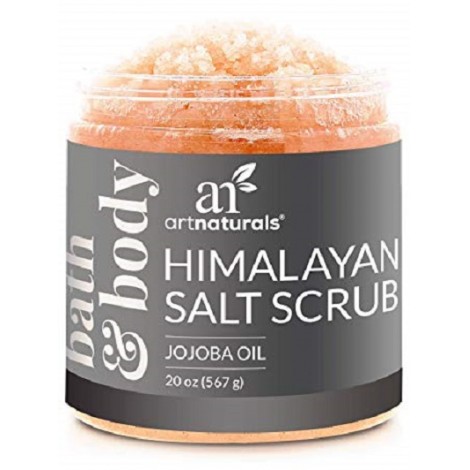 You may have heard of Himalayan pink salt because of its recent rise to popularity, especially in the health community. This type of salt is well-known because of its purity and healing benefits for the skin. This scrub uses Himalayan pink salt as its primary ingredients so that you can get a taste of their benefits yourself. In addition, there are jojoba and macadamia oils that ensure hydration. Though it is intended for the whole body, it is effective enough to yield results on the feet as well. Those who are trying to save money or reduce clutter in their washrooms will love this for its versatility.
Rejuvanating
Though not specifically made for the feet, you shouldn't underestimate their capabilities in getting rid of dead skin on the heels. It's just that they are also great for the exfoliating and cleansing the whole body.
Natural Ingredients
Our previous few products all had this same characteristic, but we're mentioning it again just because it's so important when it comes to skincare products. The ingredients are 100% natural, providing you and your skin with high-quality relief and nourishment.
Cost and Value
Compared to the other items, this one's on the pricier side. However, they can be used on the whole body, so their cost is counterbalanced by their versatility.

9

. Amope Pedi Perfect Electronic Foot File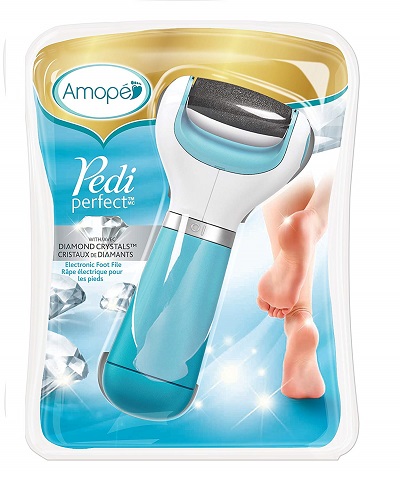 This first item is perfect for getting you soft, smooth feet. For those that don't know, foot files are essentially a coarse, exfoliating device that gets rid of dead skin. You can think of them like nail files, but for skin. This particular one is very effective and efficient. You'll be feeling their effects after just one use! They require AA batteries, and four are even included in the package already so they're good to go right out of their packaging. If you need something a bit stronger or weaker, there are also soft touch rollers and extra coarse rollers available.
Electronic
Of course, as the name states, these are powered by electricity. There are many benefits to this, the most obvious of which is the fact that you won't get hand cramps or aches as likely, as you won't need to move your hand back and forth. The foot file comes with four batteries.
Travel-sized
Though they are not labeled as travel-sized, their small and compact size makes them ideal for those who are often away from home. If you don't travel, their size is nonetheless an advantage because they will not add too much clutter to your drawers.
Cost and Value
Though not the cheapest for a foot file, their cost is understandable, since the file is electronic and comes with four batteries. In our opinion, the advantages of being electronic outweigh the downsides!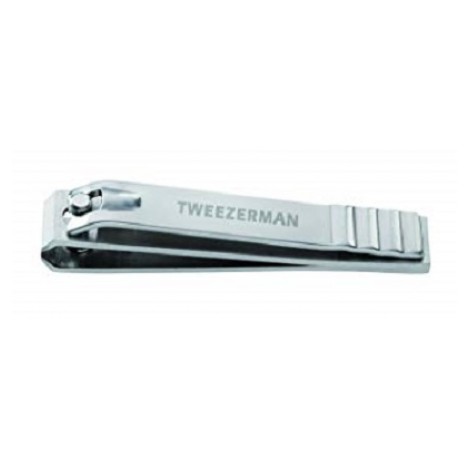 The skin of the foot is important to take care of, but what we haven't been addressing is the nails. Toenails are there to protect your toes and can get rather cracked and long if you neglect them for long durations of time. Just like your cuticles, they should be moisturized regularly, but trimming them is also a big part of keeping them nice and neat. These toenail clippers are precise and easy to use. The blade is sharp and precise, and the overall clippers have a simple and practical design. The only downside is their lack of catcher, meaning your cut nails might be flying all over the place...
Precise
The blades are sleek, sharp, and curved to ensure maximum precision. See exactly where the cut will go down to ensure a good and consistent nail shape.
Practical
Though not very large, they can still be held comfortably while you've focused on reshaping your toenails. The handle has ridges that ensure a secure fit, allowing you to have full control of your nail-grooming.
Cost and Value
Though you can get nail clippers for half their price in a dollar store, they won't have the necessary features to really let you groom your toenails comfortably and with precision.

Subscribe to our Newsletter