Best Color Changing Shoes Reviewed & Rated
In a Hurry? Editors choice:
Test Winner: Shinmax Fiber Optic LED

The nostalgia associated with shoes that change color will never die. The
90s saw
a huge explosion in light-up shoes. The more refined version of this obsession is shoes that are heat or water activated. Many of these shoes have become high-tech. They are fitted with colors you can choose from, rechargeable batteries, and fabric that is thermo-activated. There is a multitude of shoe designs that have integrated these various vibrant technologies. It is imperative to decipher what will be the use of particular foot-gear. When choosing the best item considering what will be most compatible with individual foot needs and use is a logical approach. The joy and usability of this footwear have not been lost on times past. This joy-bringing garb is wonderful for daily or occasional use. Easily making the wearer the life of the party or a delightful sight amongst friends.
Standout Picks
Criteria Used for Evaluation
10 Best Color Changing Shoes
1

. Tricandide LED Flashing Sneaker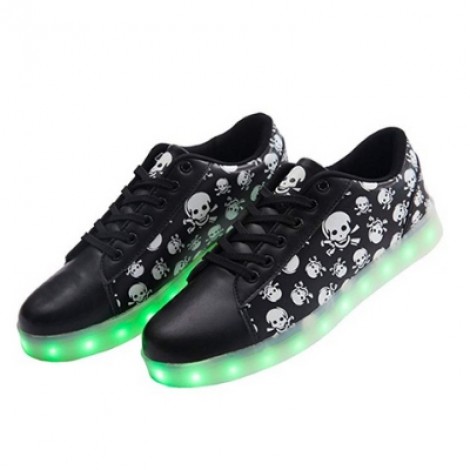 These are great to compliment costumes or just to add a fun touch to urban-wear. These can be worn by dancers to draw attention to feet and accentuate foot-work. They are wonderful for casual wear as well. They add a touch of uniqueness to garb and are sure to draw attention. Charging is easy and these will be ready to go in as little as three hours for over half of day of non-stop glow.
Hidden Charging
The battery of this shoe is inside of the shoe. They come with a wire for easy charging with any USB equipped charge base. The switch to choose a color and changing speed are hidden inside the shoe and do not cause discomfort. Nobody will ever know how they are glowing. The uppers are made from man-made PU which is a foe leather. They have a polished look and should not be machine washed. They are not waterproof but can be given added shine with a colorless shoe polish to keep them looking new.
Great Fit
This skull embossed footgear has a sleek look. They make the foot look narrow. This is a big benefit for those with wider or longer feet. The gummy outsole is durable and has some measure of shock absorption for added ease. This is a fashion forward, practical product that looks great with jeans or shorts. The charging is not complicated, and the switch is not fussy.
Cost and Value
Fun footwear should not break the bank. These deliver on that principle and cost less than most comparable items. These are easy to wear but don't offer much in regards to arch support. The gummy bottoms add a measure of shock absorption and protection. They are a great looking shoe that offers a bold expressive in nature. They are great for parties and costuming events as well. They are sure to be a show stopper.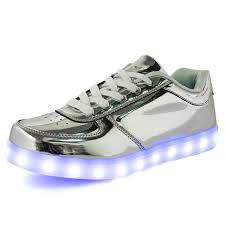 These shoes are stylish and work well with summer attire. They have a rounded toe than many will find comfortable. The removable insole is a huge plus, as it makes it easy to clean if needed and can be replaced with insoles that provide more arch support. The rubber design over the PU leather of the shoe has a retro appeal. Even with the lights off on this item off these have a sleek trendy look that is sure to draw attention.
Thick Outsole
The outsole is thicker but still manages to keep this item looking sleek and beautiful. These offer good traction for different environments and decreased slipping. The lights are built into the outsole and last for 6-18 hours with just three hours of charging. The look of them is trendy. This is reminiscent of colorful summer-wear and late nights with good friends.
Ease of Use
These were constructed to be not fussy. These have a pull tab in the back to make putting on these shoes easy. The lace-up style is typical of most sneakers. The charging port and switch are inside on the shoe, hidden from sight. This is strategically placed to not rub feet or be a bother. The removable insole makes these easy to clean. Although these can't be machine washed they are easy to clean with a damp cloth.
Cost and Value
These are fairly priced and are affordable to purchase. They also are strikingly inexpensive for such a trendy fashion-forward look. These can be worn on spontaneous nights out or at casual parties or gatherings. They look great with jeans, shorts or leggings. This item is trendy and well constructed with a cushioned footbed. They also have sturdy stitching. These are easy to clean with nothing more than a damp cloth. They can also be worn during any season but are not waterproof so they may not hold up well in water during downpours.

3

. Telacos Fairy Tail Anime Logo Cosplay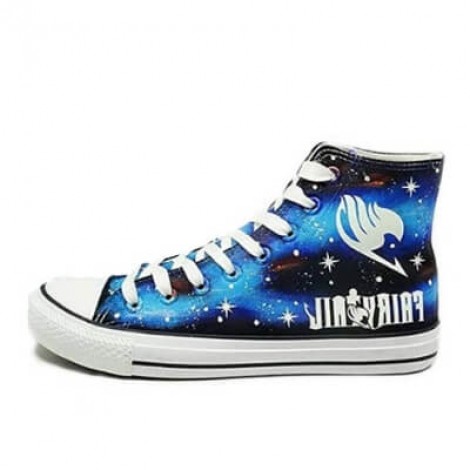 These are known by some as Japan's converse. They have the same style and durable canvas material that many have come to know and love. They are comfortable and long-lasting. The design on this shoe has actually been hand-painted with exceptional detailing and accuracy. The star design in dreamy and sure to be a great accent to any casual outfit. These are great because as you walk around outdoors in the sun the paint on them activates to glow in the dark during evening hours.
High-Quality Design
The hand-painted design in this shoe is painted to wrap all the way around the shoe. This illustration is extremely detailed and long-lasting. Attention to details is important and even the laces glow in the dark on this item. These are sure to be a show stopper. They won't fade over-time and the canvas material is breathable and flexible. This item does tend to run a little narrow so it's important to measure feet to ensure correct sizing.
Flex
These offer great flex and durable rubber soles. They are not contoured for support but are easy for walking and feel light on feet. If there are any foot ailments ordering a size or half size larger than the measured size would be advisable in order to make room for orthotics. The rubber bends to allow the foot to bend naturally. This gives the foot the ability to move in a biomechanically correct way, allowing a more fluid motion.
Cost and Value
These are very fairly priced being affordable for most budgets. They are an artful and dreamy creation for those who want an item that expresses their personal style. The glow in the dark paint just needs some time in the sun to shine in the dark. They can easily be left outside for a little while to be embedded with a glow that doesn't quit. These are wonderful as a personal style piece or to complete anime themed attire. They even can be used daily because they happen to be exceptionally durable.

4

. Columbia Megavent Shift Water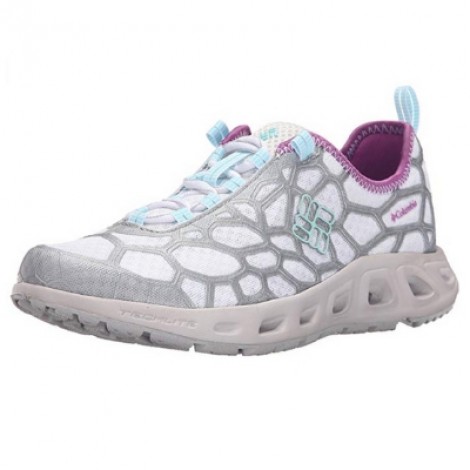 Subtleties are divine. These shoes feature a color changing rubber midsole and logo. This is a subtle change but it really makes this item stand out. This is constructed like a running shoe but is quick drying and can be used in and out of the water. The outsole offers good traction for wet and dry environments. The footbed has drain holes and the shoe itself dries quickly. The mesh material is comfortable on wet or dry feet. It also dries quickly for days that may be split between time in and out of the water.
Supportive
Some water shoes are too flexible for those who need more arch support. These are constructed like a running shoe but have a quick drying ability of a water shoe. It's lightweight and with the molded midsole the foot will feel sturdier. The outsole offers good traction for stability in a variety of environments. The midsole itself is constructed to drain water with side holes but this does not take away from the durability or comfortability of the product.
Rapid Drying
These dry quickly due to a number of features that work together. At first sight, such a solid construction seems that it would take a long time to dry. The innovative design allows for quick drying for ease when coming in and out of the water. The midsole features side water holes that drain water quickly out of the shoe. The insole is soft but perforated to allow the water to drain water out quickly. The mesh upper also dries quickly and allows air to flow into the shoe for cool feet on hot days.
Cost and Value
These cost a little more than is expected. The well-constructed durable design certainly holds up over time. This durability paired with a sneaker look, color changing aspect, and fast drying elements will make this item usable for years. They also feature sturdy traction and are easy to wear for sports or jogging along the beach. The value also lies in the arch support many footgear made for water tend to lack.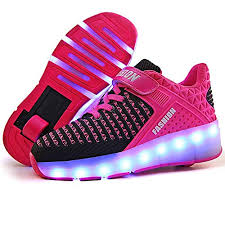 These are great activewear shoes for wet environments. They will protect feet from unseen sharp objects and rugged terrain. The color changes based on the temperature which is a really interesting feature. These also offer a lot of flex in the sole. The cloth for the upper is quick drying, breathable and stretch to conform to the shape of the foot.
Anti-slip Sole
The outsole is durable and features small drainage holes to aide in quick-drying abilities. The outsole also offers good traction and even is non-slip for a variety of environments. These also absorb shock well to help protect joint for a balanced stride. The insole has interesting honeycomb detailing that offers shock absorption and promotes air circulation. These dry easily and are very flexible.
Weightless
This item offers a weightless feel to lessen strain lessen foot-fatigue. They were made to have a sock-like barely there feel. They dry quickly and are lined with an EVA removable midsole that is well constructed but doesn't add extra weight to this product. They stretch and offer a secure fit. This is important when engaging in physical activities because it provides a measure of safety and security. The extra traction also adds another layer of safety.
Cost and Value
These and very affordable for any budget. They are well constructed and offer a lot of advanced features for such an inexpensive product. The color changing upper does not stop working with repeated use. These are very durable. They offer safety by featuring anti-slip outsoles and a secure fit. The fabric and insole dry very quickly to make a quick transition from water to land without any trouble.

6

. Skechers Energy Lights- 109471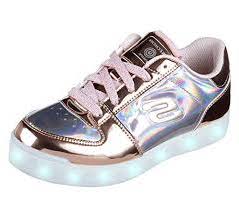 Made of leather and other synthetic materials, these shoes will fit well on your feet. Making these delightfully luminous apparel are safe for animal lovers. These shoes have a color-changing switch and the charge is exceptionally long-lasting, holding its charge for almost half a day. Recharging is easy as well.
Ease of Use
While these won't charge fully in 20 minutes they do charge in as little as 3 hours and holds the charge for quadruple this time. There are a variety of 7 colors to choose from with the option to fade or flash colors for as fast or slow as is desired. They come with a Y wire that connects to USB to make charging hassle-free. These also are some of the longest lasting luminescent footwear on the market. They are sure to dazzle.
Wear-Resistant
The soles on these shoes were made to resist wear long-term. This is wonderful because they must be made to protect the lights and keep them working long term. The cloth on the inside of the shoe is lined and made to be breathable. This keeps feet from feeling oppressive and uncomfortable long-term.
Cost and Value
These are surprisingly inexpensive for the quality. They are made to last! The ease associated with charging and color options is wonderful. The option of choosing the speed in which the colors change creates ease for the wearer. These also offer an edgy look that will wow others and defines personal style. The sole is thicker which is good to accommodate the lights but for those who want a more flexible shoe may not find these wearable all-day

7

. UBELLA LED Wheel Shoes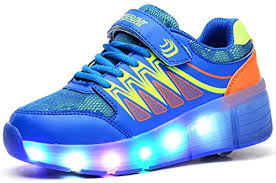 These are an exciting item due to their uniqueness. They change have multiple color changes and also a wheeled heel. The elastic side goring gives them an easy on-and-off appeal. These have a very supple interior for a cushioned feel. These have special uppers that are thermally activated and even if hands are placed on the exterior they will begin their transformation.
Wheeled Heel
The wheeled heel is unique to the others on our list. With this fun addition, you will definitely stand out in the crowd. You can rest assured though, that the wheel won't pop out accidentally with a special button that releases or hides the wheels.
Soft Interior
The interior of this footwear is cushioned with a plush footbed. This gives the foot serenity while walking. The lining is leather which offers long-lasting quality. Typically leather will take a little time to stretch. Once broken in they mold in a customized way to truly become a long time favorite. The uppers won't work as well with over-exposure to the sun so it's not recommended to wear all day. The design won't disappear it just will look a little more faded when transforming.
Cost and Value
These are unexpectedly underpriced for such a thoughtful design. The materials used are of a higher grade and offer a good measure of plushness. The footbed is flatter and doesn't offer great arch support. They were designed in the style of a skateboard shoe. They actually use higher quality materials than most traditional skateboard shoes but are priced below traditional margins. This apparel is a great find for those who want to be ahead of the curve with their casual-wear.

8

. Shinmax Fiber Optic LED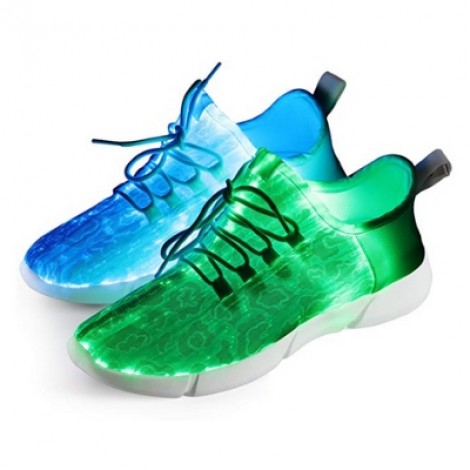 It is very difficult to find a durable Fiber Optic shoe. These offer a serene feel and can be used in a variety of environments. These are good for indoor and outdoor environments. They offer a light foot feel to create ease while walking. They have 8 colors to choose from and 8 flashing modes for extra customization. The uppers are a mesh to allow extra circulation and the EVA outsole is soft enough to mold to the foot and add a measure of support.
Ventilation
Some shoes that offer a light up feature don't offer breathability. This footgear allows the foot to breathe which is important on hot days and when being active. These are fitted with mesh uppers that allow air to flow to the foot for a cooling effect. Another aspect to consider is that these are not bulky and they were made to feel light on feet. This is important because it will lessen fatigue for feet and keep them feeling airy and serene.
Innovative
These offer a hidden switch for this footwear behind the upper. There is also a tap in the upper for easy charging that is seamless. Even when the lights are off this shoe has a very eye-catching design. They have a sporty look and are created for indoor and outdoor wear. The softer EVA outsole makes the foot feel light and is comforting for tired feet.
Cost and Value
This is an average cost for sports footwear. They will feel great at an event or party because they were made to feel easy and enjoyable during long periods of time. They offer a lot of customization for the light-up feature and have a casual look. This attire allows air-flow for tired feet and has a soft feel. The casual look is great for festivals and events that may require some outdoor walking. These certainly will draw attention to feet and wow on-lookers. They will draw in compliments and comments from onlookers.

9

. Green Voice Woven Color Change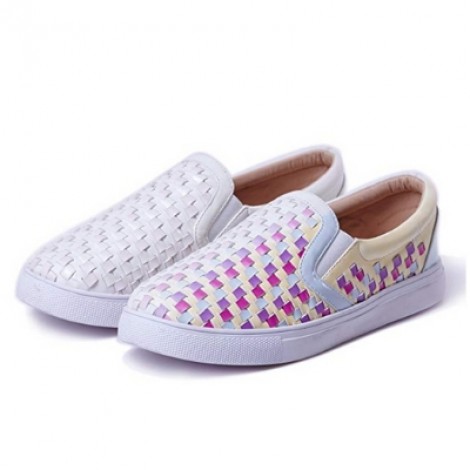 These are made from genuine leather and the woven pattern is quaint and beautiful. The leather uppers are sun activated and the colors show more intensely depending on the intensity of the UV rays. They don't typically change under indoor lights unless they have a UV component to them. The slip-on style for this kind of sneaker makes them easy to slip into and take off. They have a casual feel and will definitely be an eye opener when under the suns rays.
Waterproof
The leather on this slip-on is waterproof. This makes them an easy choice when hitting a beachy boardwalk or parks that may have water features that could get these a little wet. The leather holds up well but over-exposure to the sun may cause the leather to fade. This may affect the color-changing property, making it not as intense.
Soft Interior
The inside of this shoe is soft and lined with leather. Natural leathers mold to the foot over-time and create a customized feel. The insole is removable and although the footbed is not contoured it does cushion the foot for added comfort. The added comfort will make the foot feel surrounded with a plush feel. These are fitted with a casual thick flat bottom. Although they are comfortable, those who need arch support may find these are a little uncomfortable. Since the insole can be removed they can be fitted with foot-orthotics for an easy feel.
Cost and Value
These slip-ons are fitted with an agreeable price point. They have a stylish appeal and have a plush interior. These are waterproof and have elastic goring to make these easy to slip on and off. This item is durable and the color changing aspect is an ode to sunny days. This style is easy to wear with a variety of casual-wear. It also is eye-catching and may stump friends who see these shoes inside and notice a color change. They are sure to be pleasantly surprised and ask the coveted question, "Where did you get those?".

10

. TopTeck High Top Dance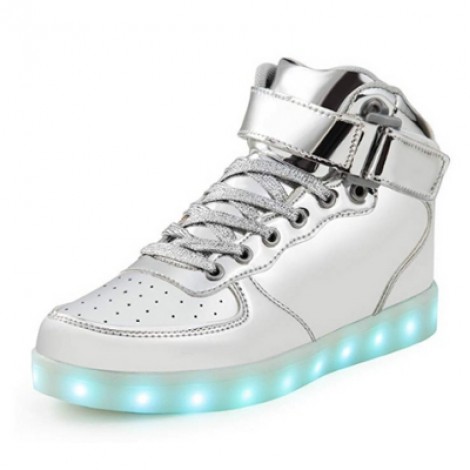 These shoes look futuristic and the LED lights have a beautiful glow to them. The quality is good and the lights tend to last a long time. If there are any issues after ordering the company is really good about refunds and returns, this is a big relief. These dancing shoes are fitted with a PU synthetic leather. Although they say they are waterproof, they are more water resistant and may not stand up well when they become wet.
Air Flow
The exterior of this product features a perforated toe box to allow some air to flow into the shoe. This is a great feature for those who want to use this for dancing or might be walking long distances. The interior is lined with a soft material for added breathability. They are not designed with a mesh which is superior for cooling but these will allow some cooling effect so feet don't overheat.
Easy Cleaning
Due to the light-up nature of this shoe, it's not recommended that they are washed in a machine or with a lot of water. They are easy to clean up with just a damp cloth and if needed a shoe polish can be used for extra protection. A shoe polish that is gentle and good for synthetic leathers should be used. The interior is soft but the and the insoles are removable. This makes room for those who may want a little extra support for arches with custom insoles. This also is a good feature for cleaning insoles that may acquire an offensive odor over time.
Cost and Value
These are very inexpensieasilyThey have an easy hidden charge feature and come with a remote to make switching the lights easy. They are constructed with a good quality and the light-up feature is long-lasting and most likely will last even as the shoe itself begins to show signs of wear and tear. The outsole is fitted to absorb shock. This is a great feature that will help protect joints from unnecessary wear and tear. The high top feature and strap helps with ankle stability. This is important to protect from rolled ankles and pain that may come with vigorous movement.

Subscribe to our Newsletter