Best Vintage Style and Retro Shoes Reviewed
In a Hurry? Editors choice: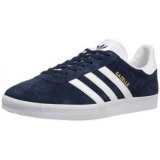 Test Winner: Adidas Gazelle

As with many
fashion trends
, vintage and retro style shoes have made a comeback. Regardless of the reason why you're searching for a nice vintage or retro shoe, you want to look nice and be comfortable in them. Otherwise, you're wasting your money and hurting your feet. Some of the shoes on this list have their earliest incarnations originating in the 1910's while others have simply been designed with a vintage or retro style in more recent years. This list curates the top ten, very best retro and vintage style shoes. These shoes look the best and have a number of great features that make them more comfortable than some of their peers. We have chosen a variety of shoe styles, as well. There are sneakers,
Oxfords
,
Mary Janes
, and pumps so you can sport the style you desire regardless of what you're doing and where you're going.
Standout Picks
Criteria Used for Evaluation
Style
The first question you need to ask yourself is where you are going to be wearing the shoes you are purchasing. The environment you will be wearing them in can limit your options considerably. You wouldn't wear a dress pump to a sports event and you wouldn't wear sneakers to a formal event. The most popular vintage and retro shoes are Mary Janes, Saddle Oxfords, Pumps, and retro sneakers. Mary Janes, Saddle Oxfords, and Pumps are best suited for formal, semi-formal, or dressy casual environments. Retro sneakers are best suited for athletic or casual environments.
Formal/Semi-Formal Wear
Mary Janes
Mary Janes were and are popular. They tend to have low heels and are characterized by a strap over the foot. The most common complaint about Mary Janes would be that they can be clunky, but they typically provide support and cushioning.Vintage style Mary Janes come with trims and aesthetic perforations to imitate brogue and oxford style detailing. Most of them are two-tone. The most popular form of two-tone Mary Jane in the 1950's was the black-and-white saddle oxford. The two-tone Mary Jane, however, was used as early as the 1920's and was considered quite fashionable through the 1970's. Mary Janes are great casual shoes that can also be used for formal wear.
Pumps
Pumps are still popular today, but pumps were a staple of the 1950's-1970's. The most common and most popular type of pump was the kitten heel. Kitten heels are medium height heels that are thicker than standard high heels tend to be. Pumps are generally used for formal occasions.
Oxfords
Oxfords are shoes that are typically made of leather and have unique detailing and trims that give them a more distinct look. These shoes are characterized by three to four eyelets for lacing. While Oxfords are still a popular look for men, Oxfords were most popular for men and women back in the 1950's. Oxfords can be used casually as well as formally.
Informal/Casual Wear
Sneakers
Sneakers today are broken into fashion sneakers and training sneakers. However, the original sneakers were solely meant for athletics. Most retro sneakers were made of leather, suede, or Nubuck. Some of the most popular retro sneakers are fashioned after 1980's style sneakers. Sneakers, like many articles of clothing, had bright color schemes.Today, however, there are many alternatives to real leather and animal products that can be used in shoes. It is possible to buy a retro-style sneaker that is made entirely with synthetic, or man-made, materials. These shoes are great for more or less any environment.
Support
Support is not hard to come by in vintage and retro shoes. Until recently, most shoes were made with firm Leather, Suede, or Nubuck material. Flexibility was not heavily emphasized and the rubber soles of most of these shoes were firm. That being said, vintage and retro style shoes today can be more flexible than the models they have been fashioned after. Support features in retro and vintage style shoes include supportive overlays, firm outsoles, and low heels.
Supportive Overlays
Most vintage style and retro shoes are made with a firm leather or synthetic leather material for the upper, so most of them don't require supportive overlays, but some retro and vintage shoes have canvas or fabric uppers. These shoes often have supportive overlays made with leather or synthetic materials to provide the wearer with more stability.
Firm Outsoles
Firm outsoles are not recommended for running or sports activities in general, but many vintage and retro style dress shoes have firmer outsoles. Most outsoles that are vintage or retro style are still made of rubber, but it's a firmer rubber compound than what is often used in more modern shoes. Firmer outsoles help keep you steady on your feet, but it's important to find a vintage or retro style shoe that has an outsole that isn't too inflexible.
Low Heels
Low heels and kitten heels, which are a medium heel height, are actually great for supporting your heel and arch. Low and medium height heels help reduce the strain and pressure on your forefoot and arch. It's best, though, to avoid higher heels, as they increase the strain and pressure on your forefoot and arch.
Use an Orthotic insert
If possible, use a custom orthotic or replacement insole to cover up or completely replace the insole that originally came with your new shoe. Adding an insole that offers more cushioning can really reduce the shock generated by each foot strike and provide you with a softer surface to stand on. If you don't need a full insole, you can add a forefoot cushioning piece or a heel cup to provide the cushioning you need for those areas. There are also arch cushioning and support pieces that can be added to your shoe if necessary.
Comfort
Cushioning, unlike support, is an area that vintage and retro style shoes are generally lacking in. A true vintage shoe or retro shoe from the 1980's generally would not have much by means of cushioning compared to today's shoes. However, many of the newer shoes modeled after retro and vintage fashions have more cushioning built into them!
So let's say you've found a nice pair of vintage or retro shoes that are somewhat flexible and their uppers aren't too firm. Great, except you have worn them for a little while and your feet are aching! Your shoes don't have quite enough padding and cushioning to absorb and disperse enough shock. As with reducing firmness, it is possible to increase the cushioning in your shoe, but really, your options are limited.
Most vintage and retro dress shoes won't come with many cushioning features built into them, but sneakers will almost always come with a padded or foam cushioned insole and sometimes even come with foam midsole units! Even though it may take more time to find a pair of vintage style or retro dress shoes with a decently padded or cushioned insole, it is well worth the effort when you're more comfortable in them.
Weather Resistance
Temperature management in shoes is more of a comfort feature than it is a safety feature, but it's still important to consider, especially if you intend to wear these vintage styles or retro shoes for extended periods of time. Most vintage shoes are made of solid, firm uppers made of leather, suede, or Nubuck. These materials are very firm and supportive, but they don't breathe well. This can result in hot, sweaty feet and this tends to cause unpleasant odors.
Hot, wet feet also blister easily and no one likes having a blister anywhere, especially not on the bottom of your foot. Most vintage style or retro shoes aren't made with meshes, which are today's most common type of breathability feature found in shoes. However, manufacturers of the time and manufacturers today trying to replicate the styles of these shoes have a very effective temperature management tool in their box: ventilating perforations.
A score higher on this criterion tends to mean the shoe will breathe better, allow for optimal temperature during long periods of wear, and prevent nasty fungus or health issues from occurring.
Fit
Finding a perfectly-fitting pair of shoes can be like finding the holy grail; there are so many brands, styles, models and makes of shoes that it seems like it's next to impossible, especially when you are shopping online! Fear not, as we've ranked each product on our list for their fit and trueness-to-size to help guide you in finding the perfect match for you.
To come up with a score for fit of a shoe, we considered several factors, like the ones mentioned above, in addition to real customer reviews, to help boil down everything into one simple score. For example, Nike tends to make shoes that are true-to-size, meaning that you can buy a pair of 11s one year, and another pair of 11s next year in a different model, and they will usually still fit (unless your feet grown or shrank). A brand like Nike will most likely have a high score when it comes to fit, but the other variables in play, such as make, model and purpose, will also affect the overall score.
Consider that a running shoe, with its thicker midsole and synthetic sole, might fit differently than a flat shoe, with its thinner midsole and hypothetical leather sole. Each of these shoes, even if they are both from Nike, may have similar scores for trueness-to-size, but a size 11 in one might not be the same as an 11 in the other. What's a reader to do in this case? You must also consider the purpose and type of shoe it is. Knowing what kind of shoe you are buying, and for what purpose, will help you make a better decision. A running shoe might run smaller than a flat because it has thicker materials, so read customer reviews as well to arrive at the best decision for fit, in addition to just our overall score.
Top 10 Vintage Style and Retro Shoes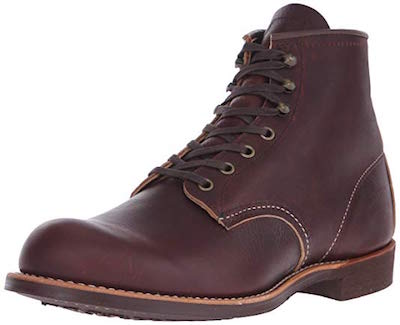 If you're after protection and durability with a look that has been around for over a century, the Blacksmith plain toe boot by Red Wing is a great choice. Originally made for workers who needed to be safe from hot cinders, but could also wear it to more than just work, the 3340 style makes for a fashionable pair of cold weather footwear that will last for years, getting more comfortable after each wear. The high calibre leather will develop a unique patina over time, and thanks to the company's values, you'll be able to repair and resole your favorite boots when the time comes for some extra care.
The oil tanned leather on the Blacksmith is sourced from the US, and is the highest grade of material you can get in any shoe. It is water, stain and perspiration resistant, which means you can wear these even in rain or snow, and it is fairly easy to maintain with simple cleaning and conditionings every once in a while. On the inside of the shoe, you will benefit from a leather lining and insole that'll let your foot breathe, but will still provided with a great level of protection.
The Vibram outsole used with this model gives you exceptional grip on almost any surface, and won't wear down when you walk on asphalt. With a cork midsole, you'll get a great amount of support in the arch area, and quite a bit of shock absorption, so you'll be able to wear these all day without any fatigue or discomfort. As for price, this is the most expensive shoe on this list, but that's to be expected from a brand such as Red Wing. Plus, considering you'll be wearing these for years, if not more than a decade, you'll get your money's worth, for sure.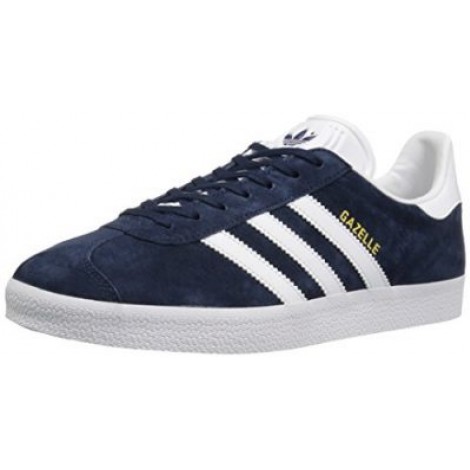 The Gazelle was originally released in 1968 as an athletic training shoe. Since then, the shoe has remained mostly true to its origins, even though it has now made the transition to casual wear. Its low top helps to reduce the weight of the shoe, which reduces foot and leg fatigue. The midsole unit is flexible to absorb more shock.
The upper of the Adidas Gazelle is made of durable cowhide leather which has been treated with rubbed to mimic the texture and appearance commonly associated with soft suede leather.
To aid in the toe-off when the wearer begins to run, Adidas has reinforced the toe area of the Gazelle sneaker to give your forefoot the extra support it needs. This 60's style shoe can be found in the low-to-upper price range with both the lowest price points on this list, making it an affordable shoe that's versatile and stylish.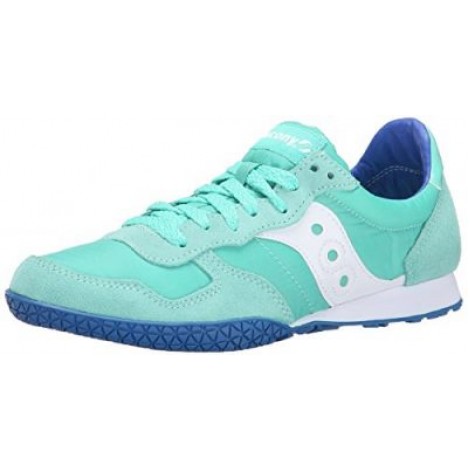 The Bullet was first released as a track shoe in 1985. Since then, Saucony has ditched the Bullet's spiked outsole and replaced it with their triangle tread rubber outsole. Aside from this, however, the Bullet has mostly remained the same since the 1980's. The nylon-and-suede upper is durable and lightweight even with the light padding in the tongue and collar.
This shoe's low profile and slim silhouette reflect true 1980's style. The minimalist design also reduces the overall weight of the shoe and is sufficiently padded without making it clunky.
The ethyl vinyl acetate foam midsole in the Saucony Originals Bullet provides ample cushioning and shock-absorption to protect your feet. This midsole unit reduces the impact generated with each step. This retro style shoe can be found in the low-to-middle price range. The modern incarnation of this Saucony Originals track shoe has a supportive rubber outsole and responsive EVA cushioning.

4

. Rockport Cobb Hill Abbott Curvy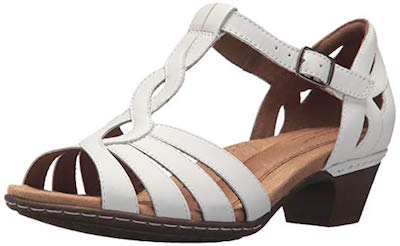 A strap sandal with a throwback look, the Abbott Curvy by Rockport is an excellent choice of summer footwear that will look just as great on casual, as it will on formal occasions. Made for comfort, breathability and durability, it's a pair of shoes that will take you back to the 50s with the peep toe and T-strap. Made with a combination of traditional and modern materials, it will definitely be a pair of footwear you will gladly wear, even to work or a walk.
This pair of sandals is made with full grain in the upper portion, giving you a shoe that will break in with wear and will mold to the shape of your foot for ultimate comfort. The ankle strap is adjustable through a classic buckle, so you can enjoy a secure fit, and the insole is lined with perforated textile for maximum breathability.
In terms of functionality, this sandal does a few things very well. First and foremost, the TPR outsole grips all surfaces, and coupled with the low heel, it's stable enough for all-day wear. The EVA footbed cushions and protects from shock, while a pronounced arch curve supports your foot, helping prevent knee and back pain. Overall, the cost is quite affordable, and you can even make a choice of the three available widths in order to enjoy the best possible level of comfort.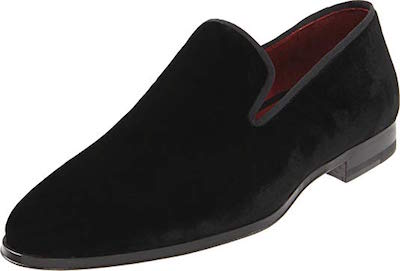 Nothing says classic vintage style like a pair of formal velvet slippers. Whether you want to wear these to the Opera, or just want something creative you can update your everyday ensembles with, this shoe is an elegant and comfortable way to stand out. Handmade in Spain, Magnanni shoes use high quality materials and the Dorio is definitely a pair of shoes you'll enjoy wearing for years.
The velvet fabric used for the upper of the Dorio is luxuriously soft, and will perfectly mold to your foot, wrapping it up in a plush feeling. The lining is entirely made with leather for durability and wearing comfort, and will feel just as good barefoot as it will with socks on. Do note that this shoe is not to be worn in wet weather, as the upper material can easily become damaged by moisture.
The outsole on these is leather, giving you a classic feeling underfoot. The sole is hand-dyed to be a bright red or purple color (depending on the upper) that will attract compliments, while the almond toe and minimal heel add to a comfortable wearing experience. In terms of cost, this is one of the most expensive models listed, but if you want a deluxe look, you should definitely check this shoe out.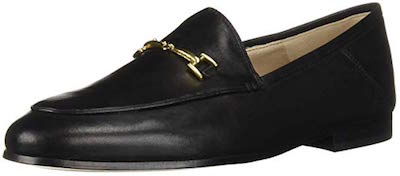 Though the history of the loafer dates back to the middle of the 19th century, this type of shoe was actually made popular in the 1950s, and later in the 80s and 90s. For a couple of decades, they were replaced in popularity by more rugged versions of slip-on shoes such as moccasins, but the past couple of seasons have seen a huge comeback by this style, and with good reason. Easy to wear and match, a classic pair of loafers can easily go from casual to formal, and will look just as good with jeans as it will with a suit. And if you're looking for good bang for your buck, the Loraine by Sam Edelman is a great choice.
The best thing about the Loraine is that it comes in a huge variety of color and material options. From classic black leather, to luxurious velvet, to soft suede or eccentric glitter and fur, it is a pair of shoes that caters to every taste. The look is made more sophisticated by the bit hardware at the front.
On the inside, you get a padded leather insole with a designated heel shock absorbing insert that will make standing and walking these (especially for long hours such as at work) so much more enjoyable. The price point is slightly above average, but considering the versatility of the loafer, it's an investment definitely worth making.

7

. Converse Chuck Taylor All Star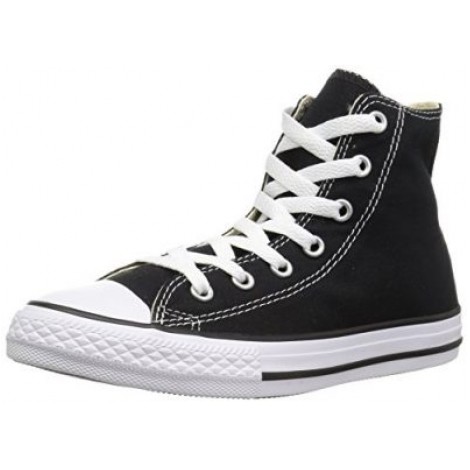 The original Converse Chuck Taylor All Star was released in 1917. Since then, Converse has remained true to their style and the Chuck Taylor All Star has undergone few stylistic changes. It's a great casual and vintage style shoe for every day. The canvas upper has suede overlays to give it a more natural look while adding durability and support.
The gusseted canvas tongue on the Converse Chuck Taylor All Star prevents rocks and other debris from getting into your shoe to irritate your sensitive feet through the reinforced eyelets.
The eyelets in the Chuck Taylor All Star are reinforced with metal rings to increase their durability and overall longevity. The eyelets also give this Converse sneaker a sleek appearance. The Chuck Taylor All Star is available in the low-to-upper price range. It can be pricey, so be sure to shop around for the best deal for this great shoe.

8

. Hot Chocolate Design 1970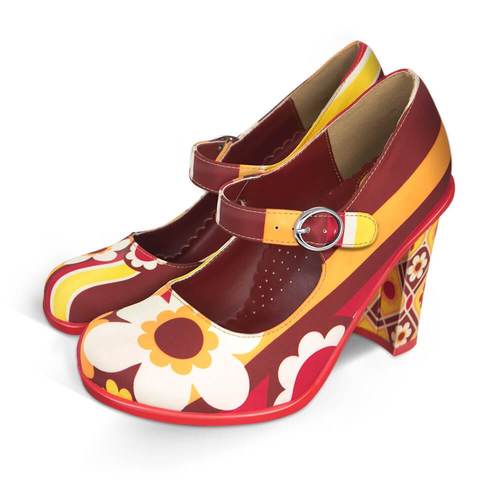 Have fun wearing these unique and comfy pumps. Your outfits will have an impressive enhancement that will give them an inspired vintage filled with vibrant designs and colors. The insole is cushioned with arch support, the upper is constructed with fabric, and the outsole is a rubber that is non-marking. The heels sit at 3.9 inches.
If you're a nostalgic fan of the seventies, this design will take you back in time. The flower prints and the muted colors of brown, yellow, and red will make you feel like you are staying alive again. The Mary Jane style is also reminiscent of the time period and will look great with tights and a buttoned-up, high collar dress.
Unique style doesn't have to be without common comfort. The lining is a soft fabric that is lightly plush and the insole has arch support and is very cushioned. With a fabric upper and a rubber outsole, support will cover all of your feet while wearing these funky shoes. This is the high-priced pair of footwear. These shoes are very unique and different and while they are made to be worn regularly, it might be best for those special occasions or even a costume party.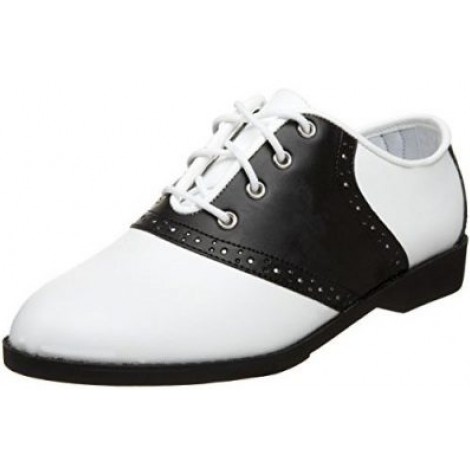 This saddle oxford is completely synthetic, so no animals were harmed in its manufacture. As it is synthetic, it is also very firm and supportive and more durable than fabrics, canvases, or meshes found in modern style shoes. The aesthetic perforations and black trim add to its 1950's feel. The collar has a thin padding to make it more comfortable.
The slightly raised heel helps reduce the strain on your foot, especially for people who have pronation problems. This makes the shoe more comfortable and reduces foot and leg fatigue.
This lovely shoe's classic two-tone color scheme makes it pop with that 1950's flair. This two-tone saddle oxford will go great with any number of retro or vintage style outfits. This saddle oxford can be found in the low-to-middle price range. It's a great buy for a simple but stylish vintage shoe, which is also made entirely of synthetic materials.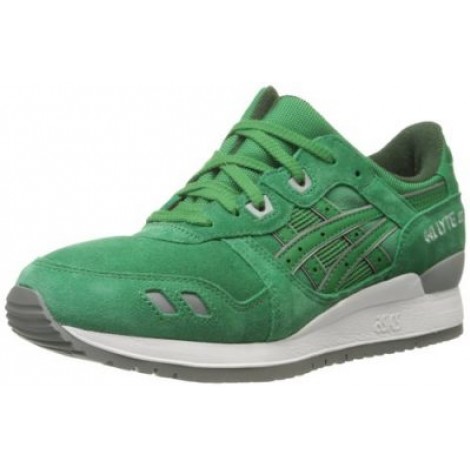 The GEL-Lyte III Retro is a stylish addition to your wardrobe, but it also provides ample support and cushioning. The upper is made of a synthetic leather material which makes the shoe firmer and more supportive. The padded tongue and collar reduce painful rubbing on the top of your foot and your ankle. The EVA midsole adds more responsive cushioning.
The insole of this classic 90's style ASICS shoe is removable, which allows you to customize the shoe with custom orthotics or to replace the insole when it wears down.
The outsole is made up of seven units that lock into each other. This makes it more flexible and the different patterns on each unit give the shoe more grip. The GEL-Lyte III Retro is a 1990's style shoe that can be found in the low-to-upper price range. It can be affordable for a retro shoe that utilizes modern technologies.

Subscribe to our Newsletter