Best Oxford Shoes Reviewed & Tested
last updated:
Jul 22, 2019
The Oxford is a classically-styled shoe suited for business formal while also being versatile enough to wear in casual settings. Although this type of shoe was traditionally made from brown or black leather, newer elements include decorative perforations called "brogueing," different toe cap designs and structures, as well as a variety of leather grain types and colors. We have compiled some of the hottest new and traditional Oxford designed to freshen you up. Whether you are looking to stand out or simply make a statement in a job interview, there is an Oxford shoe made just for you. Take a peek at some of our top rated black or brown Oxfords, perfect for a boardroom meeting, and some of our more colorful picks, perfect for a night out on the town.
In a Hurry? The test winner after 105 hrs of research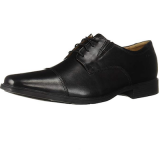 Clarks Tilden Cap
Why is it better?
Functional
Comfort
Cushioned
Clean look
Leather
In a
Hurry? Editors choice: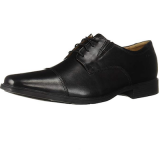 Test Winner: Clarks Tilden Cap

22
Researched Sources
15,010
Reviews Considered
105
Hours Researching
20
Products Evaluated
Features
Style
Materials
Outsole
Upper
By Default
10 Best Oxford Shoes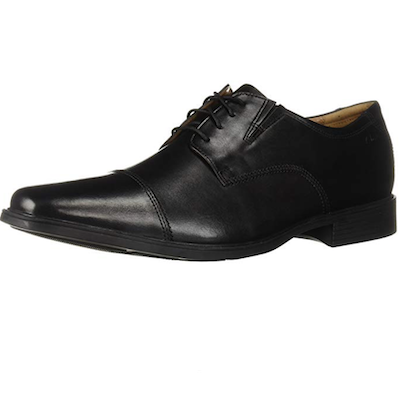 Functional
Comfort
Cushioned
Clean look
Leather
Clarks brand has been designing footwear with function, comfort, and styling in mind since 1825. Boasting Ortholite insoles, a TPR sole, and classic oxford styling, the Clarks Tilden Cap is a brilliant option in traditional styling. Black, dark tan or brown leather options reflect old-world design, but innovative comfort construction gives this shoe a new world solution for the hustle and bustle of today.
Classic oxford styling is reflected in the Clarks Tilden Cap. Stitching accents the cap toe and quarters, and a closed heel gives a sharp clean look to the shoe. Closed lacing completes the old authentic look, keeping a simplistic design which stays true to old-world roots. Supple leather hugs the foot, with an aristocratic sheen suitable for any occasion.
Designed for a busy new age world, Clarks has given the Tilden Cap a few upgrades for comfort, while keeping the style in the forefront. The quarters sewn to the vamp have a slight cut near the tongue of the shoe, giving it flexibility for movement and walking. A lined and padded heel and inner will minimize blistering, and the Ortholite sole keeps your feet dry as well as cushioned during wear. If you're searching for an oxford that keeps clean classic styling while combining freedom of movement and comfort to a shoe, search no more. For a moderate price tag, the Clarks Tilden Cap oxford is perfect for the go-getter on the run and is suitable for any business or formal occasion with its classic styling.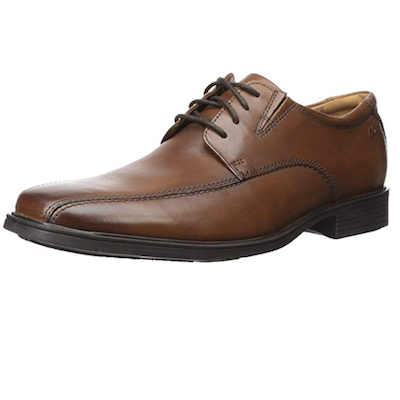 Functional
Comfort
Cushioned
Clean Look
Leather
Clarks brand has been designing footwear with function, comfort, and styling for over 100 years. With Ortholite insoles, a synthetic sole, and classic oxford styling, the Clarks Tilden Walk is a great option, in and out the boardroom. Black, dark tan or brown leather options reflect old-world design, but innovative comfort and construction makes it a shoe of the future.
Classic oxford styling is reflected in the Clarks Tilden Walk. Like its sister-shoe, the Tilden Cap, the stitching accents the cap toe and quarters, combined with a closed heel, give a sharp, clean look to the shoe. Closed lacing completes the old authentic look, keeping a simplistic design which stays true to old-world origins.
Designed for a busy new age world, Clarks has given the Tilden Walk a few upgrades for comfort, while keeping the style in the forefront. A lined and padded heel and inner minimizes blistering and discomfort. The Ortholite sole keeps your feet dry and cushioned. The quarters sewn to the vamp have a slight cut near the tongue of the shoe, giving it flexibility for movement and walking. At a middle price point, the Clarks Tilden Walk is perfect for starting out or expanding an existing footwear collection.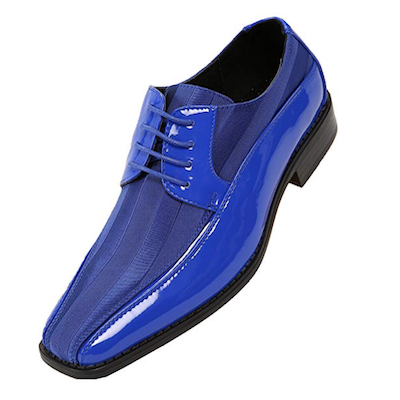 Variety
Close Lace
Satin panels
Durability
Price
Stepping up style with modern sophistication, the Viotti Oxford has a pleasing aesthetic look combined with suave swagger. Coming in a rainbow of colors and textures, you can select between shiny patent or textile uppers. This shoe is more suited for those looking to make an announcement on their arrival at a gala or black tie event, and is sure to have heads turning!
If you're looking for an oxford that is different than anything you've encountered, the variety of hues and materials found in the Viotti will have you looking no further. From classic black to reds, pinks, and blues, this shoe boasts of individual taste and will bring attention to the wearer. Considering the variety of options available, you may be purchasing more than just one pair!
Bold meets suave in the styling of this shoe and turns up the notch in sophistication in terms of design. With an option for shiny quarters to accent satin paneling on the upper, you can add depth to your style with contrasting texture elements. Stitched with elegance and attention to detail, closed lacing indicative of traditional oxford shoe style keeps your foot firmly in place. This Oxford tends to fit a little snug, so size up if you intend to buy. Standing at an average price of many on our list, the Viotti is a great addition to your collection of footwear solely based on its styling, variety in colors and texture combinations, and jaw-dropping appeal.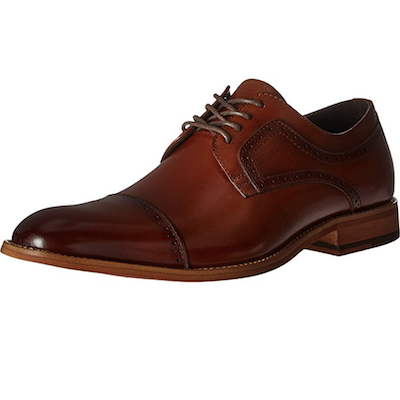 Timeless Design
Leather
Comfort
Brogueing
No Arch Support
Restrictive Toe
Founded in 1875, Stacy Adams reflects American 1920's style culture, when swing was king, and zoot suits reigned. Since then, the company has kept up with the times, adjusting design, sophistication, and styling of their shoes to suit the decades. The Stacy Adams Dickinson oxford transforms that 1920's swing time feel into a timeless shoe for the ages to come.
The Dickinson has been designed to reflect the traditional style of Oxford, with some decorative elements added. It comes in black or cognac shined leather, with slightly brogued cap toe and quarters. The simplistic design is suited to any kind of occasion, even a more casual setting, but will reflect a tasteful shoe selection indicative of someone who pays attention to smaller details.
With a memory foam insole that provides full cushioning and shock absorption, this oxford will keep your feet happy for the duration of wear. Hidden eyelet lacing provides a firm fit to hold you into the shoe, and breathable linings help give the shoe a lighter weight and feel. A stacked heel supports a detailed stitched outsole with a contrasting color, letting you stand tall and confident. Coming in a tad higher on the price range, the Stacy Adams Dickinson reflects a shoe for those looking for a timeless investment in footwear. The comfort and classic oxford styling make this a purchase well worth the money, that will last through the years.
5

. Cole Haan Original Grand Shortwing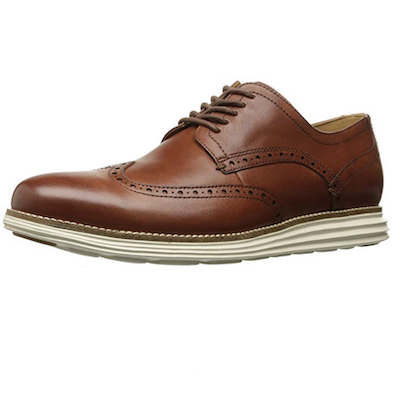 Great Value
Comfortable
Versatile
Sturdy Construction
Lots of Colors
Cole Haan describes their Shortwing style as "classic and dapper yet uniquely rich in color and texture" and we couldn't agree more. Immerse yourself in a luxurious Oxford that will give you comfort, flexibility, and versatility; all without draining your bank account.
This Oxford comes in a wide variety of classic and en mode colors, such as Black, Java and Sulphur Spring. With a focus on cushioning and support, this Oxford is not only stylish but amazing to wear, as well.
With long wingtip, leather uppers, paired with an EVA midsole and natural storm welt, these shoes look good and feel good. Cole Haan is one of America's leading footwear brands and with this shoe, they've created something that will look good and feel good, at the office or when you are out-and-about! For the quality and craftsmanship you receive, with the wide selection of colors, these shoes are a true bargain for anyone starting to build up their shoe collection.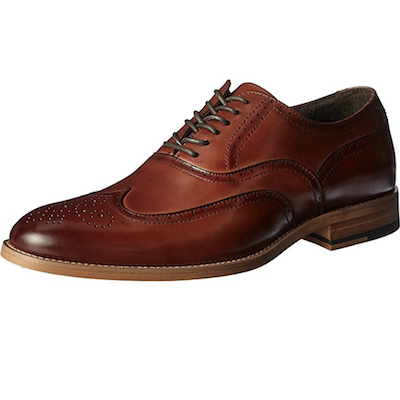 Memory Foam
Broguing
Lightweight
Color Options
Detail
Making a dual appearance, Stacy Adams brings more charm and styling to their Dunbar oxford, as well as more color options to keep your swagger moving. The Dunbar strays from a traditional oxford look, with adorning wingtip design, brogueing, and a stacked heel. If you're looking to up the detail and sophistication, this one's for you!
They say the devil is in the details, and if that's true, then the Dunbar turns up the heat with it's styling and attention to detail. With a wingtip design and patterned brogueing along the quarters and atop the toe, it demands a second glance. The Dunbar also comes in an indigo leather hue, a different color than traditional oxfords, guaranteeing an elevated appeal to your look.
Stacy Adams stays true to its typical construction, keeping breathable linings lightweight, and an airsoft cushioning with a memory foam insole. The outsole contrasts with the shoe coloring, stepping up style, while synthetic sole construction allows durability to last. Rich glossy leather contributes to the shoe construction, giving it the status quo required for formal or business attire. Again on the pricey end of the spectrum on our list, it's still a steal when compared to similar styles of oxfords that are available on the market. With the Dunbar's exceptional attention to detail and styling, unique color options, and overall appeal, it's still a great buy.
7

. Laoks Brogues Oxford Wingtip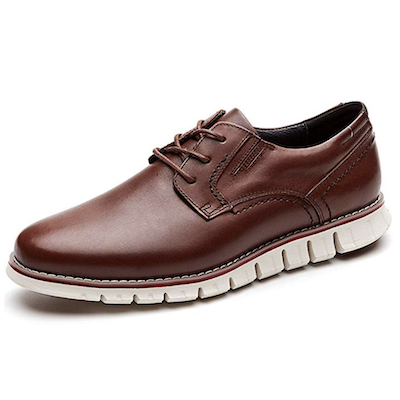 Genuine
Leather
Classic Colors
Comfortable
Durable
Versatile
Might Not Fit as Expected.
A new brand to our list, Loaks will give you a sturdy, classic-looking Oxford shoe that won't break the bank. Pair it with business or casual, you'll be looking sleek and ready for day or night in these new Oxfords.
This Oxford offers a trye leather upper with rubber heel and non-slip sole. From tans and browns to a classic black color, you can select the traditional styling of the plain Oxford. For those newer to wearing more formal shoes, this is a great option for a great price. This shoe pairs wonderfully business attire. Attention to smaller details like double stitching also contributes to its smart to look.
The Looks Brogue Wingtip is a less costly option of Oxford, and perfect for those newer to wearing a fancier style or formal shoes. With a price point like this, you'll be able to buy several pairs!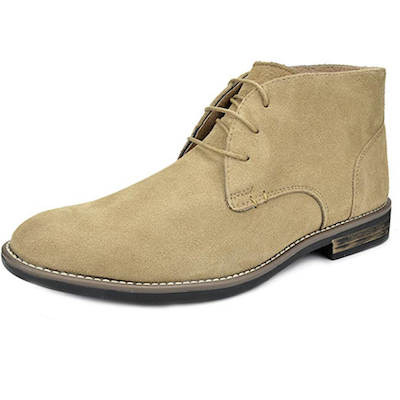 Great Price
Suede
Flexible
Options
Traditional oxfords were originally made with either black or brown leather. Modern styling has now included different leather grain into the oxford design, such as suede. Suede is a softer grain of the leather, more flexible and comfortable, but also tends to crease easier. The Bruno Marc oxford actually comes in two different styles of oxford shoe. Perfect for those looking to keep their wallet padded, these are stylish with casual or business attire.
The Bruno Marc Suede Oxford has been designed in two different ways. One reflects a classic oxford, but without the cap, and a decorative side stitch in the quarters. The second option has wingtips and brogueing on the toe and quarters to give an added boost of flair. Coming in a variety of neutral colors, you can pair these easily with any number of shorts or slacks.
Cushioned with a padded plush insole, wearing these for the duration of an evening is nothing to worry about. You'll also be able to insert an insole of custom design should you need additional support. The rounded toe allows the foot to flatten and expand when walking, giving ample toe room for strutting your stuff pain-free. With a slightly extended heel, you'll feel supported, and the flexible suede material allows natural movement without restriction. Coming in on the lower end of the budget for an oxford style shoe, the Bruno Marc Suede oxford is a smart buy for those looking for a business casual pair of shoes. The variety of styling and neutral color selection allow ample options for any wardrobe. These can also be considered a great starter pair for someone new to wearing the oxford style of footwear, who aren't looking to spend a lot.
9

. Alpine Swiss Beau Oxfords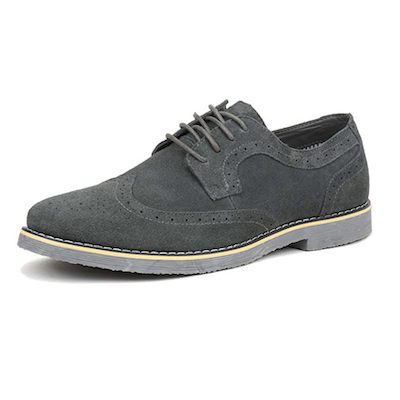 Genuine Suede
Updated Classic Look
Great Price-Point
Versatile
Classic & Modern Colors
Suede can be difficult to clean
An emerging lifestyle brand, the Alpine Swiss Company seeks to bring its customers the latest styles and the newest trends, at a price-point that can be described as an amazing value. If you are just starting to wear Oxfords, and you do not know what kind of styles or colors you want, take a look at Alpine Swiss. With Oxfords as low as $30, you really can't go wrong!
Mixing the old-world origins of the Oxford, with a modern flair and construction, the Beau collection of Oxfords are stylish, comfortable, versatile and affordable. The Beau can be paired easily with a business casual, or even casual, look when you just feel like unwinding or going for a stroll around town.
Alpine Swiss has designed all of their shoes and products with the new-age man in mind. Designed to look good and feel good, the Beau features genuine suede construction, combined with a rubber sole for durability and a strong grip to the ground. The wingtip and brogue detailing are paired with a medallion toe for extra flair. At the lowest price point of the shoes on our list, the Alpine Swiss Beau is perfect for starting out and experimenting with styles and colors.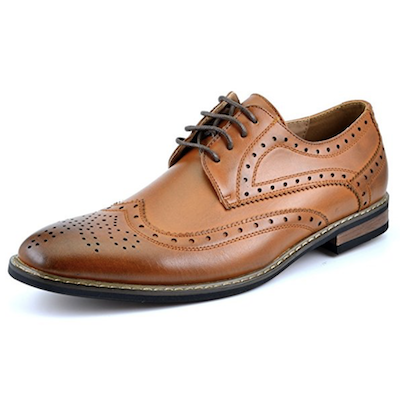 Price
Options
Colors
Sleek Design
Faux Leather
Requires Breaking In
Durability
The Bruno Marc Moda is actually the leather version of their suede styled oxford and steps up the level of formality with faux leather uppers instead of suede. The shoe is available in two options, a traditionally styled cap toe with clean sleek lining and closed lacing, or, a fancier wingtip design completed with broguing detail. Coming in a variety of classic colors, options for any occasion can be found with this shoe.
Similar to their suede option of Oxford, this version offers a faux leather upper with wooden heel and non-slip sole. From tans and browns to a classic black color, you can select the traditional styling of the plain oxford with cap toe or wingtips with broguing. Closed lacing holds you into the shoe firmly, without heel slippage. For those newer to wearing more formal shoes, this is a great option that won't leave your bank account begging for more money. With its sharp styling, it pairs wonderfully with classier or business attire. Attention to smaller details like double stitching also contributes to its smart to look.
The Bruno Marc Moda is a less costly option of Oxford, and perfect for those newer to wearing a fancier style or formal shoes. The construction of the shoe, although aesthetically pleasing, does have a limit to its durability over time. At the cost, you'll be able to buy multiple pairs, or at least get a bang for your buck with this purchase while sorting out your own style when it comes to an oxford.
Criteria Used for Evaluation


Features
The Oxford originated in the UK, but also was reputed for having been founded in Ireland and Scotland and referred to as Balmorals. They reflected a plain, simple style of a shoe, made of leather with closed lacing. As footwear evolved, so did the Oxford, with newer styles emerging that reflected its classical design, but with small differences that would then start a new generation of Oxfords. Examples of those would be styles such as the derby or brogues.
Shoes are designed in various methods, but well-crafted shoes have several parts.
What's in a regular shoe?
Vamp
in a classic formal shoe, the vamp is the top or upper part of the shoe that covers the instep and toes.
Quarters
part of the medial area of the shoe, these panels are usually decorative for fancier shoes and wrap around to meet the vamp from the heel to the middle.
Toe Box
part of the upper and can reflect decorative design or shape.
Welt
Strip of plastic, leather, or rubber running the perimeter of the outsole, which allows for weather-resistant durability.
Heel
Under the back of the foot by the heel, in formal shoes, this usually has a slight stacked platform for height. These can be a closed heel (even with the heel cap), or extended heels which go slightly longer than the heel cap.
Heel cap or Backstay
usually made from the same material as the uppers and wraps around the back of the foot.
Topline, Cuff or Collar
top of the heel, which is sometimes called the collar of the shoe, this is where the foot enters the shoe and can be padded for comfort against the ankle during wear.
Tongue
inner protective section of the shoe under the laces or closure that protects the foot. Usually made from the same materials as the uppers.
Laces and Eyelets
an example of a mechanism used to close the shoe to the foot, pulling the uppers together. Other options can be straps, buckles, or simply no mechanism such as slip-on shoes have.


Style
But what exactly went into the Oxford shoe? It's taken parts of a regular shoe design and styled them in a way to give sleek, clean lines, and many times required a skilled level of craftsmanship.
Staples of Classic Oxford Design:
Closed Low Heel
Closed Lacing
Exposed ankle
Can have quarters or be wholecut/seamless.
Modern Oxford Styling:
Different quarter panel cut and styles
Brogueing – perforations in the leather giving a decorative accent. Semi Brogues or Full Brogues are defined by how many perforations there are. The Quarter Brogue has even less decorative holes, and Longwing Brogues have perforations over the whole shoe.
Variety of Toe cap designs.
Contrasting Colors – black on tan, or hues of the same color elevate the sophistication of the shoe.
Texturing – mixing sleek leather with a textured pattern can create a statement piece to your attire.
Types of Oxfords:
Plain Oxford– simple, sleek, classically designed oxfords
Wholecut– made from one cut of leather, usually more expensive, but indicative of quality craftsmanship.
Saddle Oxfords– more decorative usually with scalloped panels and contrasting colors.
Wingtip Oxford/Brogue-decorative toe, with brogueing along with the panels
Cap Toe Oxfords– simple decorative addition to the toe from additional leather to cap the toe, or stitching across the toe, giving a 'cap' appearance.
Kiltie Oxfords-fringed leather replaces or hides the tongue of the shoe.
Oxford Heels-a shoe design with a high-heel


Materials
The type of leather in your formal shoe depends on how active you're going to be. If you're buying a shoe to wear to several events or every day to work, you're going to want one that doesn't crease easily. You want durable leather that looks smooth and can stand up to a long day of meetings or spinning bridesmaids around the dance floor. Most times, top grain leather is the most durable, and a good craftsman can make it thin enough to have a supple feel. Lowest grade leather is either piece combined or those cut from the belly.
Different types of leather include:
Pebble grain leather– embossed with a raised pattern. This adds a texture purely from the leather itself, and what area from which it was cut.
Top grain leather– smooth in appearance, highest in quality.
Full grain leather– durable, doesn't allow moisture in. This usually consists of 100% genuine leather grade material
Patent leather– shiny, creases easily and has been treated for an extra luxurious and quality feel.


Outsole
The sole of the shoe is another factor that depends on what you're wearing the shoe for. Often, you'll want a durable sole with a good grip. It's hard to find a balance between a thick sole that protects your foot and one that's breathable and allows your feet to get air.
Types of soles include:
Double leather– durable, protects well, indicative of handcrafted and high-quality shoes.
Rubber sole– has a good grip, not as breathable, more durable than leather made soles.
Crepe sole– a lighter sole with a rubber texture, less durable than rubber, but can be more so than leather.
Single leather– makes for a sleek shoe, but not as durable or protective.
PU or PVC– composite material synthetically made that allows cushioning and protection.
A double leather sole on a shoe is going to be more durable and protect the foot better. If your shoe has a rubber sole, you will have more grip, but the shoe isn't able to breathe as well. A crepe sole is a lighter sole and made from rubber with a texture. A single leather sole makes for a sleek shoe, but don't protect as well. PU and PVC soles provide protection and comfort.


Upper
A toe style on an Oxford can change the look of your entire ensemble. From a rounded toe to tapered, or a squarer style toe, choose something that will complement the outfit as opposed to making a statement on its own. It's important to get a style that fits your personality and your foot.
Types of toe accents include:
Wingtip– a rounded toe cap, with a point in the center of the toe pointing towards the laces, arching toward the toes and to the sides, which resembles the shape of a wing.
Cap toe– an extra piece of leather on the toe, or simple stitching across the base of the toe box across the top which gives a 'cap' to the shoe.
Plain toe– clean and simple, no stitching or brogueing, a classic of traditional oxford styling.
The way the shoe is constructed and pieced together shows craftsmanship and is a great way to tell if it's a quality shoe.
The Blake Stitch:
This connects the upper directly to the sole. This means you get a lighter shoe. It will be more flexible, but it will also wear out quicker.
The Goodyear Welt:
Here we have a strip of leather, rubber, or plastic stitching on the outsole, the uppers, and insoles together. This helps the shoe mold to your foot and provides a weather resistant proofing. Shoes with this type of construction will last longer.
The Oxford style shoe has evolved to include several design elements to add flair and sophistication to your individual style. It may take time to sort out which are more suited to your tastes, but it can elevate your sense of fashion to reflect a runway feel. As a formal shoe, this is a staple in any collection, and by mixing and matching components of craftsmanship and styling, they can be suitable for any formal occasion as well as more casual settings. With versatility, history, and an almost unprecedented selection available, the Oxford shoe is a timeless piece!
Expert Interviews & Opinions
Most Important Criteria
(According to our experts opinion)
Experts Opinion
Editors Opinion
Users Opinion
By Default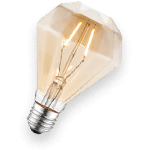 Classic Style
Oxfords are one of the classic shoe styles that should be in anyone's collection of footwear. They are suitable for formal and casual occasion, and can easily be paired with jeans, slacks, sometimes even shorts if done right!
When picking out your next pair, consider if you'll want to wear them as an accent piece to your ensemble, or as a versatile addition to your collection. Color can make oxfords into accent pieces, while traditional blacks and browns can make for a versatile pair of shoes.
Closed Lacing?
When you hear the term 'closed lace system' it means that the quarters are draw together with little to no gap. An open lace system usually leaves a bit of wiggle room and will show the tongue of the shoe more than a closed lace system.
Other Factors to Consider


Bottom Line
Selecting a great Oxford shoe starts with simple, well-designed, classic styling. Then, you add your flair by selecting bolder color choices, contrasts in textures or hues, variations in toe-design and decorative brogueing. An Oxford can be as muted or loud as you want it to.
Understanding what went into making an Oxford shoe and the history of the style can help you decide which pair suits you best. With its simple design, you can always use them to freshen up a pair of jeans or slacks, but still be able to wear them to formal gatherings. Here is an exhaustive list of the criteria we used to rank our Top 10 Oxfords. Additionally, don't forget to check out the FAQ for a list of some of the most common questions our readers ask us regarding Oxfords.
Frequently Asked Questions
q:

What makes a shoe an Oxford?

a:

An Oxford shoe has a low heel, a closed lace system, and exposes the ankle. There are several types of Oxford shoes. The Cap Toe which has an extra piece of leather, or stitching to suggest a cap, over the front of the shoe. The Plain Toe which is the cleanest of all the Oxfords and a simple choice. The Wingtip Oxford has a pointed cap on the toe. Kilties have a fringe of leather coming from the top of the shoe. A Wholecut Oxford is cut from one piece of leather.
q:

How Should an Oxford Shoe Fit?

a:

With a selection of material that oxfords are available in, there are a few points for selecting the correct fit. Shoes made from suede, canvas, or malleable textile may have some give compared to a stiffer leather. The toes should not press up to the front of the shoe, which restricts your toes and can cause pain. The same is true if it presses into your heel. You want it to fit but not leave an indention on the back of your foot, nor should it slip on and off during movement. You want them to be comfortable when it comes to the width of the base of the toes. If you feel a pinch across the foot, they may be too narrow. Try a different style toe, or size up.
q:

How Do I Clean Oxford Shoes?

a:

To clean leather Oxford Shoes, you'll need a mild soap, a shoe brush, some clean cloths, shoe polish a leather conditioner and laundry detergent. Put an old towel down so the polish you use doesn't get everywhere. Take the laces out and wash them with the laundry detergent. Brush the shoes to remove any dirt and then soap them up. Use one cloth to wipe the soap off and then condition the leather. Let the shoes air dry, but not in the sun. When they are dry polish them and they'll look great!
q:

How Do I Lace Oxford Shoes?

a:

The eyelets where you'll put the laces are located in the quarters of the shoe. With the closed system, the top is over this and the eyelets are underneath the top part of the shoe, this is called the vamp and covers the toe and instep. You lace the shoe across, instead of crossing laces, like you would do with a tennis shoe. Make sure the laces are thin so your shoe looks sleek and that they are the right length for your shoe.
Subscribe to our Newsletter